Let's make this Easy to Make Burlap Pencil Holder. All you need are a simple soup can burlap ribbon and some glue. These decorated tin cans are perfect for your home decor or even a wedding.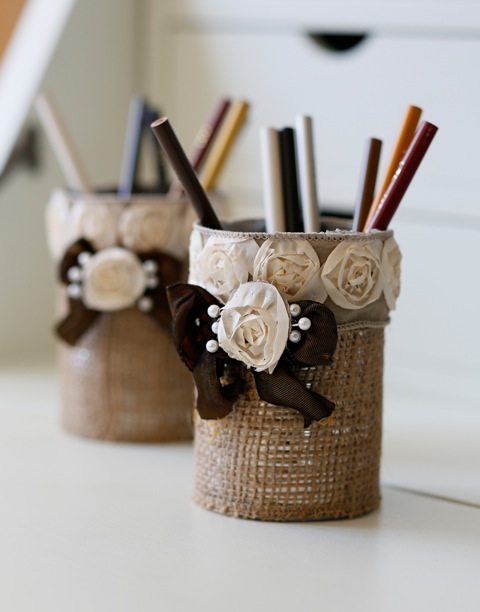 Shabby Chic Burlap Pencil Holder
*The following post contains affiliate links
I have childhood memories of making holiday presents out of burlap. You may remember the projects of embroidering on burlap? I'm totally dating myself here, but I have fond memories of making the present and then wrapping it up in colorful tissue paper.
But anywho, this project is simple to make and the results are beautiful. I love how the silver from the tin can shines through the burlap. This post went around the world and back since it was featured on so many websites.
Well, I hope you have fun creating this easy project.
Here are the materials you'll need for the project:
Soup Can (clean and label-free)
You'll need a burlap ribbon, nice that it comes with finished edges! I found it on Amazon, here is their link, Burlap Ribbon
I love this ribbon with roses. I did find something similar on Esty, here is the link,
Rose Ribbon
I know you are wondering who eats pepper pot? That would be my brother who took the photo!
Choose whatever ribbon you like, I had this beautiful brown satin ribbon.
Directions:
Step 1 – Cover the Soup Can
The directions are pretty straightforward. Cover the soup can with burlap by gluing (may use a hot glue gun) a line along the top and bottom of the can. your can will look like this.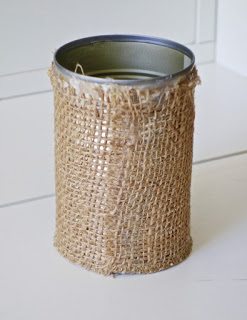 Step 2 – Glue Rose Ribbon
Next glue the rose ribbon to the top border of the can.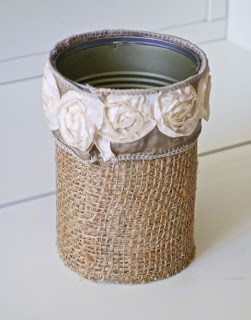 next make a bow and attach a rose from the ribbon on the front. glue the whole ensemble with pearl pins onto the front of the can. that's it, you're done and ready to use it for holding pencils, pens or whatever!
Cheers,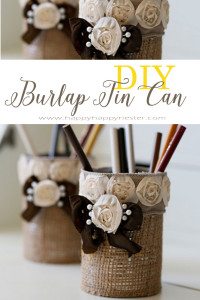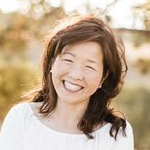 Latest posts by Janine Waite
(see all)