happy happy autumn…
speaking of fall…my neighbor's apple tree has a ton of yummy apples hanging from its branches.  our neighbor mentioned that we are welcome to pick their apples, so yesterday my husband climbed over the fence and picked a bag of them.  i ended up baking two apple pies…one for my neighbor and one for us.  i tried a new recipe from my america's test kitchen cookbook.  preparing the dough was time consuming and somewhat difficult for me.  if you look closely at my photos you'll see the precooked dough is not cooperating.  you definitely need to refrigerate the dough for the full 30 minutes before placing the second layer on top.  i think i took it out too early and it kind of fell apart on me.  despite all my frustration, the pie and its crust were very yummy!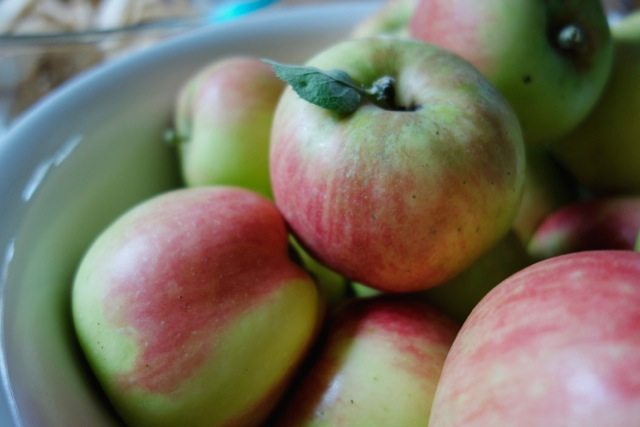 here are the yummy apples, fresh off our neighbor's tree!
Classic Apple Pie
1 recipe of double-crust pie dough
3/4 cup (5 1/2 ounces) plus 1 tablespoon sugar
2 tablespoons all-purpose flour
1 teaspoon grated lemon zest plus 1 tablespoon juice
1/4 teaspoon salt
1/4 teaspoon ground nutmeg
1/4 teaspoon ground cinnamon
1/8 teaspoon ground allspice
2 pounds McIntosh apples, peeled, cored, and sliced 1/4 inch thick
1 1/2 pounds Granny Smith apples, peeled, cored and sliced 1/4 inch thick
1 large egg white, lightly beaten
1.  Roll 1 disk of dough into 12-inch circle on lightly floured counter.  Loosely rool dough around rolling pin and gently unroll it onto 9-inch pic plate, letting excess dough hang over edge.  Ease dough into plate by gently lifting edge of dough with 1 hand while pressing into plate bottom with other hand.  Leave any dough that overhangs plate in place.  Wrap doughlined pie plate loosely in plastic wrap and refrigerate until dough is firm, about 30 minutes.  Roll other disk of dough into 12-inch circle on lightly floured counter, then transfer to parchment paper-lined baking sheet; cover with plactic and refrigerate for 30 minutes.
2. Adjust over rack to lowest position, place rimmed baking sheet on rack, and heat over to 500 degrees.
3.  Mix 3/4 cup sugar, flour, lemon zest, salt, nutmeg, cinnamon, and allspice together in large bowl.  Add lemon juice and apples and toss until combined.  Spread apples with their juices into dough-lined pie plate, mounding them slightly in middle.  Loosely roll remaining dough round around rolling pin and gently unroll it onto filling.  Trim overhang to 1/2 inch beyond lip of pie plate.  Pinch edges of top and bottom crusts firmly together.  tuck overhang under itself; folded edge should be flush with edge of pie plate.  Crimp dough evenly around edge of pie using your fingers.  Cut flour 2-inch slits in top of dough.  Brush surface with beaten egg white and sprinkle evenly with remaining 1 tablespoon sugar.
4.  Place pie on heated baking sheet, reduce oven temperature to 425 degrees, and bake until crust is light golden brown, about 25 minutes.  Reduce oven temperature to 375 degrees, rotate baking sheet, and continue to bake until juices are bubbling and crust is deep golden,  30 to 35 minutes longer.  Let pie cool on wire rack to room temperature; about 4 hours.  Serve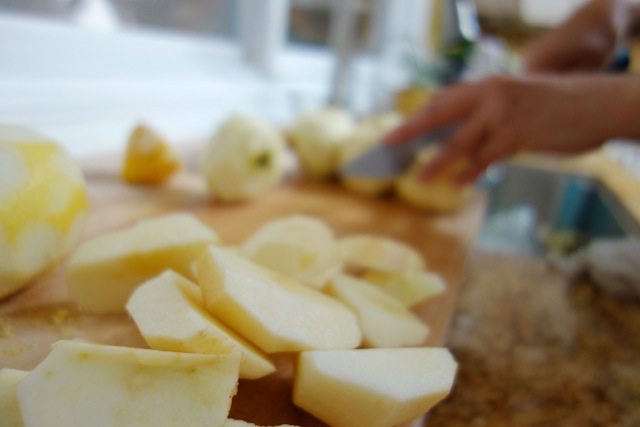 Classic Double-Crust Pie Dough
Makes enough for one 9-inch pie
2 1/2 cups (12 1/2 ounces) all-purpose flour
2 tablespoons sugar
1 teaspoon salt
8 tablespoons vegetable shortening, cut into 1/2-inch pieces and chilled
12 tablespoons unsalted butter, cut into 1/4-inch pieces and chilled
6-8 tablespoons ice water
1.  Process flour, sugar, and salt together in food processor until combined, about 5 seconds.  Scatter shortening over top and process until mixture resembles coarse cornmeal, about 10 seconds.  Scatter butter over top and pulse mixture until it resembles coarse crumbs, about 10 pulses.
2.  Transfer mixture to large bowl.  Sprinkle 6 tablespoons ice water over mixture. Stir and press dough together, using stiff rubber spatula, until dough sticks together.  If dough does not come together, stir in remaining ice water, 1 tablespoon at time, until does.
3.  Divide dough into 2 even pieces.  Turn each piece of dough onto sheet of plastic wrap and flatten each into 4-inch disk.  Wrap each piece tightly in plastic and refrigerated for 1 hour.  Before rolling dough out, let it sit on counter to soften slightly, about 10 minutes.  (Dough can be wrapped tightly in plastic and refrigerated for up to 2 days or frozen for up to 1 month.  If frozen, let dough thaw completely on counter before rolling it out.)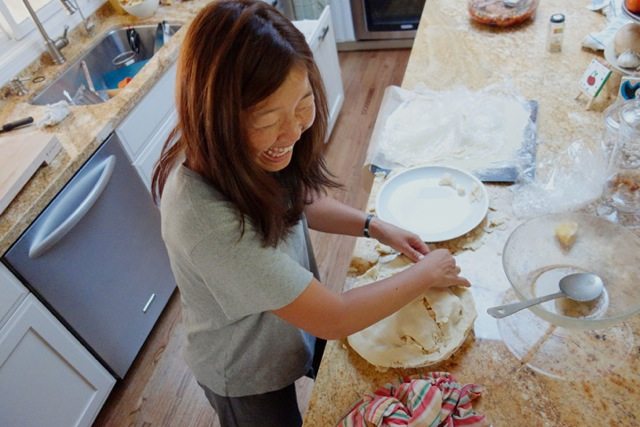 oh my…the crust wasn't cooperating.  somehow i was able to laugh at my not so perfect apple pie. so much for being perfect! thank goodness the end results turned out yummy.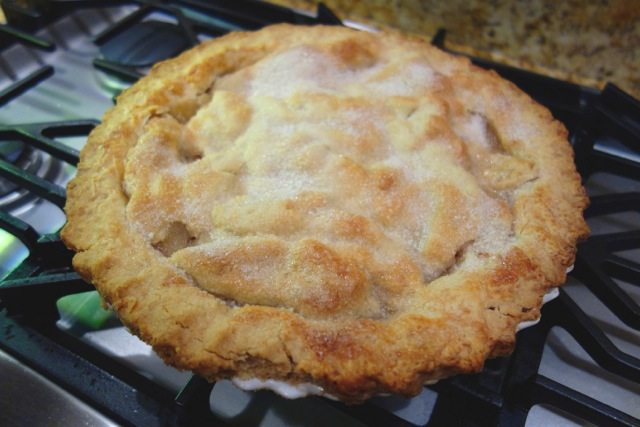 oh my, it is a yummy pie!