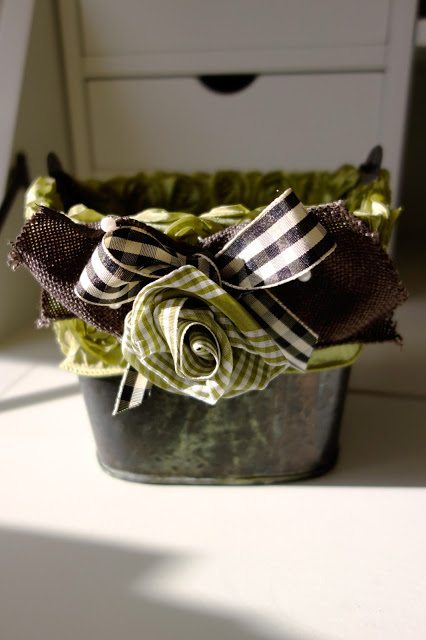 rustic tin pot
my living room has a lot of greens and whites and so i was inspired to make this container. in my entry from the other day i explain how i have always wanted to make a rose ribbon. so, ta-da… here is the final project. i'm still not sure what i'll place in the pot, but if my kitchen were these colors, it might make it a napkin holder. this design has a garden feel, so most likely will end up in my living room. i hope to post before and after photos next month. in the meantime here is how you make the project.
here are the supplies you'll need…
i love this brown burlap! it comes in some many natural colors. cut out a piece like this.
i scrunched the ribbon in the middle and then wrapped my daughter's hair band around the middle of it to hold it in place.
then place the pearl pins into the burlap and glue down a gingham ribbon on top.
as this point you would make your ribbon rose. please refer to my january 11th entry, https://happyhappynester.com/2013/01/rose-ribbon-ive-always-wanted-to-make/
view from the inside. as you can see the inside is lined with plastic, so i could place a plant in this container.
ok, this is the view of the rose ribbon attached to the pail. oh gosh, i kind of got this ribbon crooked. :o)
now you'll glue the bow and ribbon rose combo to the front of the pail.
enjoy!