Annie Sloan Chalk Paint and Plastic Outdoor Chairs
Now that the weather is starting to turn nice around here, our attention and time is spent more outdoors. We recently hauled out our table, chairs and pool furniture from our winter storage shed. We have several different types of chairs and among them are some old Adirondack ones. I'm sure many of you are familiar with the plastic Adirondack chairs that are sold at home improvement stores. They seem to last for about one or two seasons and then they fade and disintegrate and quickly look horrible. Last summer, I was contemplating whether to hold onto them another season or throw them out with our neighborhood recycling program. I decided to chalk paint one of them and see if that could restore them. Well, it turns out that after a year of being exposed to our hot California summer, the one chair we painted survived. It appears that the paint stayed on the chair and miraculously it also didn't fade. I was able to touch up some spots without any color changes. So, this spring I painted the other chair and now we have two beautiful seats that are now poolside. Hooray for Annie Sloan chalk paint. I totally love that I was able to refresh our old weathered chairs and bringing them back to life with a beautiful color and amazing paint!
~ A Funny Note About the Nester ~
Last year we chalk painted one of the two chairs.
All summer, the two chairs sat side by side… one green and old
and the other a beautiful dark linen color.
My family knows that I tend to take a while to complete my projects!
Oh well, better late than never!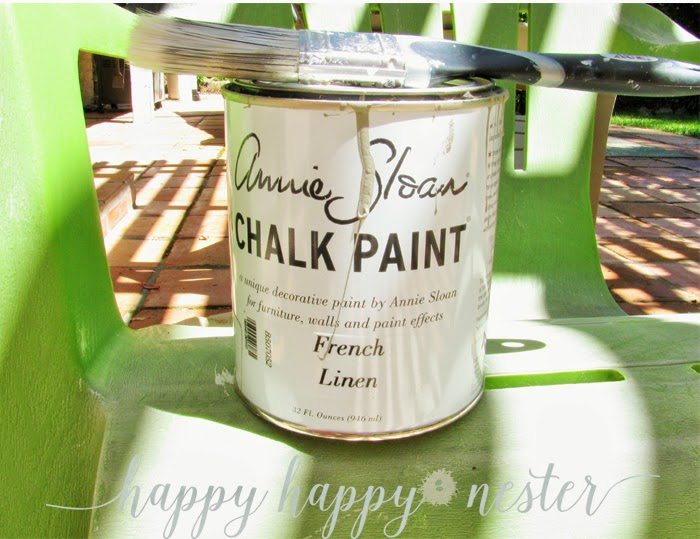 For this project, I used Annie Sloan's French Linen Chalk Paint. This color is like a blend of brown and grey and is just a nice subtle velvety sophisticated color. Annie Sloan lives and works in Oxford, England and is the founder of the Annie Sloan Chalk Paint line that includes 33 colors. She is probably the main reason for the painted furniture revolution through her easy, lively and creative approach to painting. Annie has been painting for over 40 years as well as writing a number books on the subject. Her paint is specifically designed for furniture, walls, floors and paintings. It is a unique decorative paint that sticks to just about any surface, wood, concrete, metal, matte plastic, earthenware and much more. Also, it dries quickly and you can paint a second and third coats quickly!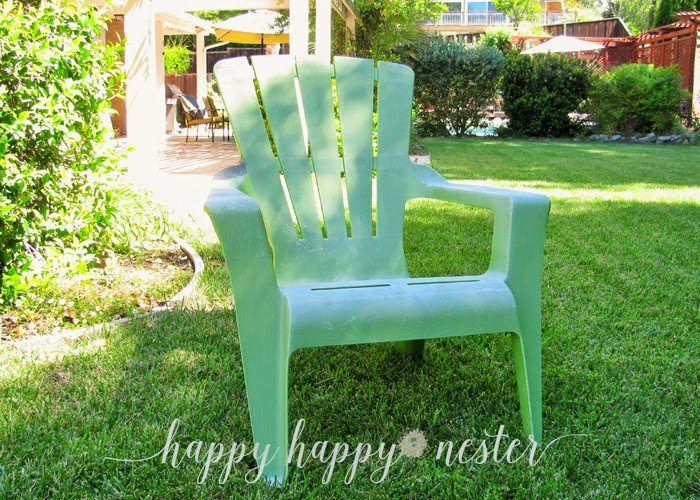 Here is our original plastic Adirondack chair. It had a white powdery residue that I cleaned off the surface with a wet rag. I also took a little sand paper to the chair too! As you can see it was pretty worn and weathered and looking pretty tired.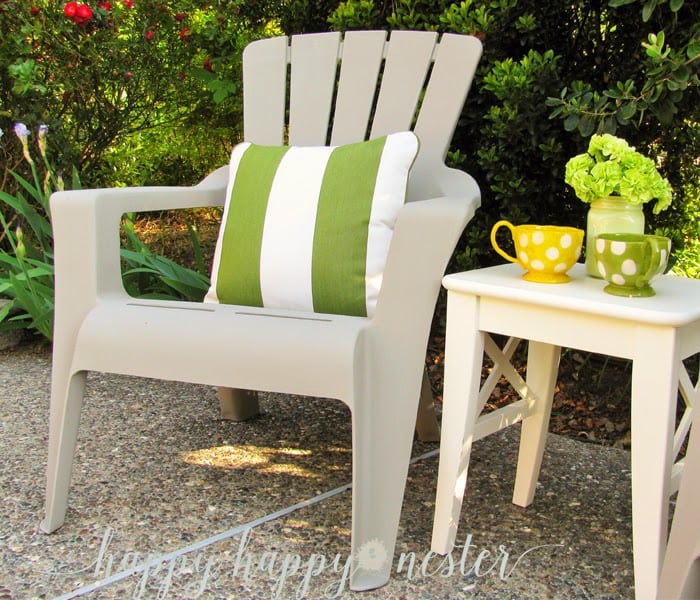 Here is the final painted chair. I did coat the chair with 2-3 layers of paint. Chalk paint is great since you can start painting another coat once the layer is dry to touch! I didn't use the Annie Sloan sealer wax since, I knew that I would just touch up the chairs every Spring. Despite not sealing it, the paint doesn't scrap easily or come off.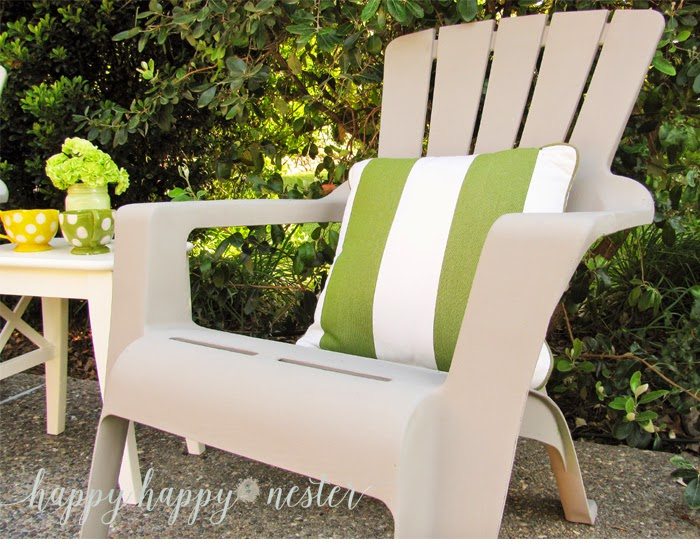 I hope you are getting your backyard ready for summer and that this project has you inspired to paint some of your old chairs. Now, I'm thinking what more can I paint in our home! Maybe our piano will be a future project. Stay tuned for more painting projects. I would love to hear if you have any fun projects on your list!
Cheers,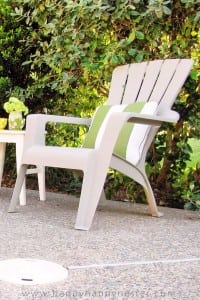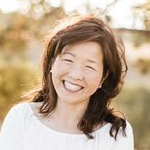 Latest posts by Janine Waite
(see all)