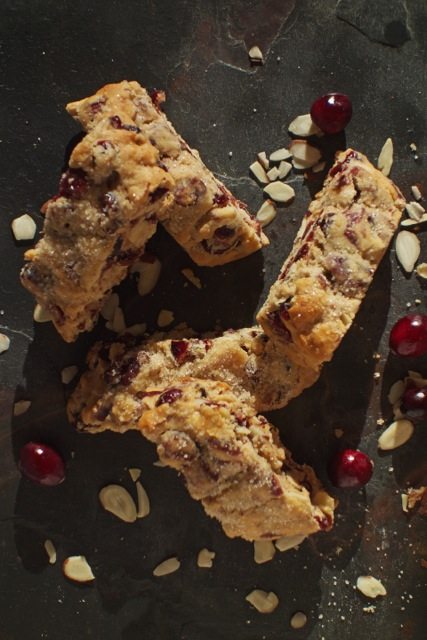 Cranberry Almond Biscotti
Makes about 3 dozen
1 1/2 cups dried cranberries
2 eggs
3/4 cup granulated sugar, plus extra for topping
1/2 cup vegetable oil
2 tablespoons finely grated orange zest
1 teaspoon ground cinnamon
1 1/4 teaspoons baking powder
1 teaspoon vanilla extract
1/2 teaspoon almond extract
1/4 teaspoon salt
2 cups unbleached flour, or as needed
1 cup slivered , blanched almonds or shelled pistachios
Preheat oven to 350 degrees F.  Place the cranberries in a bowl with hot water to cover and let stand for 10 minutes.  Drain and set aside.
In a large bowl, combine the eggs, sugar, vegetable oil, orange zest, cinnamon, baking powder, vanilla extract, almond extract and salt.  Whisk to blend.  Add the flour, almonds or pistachios, and cranberries and stir until dough forms.  Turn out onto a heavily floured surface and knead until smooth (about twenty turns), adding more flour if too sticky to work.  Divide the dough in half.  Too much flour and the sugar won't stick. Since the mixture is sticky, you have to move fast.
Continuing to work on the floured surface, form each half into a log 2 inches in diameter.  Carefully transfer the logs to an ungreased baking sheet, spacing them well apart.  Sprinkle the tops with sugar.
Bake until golden brown and firm to the touch, about 30 minutes. Turn oven down to 275 degrees F.
Using a spatula, carefully transfer the logs to a work surface.  Using a serrated knife, cut on the diagonal into 1/2 inch slices.  Return the slices cut-side down to the baking sheet.  Bake until brown, about 20 minutes.
Transfer the cookies to wire racks to cool.  Store in an airtight container at room temperature for up to 2 weeks.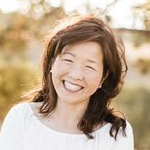 Latest posts by Janine Waite
(see all)