This DIY Succulent Wedding Favors project is so adorable and it's so easy peasy to make. And if you have a wedding or a hostess gift this is the perfect craft for you.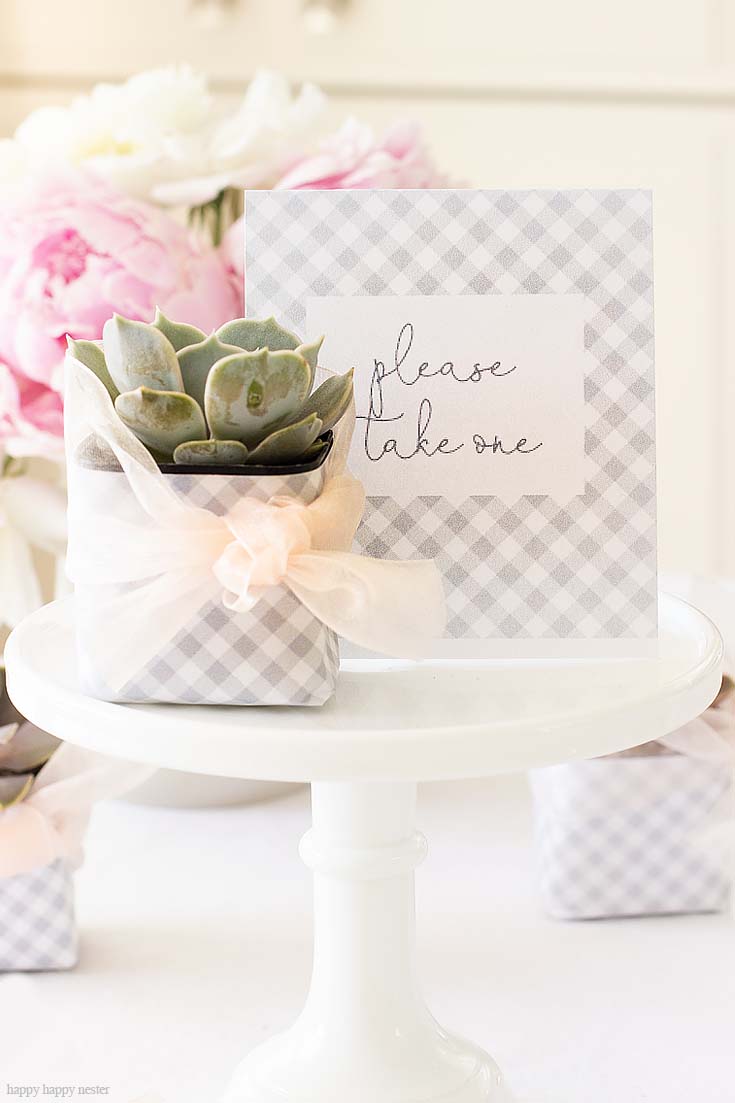 Another cool thing about this project is that I share the printable paper, so once you download it, you can print as many as you like for your project. So, no need to buy a ton of expensive scrapbooking paper, just take your print down to the copy shop and make as many as you need.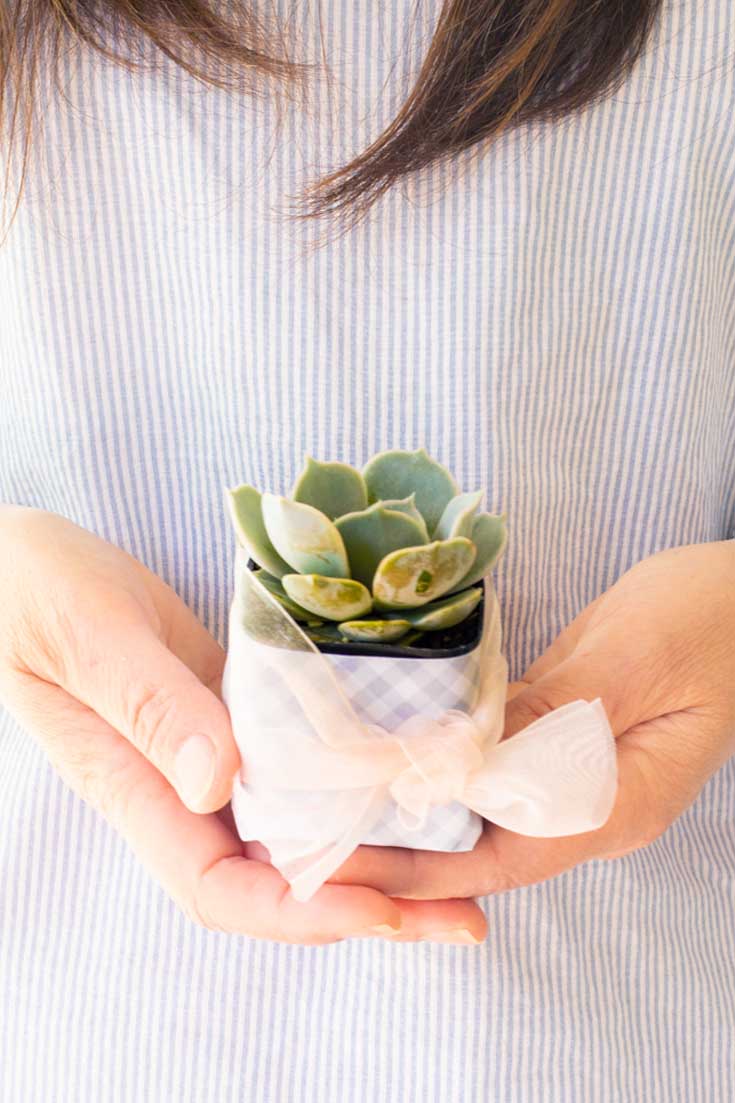 So, a few of us are excited that we are sharing our wedding DIY projects with you. And let me just say that you don't need to have a wedding in your future to make these things. My cute succulents make great hostess gifts, so let your imagination run with it and soak in all our projects.
Wedding DIY's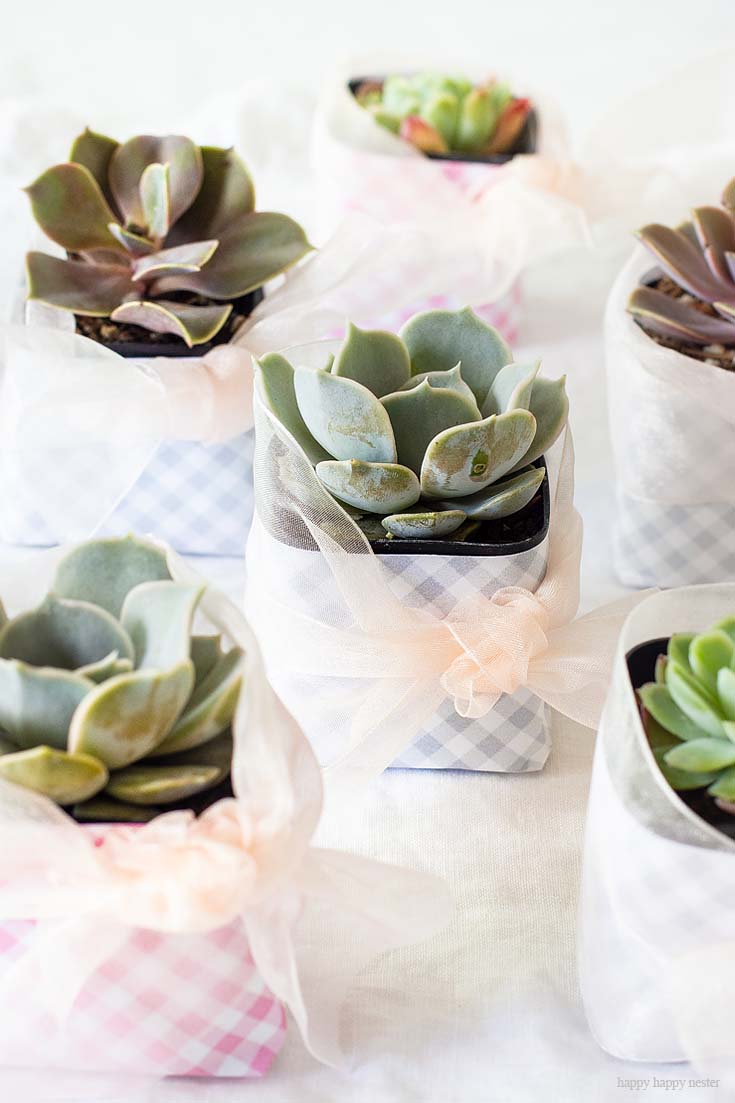 Janine | Happy Happy Nester
So when I got married some umpteen years ago, I was busy making my wedding favors the day before. Since I love real flowers and plants I took pots of pink Impatiens flowers and wrapped them in light pink tissue paper and tied them with a bow. We placed them on the reception tables at the base of all the white umbrellas. Well, circling back to my DIY succulent wedding favors, this is probably how I came up this project. And instead of Impatiens, I went with these adorable mini succulents.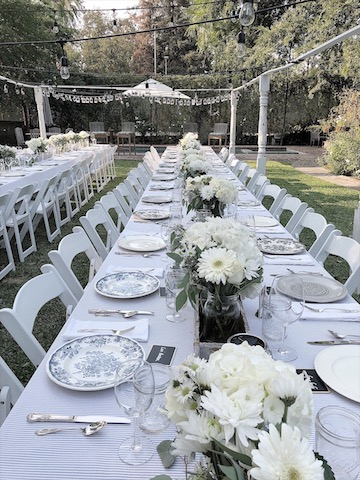 Leslie | My 100 Year Old Home
Can I just say that Leslie has a gazillion wedding project since her son is getting married this summer! She put together the wedding announcement party that had me swooning over her decor. So, you must hop on over to her blog to view her DIY Wedding Ideas post.
Sara | Twelve on Main
Sara has such a gorgeous natural style that has me always amazed at her beautiful projects. Her Wedding Signs on Wood are so gorgeous with the handwritten calligraphy topped with such a lovely sprig of greenery. So stunning and elegant and perfect for any wedding or reception.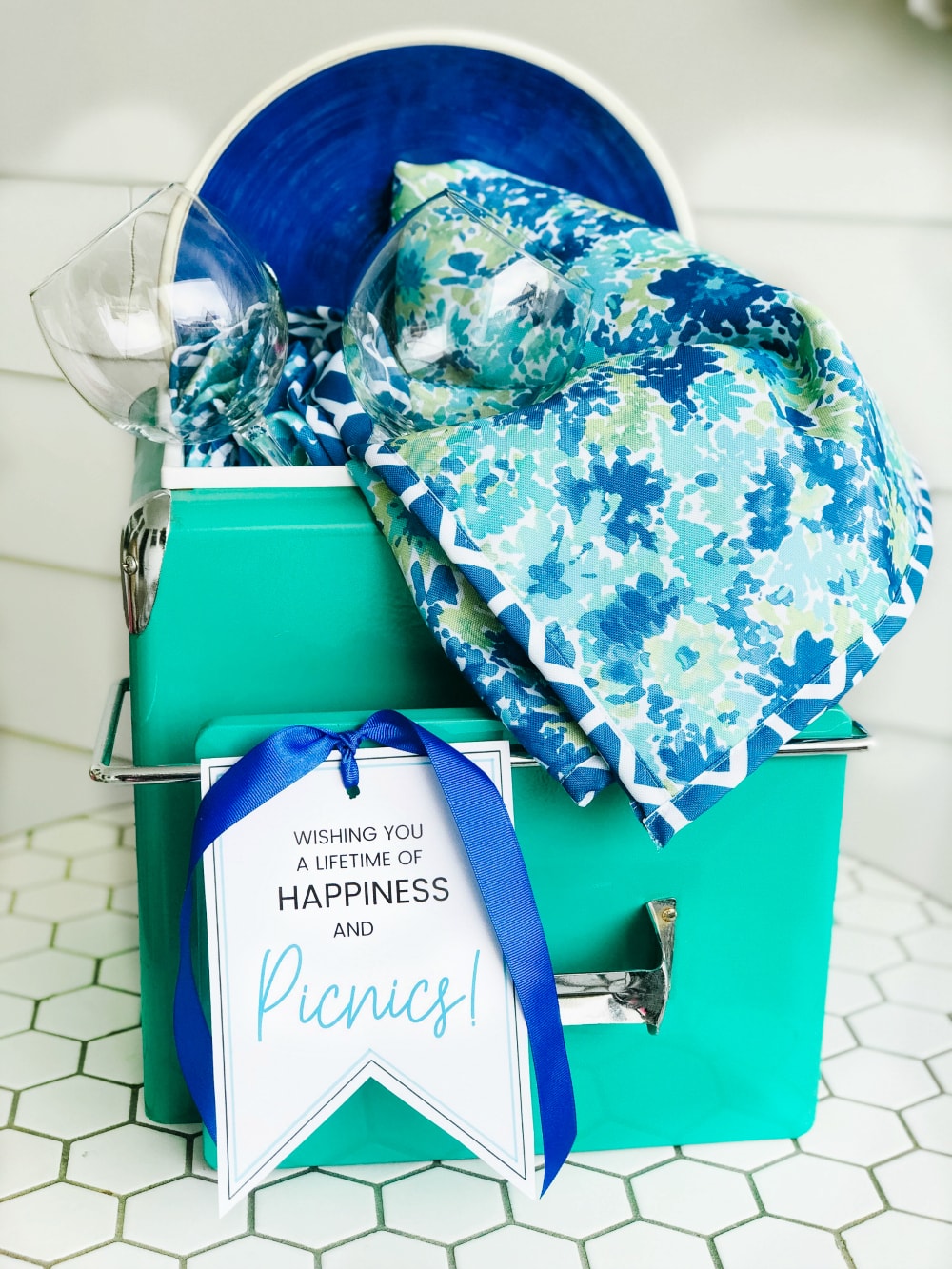 Jennifer | Tater Tots and Jello
I'm happy to say that I finally met Jennifer the other day, after many months of blog hopping we met at her mom's house around the corner. I just love this blogging community of such talented women! Jennifer always creates the coolest things and her Picnic Wedding Gift Idea and Printable Tags make the perfect and fun wedding gift.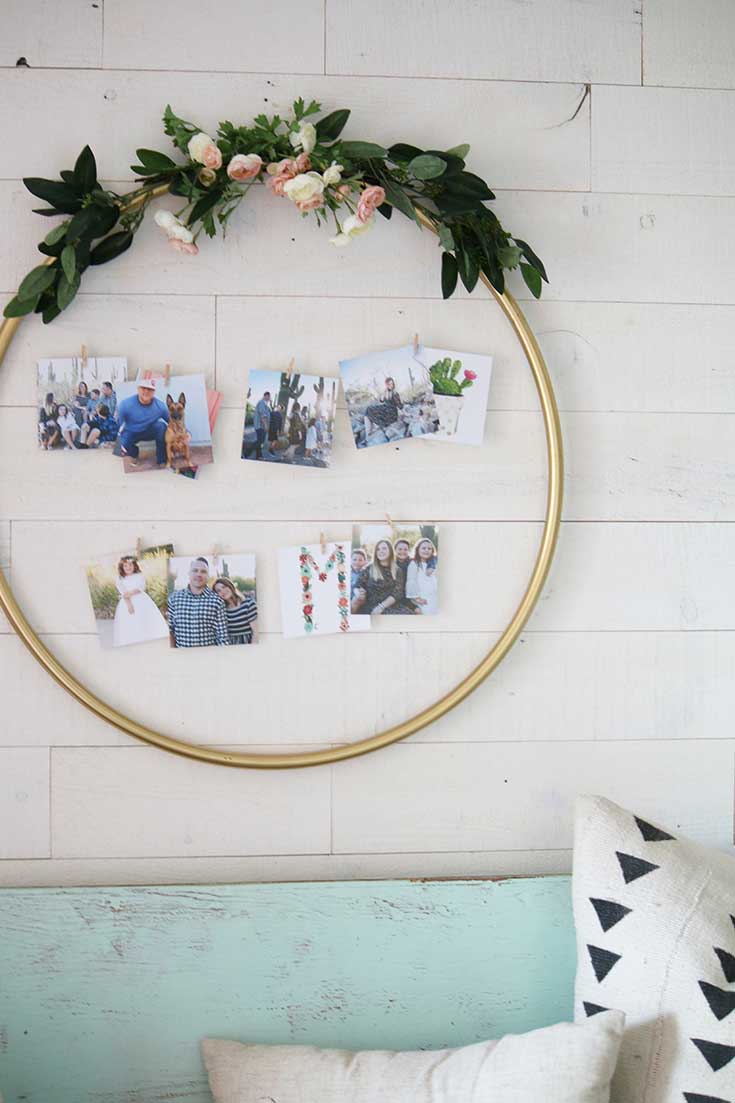 Kelli and Kristi | Lolly Jane
Kelli and Kristi always have such a fresh and pretty style and this DIY Photo Display is so perfect hung on the wall. I totally can see this at a wedding in which you hang photos of the bride and groom. What a cute and festive way to display photos!
DIY Succulent Wedding Favors Tutorial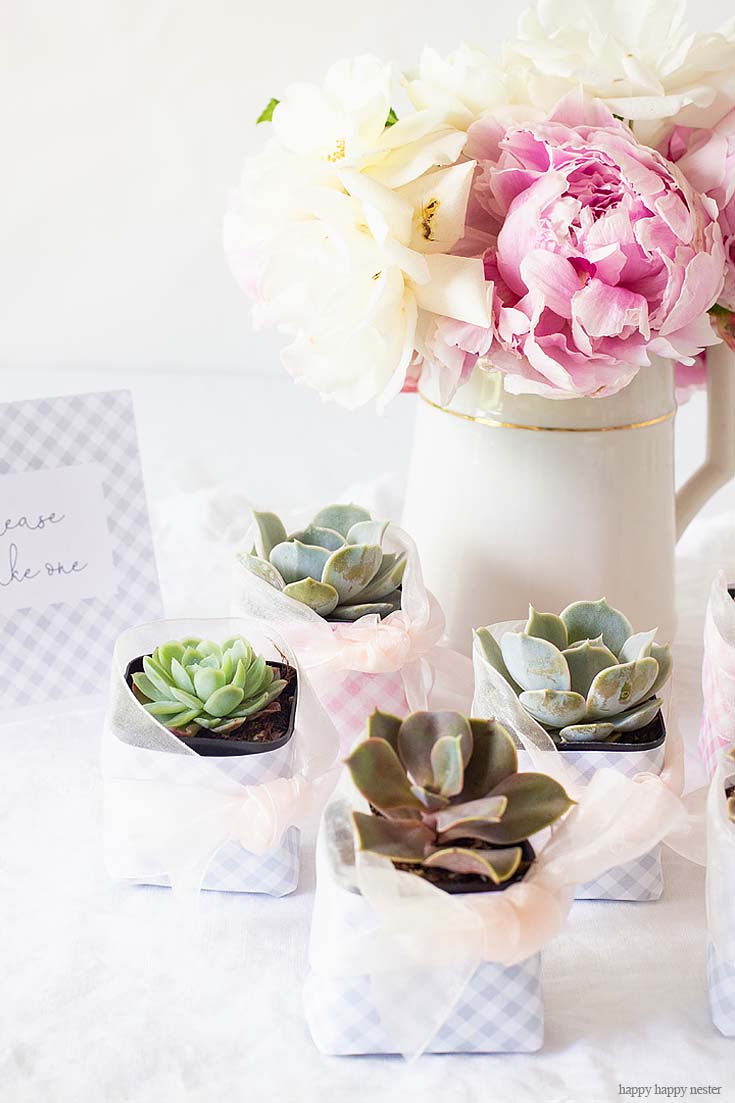 Supplies Needed for These Wedding Favors
Succulent plants (mini size – 1 3/4″ (L) x 1 3/4″ (W) x 2″ (H))
Download Printable pink and grey gingham paper (if you have the same size pots cut your paper to 8″ x 3 1/2″)
If you are already a subscriber please contact me.
Sheer Ribbon (comes in lots of colors)
DOWNLOAD Printable Here

Directions for Succulent Wedding Favors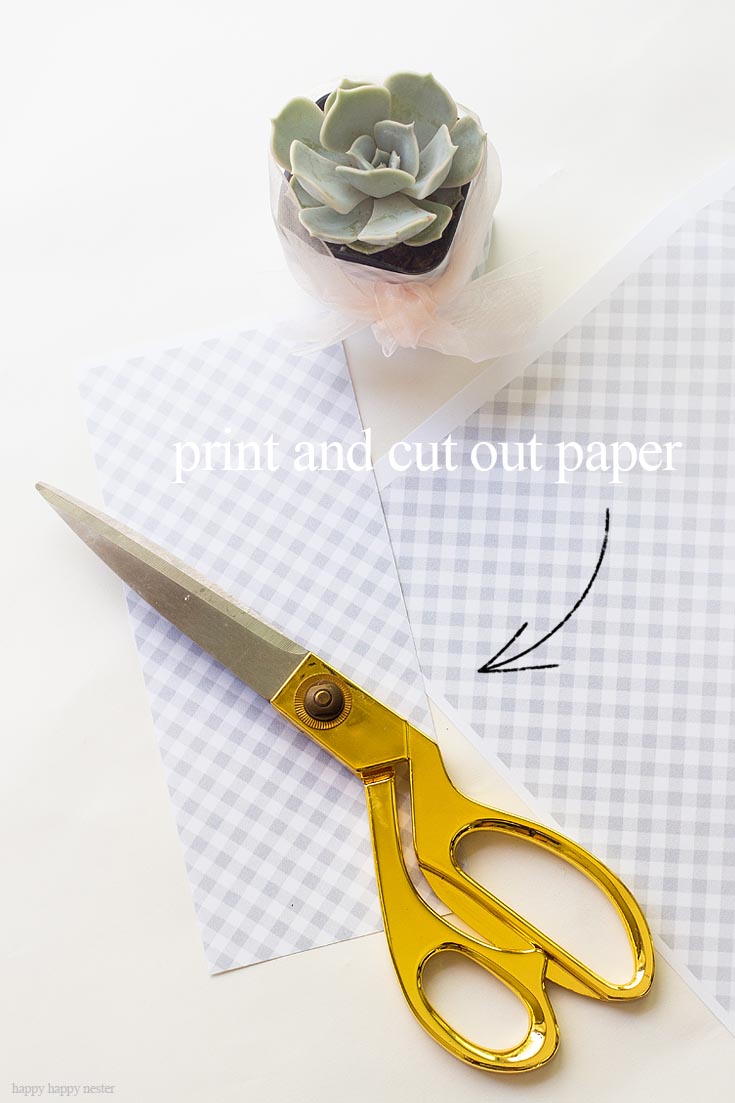 1. Print and Cut The Paper
Download the grey or pink gingham paper or both. Once you have them printed, measure the size of your plant pot and refer to my supplies note on how my cut dimensions. Basically, you are wrapping a present and only finishing the bottom, so measure and cut like you would when wrapping a gift.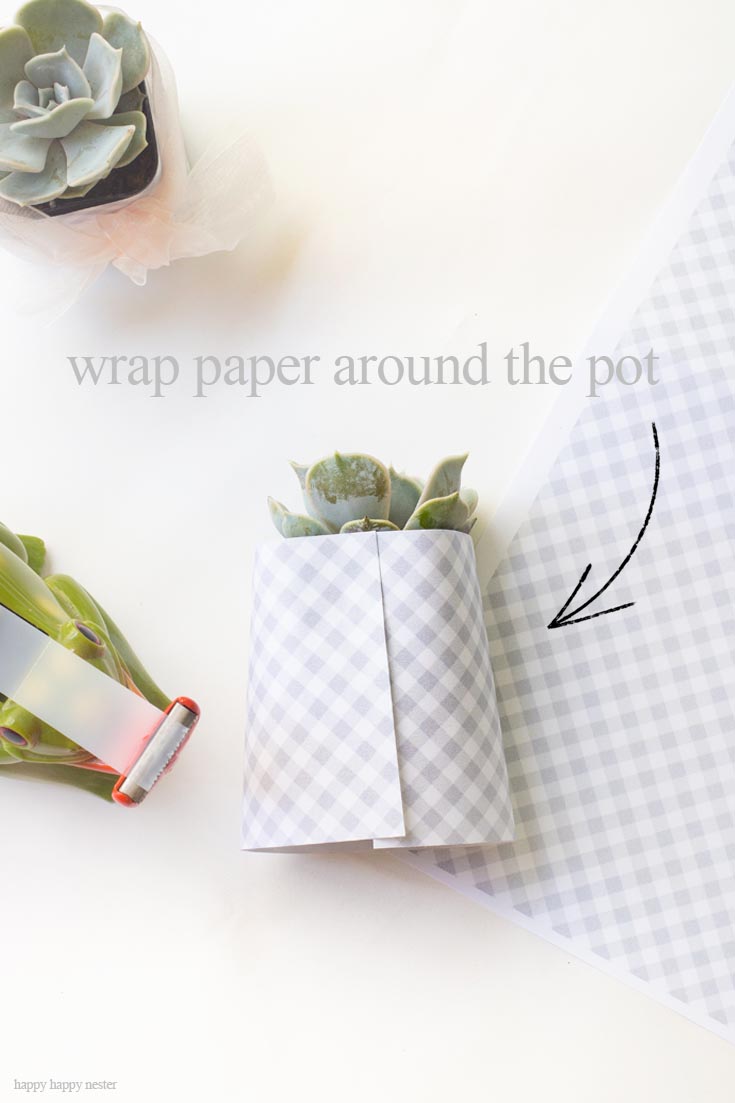 2. Wrap Paper Around The Pot
When you wrap the paper around the plant, make sure the top of the paper is even and lines up nicely. So, what I'm trying to convey is that the top edge on the rim should look nice and presentable. Tape (on the inside since you have the double-sided tape) or glue the edges in place.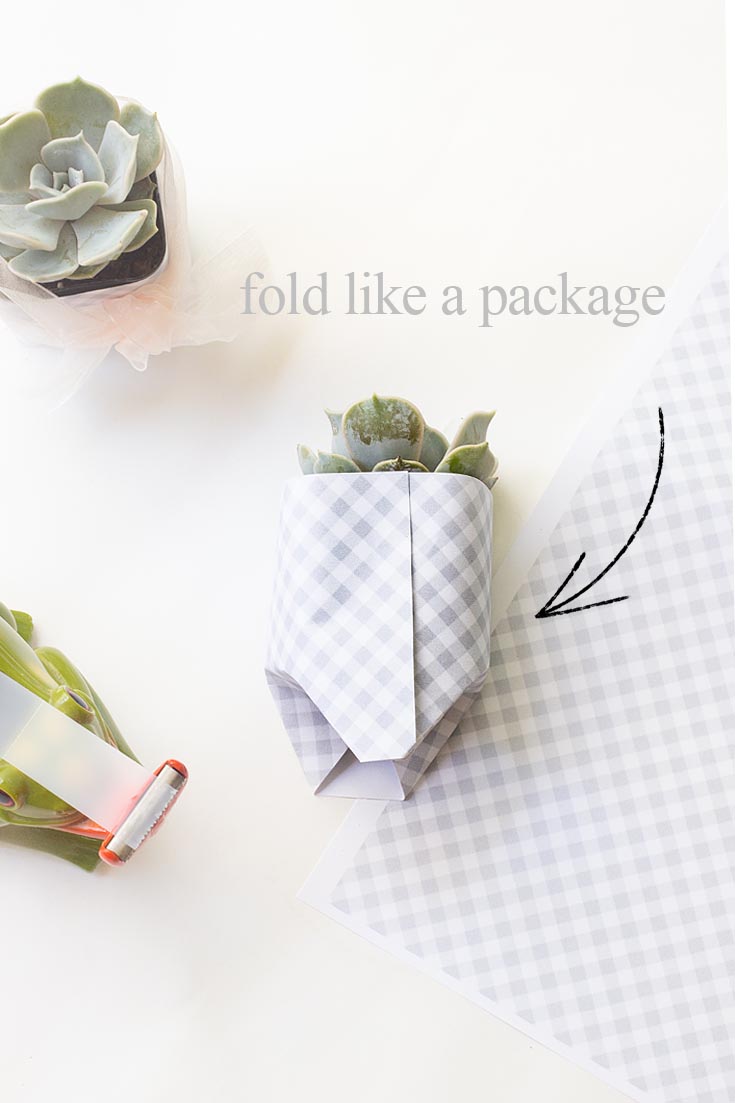 3. Fold The Bottom
Now fold like you would a package and tuck the side in towards the middle like shown in the above photo.
4. Fold Up Edges and Tape
When I tape my edges I always like to fold the raw edges side in first and cover it the non-edged flap. See the above photo as my example.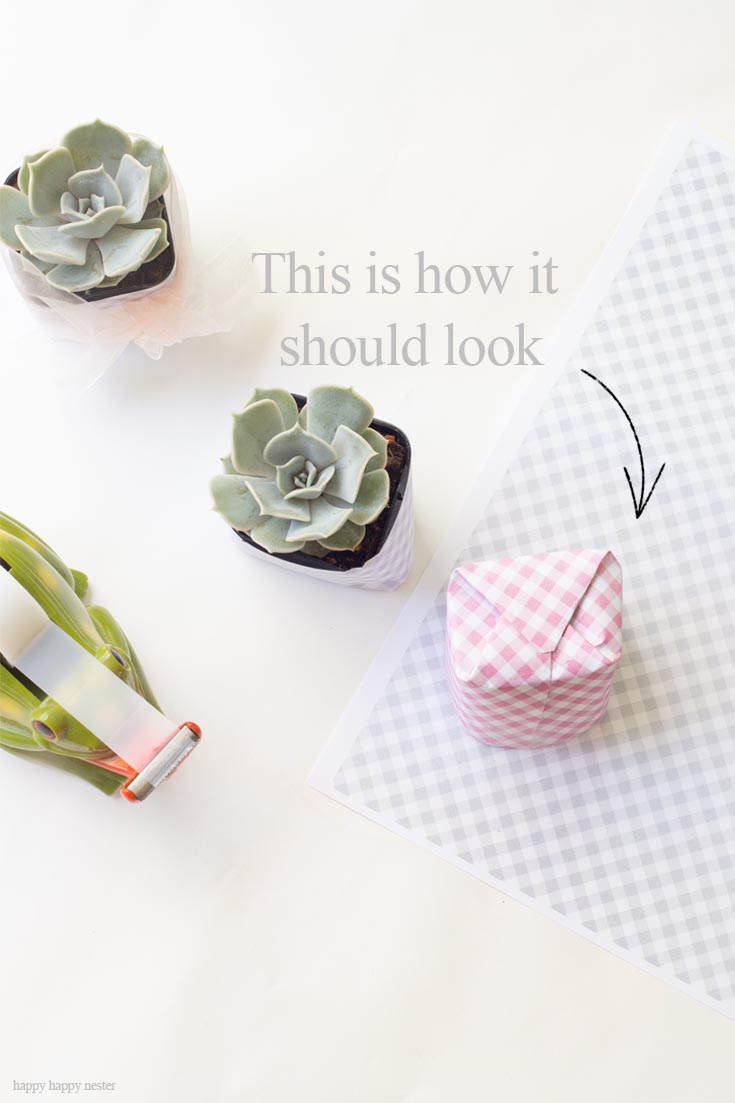 5. Cut Ribbon and Tie a Bow
This is how it the bottom of your plant cover should look like. Next, you'll want to cut a piece of ribbon to size and just tie a knot off to the side and trim the edges. I love how the sheer ribbon looks like it is enclosing the succulent like a gorgeous scarf, almost like a wedding veil.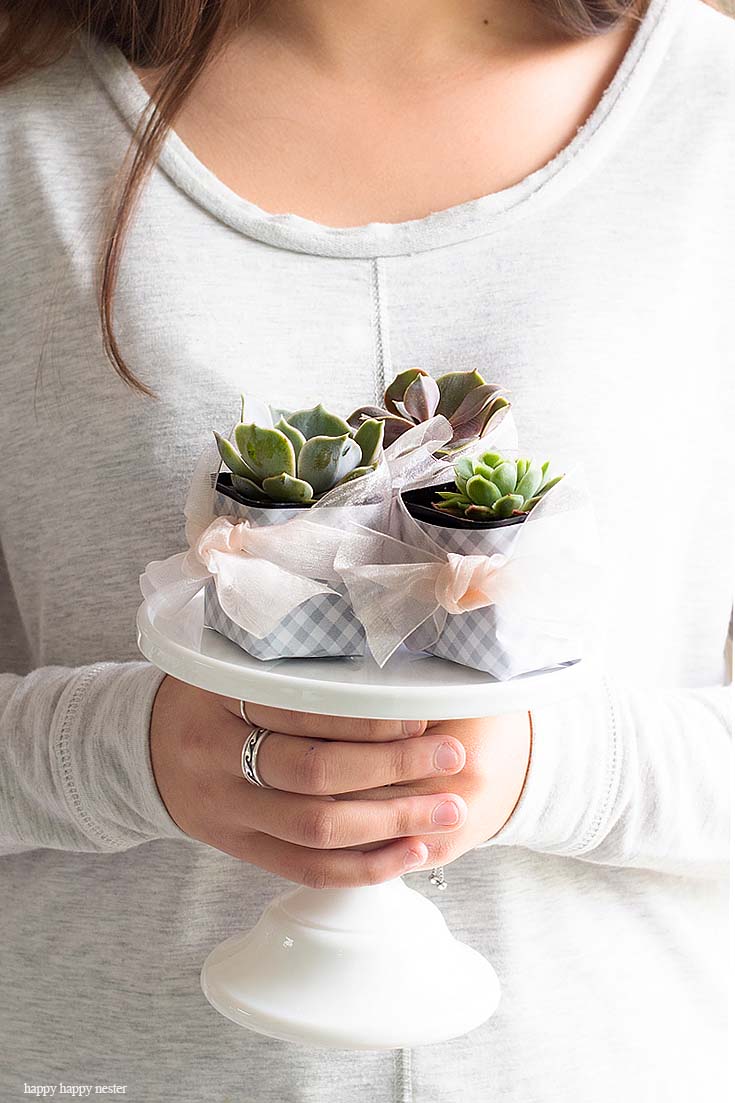 if you are visiting because you have a wedding you might find my 10 Beautiful Outdoor Wedding Reception Table Ideas inspiring and helpful. Also, my Paper Cherry Blossoms DIY has been pinned to many wedding boards over on Pinterest.
I'm pretty pleased how cute this DIY succulent wedding favors craft turned out. My friend Leslie is already planning to make these for her son's wedding this summer, so that is a huge compliment. If you are planning a wedding or small gifts for friends, family, and teachers, you should definitely give these away.
So, happy crafting!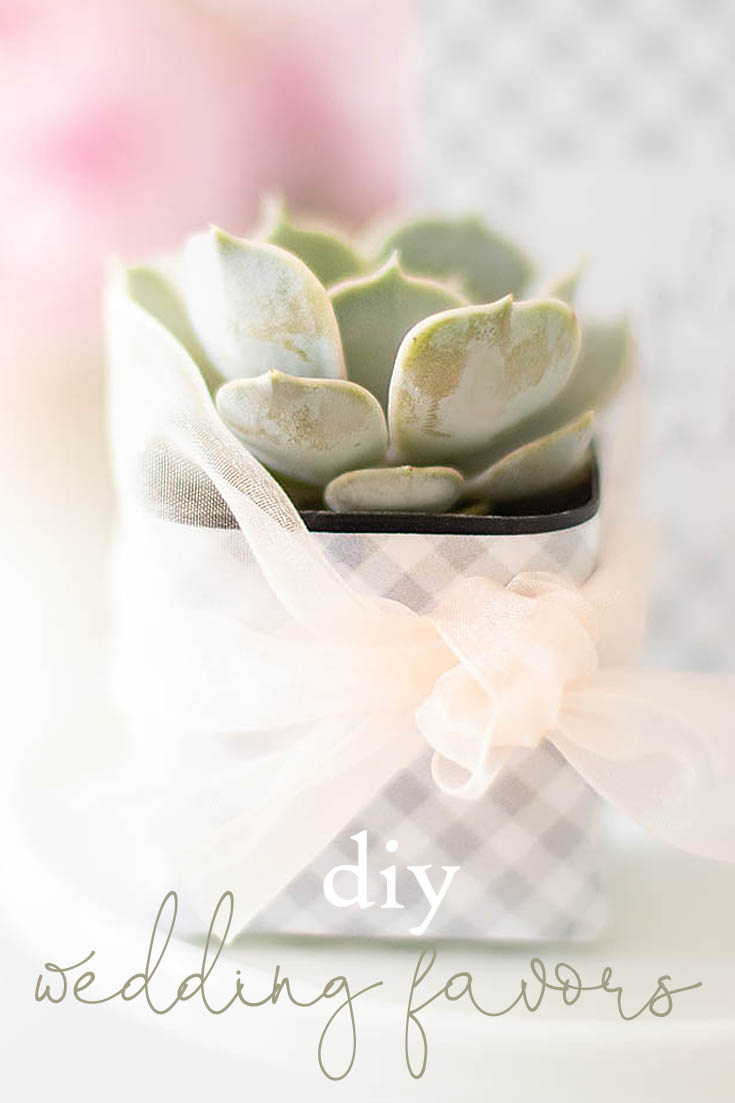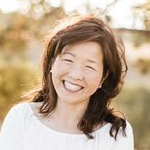 Latest posts by Janine Waite
(see all)