Here is a Great Shop for Succulent Decor. Oh my goodness, they sell everything from succulent planters, wreaths, wedding bouquets to cake toppers.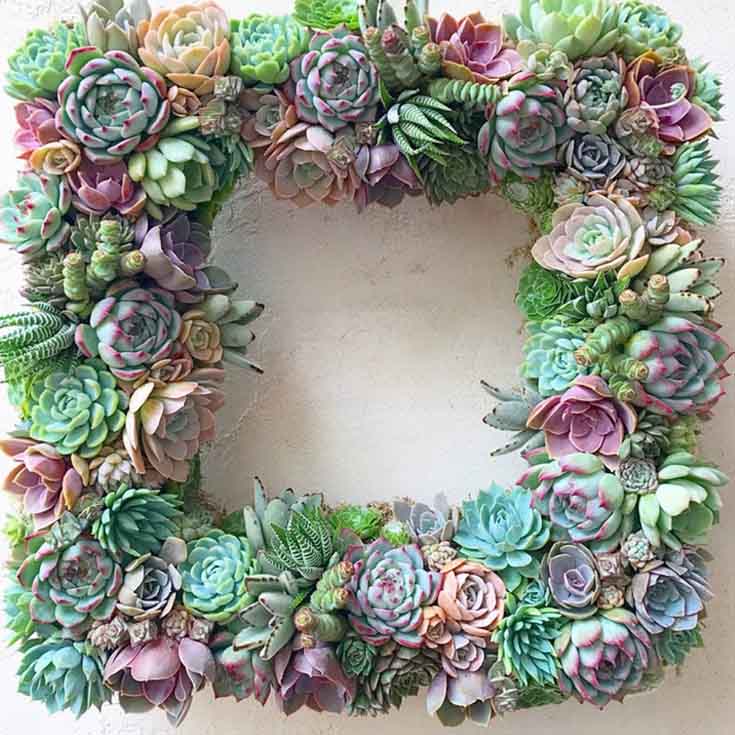 *This post contains affiliate links
You are totally in for a treat today. This California shop takes the whole idea of succulents to a whole new level. I had no idea that some of these succulent decors existed.
Succulents are so popular right now and all their wonderful soft colors are beautiful when combined together. Today, I'm featuring a California shop that carries the most amazing succulent decor.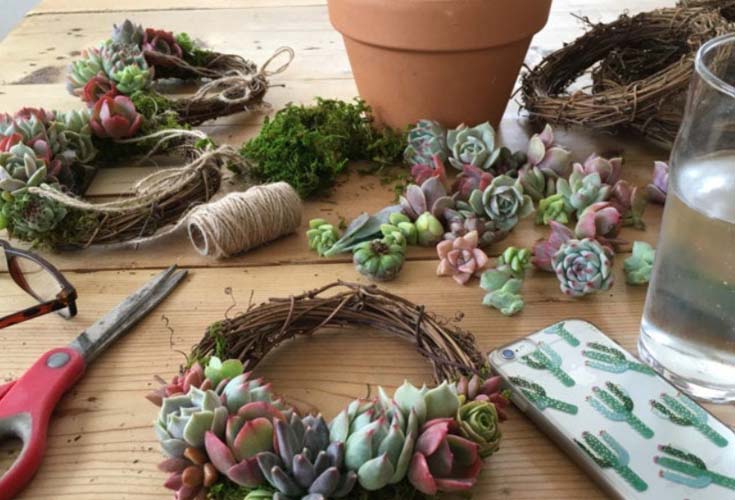 So say, Hello to Julia from Succulent Artworks!
Their online shop is located over on Etsy but they grow and make their succulent decor in sunny San Diego California. Here are a few things about their wonderful company.
We're passionate about Succulents! Our business began as a succulent hobby and a creative outlet. We hadn't thought of it as a business until friends began asking to buy our succulent wreaths, then word got out! We soon found we were busy wreath makers and we'd created a family business.

Many friendships have began from sharing a passion for succulents and cuttings from our garden. It's exciting and fun to find succulents we've never seen.

It's easy to share from a succulent garden, just snip a little cutting, each cutting grows a new plant. We enjoy teaching classes on succulents and succulent crafts and we cherish the friendships we've made along the way.
Here are a few of their amazing succulent products!
I am including some of the Succulent Artworks product descriptions for your convenience.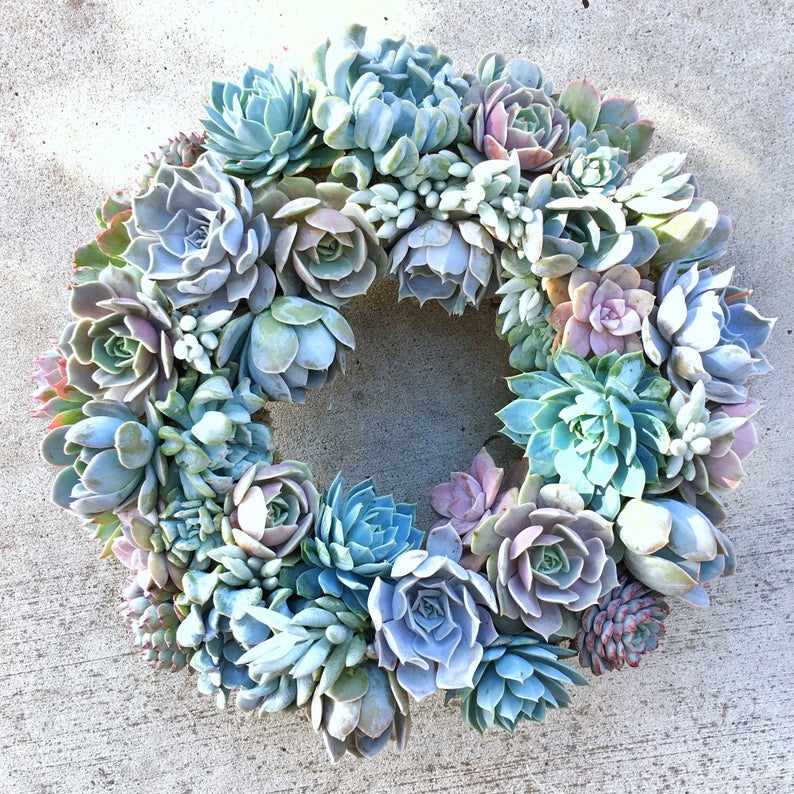 A customer on their site left a comment about this wreath. She bought one for her and her daughter and she was so in love with them that she wanted to keep them both! That is proof enough to me that Julia's wreaths are amazing.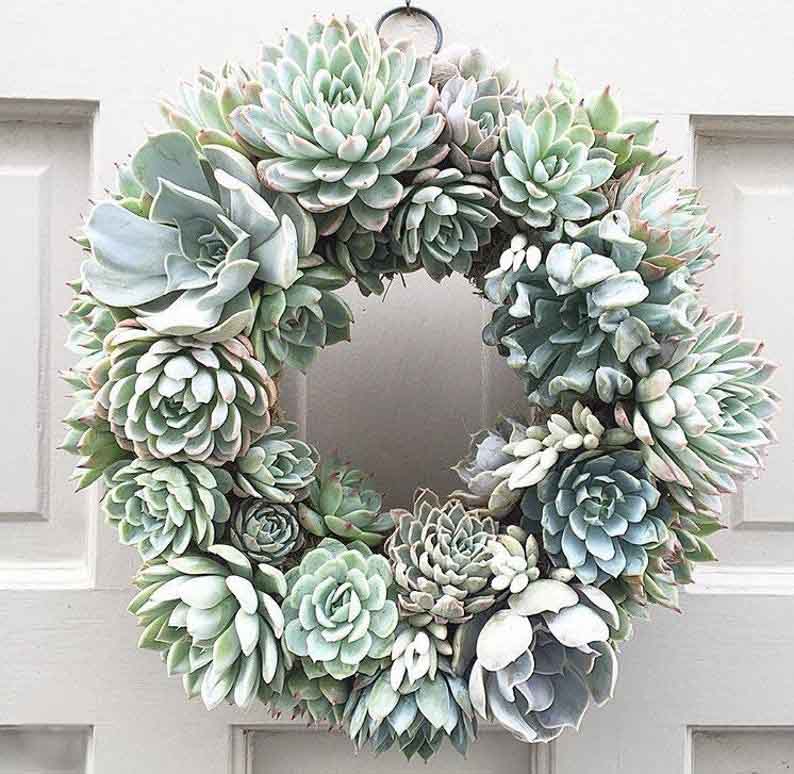 This beautiful, long-lasting wreath is perfect for the front door or a garden wall. Beautiful Year-Round Gift. It's filled with Echeveria succulents in shades of blue & white. The delicately colored succulents are among the hardiest and in such high demand that growers can't grow them fast enough!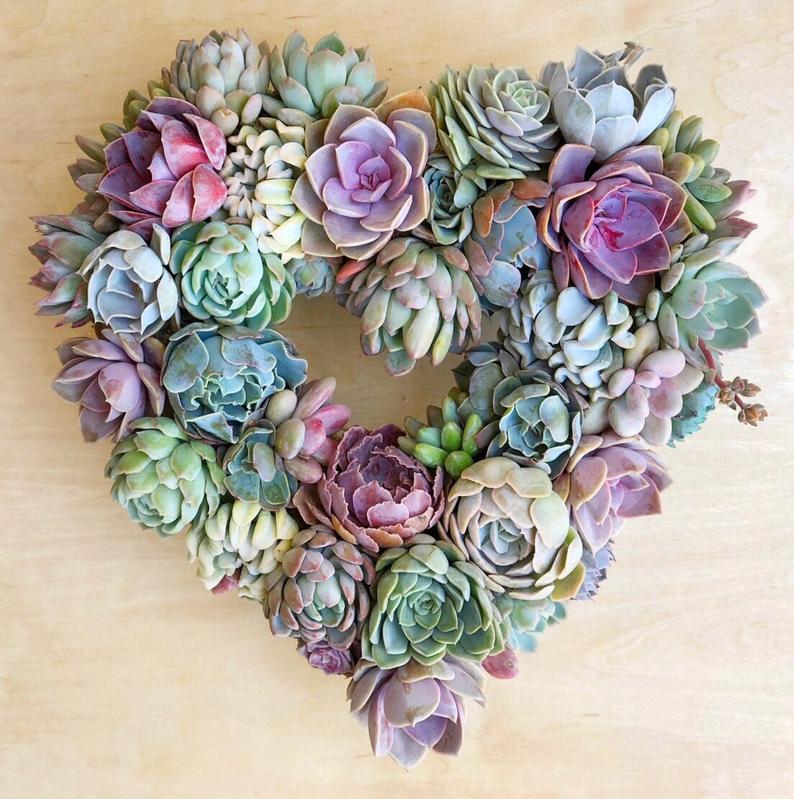 This beautiful heart-shaped Succulent Wreath features flower-shaped succulent plants in pastels or jewel colors. Available in 16″ and 14″. I absolutely love this shop for succulent decor!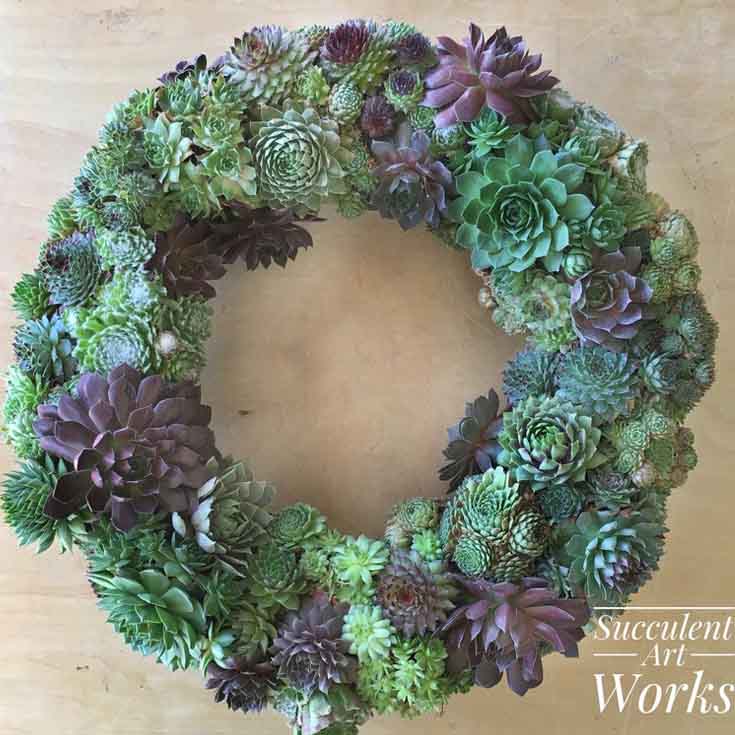 This Living All-Weather Succulent Wreath is made with hundreds of beautiful Sempervivum succulents. Sempervivums grow easily in the Alpine Mountains despite extreme heat in summer and cold, snowy winters. That's how they got their name, Sempervivum, which means "forever living".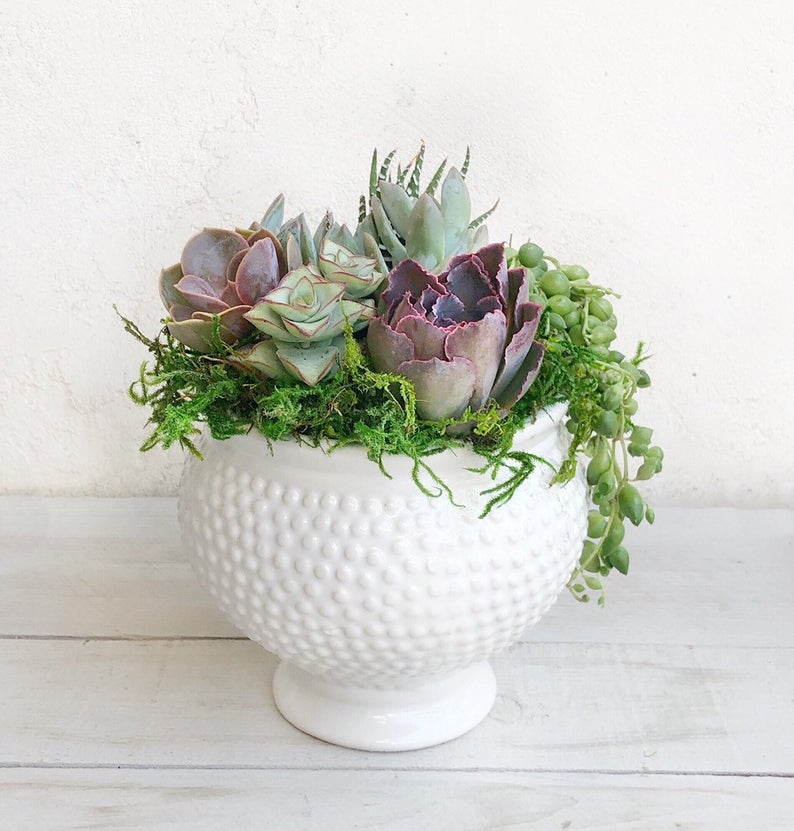 Ok, if you want more succulent decor other than wreaths, here is a smattering of other items Julia carries.
Succulent Arrangement in Arctic white hobnail ceramic planter, our beautiful ceramic planter is filled with over half a dozen succulents. This hobnail ceramic container is available in Arctic White and Seaside Blue.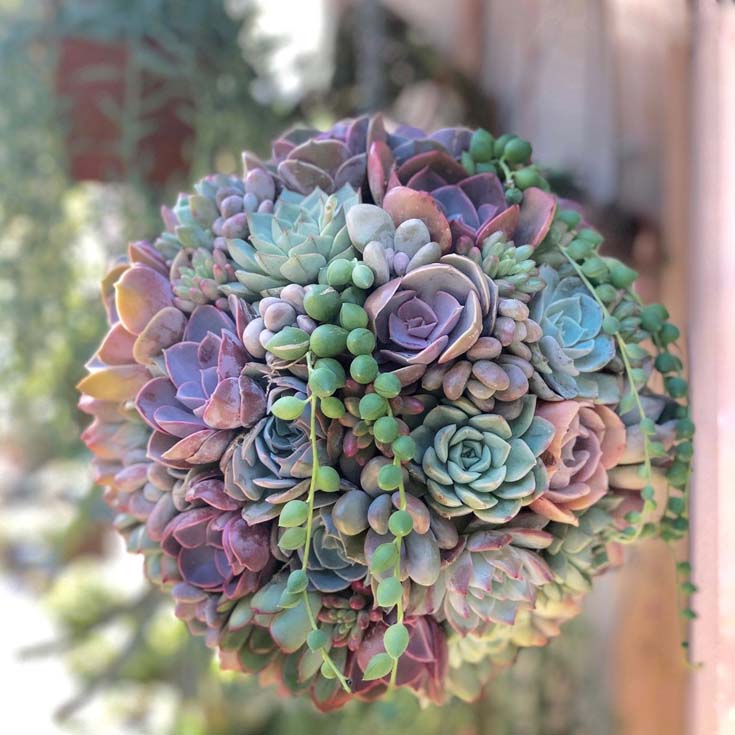 Hanging Succulent Arrangement, 10" Succulent Topiary Ball, Succulent Sphere, Their succulent orb is perfect for home or garden, The succulents are live, anchored in an orb-shaped moss topiary. They can customize colors for your decor!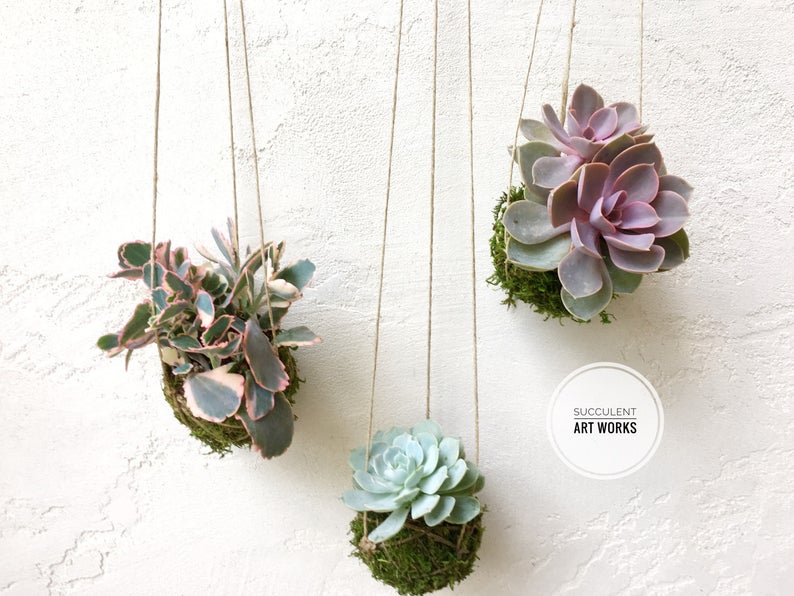 This beautiful Kokedama is sometimes called a Japanese moss ball or hanging string garden. Each is skillfully handmade and ready to hang. The process includes using a special soil mix to create a ball around the succulent roots, the soil ball is layered with natural green moss wrapped securely with twine. The process creates a natural "pot" for the succulent. It's a beautiful way to grow and showcase a succulent. Kokedama can be hung or set on a dish.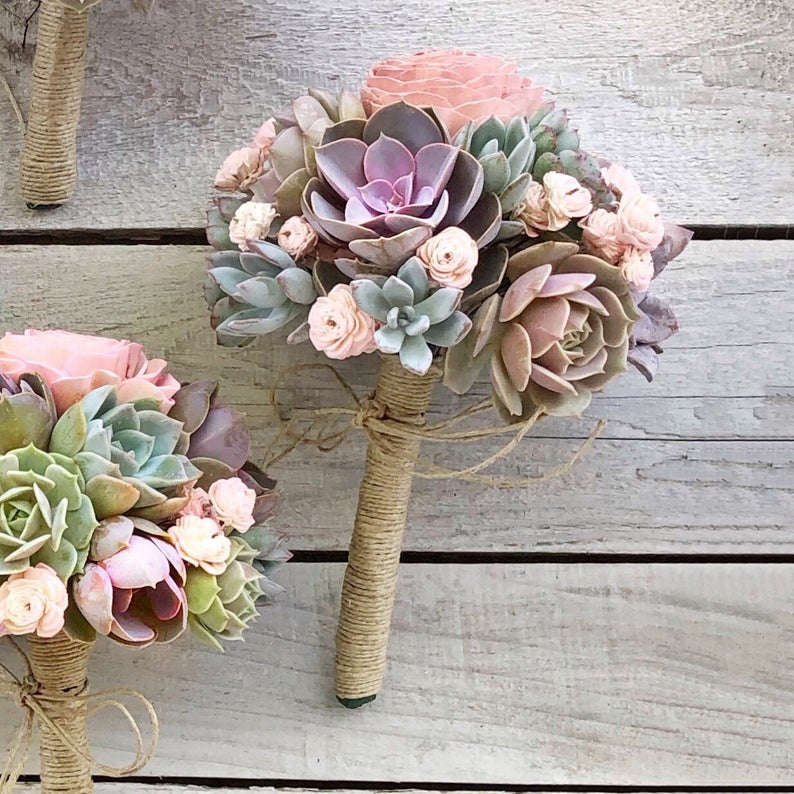 Each Succulent Wedding Bouquets is customized especially for You. Their bridal bouquets are made to order with your requested colors.
Well, thanks so much for stopping by and if you get a chance check out my other Boutique of the Week posts.
And if you like these wreaths and want to try making one, my talented friend, Leslie has a great post on How to make a succulent wreath.
I hope you enjoyed this great shop for succulent decor post. Well, until next Wednesday, keep safe and healthy.
Cheers,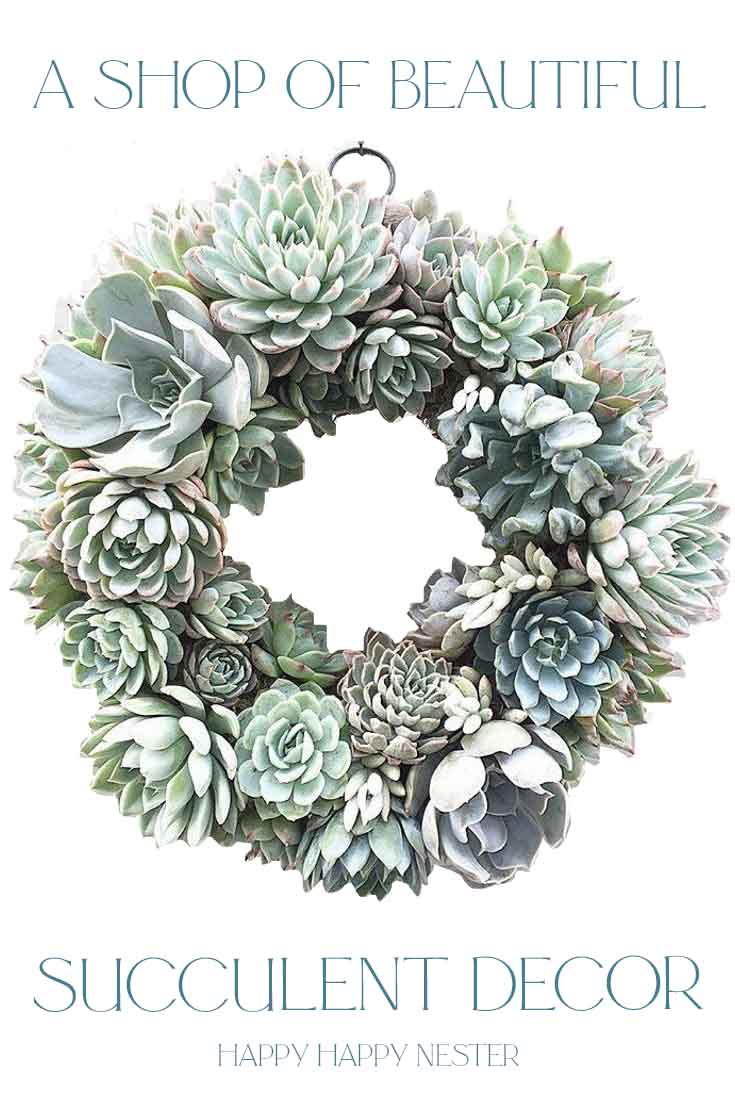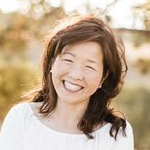 Latest posts by Janine Waite
(see all)