The Happy DIY for today:Organizing Kitchen Labels
So, this post is packed with some great things. First, I'm a part of a blog hop so, welcome from Leanna, Of Faeries and Fauna Crafts. At the end of my blog post make sure to visit all my friend's awesome websites.
Secondly, I'm giving away a set of these cool labels. So, make sure to read to the end for the details.
Organizing Kitchen Labels
So, now that we got all that taken care of some of the business, let's get onto this fun post.
It wouldn't be January if we didn't attempt to organize our home and lives.
I admit that I'm guilty.
Last year, I organized our pantry. You can view my pantry post.
But, these gorgeous handmade labels have been calling my name. So, what better time to apply them to my kitchen containers!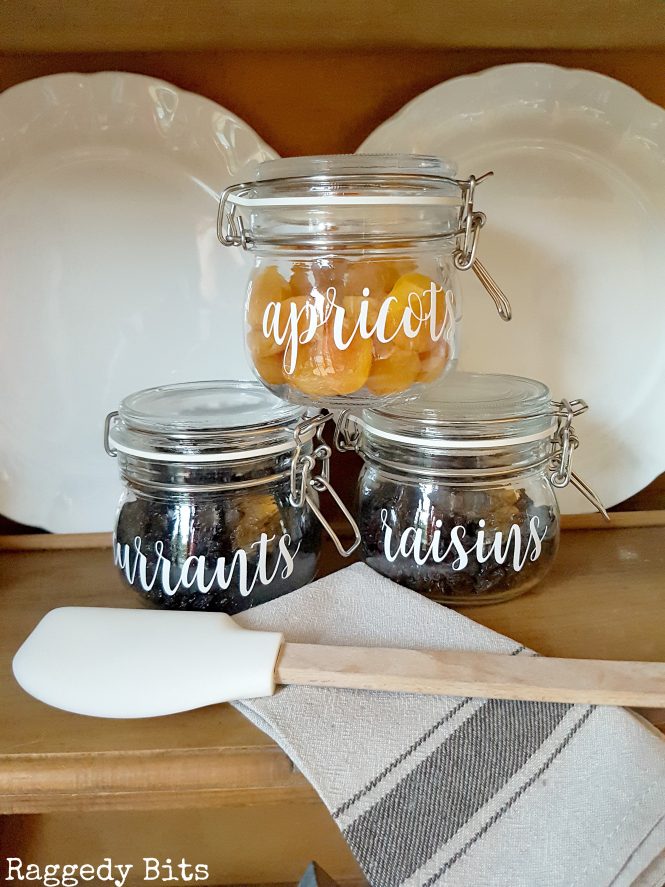 My great pal, Sam from Raggedy Bits provided these lovely organizing kitchen labels.
A little backstory about Sam. We met on Facebook about two years ago and we decided to help each other with blogging. She lives in Australia and we have seriously talked almost every day since we met.
You can say we love to chat.
So, here is a bit of our conversation.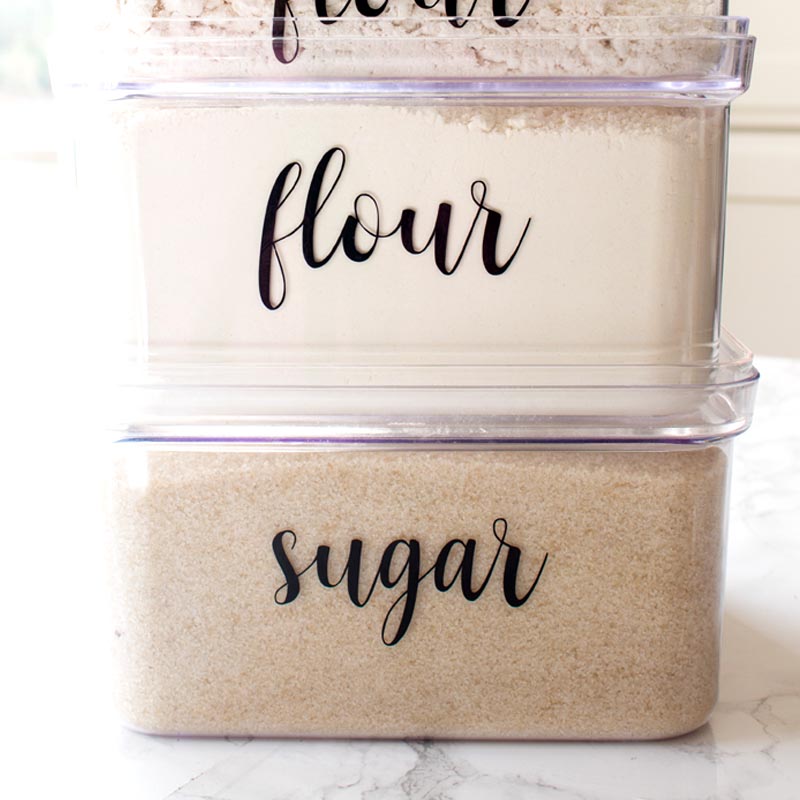 Interview
Happy Happy Nester: What inspired you to make kitchen labels?

Raggedy Bits: I had been wanting to get some organisation going on in my pantry for some time. So after finally getting around to gathering up the all the jars from Ikea the labels were then designed and made.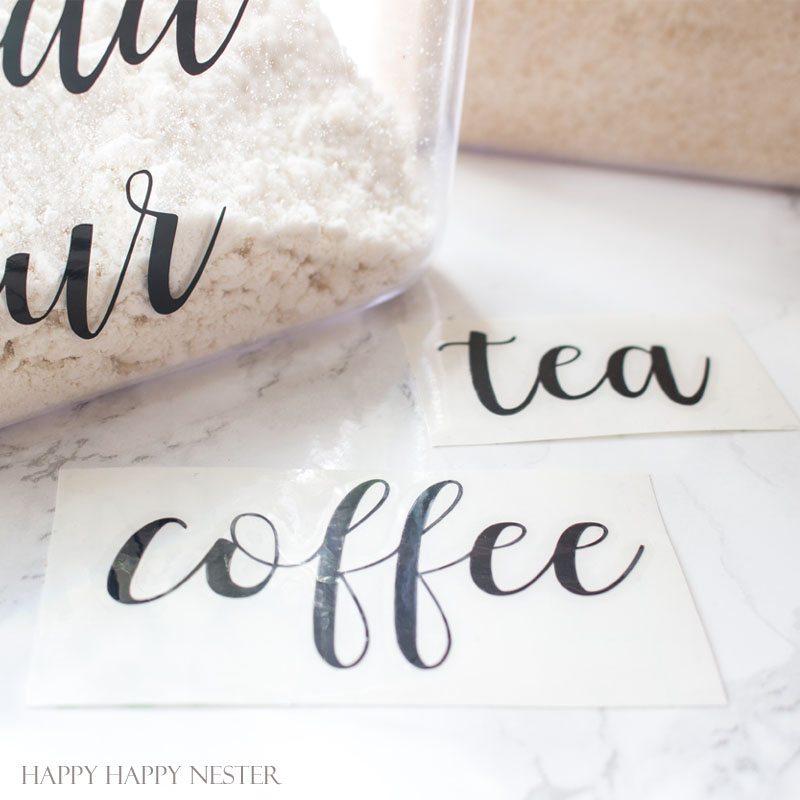 HHN: Are all your kitchen jars covered with these labels?

Raggedy Bits: Almost! I have just recently added a dried fruit collection to our pantry and am working on all of the other goodies like snacks and baking items.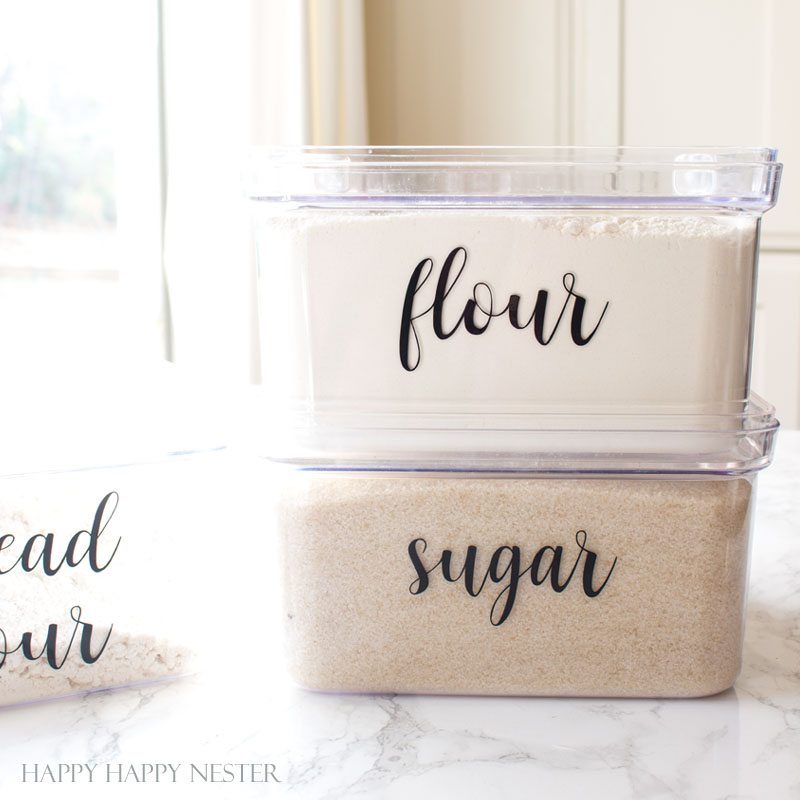 HHN: Since you are located in Australia, do you sell mostly to Australians or Americans?
Raggedy Bits: It's currently about half and half. Always happy to swap out labels for different products that are in each country.
HHN: What style of kitchen would your dream kitchen look like?
Raggedy Bits: Vintage Farmhouse!! So lot's of white, black and neutral colours with a mix of old scales, galvanised goodies, wooden painted signs and vintage finds. That way I can add pops of colour to the kitchen with flowers and accessories as the seasons change.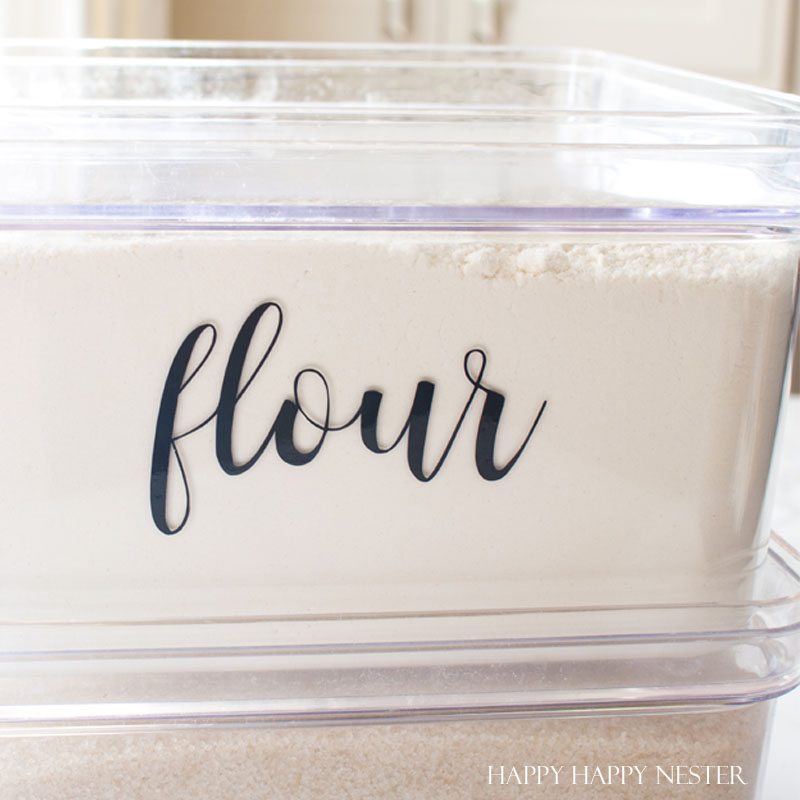 HHN: What is your favorite meal to make?
Raggedy Bits: With it being Winter here at the moment it would have to be my Slow Cooked Lemon Pepper Chicken with roasted veggies and gravy.
HHN: You have mailed your labels to people around the world, which is the most interesting place you have mailed to?
Raggedy Bits: I recently had an order from France and that was fun finding all the French words for pantry items.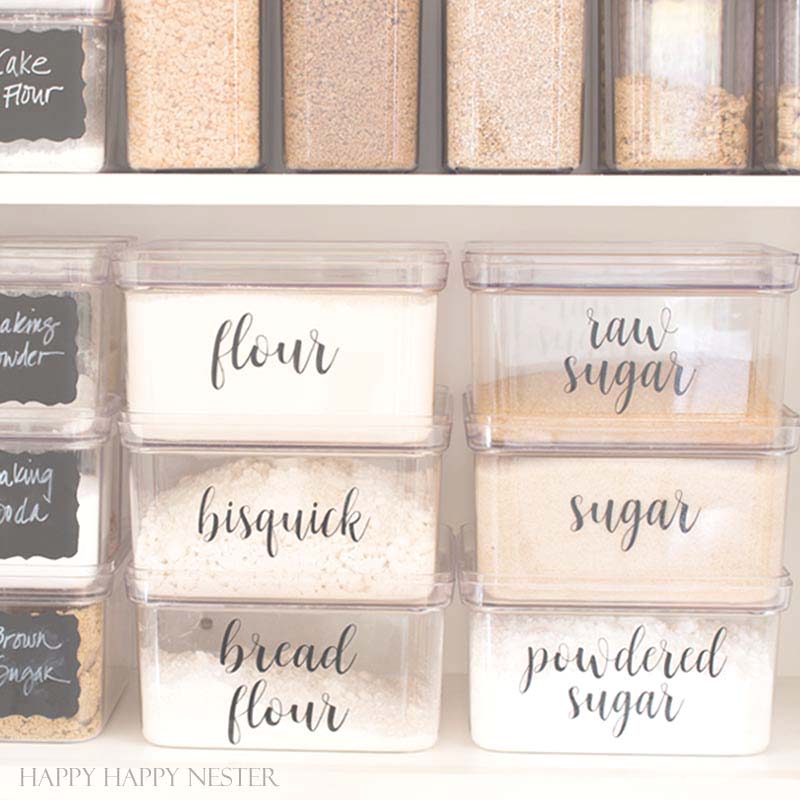 HHN: Is it only you who fills orders? What is your turn around time from receiving the order to mailing it out?
Raggedy Bits: Sure is just me. I am hoping in the not too distant future to have someone come and help. I try to post the next day after the order comes through. Sometimes this may not happen due to high volumes of orders but that is my goal.
DIY's on Applying the Label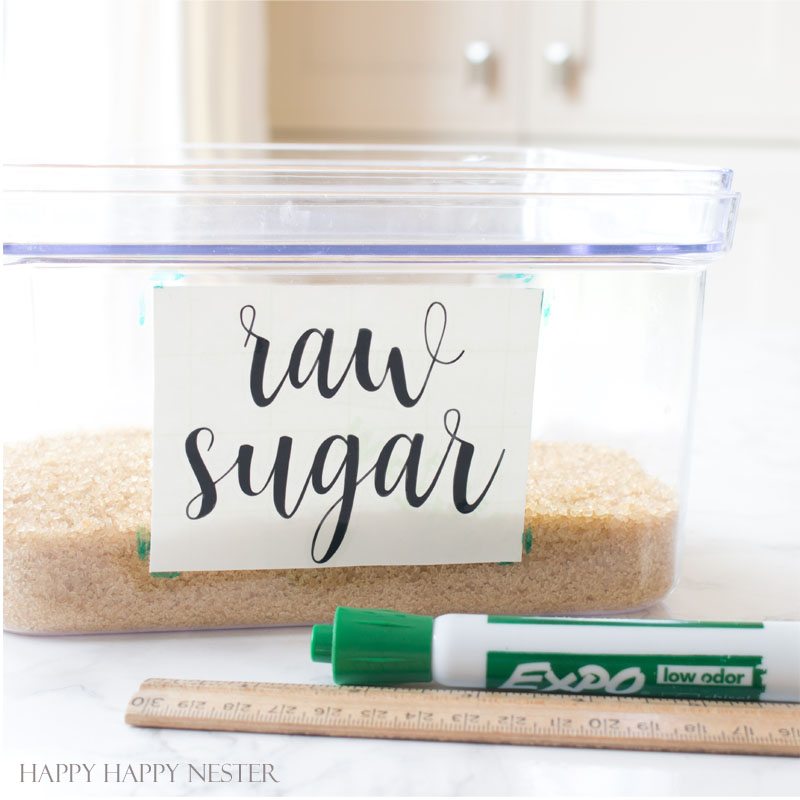 1. Here is Sam's link to buy her kitchen labels. Measure and mark your container the exact place you want to place your label. So, I just placed lines in the corners of the label as shown in my photo. I used a dry erase marker that wiped off easily.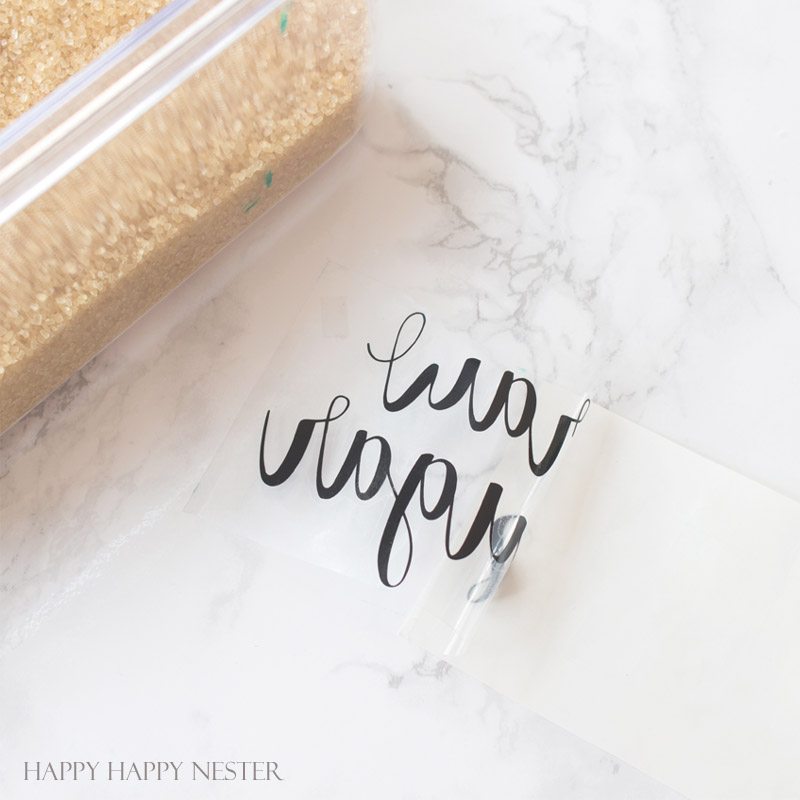 2. Peel away the white backing to separate the plastic and black type. Now, this can be a bit tricky. So, sometimes the black print does not want to peel away with the clear plastic, so make sure to rub the type to the plastic sheet. Also, the white paper will hold onto the black type, just peel away with your fingernails. Sorry that the labels can be a bit touchy to work with during this stage of the process.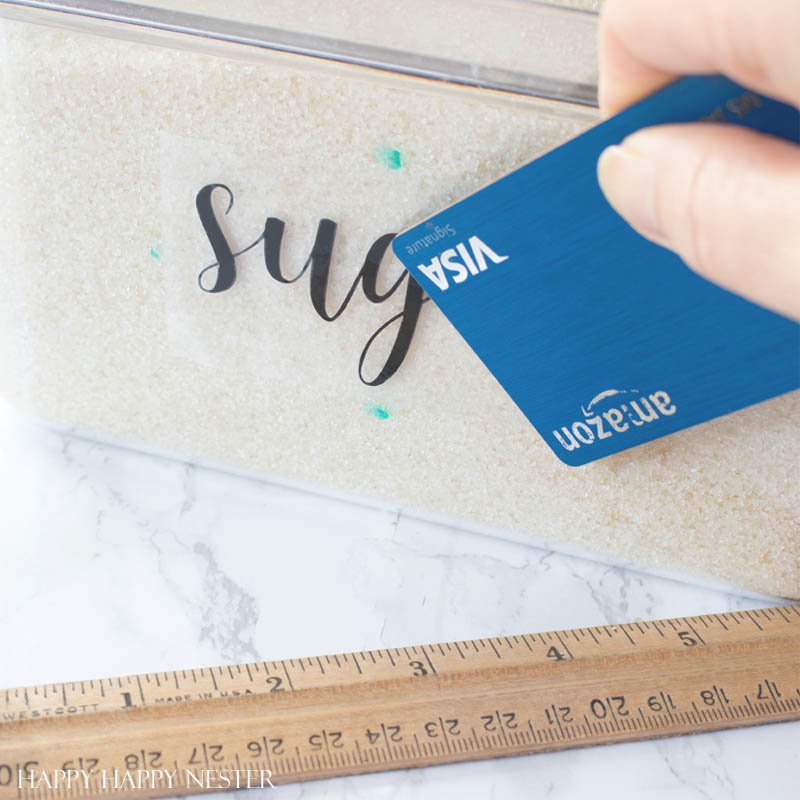 3. So, once the label is on your container, use a credit card edge to get rid of air bubbles. Also, this pressure will help adhere the labels to the surface.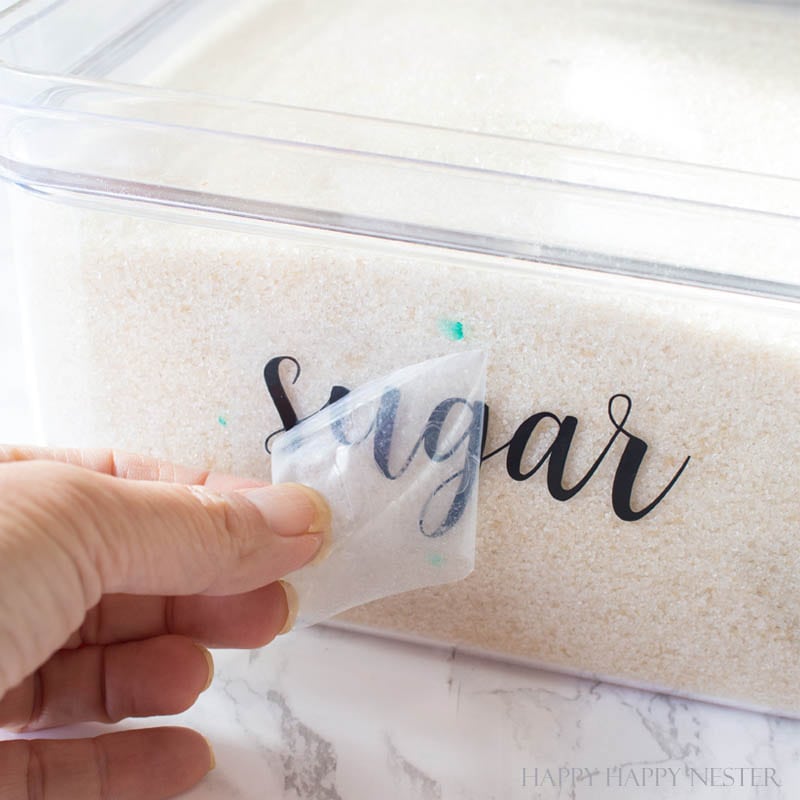 4. Pull back the plastic layer to reveal the black label. Just wipe away your marks and enjoy.
5. Do not wash your container in the dishwasher. Handwash in warm water.
Cheers.

Welcome to Our Monthly Creative Blog Hop
Kellie | Gratefully Vintage
Michelle | Our Crafty Mom
Leanna | Of Faeries and Fauna Crafts
Janine | Happy Happy Nester
Katrin | Kreativ K
Sam | Raggedy Bits
Ashley | Modern Glam
Mary | The Boondocks Blog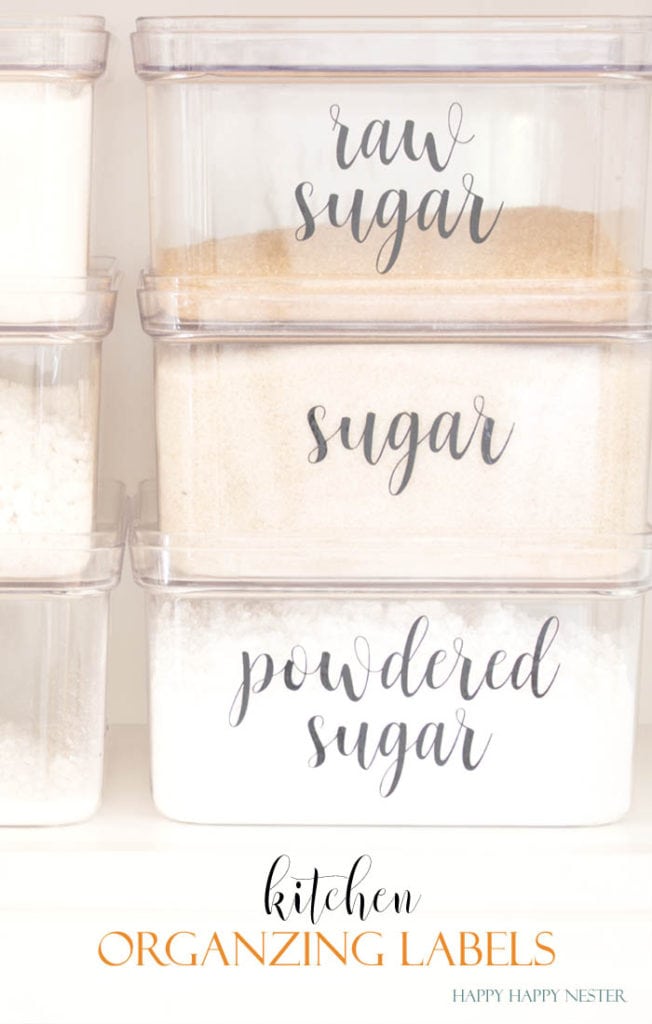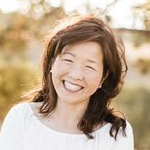 Latest posts by Janine Waite
(see all)