Graduation is upon us, and I'm not ready. Here in the Bay Area, graduation is the second week of June. Did I mention I am not ready? I love celebrations and parties and planning parties, but every time I start thinking about my son graduating, I burst into tears because I'm not ready. Is he ready? Yes, I'm sure he is. He has big plans, college plans, career plans. And he's going to live a big, beautiful, adventurous life, and I am excited for him. Excuse me, I need to go get a tissue…
~Funny note about the Nester:~
Janine loves to laugh and we do a lot of giggling and laughing when we are goofing, I mean working, on serious blog projects. During this project, we used her pancake dispenser and it made bodily function noises. Okay fart noises, and we laughed so hard we were on her kitchen floor. Yes, we are mature adults. LOL.
Ok, I'm back. (deep breathe)
I love to plan parties. For my son's graduation celebration, I've ordered GIANT "2015" mylar balloons, decorations, photos, and food. I've sent the announcements and invitations; now I just needed some dessert ideas. Janine and I were talking about it, and we decided we should learn to make CAKE POPS! I've seen them on Pinterest and thought they are so cute, but it must be difficult to cut a cake into circles, how do they do that? (I'm blonde). Janine's sweet neighbor told her she has a cake pop maker and that we could borrow it. We gathered some recipes and got to work.
First, we used this amazing cake pop maker by Babycakes. It works similar to a waffle maker and the little cake pops bake in just three minutes. Did you hear that? Three minutes. I was amazed.
After dispensing the cake batter and waiting three minutes, you pop the little balls of cake out with a toothpick and put them in the freezer. This makes them firm and easier to place on a stick and frost. Next, you commence dispensing the remaining batter into the amazing Babycakes Mini Cake Pop Maker. Wait for three minutes and you have another bunch of cake pops. This is a fun baking activity. Place those beautiful little globes of cake in the freezer, and repeat with remaining batter.
Once you've used all of the cake batter, it's time to prepare your frosting and decorations.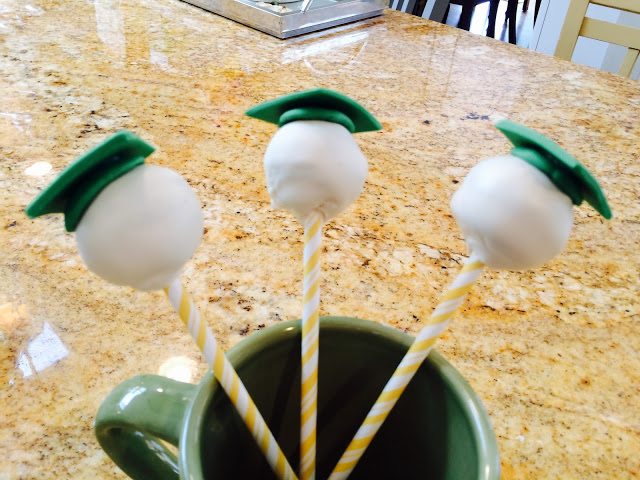 Sorry, the photo is so blurry. This is the best one I took. Note to self, use your DSLR.

We dipped the cake pops into the creamy frosting and swirled them around so that they looked smooth. Being careful to make sure they don't look "drippy." Then, we set them somewhere so, they won't bump into each other. We put them in a coffee mug and allowed the frosting to firm up.
I'm really excited to make more of these tasty cake pops and I am immensely proud of my graduate. He is an outstanding son, a supportive brother, a wonderful boy, a kind, good-natured, ambitious, crazy, and adventurous soul. (sniff) I better go now, I'm getting the cake pops salty with my tears and no one will want to eat them.
I hope you try to make cake pops soon, and definitely let us know how they turned out. We'd love to see them.