Get ready to indulge in the buttery goodness of this Cornbread Appetizers recipe. The sweet cornbread becomes infused with the rich butter flavor with each bite, creating the ultimate appetizer.
Simple to make and guaranteed to be a hit, this quick bread will soon become a favorite among your family and friends.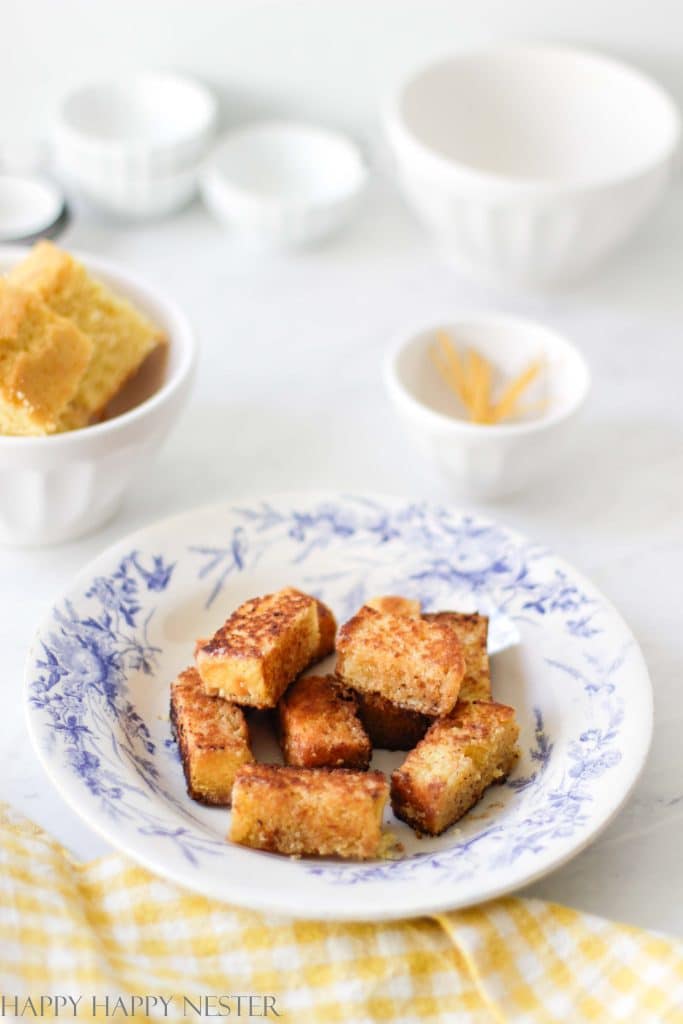 Cornbread, oh, the comfort it brings with its sweet and bready goodness! I've taken my all-time favorite recipe and kicked it up a notch by frying it in a glorious pan of melted butter. Trust me, every side of those cut cornbread cubes becomes a crispy, buttery delight that's downright addictive.
Prepare yourself for a cornbread experience that surpasses most others! This recipe delivers a moist buttery delight with just the right amount of sweetness.
I've always believed it better than the cornbread served at Marie Callender's restaurants, with only one thing missing: their irresistible whipped honey butter.
I've taken my favorite cornbread recipe and given it a delightful twist that will leave you craving for more!

Living just a hop, skip, and a jump away from Napa in the San Francisco Bay Area, we love weekend getaways for shopping and dining. And let me tell you, the restaurants there are out-of-this-world amazing, serving up mouthwatering dishes.
One place that we love is Rutherfords, where we recently devoured their heavenly cornbread bites, sizzling in a cast iron skillet. Trust me when I say these bites are a butter lover's dream come true!
So, I got busy in my test kitchen and recreated these delectable cornbread appetizers recipe at home, and let me tell you, they taste just like the ones at Rutherfords!
These are Different Than Southern Fried Hoe Cakes
Southern fried hoe cakes are a delightful cross between a pancake and cornbread, where cornmeal takes center stage in the batter.
Traditionally, these cakes are made by frying a pancake-like batter in a trusty cast iron skillet.
However, my recipe puts a twist on the classic by frying up delectable cornbread pieces in a buttery pan, resulting in a mouthwatering appetizer.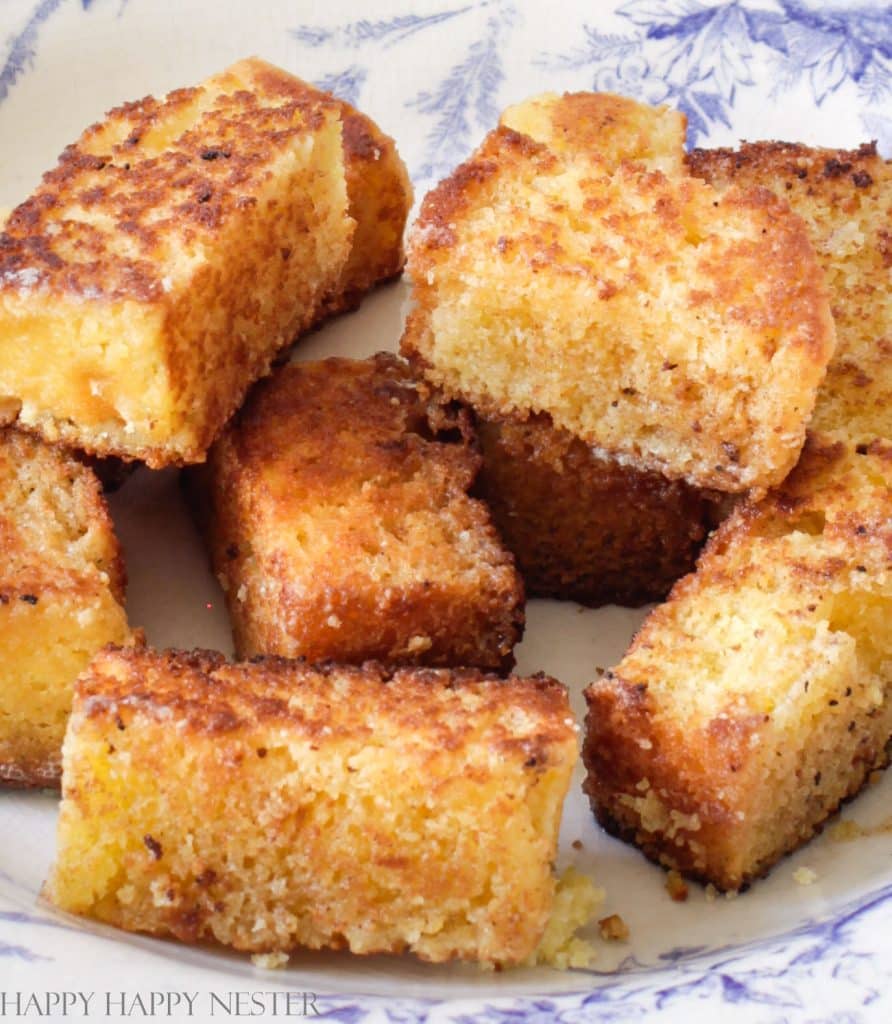 Why You're Going to Love These Fried Cornbread Bites!
Irresistible Butteriness: The abundance of butter used in frying cornbread bites adds an irresistible richness and flavor. It creates a golden crust that is delightfully crispy on the outside while maintaining a soft and tender interior. Each bite is like a burst of buttery goodness.
Perfect Texture: The combination of frying and the butter-infused cooking method gives the cornbread bites a unique texture. They have a wonderful contrast between the crispy exterior and the moist, fluffy inside. It's a delightful play of textures that makes each bite a delightful experience.
Enhanced Flavor: When cornbread bites are fried in butter, the butter permeates every nook and cranny, infusing them with its rich, savory taste. The buttery flavor takes the cornbread to a whole new level, making it even more delicious and satisfying.
Versatility: Fried cornbread bites are incredibly versatile. They can be enjoyed as a tasty appetizer, a delightful side dish, or a satisfying snack. Their bite-sized nature makes them perfect for sharing and enjoying at parties or gatherings.
Comfort Food at Its Finest: Fried cornbread bites fried in butter evoke a sense of nostalgia and comfort. The combination of warm, buttery goodness and the familiar taste of cornbread creates a comforting and soul-soothing experience. It's a simple pleasure that brings joy to both the palate and the heart.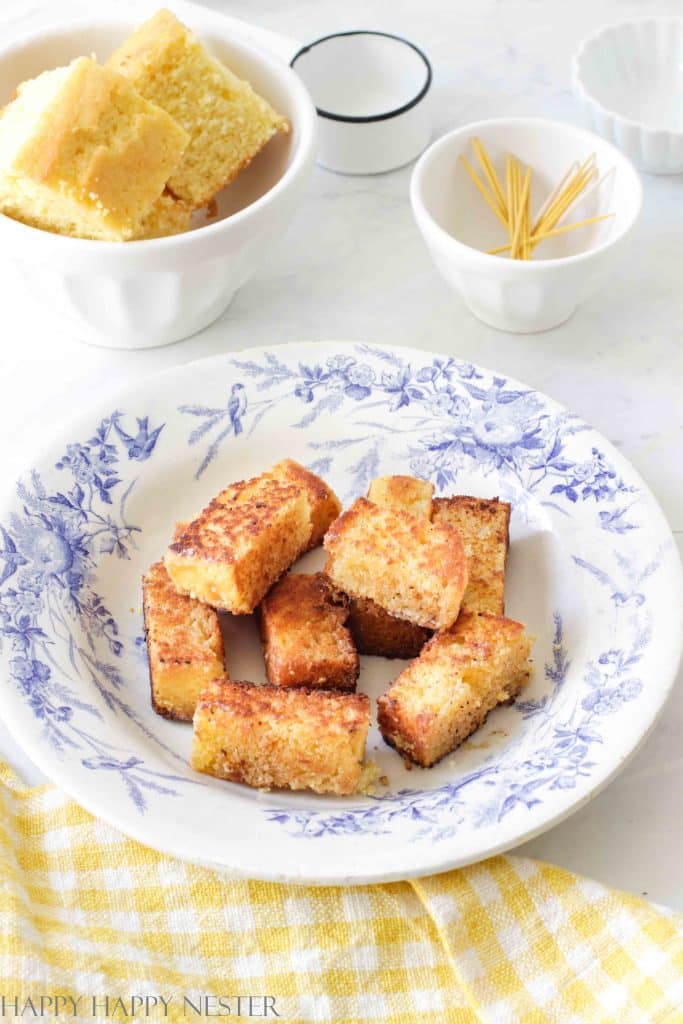 Ingredients You'll Need For This Cornbread
Bisquick: Bisquick is a versatile ingredient that adds convenience to the fried cornbread recipe, providing a pre-mixed blend of flour, baking powder, and shortening.
Cornmeal: Cornmeal is a crucial element that gives the cornbread its signature flavor and texture, adding a delightful hint of corn goodness.
Sugar: A touch of sugar adds a subtle sweetness to balance the flavors of the cornbread, enhancing its overall taste.
Eggs: Eggs play a vital role in binding the ingredients together, contributing to the structure and moisture of the cornbread.
Milk: Milk adds moisture and tenderness to the cornbread, ensuring a soft and fluffy texture.
Melted Butter: Melted butter not only brings a rich, indulgent flavor but also contributes to the crispy and golden exterior of the fried cornbread, elevating its overall deliciousness.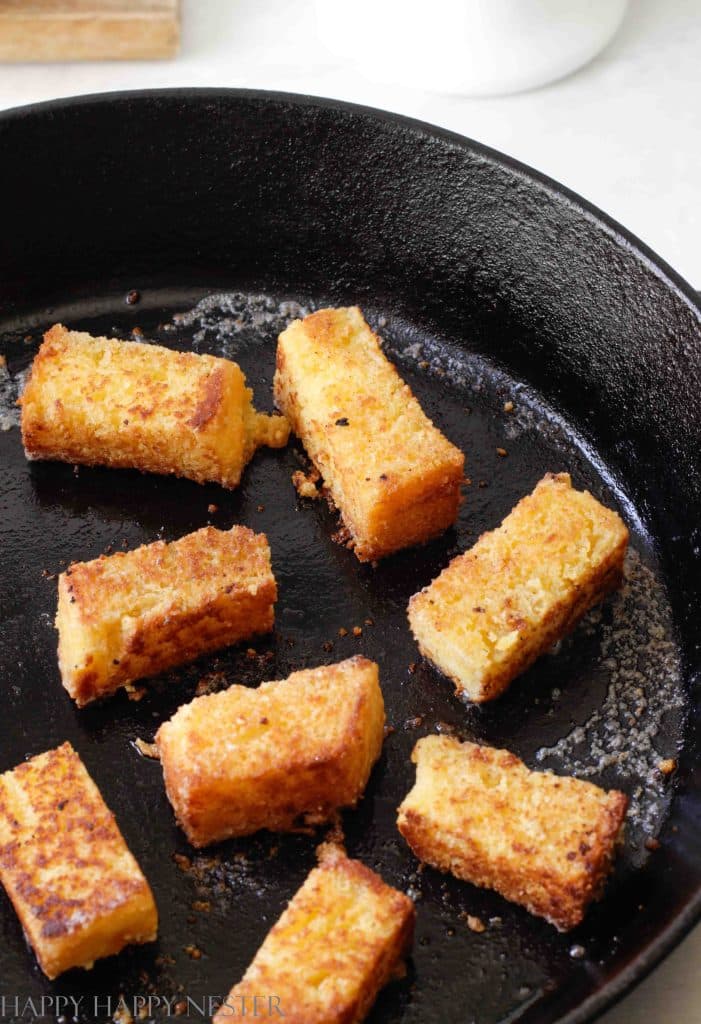 How to Make Fried Cornbread in a Skillet
Forget about ordinary cornbread because this recipe takes it to a whole new level! After baking the cornbread in the oven, it's sliced into tempting bite-sized pieces. But here comes the magic: these delectable bites are then fried in a sizzling cast iron skillet, generously coated with luscious butter on all sides. This heavenly butter infusion transforms this sweet bread into a divine treat that surpasses anything you'll find in a store-bought box of Jiffy cornbread!
Don't be intimidated that this recipe is cornbread from scratch. It's such an easy recipe that is made in one bowl!
Step 1 – Make Cornbread
Combine baking mix, cornmeal, and sugar in a bowl.  Add eggs and milk. Beat until well blended. Mix in melted butter. Place in greased pan (8 in square). Bake at 350 degrees for 35-40 minutes or until a wooden toothpick comes out dry. 
Step 2 – Slice the Cornbread
Slice the cornbread into 9 square pieces. You may have a little extra on the sides. Take each piece and cut it into three to four bites.
Step 3 – Fry Bite Size Pieces
Melt butter in a cast iron skillet. Gently place the sliced cornbread pieces in the melted butter and fry each side of the cornbread.
Cornbread Appetizer Bites
This cornbread recipe is flawless and comes out perfect every time. It is moist and sweet and almost like a cake. When fried in butter, the sweet cornbread becomes infused with the rich butter flavor, creating the ultimate appetizer.
Ingredients
Cornbread
2

cups

buttermilk baking mix

Bisquick

8

tablespoons

cornmeal

1

cup

sugar

baker's fine sugar works best

2

eggs

1

cup

milk

1/2

cup

butter

melted
Instructions
Cornbread
Combine baking mix, cornmeal, and sugar in a bowl.

Add eggs and milk. Beat until well blended.

Place in greased pan (8 in square). 

Bake at 350° for 30-40 minutes or until a wooden toothpick comes out dry. 

Once the cornbread is cooled, cut into 9 squares. Divide each square into four slices and set aside for later.
Frying Cornbread
Melt about 2 tablespoons of butter in a cast iron frying pan. Add some cornbread bites and fry all their sides. Remove and place them on a plate. Add another 2 tablespoons of butter and fry another batch of cornbread bites. Repeat until all cornbread is fried.
Nutrition
Serving:
1
serving
|
Calories:
78
kcal
|
Carbohydrates:
7
g
|
Protein:
1
g
|
Fat:
6
g
|
Saturated Fat:
3
g
|
Polyunsaturated Fat:
0.3
g
|
Monounsaturated Fat:
1
g
|
Trans Fat:
0.2
g
|
Cholesterol:
23
mg
|
Sodium:
47
mg
|
Potassium:
19
mg
|
Fiber:
0.1
g
|
Sugar:
6
g
|
Vitamin A:
182
IU
|
Calcium:
11
mg
|
Iron:
0.1
mg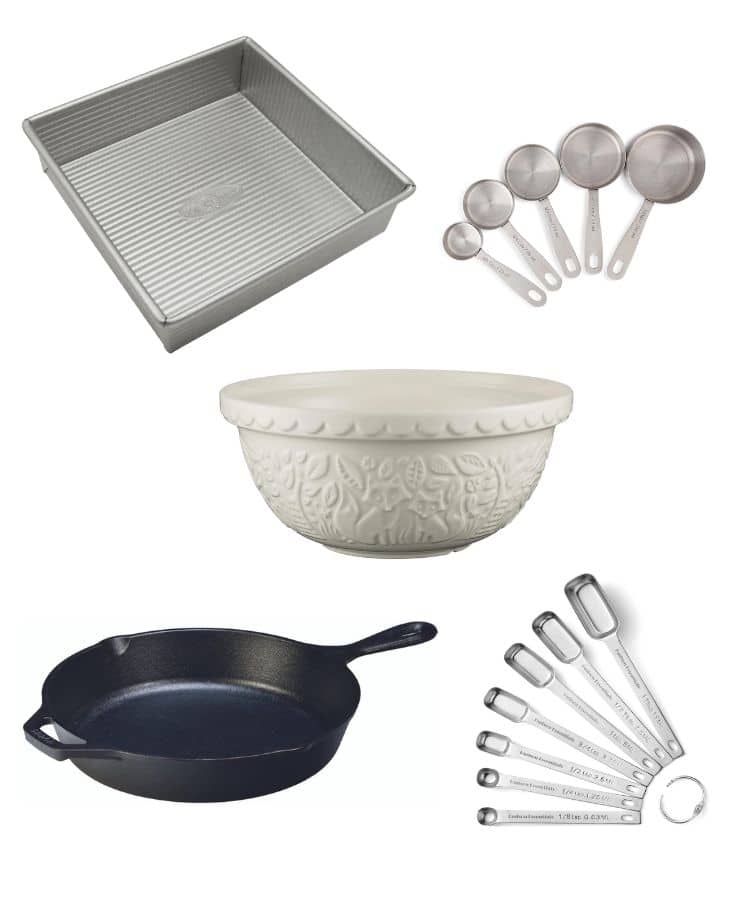 My Favorite Baking Products
Square Baking Pan | Measuring Cups
Cast Iron Skillet | Measuring Spoons
---
Things to Add to The Cornbread
I absolutely adore this recipe as it is, but if you're feeling adventurous and want to experiment, here are a few fun ideas to consider.
Jalapeños: Adding diced jalapeños to the cornbread batter can bring a spicy kick and a burst of flavor to each bite.
Cheese: Incorporating shredded cheddar, Monterey Jack, or any other favorite cheese into the batter creates a cheesy cornbread that is rich and indulgent.
Corn kernels: For an extra pop of sweetness and texture, adding corn kernels to the batter provides delightful bursts of flavor throughout the cornbread.
Herbs: Fresh or dried herbs like chopped rosemary, thyme, or chives can add a fragrant and savory element, elevating the overall taste of the cornbread.
Bacon: Crispy cooked bacon, crumbled and mixed into the batter, lends a smoky and savory twist to the cornbread, adding a delightful contrast of flavors.
Green onions: Chopped green onions provide a mild onion flavor and a pleasant crunch to the cornbread, enhancing its overall taste and appearance.
Spices: Experimenting with spices like paprika, chili powder, cumin, or garlic powder can add depth and complexity to the cornbread, making it a more robust and flavorful experience.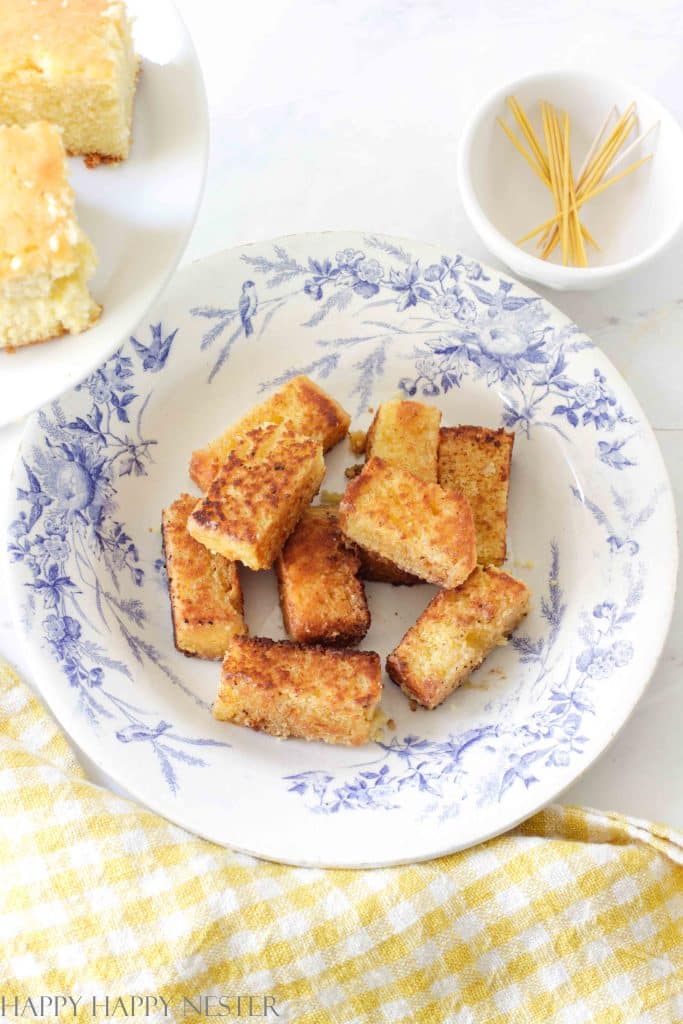 Serve These Yummy Appetizers With These Dishes:
Next, I'll have to create the traditional Southern Fried Hoecakes and cornbread muffins! So stay tuned.
Until my next recipe, savor and enjoy this delightful little cornbread appetizers recipe!
Thank you for stopping by, and happy baking!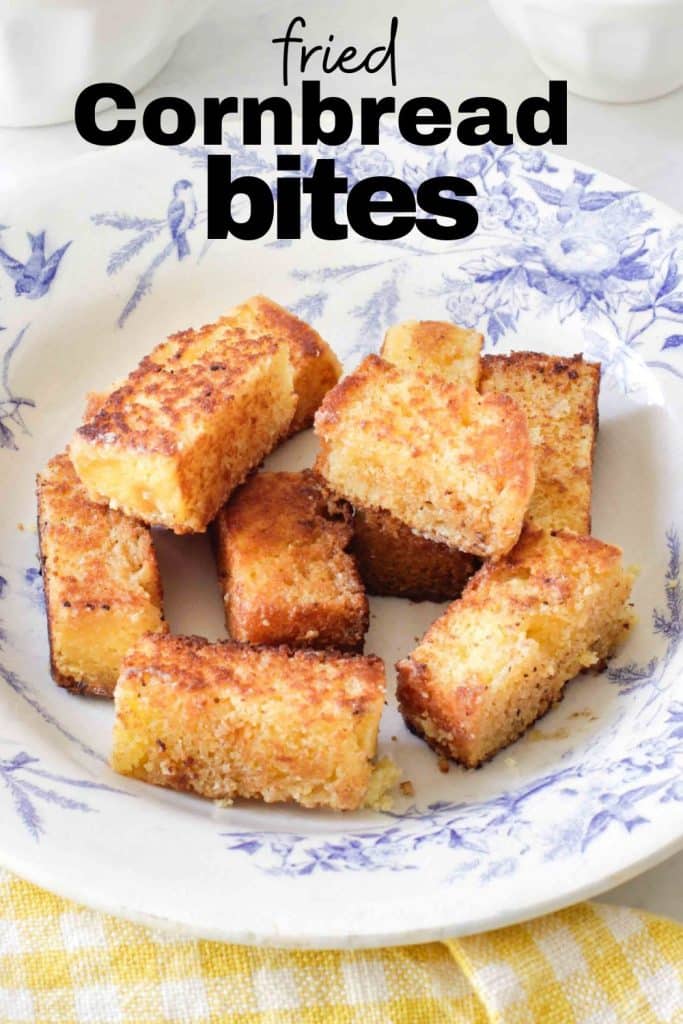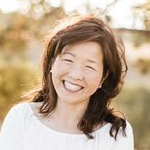 Latest posts by Janine Waite
(see all)