I can't resist a Dutch Apple Pie Recipe with a crumble topping! The combination of yummy apples and sweet, crunchy topping is perfect. Add a dollop of vanilla ice cream to make a winning combination.
There is nothing like a tasty apple pie with a delicious crust. The apple filling and crust are from a longtime family favorite recipe.
Over the years, I've collected my mother-in-law's recipes. It feels like a wonderful gift to have my husband's mom still with us and have her share her baking expertise. She has quite a repertoire of desserts that she is quite good at making. Here are some of her recipes that you might enjoy!
---
Dutch Apple Pie Recipe
Since this apple pie doesn't have the double crust, I find it's a little less challenging to make. I also find the double crust a bit heavy on the crust which is why it took me a while to warm up to pies. I now like fruit pies, but most of the ones I like aren't double-crusted.
I hope you agree that my crumble is delicious and makes a nice compliment to the cooked apples.

As some of you know, my father-in-law passed away this fall. So, we traveled to Vermont for his memorial and spent time with my mother-in-law. While there, she said she had to make her apple pie for a pie contest at her church.
Whiled the best day in the orchard and driving around leaf-peeping. While there, we visited an apple orchard and picked some delicious McIntosh and Northern Spy apples. We left the apples with her when we went, and she used them in her apple pie.
Well, she won the pie contest!
She is the one who inspired this recipe!
I'm using her crust and filling recipe and topping it off with my delicious crumble!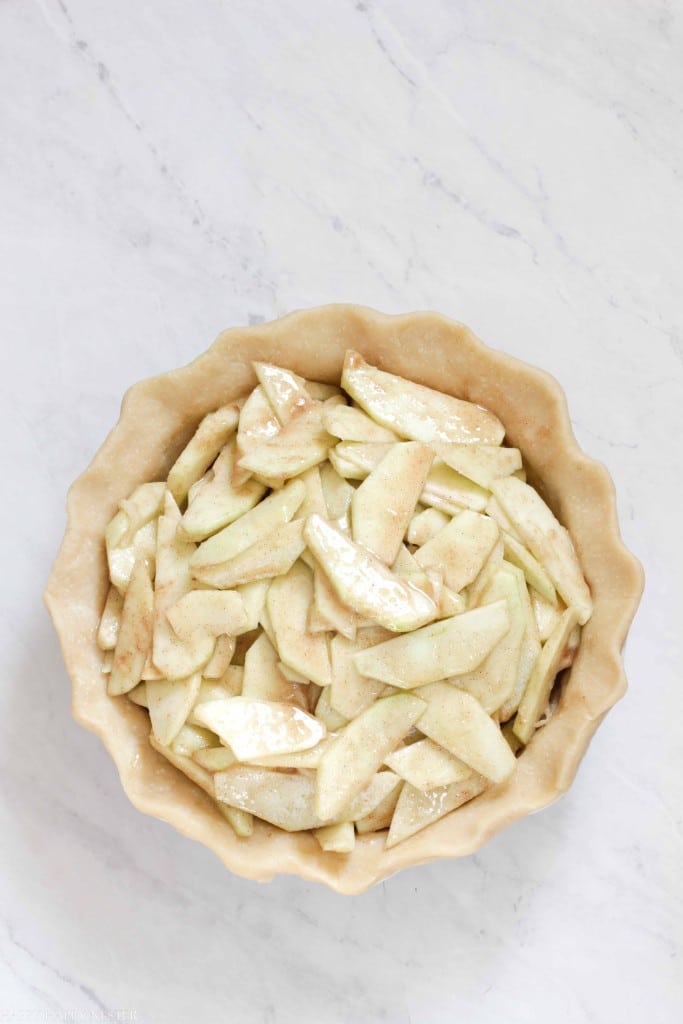 Ingredients You'll Need for This Recipe
Apples
Flour
Brown Sugar
Sugar
Butter
Cinnamon
Crisco
Salt
Water
How to Make This Apple Pie
Step 1 – Make the Crust
In a bowl combine flour, Crisco, salt, and water. Mix with ingredients with your hands until it forms a nice dough. If the dough feels perfect, now add about 1/2 tablespoon more. My mother-in-law Margaret says that this is the secret to her dough. It makes it easier to roll out.
Roll out the dough on floured parchment paper and then transfer it to a pie tin. Add a nice edge to the pie rim dough.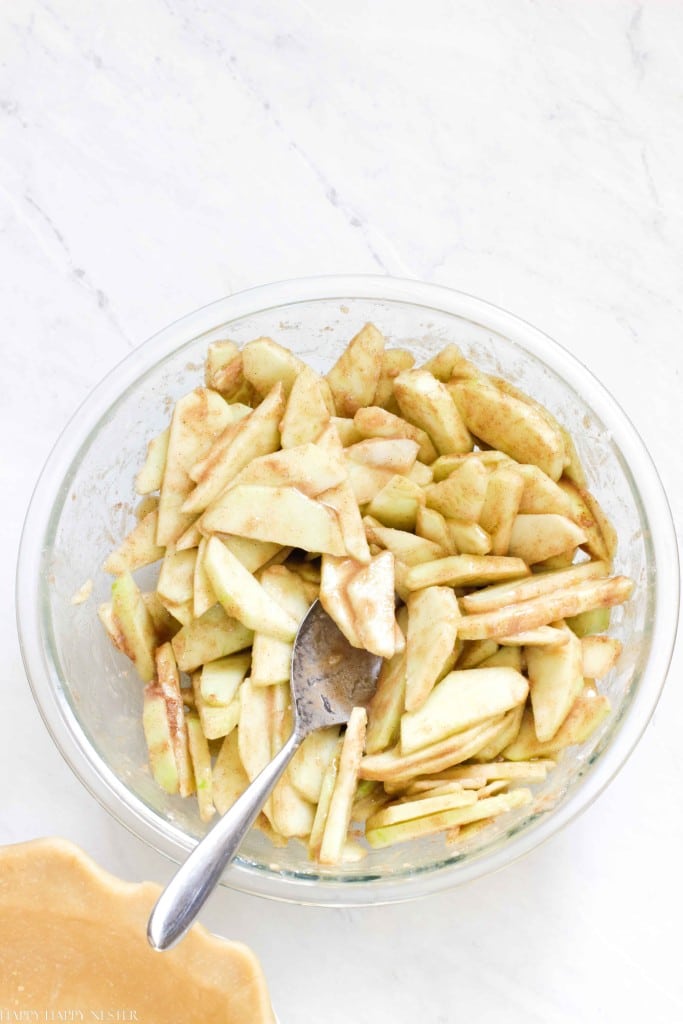 Step 2 – Make the Apple Filling
Peel, core, and slice apples and add them to a bowl with flour and sugar. Mix thoroughly. Place apple filling in the prepared pie crust.
Step 3 – Make Crumb Topping
Combine granulated sugar, brown sugar, ground cinnamon, salt, melted butter, and flour. Mix with your hands until you have crumbles. Now, add the crumble mixture to the pie. Sprinkle with raw sugar if you like for added crunchiness and sweetness.
Cover loosely with tin foil.
Step 4 – Bake
Bake at 425 degrees for 40-50 minutes.
Frequently Asked Questions
What're the Origins of a Dutch Apple Pie?
There is debate over whether the Dutch apple pie originated in The Netherlands or Germany. But the traditional Dutch apple pie most Americans are familiar with is likely a German version.
So here is how the Dutch Apple Pie came about.
The first settlers to make it were from Pennsylvania, and they were of German descent.
Their dessert was a crumble-top pie crust instead of a pastry crust. And so their name may have gotten lost in translation.
You see, the word "German," when written in German, is "Deutsch." Over time, this was likely interpreted as "Dutch" in written apple pie recipes in the U.S.
And What's the Difference Between Dutch Apple Pie and an Apple Pie?
A Dutch Apple Pie has a crumb topping as opposed to a double-crust apple pie.
How Do I Prevent a Runny Apple Pie?
There are a few things that create a runny apple pie. I've grappled with issues when making this pie recipe. I was on the verge of precooking the apples and crust but decided to go the easier route to creating this pie.
Let's look at a few issues that play into this scenario.
The Apples: The apples have an ingredient called pectin. This pectin allows the apple to keep its shape and juices. The tarter the apple, the more pectin it contains. So, Granny Smith's apples will keep their shape and filling as opposed to McIntosh or Delicious apples. That's probably why apple pie recipes prefer that you use Granny Smith apples.
Venting: The apples, when baked, will release their juices. The first time I made this recipe, I covered the whole pie with about an inch-deep crumble. Well, this trapped the fluids in the pastry and was runny. So, in the final version, I made sure to have a few bare spots so the apples could vent. The results were a perfect pie with hardly any extra fluids.
Thickening Agents: This recipe has a fair amount of flour. I did consider par-cooking the apples and blind baking the crust to prevent a runny pie. In the end, I didn't want to add more steps to this recipe, so I decided to increase the flour. I love the results, and this Dutch apple pie recipe is delicious, with a rich filling bursting with spices.
Cool The Pie: If you can, allow the pie to cool and set up overnight, which helps prevent runniness. Leave it on your kitchen counter and loosely cover it.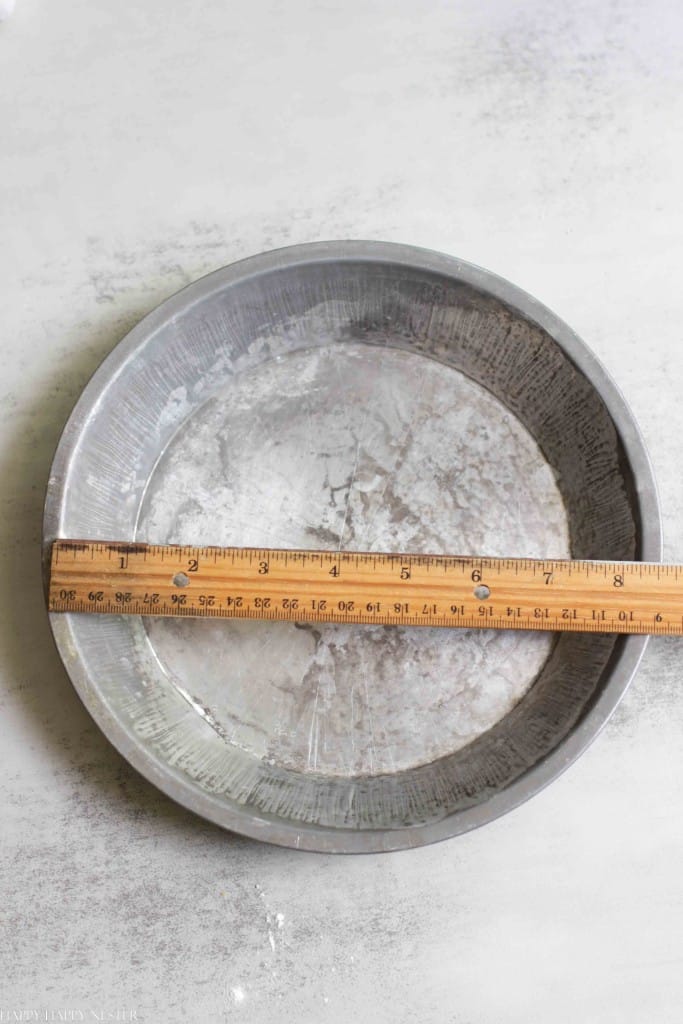 Does the Size of Your Pie Tin Important?
You probably wonder why I'm addressing how to measure a pie tin! Well, this recipe is for an eight-inch pie tin; if you have another size, you'll have to add or subtract the number of apples and flour.
Apples are a bit touchy, and if you add more apples to this recipe, make sure you change the flour amount accordingly.
So, yes, the size of the tin is essential when making a pie.
Dutch Apple Pie
I can't resist a Dutch Apple Pie Recipe with a crumble topping! The combination of yummy apples with a sweet crunchy topping is a perfect blend. Add a dollop of vanilla ice cream and you have a winning combination.
Ingredients
Crumble Topping
⅓

cup

granulated sugar

⅓

cup

brown sugar

1

tsp

ground cinnamon

¼

tsp

salt

½

cup

melted butter

1½

cup

flour
Crust
1⅓

cup

flour

½

cup

Crisco

½

tsp

salt

4

tbsp

water
Apple Filling
6

cup

apples

Slice apples thinly to ensure the apples bake. You can also use 7 cups of sliced apples if you like.

¾

cup

flour

1

cup

granulated sugar

⅓

cup

brown sugar

lightly packed

1

tsp

ground cinnamon

1

tsp

ground nutmeg

1

squeeze

lemon
Instructions
Crumble
Melt butter over the stovetop or microwave.

Combine granulated sugar, brown sugar, cinnamon, and salt in a medium-sized bowl. Mix in melted butter and then add flour. Mix until the crumble is moist and clumps in your hands when mixing. Set aside for later.
Crust
Combine flour and salt in a medium size bowl and mix. Next, add Crisco and mix with your hands until it's thoroughly mixed.

Add water a tablespoon at a time. Once you've added the water and it feels perfect, add just a ½ tablespoon more.

Roll out on floured parchment paper. Transfer to pie plate and mold edges.
Apple Filling
Peel, core, and slice apples as thinly as you can. Place apples, flour, sugar, cinnamon, nutmeg, and a squeeze of lemon in a large bowl. Mix thoroughly.

Pour apple mixture into the prepared pie crust.
Bake
Top the apple pie with crumble.

Cover the top of the pie with tin foil.

Bake pie for 40-50 minutes. In the last couple of minutes, remove the tin foil to brown the crumble slightly.

Cool on rack and serve warm.
Nutrition
Serving:
1
serving
|
Calories:
540
kcal
|
Carbohydrates:
74
g
|
Protein:
6
g
|
Fat:
25
g
|
Saturated Fat:
6
g
|
Polyunsaturated Fat:
7
g
|
Monounsaturated Fat:
11
g
|
Trans Fat:
2
g
|
Sodium:
360
mg
|
Potassium:
194
mg
|
Fiber:
4
g
|
Sugar:
28
g
|
Vitamin A:
560
IU
|
Vitamin C:
4
mg
|
Calcium:
39
mg
|
Iron:
3
mg
What better way to celebrate the fall than with a warm, sweet, and spicy Dutch Apple Pie? This recipe is simple to bake and tastes delicious.
Thanks for your visit, and happy baking to you!
Cheers,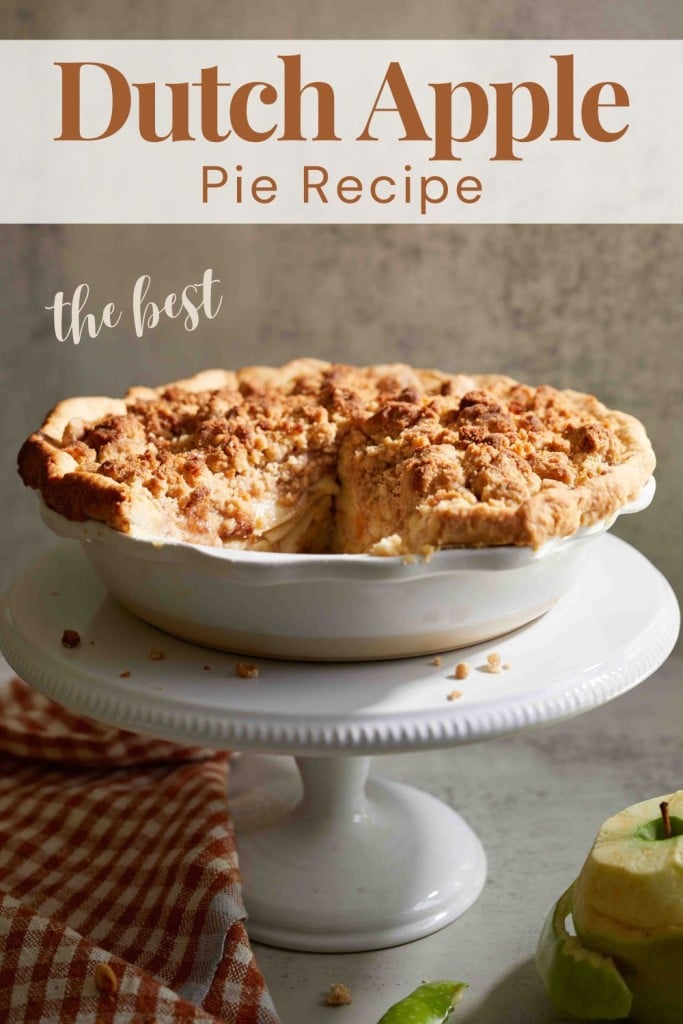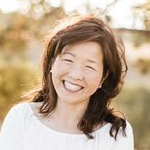 Latest posts by Janine Waite
(see all)