French Country Farmhouse is the Happy Decor for today's post.
A big warm welcome.
If you hopped on over from, Grace in My Space, hello there. I'm sure you have seen Sarah's beautiful home, and I just love her gorgeous calligraphy scroll project. I may just have to make one of her remarkable signs.
So, I want to mention it here, before I forget… so later on, look at the bottom of my post for all the marvelous decked out holiday homes.
On another note, I just published our current living room decor, so don't miss out on that fun post.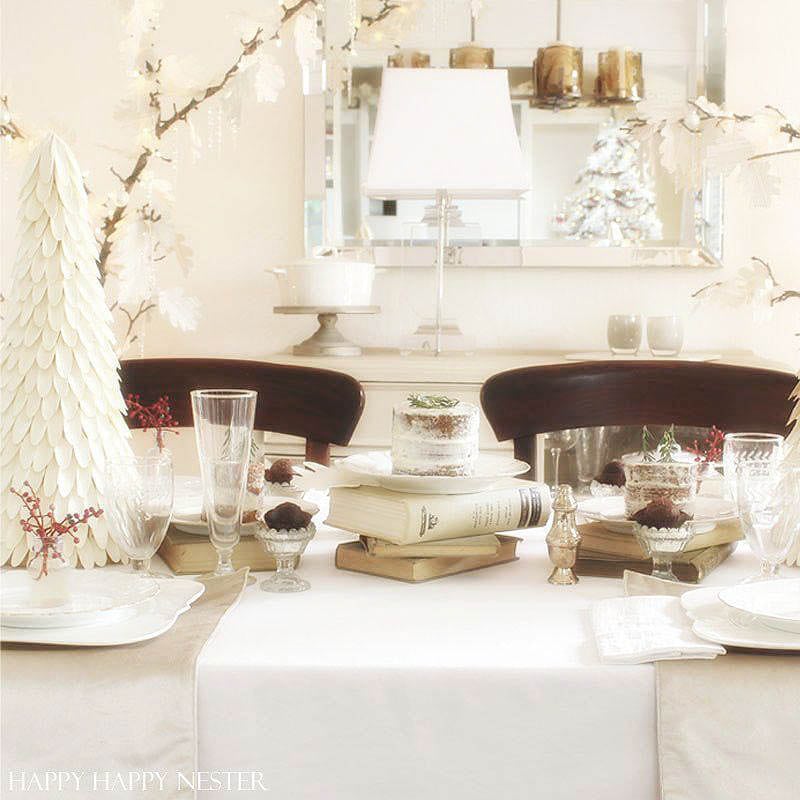 Memory Lane
Ok, this time of year is very nostalgic for me.
I have pleasant memories of past holidays.
But, there is one memory in particular that I must share with you.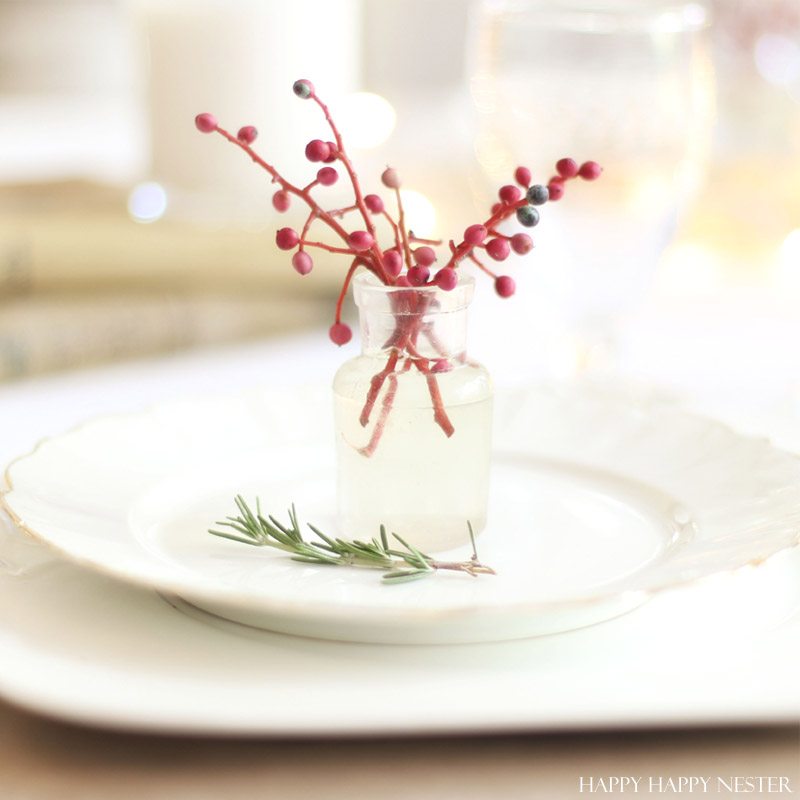 My parents and my four older brothers would always go over to my auntie and uncle's home for Christmas.
You see, this sweet couple never had children, so my parents always graciously included them in our family gatherings.
My aunt flawlessly planned the dinners, and the table decor was beautiful. Let's just say their house was a bit more organized than ours.

Grandma Takes the Cake
Of course, my grandma would join in with our big dinners.
Now, my grandma was from Japan, and she spoke very little English. And, when push came to shove, she chose to speak in her native language.
When she talked to my brothers and me, we would nod our heads and pretend like we understood what she was saying.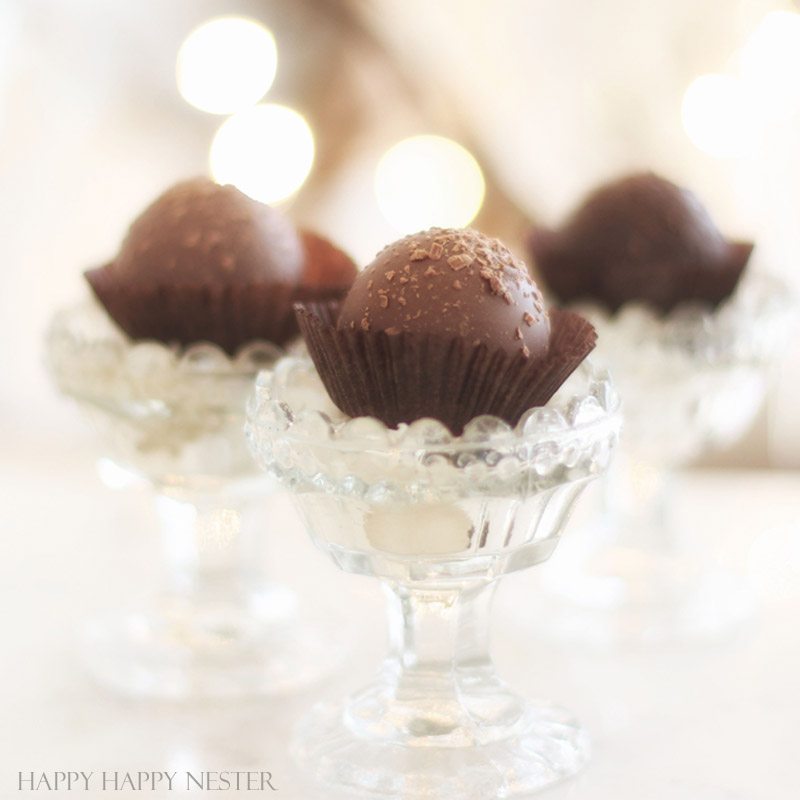 We had a tradition in our family that grandma gave grace before every dinner.
Now, my grandma was a bit long-winded.
Oh yeah, and did I mention that grandma's prayers were in Japanese?
This wasn't a problem until she had a long silent break in the middle of the prayer. Of course, we had no idea if she was finished. So, we naturally looked up, only to see siblings in shock that grandma continued to pray.
This went on a couple more times, and every time, light giggling erupted.
And it spread around the table like wildfire.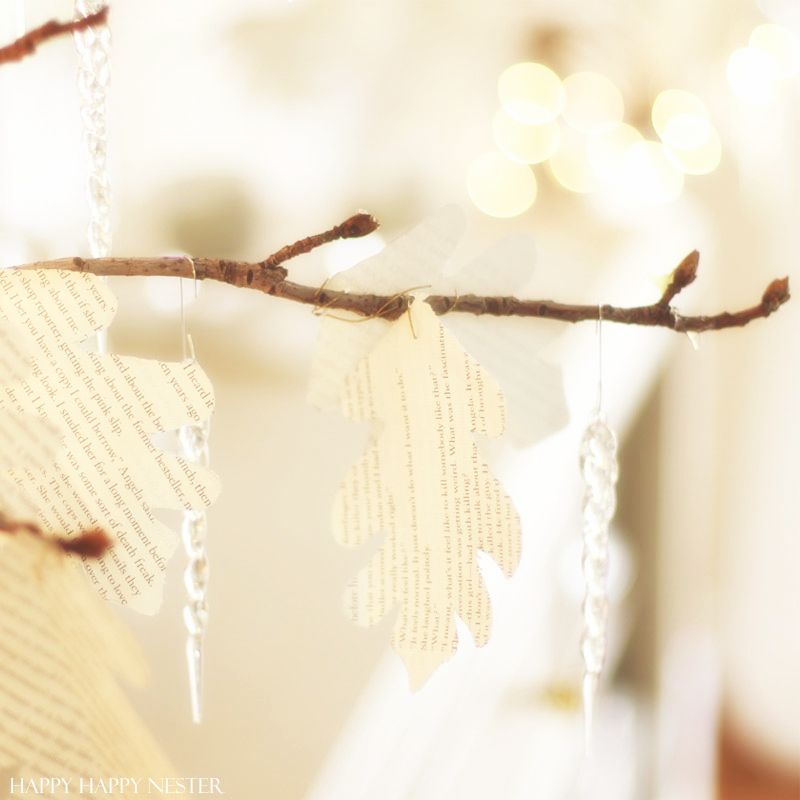 I would like to say that this only occurred once, but oh my goodness, it continued for many years.
I now love that I have very fond memories of those holiday dinners.
Some of our family has since passed away, and I would like to dedicate this tablescape to them.
These memories are priceless I wouldn't give them up in a million years.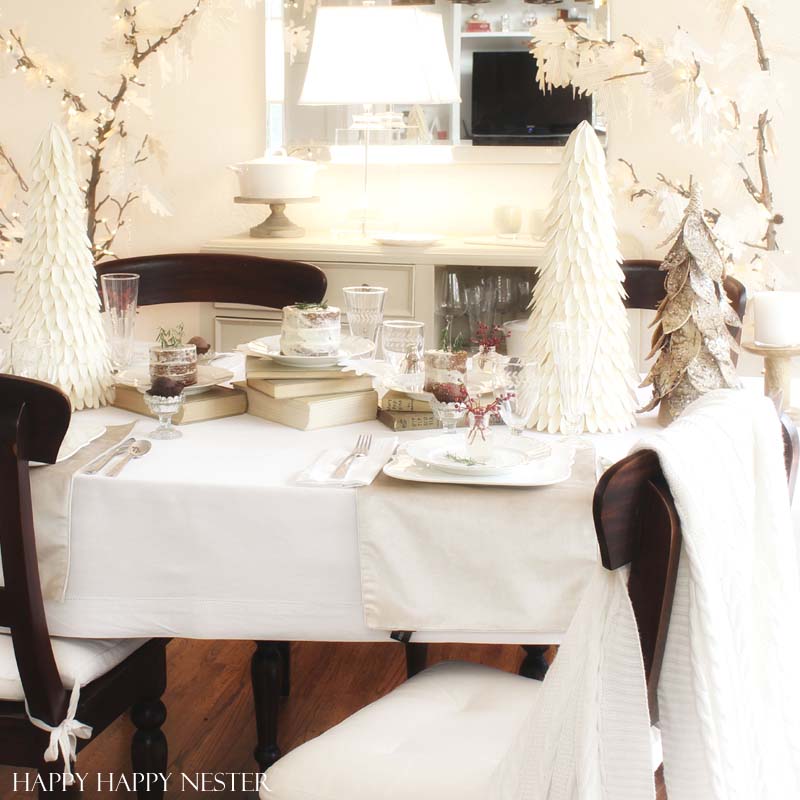 So, now here is your cue to turn on Pandora's French Cafe to get in the mood.
I know what you are thinking… how is it that an Asian American girl has her dining room all decked out in a French Country Farmhouse style?
Well, here we go.
French Country Farmhouse
1. Accents with a purpose
Our home has accents that have a purpose. Most everything in our home has a usefulness which is in keeping with the French Country Farmhouse style. Well, I even go as far to use books as cake stands.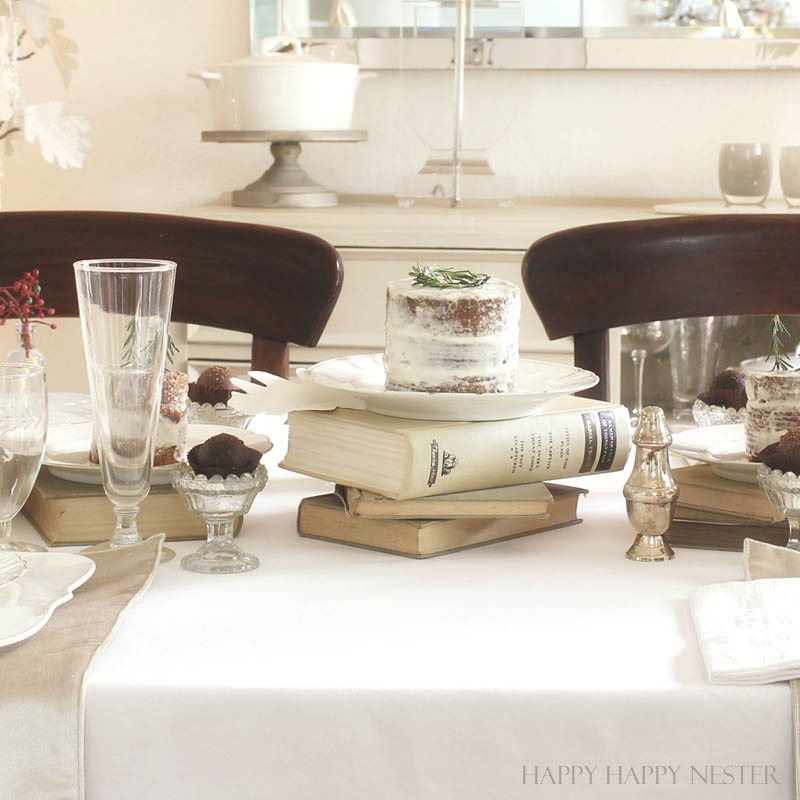 2. Neutral Decor
Speaking of vintage books, they are my inspiration for this holiday table. I specifically collected the books with neutral colors to set the mood. I created a similar tablescape last Christmas.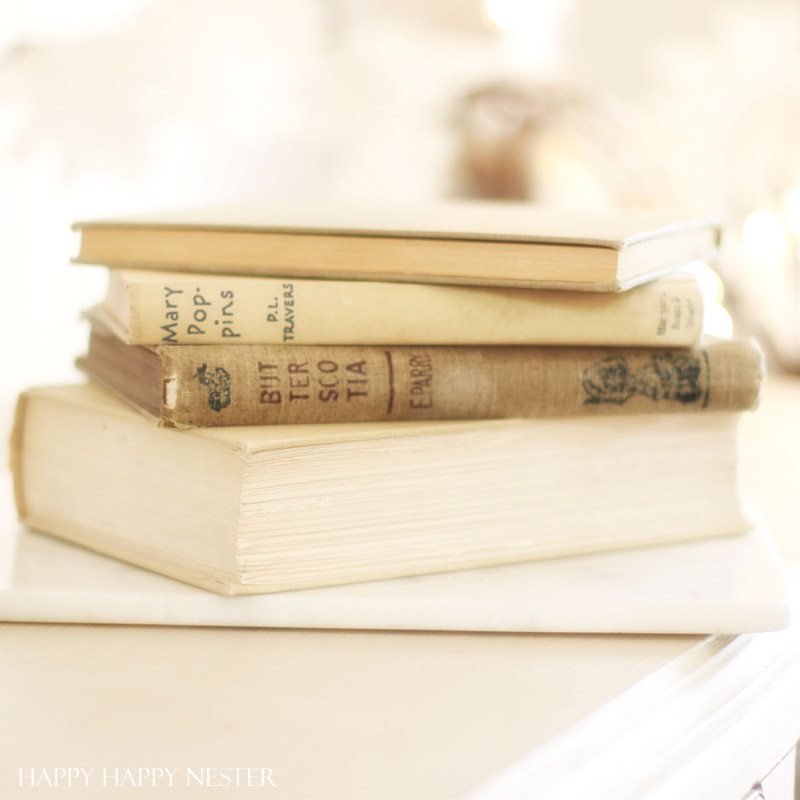 I borrowed a few antiquarian books from my husband's study. I'm pretty confident he didn't even notice that I snuck a few for this tablescape. But, don't panic, these leaves are from a thrift shop book. You can find my beautiful book page garland project that I keep up year round.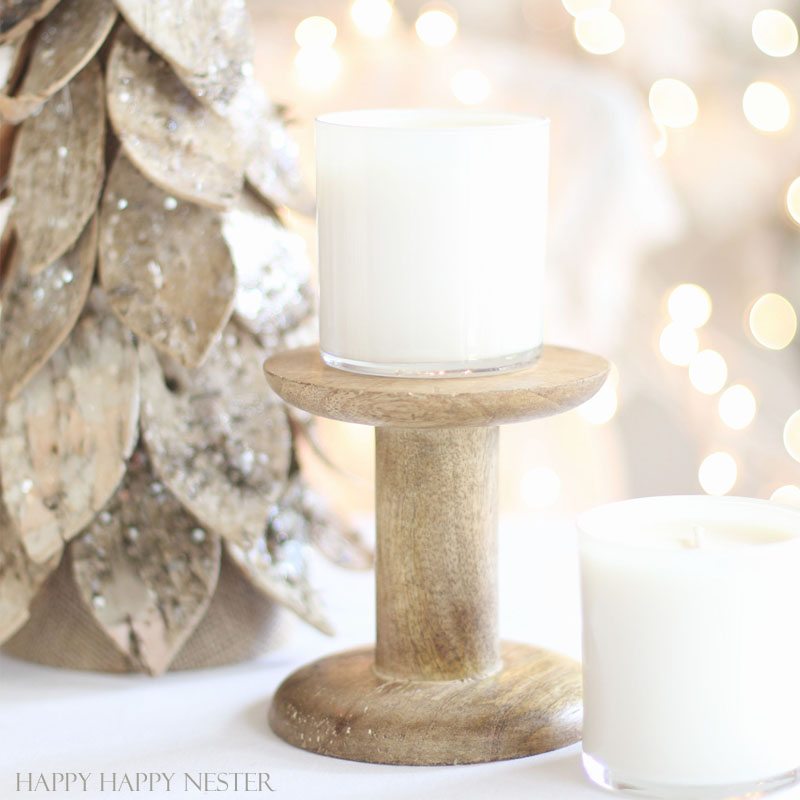 3. French Decor
I have a few French pieces for my table. You see, it does hurt that we have an outrageous French store nearby, called Elsie Green. A couple of times a year, they have a whole container loaded with authentic French decor shipped to their store. Most of what you see on my table is from their store.
If you want the look, you can order items on their website.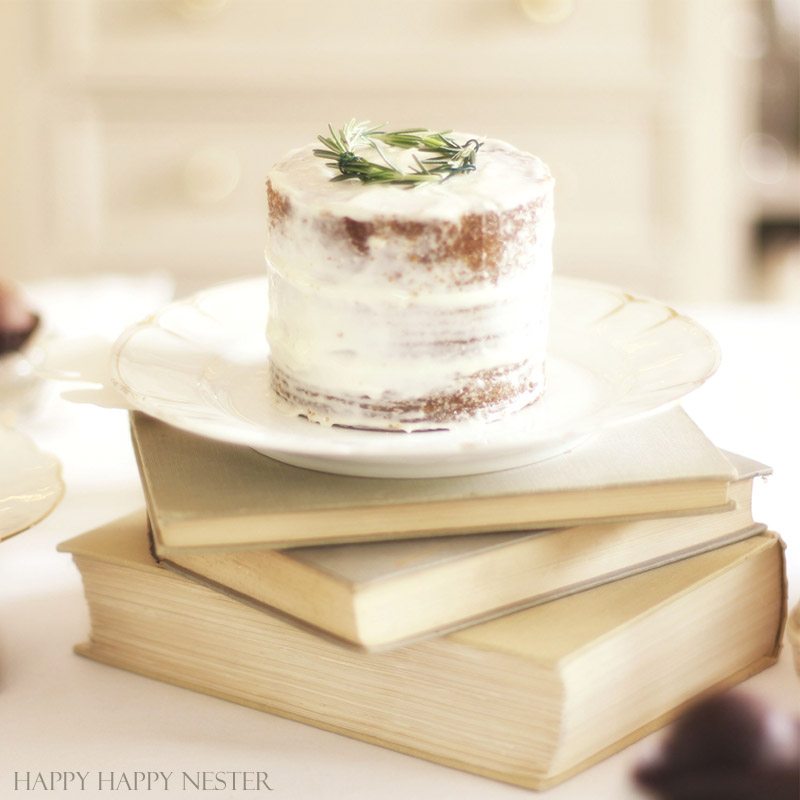 4. Rustic Desserts
I went rustic, and thus the French Country Farmhouse took over my table. These naked rustic cakes are my delicious carrot cake recipe. But, I faced a significant roadblock. While lying awake in bed one evening, I was thinking where I am going to find some small cake pans.
Hello, I could use tin cans, any size. And, I must say they came out lovely.
I will be posting my scrumptious carrot cake recipe in a bit. But in the meantime, you might want to try my delicious pumpkin bread recipe.
 
5. Natural Elements
The French country farmhouse style marries the outdoors with the indoors. A French home is never void of flowers or greenery from the garden. So, inspired by this style, I snipped and placed my rosemary branches on the cakes.
As so of you know, I'm never without a bouquet of flowers on my table, you can see a fun bright gorgeous floral arrangement that my dear friend created for me.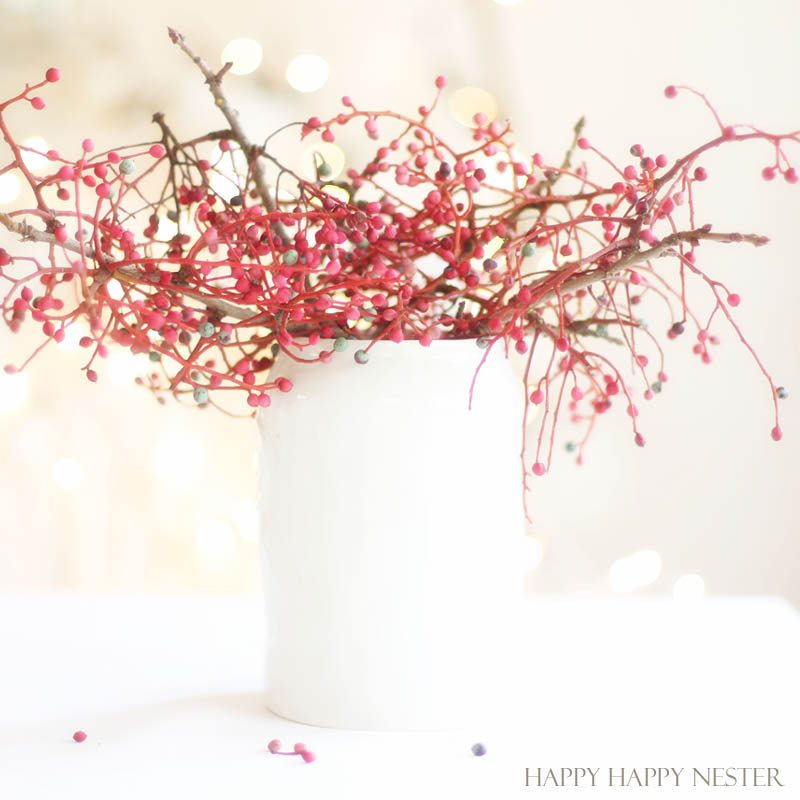 Also, my daughter picked these beautiful berries from a local tree. The other day, we were up for an adventure, and I stopped the car on the side of the road, and she ran out and grabbed these branches for me. I'm not sure what type of tree it is, so if you know, please comment below.
Well, then, hop on over to Jordon's blog at Jor Decor for another great post! These girls are so talented beyond belief.
Cheers,

*this post contains affiliate links. I make a small commission from the sales.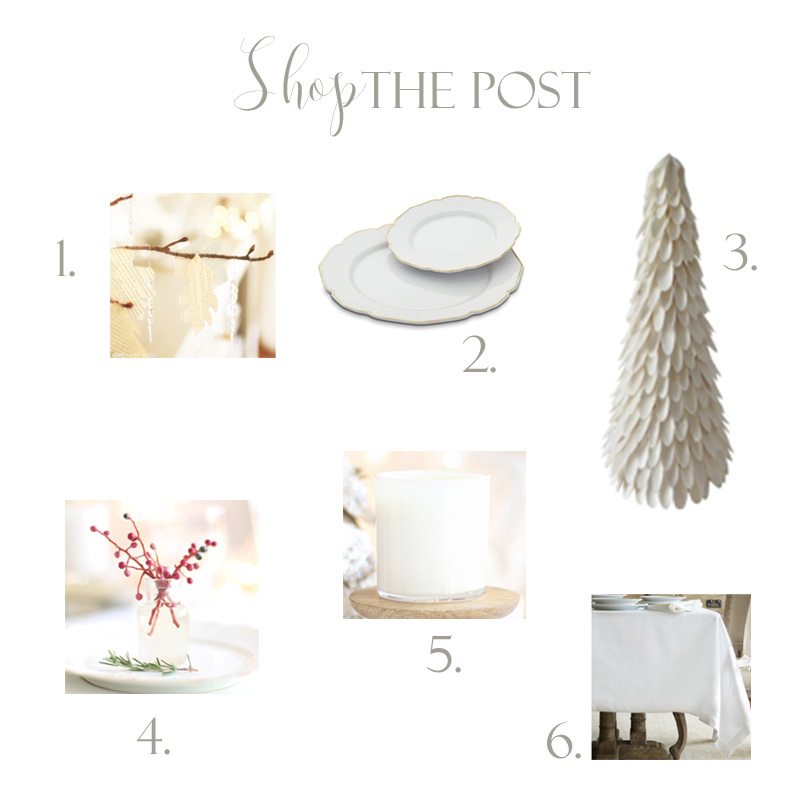 1. Icicle Ornaments | 2. French Style Plates | 3. White Wood Tree
 4. Vintage Bottles | 5. Soy Candle | 6. White Table Cloth
Magical & Merry Holiday Home Tour
Brought to you by:
The Belmont Ranch | The Design Twins | Designs by Karan | Grace In My Space | Happy Happy Nester | Jor Decor | The Little White Farmhouse | My Vintage Porch | So Much Better With Age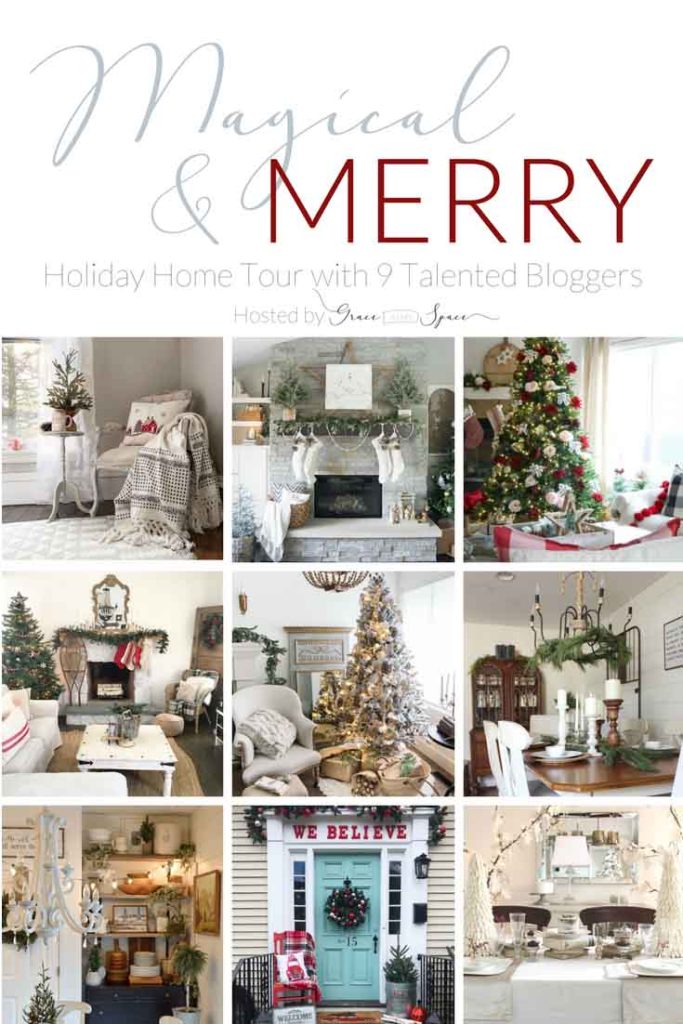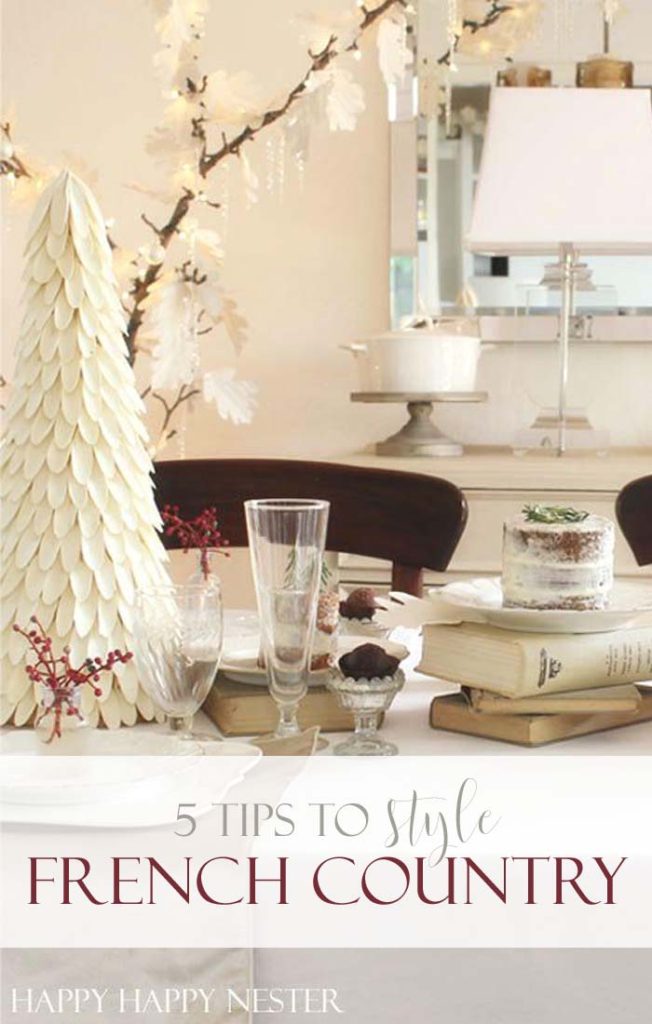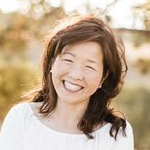 Latest posts by Janine Waite
(see all)