This Fudgy Oatmeal Bars Recipe is so delicious and simple to make. The chocolate center is in between a yummy oatmeal cookie dough. The combination of a dark chocolate layer and oatmeal with shredded coconut is perfect.
Make this layered cookie bar in a baking dish and then cut them after they cooled down. This dessert is a blend of an oatmeal cookie and granola bar.
While on vacation in Montana, we visited the town of Whitefish. We grabbed a cup of coffee from Montana Coffee Traders. I always like to try pastries, so my husband bought a little oatmeal bar treat that they named a Mayhem Bar.
Well, this dessert was dense and so delicious. I immediately decided I needed to try making one at home. So, this is the result of my recent baking experiment.
I think I nailed this copycat version of their yummy oatmeal bar.
You can't go wrong with chocolate, and speaking of chocolate, here are some more recipes:
If you like oatmeal, chocolate, and a tasty snack, then you'll love this compact treat. The bars are gooey the first day, and then they set up after a day. I personally liked them the second day since I like dense desserts.
Either way, this chocolate dessert is delicious. And it's super easy to make.
Also, you can add a few other ingredients:
Chopped Nuts
Raisins
Toffee Chips
Peanut Butter
M&M's
Dried Cranberries
How to Make This Fudgy Oatmeal Bars Recipe
Step 1 – Line a Pan with Parchment Paper
I cut and placed paper going one way in my 8″x 8″ pan. And then set another going the other way. Leave enough extra paper on the sides to pull up the bars after baking.
Step 2 – Make Dough
Make the dough and place half of it in the bottom of the pan. Make sure to pat the dough down evenly in the pan.
Step 3 – Sprinkle Chocolate Chips
Sprinkle a layer of chocolate chips over the dough.
Step 4 – Top with Dough
Next, take the rest of your dough and place it on top of the chocolate layer. Sprinkle a light layer of chocolate chips over the dough.
Step 5 – Bake
Bake in a 350-degree oven for 40 minutes.
Step 6 – Cool and Cut
Cool pan on a rack for about 20 minutes. Then lift out of the pan and place on a baking rack.
For a better cutting of bars, let them cool for a couple of hours or place them in the refrigerator to firm up.
Fudgy Oatmeal Bars Recipe
This Fudgy Oatmeal Bars Recipe is so delicious and simple to make. The chocolate center is smashed in between a yummy oatmeal cookie dough.
Ingredients
1⅓

cup

butter

soften

1¾

cup

brown sugar

lightly packed

2

eggs

1½

tbsp

honey

½

tbsp

vanilla extract

¾

tsp

salt

2

cups

flour

¾

cup

shredded coconut

optional

3

cups

Old Fashioned Whole Grain Oats

½

cup

chocolate chips

bittersweet chocolate
Instructions
Line a 9"x 9" pan with parchment. Make sure to leave extra on the sides so you can pull out the bars with the parchment.

Cream butter and sugar together.

Add brown sugar, eggs, honey, vanilla extract, salt, and flour. Mix well.

Add oats and mix with hands until well blended.

Take half the dough and place it n the bottom of your lined pan. Pat down the down so it is evenly distributed.

Sprinkle a layer of chocolate chips over the dough.

Add the rest of the dough on top of the chocolate. I pat out the dough like a thick pancake and then place it down in the pan. You can also place dollops on the chocolate and then pat-down. Either technique works.

Top with extra chocolate chips.

Bake in the oven for 40 minutes until light brown.

Let the pan cool for about 20 minutes. Then pull out the bars (with parchment) and let cool on a baking rack for a couple of hours before cutting.
Nutrition
Serving:
1
serving
|
Calories:
451
kcal
|
Carbohydrates:
55
g
|
Protein:
3
g
|
Fat:
25
g
|
Saturated Fat:
16
g
|
Polyunsaturated Fat:
1
g
|
Monounsaturated Fat:
6
g
|
Trans Fat:
1
g
|
Cholesterol:
83
mg
|
Sodium:
362
mg
|
Potassium:
102
mg
|
Fiber:
1
g
|
Sugar:
39
g
|
Vitamin A:
670
IU
|
Vitamin C:
1
mg
|
Calcium:
41
mg
|
Iron:
1
mg
A Couple of Questions You May Have
*The following post contains affiliate links
Can I use Instant Oats?
I used Instant Oats for this recipe, and it came out fine. Instant Oats is milled to be thinner, so you don't get much of the texture in this bar. I like the heartiness of the Old Fashioned Rolled Oats. Just be careful not to use the instant oats packages that you microwave. Both Quaker and Bob's Redmill sell Instant Rolled Oats.
Do I have to line the pan with parchment paper?
If you don't want the fudgy oatmeal bars to stick in the pan, you must use parchment paper. When baked, the chocolate gets hard and stick, soo it's tough to get it out of the pan.
Can I replace the middle with a chocolate sauce?
I used a chocolate sauce on my first couple of attempts, and the bars had difficulty setting up. The chocolate created a very gooey unbaked center.
Can I use a large size pan?
Yes, but remember that the bars will be thinner if you use a pan larger than 8″x 8″ Also, the cooking time will be less, so make the adjustments. I love my 8″x 8″ pan.
---
Happy baking! And thanks for visiting my fudgy oatmeal bars recipe post.
Cheers,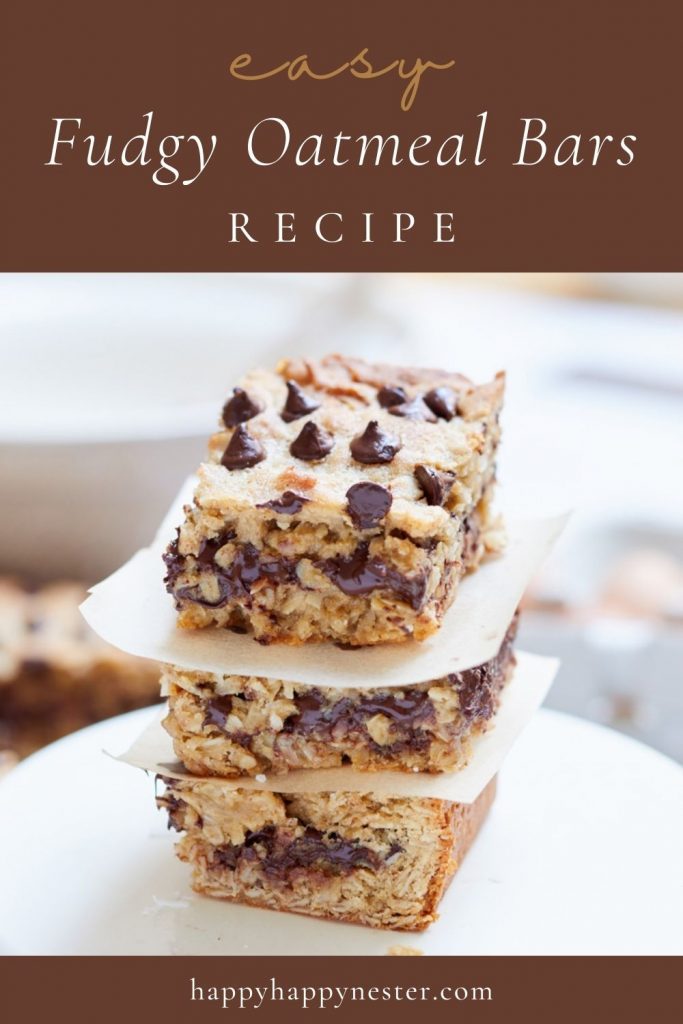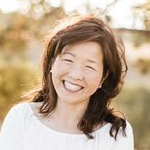 Latest posts by Janine Waite
(see all)