As May and June arrive, my thoughts are immediately filled with visions of stunning Peony Arrangements! I have some simple tips and tricks to help you create easy and drop-dead gorgeous peony arrangements. We'll dive into where to buy these beauties, how to arrange them like a pro, and some nifty tricks to keep your arrangements looking fresh and fabulous.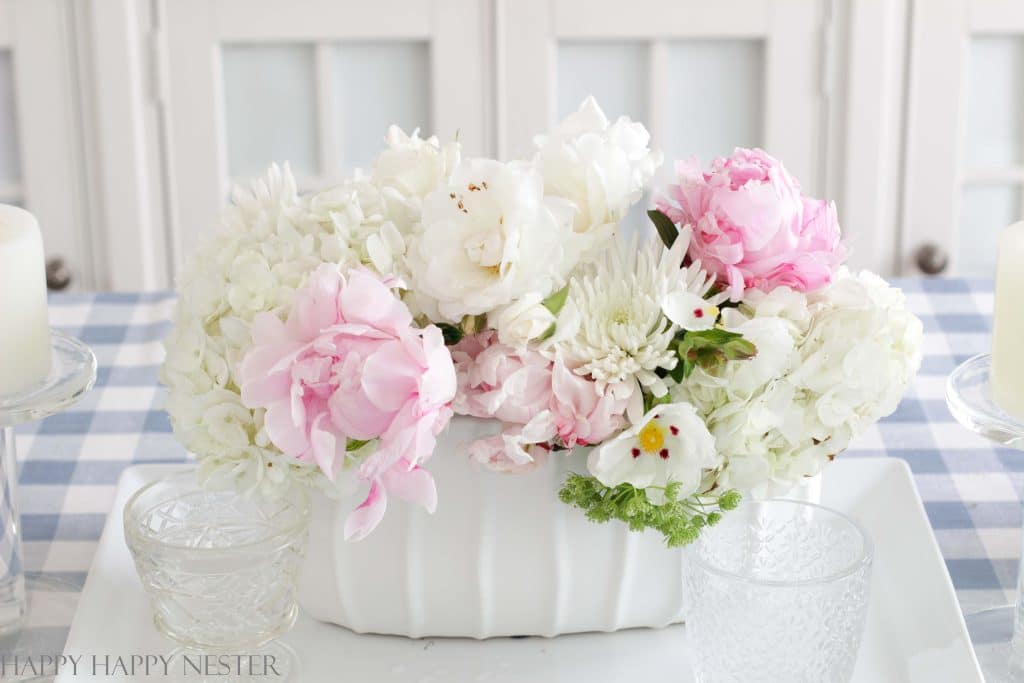 Peonies and spring are an inseparable duo! If you're anything like me, you can't resist purchasing a few delightful bouquets of these gorgeous blooms.
Now, you might ponder how to arrange them in a vase to showcase their inherent beauty.
Well, look no further because this tutorial is tailored to guide you through the process, step by step, ensuring the creation of a breathtaking and awe-inspiring peony arrangement!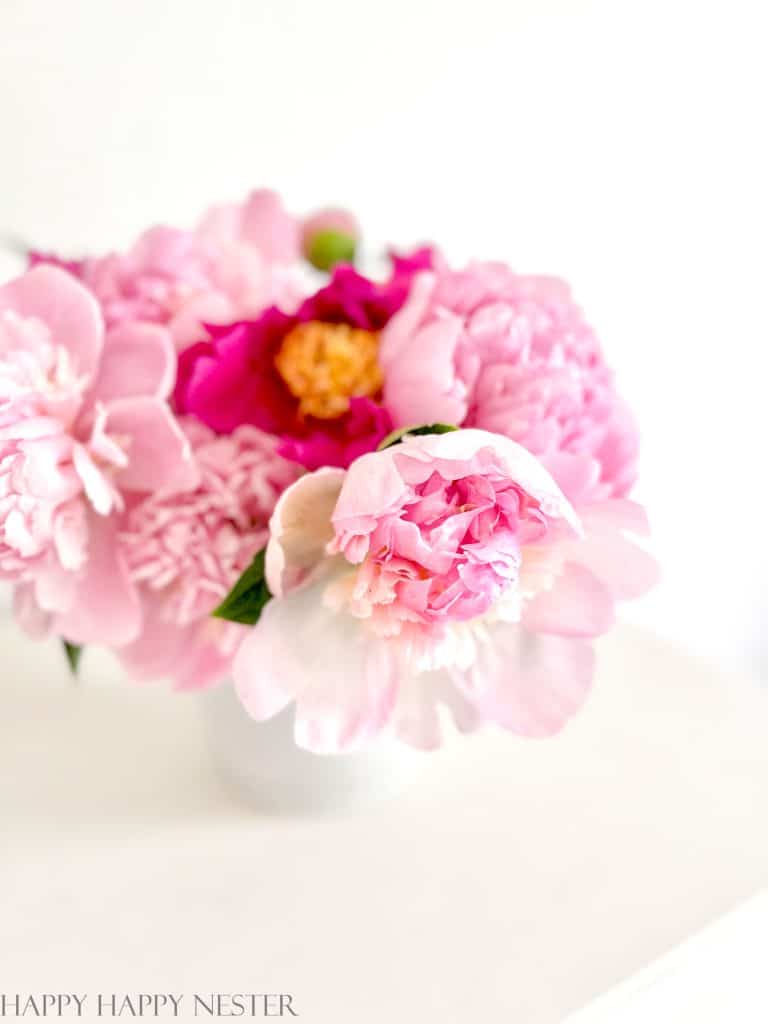 I love flowers! And you might notice that I have quite a few flower tutorials on the website.
I am delighted to share the exciting news of my new vases! I have created three exquisite peony arrangements, each with a distinct style and charm.
After years of honing my flower-arranging skills, I've gathered some nifty tips and tricks.
Prepare yourself for an info-packed post loaded with fantastic ideas I hope you'll adore.
Now, let's dive right into the art of arranging your peony flower centerpiece!
How to Create Stunning Peony Arrangements
Making stunning peony arrangements is a piece of cake! If you want to jazz your bouquet up, toss in some other flowers alongside the peonies. Or, if you prefer, stick with just peonies for a clean and classic look. You'll have a drop-dead gorgeous bunch in no time.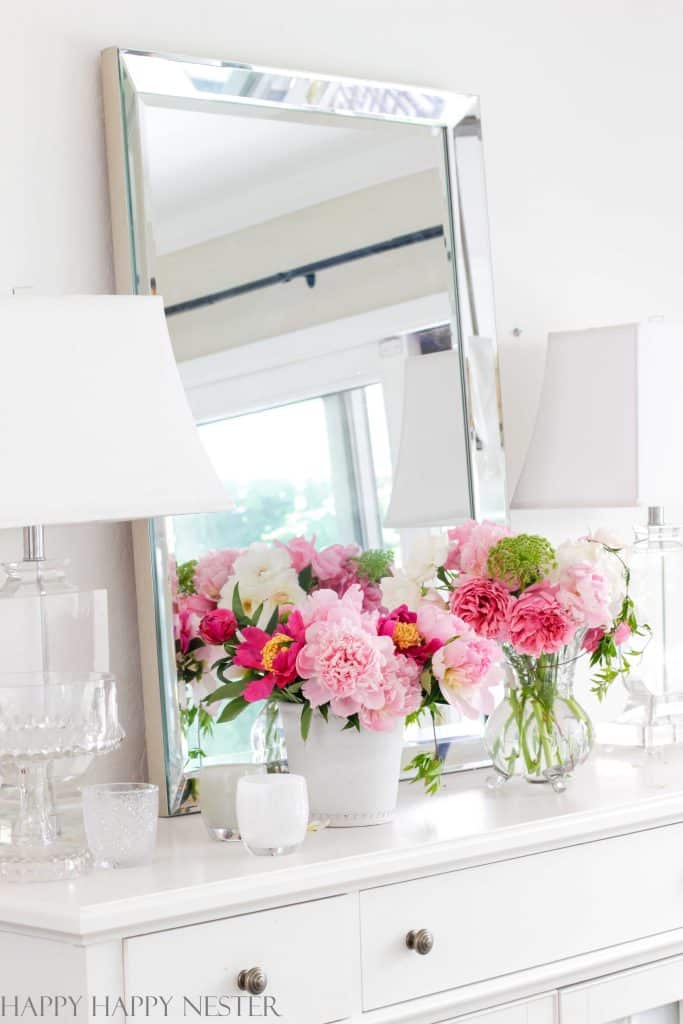 Before you begin placing your flowers in a vase, make sure to do these four things:
Remove leaves off the flower stem.
Cut the bottom of the flower stems at a 45-degree angle.
Use lukewarm water in your vase.
Place flower preserver crystals in a vase with water.
Flowers You'll Need
Peonies
White Roses (I used my garden roses)
Pink Roses ( I used dark and light pink roses from my garden)
Queen Anne's Lace
Vines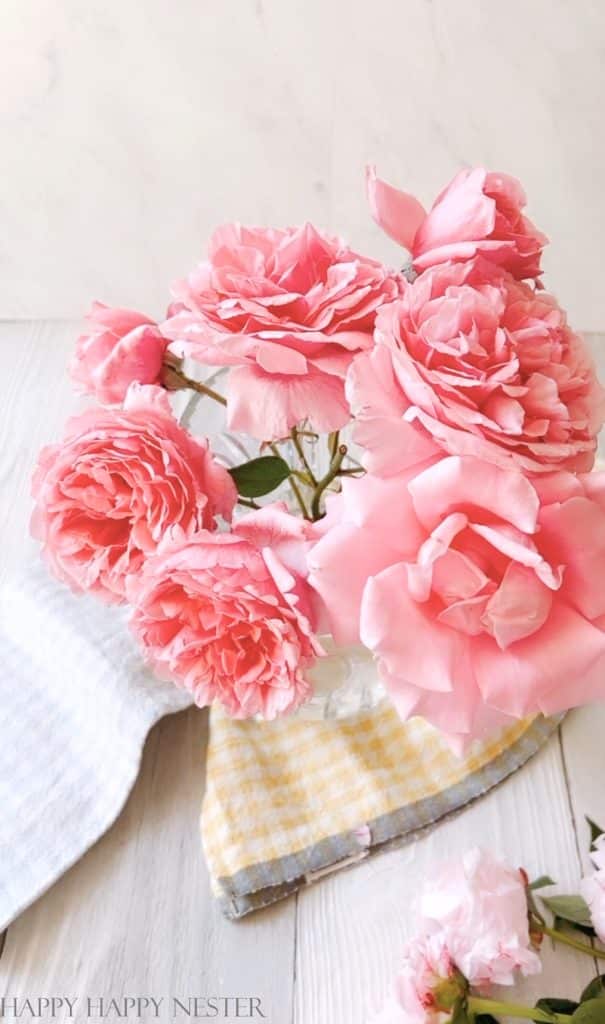 Step 1 – Place Roses in Vase
StartCut pink roses and placiplace in the vase as the initial layer. Trim the pink roses to an equal height before placing them in the vase. I feel that this creates a harmonious arrangement within the vase.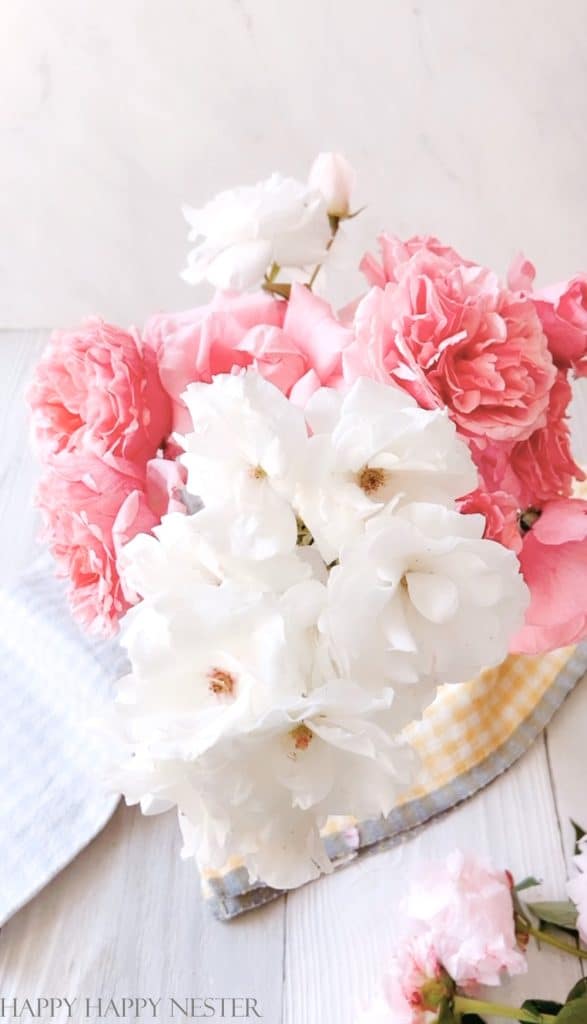 Step 2 – Add White Roses
I snipped off a few blossoms from my Iceberg Garden Roses. I adore these roses as they bring a touch of white to the arrangement and serve as excellent fillers.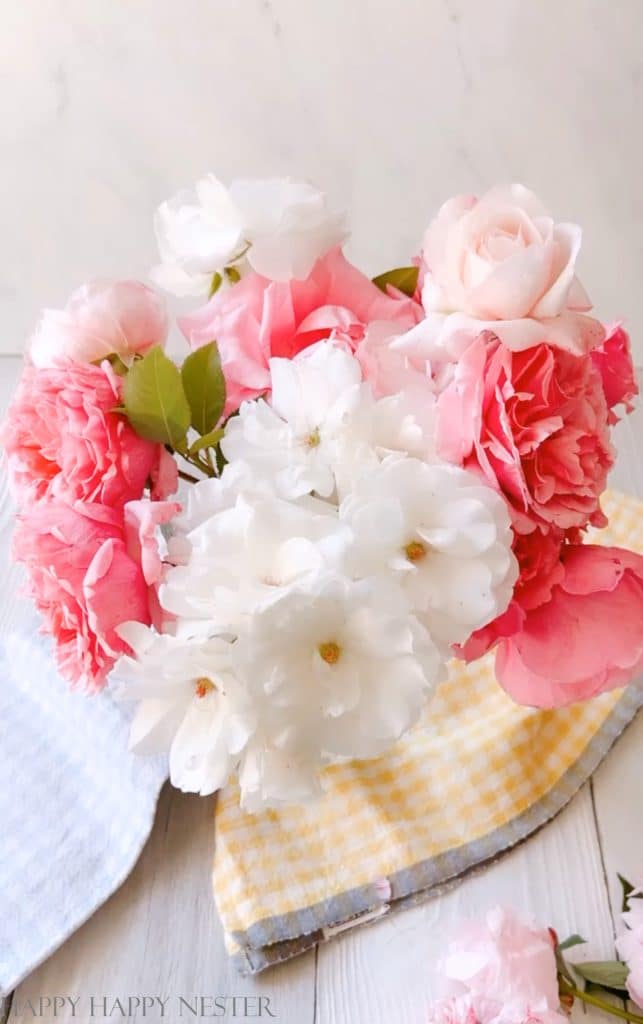 Step 3 – Add Light Pink Roses
For aace a few of my pink roses from my garden.
for a little added pink touches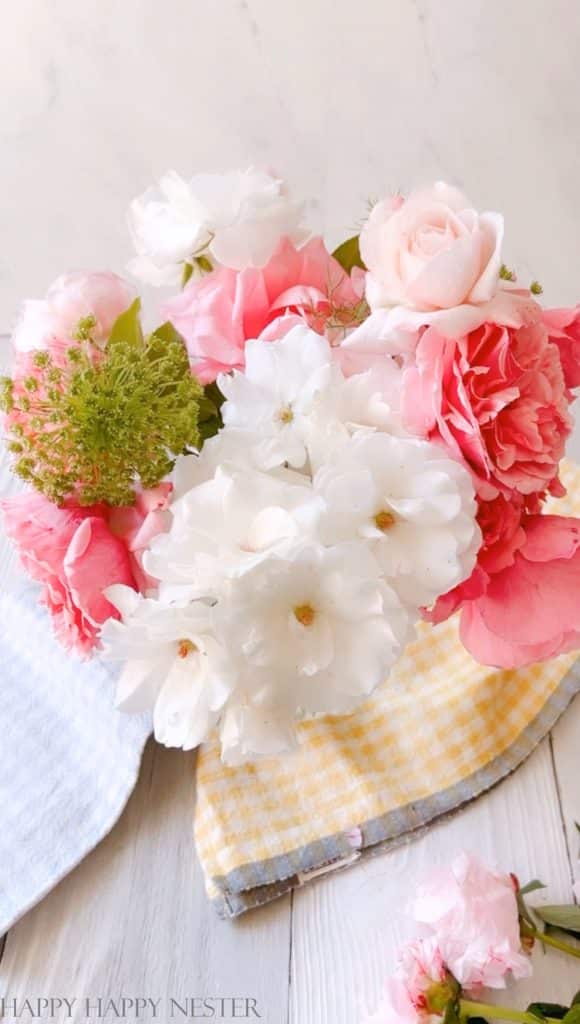 Step 4 – Add Greenery
I purchased these Queen Anne's lace flowers from Trader Joe's, and I believe they might be the variety known as Queen Anne's Lace Green Mist!
I also added a few green vines from my garden to add a bit of movement to the arrangement.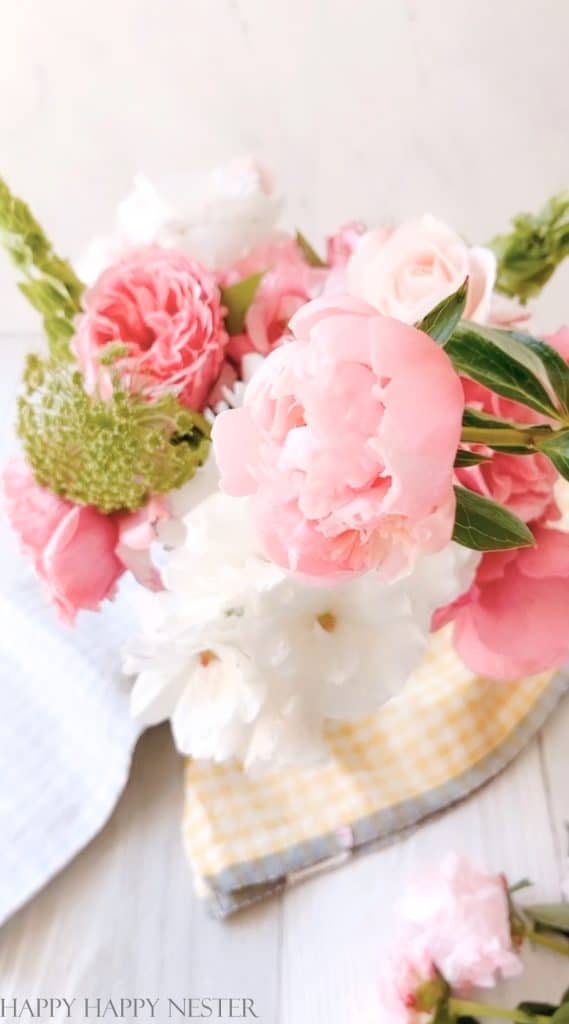 Step 5 – Add Peonies
Lastly, I inserted the star peonies into the arrangement. By adding them last, I can strategically tuck them in specific spots where I want them to truly shine and stand out.
Where to Buy Peonies
Let's take a look at the different sources for peonies.
Grocery Stores
When buying peonies in stores, I always rely on Trader Joe's and Whole Foods. This year Trader Joe's is selling five stems for $9.99. I love that they carry a wide variety of colors. They have pink, light pink, and even white peonies!
Flower Markets
Flower markets boast an extensive selection of seasonal peonies, showcasing a remarkable abundance of these captivating blooms. It's truly a sight to behold!
Farmer's Markets
Discovering peonies at your local farmer's market is a delightful experience, with vibrant displays by passionate growers and florists. The great thing about buying from your neighborhood farmer's market is that you're supporting local farmers.
Florists
Local florists in my area offer a wide range of seasonal peonies that they are willing to sell to their customers.
Your Garden
Last but not least, if you have your own peony garden, you can utilize your own blossoms, which is especially wonderful as you likely grow all your favorite colors.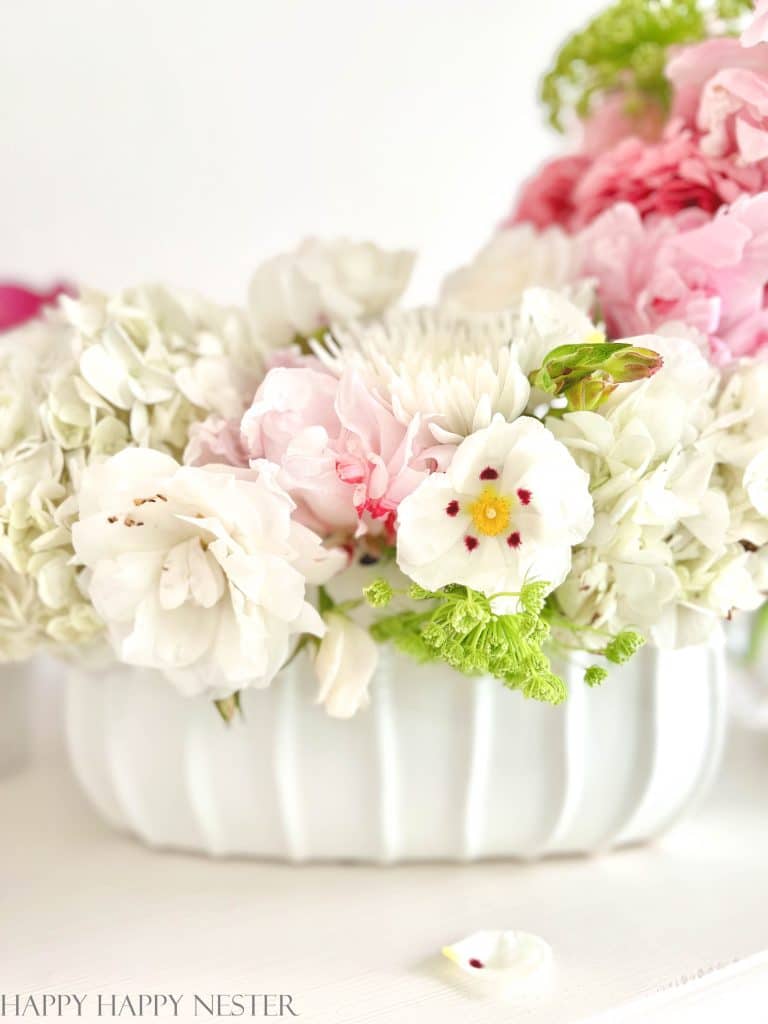 Vases
Color: The container you place your peonies in is just as important as the flowers. I love glass or white as my choice for vases. They provide the blank canvas for the peonies, which are the stars! But that being said, I have seen stunning peony arrangements in blue and white porcelain vases!
Size: When using a large or small vase, remember that the opening determines how many flowers you'll need. The bigger the opening, the more flowers you'll need. And since peonies have large blossoms, you can choose a bigger container so they don't overpower the vase.
Style: I feel that peonies are old-fashioned and, so I generally lean towards a more classical-style vase. But this is just my opinion.
Shape: Think outside of the box for this one. I bought plant containers for two of my vases. In fact, I use soup tureens and kitchen utensil holders for my flower vases!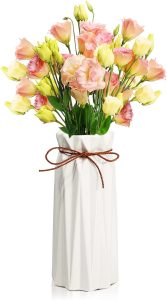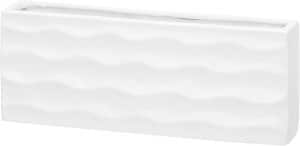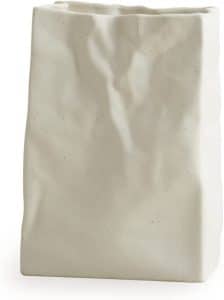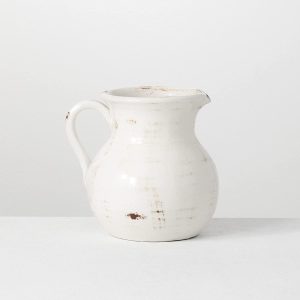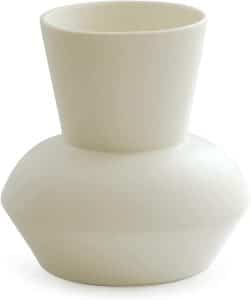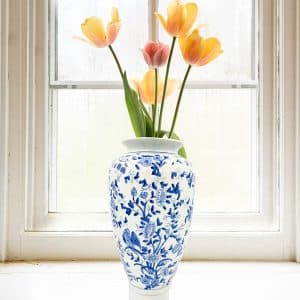 *Sorry, I couldn't find the vases I photographed above, but I found ones I like instead.
Frequently Asked Questions about Peonies
How do you pronounce peony?
But, if you want to know how Webster's Dictionary pronounces the word, here is their phonetics spelling.
Drumroll, please!
pē-ə-nē
Oh, there are all those phonetics symbols that I failed to learn. But another way to sound it out is PEE-AH-KNEE. 🙂
And yes, I have a blog post on How to Pronounce Peony!
How much should you pay for peonies?
The price of peonies can vary depending on various factors such as the location, seasonality, availability, and the specific variety of peonies.

On average, peonies can range from around $3 to $10 per stem or more, depending on the quality and market conditions. It is always recommended to check with local florists, farmers' markets, or online flower retailers for the most up-to-date prices in your area.

So, I recently bought 5 stems at Trader Joe's for $9.99, which totals $2 a branch.
How to cut peonies for flower arrangements?
If you have peonies in your garden, then it's best to cut them in the bud stage, just before they fully open. This ensures a longer vase life.

When cutting your store-bought peonies, use clean and sharp gardening shears or pruners to make a clean cut. This helps prevent damage to the stem and allows better water absorption.
When are peonies in season?

Peonies are typically in season during late spring to early summer, usually from April to June, depending on the specific variety and location. This is the prime time to enjoy these incredible flowers.
Here are some ideas of what pairs well with peonies in a vase.
Roses: Peonies and roses create a classic and romantic combination. Choose roses in colors that harmonize with the peonies to enhance the overall aesthetic.
Lilies: Oriental lilies or Asiatic lilies can be paired with peonies for a striking contrast. Their elegant blooms and vibrant colors can add depth and texture to the arrangement.
Ranunculus: The delicate petals of ranunculus flowers blend beautifully with peonies. Their smaller size and intricate layers create an interesting visual contrast.
Eucalyptus: Adding some greenery, such as eucalyptus leaves or silver dollar eucalyptus, can provide a lovely backdrop and add a touch of freshness to the arrangement.
Hydrangeas: Large, fluffy hydrangea blooms can be paired with peonies for a lush and abundant look. Their voluminous petals complement the fullness of peonies.
Delphiniums: These tall, majestic flowers can add height and drama to an arrangement when combined with peonies. Their vibrant colors create an eye-catching display.
Baby's Breath: Incorporate baby's breath as a filler for a delicate and ethereal look. And the tiny white or pastel blooms provide a soft and airy complement to peonies.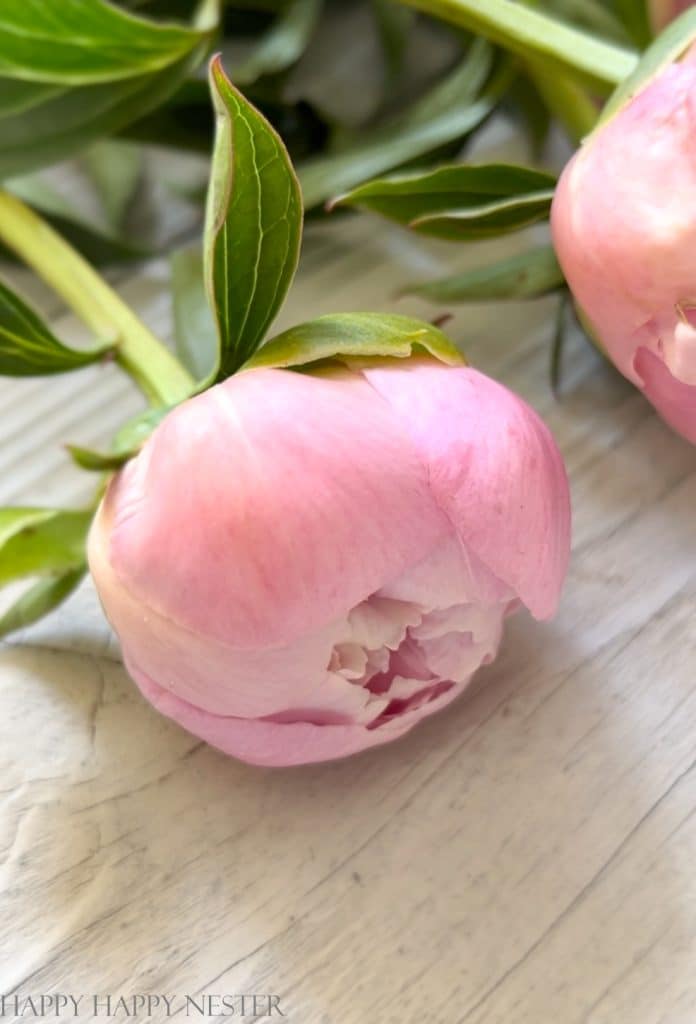 Tips and Tricks
How do you force peony buds to open?
Choose the right peony stage: Select peonies that are in the "marshmallow" stage. This means the buds should feel soft to the touch and have started to show some color. Peonies that are too tight or too mature may not respond well to forcing.
Warm water soaks: Fill a clean container or vase with warm water, around 100°F (38°C). Place the peony stems in the warm water and allow them to soak for about 30 minutes. The warmth can help stimulate the opening of the buds. If you want them to open more, fluff up the petals.
Remove excess foliage: Trim off any excess leaves or foliage that would be submerged in the water. This helps prevent bacterial growth and keeps the water cleaner.
Recut the stems: Using sharp scissors or floral shears, make a fresh cut at a 45-degree angle on each stem. This increases the surface area for water absorption and allows for better nutrient uptake.
Pull back the leaves and fluff the flower.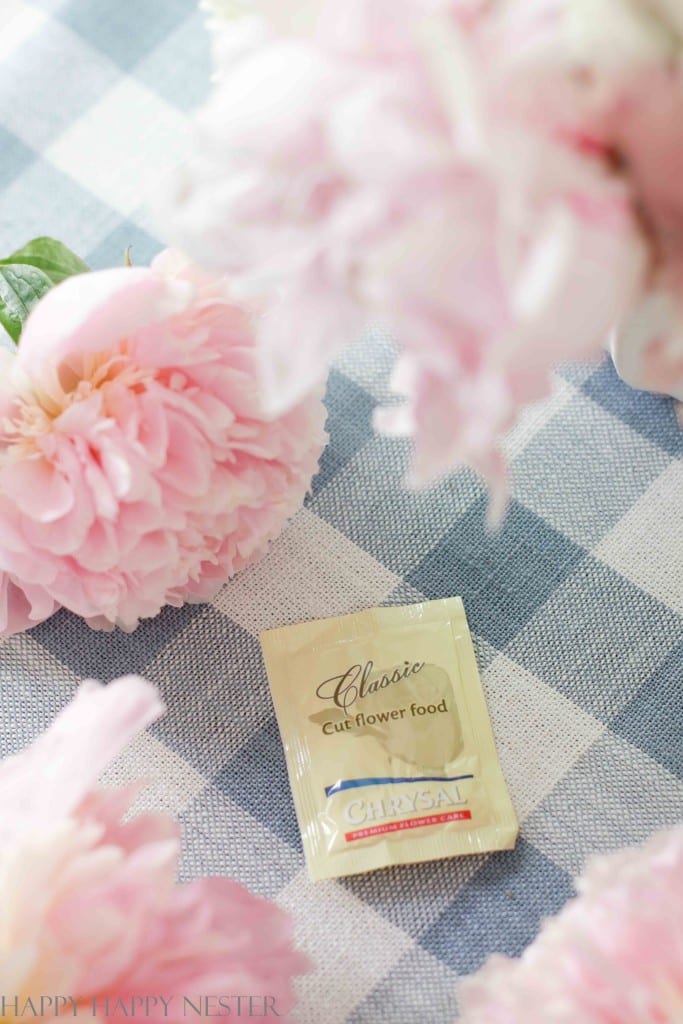 Keep your peonies fresh
I've conducted some exciting experiments to discover ways to extend the life of flowers. I tried various methods, like adding a copper penny to the water or using aspirin. If you're curious, you can check out the project here: [link].
But here's the most important finding from my experiment: flower preserver packets work wonders! They are the key to keeping your flowers fresh and vibrant for a longer duration. So, if you want your blooms to last, don't forget to grab those handy flower preserver packets. They're a game-changer!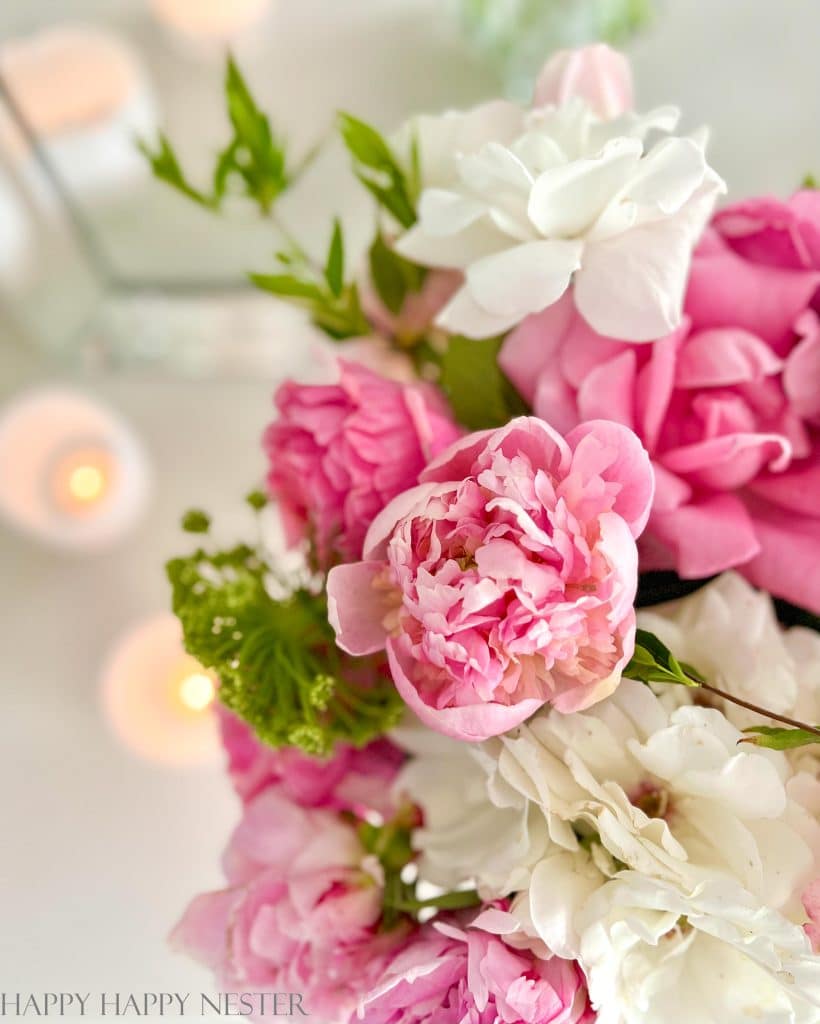 Placing flowers in the fridge
To keep your blooms looking fresh and crisp, pop them in the refrigerator overnight. It's a nifty trick to slow down water loss. Here's what you need to do:
Grab a vase and fill it about ¾ full with water.
Place the flowers gently into the vase, making sure they are fully submerged in water.
Adjust your refrigerator's temperature to around 40°F (4°C) and ensure no fruits are inside. Fruits release gases that can decay the flowers, so clear them out.
Clear some shelf space in the fridge and find a secure spot for your vase of flowers.
Leave them cool and cozy in the refrigerator for approximately six hours overnight.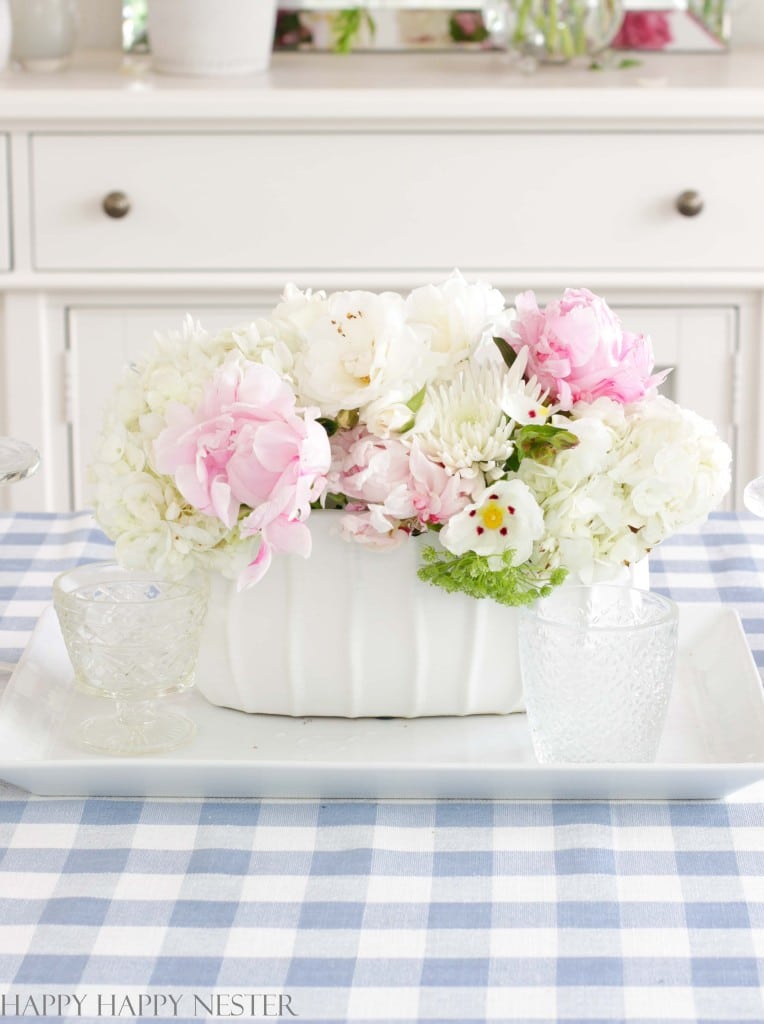 Getting rid of ants on your garden peonies
Dealing with ants on cut garden peonies can be a bit of a challenge, but there are a few methods you can try to get rid of them:
Shake or gently brush off the ants: Before bringing the cut peonies indoors, carefully shake or gently brush off any visible ants. This can help reduce the number of ants present on the flowers.
Rinse the peonies: Give the cut peonies a gentle rinse with water to remove any remaining ants. Be careful not to use excessive force or water pressure, as it may damage the delicate petals.
Keep the flowers in water: Place the peonies in a vase or container filled with water. Ants are less likely to be attracted to the flowers when they are submerged in water. Additionally, ensure that there are no leaves or debris submerged in the water, as this can attract ants.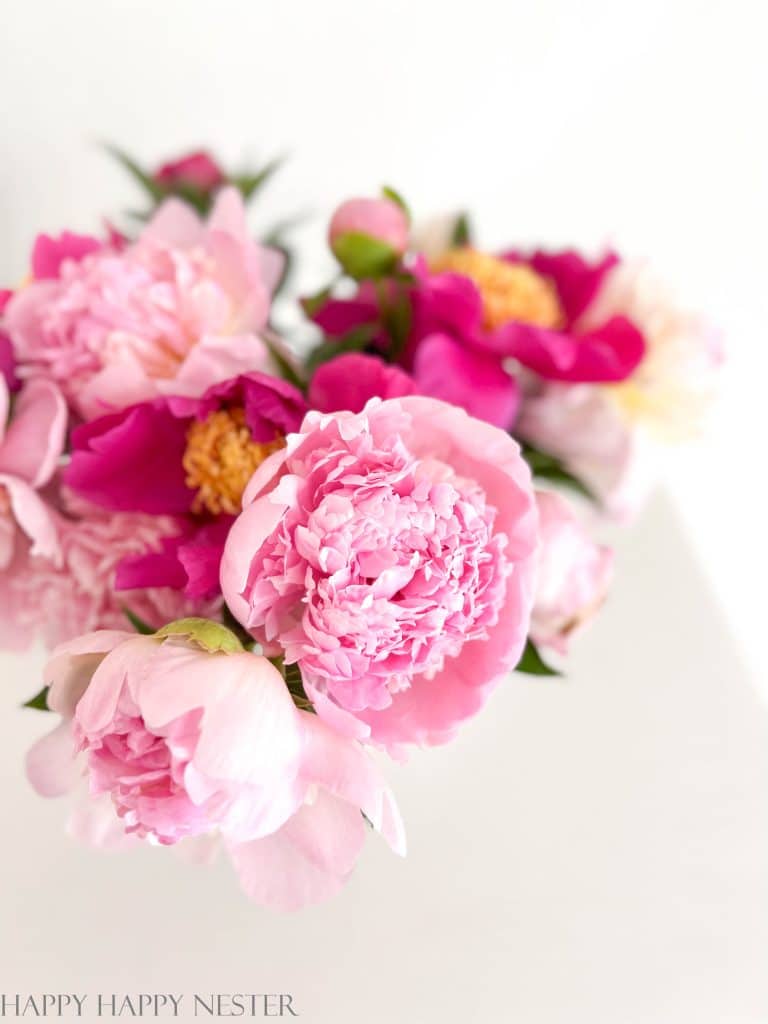 What Peony Colors Symbolize
Did you know that peonies come in four main colors? They are available in red, pink, white, and yellow. Each color has a meaning associated with it.
White – is purity, innocence, and cleanliness.
Pink – signifies love, beauty, and romance.
Red – In the peony world, red is the ultimate boss color. It's the hue reserved for the crème de la crème, those who have climbed the ladder and now reign with power and authority.
Yellow – A yellow peony symbolizes pure sunshine and sheer bliss. It's like a beacon of happiness and good luck, spreading joy wherever it blooms.
---
Thanks for stopping by!
I hope you create some stunning peony arrangements this spring. Just remember, the season is short, so make sure you buy yours soon!
Cheers,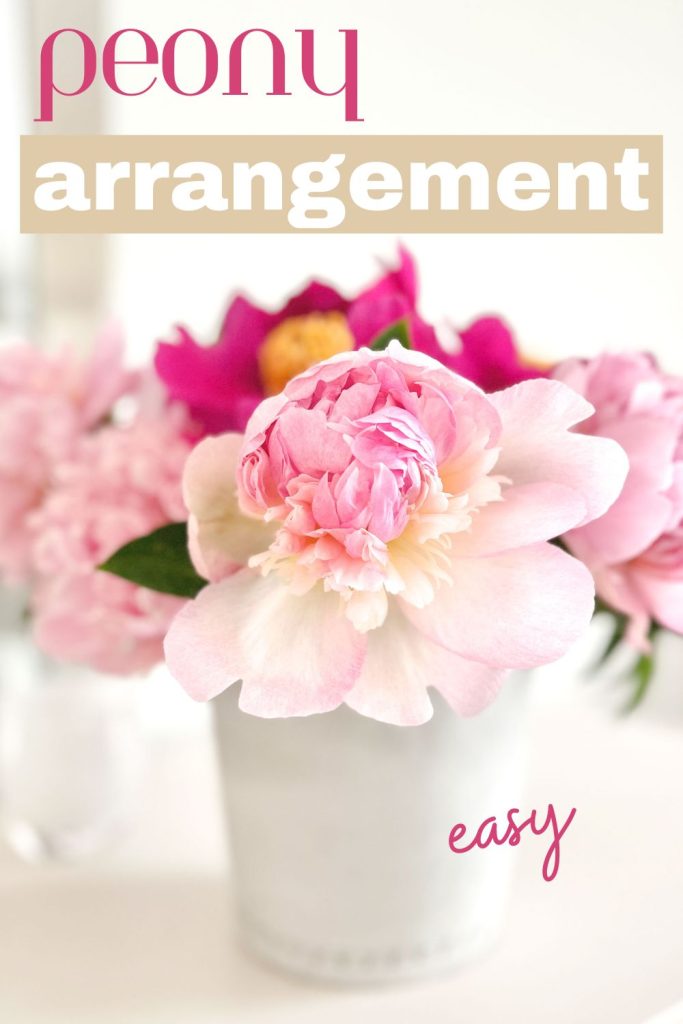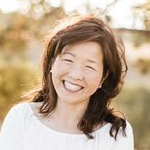 Latest posts by Janine Waite
(see all)