Let me tell you why I adore coming up with Summer Floral Arrangement Ideas. It's like entering a world of colors, fragrances, and creativity!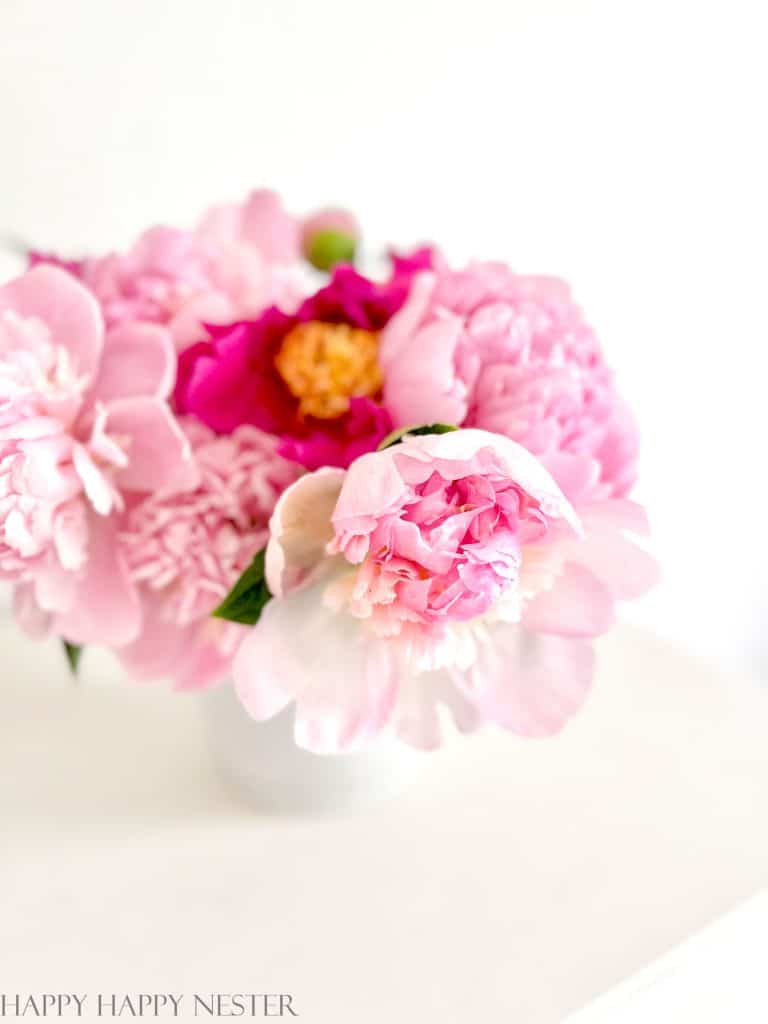 First, summer is when nature is at its most magnificent. It's impossible not to be inspired by the sheer beauty surrounding us.
The world around us bursts into bloom with gorgeous flowers of all shapes and sizes.
From the cheerful sunflowers to the delicate roses, there's an endless variety of blooms, each with a unique charm.
Creating floral arrangements allows me to channel my inner artist. I play with different colors, textures, and heights to compose a visual masterpiece.
It's like painting with living elements! I love experimenting with various combinations, mixing and matching flowers and foliage, and adding unexpected elements like feathers or seashells.
The possibilities are truly endless, and that's what makes it so exciting.
Saturday Chitchat with Janine – Volume 121
Hey friends!
Let me let you in on a little secret about summer.
First things first, there's something incredibly magical about the summer season. The sun shines bright, the days are longer, and everything feels alive and vibrant.
Next, the weather is off the charts. The sun is blazing, and the days are long, giving you all the time to soak up those sweet rays.
The possibilities are endless. The next best thing that combines with the perfect season is floral arrangements!
When it comes to creating summer floral arrangements, it's my jam!
I love playing around with different types of flowers, mixing and matching their hues and textures to create something truly unique and breathtaking.
What do you love about summer?
Personal Note from Janine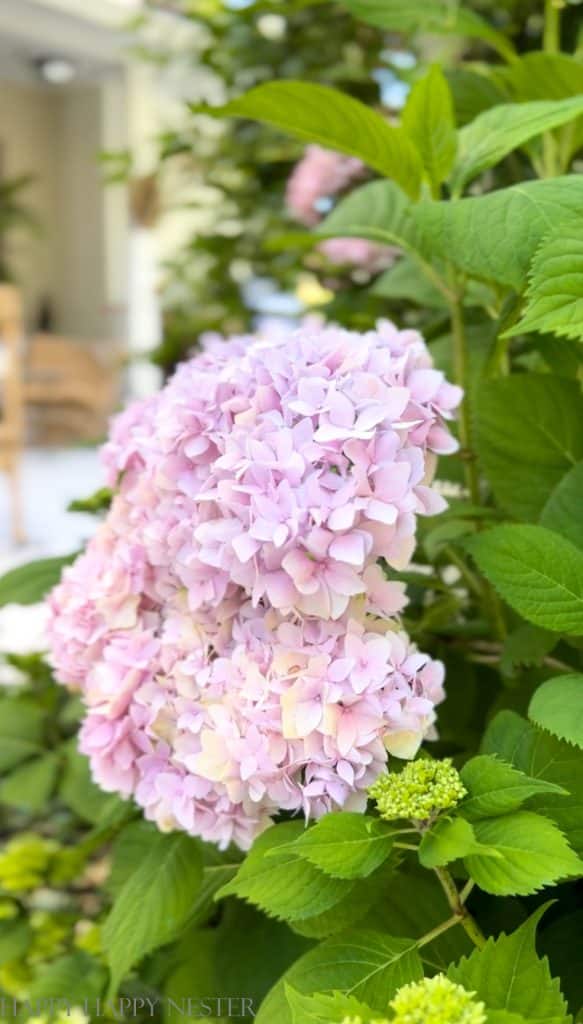 Every weekend, my hubby and I turn into crazy gardeners. We're all about taking care of our flowers by trimming, planting, and giving 'em plenty of water.
I gotta say, over the years, I've learned to be patient, and after a long 13 years, our plants and backyard have become our little slice of paradise.
So get this, last year, we went all out with a massive patio makeover. My husband went a bit overboard and pruned the hydrangeas. So, the first year after he pruned, we didn't get any blossoms! But guess what? This spring and summer, are plants are lovin' life, and we've got flowers everywhere ready to bloom!
I can't contain my excitement for these beautiful flowers. What's remarkable about hydrangeas is their ability to maintain their blossoms throughout the entire summer. It's not a fleeting display; they continue to enchant us with their vibrant colors.
If your climate permits, I highly recommend planting hydrangeas and roses. Embrace the joy of a summer of beautiful flowers!
Ok, off to the garden today!
Cheers,
This Week's Inspiration – Summer Floral Arrangement Ideas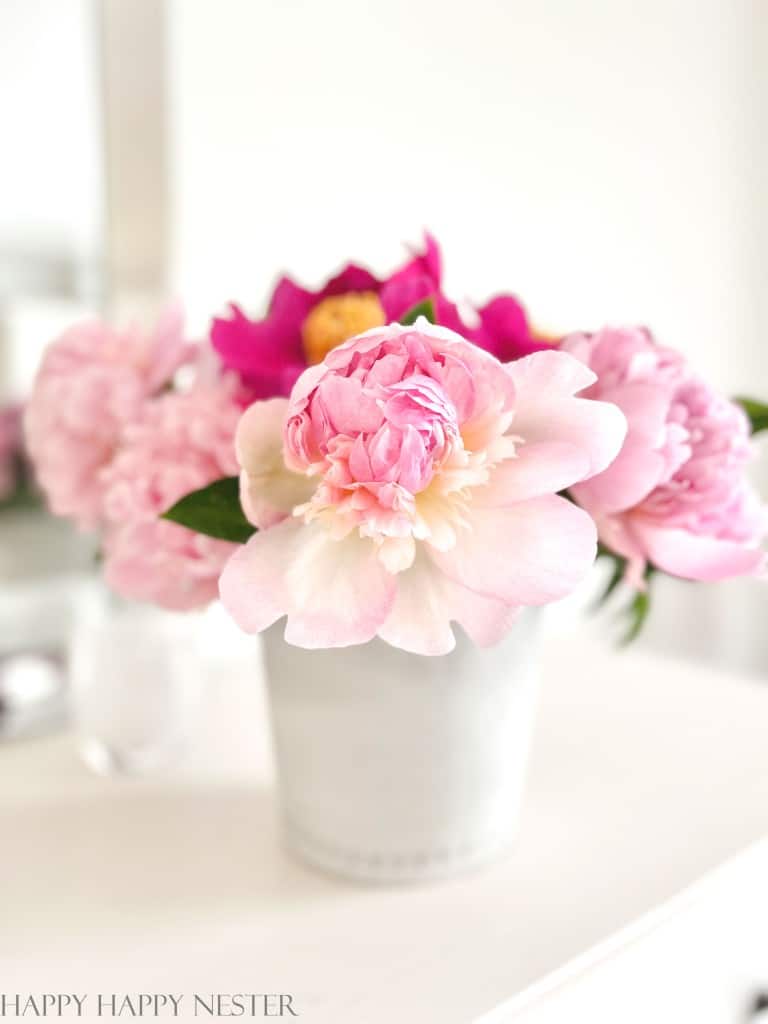 How to Create Peony Arrangements
As June arrives, my thoughts are immediately filled with visions of stunning Peony Arrangements!
We'll dive into where to buy these beauties, how to arrange them like a pro, and some nifty tricks to keep your arrangements looking fresh and fabulous.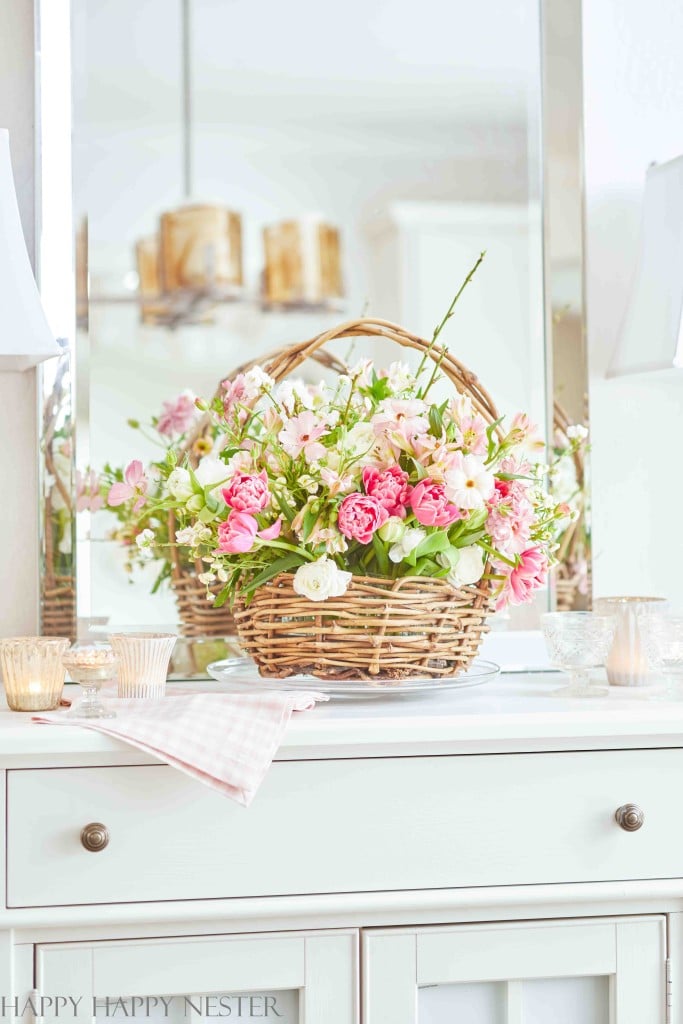 There's something about a Basket Flower Arrangement that feels cozy and inviting!
You can use all sorts of flowers and greenery, like wildflowers, herbs, and even twigs or branches, to add some texture and interest.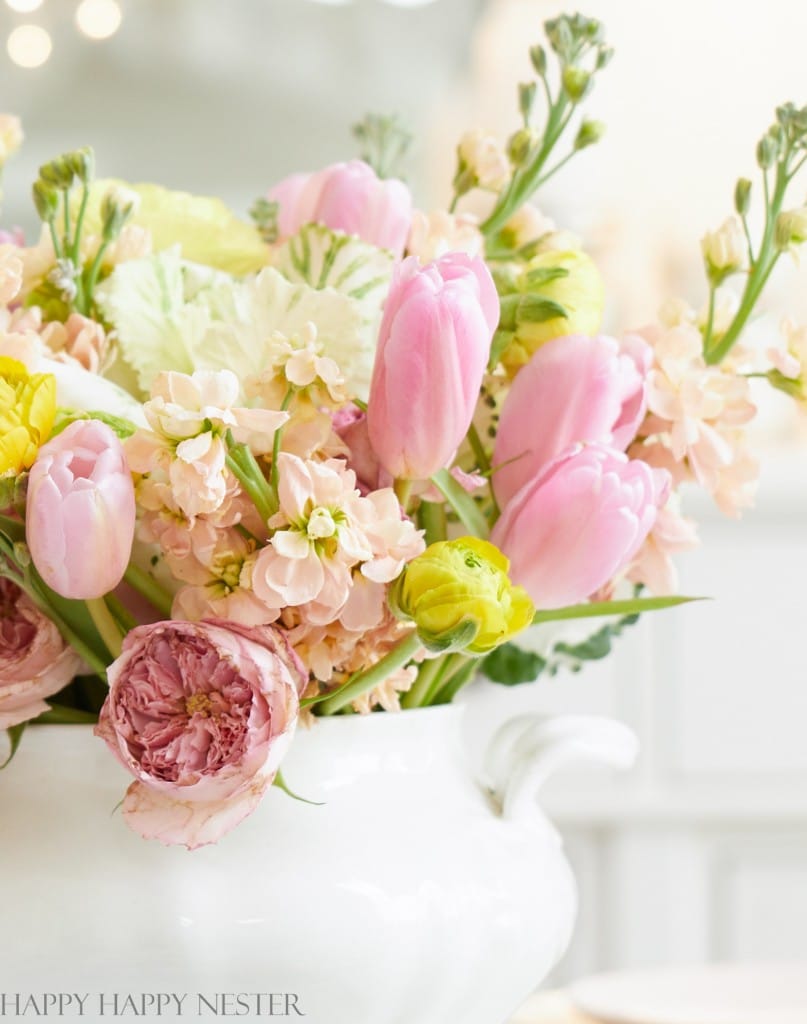 Vintage Flower Arrangement (Trader Joe's)
Creating a Vintage Flower Arrangement typically involves using a combination of classic flowers, colors, and textures that evoke a sense of nostalgia and charm.
I love all flowers, but the vintage-looking ones have a special place in my heart. When they're put together in a bouquet, the style is just gorgeous and timeless.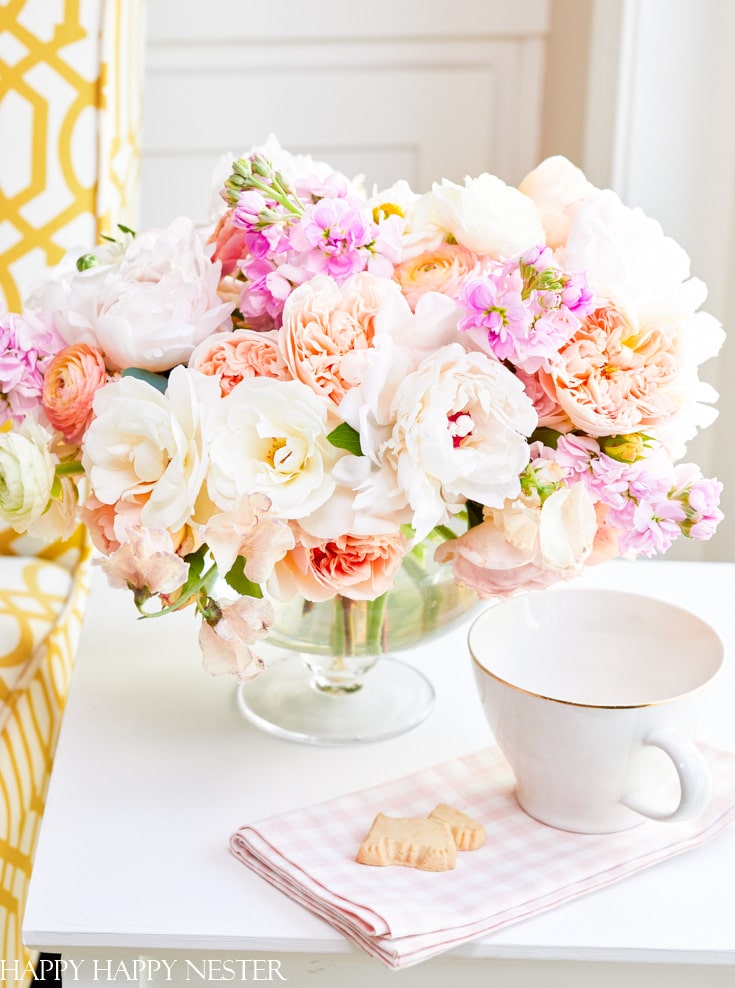 Soon the stores will be bursting with peonies, and you'll want to look at this post on Peony Arrangement Ideas.
I find it's always helpful to know which flowers to buy before going to the store. That way, you save time and money and shorten the time spent at the store.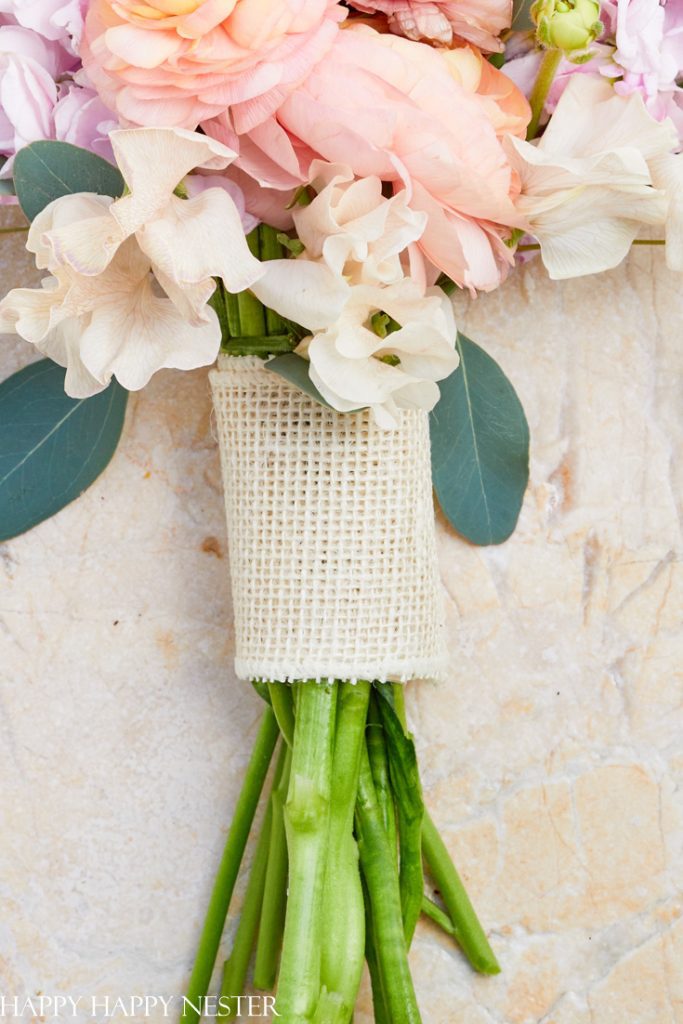 These Small Bouquet of Flowers are fabulous for Mother's Day gifts, weddings, graduation, birthdays, etc.
And since these are mini-bouquets, they're easy and quick to create. The petite floral arrangements include store-bought, flower market, and garden flowers!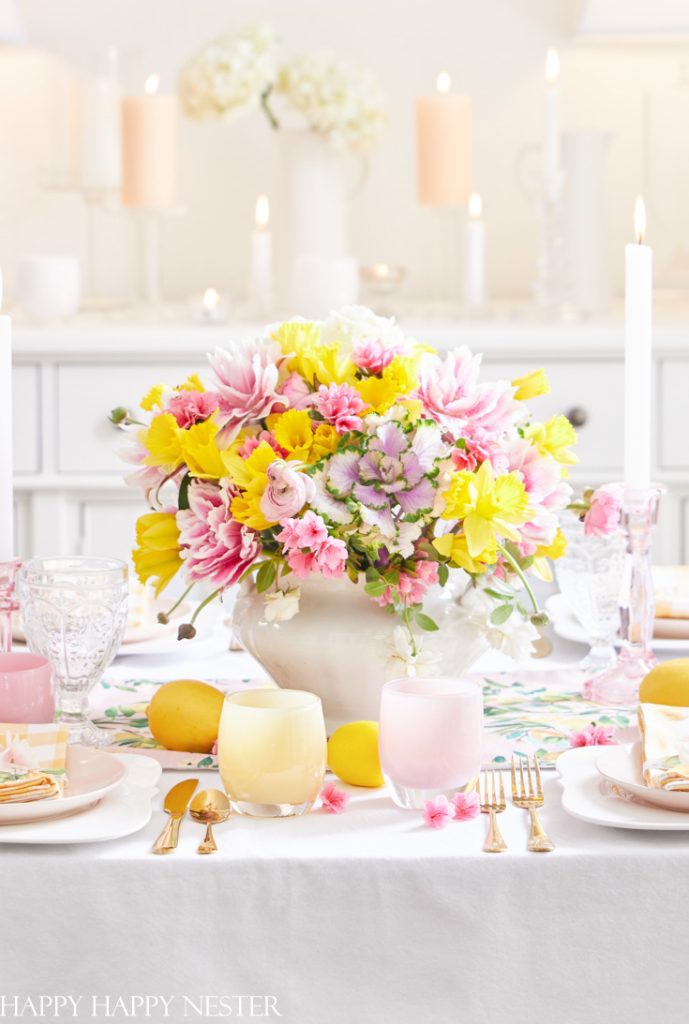 Here's an easy Floral Centerpiece DIY that uses grocery store flowers and a few garden flowers and fillers.
A few factors go into designing a flower bouquet, and this tutorial will help you create the prettiest table settings once you implement these key components!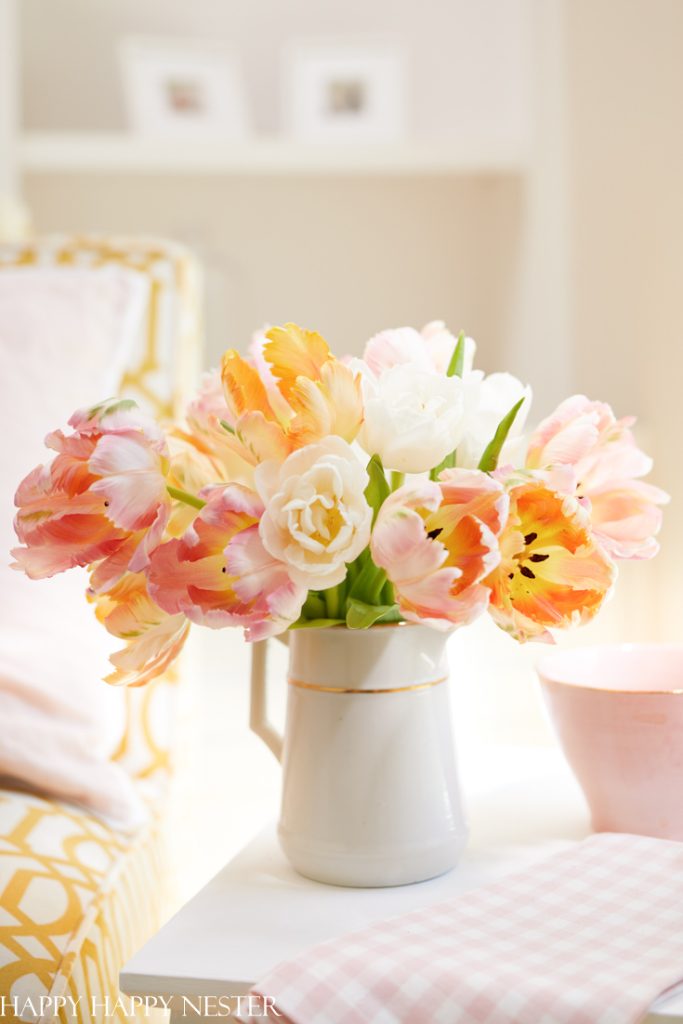 How to Arrange Tulips in a Vase
Tulips and How to Arrange them in a Vase can be a bit tricky. If you love flower arranging, then you'll enjoy this tutorial.
I'll go over droopy tulips, what flowers to pair with them, and some of the vases to use.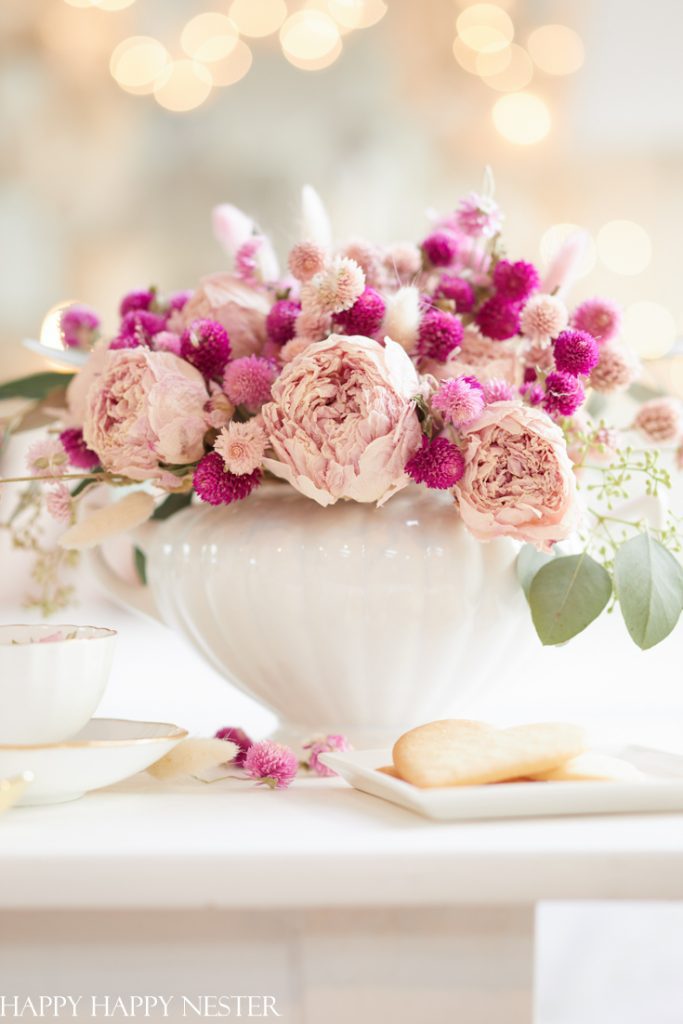 People have asked me to make some Dried Flower Arrangements, so today, I'm sharing my latest design.
This floral bouquet includes gorgeous dried peonies, globe amaranth, bunny tails, eucalyptus, and olive branches. Learn how to create this timeless floral arrangement.
Boutique of the Week – Colorful Outdoor Rugs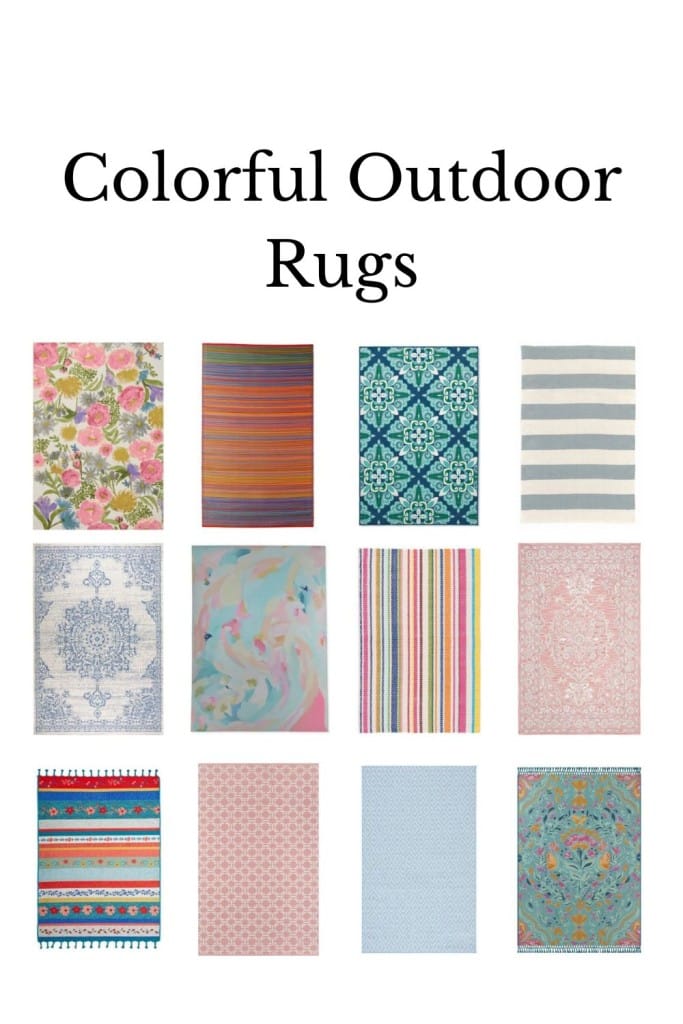 Let me tell you why I'm all about those Colorful Outdoor Rugs. First of all, they bring so much life to any outdoor space!
So, if you want to add a pop of color and a lot of styles to your outdoor space, get yourself a colorful outdoor rug.
My Favorite Things – Summer Floral Arrangement Ideas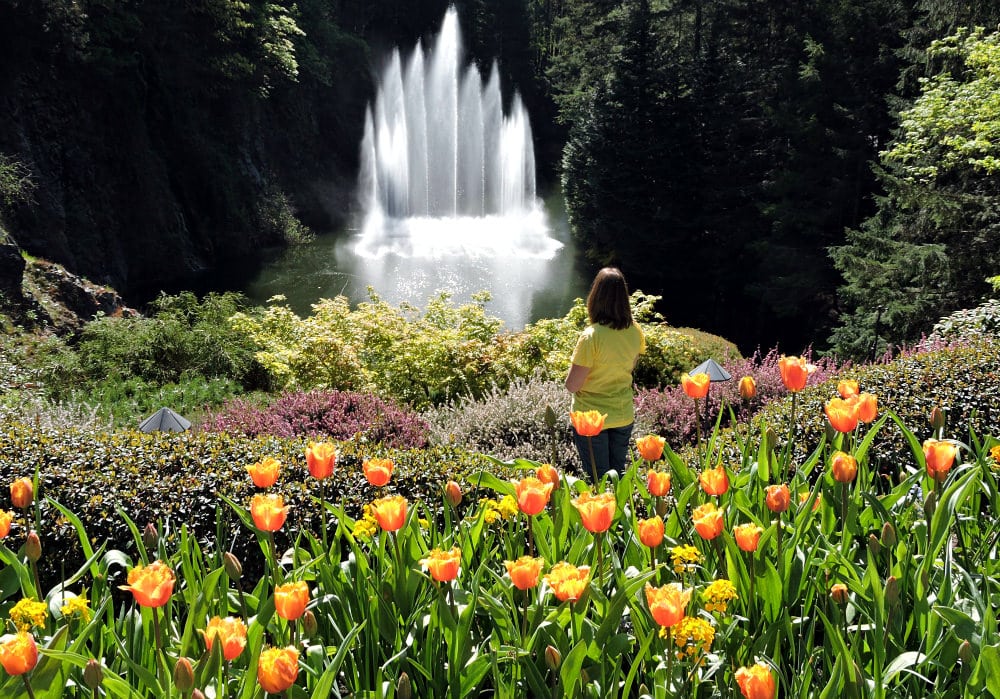 Let me tell you why The Butchart Gardens is THE spot to check out if you want to feast your eyes on some seriously stunning flowers.
First things first, folks, this place is like a floral wonderland. It's nestled in Brentwood Bay, British Columbia, and it's been wowing visitors since way back in 1904. Yeah, you heard me right, over a century of pure floral bliss!
Now, when I say "beautiful flowers," I mean flowers that will literally blow your mind. Picture this: vibrant roses in every color of the rainbow, delicate tulips dancing in the breeze, and fragrant lavender that will make you feel like you're floating on a cloud. Oh, and let's not forget about the dahlias, lilies, and peonies that will leave you speechless. Trust me, it's like stepping into a painting.
We visited once, long ago, and have been wanting to make the trip back up there!
What's Trending On The Blog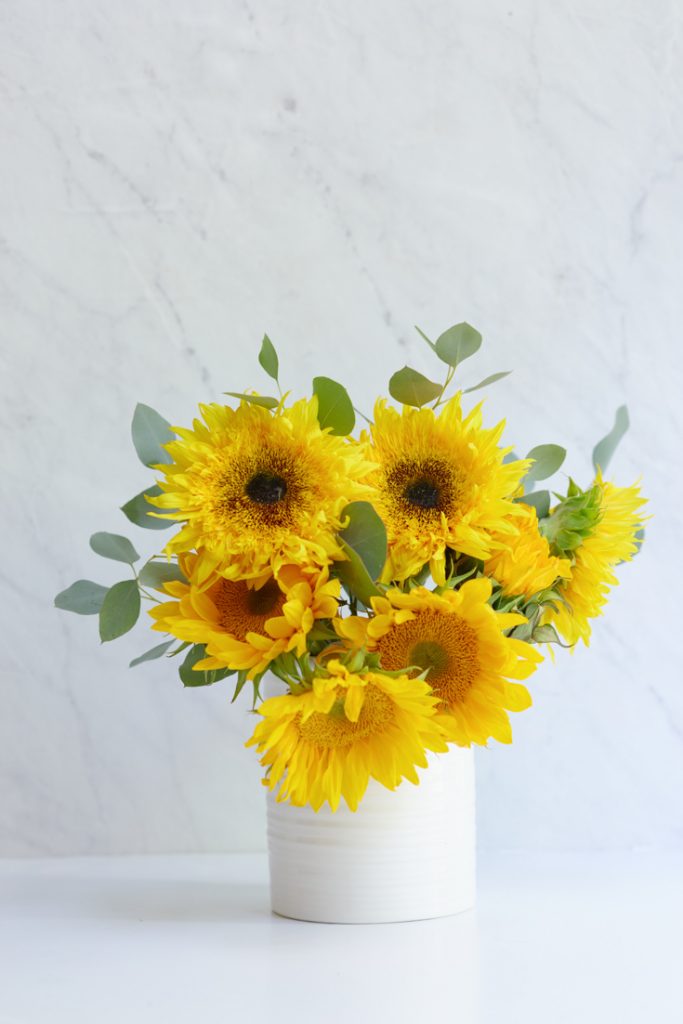 Trader Joe's Flower Arrangements
I create floral arrangements. I have always been a huge fan of them. Whether it's planting blooms, creating bouquets as decor, or picking them from a field, I admire their beauty!
So come on and check out these Trader Joe's Flower Arrangements!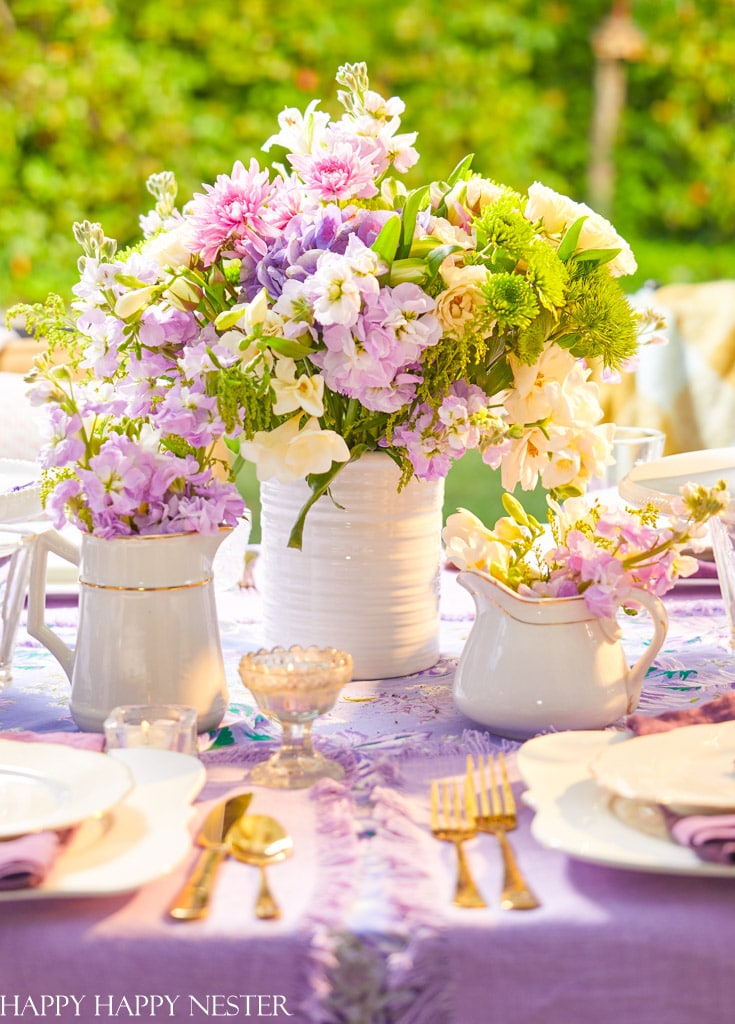 I'm constantly refreshing our table centerpieces. I like to use fresh flowers when decorating a table, and I love to display them on special occasions.
But, for an everyday look, I place a few blooming orchid plants on our table. The great thing is that my orchids will keep their blooms all summer long for about the same price as a bouquet.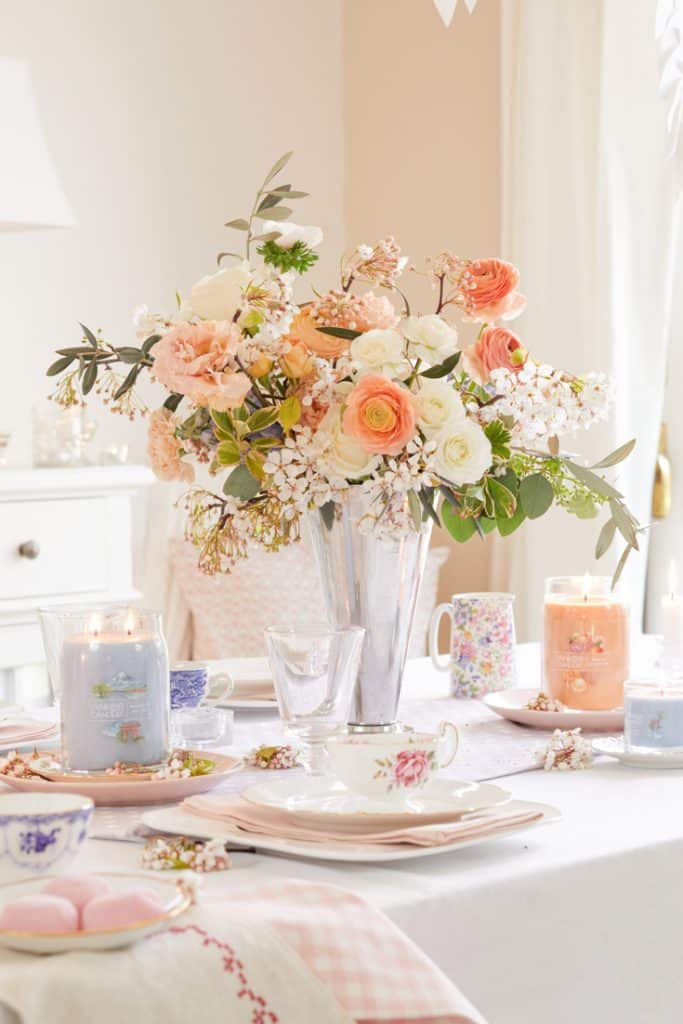 Table Decor Floral Arrangement
Spring cherry blossoms inspire my latest Table Decorations with Candles and Flowers. This simple tablescape includes the lovely Yankee Candle Sakura Blossom Festival Collection and a bouquet of beautiful flowers.
The combination of flowers and candles is perfect for welcoming spring into a home.
This Week's Tip – Trader Joe's Has Peonies!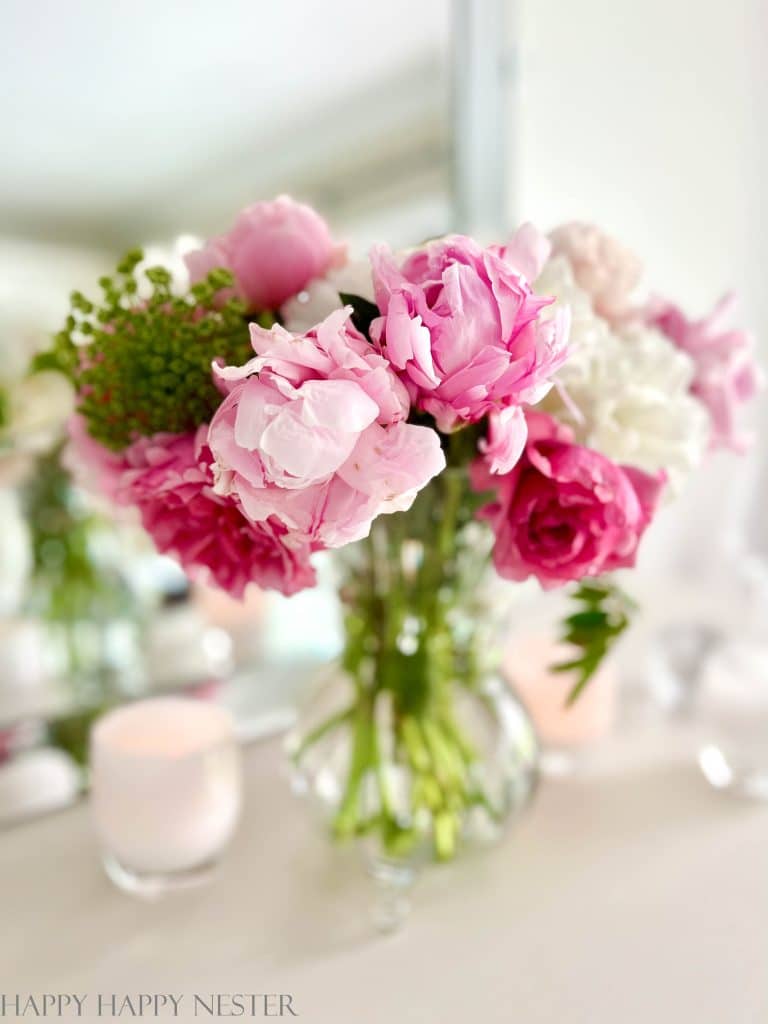 Trader Joe's Peonies
I was chatting with my friend Jodie, and I casually mentioned that Trader Joe's is selling peonies. And you know what? She had absolutely no idea her favorite flowers were in stock there!
That got me thinking, I had to share this exciting news with you because the peony season is pretty short. So, if you're a peony lover like Jodie, don't miss out!
Make sure to swing by your local Trader Joe's and grab yourself a beautiful bouquet of these gorgeous flowers!
Latest Obsession – Vases for Flowers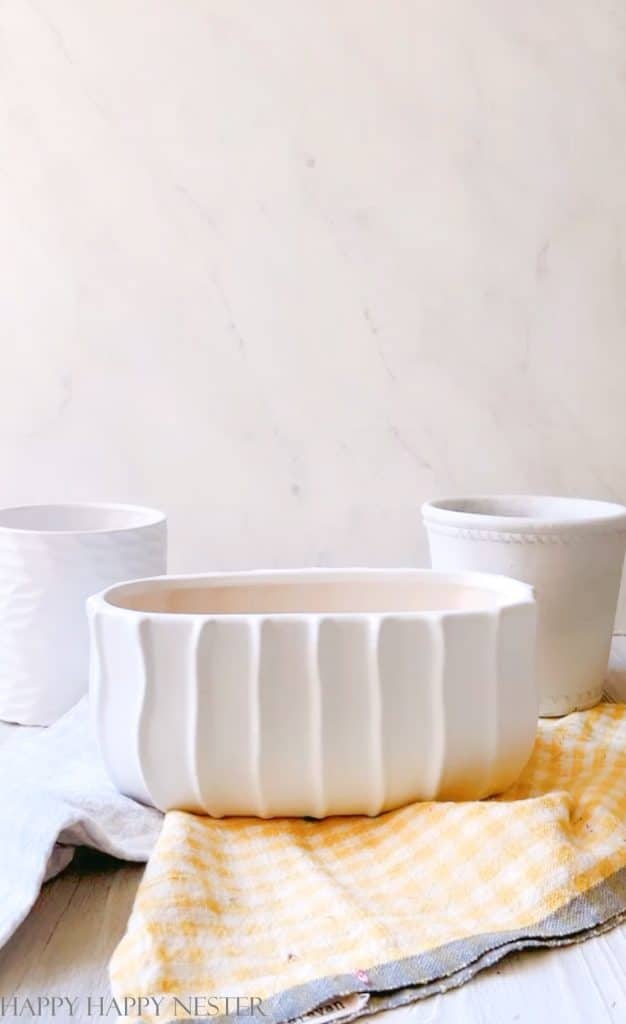 Okay, I've got something to admit. Until a couple of days ago, I was totally guilty of using the same vases for my flower arrangements over and over again.
I had my favorites, but I finally decided to expand my collection a bit. So, I went on a little adventure to our local Homegoods store, and boy, did I strike gold!
I found these stunning vases that caught my eye. The only downside is that I can't seem to find them anywhere online. However, I stumbled upon some other awesome options, which I've shared in this post.
When it comes to shopping for a container, don't be afraid to think outside the box. Believe it or not, two of the ones I found are actually planters! As long as they don't have drainage holes, they can make for some pretty funky flower vases.
So, let your creativity run wild!
---
Hey there!
There's something therapeutic about working with flowers. As I arrange each stem, I feel a sense of tranquility and connection with nature. It's a moment of calm in our fast-paced world.
Plus, the scent of fresh flowers filling the air is simply enchanting. It instantly lifts my spirits and brings joy and positivity to any space.
Even better is my reaction when I share my floral creations with others. Whether it's a beautiful centerpiece for a summer party or a bouquet to brighten someone's day, seeing the smiles and appreciation on people's faces is incredibly rewarding.
Flowers have a way of touching hearts and spreading happiness, and I'm grateful to be a part of that.
So, that's why I'm head over heels in love with creating summer floral arrangement ideas.
It's a little slice of paradise in a vase, and I can't get enough of it!
It's a chance to unleash my creativity, find solace in nature, and bring joy to others.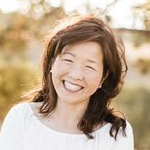 Latest posts by Janine Waite
(see all)