In honor of this week being all about flowers, let's talk about Unique Vases to hold your beautiful blooms.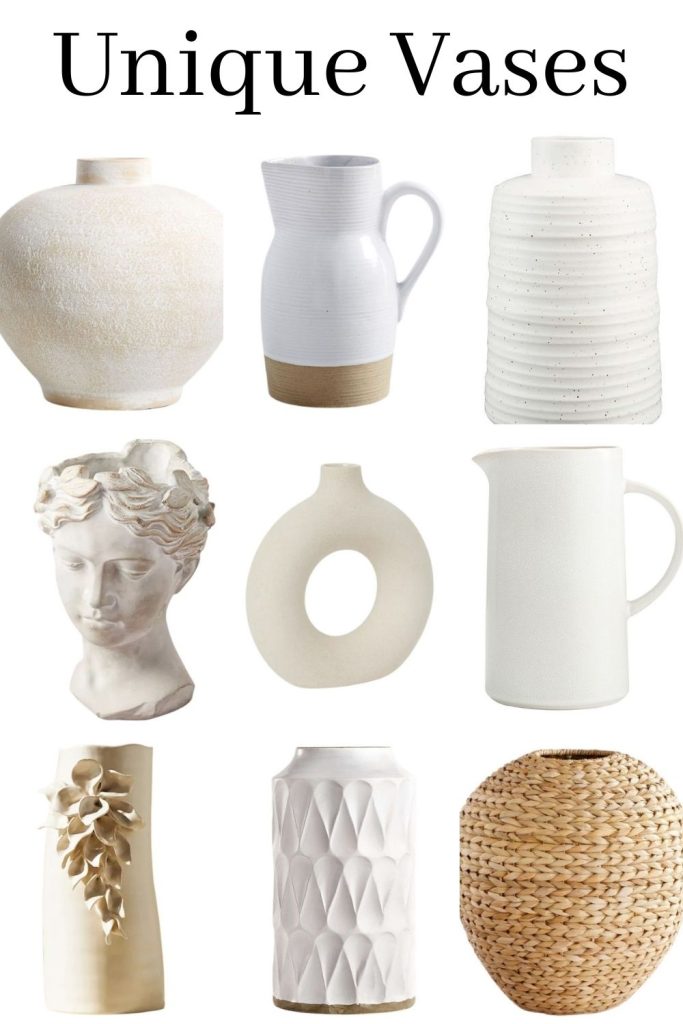 This spring, we will create gorgeous floral arrangements with some of the prettiest vases. But for now, take a look at this vase collection to find the perfect find.
Since I was a little girl, I've been creating bouquets, so I know a thing or two about which vase is the suitable case. Here you will find affordable, elegant, and unique vases that bring summer to your home.
Suppose I can't plant them. I vase them, which always looks like more than four arrangements around the house. In the end, the more flowers, the better!
And since this week on the blog is all about flowers, you can never go wrong with looking at a vase or two to complete your spring/summer look.
Simple
Modern
Ceramic
Decorative
Unusual
Luxury
Continue to see unique vases!
Unique Vases
*This post contains affiliate links
SIMPLE VASES
We must all love simple decorations, especially a vase. And sometimes, "going simple" is best for your style. Here is a collection of uncomplicated looks to fill with nice-looking flowers. With the blooms of your choice and a vase-like one of these, you will be able to create an effortless look for the season ahead.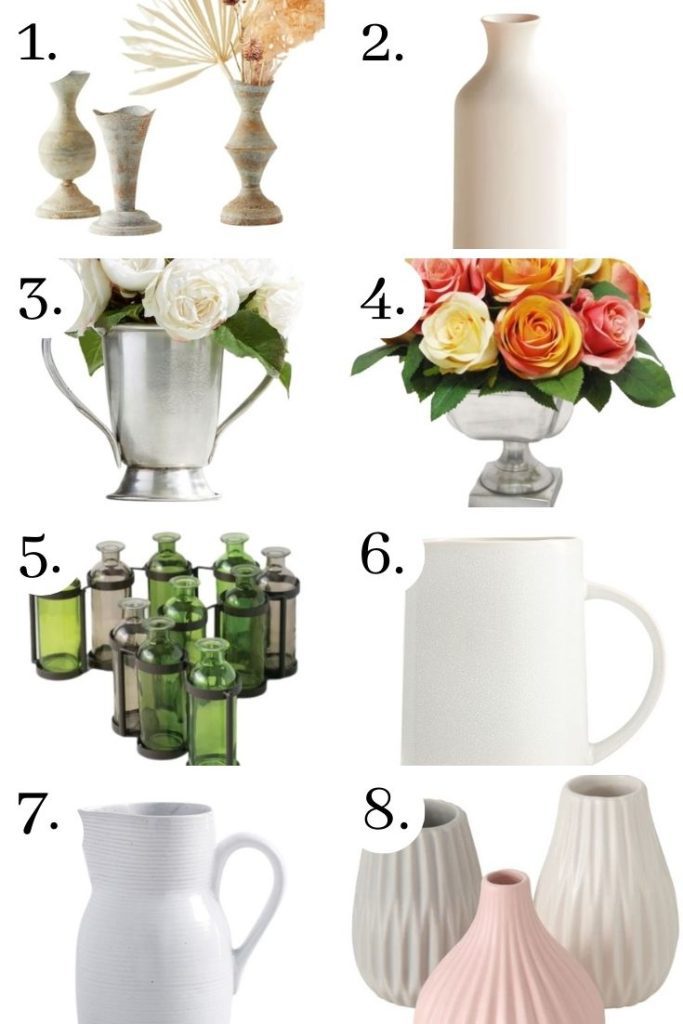 Sources: 1 l 2 l 3 l 4 l 5 l 6 l 7 l 8
We are starting strong with classic containers like the ones above because we all need a little "simple" in our lives these days. With school wrapping up, summer traveling, and so many plans being made, finding an easy, clean look is needed. Without a doubt, you will achieve that look with these unique vases.
MODERN VASES
Next to simple, we have modern. Some people may think modern and straightforward are the same, but in the decor world, they are entirely different. If you scroll down, there will be eight unique vases to create that modern look you've wanted. The best part about this section is these particular vases work for any event, holiday, or occasion. No need to stress every season, the perfect picks are right here waiting for you.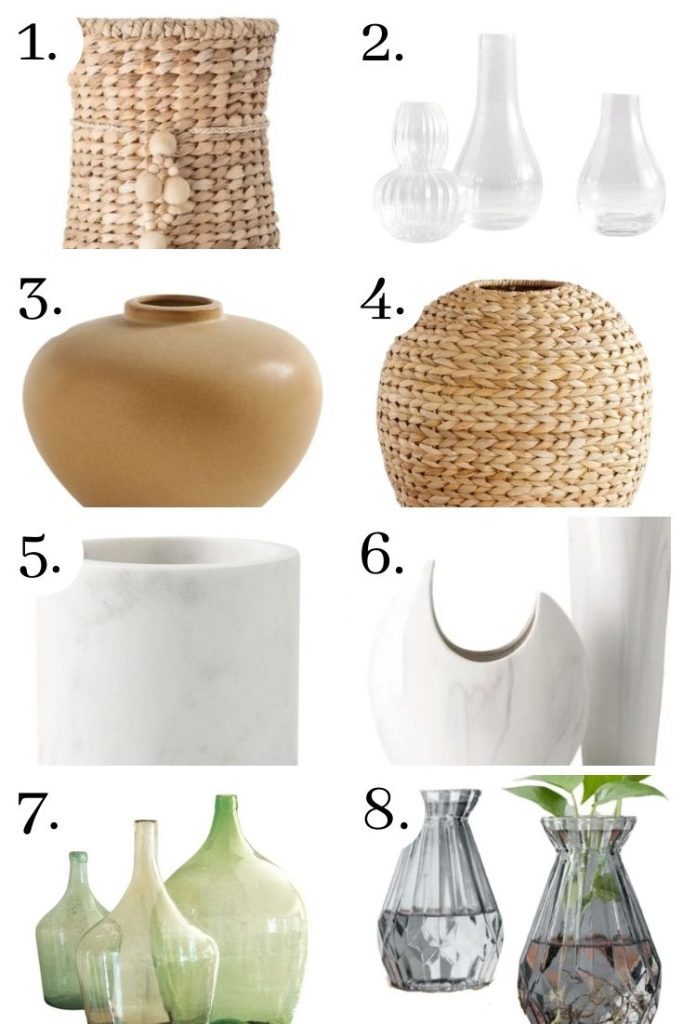 Sources: 1 l 2 l 3 l 4 l 5 l 6 l 7 l 8
As you know, I am a big fan of creating floral arrangements. At times, I make three at once, and I need suitable vases to get the job done. Feel free to bring a glance at what my best-loved containers are! My so-called "good vases" are linked above.
CERAMIC VASES
Let's talk about pottery. I can't say I have enough ceramic vases in my home because I don't. But, one thing I do know is this kind of vase will not only design a stunning spring look but help your flowers bloom brighter than ever.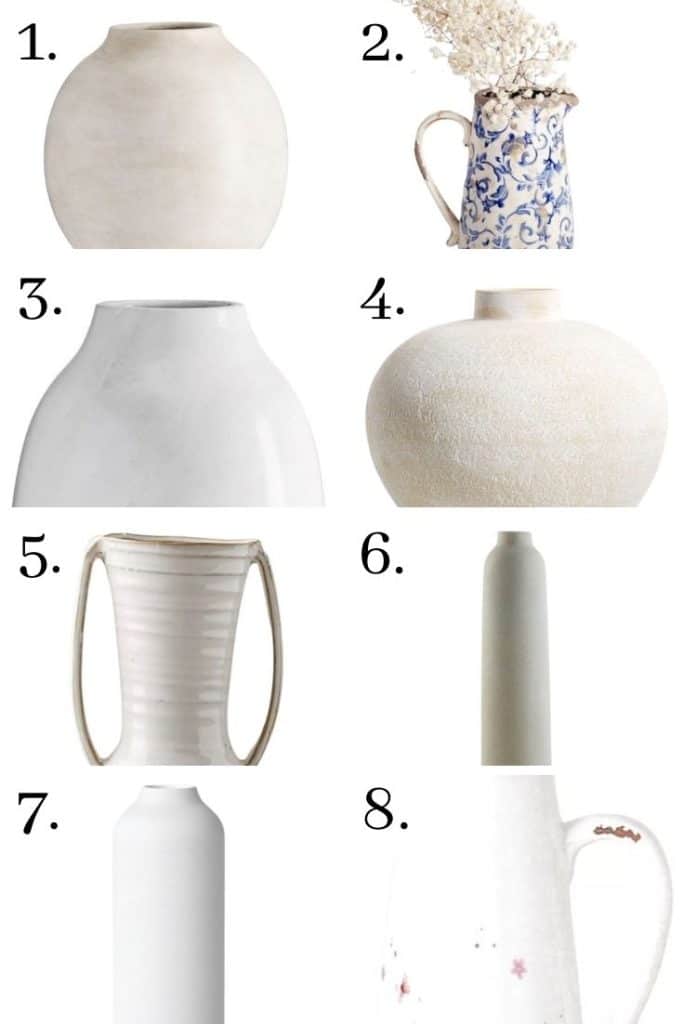 Sources: 1 l 2 l 3 l 4 l 5 l 6 l 7 l 8
Aren't these ceramic vases as pretty as a picture? A container like this will put the finishing touch on your centerpiece, whether on the coffee table, dining table, or bedroom. I love showcasing my creations front and center in the kitchen for visitors to admire and become inspired to create their arrangements. Let's hope you feel inspired by these unique vases to put together the dream bouquet.
DECORATIVE VASES
Decorating with vases is one of the easiest ways to add an effortless look to your home, don't you agree? Lucky for you, this whole post is all about unique vases. It's time to focus on decorative vases that will bring the spring season to you. Here you have eight options but don't worry. There's more to choose from above and below.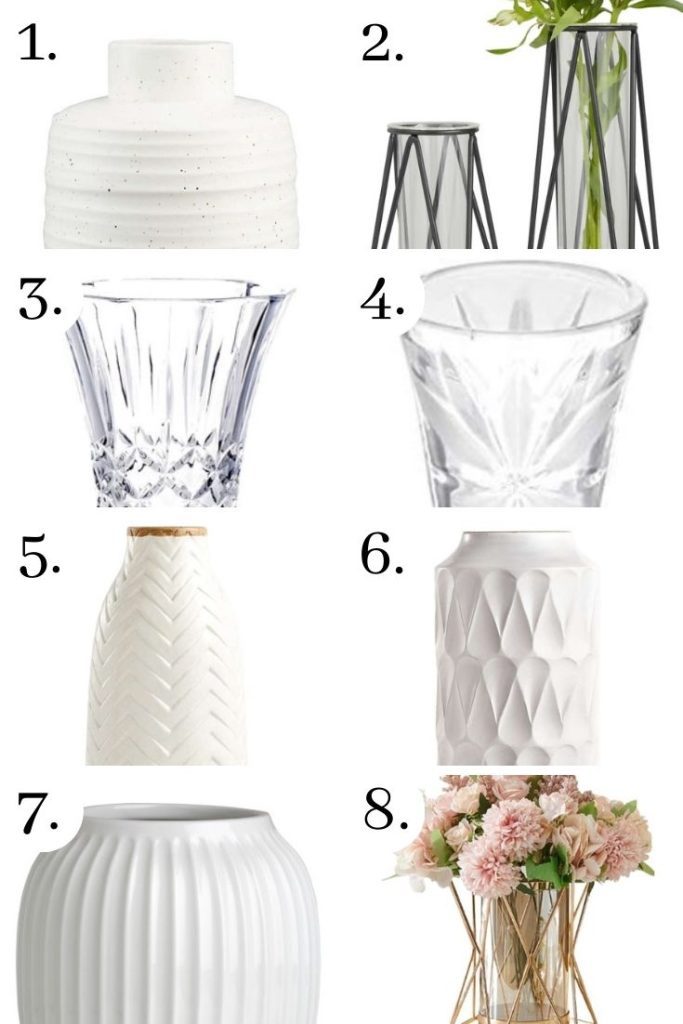 Sources: 1 l 2 l 3 l 4 l 5 l 6 l 7 l 8
Vases like these are fun based on their extraordinary designs, patterns, and colors. If you want to bring excitement to your home decor, check out these decorative vases to accomplish such a look.
UNUSUAL VASES
To expand my interest in unique vases, I thought I would include the notable of them all, unusual vases. Before we begin, I understand how this might not be everyone's style, but these vases are creative and worth looking at. Plus, these caught my eye and sparked an interest surrounding the strange yet stunning shapes.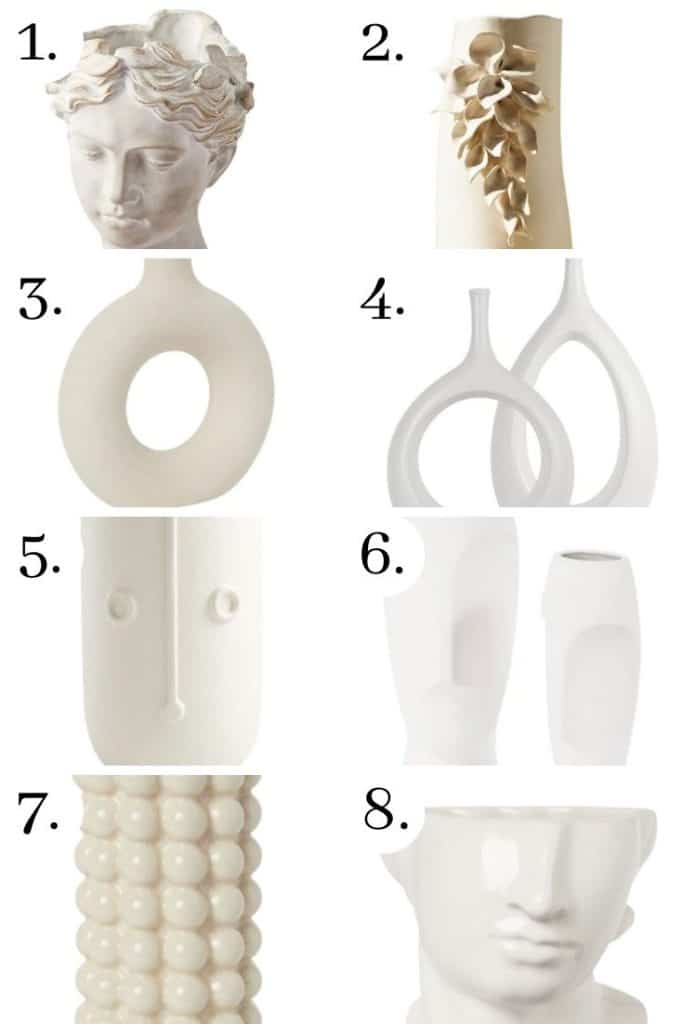 Sources: 1 l 2 l 3 l 4 l 5 l 6 l 7 l 8
You never know. One of these vases could have sparked interest and inspired you to design a floral arrangement. Before we move on, I just wanted to add that I can't get over how amazing these are. It's so cool to think about what kind of imagination and sense of creativity it took to make something like this.
LUXURY VASES
We've made it to the last section, but you know what they say, right? The last section is the best. To be clear, these containers are more on the expensive side of the price scale.
It's time to look at luxury vases. Believe it or not, I have a knack for luxury items, especially a vase that looks like this. No matter what container you've chosen or flowers you've picked out, in the end, you will have a lovely centerpiece.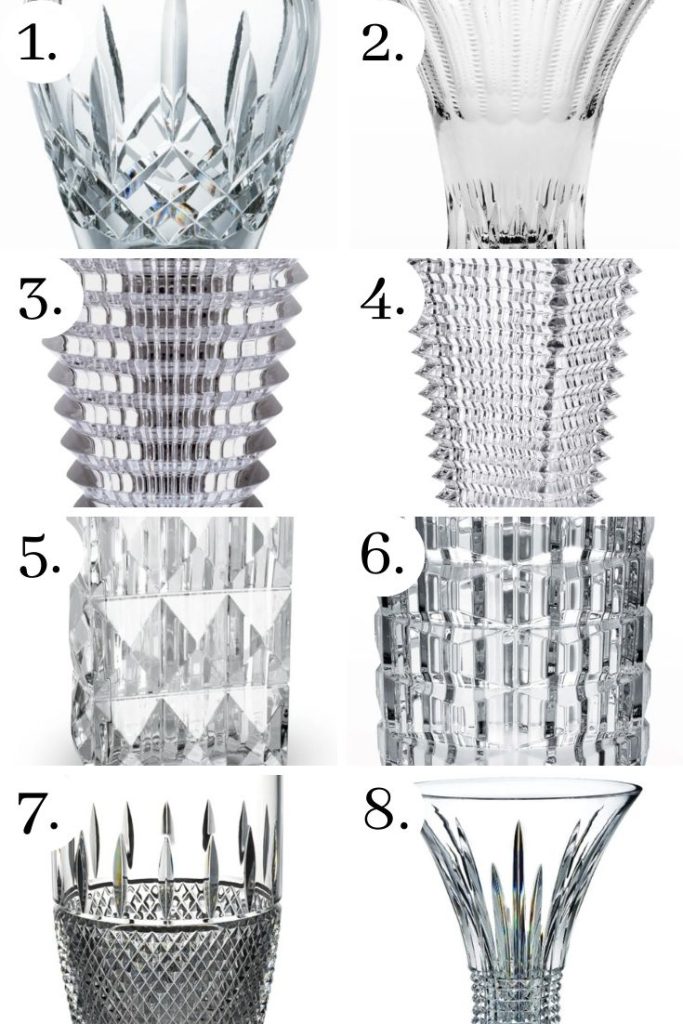 Sources: 1 l 2 l 3 l 4 l 5 l 6 l 7 l 8
That's it. That's the end of looking at vases. But feel free to go back and give some a second glance 🙂 Out of all of the sections here, I hope you found something to fill flowers with and place in your home.
Now that it's officially spring, it's time to bring out the flowers and create that seasonal look from my home to yours. If you need floral arrangement inspiration, here are my favorite posts from the blog.
---
Happy Wednesday,
Today has been a day! I've been trying to write all of my future blog posts before traveling to Vermont next month. But in the meantime, expect a bunch of fun blog posts this week!
Cheers to decorating! I hope you found a vase or a few to fill with gorgeous blooms. In my opinion, there is no better way to decorate for spring than with a floral arrangement.
Much love,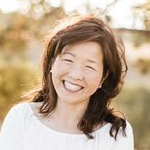 Latest posts by Janine Waite
(see all)