Tulips and How to Arrange them in a Vase can be a bit tricky. If you love flower arranging, then you'll enjoy this tutorial. I'll go over droopy tulips, what flowers to pair with them, and some of the vases to use.
Tulips are a happy flower that ushers in spring and kisses winter goodbye. And did you know that spring is officially here on Sunday? I need a bit of spring in my life.
Flowers are my lifeline, and I love decorating our home with their gorgeous colors and fragrances. I can't wait for my garden roses to bloom and fill our home with all their unique scents.
If you're like me, you'll like these other flower posts I've shared over here on the blog.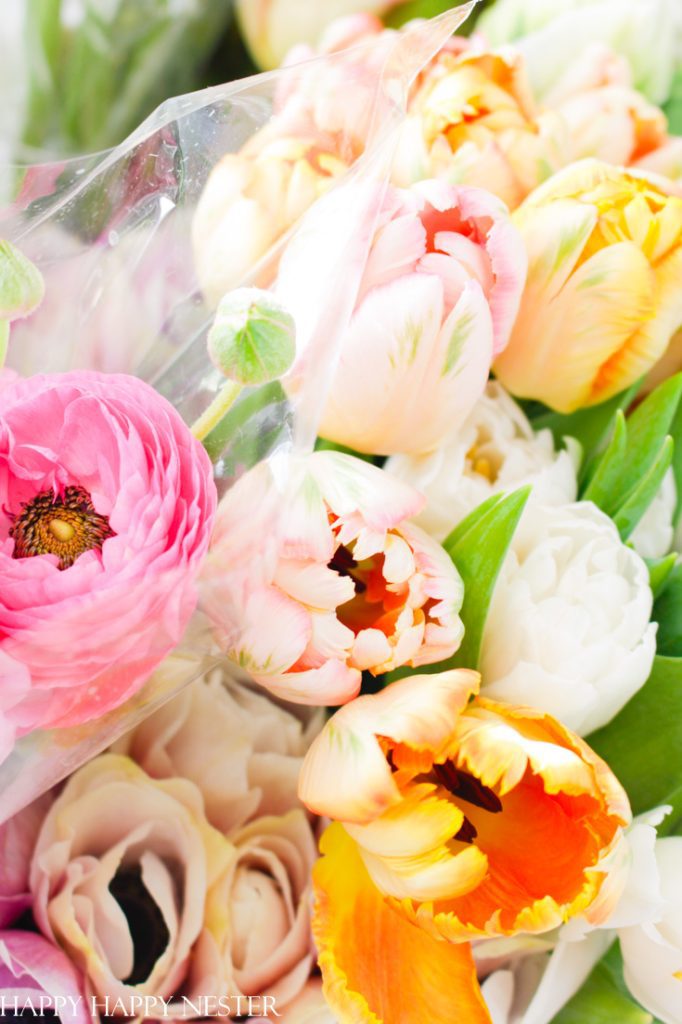 So buy some beautiful flowers at your local grocery store or the Farmer's Market for flowers. And let's design a pretty spring bouquet.
I've included a few different arrangements to inspire your creativity.
So, please grab your flowers, vases, garden scissors, and let's get busy creating beautiful bouquets.
How to Arrange Tulips in a Vase
*The following post contains affiliate links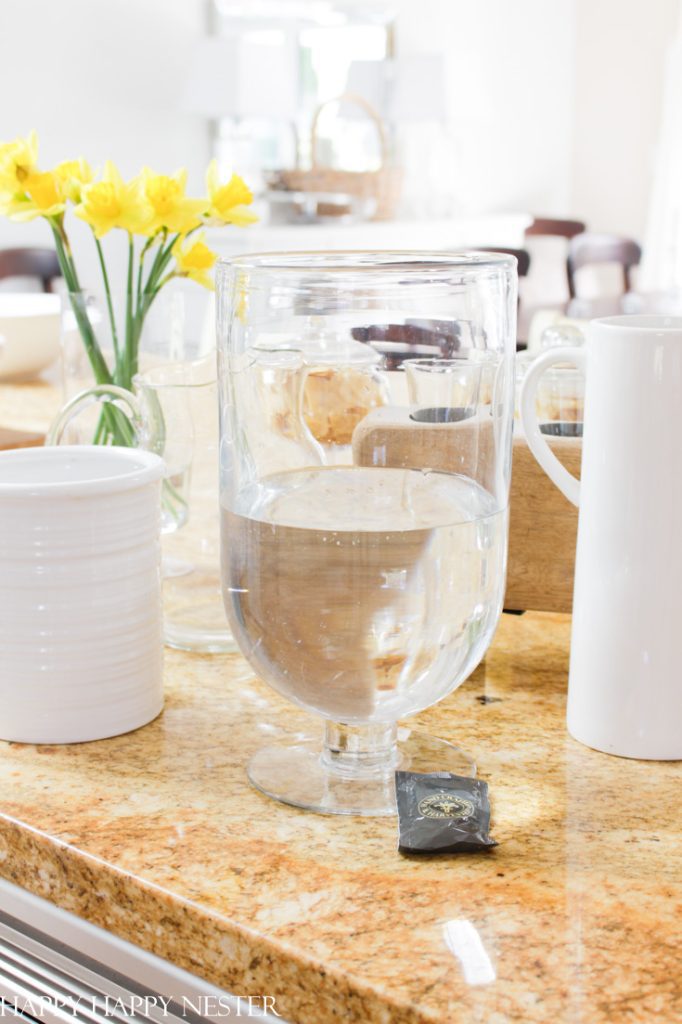 Choosing the Best Container for Tulips
The first order of business is to pick out your vase. Roundup your favorite containers and figure out which one you'll use.
I like to think out of the box when it comes to vases.
I love to add an element of surprise. Use a soup tureen, a glass pitcher, a teapot, a mason jar, or even a pretty basket. If you broaden what you'll repurpose for a container, you'll be surprised by how many fun vases you have right under your nose.
If you want to peruse a few lovely vintage containers here are a few.
All Tulip Arrangement
The minute I spied these multi-color tulips, I knew I wanted to buy them. Don't they look like a blend of pink and yellow lemonade? I guess there is a tulip called Cool Pink Lemonade!
Pink and orange/yellow is my favorite color combination. And here are my favorite colors, all contained in one tulip!
I feel that their beauty is all you need, so I kept the arrangement simple. I placed the vibrant tulips in my French pitcher and voile! I had a gorgeous bouquet in under 15 minutes.
Tulips and Ranunculus
I love bouquets that are committed to one color. So here is an all-pink bouquet of tulips and ranunculus. The colors are so gorgeous, and they are flowers that you can find in Trader Joe's this spring.
Tulips in Sugar Mold Vases
My dear friend Allyson gave me this farmhouse-style sugar mold vase. She bought it from a company in Napa, but unfortunately, it went out of business. Here's a link to some that are similar to mine.
I love displaying a collection of flowers in these unique glass vases. I adore the springy color combination of green and purple tulips and a few purple anemones. It's so whimsical and perfect for mini bunches of tulips.
Tulips with Daffodils and White Hydrangeas
This bright and happy arrangement is stunning and simple. As I look at it, there is one flower that I could've added. Can you guess which one?
To create this bouquet, arrange three white hydrangea blossoms, about six tulips, and six daffodils, and you'll have a fun tulip arrangement. I probably should've added a few white or yellow daisies. Then this would be the ultimate spring bouquet.
Tulips with Gerbera Daisies
The purple tulips are a bit heavy visually, so I added a few yellow gerbera daisies to create a lighter arrangement. I like how they branch out from the top of the glass pitcher.
---
Frequently Asked Questions About Tulip Arranging
Why Do Tulips Droop?
Tulips love water, and after arriving at your home, they're thirsty. So trim them just a little bit and place them in fresh water and let them hydrate overnight. I had the tulips droop, and I cut the flowers way too short to avoid the droop. Well, the next day, they were sticking straight up. If only I had known this about tulips before trimming.
What to Do If My Tulips Continue to Droop
So if the above strategy doesn't work, you might keep them in the grocery store cellophane they came in or wrap them in a newspaper in a cone shape. Plop them back in the vase of water and place them in a dark room. Bring them out before your dinner party, and they should be fine.
Why Do My Tulips Change Directions?
Tulips are sunseekers! They move to sunlight, hoping to be seen by pollinators. If you don't like their movement, place them in a tight arrangement so they can't move. Or put them in a tall vase to control their stems.
What is Best Thing to Use to Preserve Tulips
I did a whole experiment on Tulips and different ways to preserve them. I tried adding a penny to the water, adding aspirin, sticking the stem with a pin, and more. My findings are pretty interesting. But ultimately, the best was the flower preserver packet.
Also, changing out the water every day with fresh water is a good idea. I guess they don't like old stale water.
---
I forgot to mention that the best way to cut the stems is at an angle. The angle allows for my surface area to soak up water. I'm guilty of trimming the stems straight across, but I will try and make a better effort in the future.
I added the flower preserver since I did an exciting experiment with tulips and found that it was the best way to extend the life of the flowers. Also, I found a few more surprising things about tulips.
Well, I hope you enjoyed this fun post on how to arrange tulips.
Cheers and Happy Spring!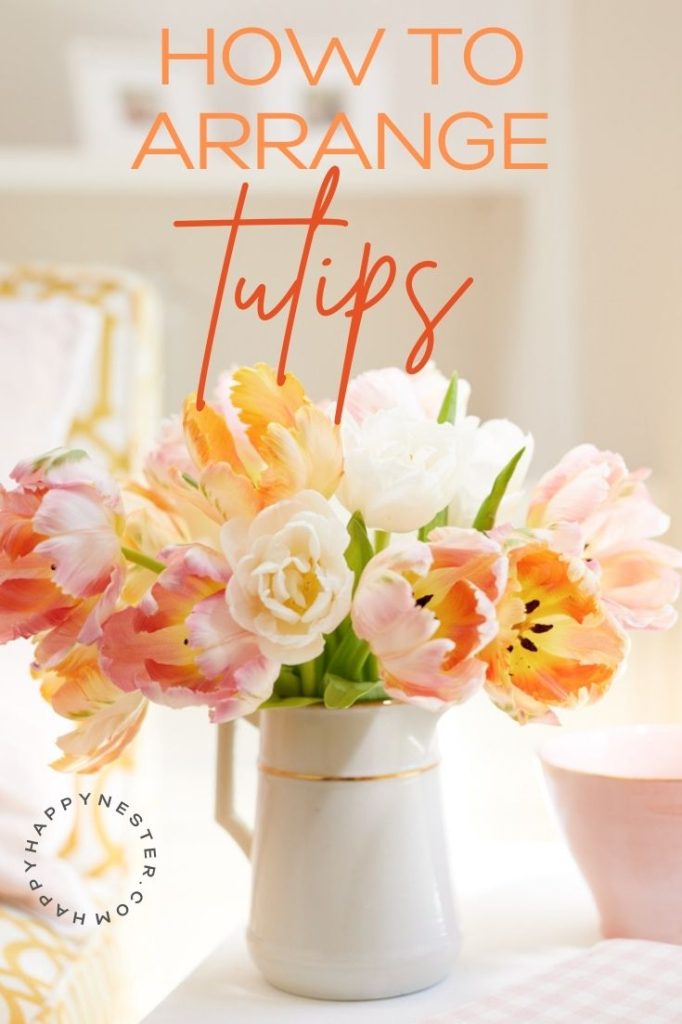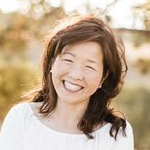 Latest posts by Janine Waite
(see all)