This year my hubby is celebrating the thirtieth anniversary of his 21st birthday. That means he's… well you can do the math. This summer we received a watch from JORD, also known as woodwatches.com, to try out. JORD is the Swedish word for "earth, soil, land" and this beautiful watch is a reflection of earth's finest elements. We picked the Fieldcrest Series in black. I knew immediately I found the perfect gift! The JORD Fieldcrest watch is simply stunning.
It's monochromatic black face and gorgeous wood grain band showcase the sustainable materials that JORD uses to build each watch. The face, bezel and watch band are made of wood. Each watch is artisan made with different kinds of wood, so no two watches are the same. In our world, that is becoming more and more conscious about using sustainable products, I believe JORD has cornered the market on gorgeous wood products. They use sustainable and natural wood from all over the globe, such as bamboo, sandalwood, blackwood, cherry, zebrawood, koa, purple heart, ebony and rosewood. Wood is the main feature of each piece.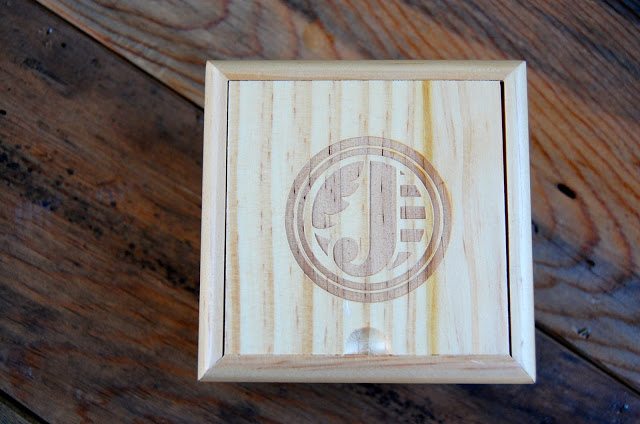 My husband isn't an accessory guy, but he does love a good watch. I knew he would like this gift, but I was surprised at how much he LOVES it. He was immediately impressed with the look of the watch and tried it on. Thanks to a professional customer service agent and a simple online "chat" I was able to measure his wrist before we received the watch. It came in the mail perfectly sized to my husband's wrist, but with an extra link, just in case. He tells me every day that he is surprised at how comfortable it is to wear. The wood warms to his skin and its smooth surface feels very natural and comfortable. This watch is meant to be lived in and for an "on the go" guy like my hubby, it's perfect!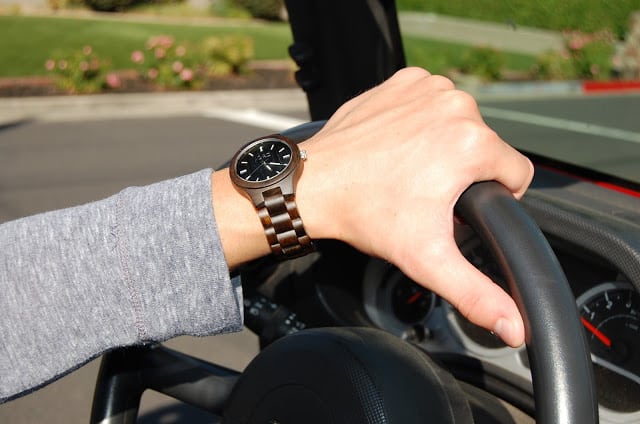 "On the go" is our lifestyle.
At work and on outings he is constantly complimented on this gorgeous watch. It's always a conversation starter. My son, who is going off to college, has been admiring it the most, so I'm going to order one for him as a going away gift. JORD has a new and devoted customer base in my family. My husband is so generous, and rarely buys anything for himself, just said he may just give our son the Fieldcrest watch since he loves it so much. Then he'll order a new one. Most of these photos are taken with my son because he was borrowing the watch for the day and trying it out. He loves having something so unique, fashionable, and comfortable.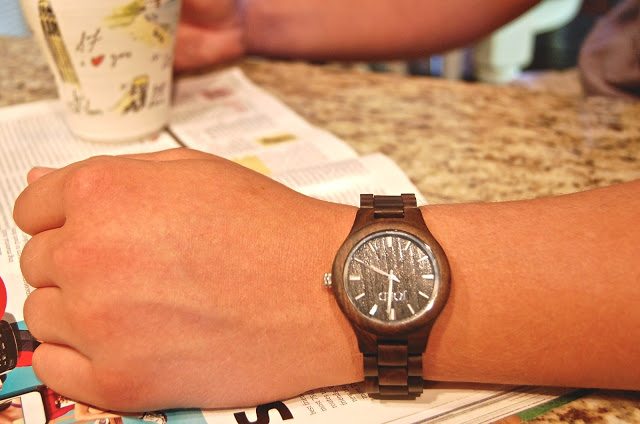 Time for coffee
The Fieldcrest series goes with any event happening in my husband's day. He can wear it to work with a dress shirt and tie or to the poker club in a rock t-shirt or polo. It's very versatile but stylish. It's modern look and natural design make it a classic.
JORD watches are meant to be used and enjoyed not just worn. It's important to know they are not waterproof. They are considered splash proof. Too much water would, of course, damage the gorgeous wood pieces so intricately picked to build each band. Set it aside while washing the dishes or taking a dip in the pool.
I know I want one next. I've even picked it out and it's going on my Christmas list.
Hubby, please buy me the JORD Cora Turquoise and Zebra. Thank you. xoxo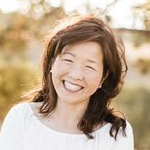 Latest posts by Janine Waite
(see all)