How to Hygge for Spring with Flowers is a post that so needs to be published. And what better person to do that than me! I adore anything flowers, so I rounded up some of my favorite floral bouquets to inspire you.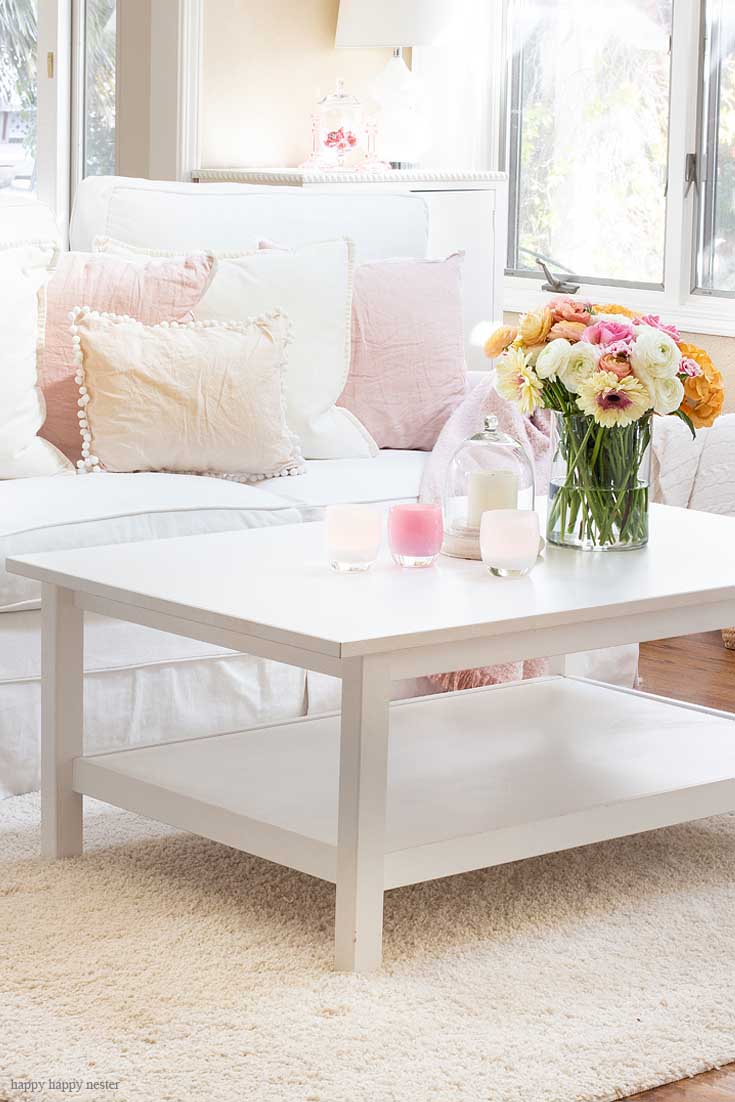 Have you heard of Hygge? Yes, you don't need your glasses you read the word correctly. Well, hopefully, I can shed light on what it is exactly. Also, maybe we both will have a better understanding of this term and how it relates to your home. Btw, this floral bouquet is from my latest Avocado Dyed Fabric post.

First, how you do pronounce Hygge?
Don't be embarrassed, I had to watch a video of someone pronouncing this fun and unusual word. Phonetically it is pronounced "hue – gah" Ok, it kind of sounds like horns from the old cars that went "ahooga!" Well, just take off the letter "a" and you kind of have the word.
What is Hygge?
Ok, I had to do a bit of research and hygge and here is what I came up with. Wikipedia says,
"Hygge is a Danish and Norwegian word for a mood of coziness and comfortable conviviality with feelings of wellness and contentment."
Where did the term originate?
I read that the word hygge didn't actually originate from the Danish language, but from Norwegian; where the word originally meant something similar to, "well-being". But then it spread to Denmark in the 18th century and has since become an integral part of the country's culture and self-identity.
How can I introduce Hygge into my home?
You can introduce it into your with a few of these elements:
Candles
Cozy Throws
Decorate and Enjoy Your Candles
Decorate With Flowers
Enjoy and Decorate With Books
Make a Fire and Enjoy Your Cozy Fireplace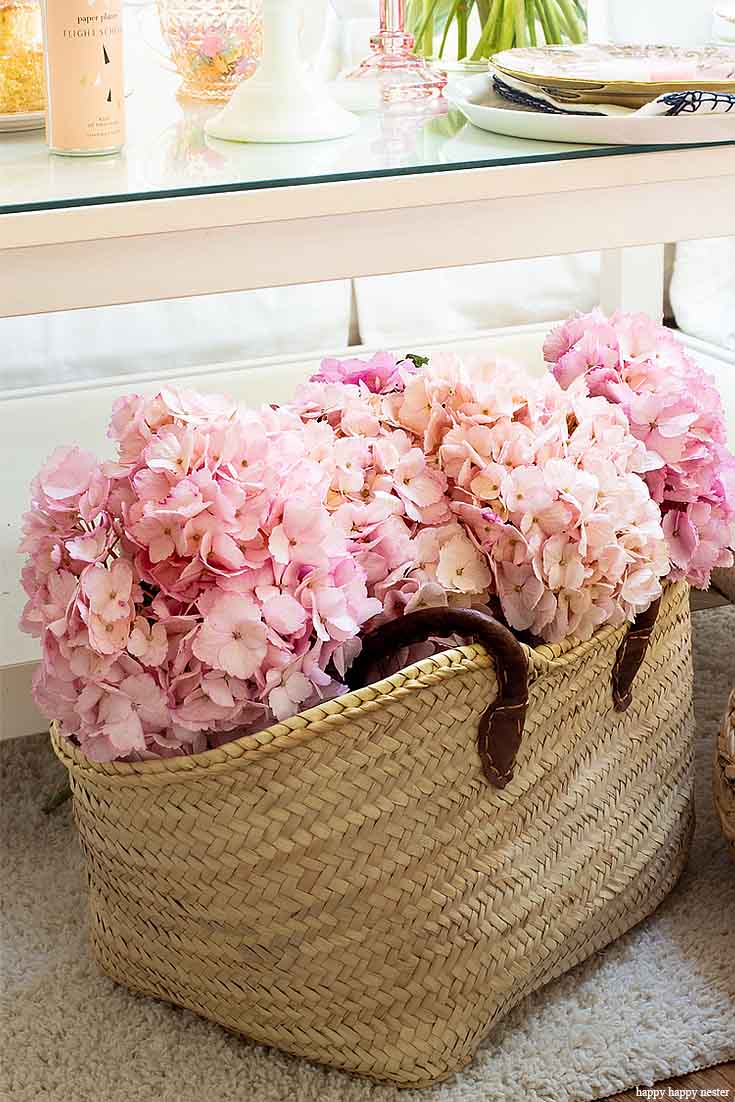 Doesn't this basket of pink hydrangeas looks so happy and inviting? This is from my Valentine's Day Picnic post and I love how it is bursting with such positive energy. These flowers just created the perfect happy space for this special holiday dinner.
Hygge For Spring With Flowers
Well, let's get the inspiration of spring flowers started.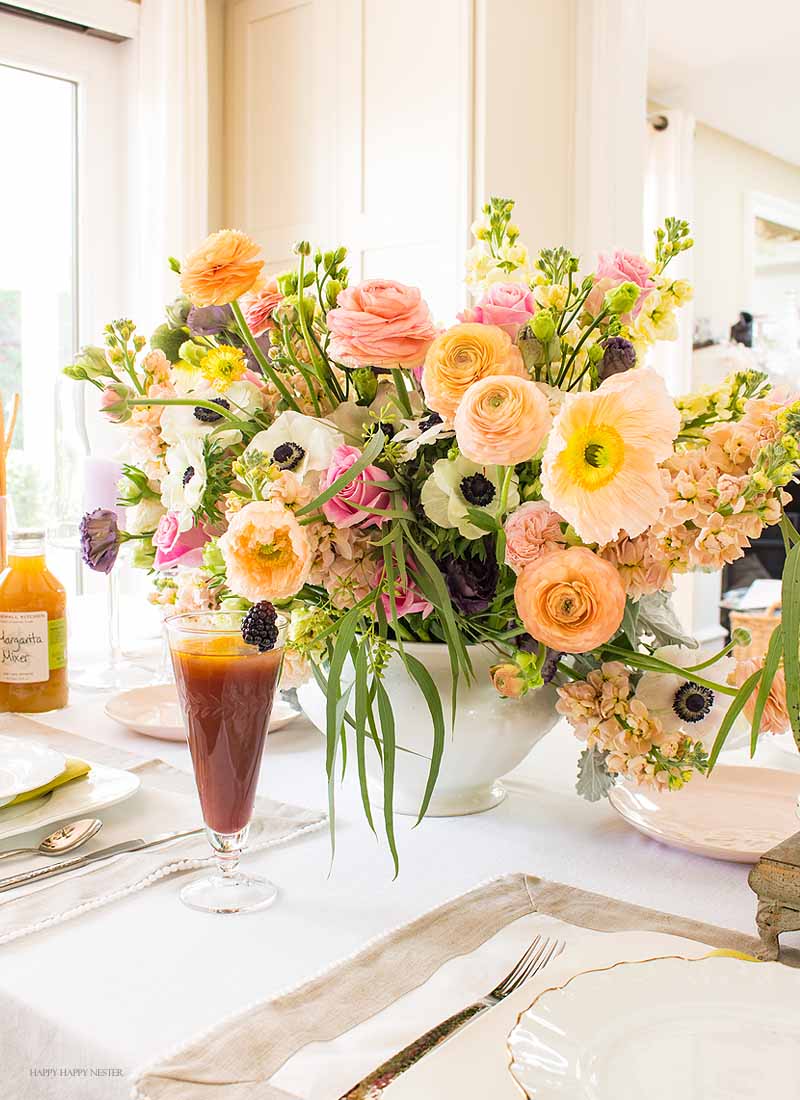 This spring bouquet is one of my favorites and they just burst with happiness which brightens any dark winter day.
So, for this arrangement, I took a special trip to the San Francisco Flower Market for the flowers.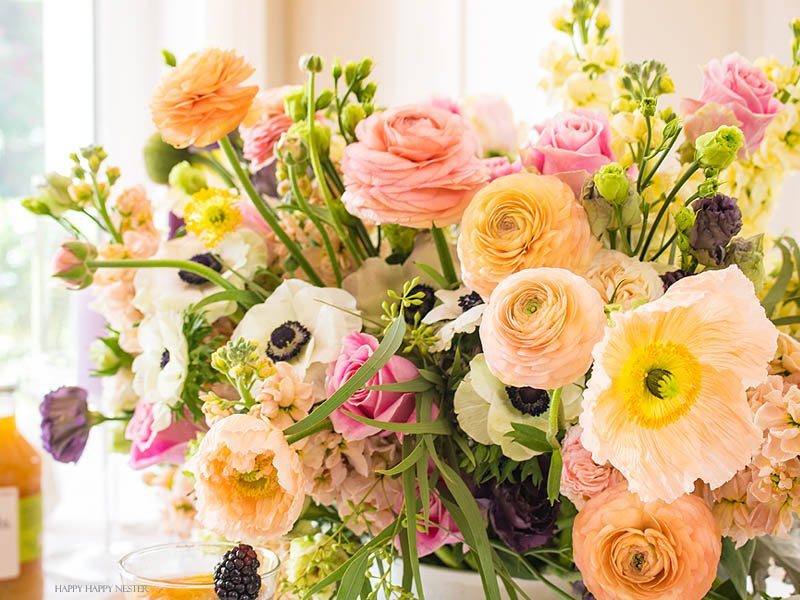 So, do you want to hear about my story surrounding this flower arrangement?
Do you see the peach poppy on the right side of the bouquet?
Well, on my visit to the market I meandered into a flower booth and I was drooling over their poppies. I mentioned how beautiful their crepe paper look was pretty but that I couldn't afford the hefty price. I guess I must have charmed the owner because he gave me a little bouquet for free. Ok, these flowers lasted a long time and their beauty was out of this world.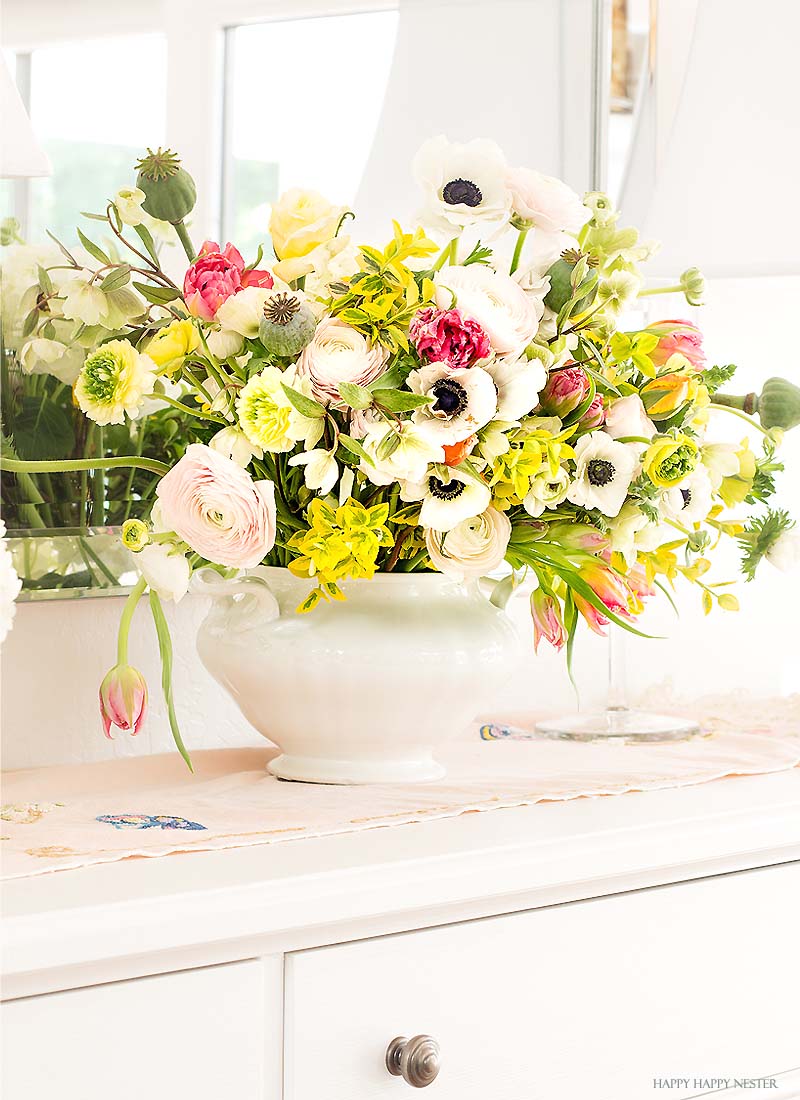 This is my anemone bouquet and a few of own my garden greenery. Anenomes are the white flowers with the black centers which add that little pop and surprise to the flowers. Don't they just make you happy? Flowers always brighten up my spirits and home. You can view this Mother's Day Printable post.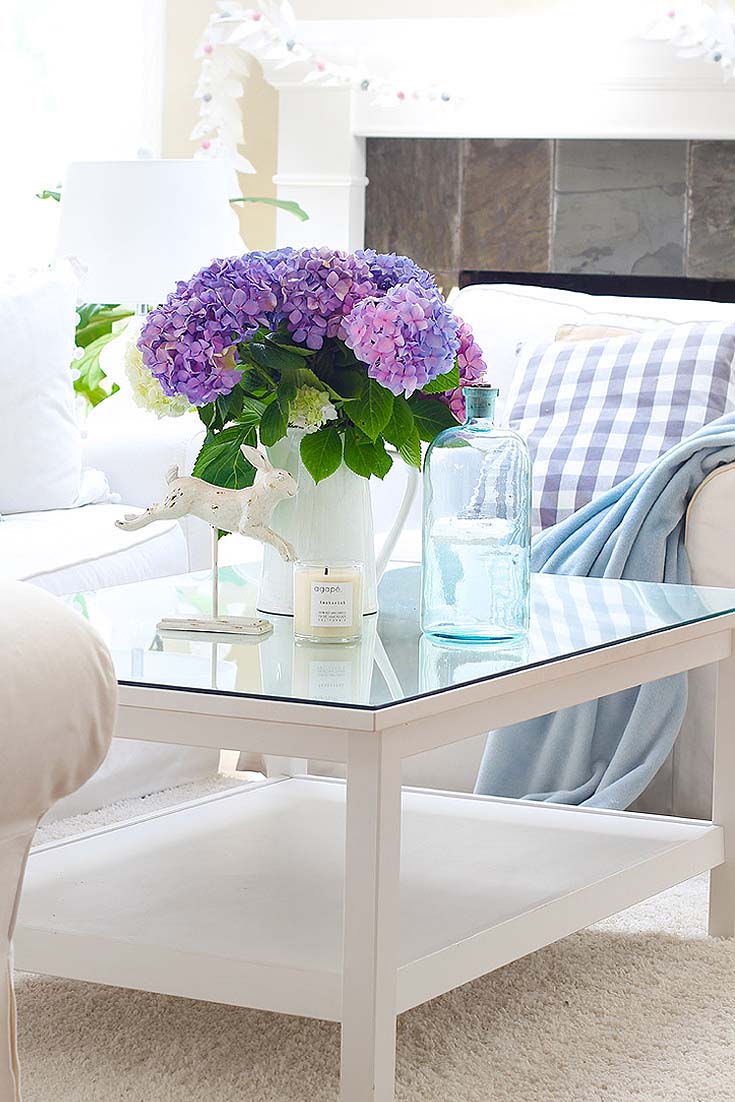 This is my summer tour of blue and white decor. So, because hydrangeas blossoms are so big they instantly create a big floral arrangement with very little effort. Also, I find the blue and purple hydrangeas have a serene quality that just calms the soul. These flowers are from my Summer Home Tour.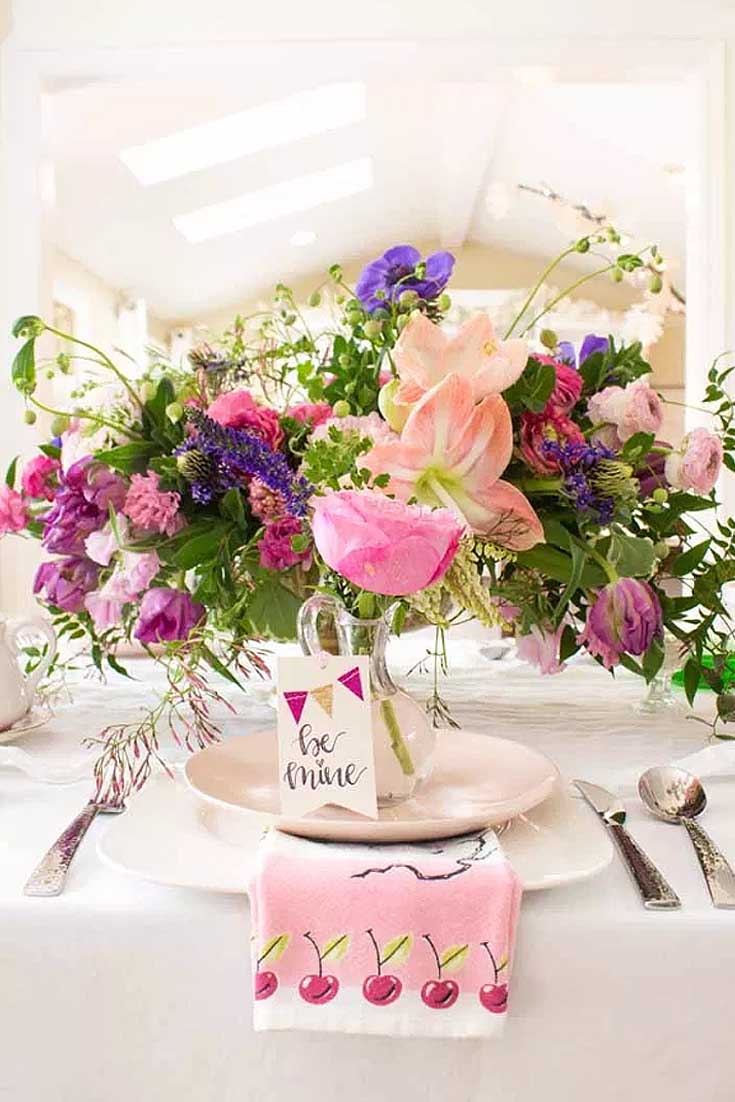 I will continue to add more flowers to this post since I can't get enough of these beauties. Let's get our hygge for spring with flowers into our home!
Cheers,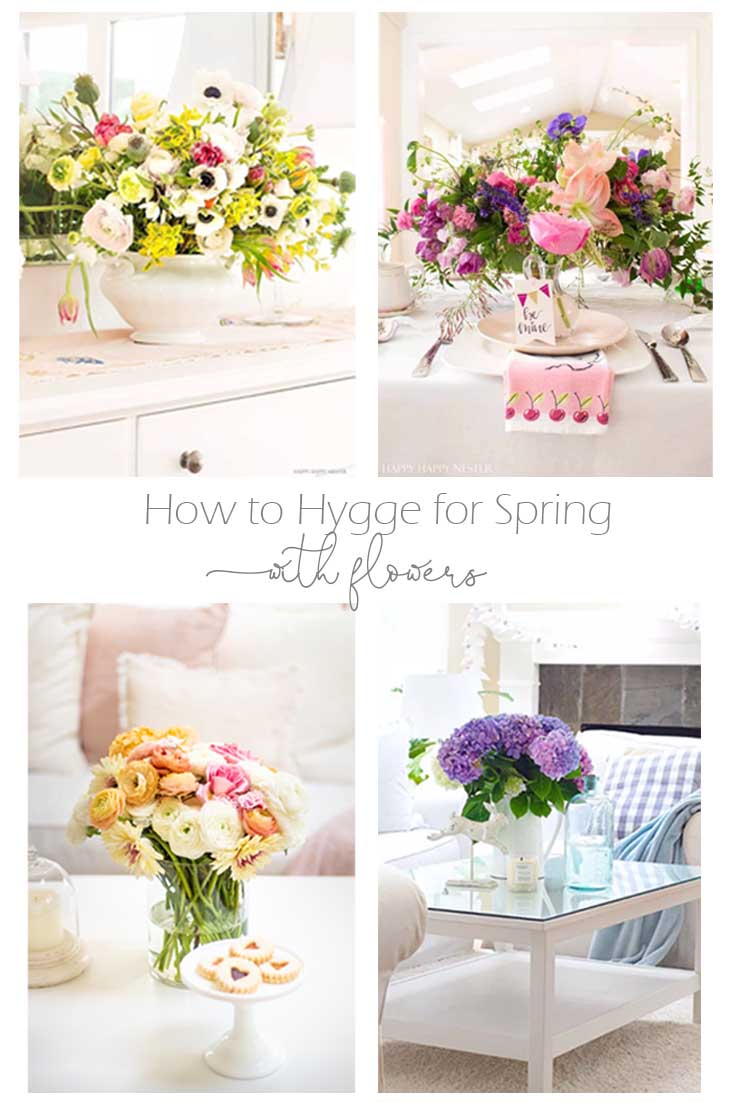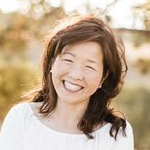 Latest posts by Janine Waite
(see all)