Here are nine Patriotic Decorating DIY posts that I think will inspire you up your game this year. Decorate the interior of your home and your outdoor front porch this 4th of July! This group of eight bloggers has red, white, and blue pillows, tables, porches, and more.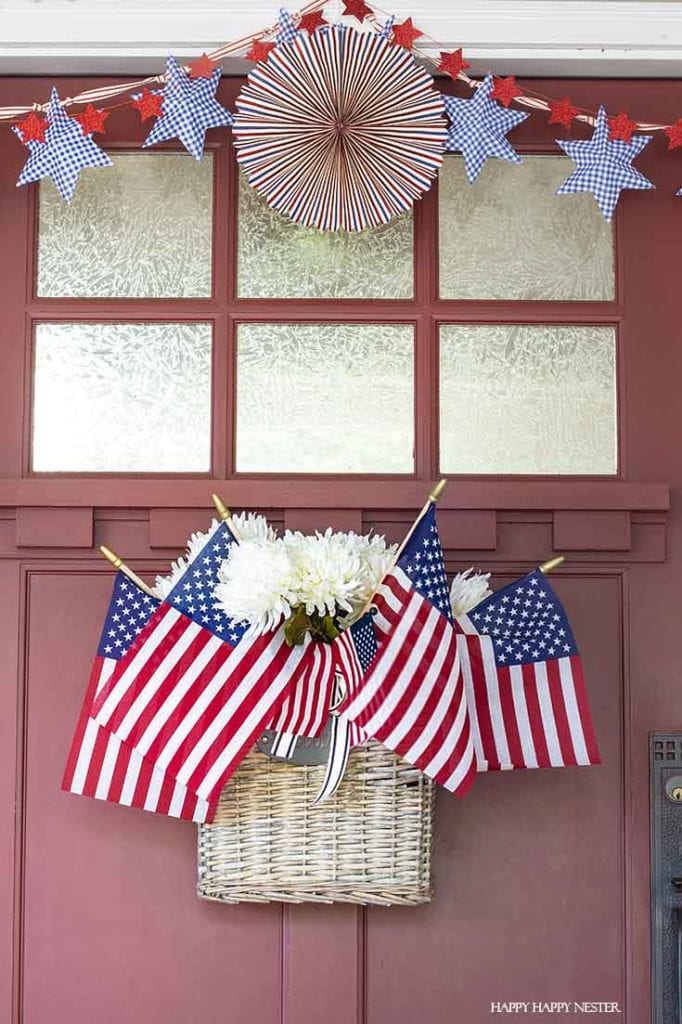 In July we turn our attention to stars and stripes and decorate our home in red, white, and blue for this patriotic holiday
I find that the Fourth of July is one of the few summer holidays that gets lost among all my decorating projects for the year. I guess I go into vacation mode when summer hits California.
My focus heads outdoors for the summer, so my 4th of July includes mostly my front porch. But today, I'm joining some talented bloggers who have decorated more than their front porch. So, this post not only contains my posts but their festive projects.
So get ready for a blast of Fourth of July projects that are all homemade and so fun!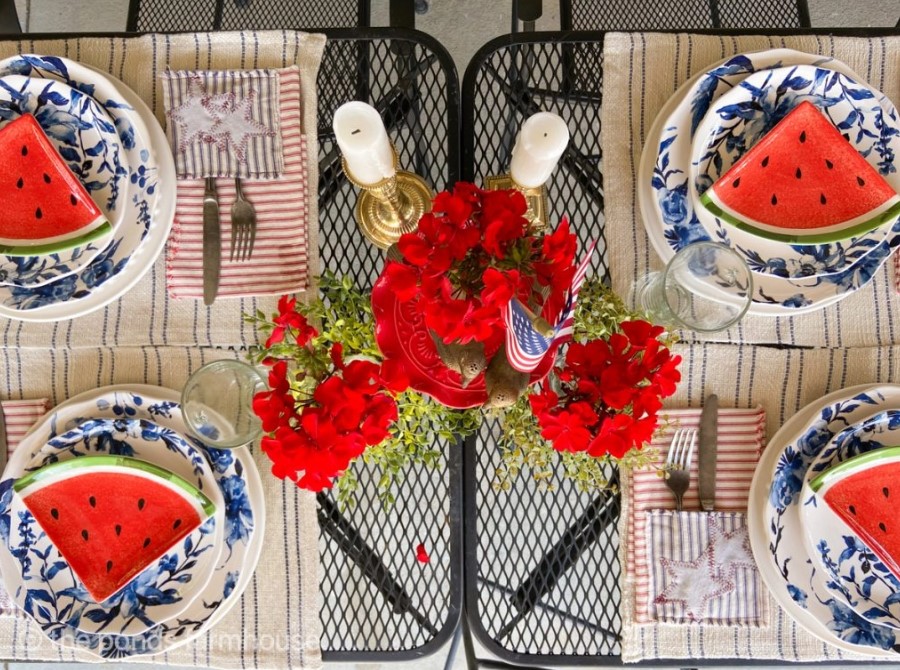 DIY Ticking and Patriotic Napkins for 4th of July | The Ponds Farmhouse
I love cloth napkins! And Rachel's homemade 4th of July napkins are so adorable. She used red stripe ticking and even created a fabulous little pocket to house the silverware.
I always love anything made of ticking. I find it has a vintage quality that's so pretty. And Rachel's napkins and table are the cutest.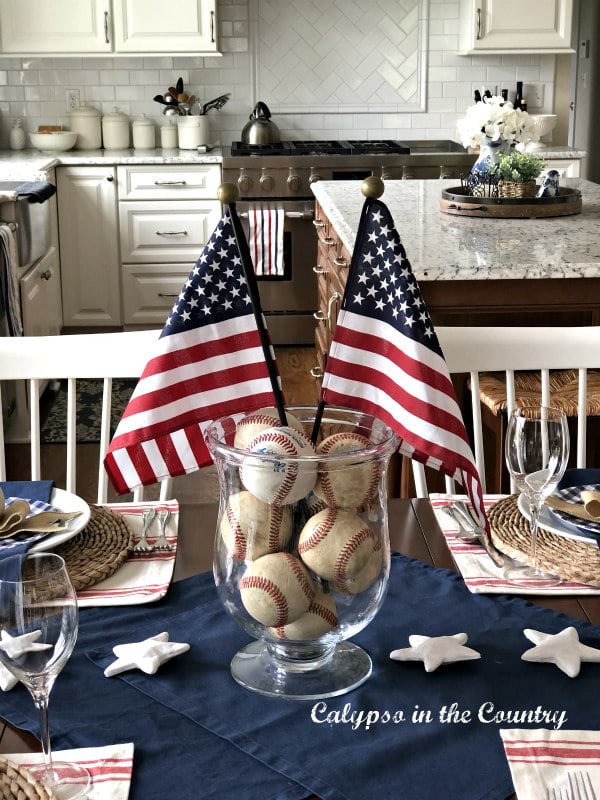 How to Decorate a Patriotic Tablescape with Old Baseballs | Calypso in the Country
This fun twist on a patriotic table is so cute! And why not combine the Fourth of July with baseball, flags, and stripes.
Shelly's table is perfect for a summer table. And if you have a family of baseball fans, then you'll have to decorate your table in this patriotic style!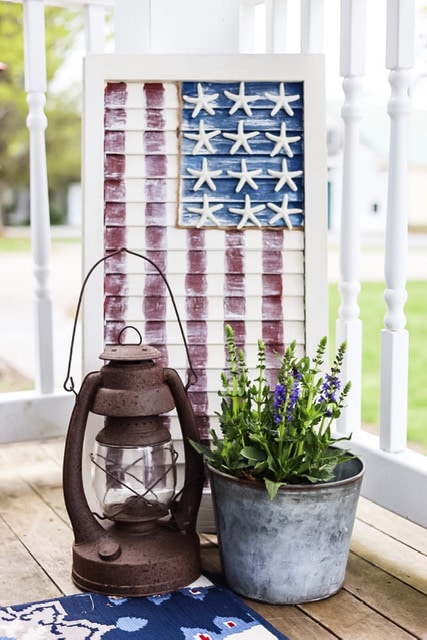 How to Make a Patriotic Flag Shutter | Cottage on Bunker Hill
This flag made from a shutter is such a clever project. I love how Jennifer created it to look vintage.
The coastal twist of starfish is such a great idea and I love the look. This 4th of July sign is the perfect addition to a summer front porch!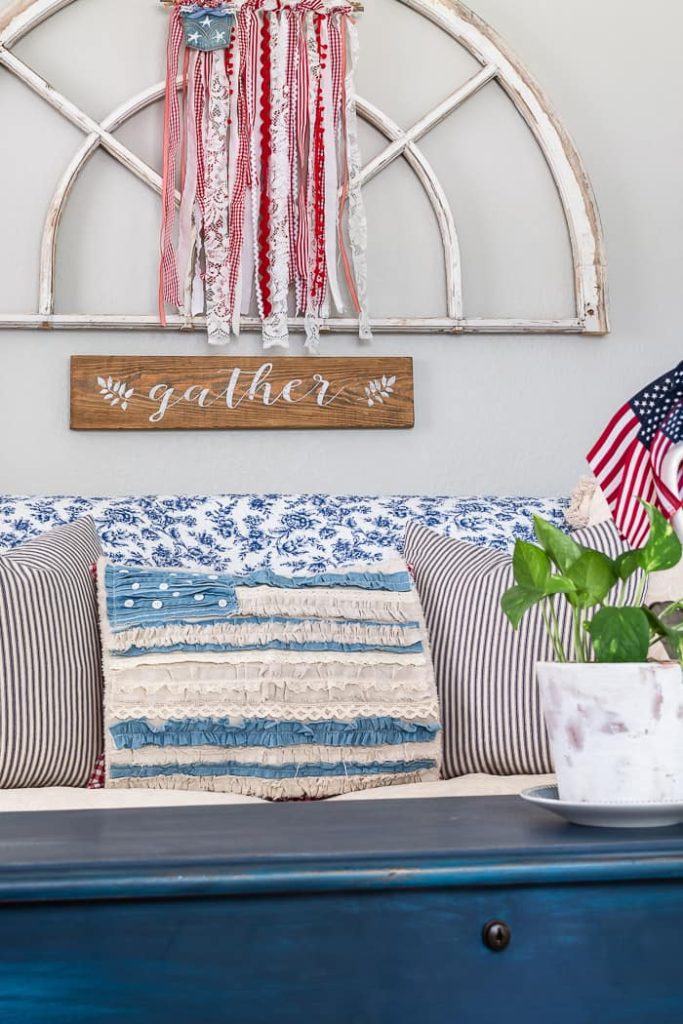 How to Make a Denim and Lace Fabric Scrap Flag | DIY Beautify
Cindy from DIY Beautify designed this fabulous denim flag pillow. The lace, denim, and cute buttons are wonderful surprises for pillow decorations.
This flag pillow is a one-of-a-kind creation that you won't find in any home decor store. This unique pillow is an excellent way to decorate for the Fourth of July celebration.
So dust off your sewing machine and whip up this delightful pillow.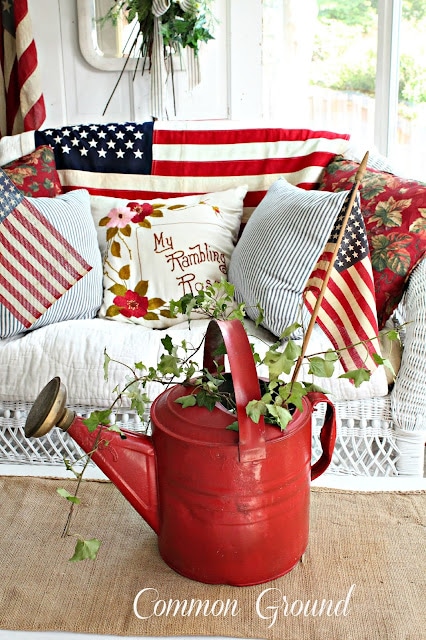 Easy Patriotic Decor with Vintage Flags | Common Ground
Debra has a very patriotic home that is packed full of so many great ideas. She added a beautiful flag to a pillow made out of grey ticking fabric. It looks fabulous among her red and blue decorations.
Her home is full of so many Fourth of July ideas that you don't want to miss.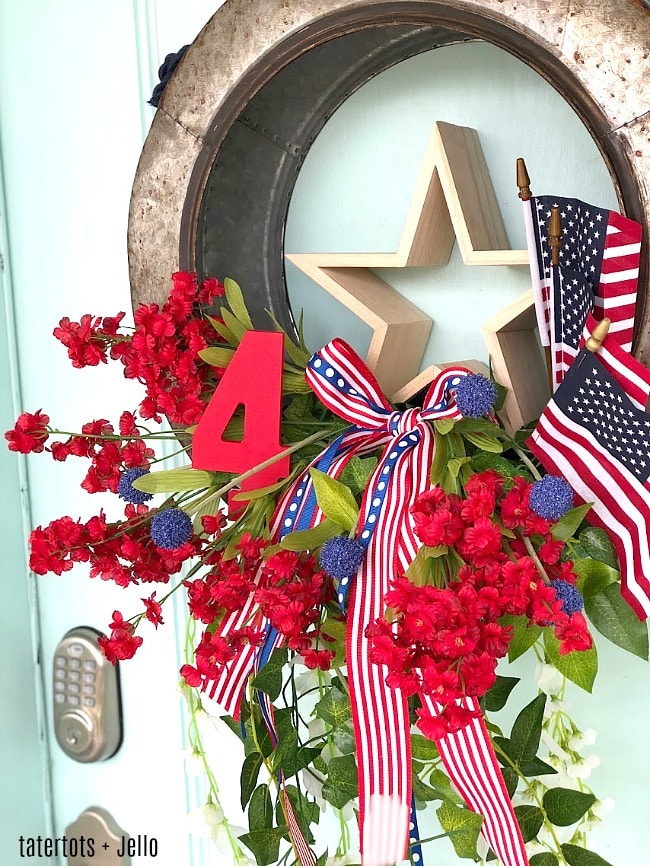 Fourth of July Galvanized Farmhouse Flag Wreath | Tatertot and Jello
Jennifer always comes up with such fun home decor DIYs. And this unique 4th of July wreath celebrates the stars and stripes in such a festive style.
I feel that adding cute flags is an instant pop of color and an easy way to get your patriotic decorating started. Plus, they aren't that expensive, and they are so darn cute.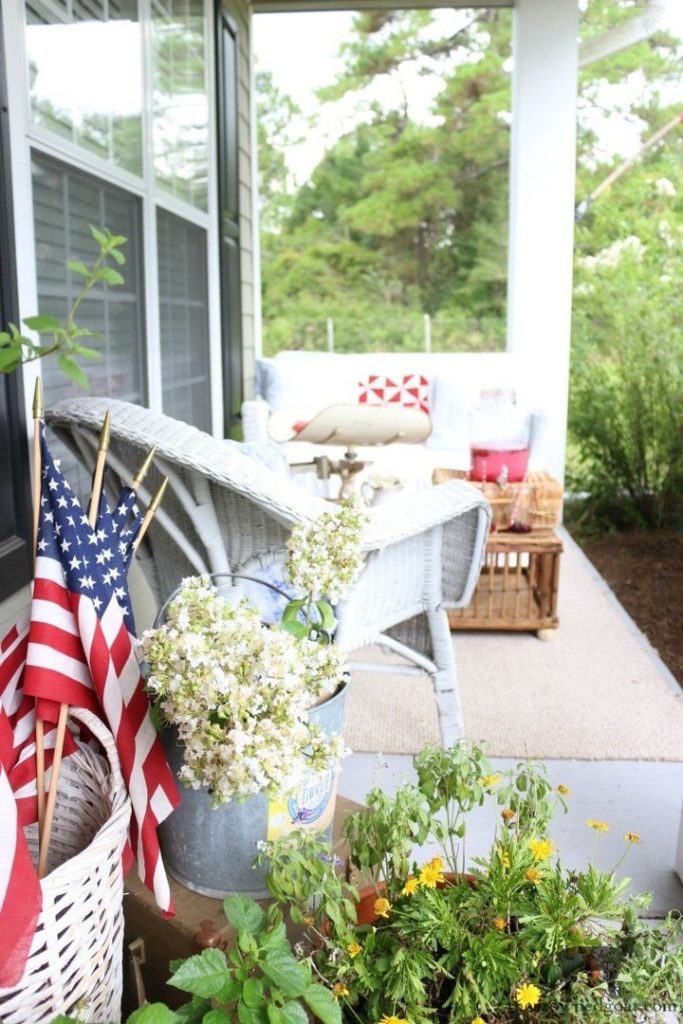 10 Easy Ways to Celebrate Memorial Day | The Crowned Goat
I know that this blog post by CoCo is about Memorial Day decor, it's still such lovely patriotic decorations.
So, if you need some quaint ideas on how to decorate your porch and table then this festive tour is for you. I took a peek at her home and it is so beautiful and full of stars and stripes. I know that I'm now excited to decorate for the Fourth!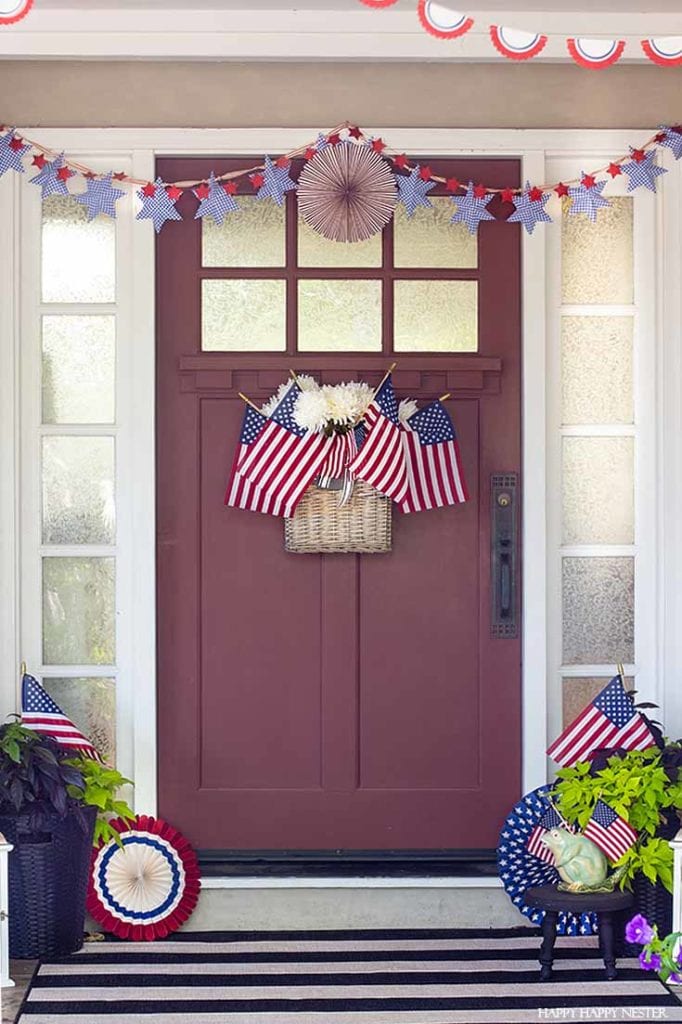 Front Porch Ideas for 4th of July | Happy Happy Nester
Here's my front porch that I decorated for the fourth. I had so much fun adding the basket full of flags. As you can see, I placed them everywhere!
I love the paper pinwheels which add another adorable layer of color and decor. Also the star garland is a DIY post which I share in the next post.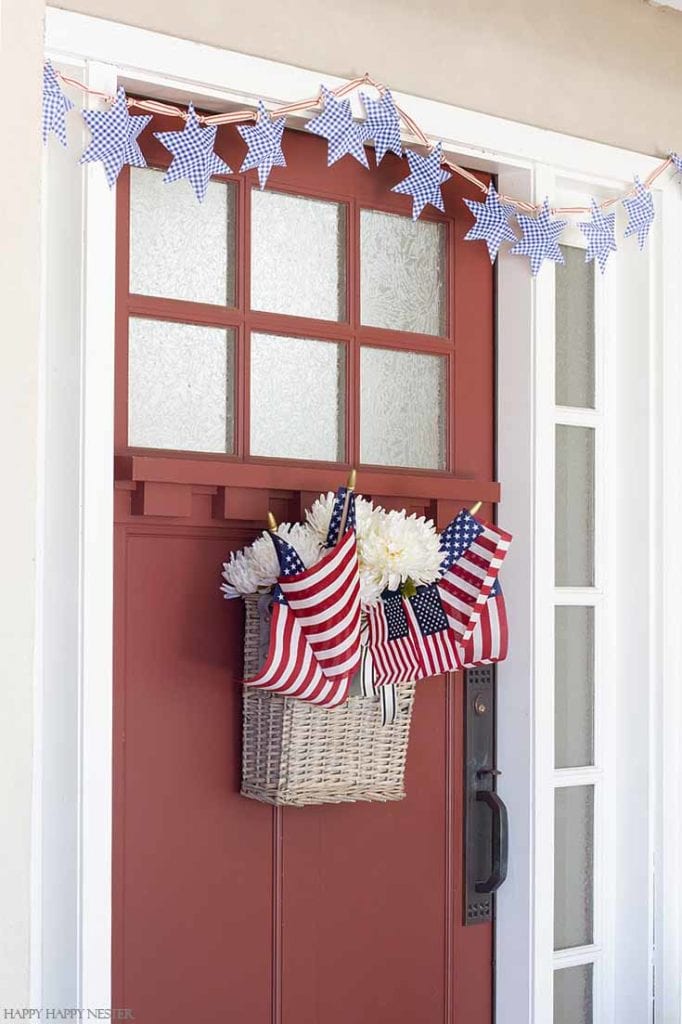 DIY Paper Stars for 4th of July Garland | Happy Happy Nester
This festive craft is a simple paper project, and it will dress up any door or wall for the holidays.
So, for this paper project, all you have to do is print, cut, fold, thread the ribbon, and you have a patriotic garland ready for the Fourth of July.
Also, I share this free stars printable with you over on this blog post. So, make sure to check out this easy craft project.
---
This post is a tiny bit early to give you a jumpstart on your patriotic decorating this year. I will be styling our front porch again, and I sure hope you do too!
Cheers,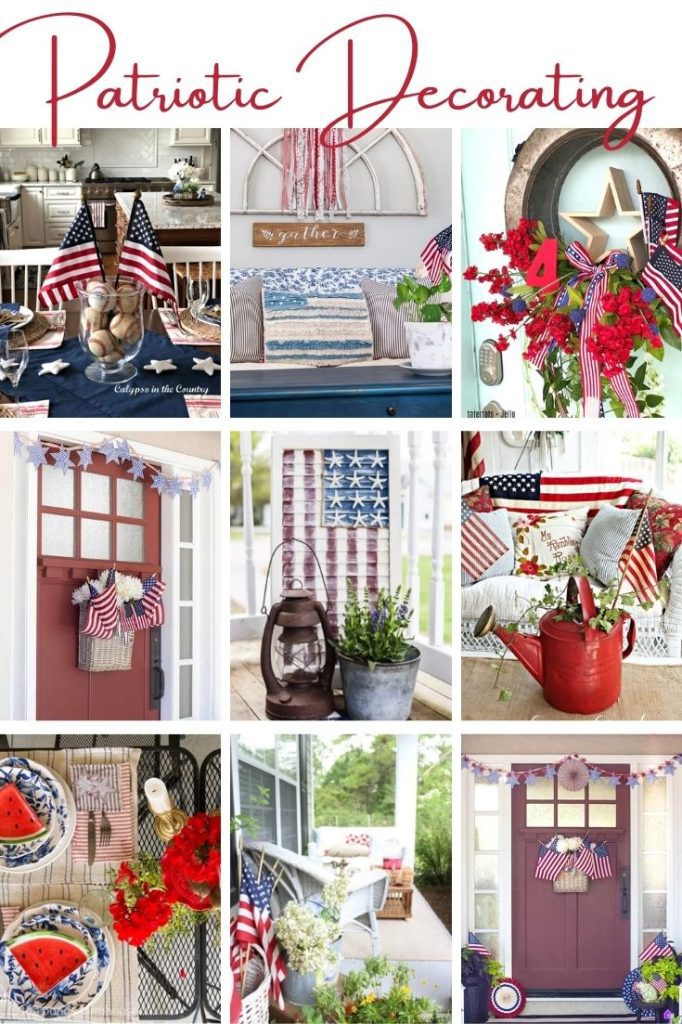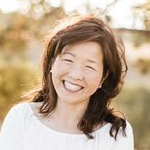 Latest posts by Janine Waite
(see all)