Every evening you can find me on our sofa all cuddled up with my Pottery Barn Ruched Faux Fur throw. You know how some people are into comfortable clothes? Well, I'm into cozy throws.
Hey, that rhymes!
Let's talk throws today. So, I got this idea that I should round up my 12 throws for you this week. But, last week, I shared my Favorite Pumpkins which was a fun post.
Throws and More Throws!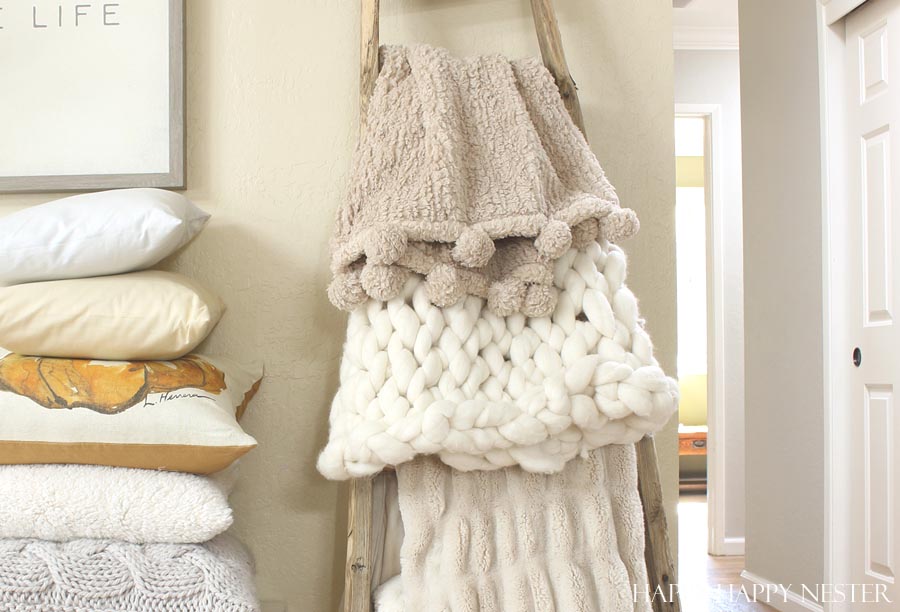 So, why is it that my hot flashes don't continue through the winter?
I get so cold that my hands and fingers are like ice cubes.
My husband is so sweet that sometimes when the end of my nose gets uncomfortably cold, he will make me a warm compress.
I think I must be the only one that gets a cold nose.
I think I would suffer miserably without my collection of blankets. So, it isn't a surprise that I agree with Linus from the Peanuts cartoon…
Happiness is a Warm Blanket
Let's go Shopping…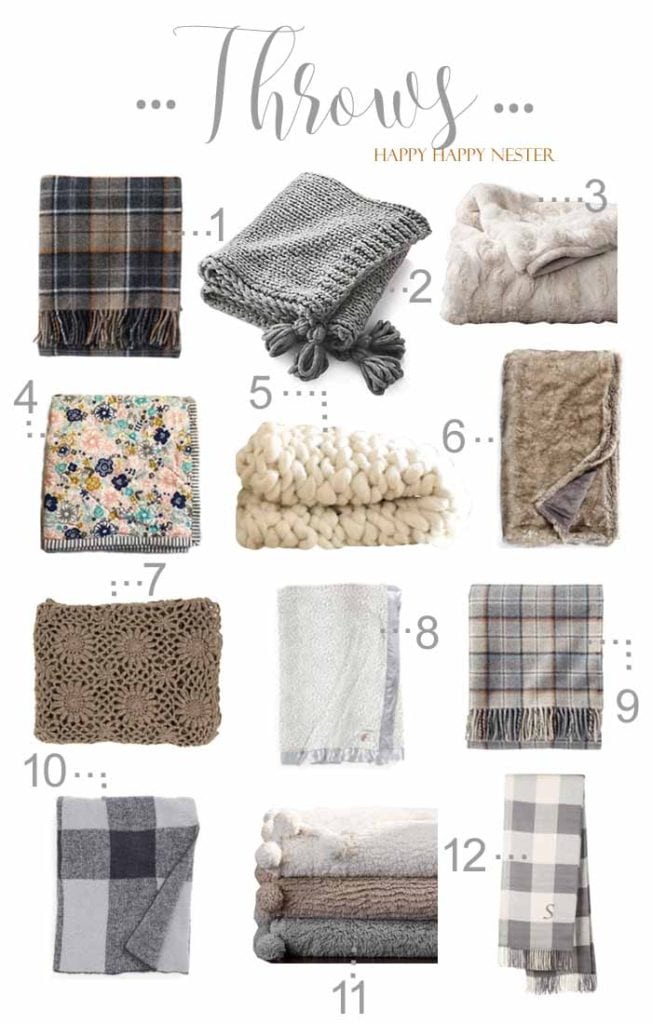 1. Plaid Wool Throw | 2. Dante Throw | 3. Ruched Faux Fur Throw
4. Baby Floral Blanket | 5. Chunky Wool Throw | 6. Faux Fur Throw
7. Throw Blanket  8. Luxe Snow Leopard Faux Fur Throw | 9. Light Tan Plaid Throw
10. Cozy Chic Plaid Throw | 11. Cozy Pom Pom Throw | 12. Monogram Buffalo Check Throw
I find it interesting how everyone in my family has several throws that they love. If you haven't figured it out by now, my favorite is the Pottery Barn Ruched Faux Fur throw. I place this on the seat of our sofa, and I'm instantly in my happy place!
My son seriously wants to take it to his room and steal it so, and I keep an eagle eye on it.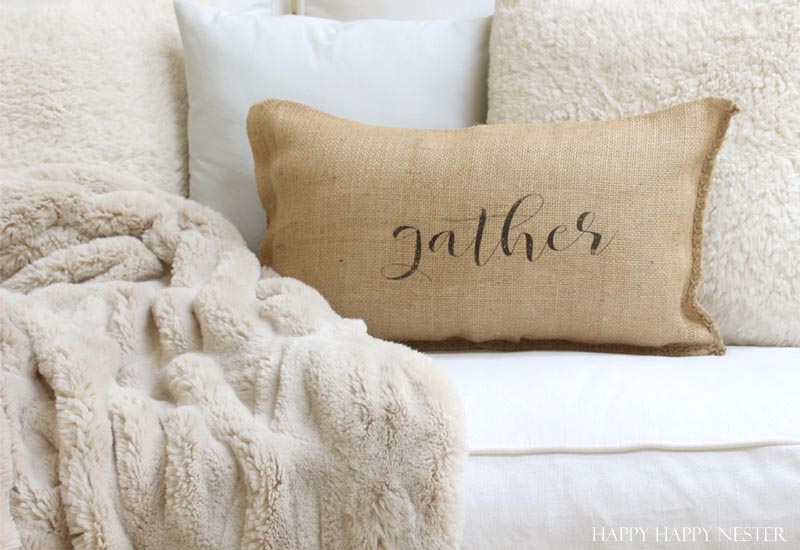 My daughter will use multiple blankets, and she loves to cuddle up on the sofa and wraps herself up like a burrito.
And then there is my husband who has gotten rather fond of my arm knitted wool blanket. But if you don't have the interest or time to make one you can buy one at a 10% discount if you use my code when checking out, JAN10 Here is the link to the Chunky Wool Blanket.
He meticulously creates a soft nest on his faux fur bean bag chair along with the wool throw, and he is a happy camper! So, I'm not sure what our family would do without my massive collection of warm, cozy blankets.
So, thanks for visiting and Happy Shopping and I hope your week is off to a great start!
Cheers,

PS: This post contains affiliate links that do not increase the price of the items.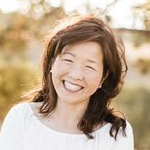 Latest posts by Janine Waite
(see all)