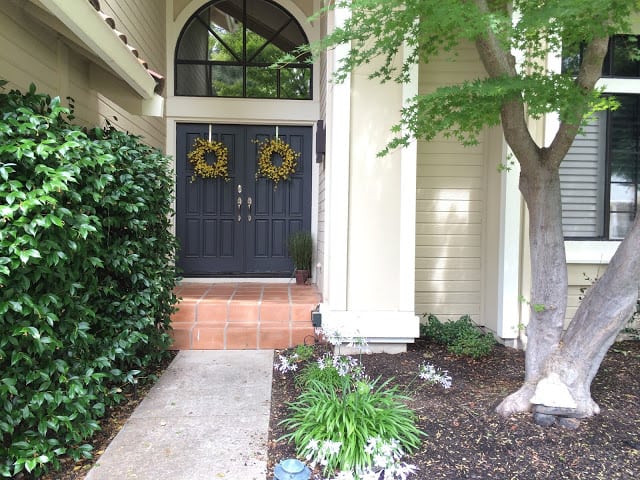 When we were house hunting in California, last year, I fell in love with our house the minute we walked over the threshold. I loved the double door entrance, the high ceilings, the size of the bedrooms and the newly updated kitchen. I was so smitten by the idea of moving and buying our home that I overlooked one detail… the laundry room. It's really small. I measured it after moving in. It measures 6'5″ by 5'5″. It's a glorified closet with a door coming off the garage and a door into the house. Needless to say, there is a lot of spatial interference with a set of front loaders and two other doors swinging about. The first thing I did was remove the door connecting the laundry room to the hallway into the house.
~ A Note about the Nester ~
When I was a kid every Saturday was laundry day.
I loved taking the sheets off of my bed and using the fitted sheet as a long flowing wig.
I would secure one of the corners of the sheet onto my head
and wrap it around my body like "Rapunzel". As a very imaginative child,
I would wear my wig around the house and talk in random accents
until it was my turn to put my laundry in the washing machine.
I would often turn on my record player and dance to ABBA
and I usually was having so much fun that
one of my parents would have to get after me to start my laundry.
Maybe I should buy an ABBA album to help on those
slow laundry days around my house lately!
Now that we've lived here for a while, unpacked, and gotten into a routine it's time to start some projects! The first project is going to be remodeling the laundry room. Here are some of my laundry room inspirations for a small space. Most of these ideas are very similar in size to my laundry space I'm working in.
Inspiration Number 1:
Inspiration Number 1 review: This Chic laundry closet is awesome! I love the white cabinets, the hanging rod, the folding counter, but the real eye-catcher is the metallic/mirror-like wall in the back. I really love this and I think it's a great use of a small space! Note to self: "A great looking accent wall could be all the decor you need in this space."
Inspiration Number 2:
Inspiration Number 2 review: I love the white cabinets, the folding counter, and the color scheme! This laundry room design was done very well by HOME WITH BAXTER and their laundry room update keeps popping up on my Pinterest.
Here are some other photos of their laundry space. I love the bead board, the contrasting and crisp colors, and I really love the hanging rack. Note to self: "Get one of those!"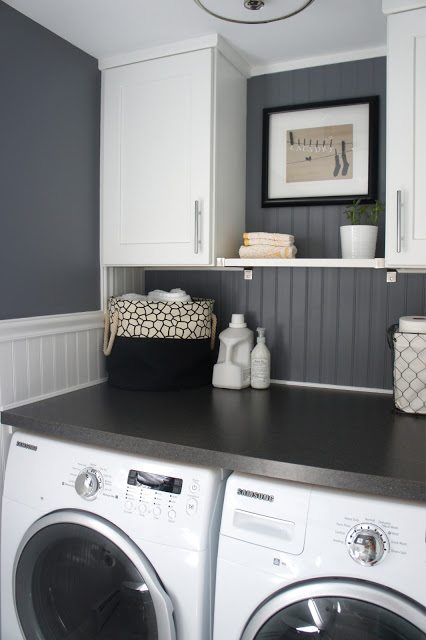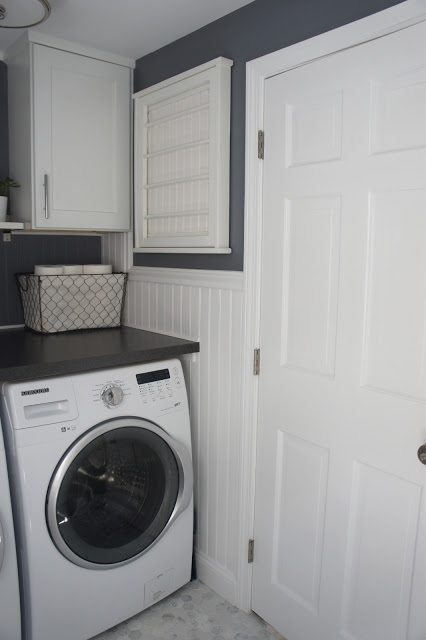 Inspiration Number 3:
Inspiration Number 3 review: I, of course, love the folding counter. This is such a great idea since I'm always losing items behind the machines or between them. I'm absolutely including a folding counter in my design. I love the clean crisp design. I love the white subway tiles. I even really like the open shelving system and I'm super curious about the hardware on the right side of the wall. It's probably for hangers. I have the same machines, so it really helps to visualize this design in my laundry space. Note to self: "Find out where to get those vinyl letter instructions 'wash dry fold repeat', they could come in handy for the teens in my house who forget the process, plus it looks cool on the wall!"
Inspiration Number 4: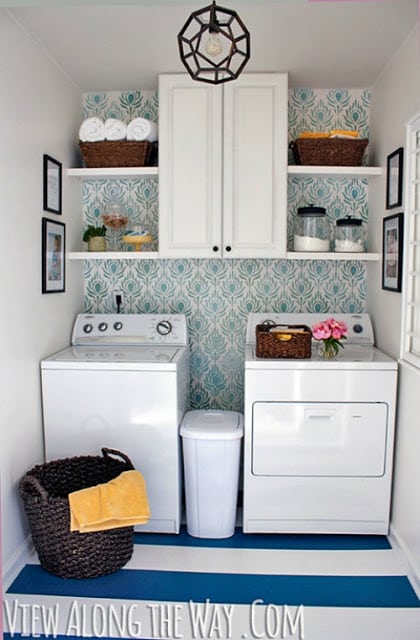 Inspiration Number 4 review: This is very similar to my small laundry space. I am really LOVING all of the great designs I'm finding on Pinterest and I love this accent wall. I also love the light fixture. What a great idea to dress up a space that can often feel boring and tedious. I love the shelves and the cabinet and the idea of painting the floor. This is a very well done space and I continue to be inspired. Note to self: "look up options on painting my floor."
Inspiration Number 5:
Inspiration Number 5 review: This is the laundry space I'm leaning toward the most. It's a really practical space and well thought out. I would love having a hanging section and I love the faux-table looking folding counter. The design is crisp and clean. I like having a cupboard with doors so you can put away boring looking cleaning items. I also love the extra space at the top for baskets and storing items you use only a few times a year. Note to self: "A folding counter is a must."
Now that I've gathered some ideas that are similar to my laundry space I know that I want a folding counter, somewhere to hang clothing on hangers, and some storage space for cleaners and supplies. I also would be very happy to have a crisp and clean looking space.
While searching laundry room inspirations, I came across a Pinterest article about painting linoleum floors that I'm excited to read and try. Here is the link in case you are interested in this type of a project too.
I hope you have found some inspiration in regards to your laundry space or another space you are working on in your home. I'm excited to get started on my project here. An organized laundry space will provide a great amount of peace and accomplishment in my world.
Before I start I've got to get caught up on some laundry that has piled up over summer vacation or I will be spending weekends at the laundromat. I'm brewing a pot of coffee and downloading
ABBA's
"Arrival" album for more fuel to get going! Note to self: "You can do this!"
Happy laundry adventures!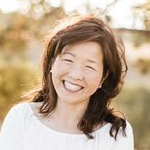 Latest posts by Janine Waite
(see all)