Now that summer is officially here, let's make a S'mores Ice Cream Sandwich! You'll be happy to hear that this sandwich is super easy to make, and the peanut butter is an excellent addition to this otherwise sweet dessert.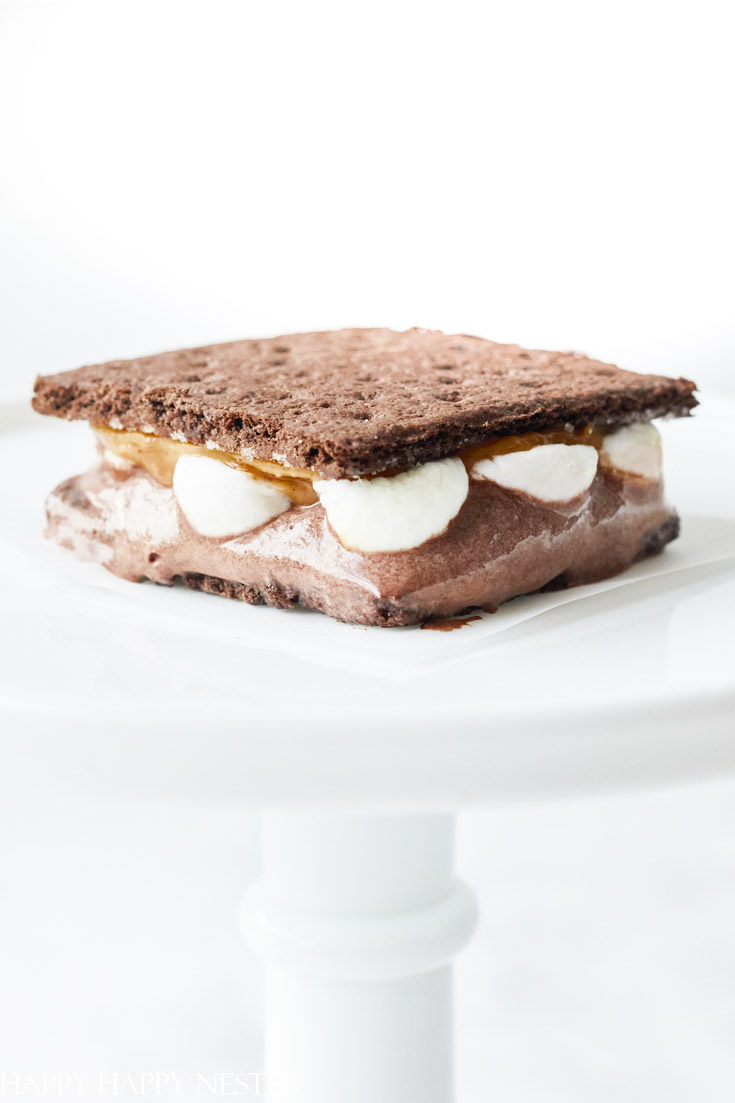 Cut these treats into small bitesize servings if you like. They are the perfect refreshing way to complete a summer dinner. Your kiddos will love this cold easy graham cracker recipe too.
Well, I have a confession, I'm not much of a fan of S'mores. I find them a bit too sweet after one bite. So, when creating this recipe, I made an effort to make something not too sweet. It seems counterintuitive when setting out to create a dessert, but I think I did find a happy medium.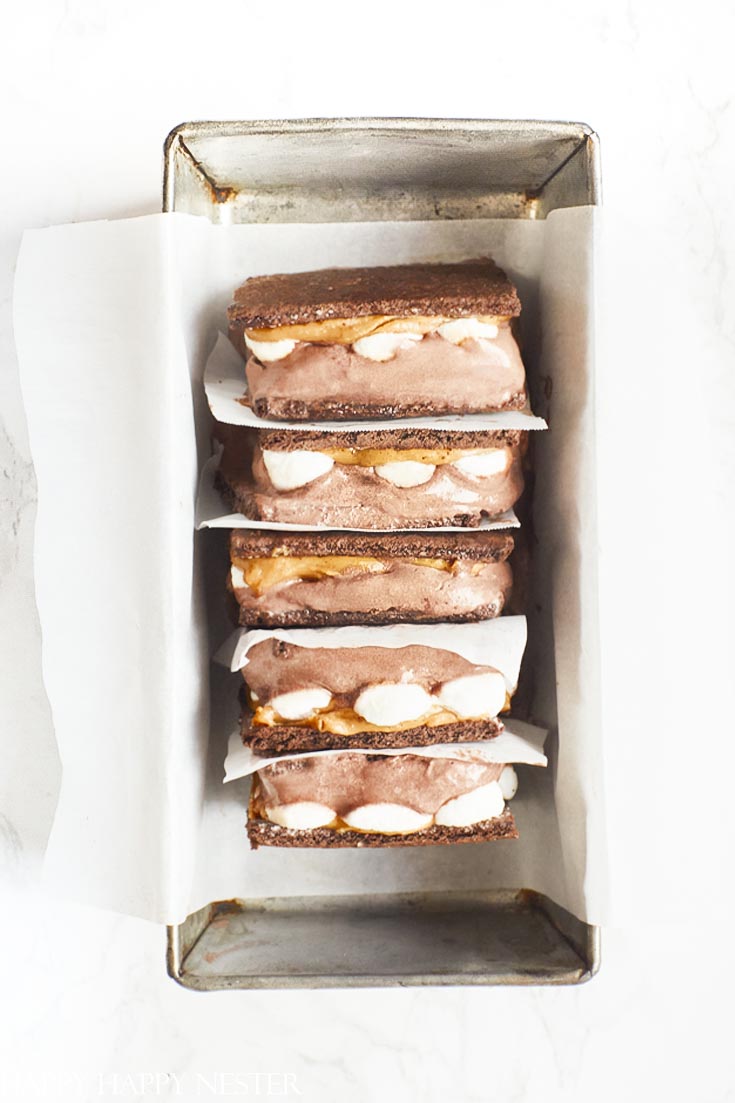 But before we dig into the recipe, let's find out a little bit about S'mores!
S'mores History
Did you know that in the 19020's Campfire Marshmallows company came up with a graham cracker sandwich that was similar to today's S'more? Then according to Wikipedia, in 1927, a recipe called Some More was published in Camping and Trailing with the Girl Scouts.
So, from Some More to S'mores, it is now a traditional summer treat. And I'm happy that today it is the subject of our blog hop. Make sure to check out my friend's recipes at the end of this post.
S'mores Ice Cream Sandwich Recipe
This easy S'mores Ice Cream Sandwich recipe is so easy to make. Grab some chocolate graham crackers, peanut butter, marshmallows, and ice cream and you're set to make this yummy dessert.
Ingredients
1

package

Chocolate Graham Crackers

½

cup

Peanut Butter

80

mini

Marshmallows

4½

cup

Chocolate Ice Cream
Instructions
Cut Chocolate Graham Crackers in half. You will have 18 half-sized crackers.

Spread about 1 tablespoon of peanut butter on nine of the graham cracker.

On each graham cracker with peanut butter add about nine mini-marshmallows.

Line a cookie sheet and place all the graham crackers with marshmallows on a tray.

Toast in a toaster oven for two minutes. If you want you can bake in an oven (250°) for two minutes or less. Be careful not to burn the marshmallows.

Let the graham cracker and marshmallow cool.

Add about ½ cup of chocolate ice cream to each remaining graham crackers. You can mold the ice cream to line up with the cracker, but you can trim them right before serving.

While you add the ice cream to the crackers, you may want to freeze them as you go.

Once you have added the ice cream to the crackers, you'll want to place the marshmallow, graham crackers on top of them.

Push the crackers together gently.

Freeze for about 10 minutes to firm up the ice cream sandwiches.

Pull out of the freezer and trim the sides with a knife if you desire to have clean edges.
Nutrition
Serving:
9
servings
|
Calories:
180
kcal
|
Vitamin C:
1
mg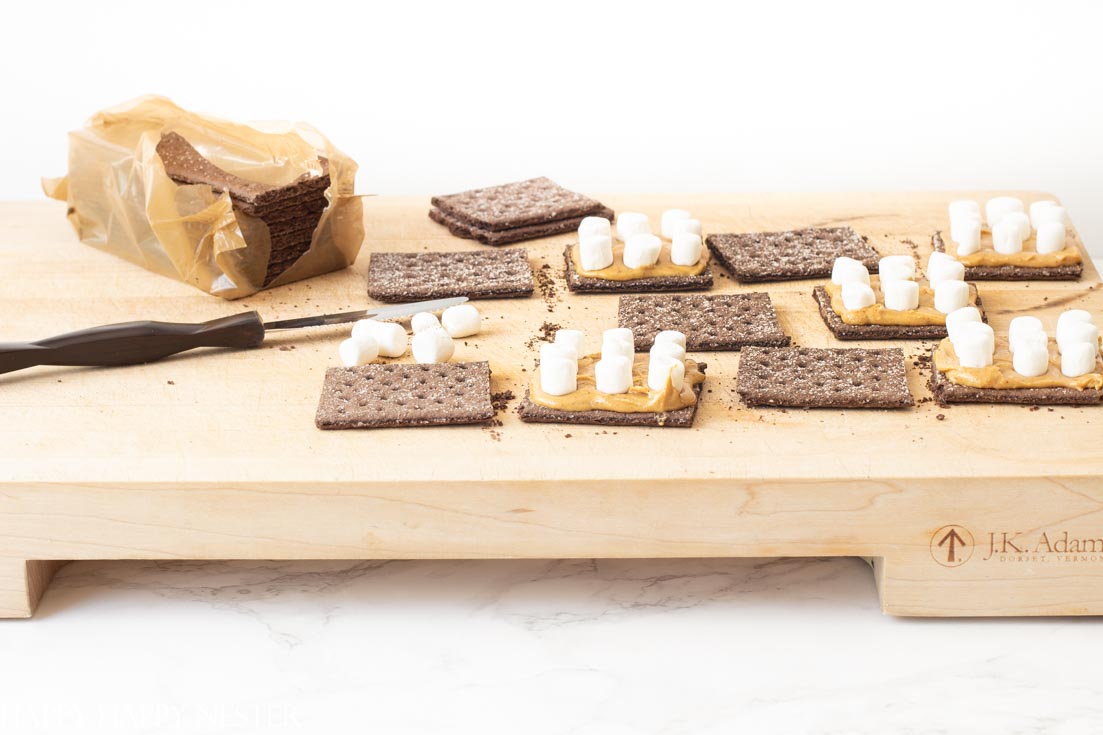 When I was a child, my friends and I would make a little treat that we toasted a slice of bread that was smothered with peanut butter and topped with mini-marshmallows. Well, I remembered this kid-friendly recipe the other day. And so I added a version of this to today's recipe. I like that the peanut butter counteracts the marshmallow's overly sweet quality.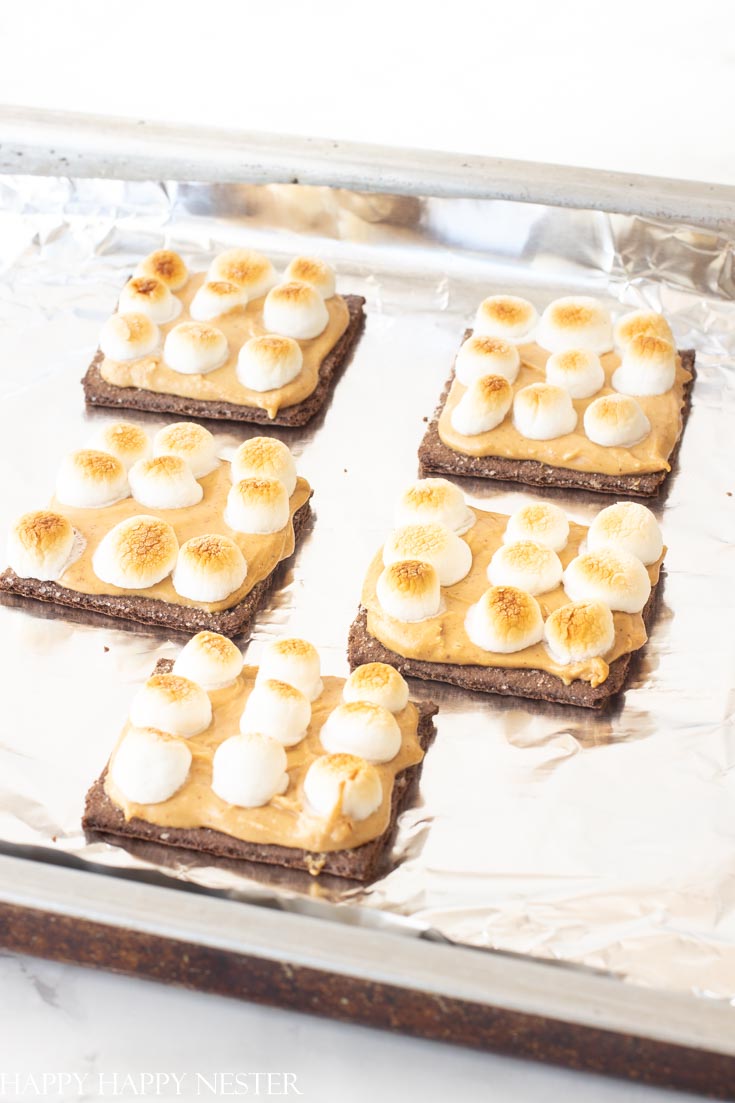 Toast your mini-marshmallows in the oven or a toaster oven for just a few minutes. Let these toasted Grahams cool before adding them to the ice cream mixture.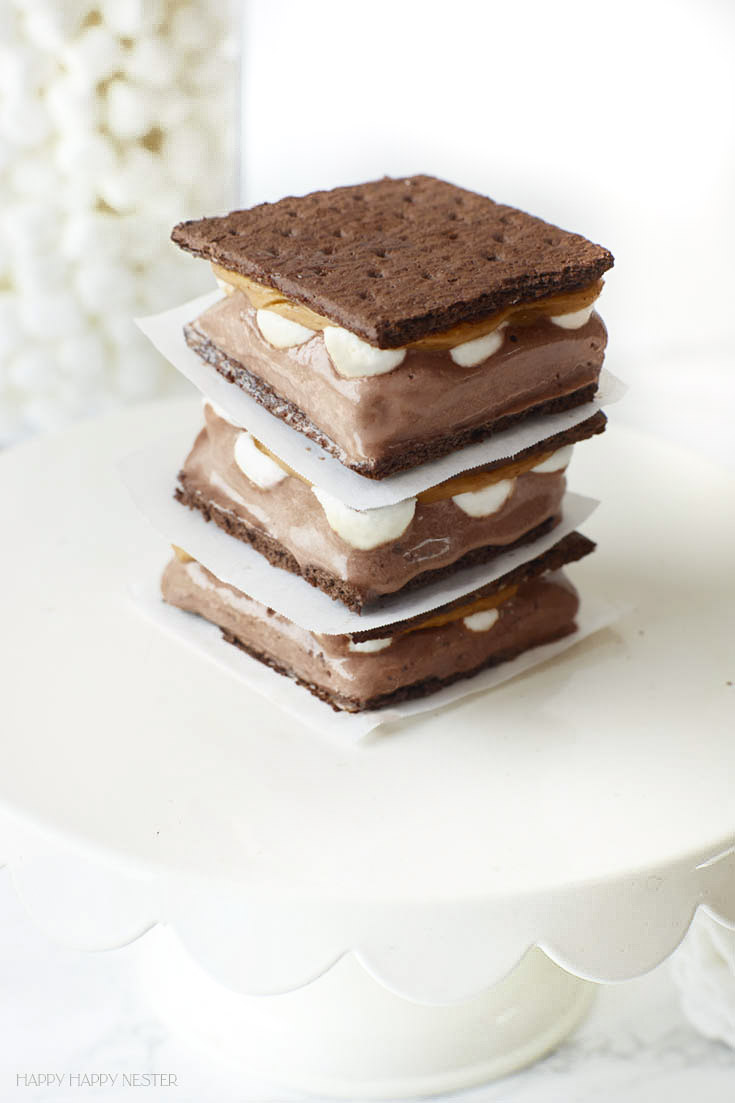 I love how easy these are S'mores Ice Cream Sandwiches are to make. I love them cut up even smaller for cute bite-size little treats. I do have another S'mores recipe in a mason jar if you like this one. Thanks again for joining us on our Thursday blog hop summer series.
Cheers,

More S'mores Desserts!

My Favorite Recipe for Marshmallow S'mores – My 100 Year Old Home
S'mores Bar Ideas Perfect for Summer – Twelve on Main
Gluten and Dairy Free S'mores Chocolate Chip Cookies – Zevy Joy
Outdoor Fireplace – S'more Time! – Dreaming of Homemaking

No Churn S'Mores Ice Cream – Jenna Kate at Home
S'mores Ice Cream Sandwich Recipe – Happy Happy Nester
A Grown Up Version of S'mores for the 4th of July – Most Lovely Things
S'mores Dessert Charcuterie Board – Modern Glam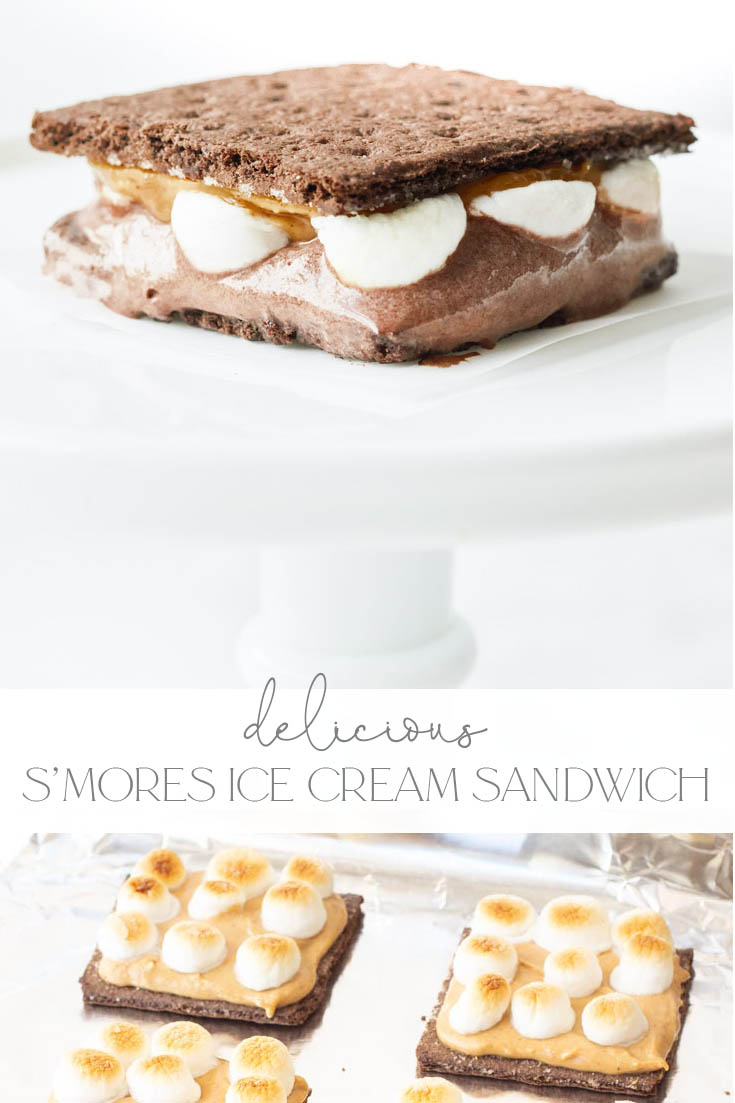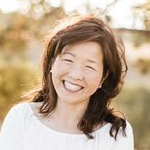 Latest posts by Janine Waite
(see all)