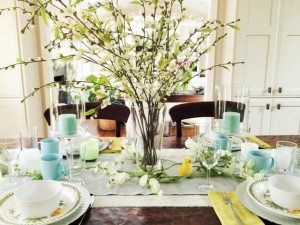 Spring Decorating
Spring decorating is my favorite season and it is easy to do with just a couple of steps. I find that it is somewhat therapeutic to clean out the house of winter furnishings and start the year fresh. Currently, our rooms are ready for change and my latest project is our dining room table.  I find it enjoyable to infuse bright and cheerful spring items into each room. My wish is that this post inspires you to create your own tablescape.
~ A Note About the Nester ~
When my son was a toddler, he was a great climber and I always found him up on our dining room tables. Once on the table, he would focus quickly on my candlesticks. For some strange reason he loved to sink his teeth into them. I eventually had to remove my candles until he was older and more mature.
When I decorate a table, room, or space I always like to imagine the colors and style I wish to blend. Creating a look can be daunting, therefore, I  have broken down my process for you in seven easy steps.
1. First clear off your table.
This creates a blank canvas and encourages ideas to flow easily.
2. Decide on colors and a style.
For my table colors, I knew I wanted green, light blue and a base of white. I made a cream colored burlap runner and I found a light blue linen table runner at Pottery Barn to compliment it.
3. Gather your plates.
The plates should reinforce the style and color you have chosen. I wanted an organic botanical look, so I unearthed my old Portmerion plates.
4. Gather any fun accents.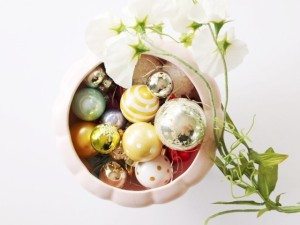 I have this little bowl of Christmas ornaments around for my various projects. They just add a little bit of color and sparkle to any project.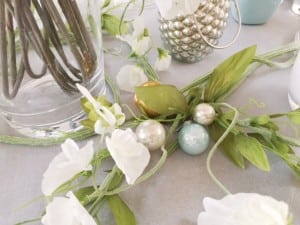 5. Gather your candles.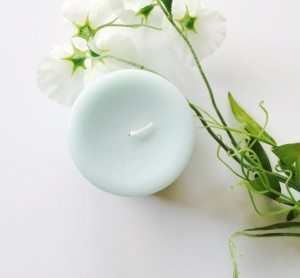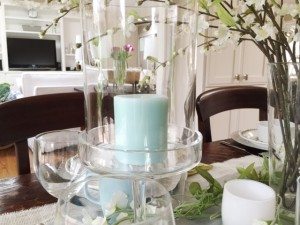 Candles are an easy way to infuse color to a table or a room. These candles are just the perfect shade of blue that I needed for a pop of color. I decided to echo it in the coffee mugs.
6. Gather flowers or plants.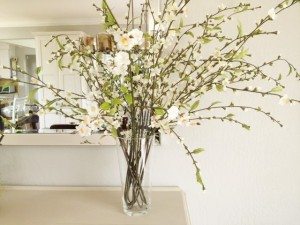 I love silk flowers since they tend to last forever. Change them out with the seasons and allow them to add color throughout a room. I like to place them in a glass vase which makes them feel real and natural. Also, the glass adds a reflective surface to the table which highlights and adds a crisp element. When choosing out faux flowers, try to pick colors that aren't too extreme. Additionally, I like to stick to one variety of flower in a vase, it feels more authentic. Here is a post that I created on silk flowers.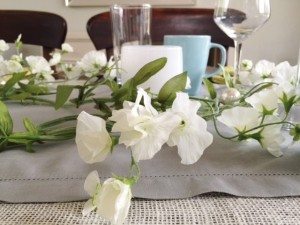 I added flowers to the table runner. I like some movement and filler to my space and these organic shaped white sweet peas were just the thing to bring a spring accent. They add an element of nature taking over the table and I love the energy they bring.
7. Choose some cloth napkins.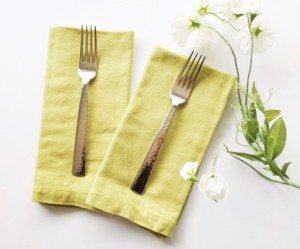 This is another item that adds color to a table. I have a collection of them that I change out with the seasons. I always try to buy them when they are on sale, and I now have quite a nice drawer filled with them. Shush… don't tell my husband about my little habit, he is the type who forgets to pack a napkin when he makes lunches. So, I don't think he would understand my little obsession!
Well, get started on your spring decor and let me know if you were inspired by this post. I hope to update our living room with a spring look so stay tuned. Have a great week and enjoy the Valentine's Day weekend, do you have any fun plans or trips?
Cheers,

You might also like these posts: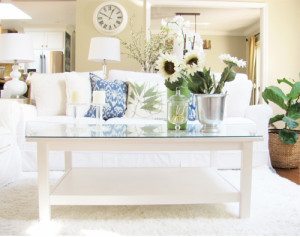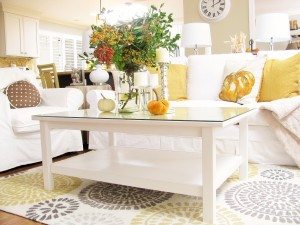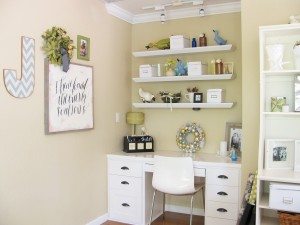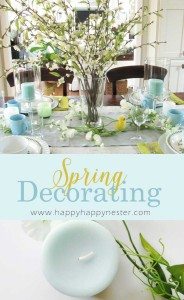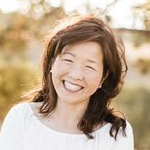 Latest posts by Janine Waite
(see all)