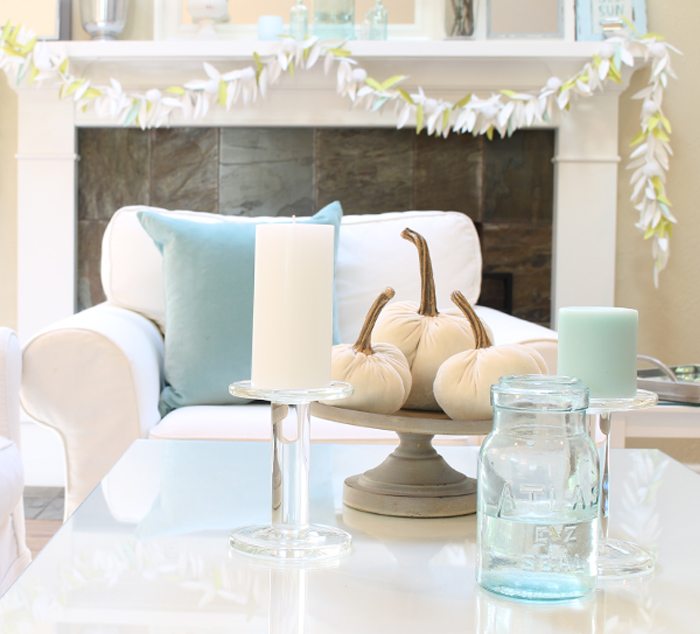 A Fresh Light Summer Home Tour
Hello there, and welcome to our summer home tour. This year, I've collaborated with a few of my close blogging friends to create a fun blog hop. Thanks for joining me and I hope you enjoyed Laila's home from Designs by Laila. Her outdoor tablescape decorated with her garden flowers is so dreamy and beautiful.
Well, if you are ready to continue this summer home tour, I would like to welcome you to our place. Sit back and grab a glass of ice tea or ice coffee if you prefer and let's get this summer home tour started.
A Note About the Nester
My kids love to visit Disneyland, but unfortunately, my husband is not too fond of it. So, whenever he is away on a trip, the kids and I pack up our car and quickly head south for a couple of days. We are like the Three Musketeers! We have the best time soaking up everything Disney.
Summer is all about family trips. This year we went on three lovely places, Hawaii, Montana, and of course Disneyland. Let's just say I've been a little busy packing and unpacking. In between our travel, I've casually styled our home with few summery decor. I ended up adding a few touches, but ultimately I kept it simple and light to reflect the summer.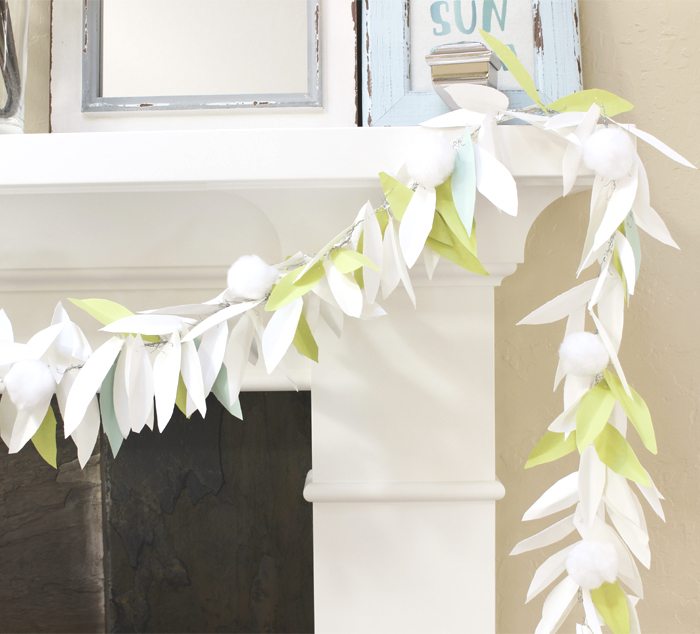 Our Living Room
My friend encouraged me to make a seasonal paper garland for this summer, and seriously she wouldn't let me off the hook. Truth be told, I didn't have a clue what I was going to make. I love paper, and I have many drawers filled to the brim. I feel that I might need therapy for my compulsive behavior of hoarding beautiful paper. Ok, just the other night I collected my humongous piles of paper, and I was clueless as to what color combination to use. Panic set in for a brief moment or two, and finally, I experience an aha moment.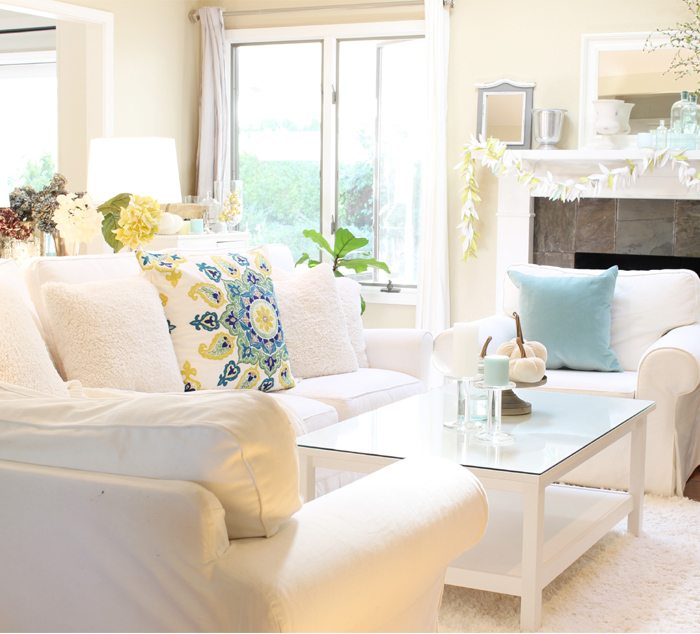 My lovely Pottery Barn pillow in our living room became my color inspiration for my garland. Hooray, problem solved, and I breathed a heavy sigh of relief. Well, I decided to make it mostly white with sprinkles of beachy colors, and I completed it just before this summer tour. Whew.

I must let you in on a secret of mine. I love to blend decor from other seasons.  The other day I found these precious little pumpkins at our local Joann Fabric store, and I quickly grabbed a ton like there was no tomorrow. I had so many in my arms that I had to send my daughter out for a shopping cart. I couldn't resist these beauties, who doesn't love a little white velvet pumpkin on a cake stand?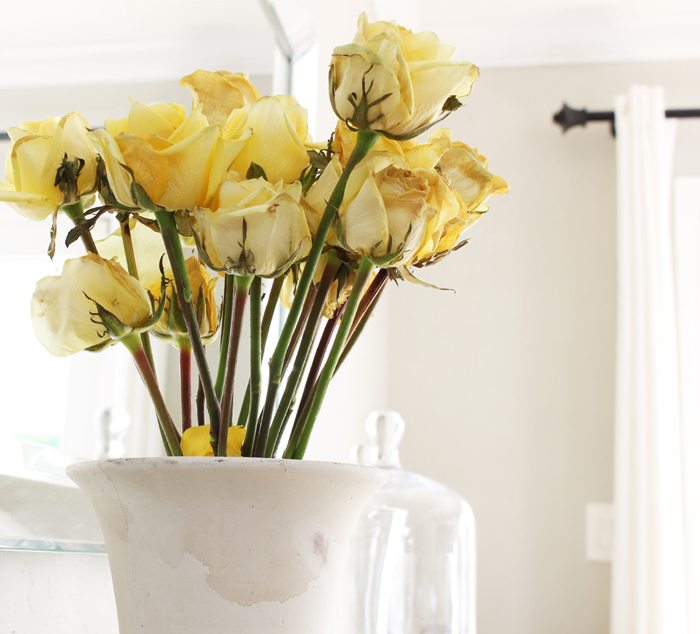 Our Dining Room
If you read my last blog post, these happy roses were in one of the photos. I was quite surprised that they lasted such a long time. I've been super busy and ok, I admit somewhat lazy too, so these flowers stayed in the vase for about two weeks. Uh, yes, the water was pretty murky and attracting little flying creatures, but his didn't discourage me. I trimmed off their dry faded leaves and placed the stems and flowers in this vase. I'm super happy with their faded vintage look.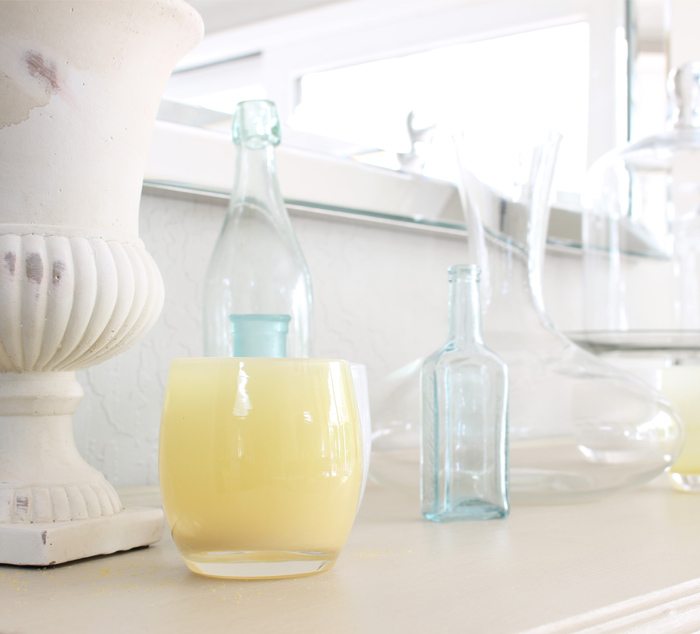 I almost didn't include this photo, but I love how these eclectic pieces have a summer beachy feel. This spot has many items that were randomly placed here from other rooms. This little habit always happens when I'm rearranging my rooms. Most the time, I hide this from my blog post photos, but I thought it might be good to keep it real. Can you relate to this little habit of mine?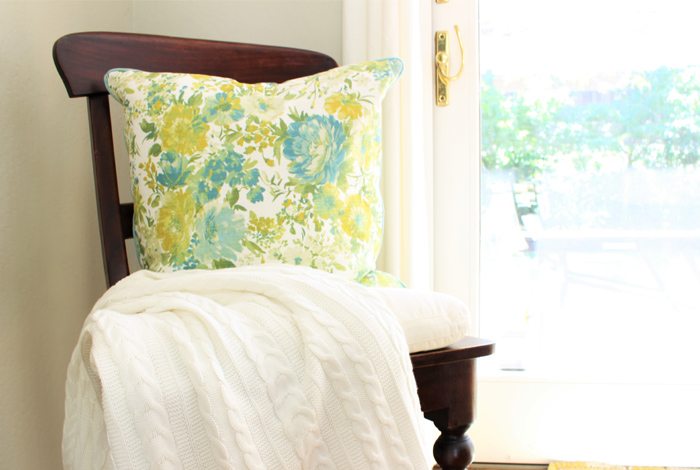 We are a family who loves blankets. On our recent trip to Hawaii, my daughter was wrapped up in a fleece blanket while lying on the sofa. Despite the high humidity and the stifling hot 90-degree weather, she was cold. The rest of us couldn't relate to her, and we were hot and in need of cold tropical drinks. But, she loves to wrap herself up in our decorative throws and is most likely to hoard these luxurious blankies into her bedroom.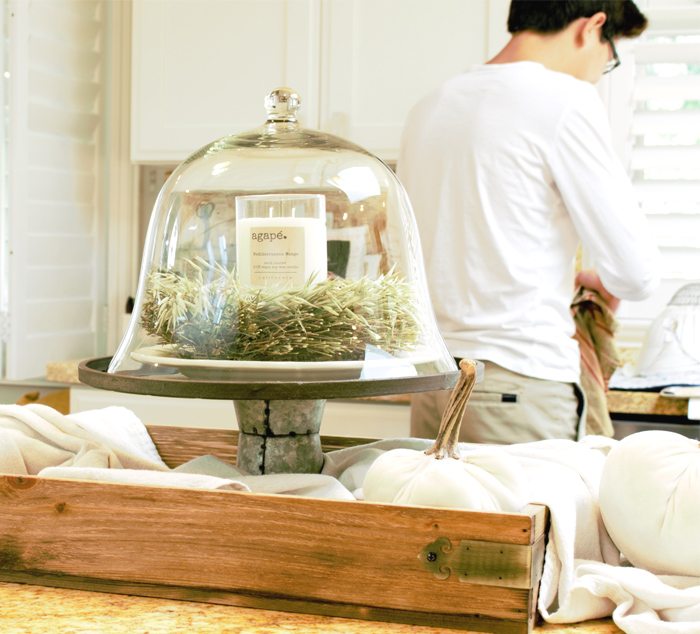 Our Kitchen
Here is my nod to farmhouse style. If it were up to my husband, he prefers a nice home out in the country. He loves the rustic and no fuss style. So, I decided to clean off our kitchen island and create this farmhouse vignette. I must tell you the fun story about the wooden tray. I spied it at HomeGoods on my last shopping trip. While I was in the store, a customer was watching me and finally asked, if there were more trays. I feel that if I placed it back on the shelf, she would have instantly snatched it right up. Who knew that shopping is so competitive?! By the way, my super talented friend, Rachel made this gorgeous candle, here is my link to her Etsy shop. Don't you need these cute mango candles? They make the perfect addition to any summer home decor.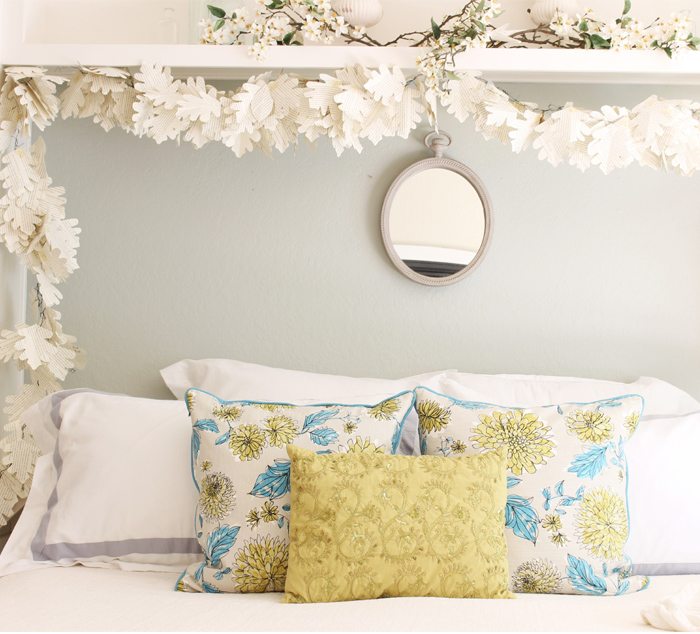 Our Master Bedroom
I love my handmade paper garland in our master bedroom, but I'll let you in on a funny secret. I placed this garland over our bed and the minute I was hanging it, I predicted that my hubby would not be happy with the branch intruding on his side of the bed. So, fast forward to that evening, and the minute he was getting into bed, he pipes up, "this garland is not going to be staying?" Of course, you know what I was thinking, you've got to be kidding! The next morning, the clever me sweeps up the end of the garland onto the bookshelf near his pillows. Problem solved, easy peasy and my hubby is happy, and the nester is happy, happy girl.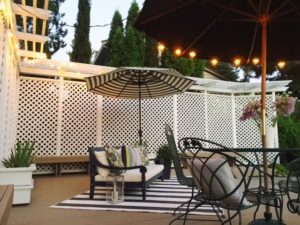 Our Yard
Let's take a look in my backyard for the rest of my summer home tour. Last time this year, I heavily bribed my kids to help me paint our huge deck. So, let's just say that teenagers, chores, high temps and a huge deck are not a great combination. But, miracles do happen, and we did complete the deck with a fresh coat of white stain, and I recently published a post about these shenanigans, here is the link: Deck Remodel  I love our new outdoor room and surprisingly so does the rest of my family. Lately, we will turn on our twinkle lights and lounge on our new Safavieh sofa. I'm always delighted when I can transform an unused space into a favorite spot.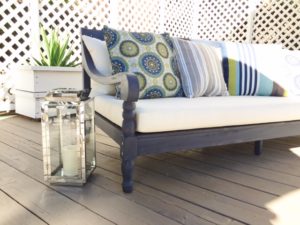 I'm sad to say that this concludes my part of the tour, and I would like to introduce you to my dear friend, Amie. Her summer home is gorgeous, and her post has lots of inspiration and color. So, make sure to grab another drink and head on over to Amie's home. I'll join you on the tour since I love open houses. So from my home to yours, I hope you enjoy these final days of summer.
Cheers,

Here are more of my friend's summer homes: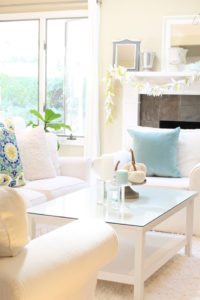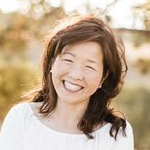 Latest posts by Janine Waite
(see all)