Kitchen Storage
It appears that globally, we are producing and throwing out more plastic compared to the 1960s. Environmentally this is troublesome and who knows the implications it has on our health. I'm concerned with both issues, and so I've been on a mission to try and reduce the amount of plastic in our kitchen. I have found a few products along the way, and I thought it would be nice to share them with you.
~ A Note About the Nester ~
 I recently had the opportunity to view a photography exhibit which documented all the ingested plastic trash inside the bellies of dead marine animals. It was such an eye-opening project to the horrific side effects of our heaps of trash that are dumped out at sea.
Bags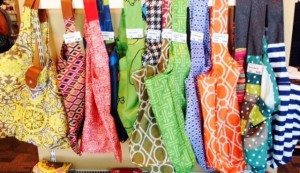 If we add up all our plastic bags, I'm sure the amount would be overwhelming. So, I have quite a few reusable bags that I just love, and I always receive compliments on how cute they are. Our family loves them so much that we've taken them along on some of our vacations. Here is the link to a previous post: reusable bags
Drinking Bottles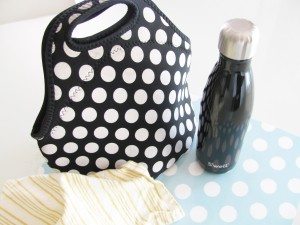 Our family had a quite a few reusable plastic water bottles, and I could taste the plastic. So recently, we recycled them, and I was on a mission to purchase either stainless steel or glass water bottles. My family loves the stainless steel ones made by S'well. These bottles are fantastic, and they keep drinks cold or hot for hours. I LOVE these bottles, and so do my kids and all their friends. One of the nice bonuses is that they don't sweat if you have ice cubes in your drink. You see, the double insulated walls keep the outside surface at room temperature which is a nice feature. Also, it has an interesting shaped bottom which I'm thinking prevents dents from forming when dropped. But, mostly owning one of these water bottles eliminates the need to buy tons of packaged water. Here is the post on these awesome bottles: S'well water bottles
Storage Containers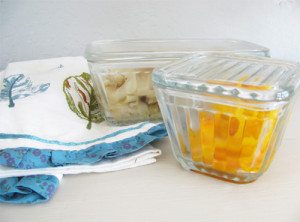 I love our Anchor Hocking glass storage containers. The great thing about them is that they don't impart a plastic taste to your food, and since they are glass they are bakeable and microwaveable. They stack on top of each other, and the clear glass makes it easy to view the stored food. Overall, I'm happy with these containers, and I use them quite often.
Food Wrap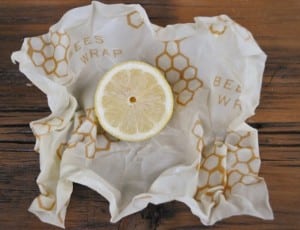 This alternative to plastic wrap is a new product and made in Vermont. The company, Bees Wrap created a food wrap product as a unique alternative to plastic wrap. It contains beeswax, organic cotton, organic jojoba oil and tree resin. I bought a sheet and recently covered some food in it. I found it imparts its fragrance, but surprisingly it doesn't flavor the food. The product is wonderfully malleable when handled with warm hands and the wrapper sticks together to form a seal. It is washable with warm soapy water but is not oven or microwave safe. Another bonus feature is that you can use the wrapper as a plate. The saleswoman said that the sheets last for about a year, so, a $6 investment is pretty cost effective.
I hope this post inspires you to create new habits in your kitchen. I feel that if we all try and reduce our use of plastic, we can start to make a difference. And maybe someday when we visit a beach, we won't see trash that has washed up on the shores. I believe that every little change can make a difference.
Cheers,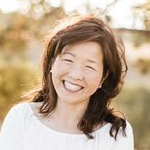 Latest posts by Janine Waite
(see all)