Try this White Wine Sangria Peach recipe if you like a light and refreshing drink. This Sangria has a surprising twist: a sparkling white wine with peaches. And to elevate this cocktail, add plenty of fresh peaches to the drink.
I use a sweet and yummy peach bellini as the top wine for this recipe. Of course, you can add whatever fruit you prefer, but I like the fresh peaches since they add such a pretty look and taste to a white sangria.
Since finding a local peach farm nearby, I've shared a few recipes on the blog. Check them out if you want more peach recipes!

When peaches are in season, I eat them for breakfast almost daily. We grill them for a refreshing dessert during the summer months.
My husband is obsessed with Sangria, so we thought, let's marry the two into a recipe. We both love the results since it's a nice refreshing fruity drink that you can increase the alcohol content to your taste.
White Wine Sangria with Peaches
My family loves hot or cold drinks throughout the year. Celebrating the seasons with a delicious drink that captures the moment is always nice. And since peaches are still in season, let's enjoy a peach drink in the final days of summer.
Origins of Sangria
The original roots of Sangria can be traced back to 200 BC! The Greeks and Romans mixed their wine with sugar, fruits, and whatever they had on hand. This version of Sangria was popular everywhere since the water was often filled with bacteria and was unsafe to drink.
The Romans inhabited the Iberian Peninsula and planted grapes for wine. Spain and Portugal occupy the Iberian Peninsula, so Sangria has its root in Spain. The word Sangria in Spanish has two meanings. One definition is blood, which refers to the drink's ruby hue white with red wine. And the second is that the root word, Sanskrit, means sugared wine.
Fast forward to the 1700s and 1800s, and in England and France, the French grapes were used in their Sangria. So, white Sangria, sparkling Sangria, and Sangria made with peaches became popular.
Simple Definition of Sangria
Sangria is a wine-based cocktail. Different sangrias are based on the fruits and wines you add to your recipe.
Why I love this drink:
Yes, I'm a wimp when it comes to tolerating drinks. I must be honest. I love sparkly beverages that aren't too heavy and are a tiny bit on the sweet side. I LOVE it on the sweet side with not too much alcohol.
But, back to this drink, I love this recipe's fruit and bubbly nature. And if you like bubbles, add more sparkling water to this recipe if you prefer.
The beauty of this drink is that it only calls for a few ingredients.
Here's what you'll need for this cool peach drink:
Fresh peaches, strawberries, oranges, and lime slices
Orange juice
Ice
How to make this drink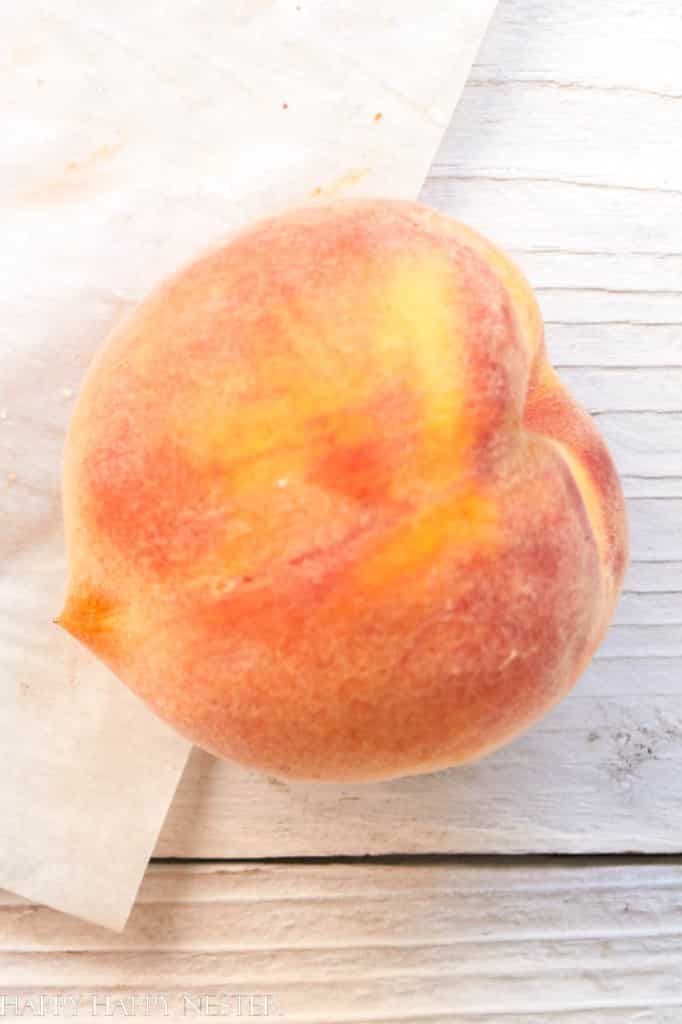 Step 1 – Wash and Slice Fruit
I have liked many peaches in my Sangria since I bought a peach bellini wine. Regarding the other fruit, add the ones you want to your drink.
Step 2 – Place Fruit and Ice in a Big Pitcher
I place the ice and fruit together in a big glass pitcher. I mix the two before I add the sparkling wine. Once the pitcher is ready, add sparkling peach wine and orange juice. You can add some sparkling water if you want more of a bubbly drink. If you like a more robust alcohol content, you can add either bourbon or rum to your Sangria.
Recipe Tips and FAQs
What is the best wine for white wine sangria?
I used a sparkling peach bellini which is a flavored white wine. But if you can't find this wine at your local Trader Joe's, then a chardonnay, blush, or pinot gris.
What is Bellini?
A Bellini is a cocktail made with Prosecco and peach purée or nectar. It originated in Venice, Italy. I found a great bottle of peach bellini at Trader Joe's. But here's a link to one online if you don't have a Trader Joe's. It is low in alcohol since it usually has a fruit puree added. They usually range around 7% alcohol.
Can I use regular sparkling wine if I can't find a peach bellini?
Yes, and I would add a bit of peach puree. If you can't find peach puree, puree some fresh or canned peaches in a blender.
Does this Sangria need extra brandy, rum, or bourbon?
Only add extra alcohol if you want a higher alcohol content.
Is Sangria high in alcohol?
The sparkling wine usually has an 8% alcohol content; adding ice, fruit, and juices dilutes even more. It is a light drink unless you add more brandy or bourbon.
Can Sangria be made in advance?
Yes, it's better if the fruit has the chance to soak in the wine. Make and refrigerate it the night before, and then right before serving, add a bit of sparkling water to infuse bubbles into the cocktail.
How long will homemade Sangria keep in the refrigerator?
I always refrigerate the Sangria for one to two days. After that period, the fruit does wilt and no longer tastes excellent.
White Sangria with Peaches
If you like a light and refreshing drink, then try this White Wine Sangria Peach recipe. This sangria has a surprising twist of a sparkling white wine that's flavored with peaches. And to elevate this cocktail add plenty of fresh peaches to the drink.
Ingredients
25

oz

Peach Bellini

3

peaches

sliced

2

oranges

sliced

1

lime

sliced

1

cup

strawberries

sliced

1½

cup

orange juice

ice

1

can

sparkling water

optional

1

sprig

fresh mint

optional

9

oz

brandy or bourbon

optional
Instructions
Wash and slice fruit and place in a big glass pitcher with ice.

Add orange juice, sparkling water, and peach bellini to the fruit.

Add more alcohol like brandy or bourbon if you want a boozier cocktail. This step is optional based on taste.

Mix and serve and top with sprigs of mint.
Nutrition
Serving:
1
serving
|
Calories:
91
kcal
|
Carbohydrates:
22
g
|
Protein:
2
g
|
Fat:
0.5
g
|
Saturated Fat:
0.04
g
|
Polyunsaturated Fat:
0.1
g
|
Monounsaturated Fat:
0.1
g
|
Sodium:
27
mg
|
Potassium:
345
mg
|
Fiber:
3
g
|
Sugar:
17
g
|
Vitamin A:
482
IU
|
Vitamin C:
75
mg
|
Calcium:
39
mg
|
Iron:
1
mg
I love this fruity and light drink, and I hope you have a chance to enjoy it as well. Make a big glass pitcher of this white wine sangria and have friends and family over for dessert and drinks.
And try to squeeze in summer weather's last days with good food and entertainment.
Cheers,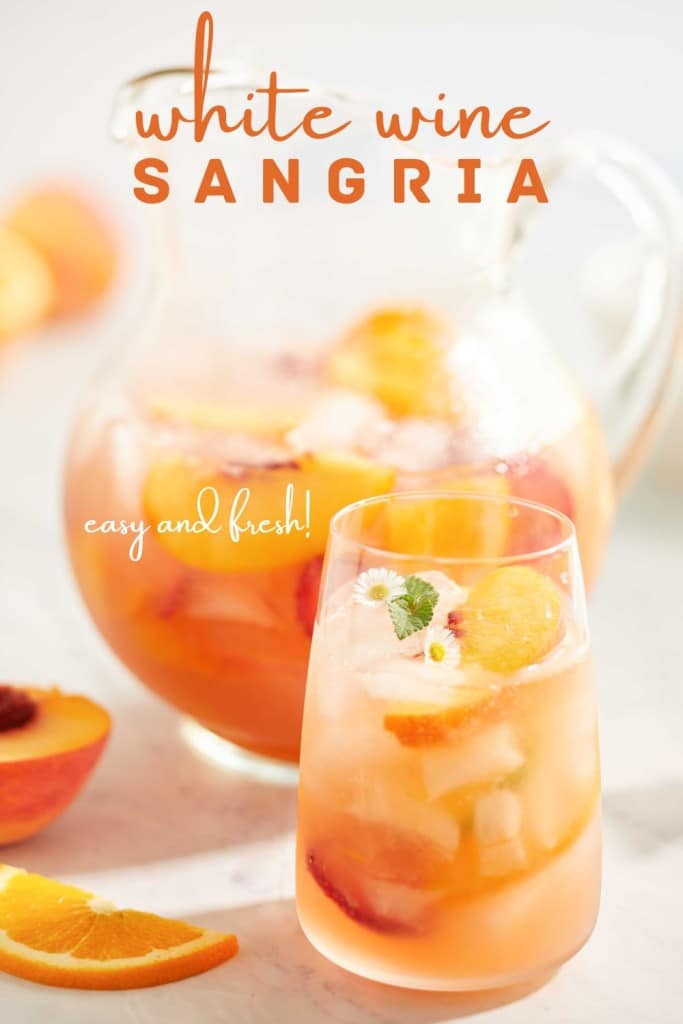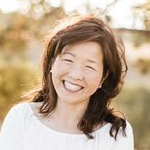 Latest posts by Janine Waite
(see all)