I'm so excited to share with you one of my latest projects. My very sweet niece recently moved to the Bay Area and is renting a one bedroom studio apartment that she would like to redecorate. Of course, I'm so happy to be helping her restyle her place. She is doing her doctoral residency, and that means money is tight. We made it a priority to find most of her furniture on Craigslist or on the free classifieds. Decorating on a small budget is doable, and I'm so comfortable with it since I'm always thrift shopping for treasures. So far it is amazing how many things we did find. All they require is a couple coats of paint and the transformation is amazing. She has been a good sport about this project and she has been busy painting her studio walls and furniture with every free moment. Most of the black furniture we found needed more layers of white chalk paint to lighten them up. I'm thinking that after this remodel, she won't want to paint every again!
~ A Note About the Nester ~
The first time I met my niece was at our wedding! We propped her up on pillows while we got the decorations done for the wedding! She was a newborn and was adorable, I was smitten by her and we have been close ever since!
Ok, let's get started on the design. I will walk you through my 10 step process and maybe this will help you on your next project!
1. Wall Color
So, the first thing I do is determine the wall color. Her walls before were a green/aqua medium color, and it was pretty but a little too dark and foreboding. Originally, I wanted to have three white walls and one black accent wall, but my family and niece quickly boycotted this choice. I gave in and decided all the walls needed to be a crisp white and the standard builder's white, Swiss Coffee by Kelly Moore.
And as much as she wanted to get out of painting all the walls and keep one walls the original color, I made her paint it all white. That way we weren't obligated to stay in a color scheme, we now have the freedom to use any accent color we want. It is a nice to have a blank slate and change things up with the seasons.
This cute temporary wallpaper by Chasing Paper will go in her white kitchen. As much as we both liked another design, this one had a crisp and sleek look rather than rustic. I get a sense that she wanted more the clean lines in the rest of her studio. I try to keep everything all in the same style especially the main items. It's alright to break this rule with the smaller accents which can add some fun surprises!
2. Style
I start with the walls and ask the essential question of what style the client wants; modern, rustic, classic, colorful, feminine, masculine, etc.. It helps to design a Pinterest board for them and let them choose the images they prefer. Next, I design a room working from the outside and move in and also from big to small.
So my niece wanted a feminine, clean, light and fresh look.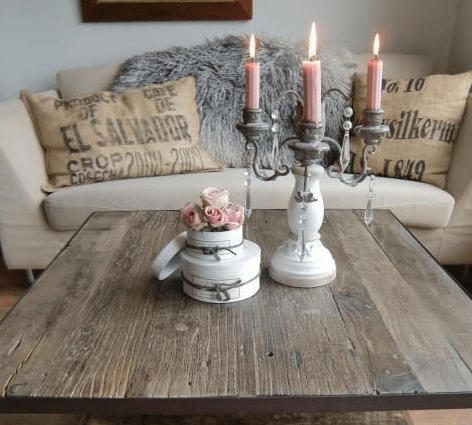 Photo Source: White Lace Cottage

3. Layout

5. Needed Storage Space

Here is the free armoire we got from a neighbor, I love how you can find such beautiful furniture for free if you are creative. It was originally black, and it is now white and so feminine. It is amazing how the lines of the piece show up and also, it goes well with the newly painted white studio walls. Gosh, you can't beat that it is a free storage unit!

6.  Soft Accents

We recently took a trip to Homegoods and found a classic white duvet cover along with some fun and cute pillows. We need to find a few more bling since my niece likes a few sparkly things! Pillows are the fun part of decorating; they are one of the easiest ways to change decor up with the seasons. We are still figuring out if she will need a rug; it will have to a be a small one since the area we are working with is pretty limited. A rug will cozy up and define the area in which she wants to be her living room.

7. Lighting

Her studio desperately needs lights. We found one lamp so far, and we will be on the hunt for more since her place tends to be a little dark. I will be on the hunt for some clear glass or white lamps so that it goes nicely with all the other surroundings. Glass lamps provide a little sparkle without weighing down a space. We may branch out a bit and find one fun accent lights.

8. Small Accents

We found some fun glass knobs for her dresser. We will keep our eyes up for more things like that as well as glass vases, faux flowers, candle holders etc..This is the fun part of styling a room!

9. ArtworkChoosing artwork will most likely be our last step, and we actually may make our own, so stay tuned. There are always the oversized photographs that you can have made at Staples and Costco for a reasonable price. But, maybe we'll just try our hand at some acrylics and a big canvas.

10. DrapesDrapes are usually something that I save to the end of the process. I feel like once I have the pillows, duvet cover and rugs then I can decide on the drapes. Since the studio has such high ceilings, we'll probably buy the curtains at Ikea since they carry inexpensive drapes that are incredibly long in length.