Did you know that I lose sleep this time of year, and this fall tour is the reason. I guess I'm so excited and busy that I don't have time for sleep!
You see, I have invited 13 of my friends to accompany me, and you are so in for a treat.
If you just joined me from Summer Adams, can I just say, thanks for joining me. Can you believe I had the chance to met Summer a couple of weeks ago, and she was exactly how I pictured her, she is the sweetest and most caring person I know.
We chatted a mile a minute, and we had the best time.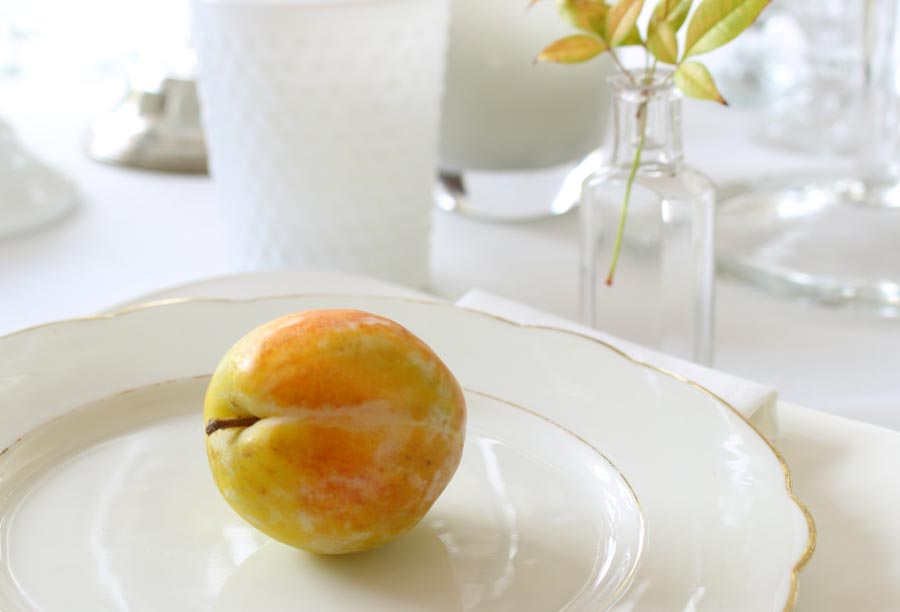 Well, I know fall seems to have snuck up on some of us and I hope all is well with you all. I so want to welcome you to my humble abode and I'm so happy you are here.
If you missed last year's Fall Tour, make sure to get a double whammy of Autumn!
I Don't Have a Problem, Not me!
Are you a hoarder?
Hello… I must be a serious collector since I have a google plex amount of pillows.
Well, maybe I'm prone to exaggeration.
My extra stash is all in bags above our garage.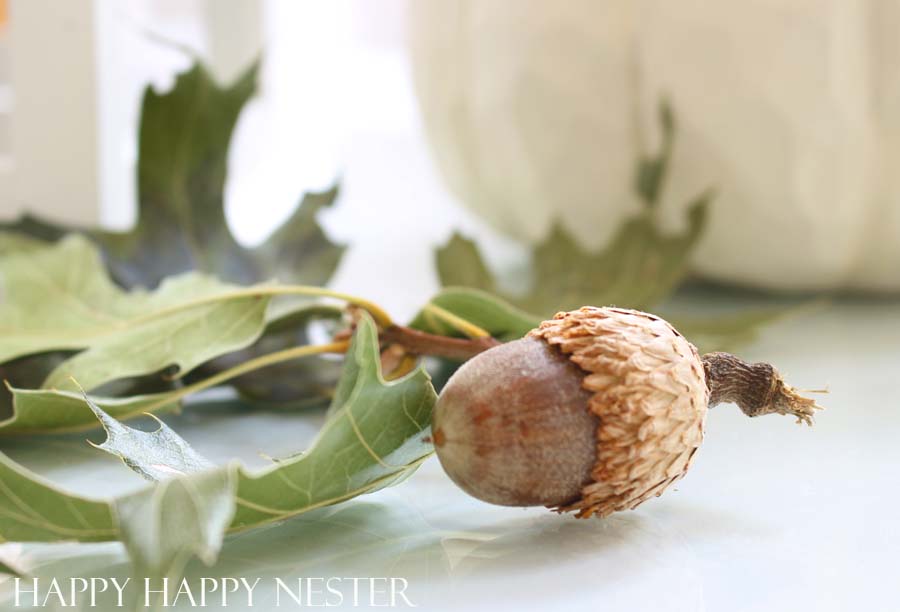 I'm like a squirrel in autumn, running around in circles, trying to store my acorns.
And can you believe that despite having a boat load of pillows I still needed more for this Fall Tour.
But recently, instead of driving around to all my favorite home decor stores like a crazy lady, I had a grand idea! I would dust off my sewing machine and try my skills at making an envelope pillow case.
So, I bought my pastel blue and tan fabric, which I think is a perfect compliment to my pumpkin pillow.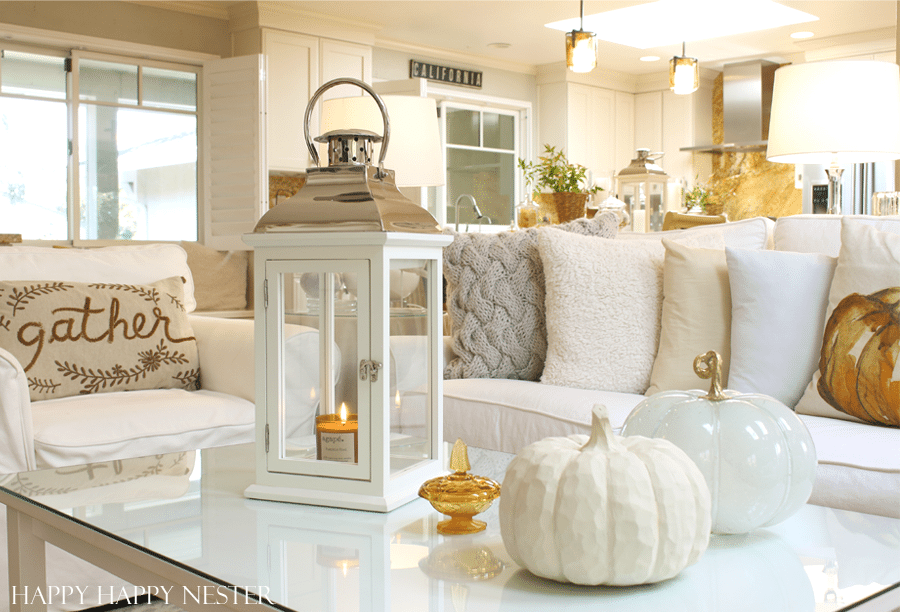 Alright, I must be a visual learning since most of the written instructions I read, left me scratching my head and clueless on how to make pillows. But, I finally found an excellent video, and slowly the light bulb turned on in this old head of mine.
I immediately got to work and banged out my four cute pillows. Oh no, I can see into my future that my Buddy, the Elf tendencies will mean we will be bursting out at the seams with pillows and more pillows!
Did you catch my pun?
Fall Tour
Well, despite my obsession with pillows I'm ecstatic about my Fall decor.
While everyone is going wild with fall colors, I chose my own little path.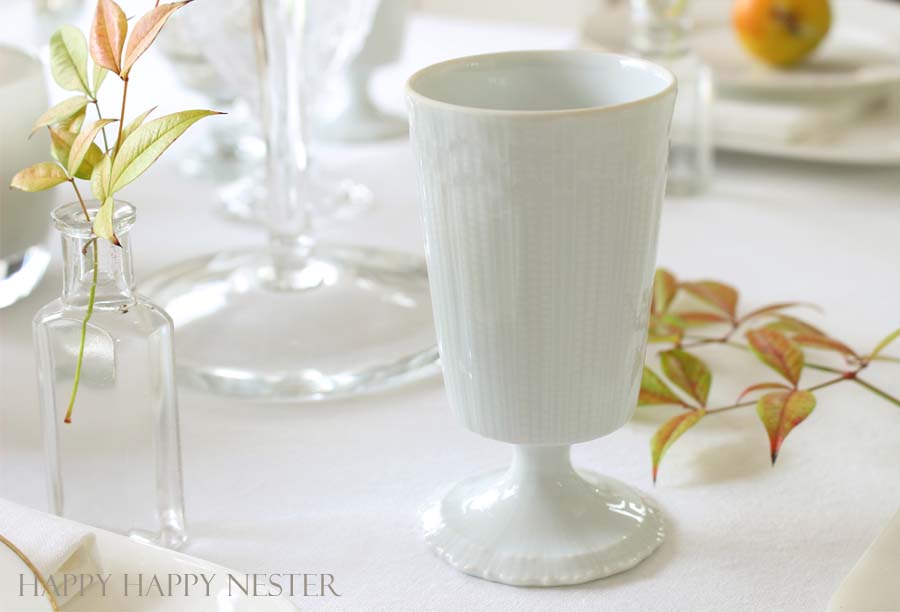 I worked incredibly hard to stay with whites and creams.
You don't know how hard this was for me.
But, I'm over the moon happy with how it turned out. A certain calm comes over me when I peer into my home and look at the sea of white.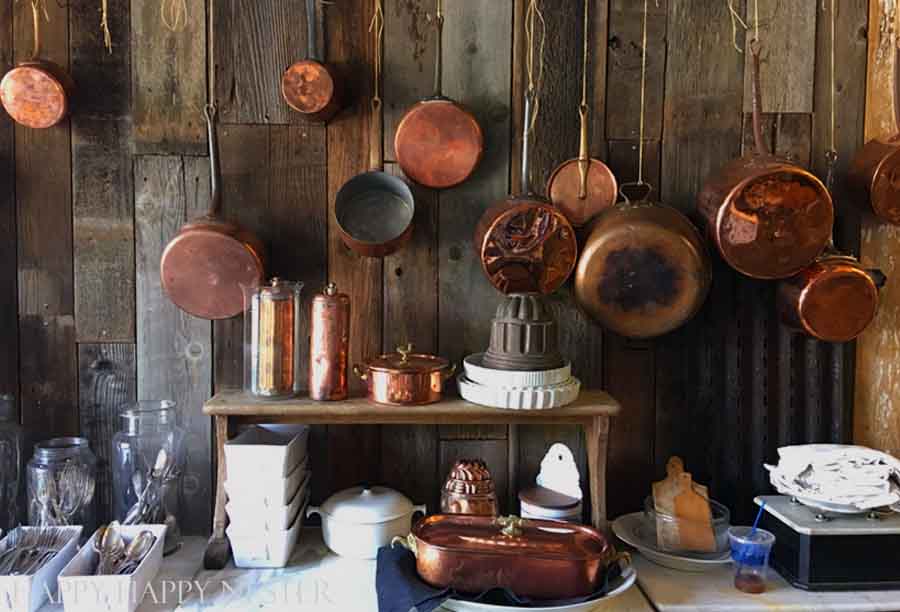 While I was decorating my home for this tour, I have had a little bit of help for this incredible shop, Elsie Green. This unique shop is all French, which means they take a trip over to France and purchase decor and then have it shipped home to their shop here in Northern California.
And do you know they had the cutest French vintage trailer shipped too?
Lucky for me, I can shop at their location, and I have included a bunch of their decor. If you are smitten by some of these treasures, you can buy it online via their website, Elsie Green.
Our Fall Dining Room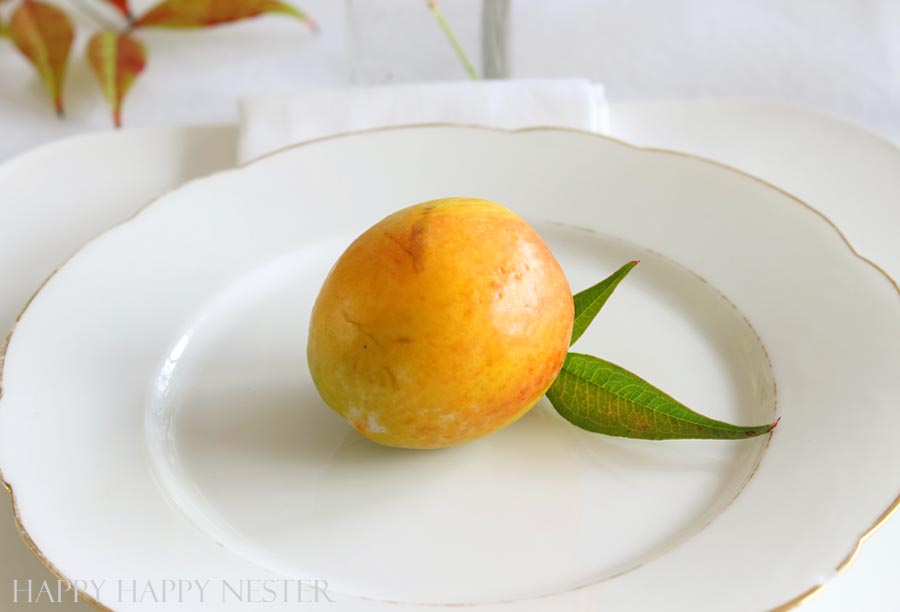 These are beautiful French plates from Elsie Green. I found four of them on sale and I love the little-scalloped gold edges.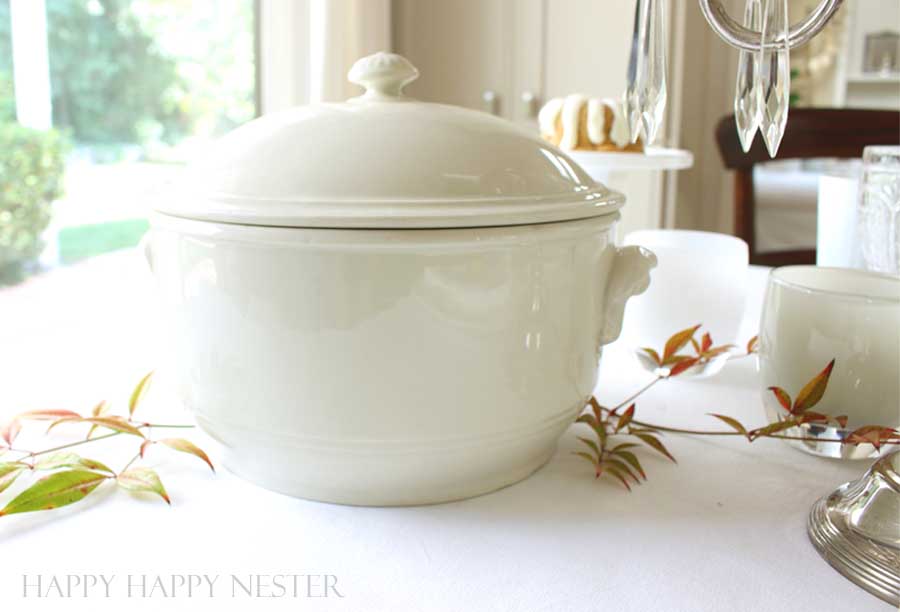 I know I have a lot of collections, but maybe I should start a new one! Of course, I would have to do up a pretty display of my white stoneware on my kitchen shelves. Ok, you heard it here, I'm on the hunt for stoneware.
Off for another visit to Elsie Green!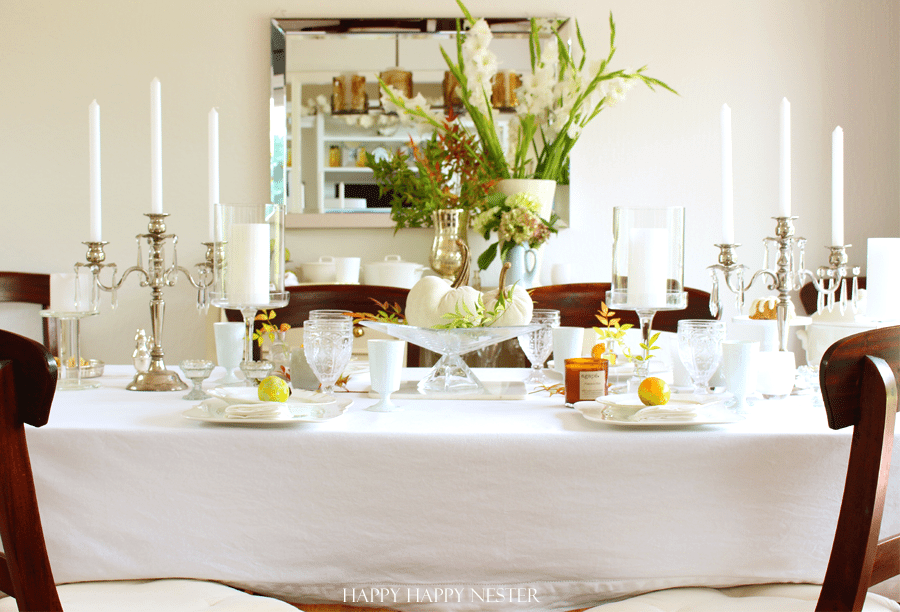 Gather up some fresh clippings from your garden.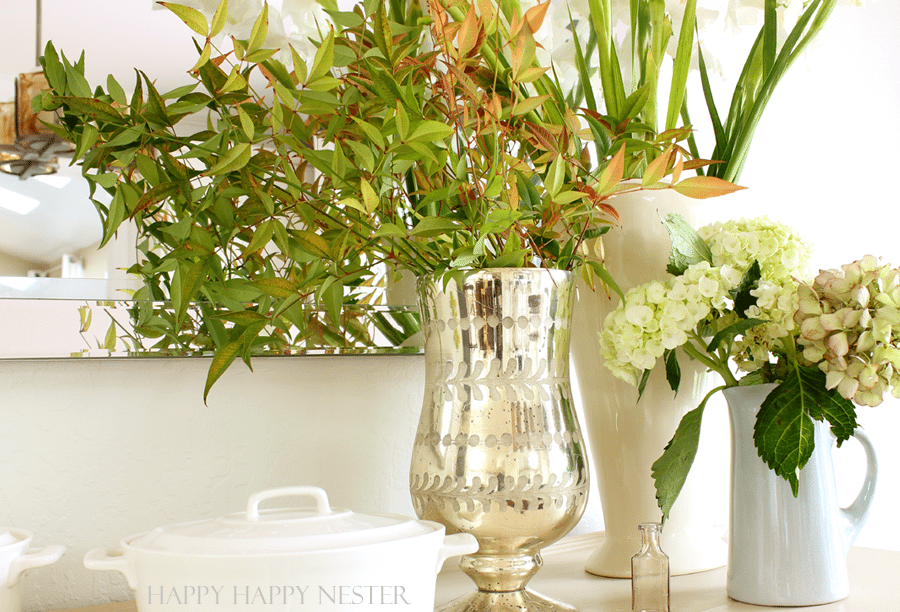 I always love to bring in my branches and flowers from my garden. They just add a little of the unexpected that is better than store bought flowers. Of course, I'm all about saving some moola too!
If you want to see one of my flower arrangements, take a look at this fun post.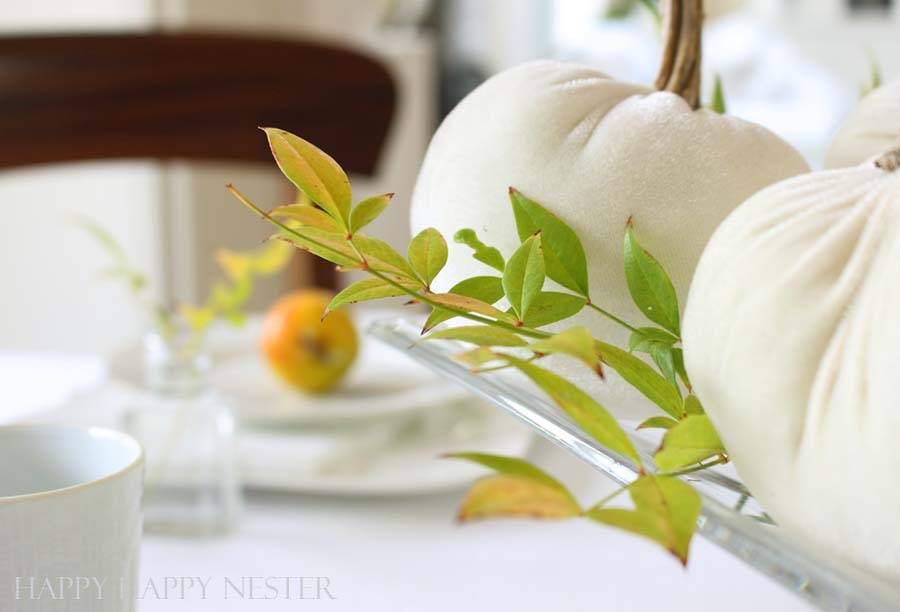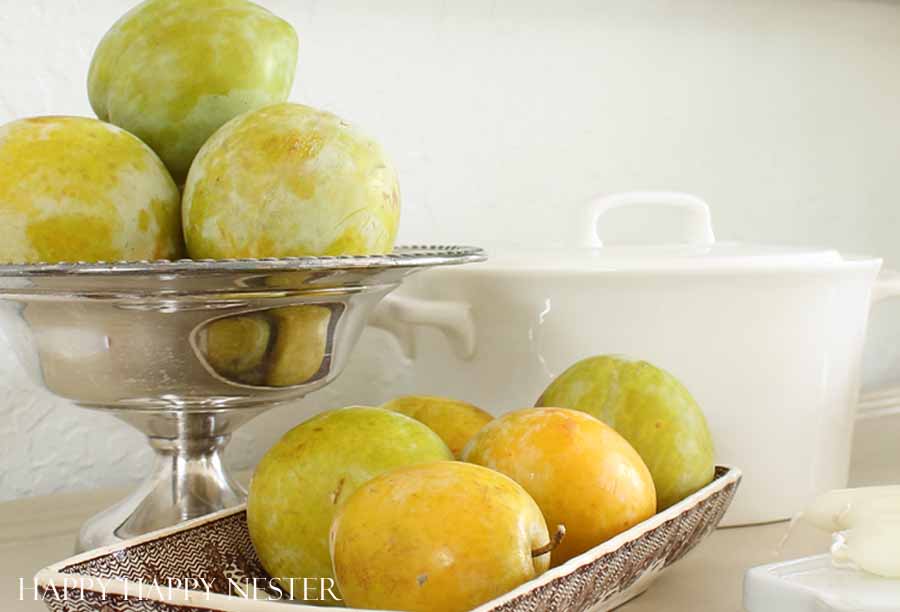 I am a creature of habit and so every Saturday I wake up before my family and make the trip down to our wonderful farmer's market.  These beautiful Plots remind me of the ones we bought on our trip to France. Pluots are in season and I love to buy quite a bunch.
Pluots are a blend of apricots and plums and they are incredibly tasty and sweet. Our farmers market is stocked to the brim with them and every weekend without fail, I load our fruit bowl up.
Yup, I'm a hoarder of fruit too!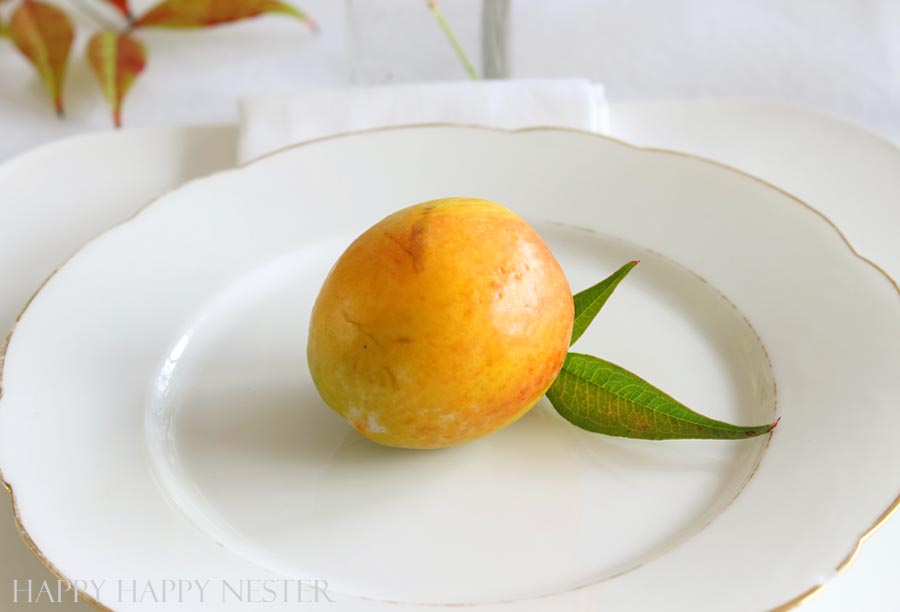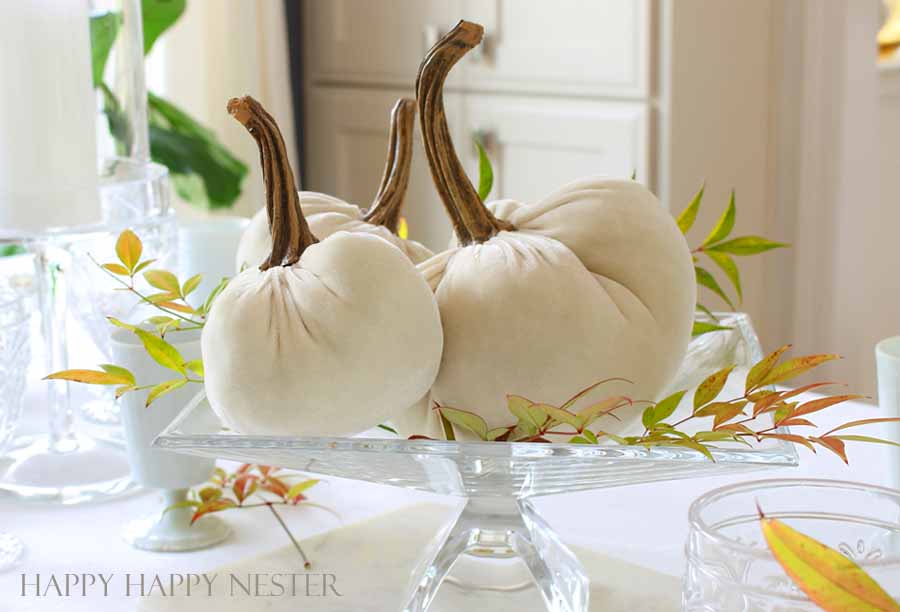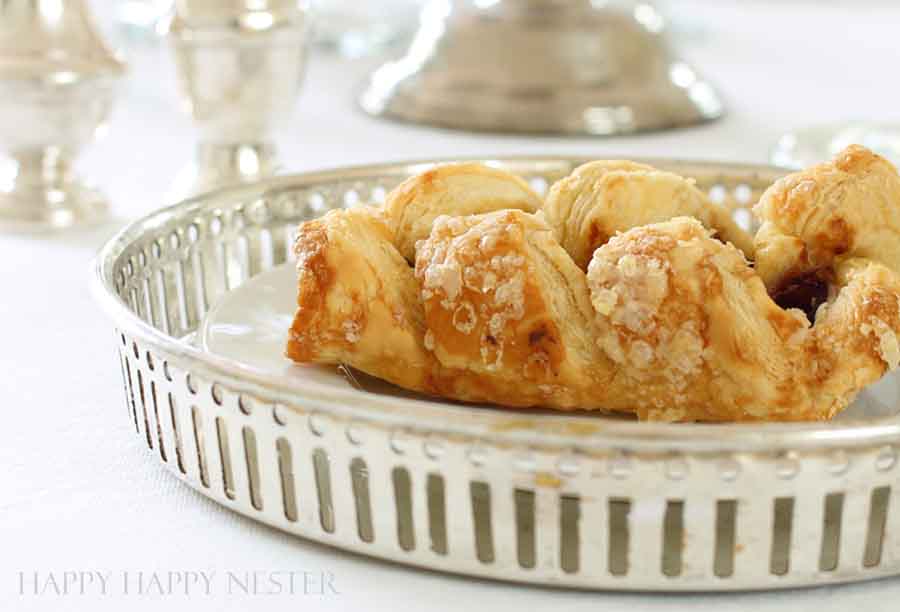 These are amazing pastries that I buy at our Farmer's Market as well. I have my obsessions that have become my weekly routine.
Ok, I think I'm a little obsessive compulsive as well.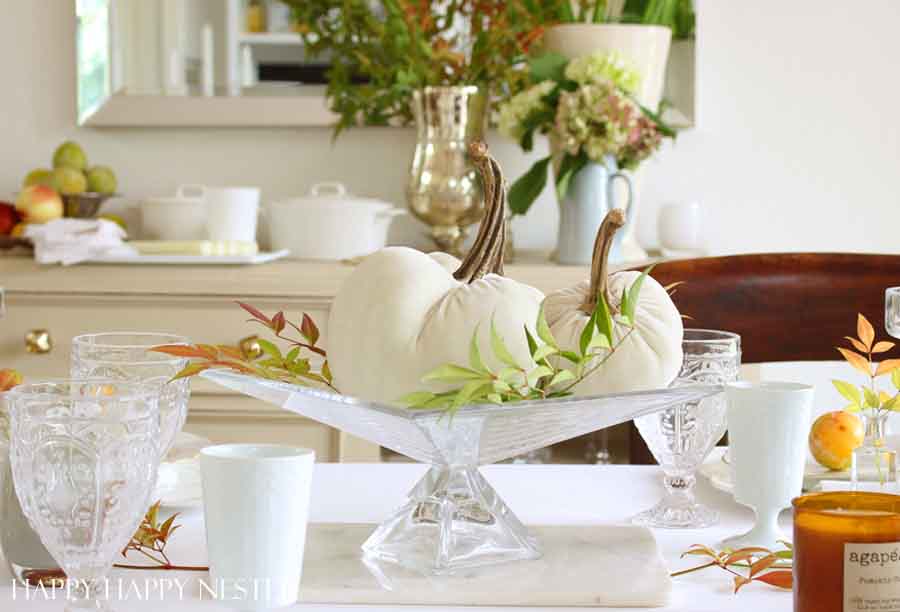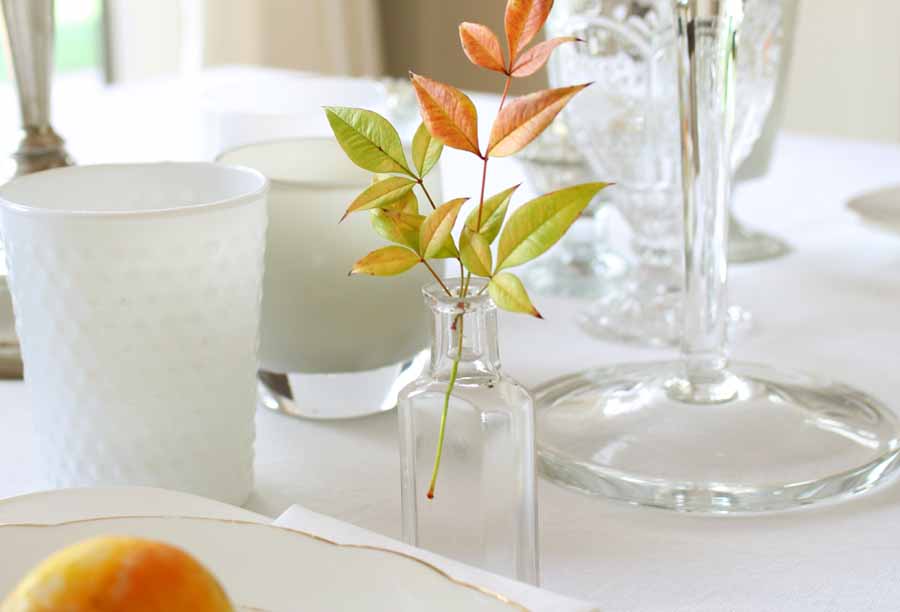 As you all know, I love to decorate our home with personal and vintage things. These antique bottles keep popping up in my home and I thought why not place a little bit of Autumn in them. So, I trimmed a few stems from my Nadina bushes and added a touch of water and I love how they add a happy bit of interest.
And voilà, I have a cute vignette.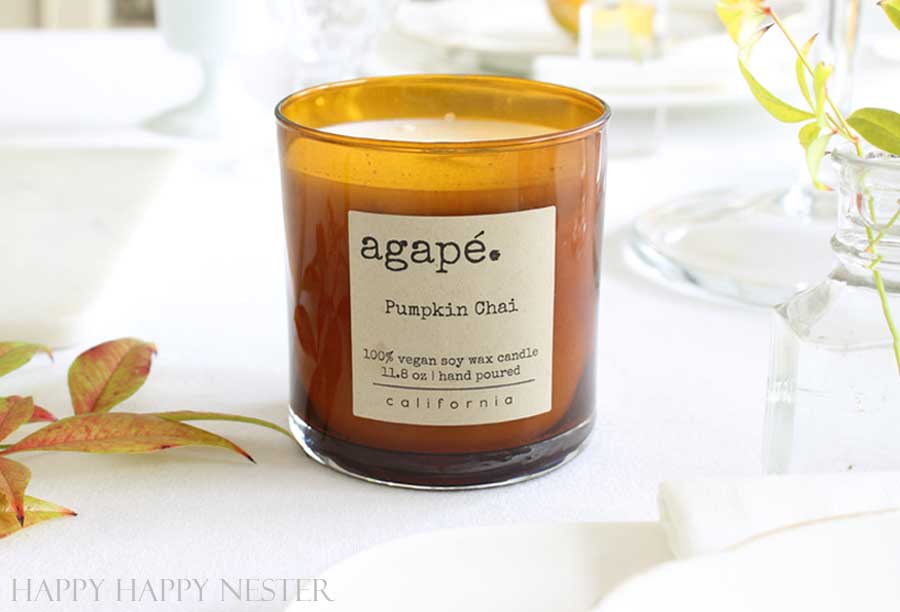 And fall wouldn't be complete without some lovely scented candles. I'm a bit partial to spices and pumpkins. Gotta love my friend, Rachel's candles she keeps me completely supplied with her beautiful candles.
I adore this amber glass which is perfect with the Pumpkin Chai fragrance!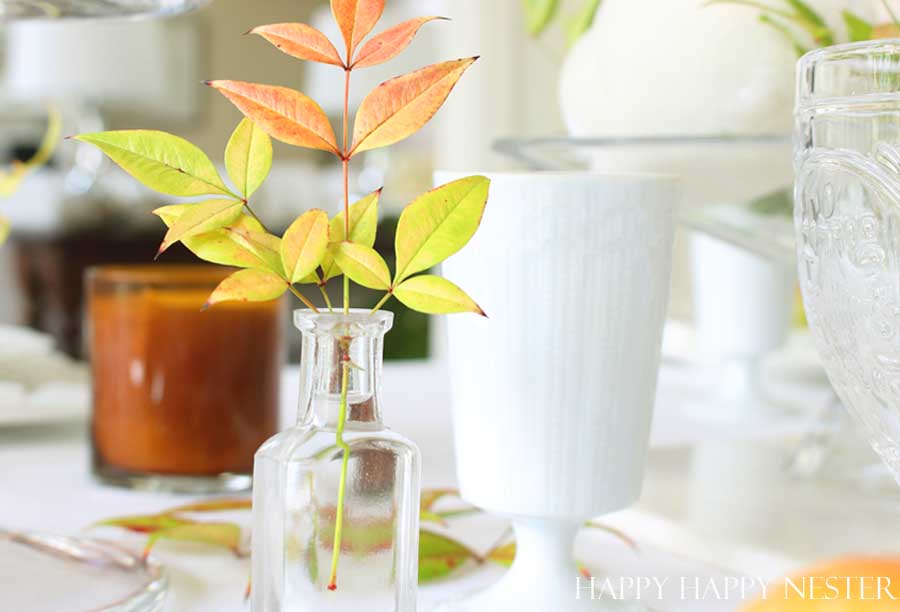 Our Fall Kitchen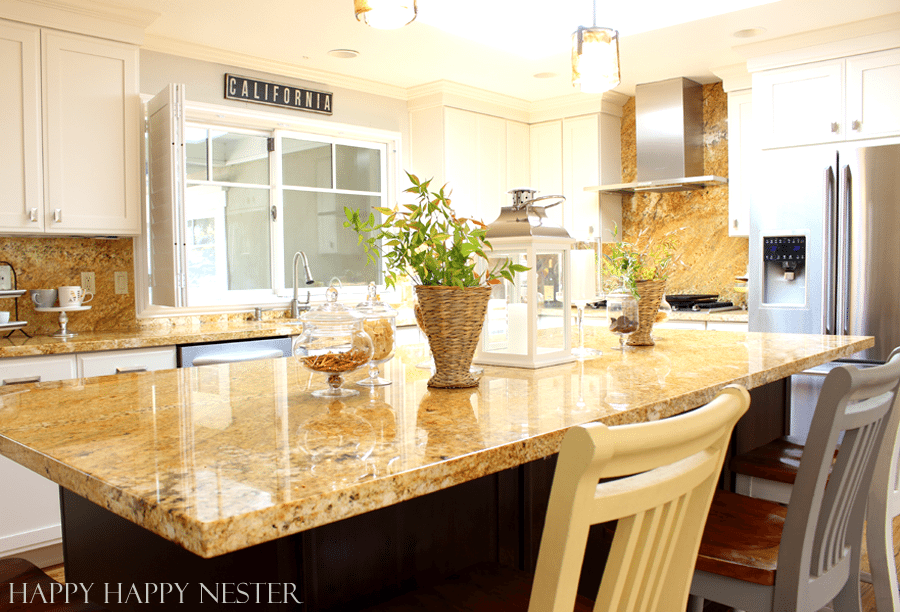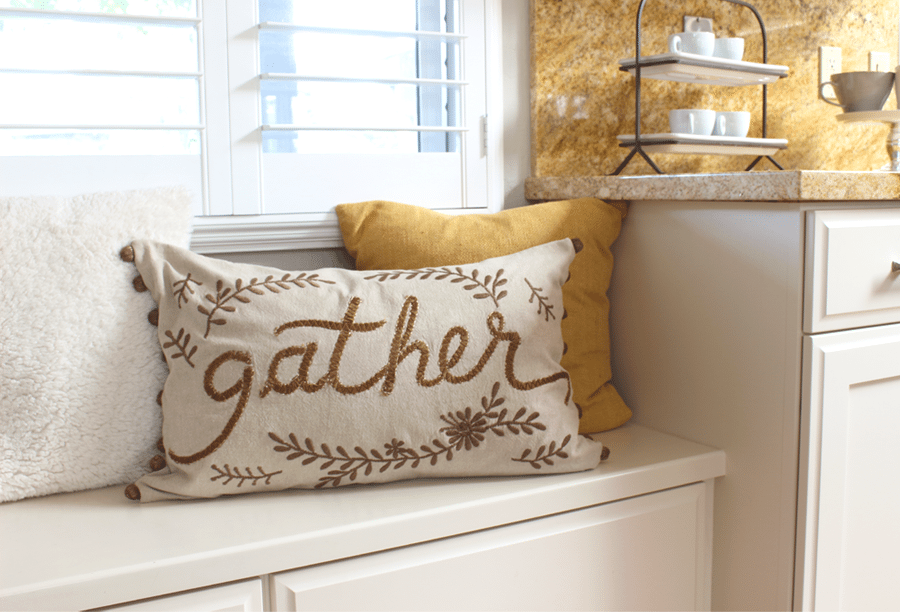 Pottery Barn has definitely added some nice touches to their line this fall. This Gather pillow has the feel of their new Autumn products that are just charming!
Doesn't it look like an heirloom pillow? There is a whole generation that probably doesn't even know how to embroider. Do you remember embroidering your jeans?
Ok, now I'm dating myself.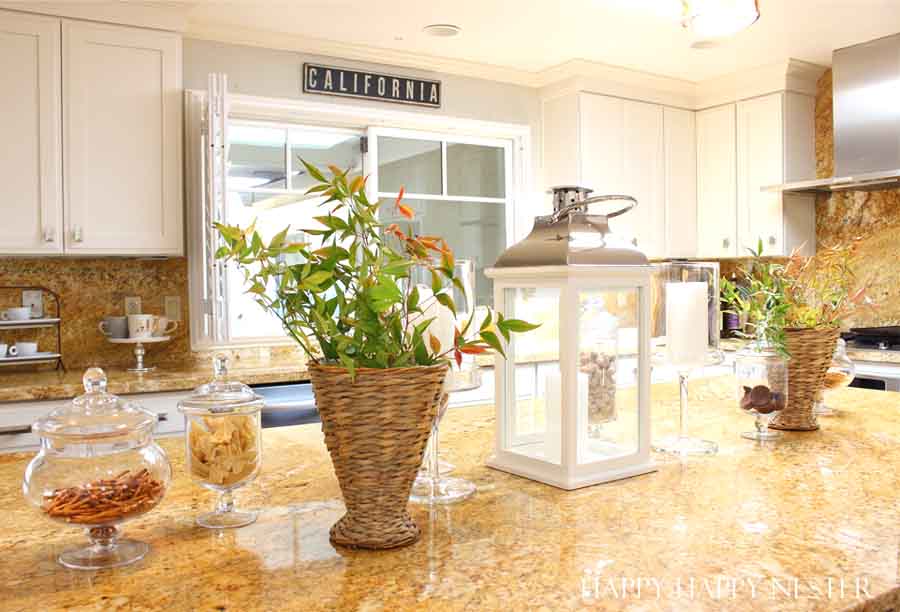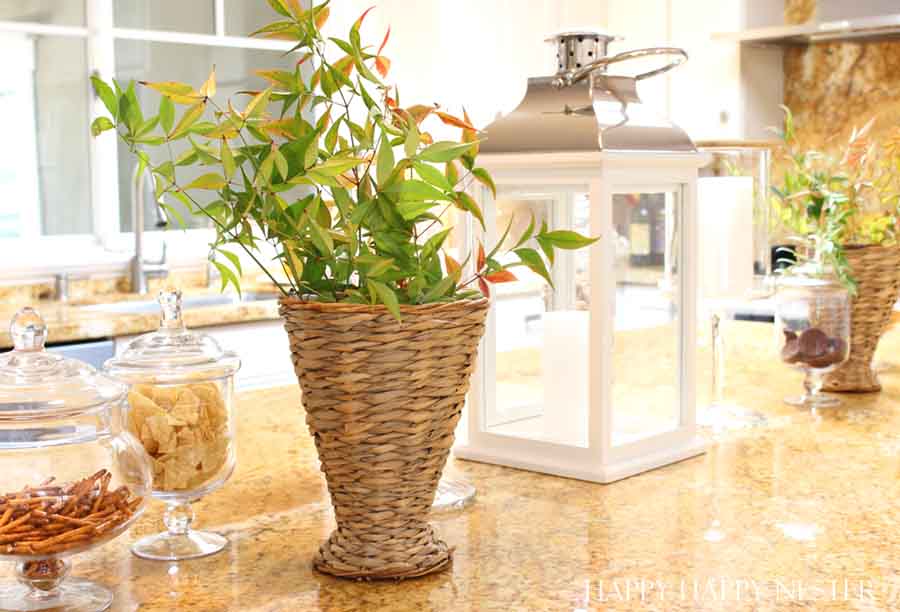 Our Fall Living Room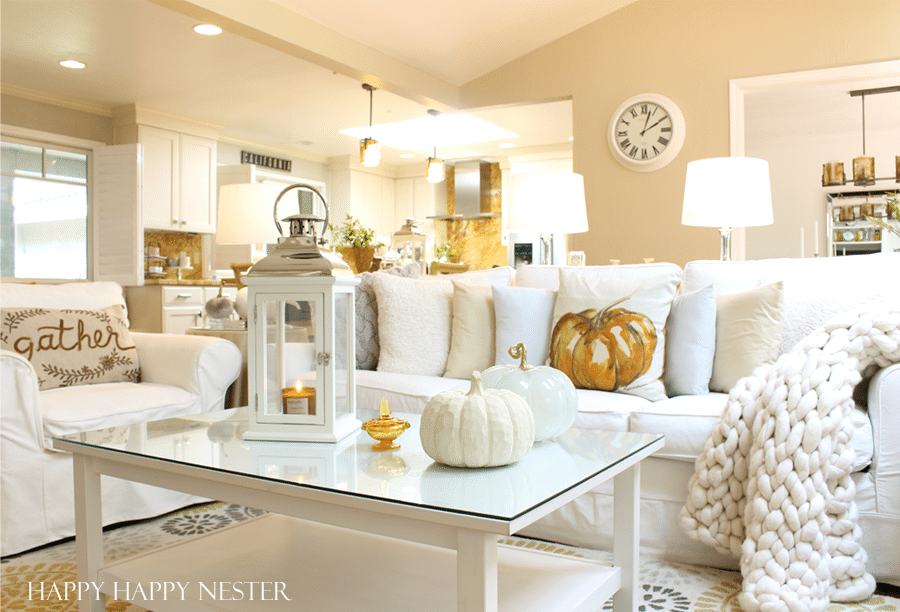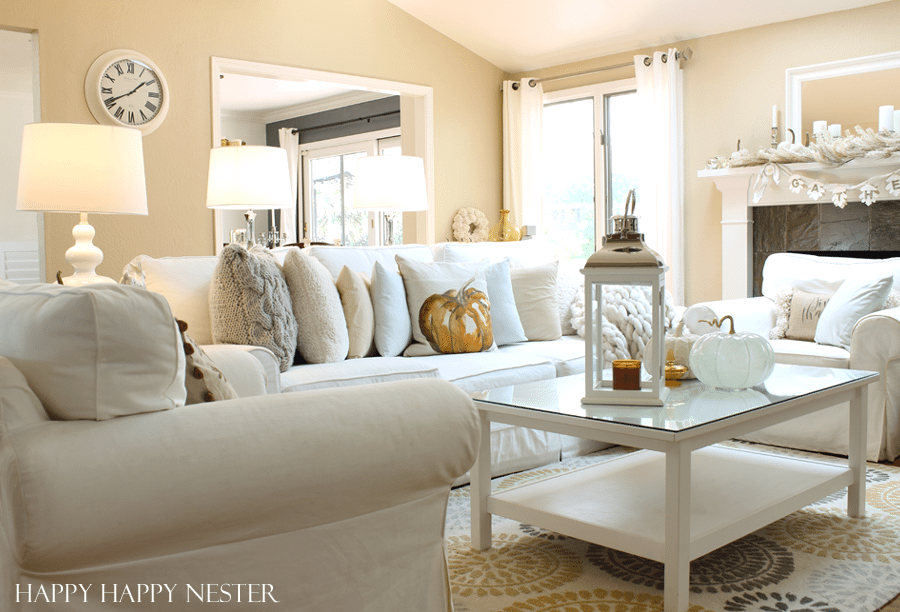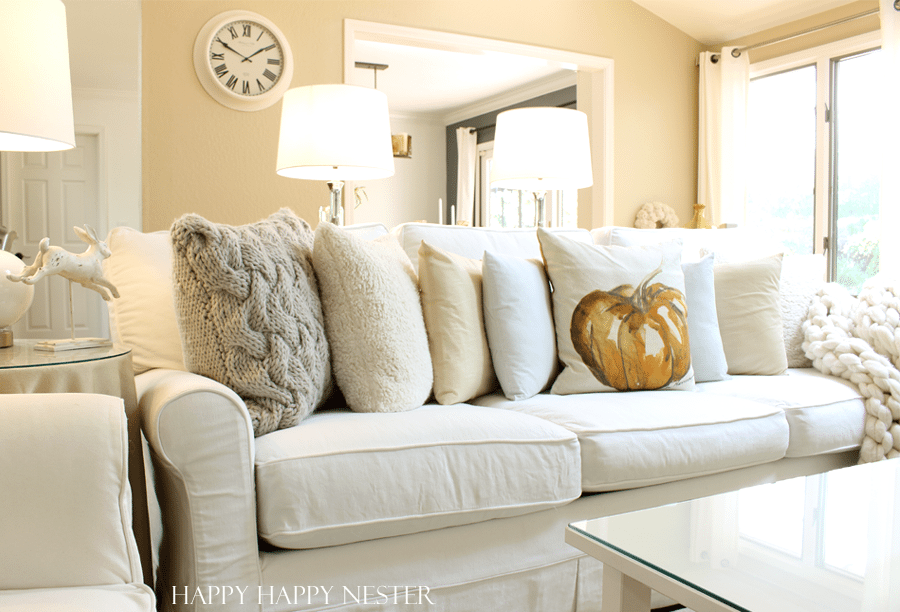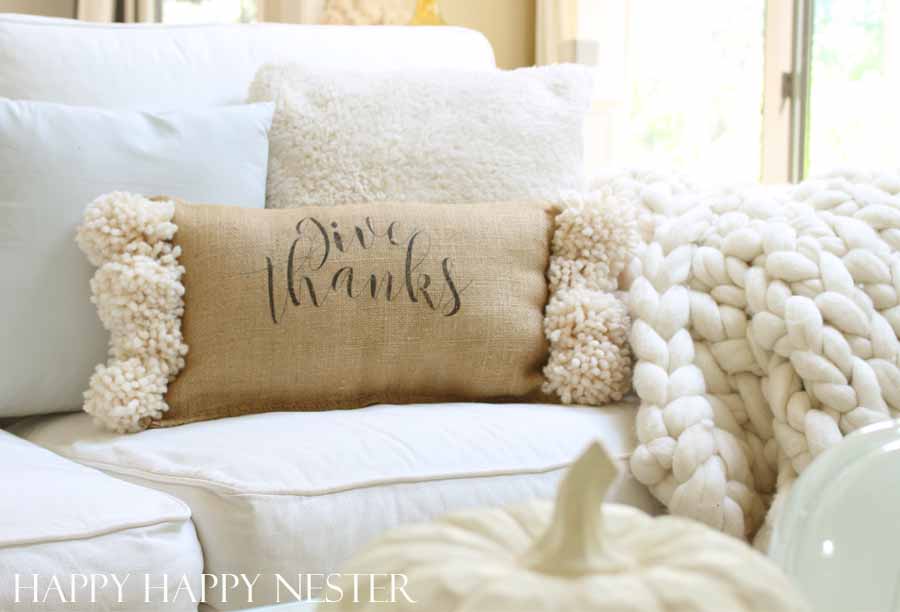 I arm knitted this great wool blanket and the DIY is so fun. If you aren't up for making one, Larissa at BeCozi sells her gorgeous blankets for $78.
This is a great price, don't you think? Here is the link: Wool Blanket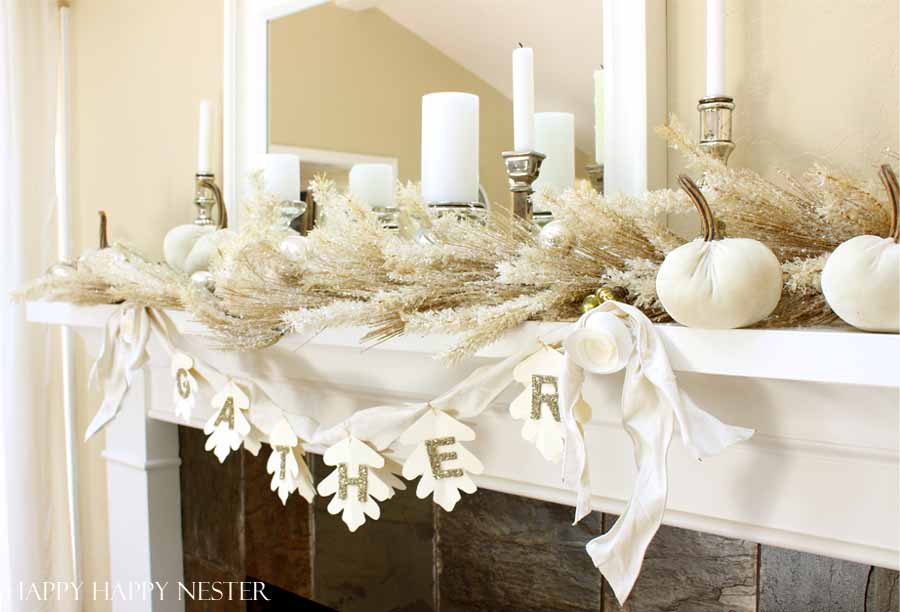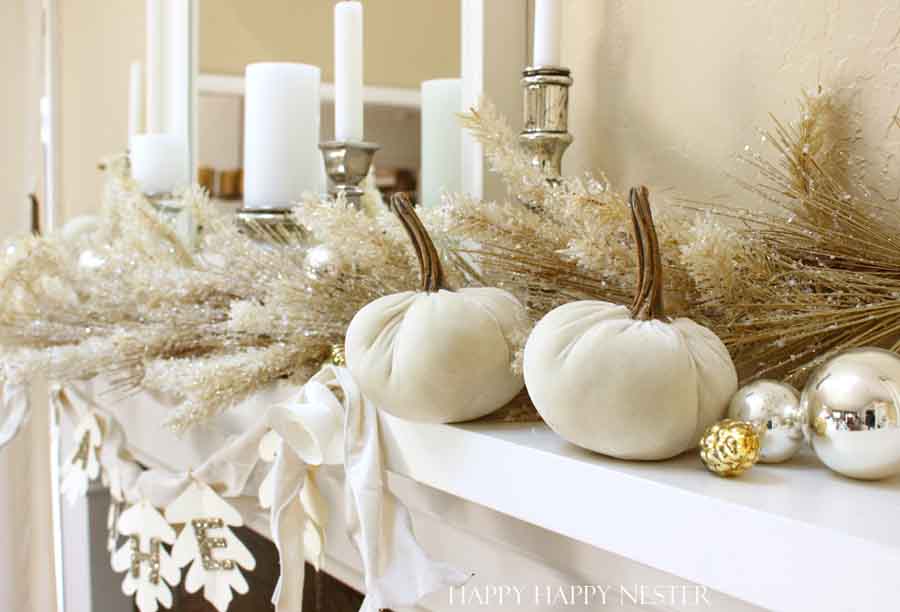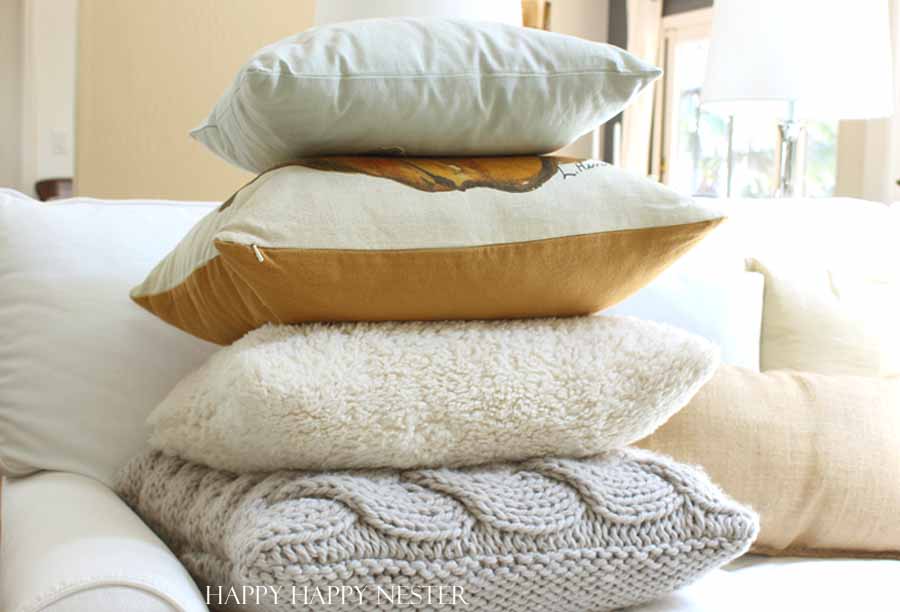 This is just a teeny portion of my throw pillows. The funny thing is that I LOVE every single pillow that I own! I could be known as "The Pillow Lady" and please don't tell my family about this little quirk.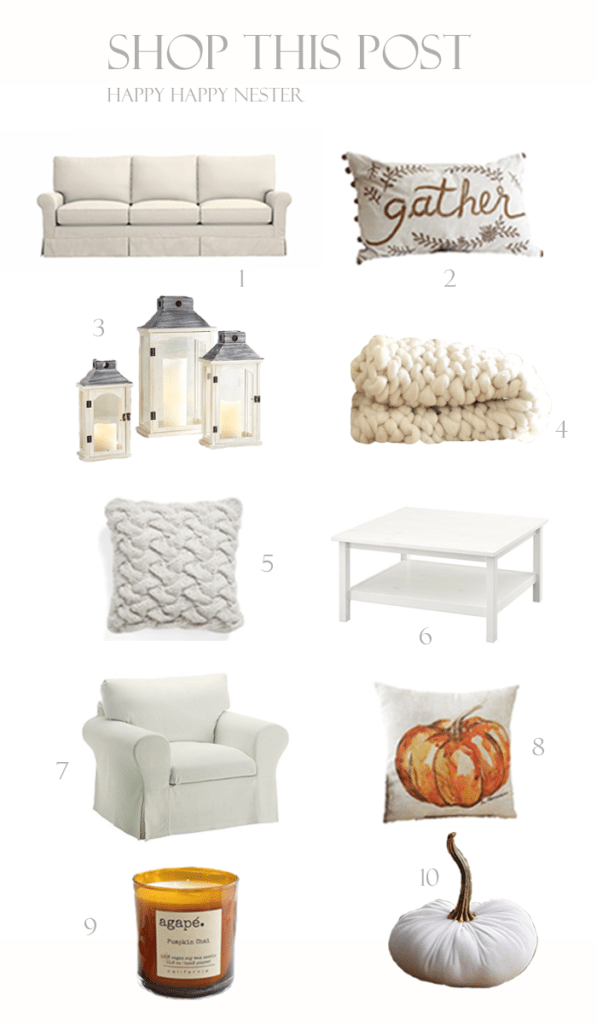 1. Crate and Barrel Sofa | 2. Gather Pillow
3. White Lanterns | 4. Chunky Wool Blanket
5. Basketweave Pillow | 6. Ikea Coffe Table
7. Slipcover Chair | 8. Watercolor Pumpkin Pillow
9. Agape Pumpkin Chai Candle | 10. White Velvet Pumpkin
So, the weather has been a bit warm around here and just today it is finally cooling down. Now my family and I can enjoy my fall decor with my multitude of pillows and blankets.
I'm so looking forward to snuggling up to my blankets and pillows and everything that makes it a cozy autumn and winter.
Now, off to my friend, Mysha's from Remington Ave. I can't wait to say, hi to Mysha and see her beautiful fall decor. She recently painted her floor with a Spanish styled design and it is outrageous, some day I would love to tackle her project. So, when you go to visit her, make sure to say, hi to her and check out this post too!
Cheers,

Fall Home Tour
Happy Happy Nester – Janine
Remington Avenue – Mysha
Maison de Cinq – Sheila
Simple Cozy Charm – Martha
Meme Hill – Amie
Designs by Laila – Laila
I Don't Know How She Does It – Gloribell
2 Ladies and a Chair – Joan
The Design Twins – Jodie and Julie
Citrine Living – Tamara
Lindsay Hill Interiors – Kathleen
Modern Glam Home – Ashley
Crazy Chic Design – Amy
Styled with Lace – Kim and Lacey
Summer Adams – Summer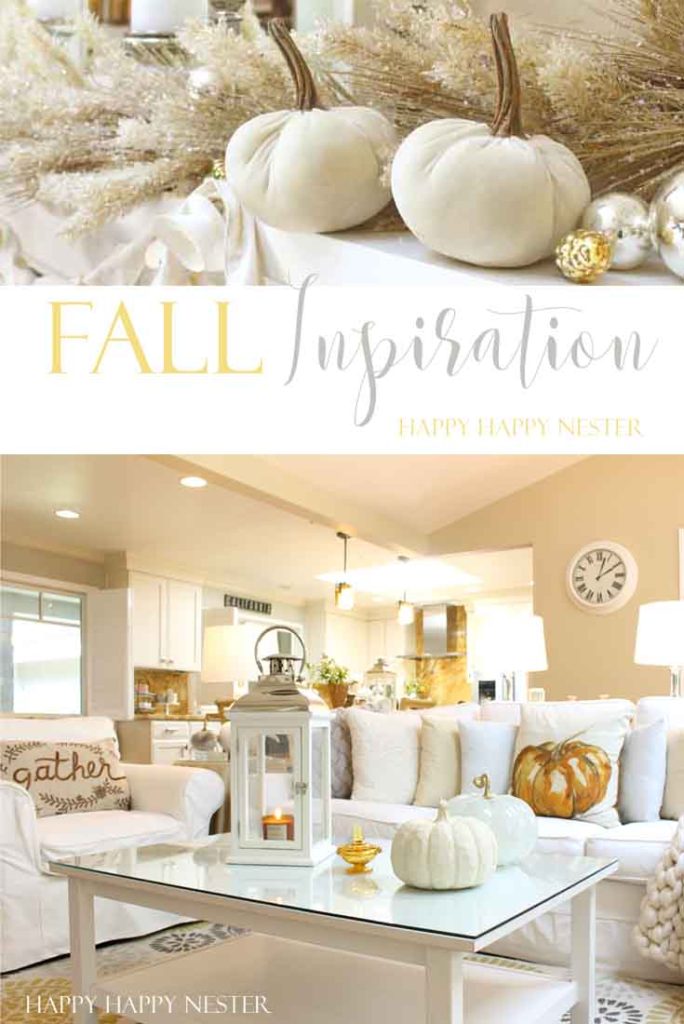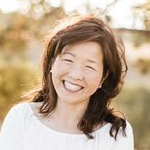 Latest posts by Janine Waite
(see all)