So, let's chat about these Best Gluten Free Salads. Trust me. They're easy, healthy, and simple to whip up!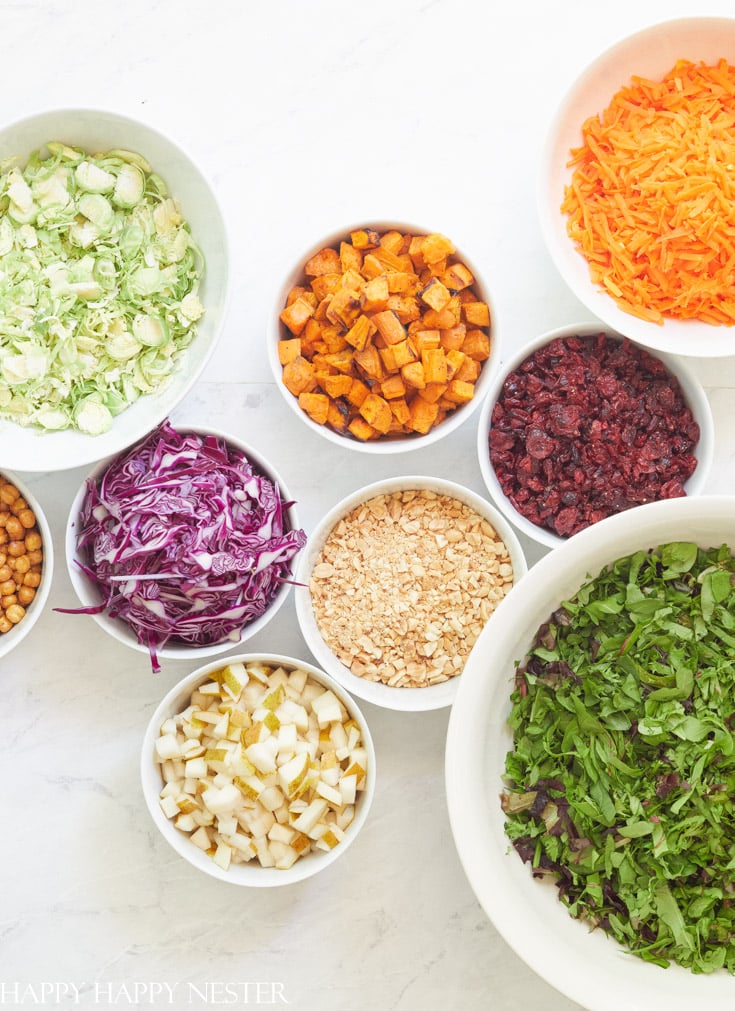 First off, let's tackle the "easy" part. Come on, who's got time for complicated recipes?
These salads are like your best buddy on a busy day – they're quick to make and won't leave you feeling like you just completed a marathon in the kitchen.
Now, onto the "healthy" aspect. We all know the struggle of wanting to eat good stuff without sacrificing flavor.
Well, guess what? Gluten-free salads have got your back. Packed with fresh veggies, lean proteins, and maybe a sprinkle of nuts or seeds for that extra crunch, these salads are like a party for your taste buds and body.
And let's not forget the "simple" factor—no need to be a master chef here.
You don't need a kitchen full of fancy gadgets or rare ingredients that are harder to find than a unicorn.
You can throw together a delicious gluten-free salad and a nutritional powerhouse with a handful of essential, wholesome ingredients.
Oh, and the best part? I've got a whole bunch of these gluten-free salad recipes waiting for you on my blog.
It's like a treasure trove of awesomeness waiting for you, your pals, and your family to dive into.
So, instead of just reading about it, why not give them a shot?
You'll be amazed at how something so simple can taste incredible and do your body so much good.
Saturday Chitchat with Janine – Volume 131
First off, let's talk about why gluten-free salads are the bomb. Who doesn't love a plate full of fresh, crunchy veggies?
It's like a party for your taste buds. And when you toss in some grilled chicken, chickpeas, or maybe even some quinoa, you're turning that salad into a hearty meal that sticks with you.
But here's the real magic: the gluten-free part. I understand that gluten can be a sneaky little troublemaker, especially for sensitive or allergic folks.
And you know what's even cooler? Sharing this gluten-free goodness with my daughter. She's on that gluten-free journey, and let me tell you, finding foods that she loves and can eat without worries is like striking gold.
Gluten-free salads have become our mother-daughter bonding food. We chop, toss, and mix up these unique creations together. It's not just about the food. It's about the memories we're making.
So, gluten-free salads are our go-to whether we're making a quick lunch, a fancy dinner, or need a snack that won't let us down.
They're like a canvas of creativity – endless possibilities, endless flavors.
And the fact that they're not only tasty but also align with our dietary needs? That's a win-win right there!
Personal Note from Janine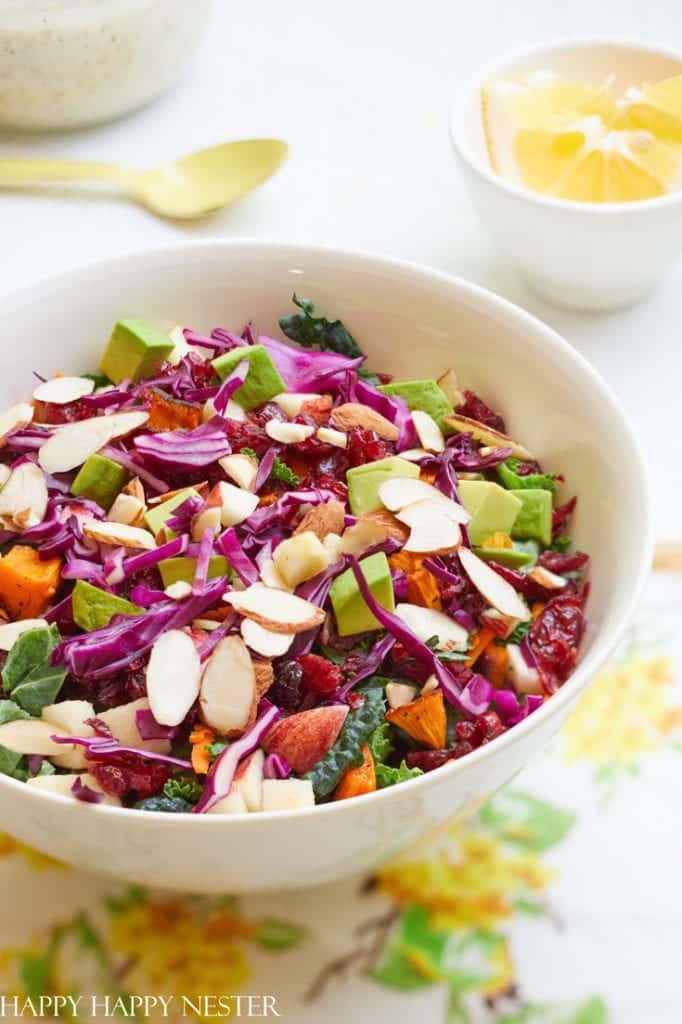 My husband and I are big fans of cooking and baking together. Do you know what we enjoy making? A huge, hearty bowl of salad.
But here's the funny part – sometimes we get so carried away that even after piling our plates high with salad, we still end up with many leftovers. It's like our salad-making enthusiasm knows no bounds!
We're all about tossing unexpected ingredients into our salads, like shredded turnips, sun artichokes, and other surprises. So why not let your creativity loose and whip up a delicious and nutritious salad this weekend?
Our daily goal is to devour a generous helping of greens. That's why you'll find more of our salad recipes coming your way right here on the website. So stay tuned!
Cheers,

This Week's Inspiration – Best Gluten Free Salads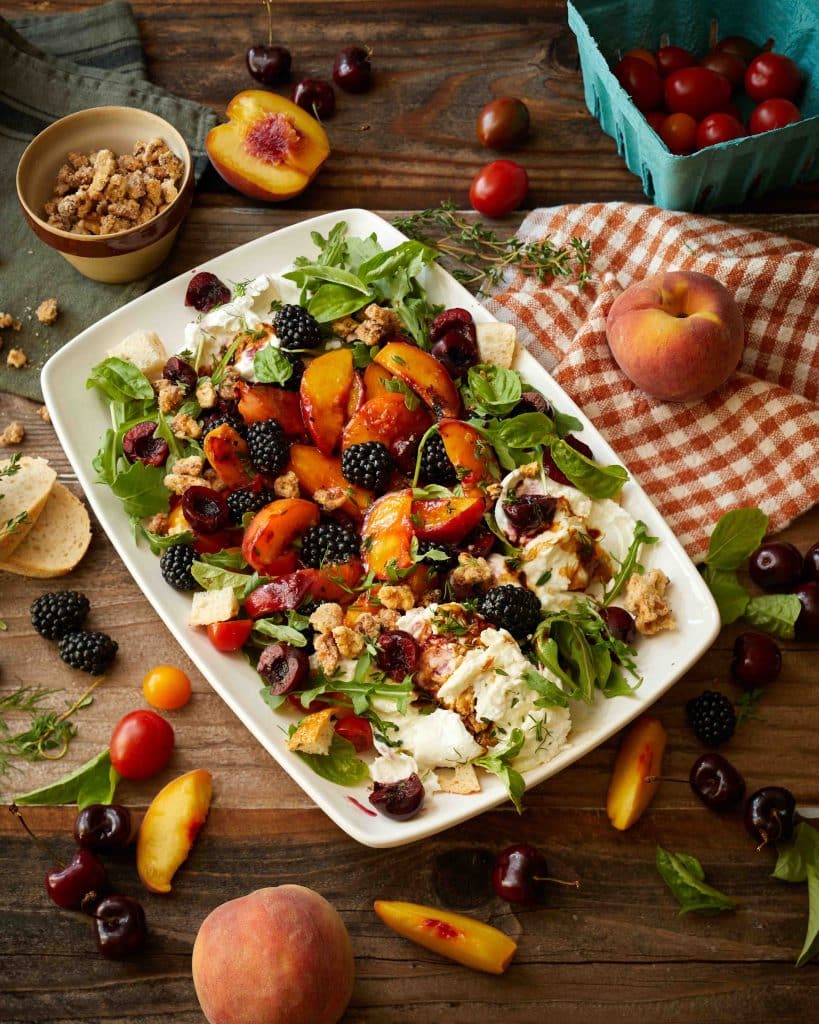 Here's an easy summer Grilled Stone Fruit Salad Recipe. This delightful fruit salad is a fusion of juicy grilled peaches and a variety of summer fruits loaded with berries, cherries, and more.
This fruit salad with a twist is topped off with creamy burrata cheese and drizzled with sweet honey.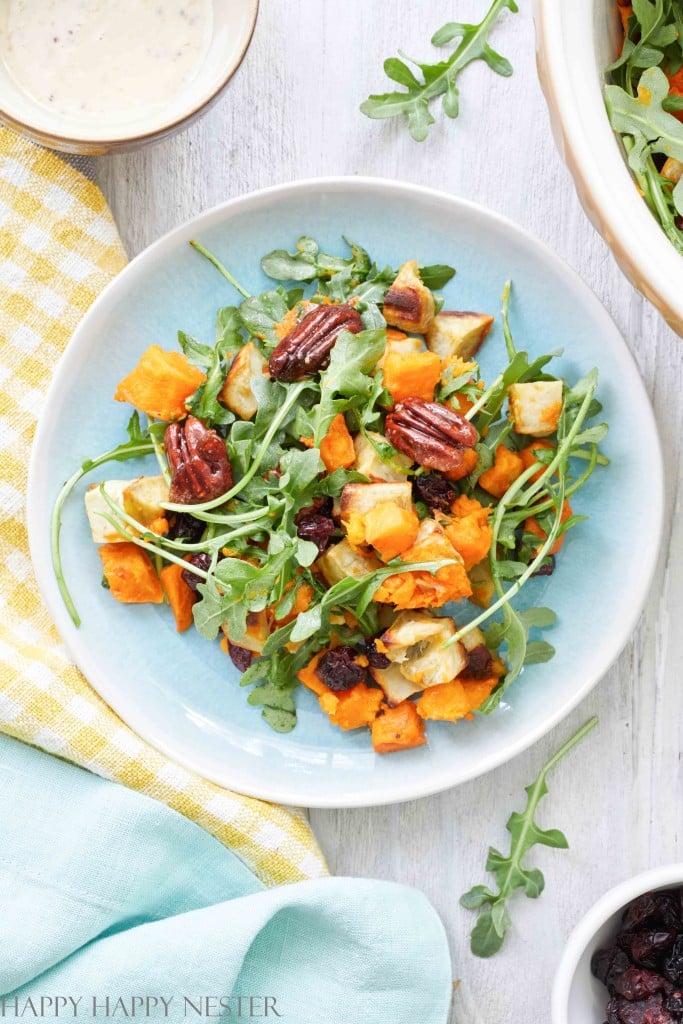 Cold Sweet Potato Salad Recipe
Are you tired of the same old potato salad recipe you bring to every summer gathering? It's time to switch things up with a surprising twist: sweet potato salad.
Yes, you read that right. This underrated root vegetable adds a unique and delicious flavor to a classic dish. Whether you're a sweet potato lover or skeptic, this recipe will change your mind.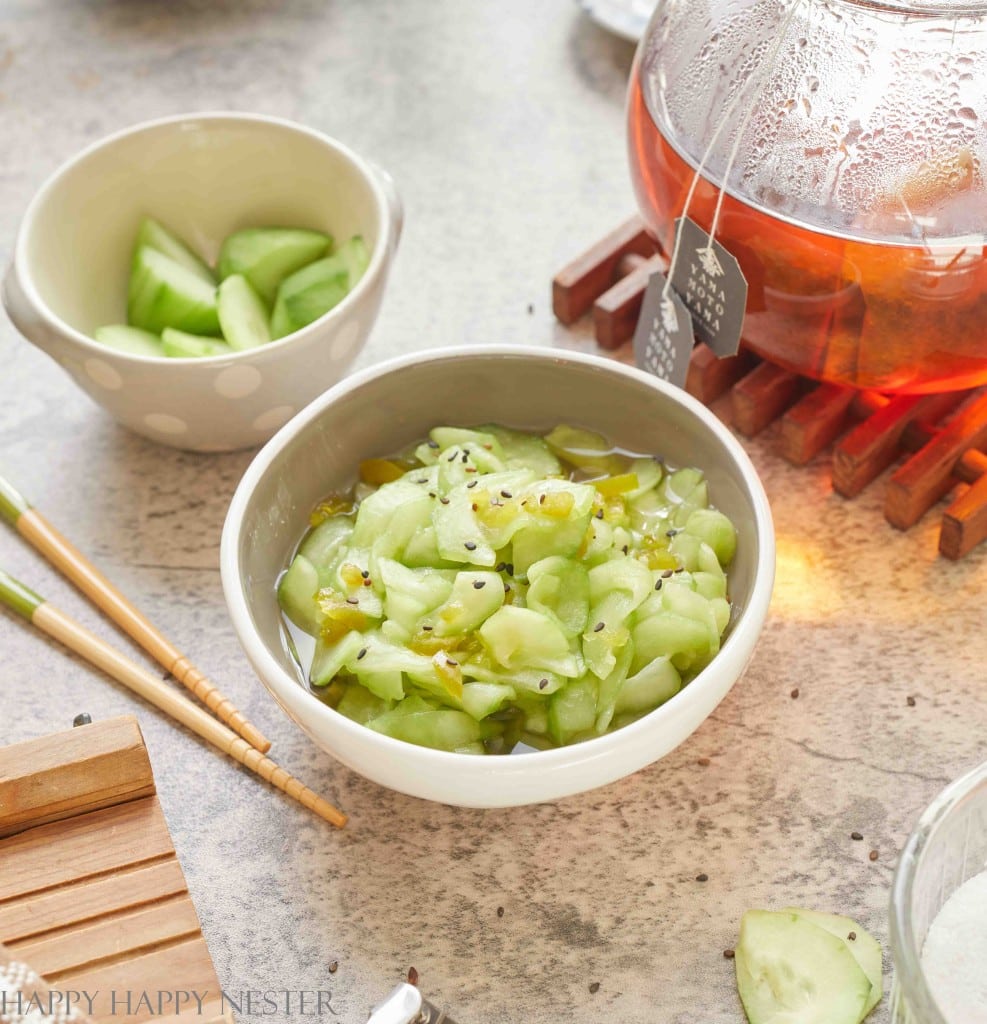 Japanese Cucumber Salad Recipe
My mom has made this Japanese Cucumber Salad Recipe for years, and I love the tang from the vinegar and the sweetness and saltiness.
This is the salad served in Japanese restaurants that is usually a delicious side dish in your bento box.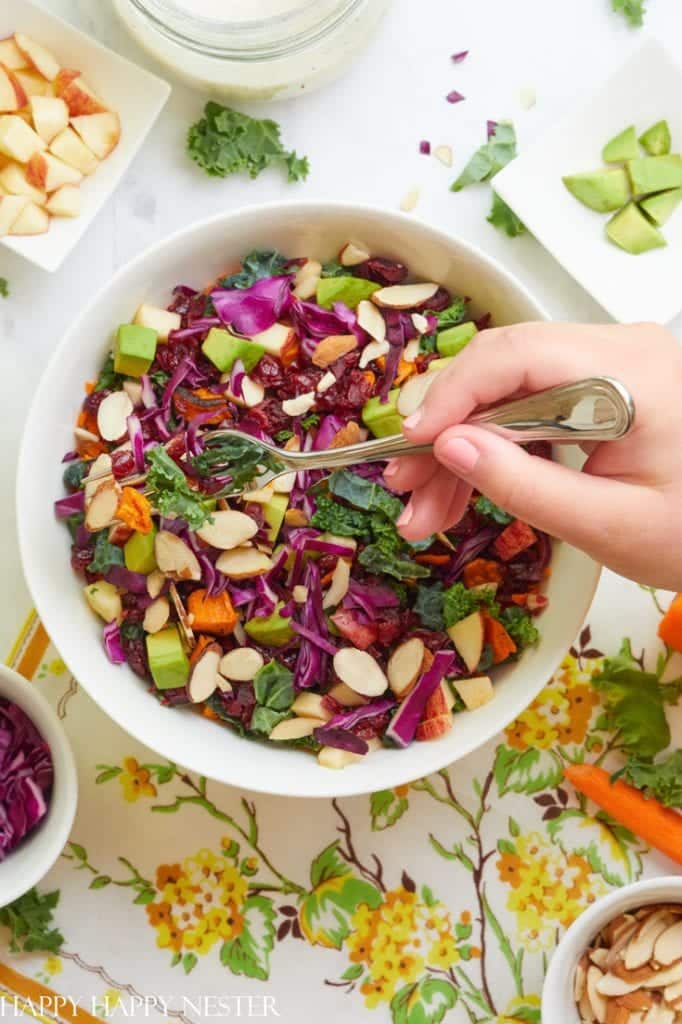 My husband created the Best Kale Salad Recipe. This salad has dried cranberries, nuts, red cabbage, and more.
It's topped with a creamy coleslaw dressing that combines well with the chopped vegetables and fruit.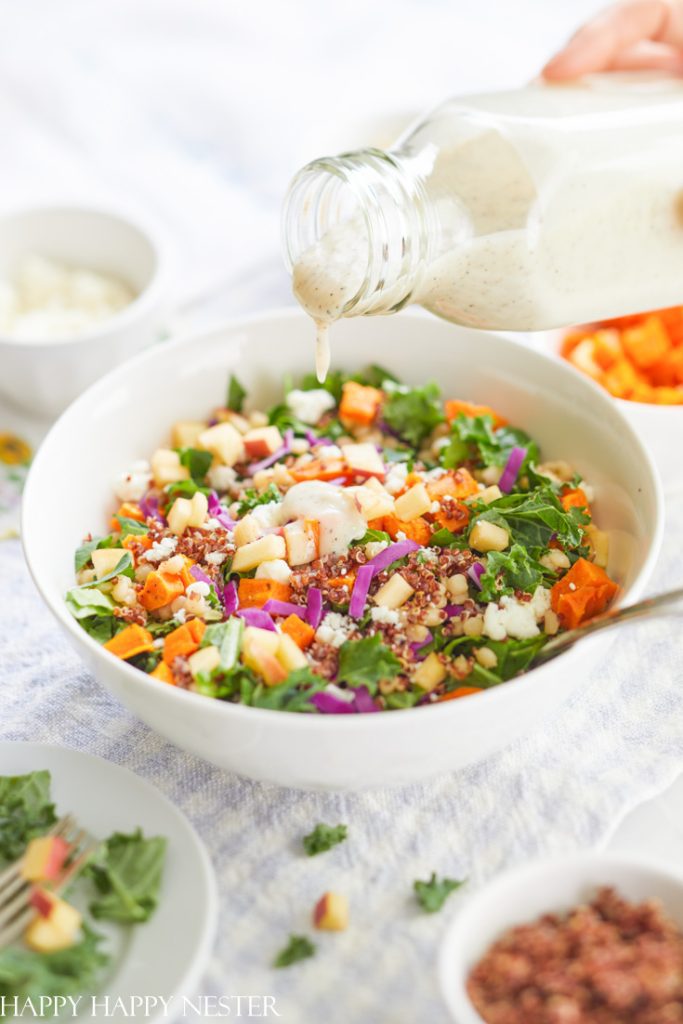 Couscous and Sweet Potato Salad
I love a healthy salad, and this Couscous and Sweet Potato Salad Recipe is one of my favorites!
We add some grilled protein on the side and make this salad our meal. The roasted sweet potatoes are yummy, and it pairs so nicely with the kale!
To make this recipe GF, don't add couscous!
Boutique of the Week – Anthropologie Chair Dupes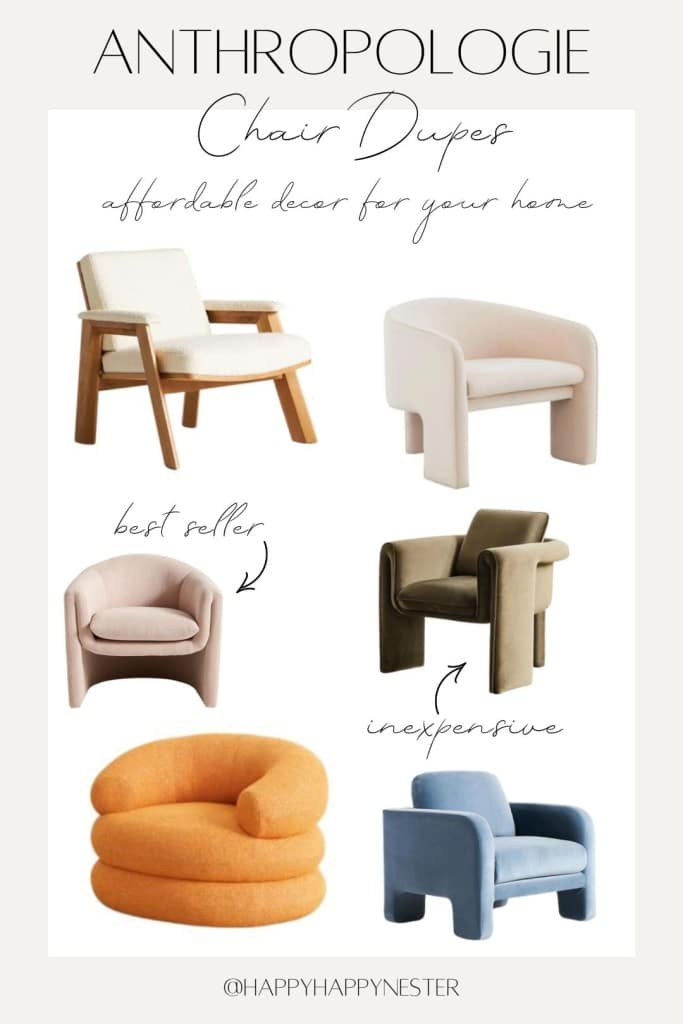 Hey there! I found these super cool Anthropologie Chair Dupes online that looks like the real deal but cost way less!
You can get that boho-chic, artsy, and cozy vibe in your home without sacrificing your life savings. That's a win-win, right there!
My Favorite Things – Best Gluten Free Salads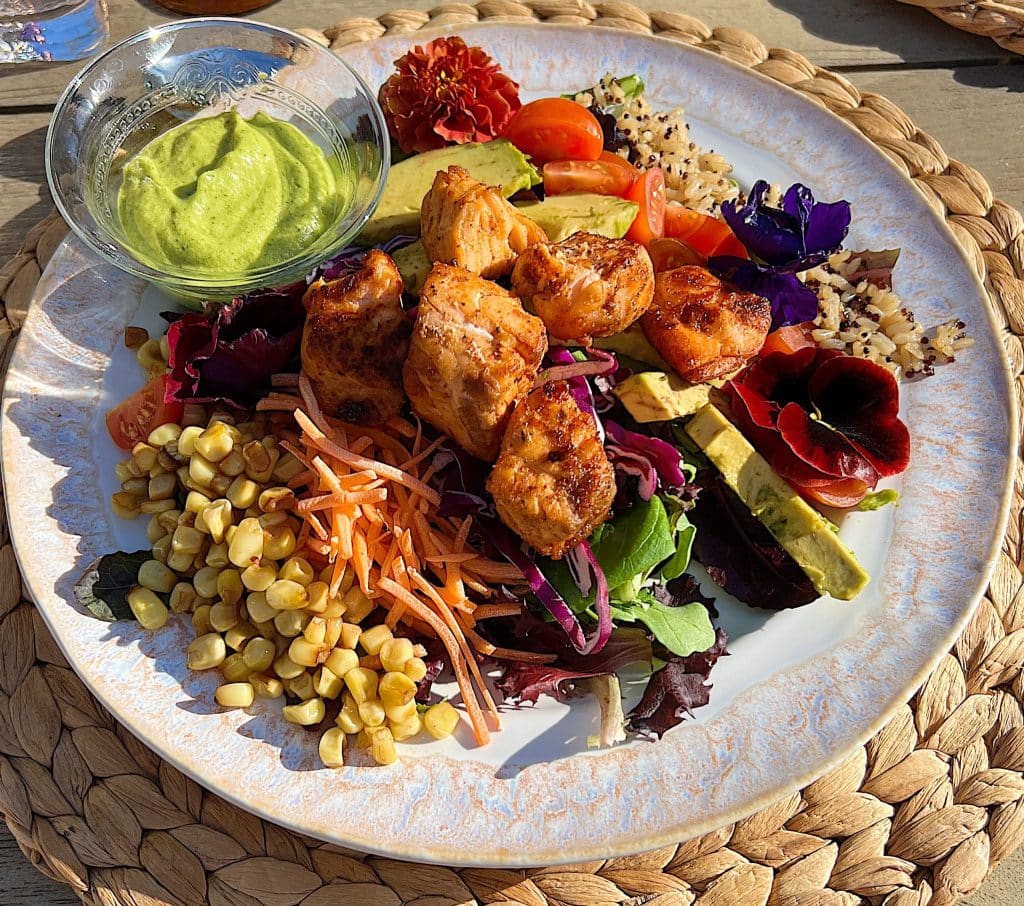 Spring Salad Recipe with Spiced Rubbed Salmon
This is one of my favorites, spring salad with spice-rubbed salmon! Create this "spring" salad into the fall season with my friend, Leslie.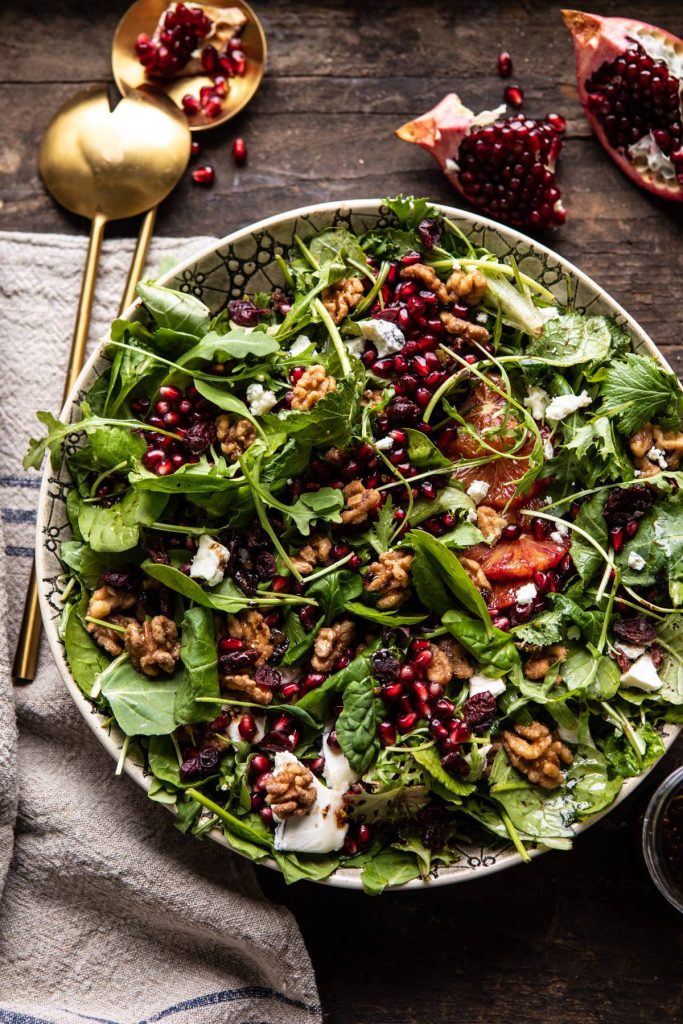 Winter Salad with Maple Candied Walnuts
This Winter Pomegranate Salad with Maple Candied Walnuts and Balsamic Fig Vinaigrette is my go-to "house" salad. Put together this masterpiece with Tieghan!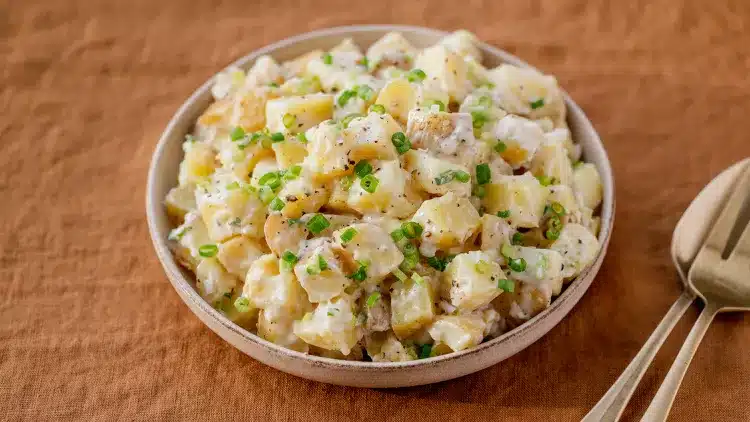 This easy, classic potato salad recipe will be your new summer staple at cookouts and family dinners. Make today with Martha Stewart.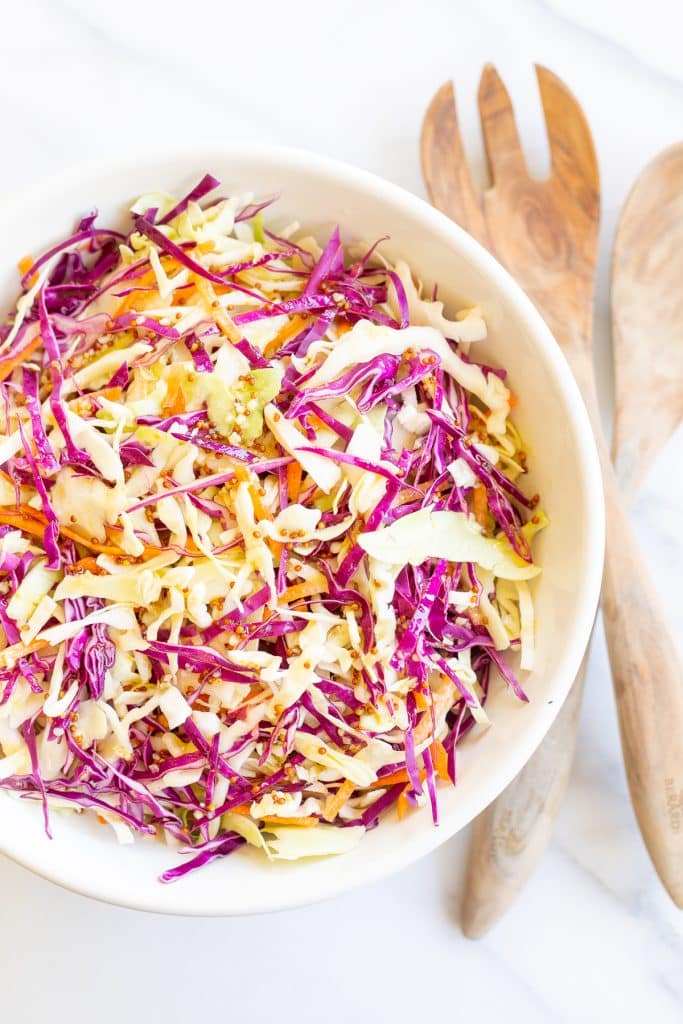 This delicious, refreshing cabbage salad recipe is the perfect choice for potlucks, barbecues and so much more.
Learn the secrets to creating this salad with Julie!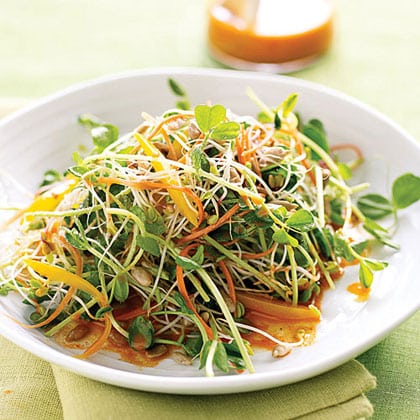 Spice Sunflower Salad with Carrot Dressing
Spring sprouts, such as sunflower sprouts, give salads a peppery bite. Create this delicious recipe with Sunset Magazine!
What's Trending On The Blog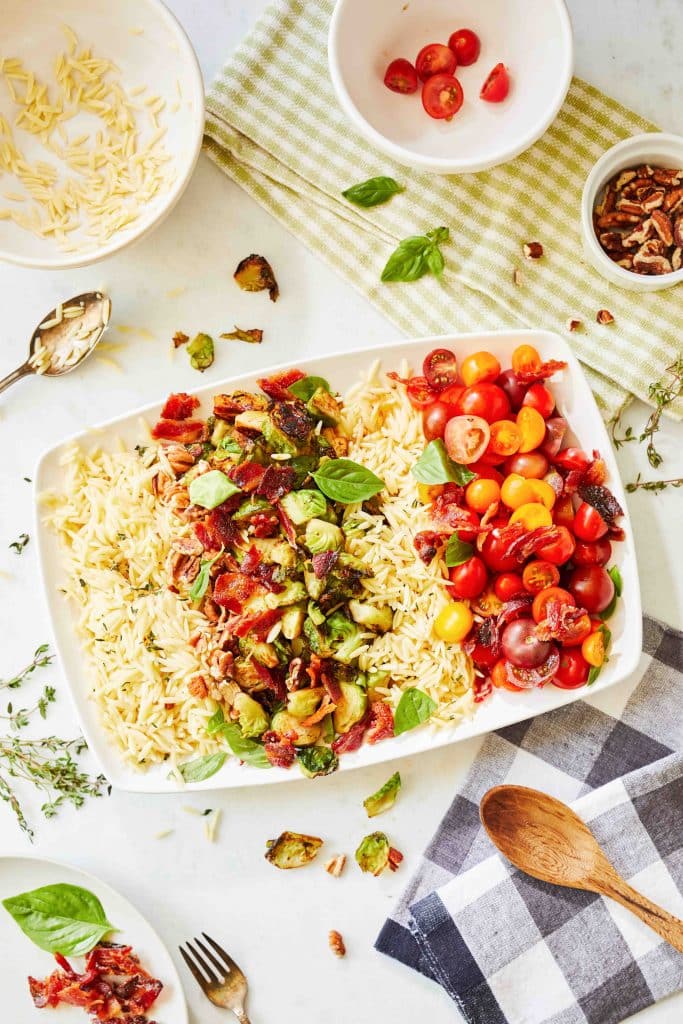 This Warm Brussel Sprout Salad recipe is seriously delicious! It's got brussels sprouts, creamy avocado, your favorite GF pasta, a drizzle of maple syrup, a dash of cognac, and, the best part, candied bacon.
These flavors come together so perfectly. Whether you want a side dish or a warm salad, this one's a keeper!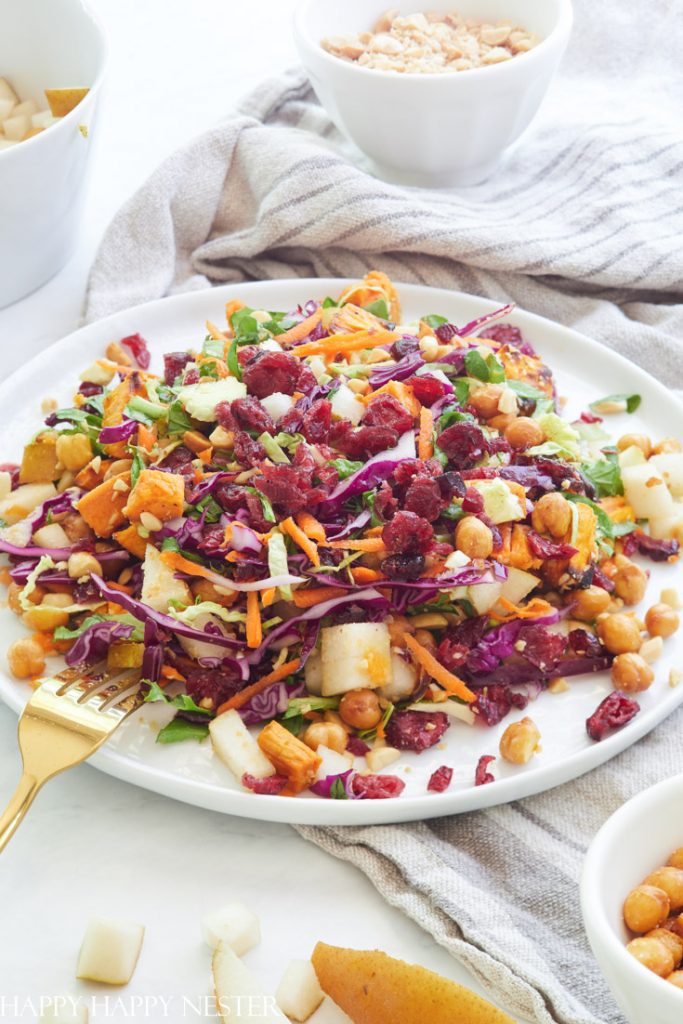 I love cranberries, and when paired with a chopped salad, the results are delicious.
This salad is easy to throw together, and it's colorful, healthy, and hearty. It's a Harvest Salad that will delight your family and friends!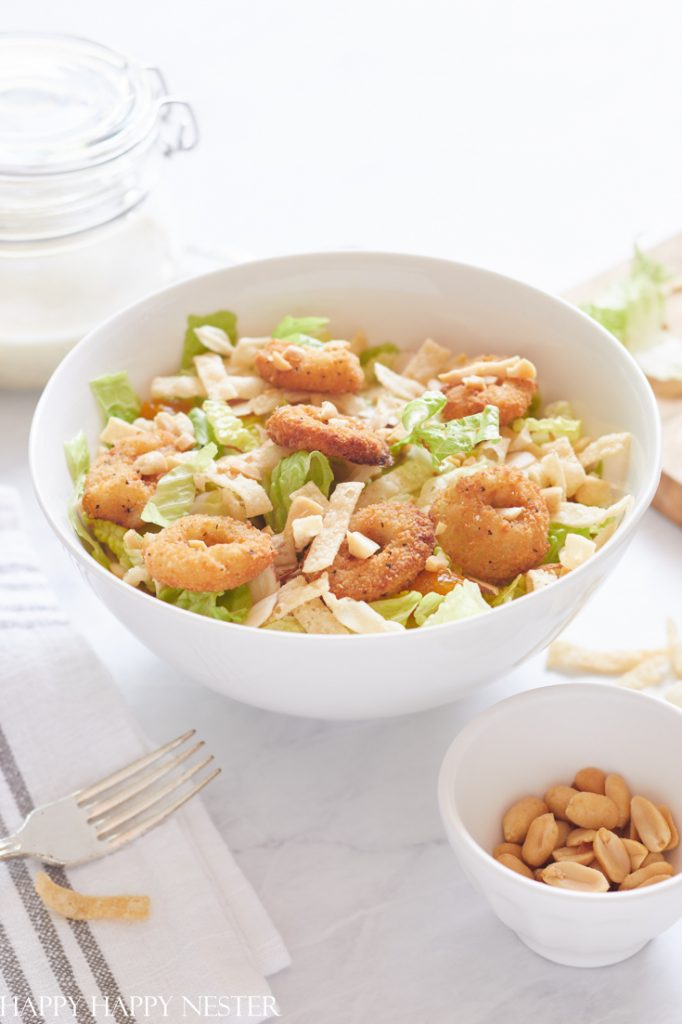 Try this super easy-to-make Crispy Calamari Salad recipe.
Add GF wonton salad strips and pre-made breaded GF calamari, and you have a light salad. The results of all my experimenting are this simple salad recipe that I'm sharing with you today!
This Week's Tip – Homemade Dressing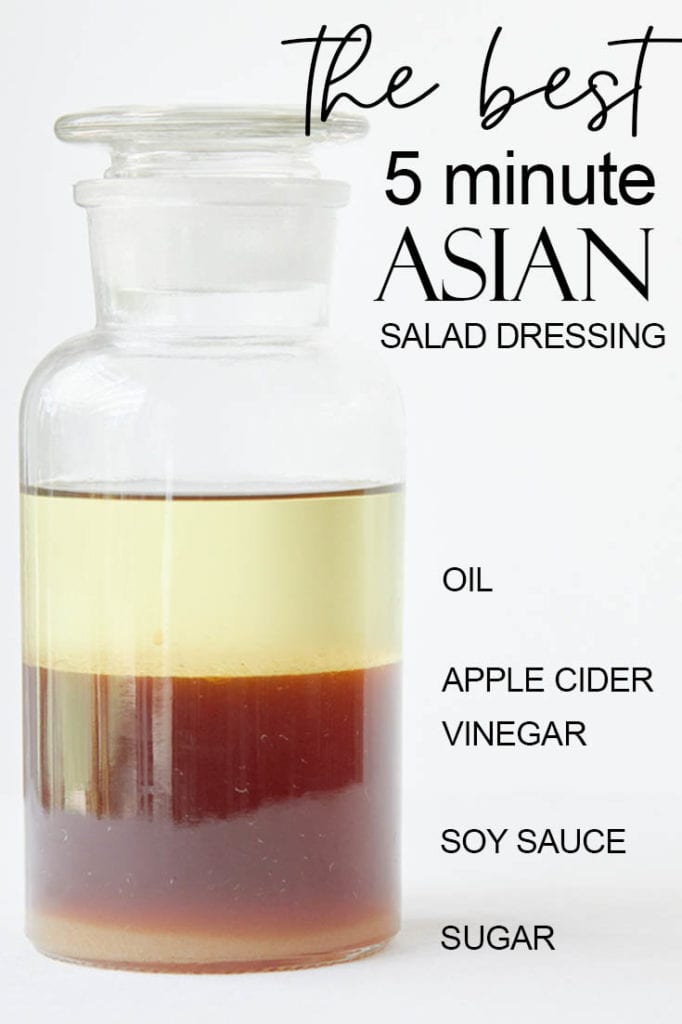 My husband loves this easy homemade dressing. It only has four ingredients, and you probably have them in your kitchen cupboards.
The secret to nailing this dressing is using finely granulated sugar. I used to go for coarse organic sugar, but it wouldn't blend smoothly with the oil.
This dressing is a staple for us, and we're really into its flavor and how effortlessly it is to make.
Here's the link to the recipe: Asian Salad Dressing
Latest Obsession – Cookbooks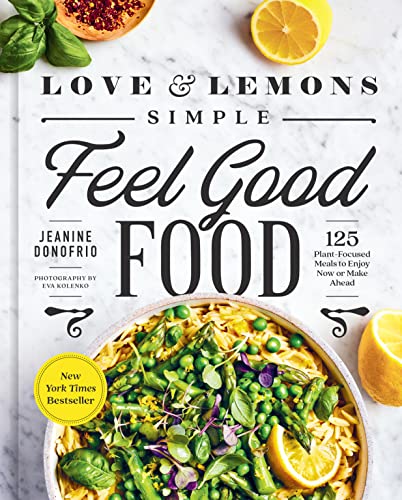 Great Cookbooks
I've got this major thing for collecting cookbooks.
They're my go-to for inspiration when whipping up dinners feels boring.
Are you into the whole cookbook library scene too?
I just bought a couple that I'm excited about sharing.
I'm obsessed with Maegan Brown's Spectacular Spreads. It's packed with brilliant ideas for seasonal get-togethers.
And Love and Lemons cookbook is an absolute gem. I love how Jeanine shares many healthy recipes with so many creative choices.
---
Hey, there, sweet friend,
There you have it.
Easy, healthy, and simple – that's the name of the game for these gluten-free salads.
Dive into my blog, snag those recipes, and get ready to rock the salad bowl like a true champ!
Cheers,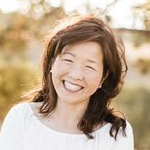 Latest posts by Janine Waite
(see all)