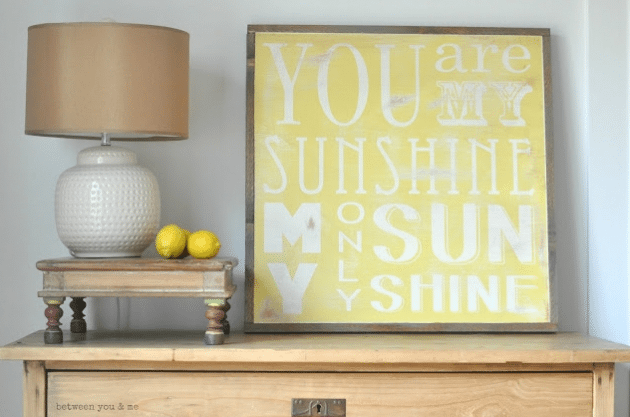 We Love Between You and Me Signs
Love
Pretty Girls are the Happiest Girls
Do Justice – Love Mercy – Walk Humbly
Home is Wherever I am
with You
These are just a few of the words and sayings on the beautiful handmade signs made by Between You and Me. Their company has over a hundred signs to choose from, and they offer a custom design option if you can't find the quote you are looking for. Wouldn't it be fun to create your own words or quote to meet your family,
business, or personal style on one of these gorgeous boards? I've been scrolling through their shop for months
now, making a wish list of all the signs
I need and want. I love the inspiring
and positive messages each sign holds. The next sign pictured is probably a favorite among most mothers!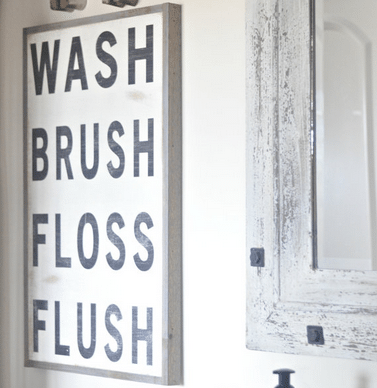 My boys need this cute reminder in their bathroom! Tara and Andy have created a wonderful business with products that are fresh and beautiful.
Between You and Me
was born when they felt a nudge to make decor for families and homes that bring a positive, uplifting
message in a beautiful way.
Tara and Andy say "Our family is our greatest work we will ever
accomplish. In the sweet and sour, we
have each other. Our signs are an
attempt to help other families accomplish their greatest work."
We are so happy to offer you a special 15% discount if you want to place an order at
Between You and Me
. Use the coupon code, HAPPYNESTER15 for you special price. This coupon is not valid on custom orders.
I had a chance to ask them a few questions and it was wonderful to have the opportunity to become more acquainted. The Happy Happy
Nester and I are excited to share this special interview with you. But, first we thought you might like to see a photo of Tara and Andy and their beautiful family. :o)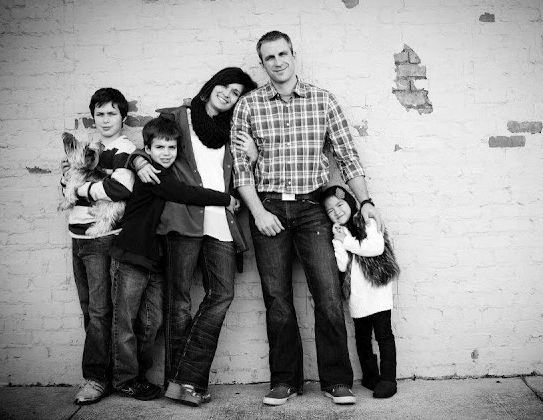 The interview:
HHN: What theme or quote inspired you to make signs for the home?
Tara: It all started a few years ago because we wanted to inspire our children with out family values. We wanted to speak into their lives the foundations that make our family unique. Words are vital, and we know that they have power to bless and bring life.
God promises that he will do immeasurably more than all we could ask or imagine, and we stand amazed that He would birth this business out of the dreams we had in our hearts for families. Andy has been a pastor for nearly 16 years, while I've been doing the hard work of being mom to our three kids. We are so honored that he would allow us to creatively work together doing something that we are so passionate about… families living out the mission that God has called them to.

HHN: What is your favorite saying on the signs that you make?
Tara: I wish it were that simple! I have a deep, genuine love for words that bring life and encourage. There are too many to count that mean something to me, which is why we have signs in nearly every room in our house! 🙂

HHN: What advice would you give other families who are trying to create a business together?
Tara: Andy and I say often that God granted us a dream we weren't even aware was in our hearts. I think when you're passionate about something, ANYTHING, God will often give you a platform, whether it's big or small. We are passionate for families and all that they represent. Somehow, that passion turned into a business. It happened organically for us, and honestly, neither of us think it could have happened any other way. I know that's opposite from the world's version of a business plan. As the business has grown, we've both stretched as business owners. We've learned everything we know from the ground up.

HHN: You use so many different fonts, do you have a favorite? (I love their mixed font medium).
Tara: We love a real simple, classic font because it's timeless, but we also love our new hand-lettered series. We commissioned a hand-lettering artist to do a few signs for us, and they are absolutely beautiful.

HHN: Do you have any quotes that bombed?
Tara: We haven't had any quotes or signs that have totally bombed, but we've had some that we just knew would be best sellers, and they never made it quite to that status. Likewise, we've had signs that we never thought would make it, and they've been the biggest hits!

HHN: Why did you pick cedar as the wood for the signs?
Tara: The boards that the signs are on aren't cedar, but the frames are. We really just did it for the texture.
HHN: How often do you change the signs in your own home? You must have so many choices, that would be fun!
Tara: We have our family rules sign that started the business, and we have a Ralph Waldo Emerson quote broken up into two signs, and we have a sign in each of our kids' rooms, and none of those have been changed out at all. I do switch up the sign that we have in our dining room. Right now, I have our "Love Grows Best" on a 2×2 square in there.

HHN: What's the farthest place you've shipped one of your signs to?
Tara: I think that would be Canada.
HHN: Do your children have a favorite sign?
I wouldn't say they have a favorite, but we love to go to our shop and see what other people create for their homes through customization. It's REALLY cool to see the quotes, music lyrics, and scriptures that mean something to our customers. We get emails regularly telling us that the story of their sign and what it means to their family.
So we at Happy Happy Nester would love to show you how beautiful our Between You and Me sign looks in the Nester's home!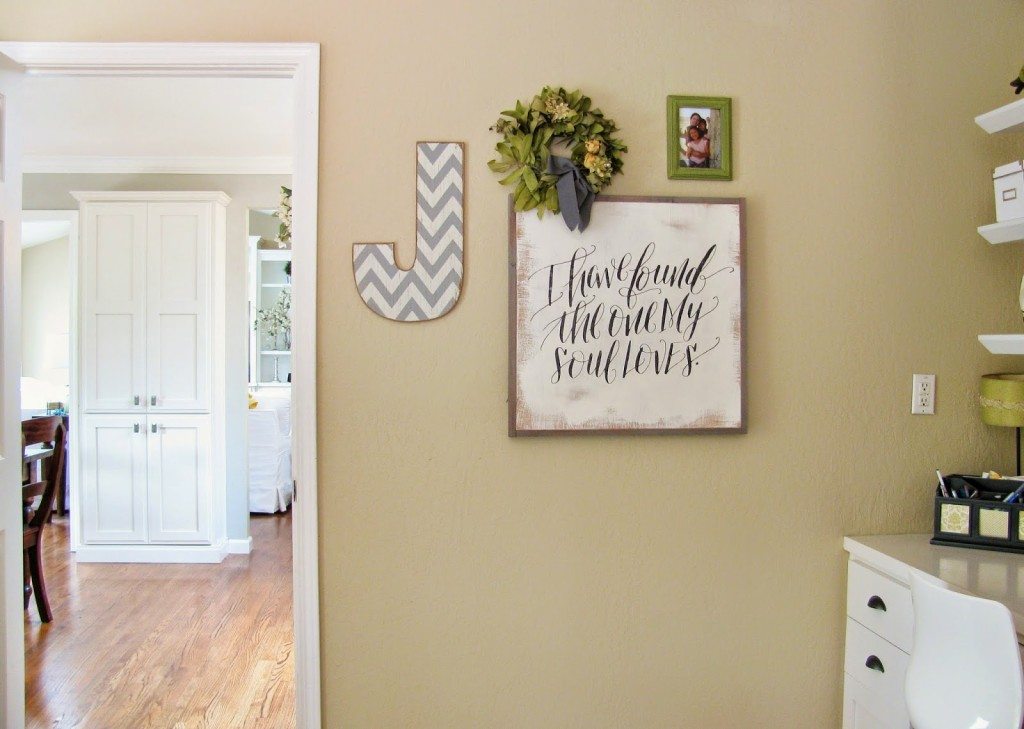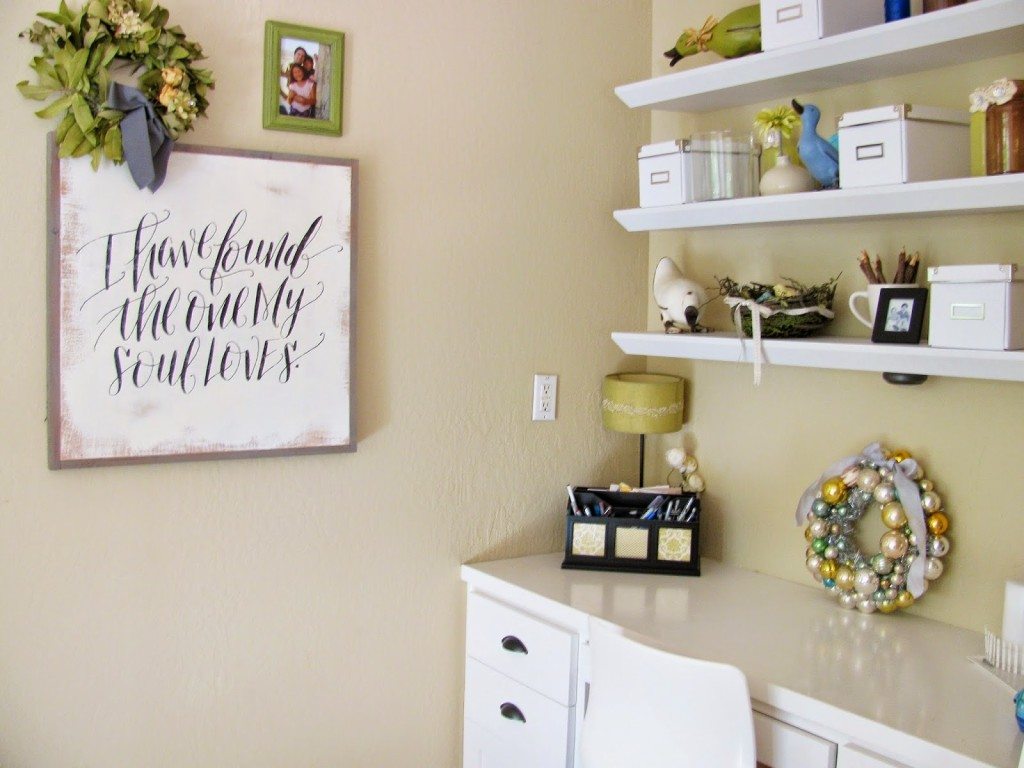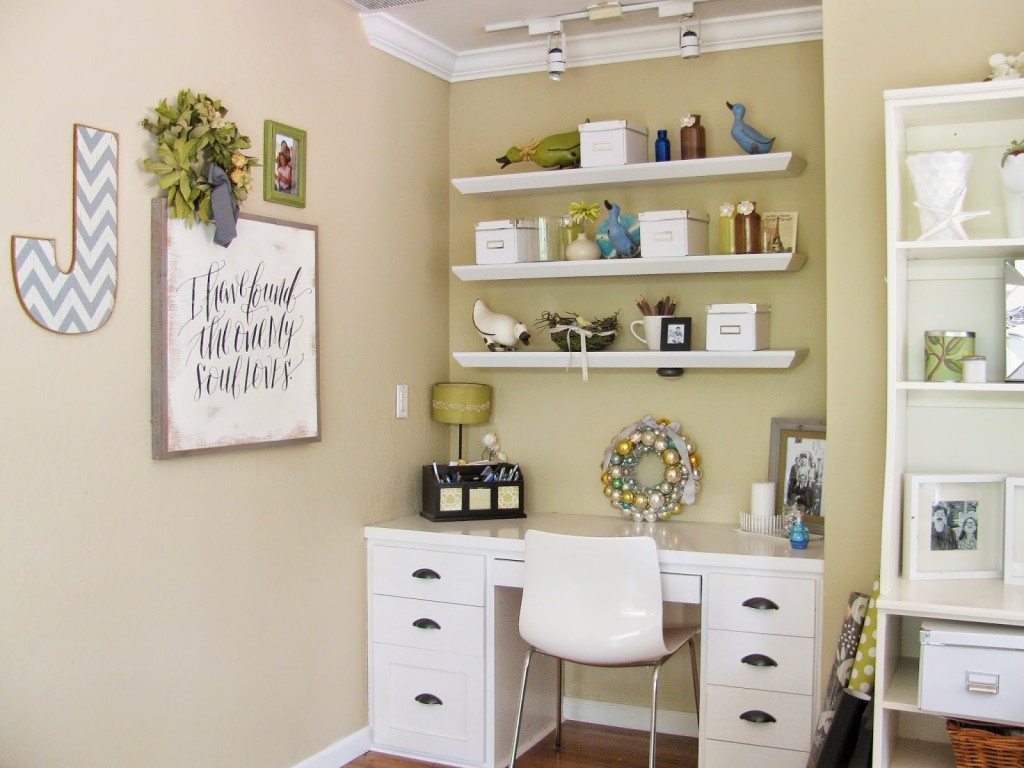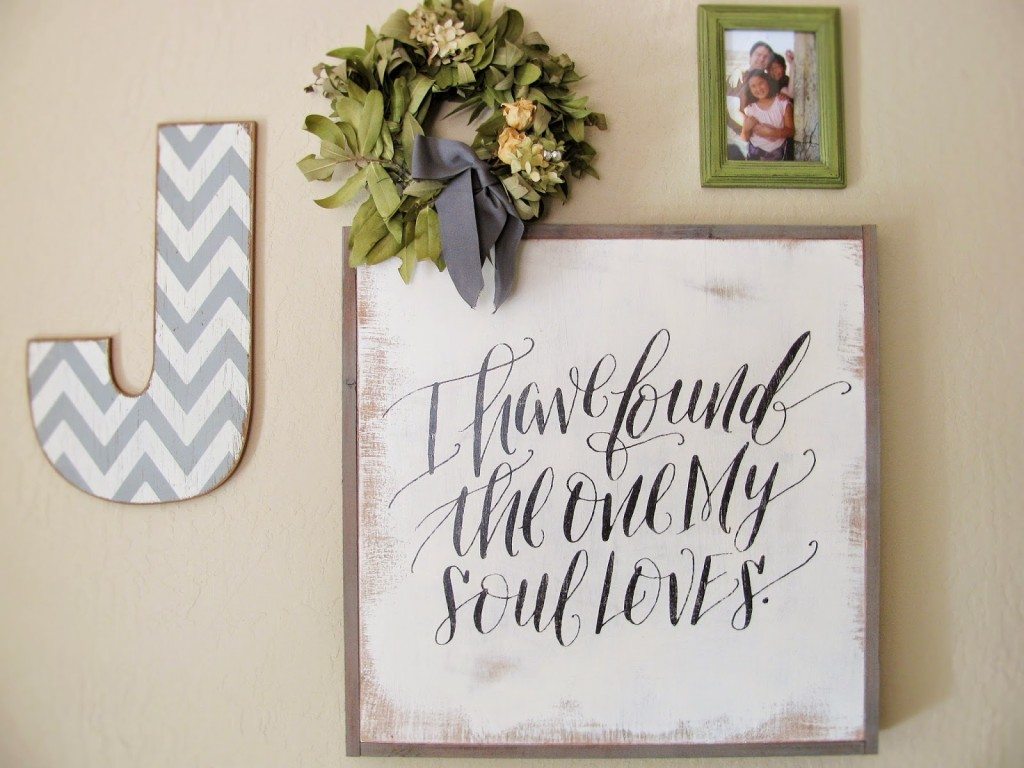 I would like to thank Tara and Andy for taking the time to chat
with us about their inspiring and creative business. I am so grateful that they
listened to that little voice in them to create and share. Please check out
their
Etsy shop
and we are so happy to offer you a special 15% discount if you want to place an order. Use the coupon code, HAPPYNESTER15 for you special price…note that the code only has one "happy." This coupon is not valid on custom orders. Glad to pass along this savings to you, and Happy Shopping!
Cheers,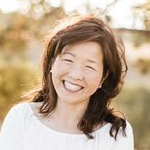 Latest posts by Janine Waite
(see all)