A No-Sew Burlap Table Runner
I have been without a sewing machine for a long time and therefore a no sew burlap table runner is a perfect project for me! During my childhood, I remember making school presents out of Burlap and I have plenty of fond memories of it. I love how it has made a resurgence and is now available in a variety of fun colors. My home decor is on the lighter side, so I made a cream color runner. You'll be happy to know that this runner is pretty similar to the one Pottery Barn sells for a whopping fifty dollars. So, you can get the latest look without spending too much money.  Ok, you'll need three items and around 10 minutes to create this new addition to your table. So without further adieu, let's get started on this project.
A Note about the Nester
As a child, I would sit at my mom's feet while she sewed and I would arrange all her cute sewing pins and design a picture with all the colorful pin heads. I was always creating something when I was a little girl, and I guess some things never change.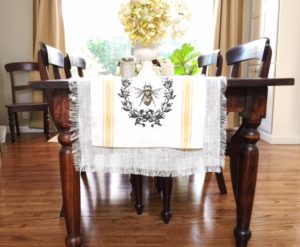 Supplies:
Burlap (available in a variety of colors) If you prefer to prewash your fabric, it can be machine washed.
Instructions:
1. Determine the size of your runner. Most runners are 15″ – 20″ wide.
2. Measure the width and mark with a pen.
3. Find where you want your cut line and make a little snip.
4. Locate the thread that runs along the line and pull it gently. It will gather and eventually it will slide out of the cloth.
5. You will now have an open line where the thread used to be. This space is your guideline in which to cut.
6. Cut the whole length and repeat for all sides of the runner. If you prefer to have a little fringe on the ends, just remove a couple of rows of horizontal thread.
I was concerned with how my burlap table runner was going to fair when I washed it. Well, it came out of the dryer in a fun tangled ball.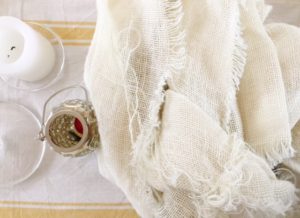 Once I untangled it and got rid of the loose ends, it looks amazing. Also, the funny smell that burlap has is now gone away! I have heard that if you place a bead of glue on the end of the material, it will prevent it from fraying. I may try this, but so far it hasn't frayed too much.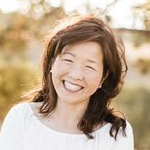 Latest posts by Janine Waite
(see all)