DIY Burlap Wreath
Hello, friends, today I would love to share with you a fun DIY burlap wreath that is versatile and simple to style for your home. I'm guest posting over at Shabby Creek Cottage for the whole year and I'm blogging about everything burlap. I must say I haven't made too many things out of this material and I have been pleasantly surprised. I made sure to design a wreath that wouldn't clash with our home decor. I'm pretty happy with the results and I hope you are inspired to make this easy burlap wreath.
~ A Note About the Nester ~
My friend, Marci had a couple of beautiful wreaths on her front door. After a few months, she noticed that a pair of birds decided to build a nest in her gorgeous Crate and Barrel wreaths!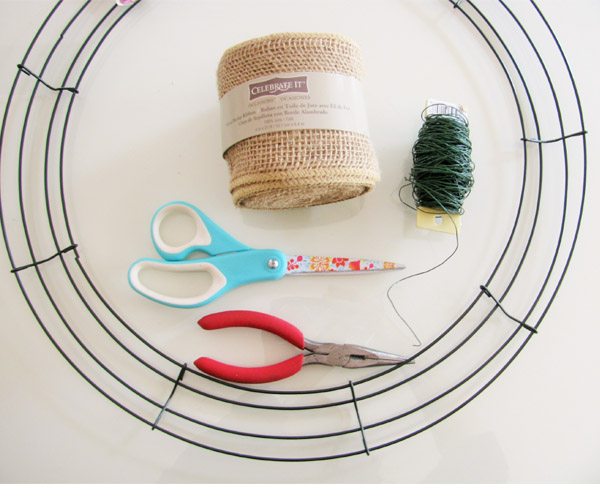 The great thing about this wreath is how few items it requires.
Supplies
1 Wire wreath (12 inches)
1  4-inch roll of Burlap ribbon (10 yards)
Scissors
Instructions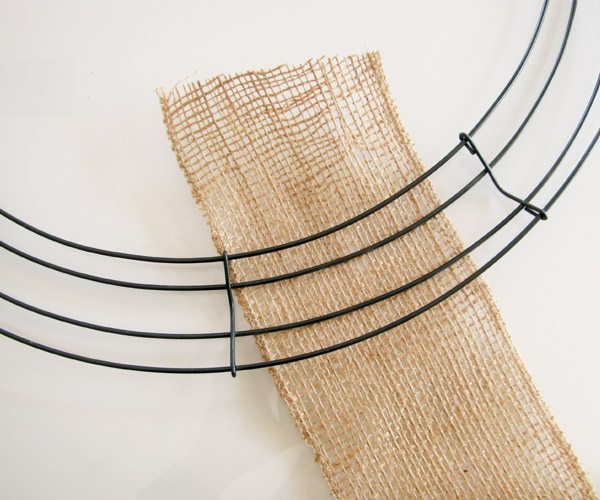 1. Place the Burlap ribbon underneath the wire wreath. Now here is an important step, make sure the burlap is perpendicular to the circular frame. The ribbon (and the roll) should be pointing in the direction of the outer circle.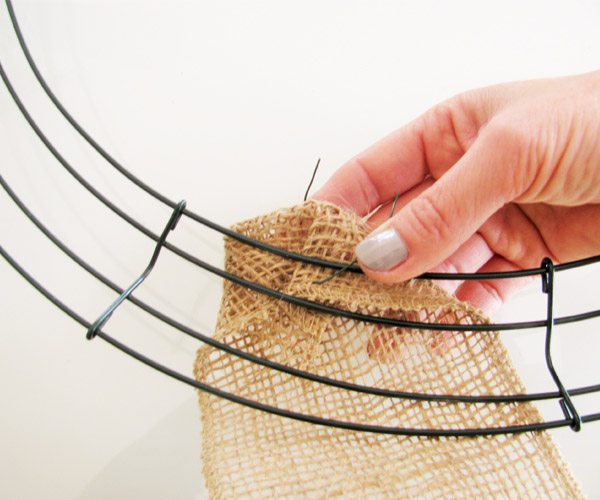 3. Wrap the ribbon around the inside ring. Then thread the a piece of wire through the burlap and twist around the wreath structure.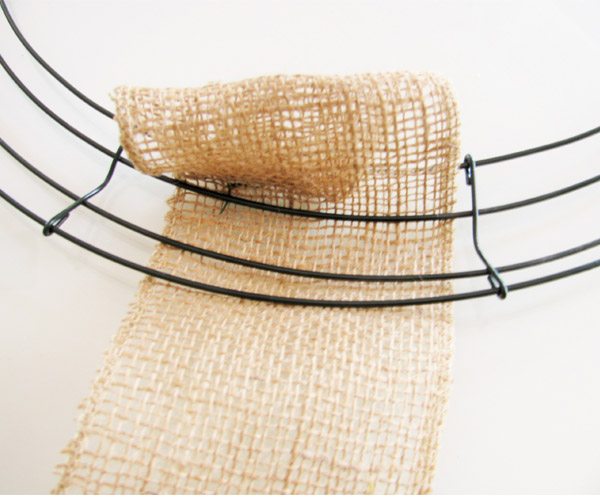 4. Next, working from the inside out, bring up ribbon through the open space. Make a 1 1/2 inch loop.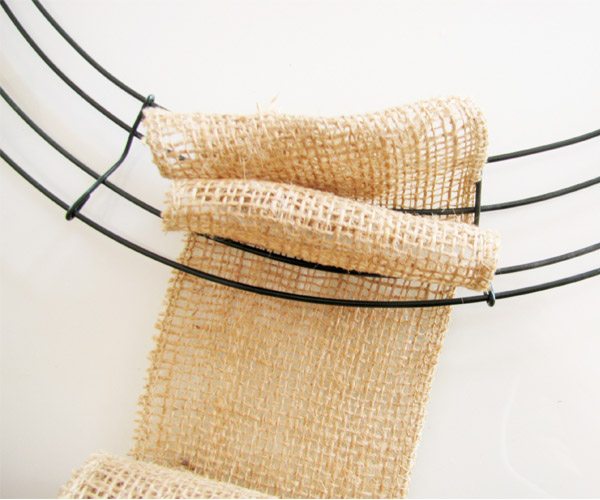 Move to the next area and make another loop the same length.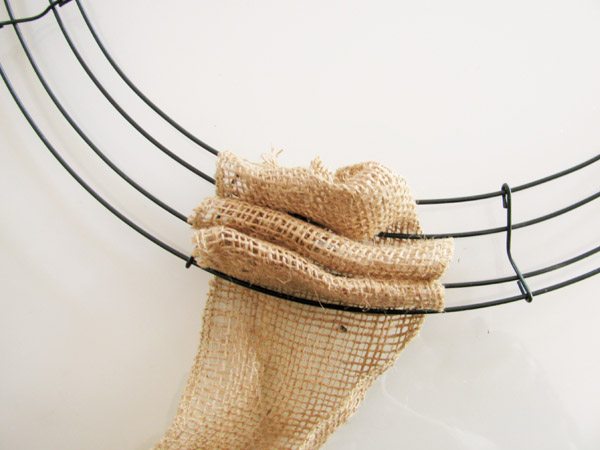 Continue the same for the final outer space. At this point, you will have three loops of ribbon.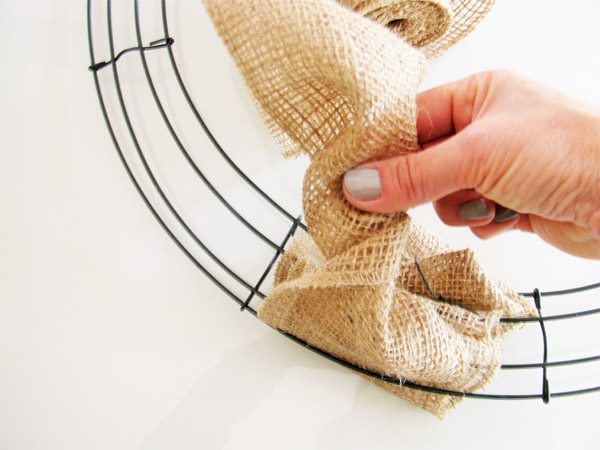 5. Turn your wreath over. Grab ahold of the burlap and twist it two times. The twisted section will act as a knot and secure the burlap.
6. Here is the next tricky step. Flip the wreath over to the front side. The ribbon should still be on the backside of the wreath. Bring the ribbon to the inner circle right next to the last row. Again, make sure the ribbon is facing perpendicular to the structure just like in step 3. Repeat step 4, making another row of loops.
7. Repeat step 5 through 6 and keep repeating till you have gone all the way around the wreath. At the final row, twist the burlap around the outer backside of the wreath and tie down with wire.
8. With the wire, make a loop for hanging.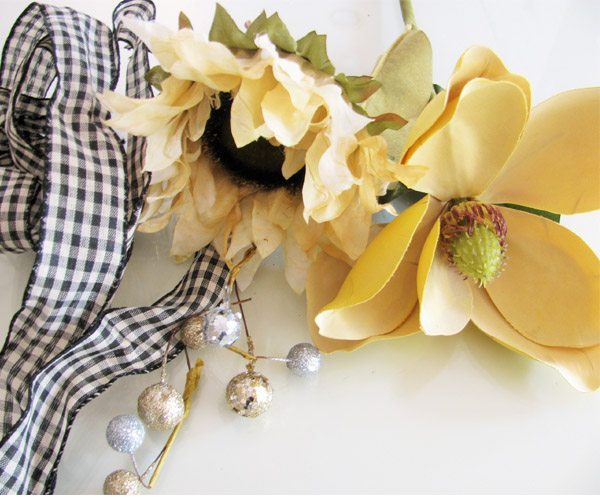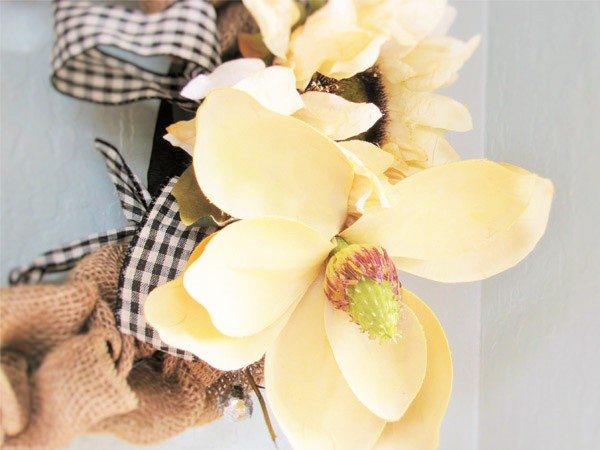 9. Decorate your wreath with additional ribbon, silk or dried flowers and any decor. And if you want you can change the style throughout the seasons. Swap out the flowers and the decorative ribbon and you'll have a whole new look!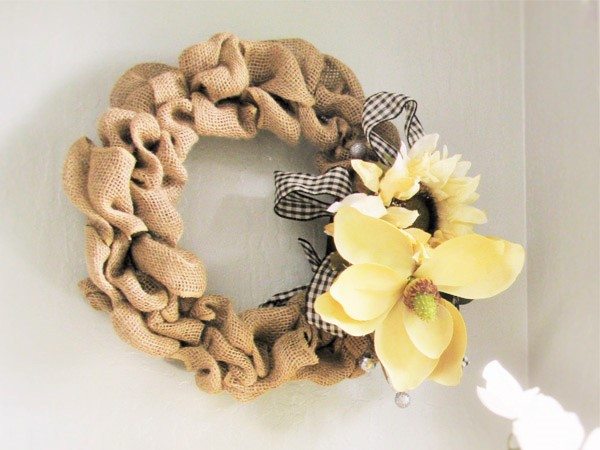 Thanks for visiting and I hope I've inspired you to create this burlap wreath. Enjoy decorating it with your style to fit your home's decor. If you like to make wreaths, here is another one of my projects that may interest you. bay leaf wreath
Cheers,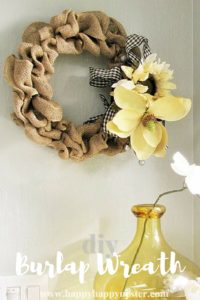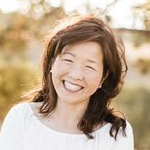 Latest posts by Janine Waite
(see all)