Need Easy Appetizer Ideas for a Party? You'll want to make this fun fruit and cheese charcuterie board, and it is so delicious and straightforward.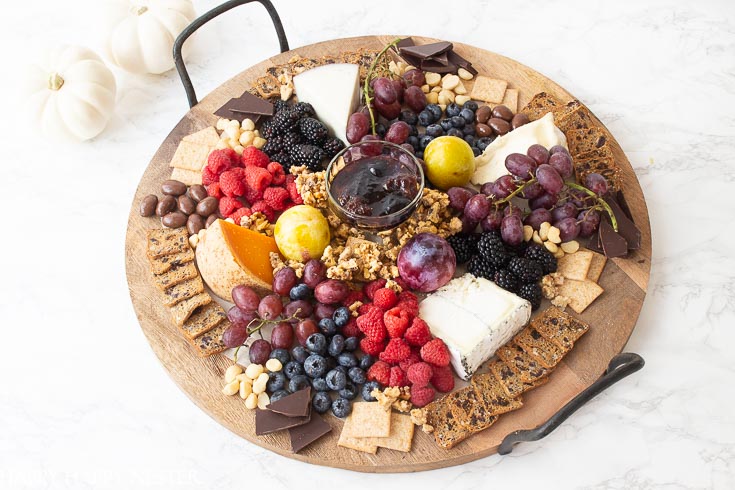 *The following post contains affiliate links
When you have a group of friends or family over, are you like me, and you have no appetizer ideas? Well, I found that a charcuterie board full of fruit, cheese, crackers, and chocolate will impress your guests.
No matter what the occasion, a yummy appetizer is always welcome in our family. I made this one the other day, and my husband, daughter, and I enjoyed it for lunch. I was amazed by how much we loved all the food.
Well before digging into these easy appetizer ideas for a party, I need to mention that today's post is a part of a blog hop hosted by Kristen from Ella Claire & Co. Kristen rounded up all her friends, and we are contributing our fall appetizer recipes. My friend's recipes look scrumptious, so don't forget to check them out at the bottom of the post.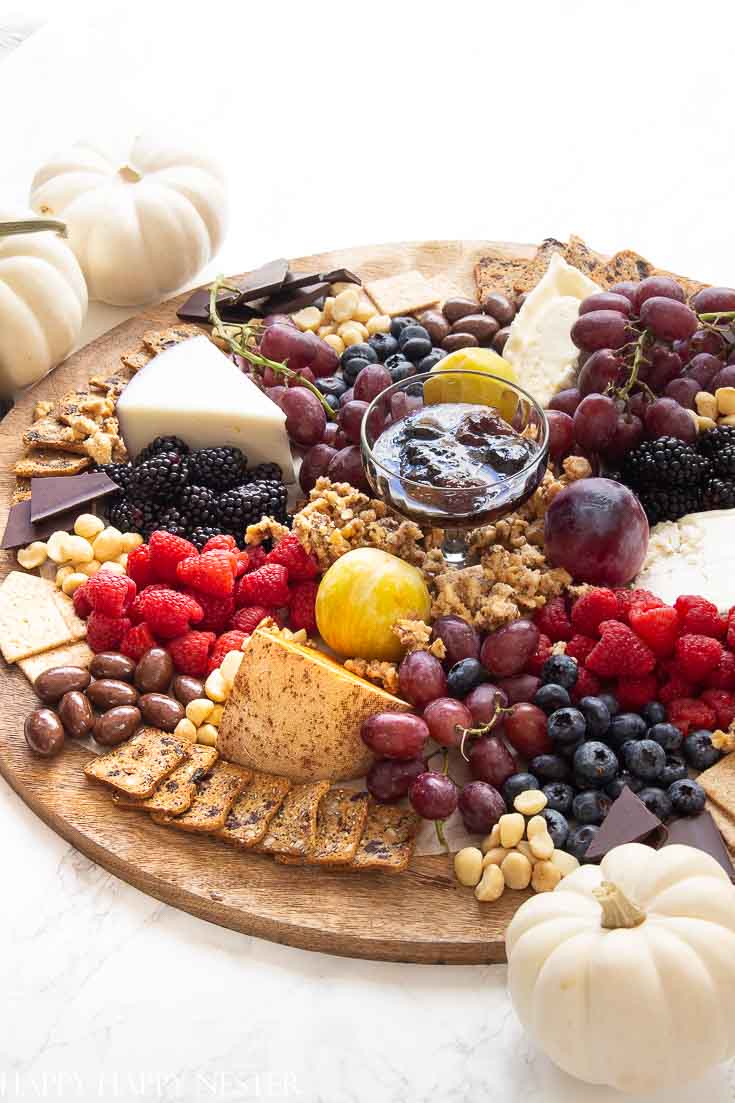 Charcuterie boards are the best appetizer ideas for a party. You can display a wide variety of foods, so there is something for everyone.
Ok, if you are like me, maybe you have questions about the charcuterie board? Whenever I mention the word, my husband is like, what??? But, then I place a full charcuterie board in front of him, and he has no problem enjoying all the delicious food.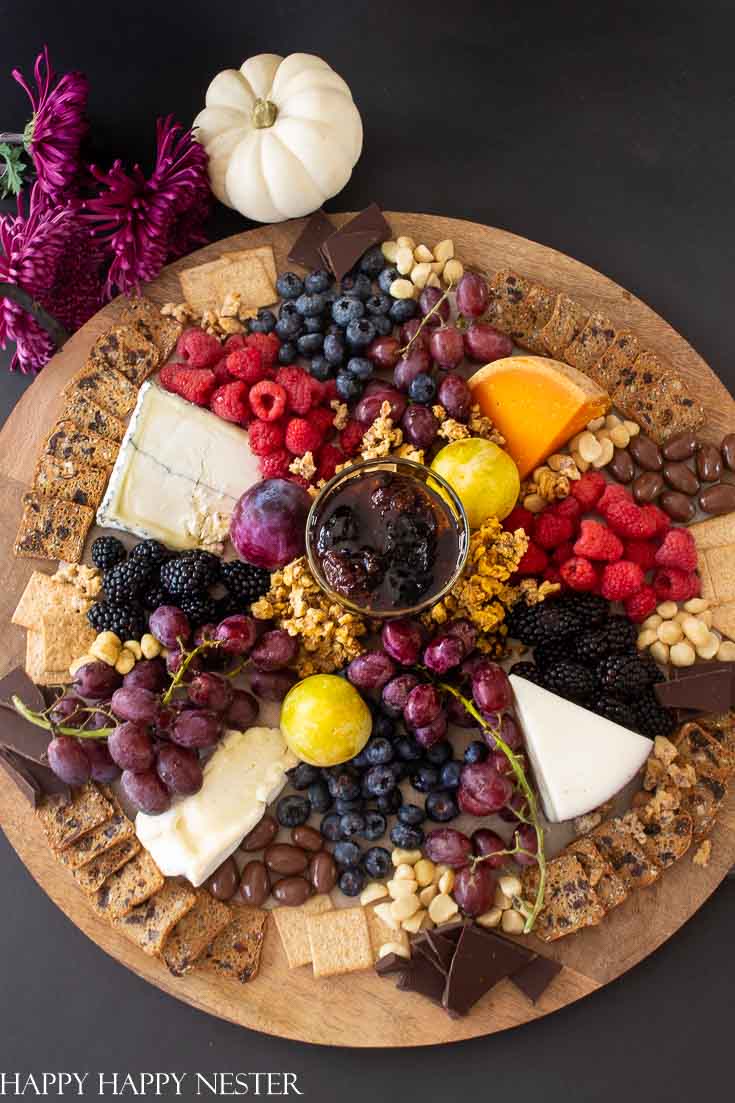 What is a Charcuterie Board?
It is pronounced, Shahr-ku-tuh-ree, the French pronunciation is Shar-coo-tree. It originally is the art of preparing and assembling meats. So the word originated from France and technically means, Pork Butcher Shop. The modern-day charcuterie is a combination of a variety of meats, bread, crackers, fruit, and sauces.
How Many Types of Charcuterie Boards Are There?
Basically, the sky is the limit. But you can choose a few themes:
Meats and Cheeses
Fruits and Vegetables
Desserts (I made a Death by Chocolate and Smores boards)
Fruits, Cheese, Bread, and Chocolates
Fondue with Cheese and Bread
Cheese Boards (choose a country and serve their cheeses)
Seasonal Theme – could include a savory or sweet board
What Type of Boards Can You Use?
Wood

Wood is an excellent choice, since you may need to cut some meat or fruit. The surface is a nice host for food, and you can even use a big cutting board. But, be careful to pick out a wood board that doesn't impart flavors such as Oak. Some woods to consider are olive wood, birch, American cherry, hard maple, and teak. Also, when conditioning your wood, make sure to use food-safe oils. Avoid any varnished or lacquered woods. But, if you are like me, place a sheet of parchment paper down to create a barrier from the wood.
Marble

Marble is beautiful, and the cold so perfect for keeping meats and cheeses fresh. I love the look of marble, but it is porous, and food does stain it, so unless you don't mind the stains, use this surface. To help meats along, you can cool your marble in the fridge or freezer before using it.
Slate

Slate makes a beautiful board since it is not porous like marble. And my goodness, it displays the food beautifully.
With all of these, clean and make sure all surfaces are sanitized and good for food.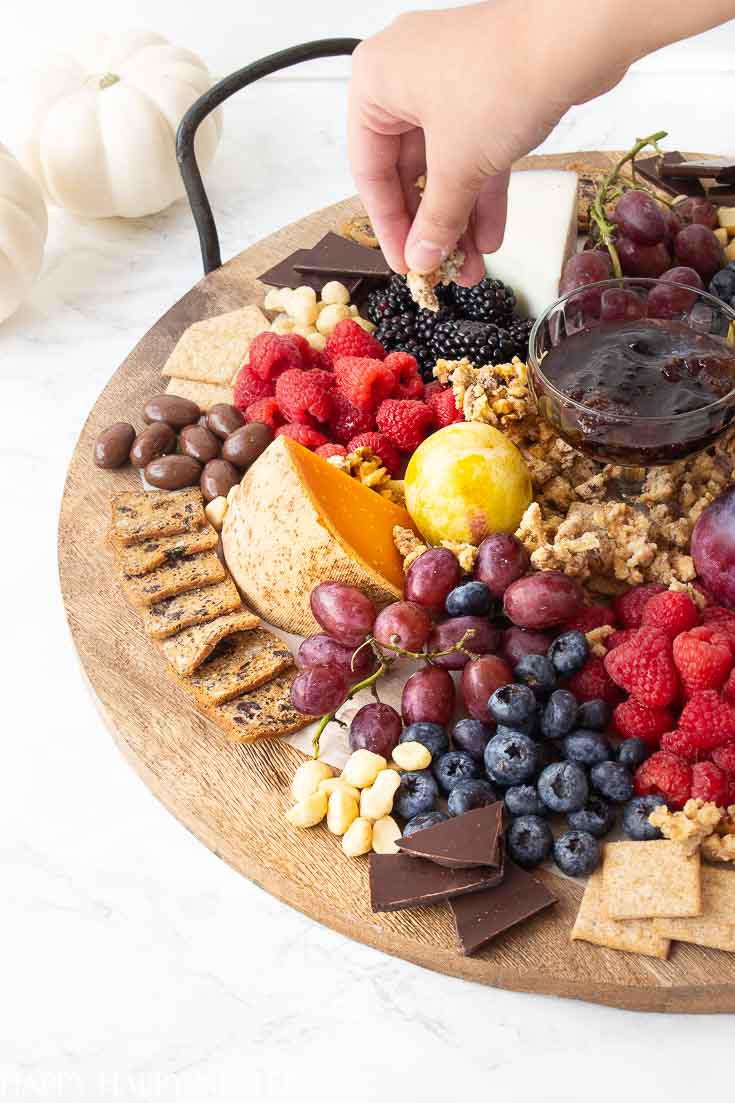 Well, I'm sure you want to know about my appetizer ideas for a party, so let me show you how I created this board step by step.
Ingredients:
Charcuterie Board
Parchment paper
Fresh fruit – use any of your favorite fruits. I added a few local pluots that I found at the farmer's market.
Cheese – choose out some hard and soft cheeses.
Crackers – love the Rain Crackers packed with fruit and nuts.
Chocolate
Jam
Sugared walnuts (recipe here)
Forks, knives, and spoons
Instructions: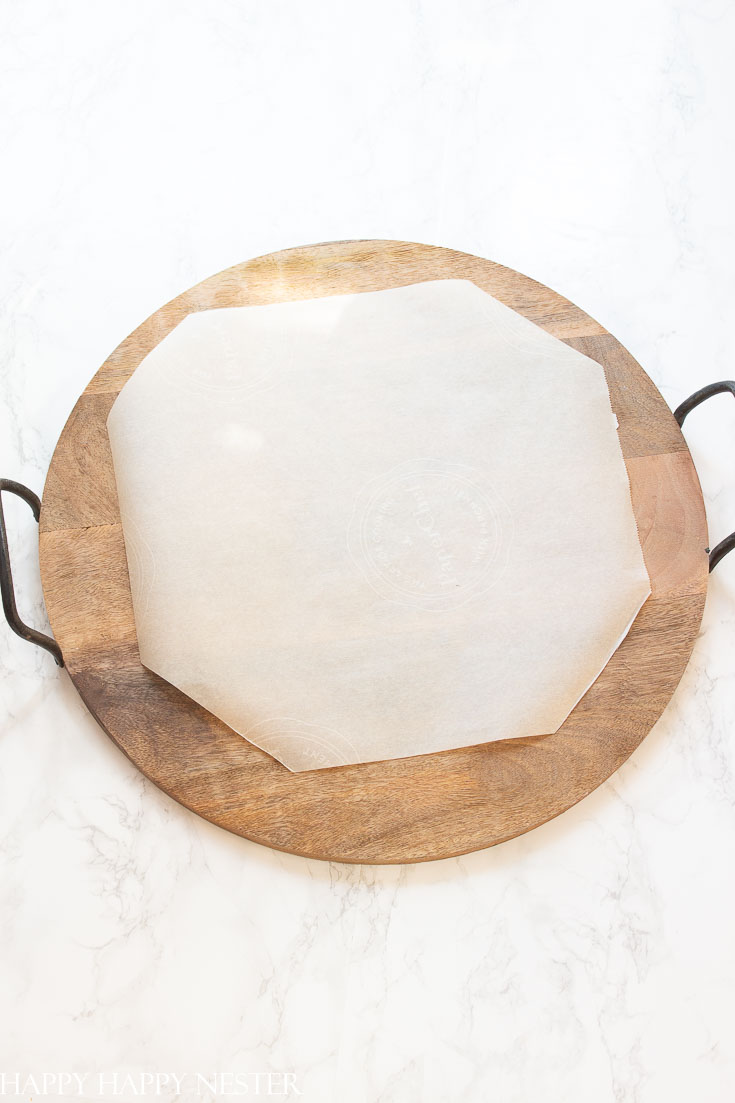 1. Choose Out Your Board
Once you have your board, place a sheet of parchment paper on the area you will cover. I'm not sure if anyone else does this, but I don't want to stain the board. Also, there is no excellent way to clean the wood, so for sanitary reasons, I like to create a clean barrier.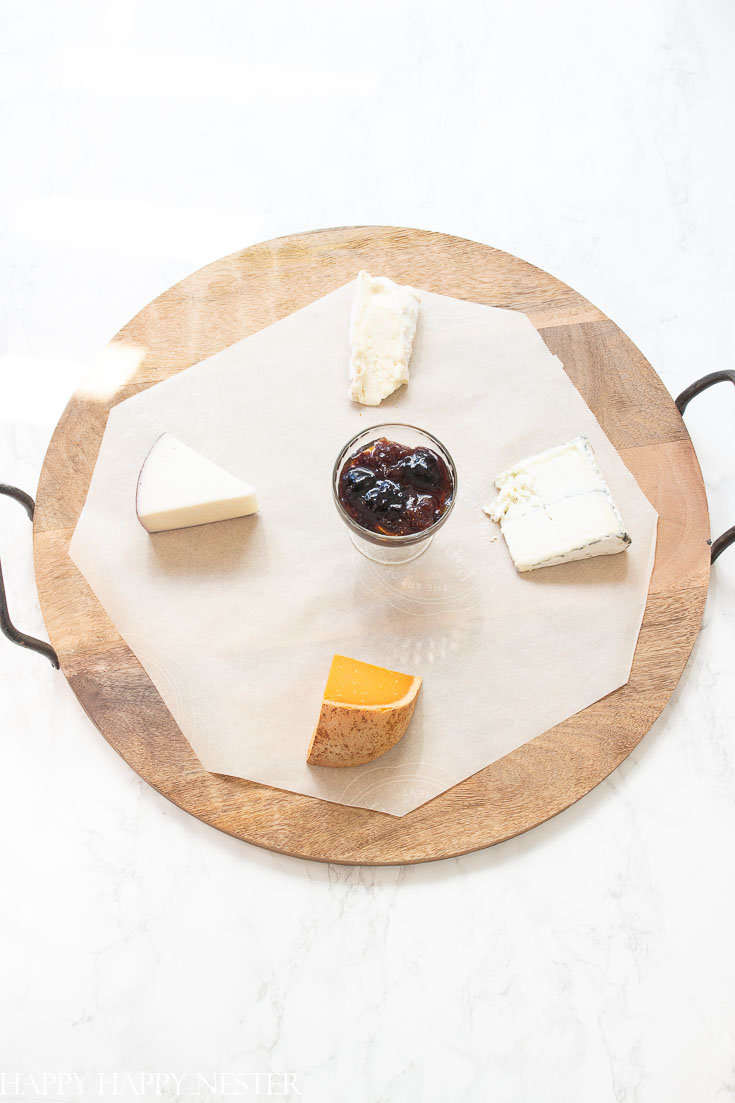 2. Place Your Jam and Cheeses on the Board
I feel the rich looking jam is a great focal point, and especially if you place it in an interesting glass container. Next, I anchor the board down with cheeses. Since these are the most prominent elements, I feel they need to be placed evenly on the board.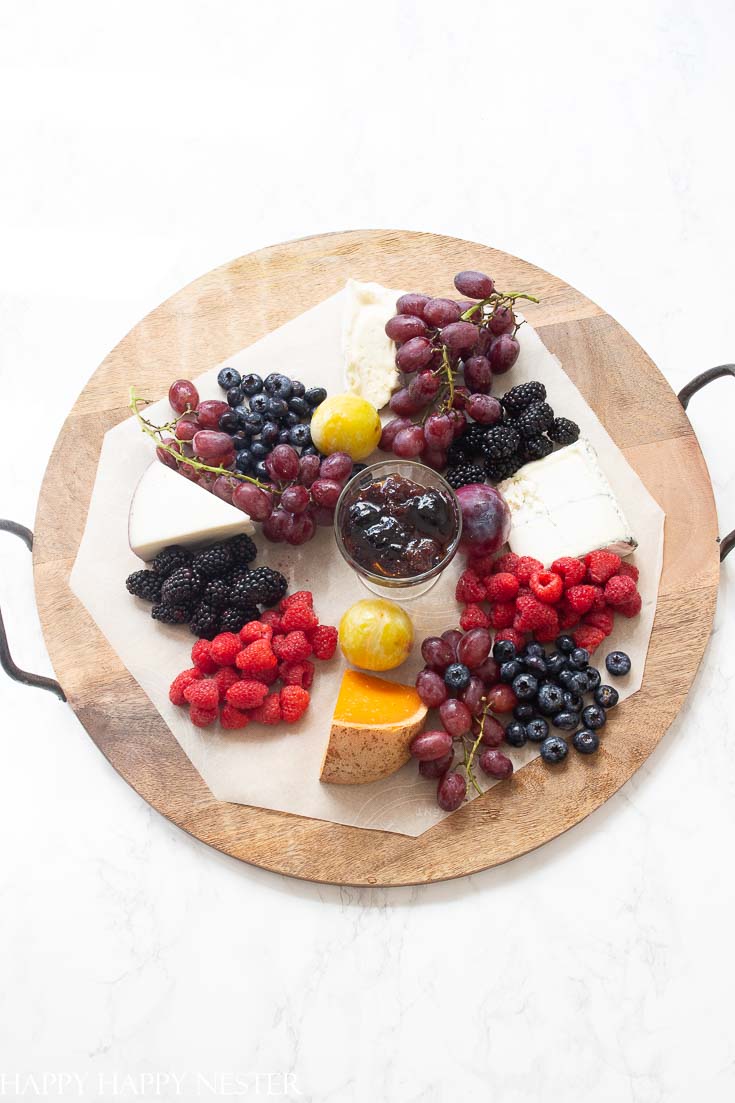 3. Add Your Fruit
I love to disperse the fruits evenly. Try and think about colors and whether it is going to either pop or fade into the background. The areas of white cheeses lend themselves to a nice contrast against the fruit. Take advantage of that drama if that is what you want to accomplish.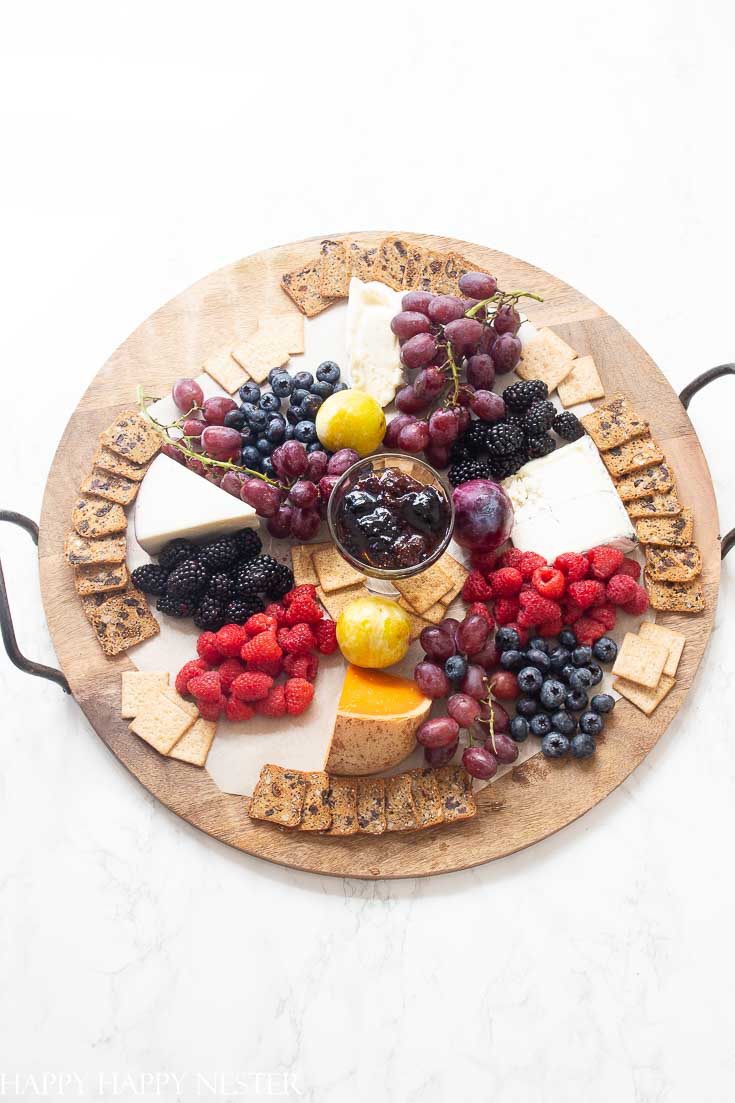 4. Place Your Crackers
I love a wide array of crackers, and I had some rustic ones in my grocery cart, but somehow, I got home without them. I'm a bit anal-retentive, so I place them methodically around the board. Do, whatever fits your personality. I sure love that there are so many options for these appetizer ideas for a party.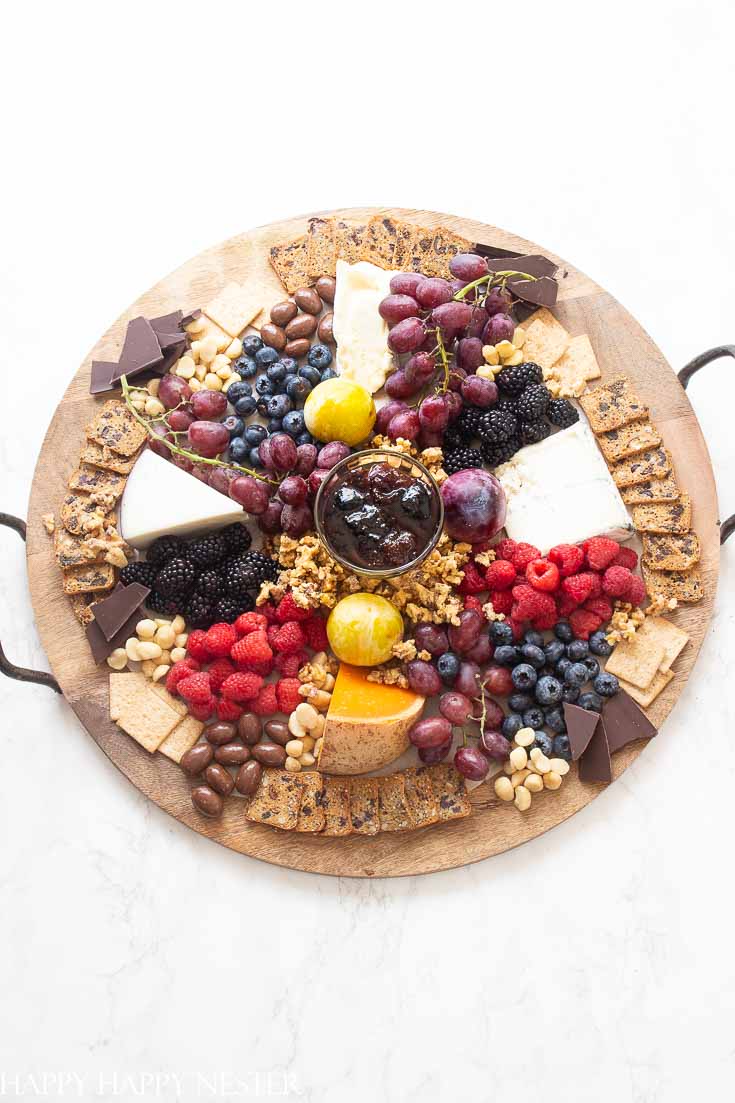 5. Add Nuts and Chocolate
So, my family loves any nuts, and my sugared walnuts recipe is the best. I sprinkled them throughout this board, along with some macadamia nuts. If you want a little sweetness to finish off the appetizer, add a bit of dark chocolate or chocolate covered almonds.
Happy Entertaining this Fall, and I hope you found this post on easy appetizer ideas for a party helpful. We love these charcuterie boards, and I love creating a delicious combination for you!
Cheers,

More Fall Easy Appetizer Ideas From My Friends!
Delicious Warm Cheddar Cheese Dip by Ella Claire & Co. | Baked Brie & Walnut Puffs by On Sutton Place | Baked Delicata Rings by Inspired by Charm | Baked Brie with Figs and Honey
Fall Charcuterie Platter by Craftberry Bush | Truffle, Almond, & Apple Flatbread by The Chronicles of Home | Lady Mary's Crab Canapes by Town and Country Living | Roasted Grapes on Baguette by Tidbits
Zucchini Tart with Goat Cheese by My Sweet Savannah | Mini Pumpkin Pies by Shabby FuFu | Ground Beef Stuffed Peppers by Farmhouse on Boone | Fall Charcuterie by Happy Happy Nester
Roasted Garlic Hummus by Home Made Lovely | Smoky Cheese Ball by Tidy Mom | Easy Skillet Brie by French Country Cottage | Gluten + Dairy Free Herbed Boursin with Cranberry Almond Crackers by Zevy Joy
Baked Cheese, Pear and Prosciutto Cresent Roll by Julie Blanner | Rosemary Cashews by Rooms for Rent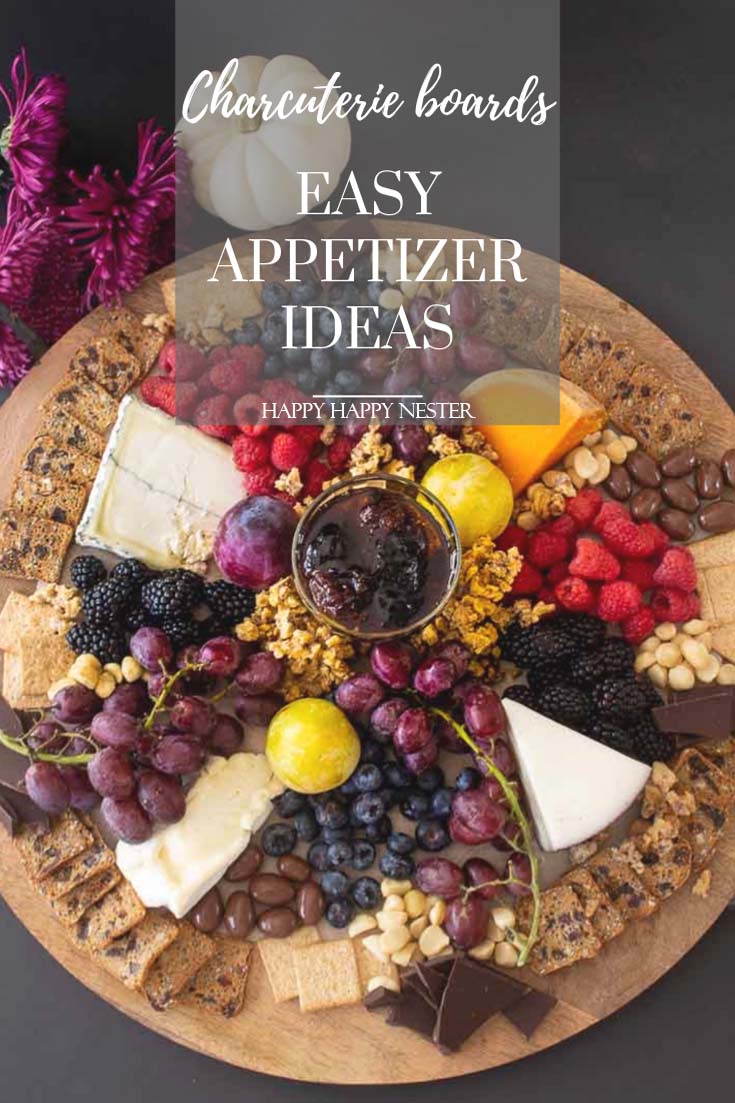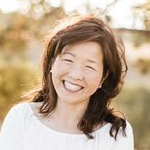 Latest posts by Janine Waite
(see all)