Do you need an easy Trader Joe's Charcuterie Board? This step-by-step includes a shopping list of yummy meats, crackers, cheese, and chocolates.
Trader Joe's has such a wide assortment of cheeses, meats, crackers, chocolates, and sauces. They're the perfect source for creating a delicious gourmet charcuterie board.
I find that Trader Joe's has so many food choices that it can be a bit overwhelming. So, I thought it might be nice to provide a shopping list and a step-by-step tutorial.
Our charcuterie board contains my family favorites, and if you have other favorites, let me know in the comments below. I would love to hear from you!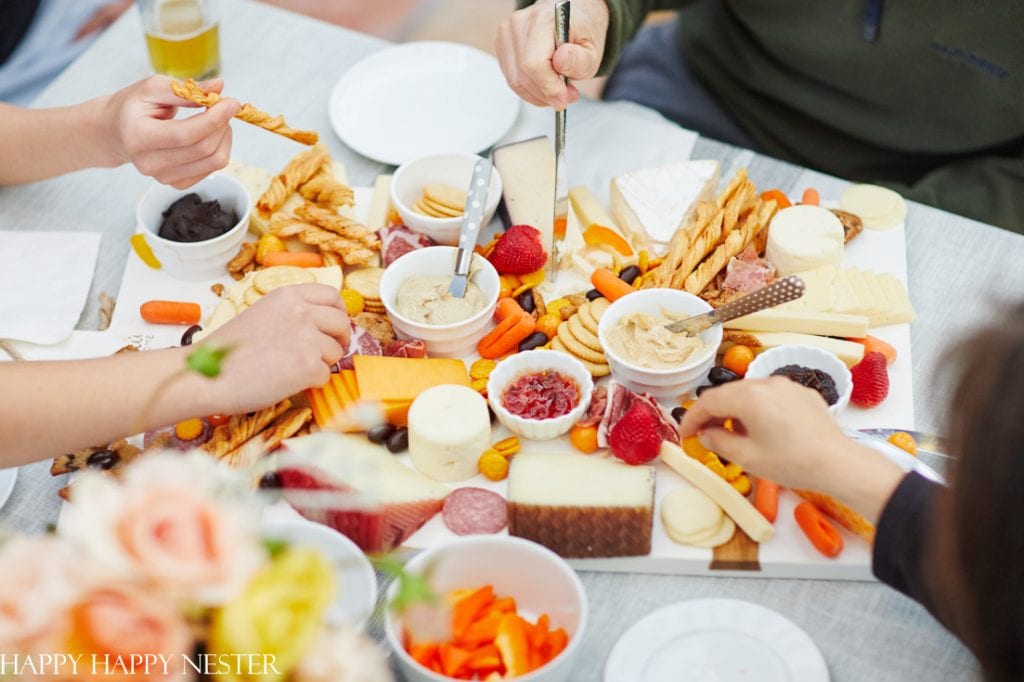 Trader Joe's Charcuterie Board
Before we dig into assembling a tempting spread of delicious food, you may have some questions. Well, lucky for you, I am here to answer basic questions and any others you may have! So, let's chat a bit about charcuterie boards!
What is a Charcuterie Board?
A charcuterie board is arranging and preparing different meats, cheeses, and finger foods on some platter or board. The boards are usually wooden and include both round, rectangular, and square shapes. The sizes vary from small to large, depending on the crowd you are feeding.
What Can I use if I don't have a Charcuterie board?
If you don't have a charcuterie board, you can use a wood cutting board, slate board, serving tray, etc. Any flat surface you have will work! I even saw that someone placed two sizeable wooden cutting boards side by side, which is ingenious.
By the way, the charcuterie board that I used is 24″ long and 15″ wide. I did end up with extra food that I placed on the side of the board in bowls.
How do you style a charcuterie board?
When it comes to styling a charcuterie board, there are different ways to complete this process because there are different charcuterie boards.
If you're creating the generic charcuterie board, here are the steps in styling.
First, find a board or a flat surface.
Then, cut the cheese into blocks or slices
Plate the cheese.
Next, add small dishes and fill those dishes with jams, preserves, or dips.
Add some meat besides the cheese.
Then add some large fruit along with some snacks like crackers and treats like chocolate almonds.
Lastly, add some vegetables of your choice next to the fruit and dips.
Let's get this appetizer started!
Trader Joe's charcuterie board shopping list: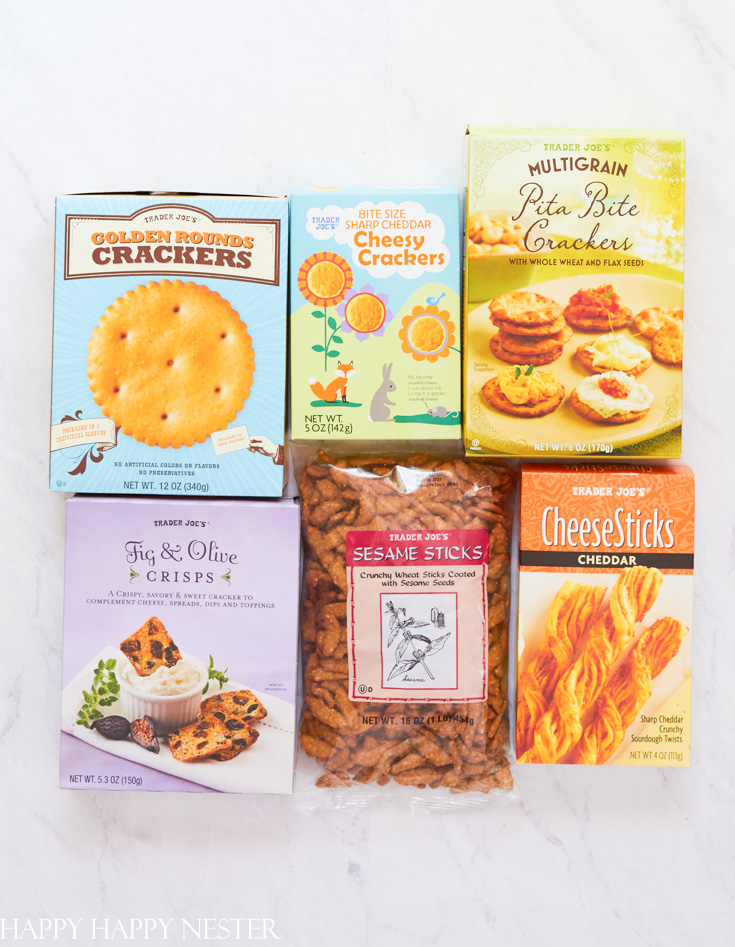 CRACKERS
CheeseSticks (These are crunchy and delicious)
Fig and Olive Crisps (my favorite!)
Golden Round Crackers
Cheesy Crackers ( I think these are children crackers but they are so delicious)
Sesame Sticks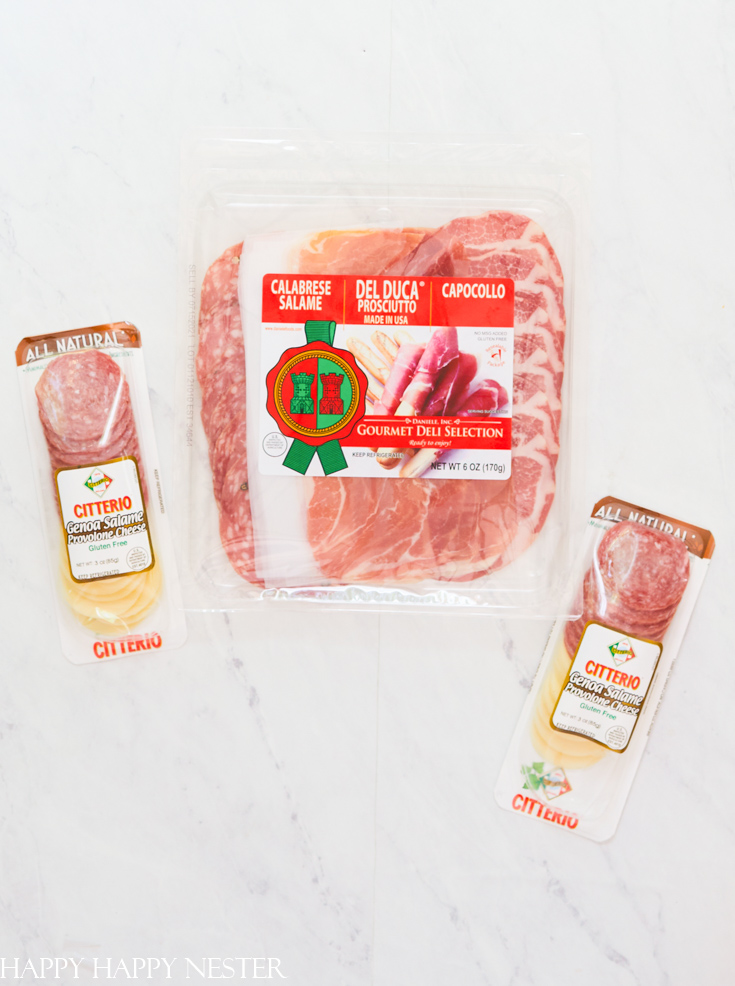 MEATS
Prosciutto (TJ's has a package of three meats that I bought)
Pepperoni
Smoke Salami
Smoked Salmon ( I had this and forgot to place it on the board)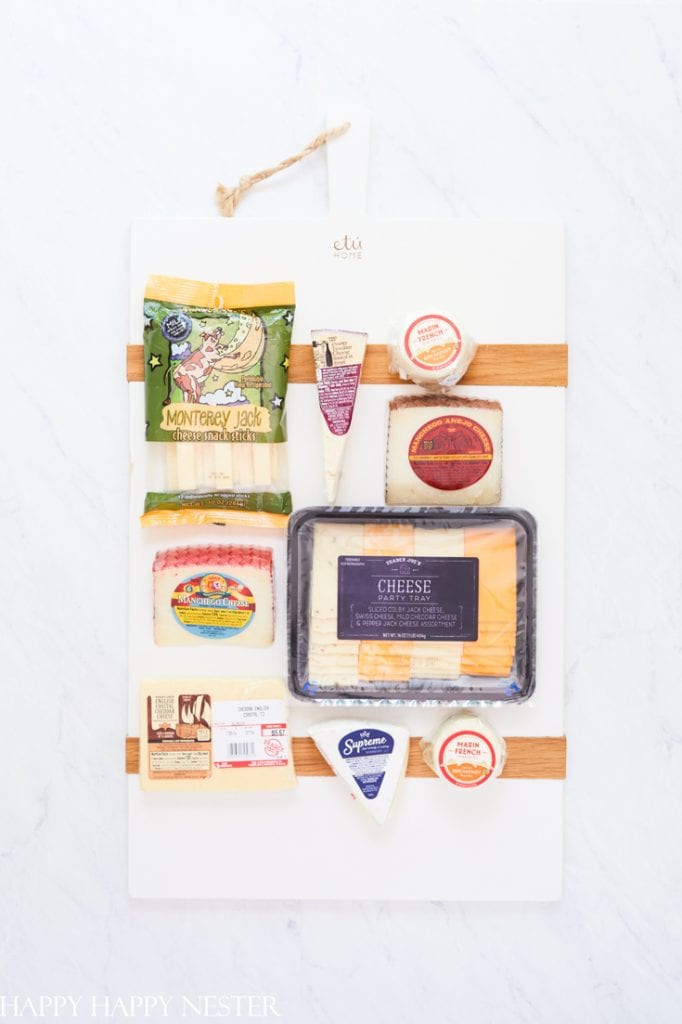 CHEESES
Manchego (oh my goodness, my family loves this mild cheese)
Brie
English Cheddar Cheese (this is my husband's favorite cheese)
Marin English Breakfast Cheese
Monterey Jack Cheese Sticks (my daughter loves cheese sticks)
Trader Joe's Cheese Cheese Party Tray (I love this tray of cheese since they are already sliced)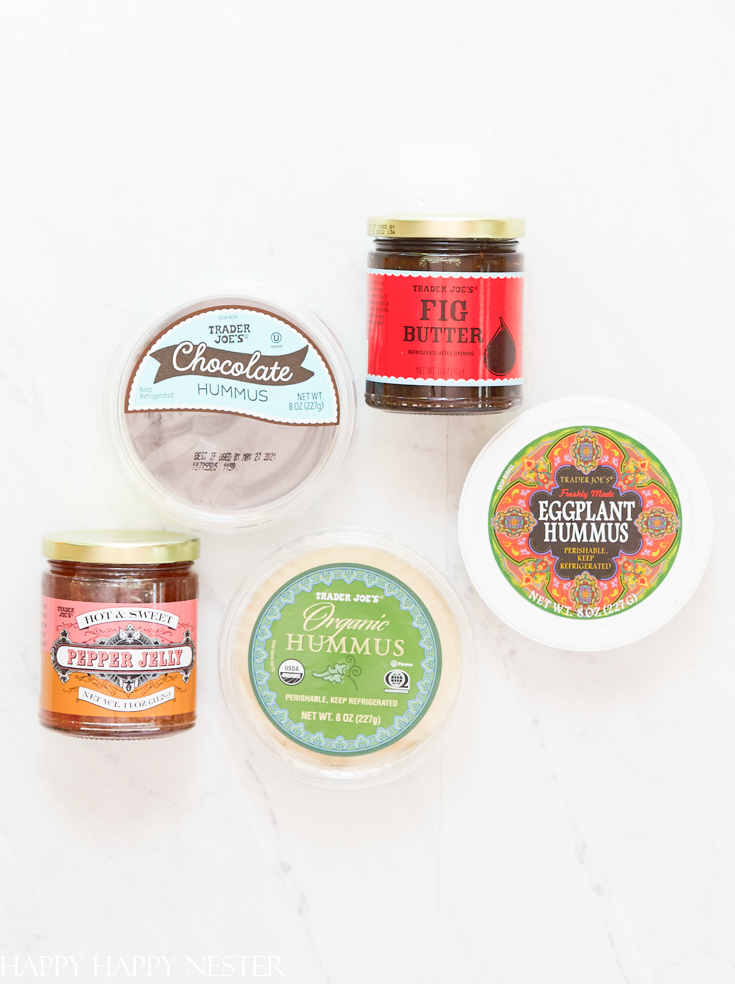 JAMS AND DIPS
Pepper Jelly (this is my favorite. I have a recipe for peach jalapeno pepper jelly if you're interested)
Fig Butter
Hummus ( I photographed the chocolate hummus, but my family aren't big fans of it 🙂 )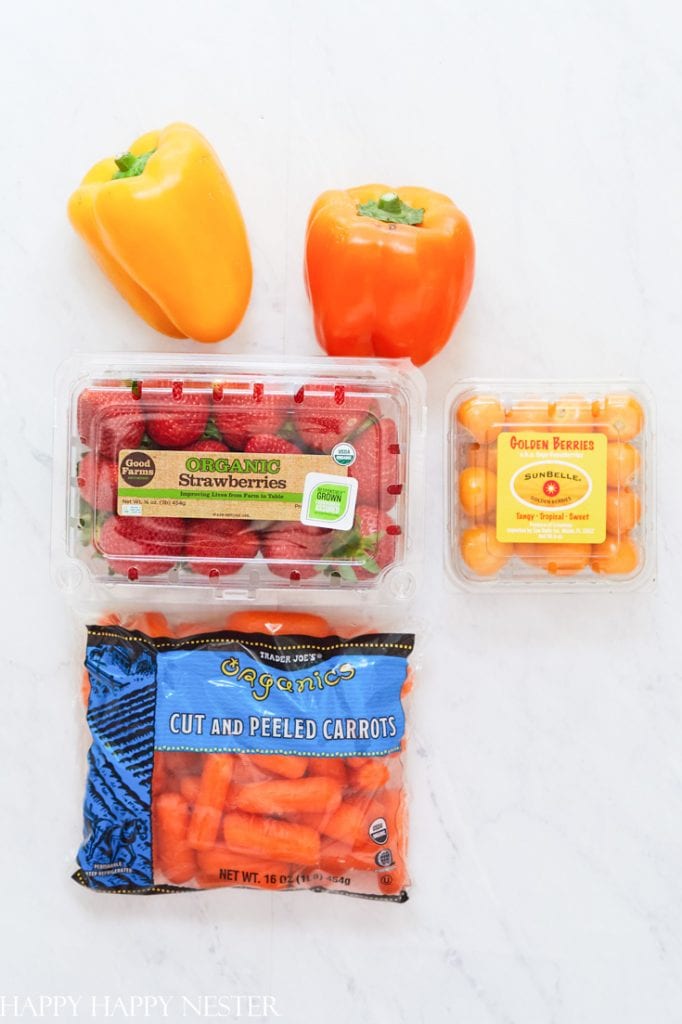 FRUITS AND VEGETABLES
Carrots
Bell Peppers
Strawberries
Gooseberries (these are pretty interesting, they taste like a really sweet tomato)
Apples
Grapes
Blueberries
CHOCOLATE
Chocolate Covered Almonds (our family favorite)
Let's Create a Board!
*The following post contains affiliate links
Step 1 – Choose a Board
There are lot of choices for boards! The first thing is to determine how many people you are feeding. The general rule of thumb, the bigger the crowd the bigger the board. Also, you can choose a round, rectangular or square board.
The board I used is made of wood and painted white. It has a coating over the paint, so it's ok to place the food right on top of the board. Here are some beautiful charcuterie boards.
Step 2 – Plate the Cheeses
I always love to place my cheese first since they are the main focus of my boards. I place them so that everyone has access to them and they don't have reach over the board.
I like to have a variety of hard and soft cheeses, even if I'm the only one who likes soft Brie cheeses!
Step 3 – Place the Dips and Sauces
I always place the dips since they are the next big thing on the boards. They are also the main focus for crackers and vegetables. Place your dips in the original containers or transfer them to pretty bowls.
Step 4 – Place Crackers on the Board
Plate the crackers near the dips and cheeses. I like to fan them out so they look pretty, but you can style them however you prefer.
Step 5 – Plate the Meat, Vegetables and Fruit
I had fun creating patches of meat that were tucked in places. The ruffled texture invites people to pick the meats up and adds a pretty texture to the charcuterie board.
Step 6 – Add Sweets
I sprinkle the chocolate throughout the whole board so that everyone can enjoy them. Always think about each side of the board and make all tasty morsels available to everyone, so they don't have to reach too far across the board for things.
---
If you want a few more ideas for Charcuterie boards here are some more:
Thanks so much for your visit and I hope this tutorial helps the next time you need to create a delicious charcuterie board for your next dinner party.
Cheers,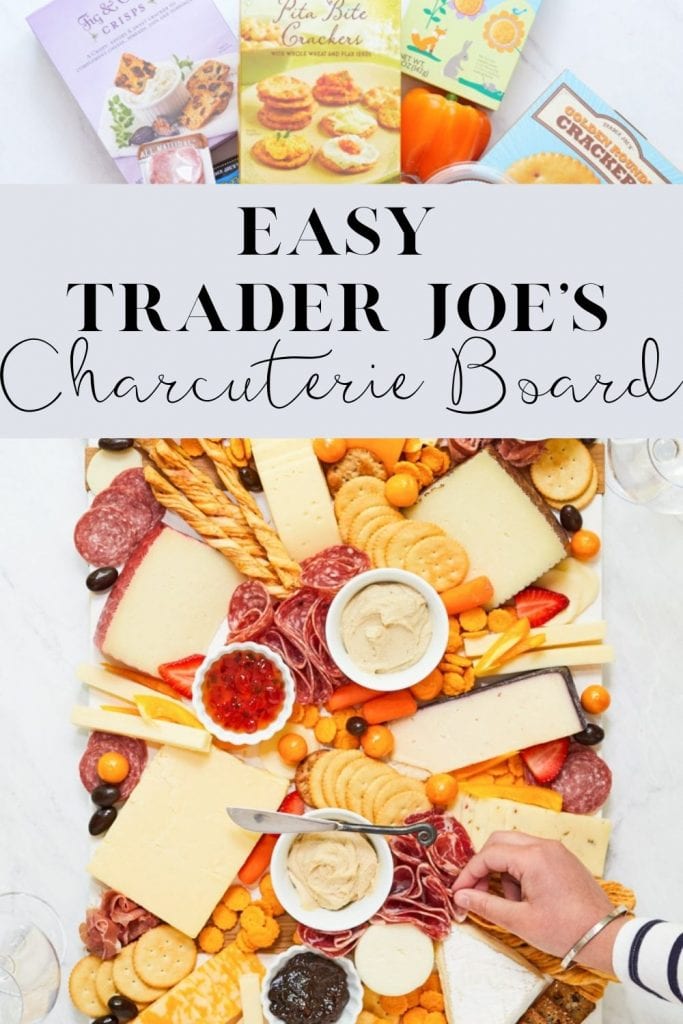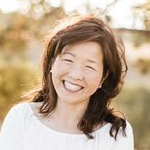 Latest posts by Janine Waite
(see all)