A Fall Charcuterie Board is a beautiful blend of chocolates, cheeses, maple cookies, and more. Choose a theme and make the elements pleasing to the eye, and it will impress friends and family members. Use this dessert charcuterie as inspiration and add whatever ingredients your family enjoys.
I always like to add a fun focal point when creating charcuterie boards. So, with this board, I added a faux pumpkin to the mix. You can add a real one if you like and maybe include a few fall leaves.
Read more

: Fall Charcuterie Board
Over the years, I have made several charcuterie boards for my family and friends.
It's an excellent way to combine many fun and delicious things. If you're interested in my other creations, here are the links to my other charcuterie boards over here on the blog:

My daughter mentioned wanting me to make a fall charcuterie board the other day. Well, I quickly got busy and created one for my Instagram account.
Uh, that DIY Reel went bonkers, and people loved my board. So, I had to follow up with a blog post over here!
The family enjoys snacking on the various treats, and I hope you will too.
And by the way, this board is more of a sweet snacking board, but you can add sliced meats and more cheeses.
How to Build a Fall Charcuterie Board
Choose a Wooden Board
I think that the wood element works perfectly with the farmhouse fall theme.
Choose a Faux or Real Pumpkin
Real pumpkins are not in the stores yet since it's too early, so I used my handy dandy faux pumpkin. If you use a pumpkin for your centerpiece, ensure they are washed since it will come in contact with food.
Plan Out Your Ingredients
I know it sounds crazy, but I plan out the color of my food. So, I mainly went with browns, creams, oranges, and greens with this fall charcuterie board.
I planned out my ingredients before I went shopping. But once I was at the store, I did find other things that would work and that my family would love to eat.
I know that color is essential, but the ultimate key is to display things on your board that your family loves to eat.
Round Up White Bowls
I have a bunch of white bowls on hand for my charcuterie boards. Here are my favorite ones. Also, I used a bunch of festive fall cupcake liners as small bowls.
What is a Charcuterie Board?
It is pronounced, Shahr-ku-tuh-ree. The French pronunciation is Shar-coo-tree. It originally was the art of preparing and assembling meats. So the word originated from France and technically means Pork Butcher Shop. The modern-day charcuterie combines a variety of meats, bread, crackers, fruit, and sauces.
Make Sure You Have a Food Safe Board
Since we are using a wood board, please ensure it's food safe. If you're unsure, place a piece of parchment paper down to cover the wood. This will protect your food, and I normally like to use parchment to be safe.
How Many Types of Charcuterie Boards Are There?
The sky is the limit. But you can choose a few themes:
Meats and Cheeses
Fruits and Vegetables
Desserts (I made a Death by Chocolate and Smores boards)
Fruits, Cheese, Bread, and Chocolates
Fondue with Cheese and Bread
Cheese Boards (choose a country and serve their cheeses)
Seasonal Theme – could include a savory or sweet board
Ingredients for This Board
Faux Pumpkin
Maple Leaf Cookies
Lindt Caramel Chocolates
Ritz Crackers
Cheese
Swedish Ginger Snaps
Corn Nuts
Chocolate Covered Almonds
Green Grapes
Caramel Popcorn
Steps to Building the Charcuterie Board
Step 1 – Clean the Board
I give my board a quick wipe, but if you're worried about food touching the board, place a piece of parchment down first.
Step 2 – Place Your Pumpkin in the Middle
I like the added touch of the pumpkin. It makes the whole board festive and fallish. Placing a centerpiece in the middle adds a nice touch. I added a few book page leaves that I had kicking around my studio.
Step 3 – Add Lindt Chocolates
I like to make patterns when designing my charcuterie boards. So, creating a circle of sparkling foil-wrapped chocolates add a bit of fun to the board. Add the Lindt chocolates around the bottom of the pumpkin.
Step 4 – Add Snacks
Fill fall cupcake liners with corn nuts and caramels. Place them on your board in a balanced way.
Step 5 – Place Grapes on the Board
Trim off small bunches of grapes on your board. Scatter them around so that everyone can grab a bunch.
Step 6 – Place Big Bowls on the Board
Fill big bowls with Ritz crackers and caramel popcorn and place them on the board. Also, fill small bowls with cheese and place them next to the crackers. If items should be combined, then make sure to place them near each other, like the cheese and crackers.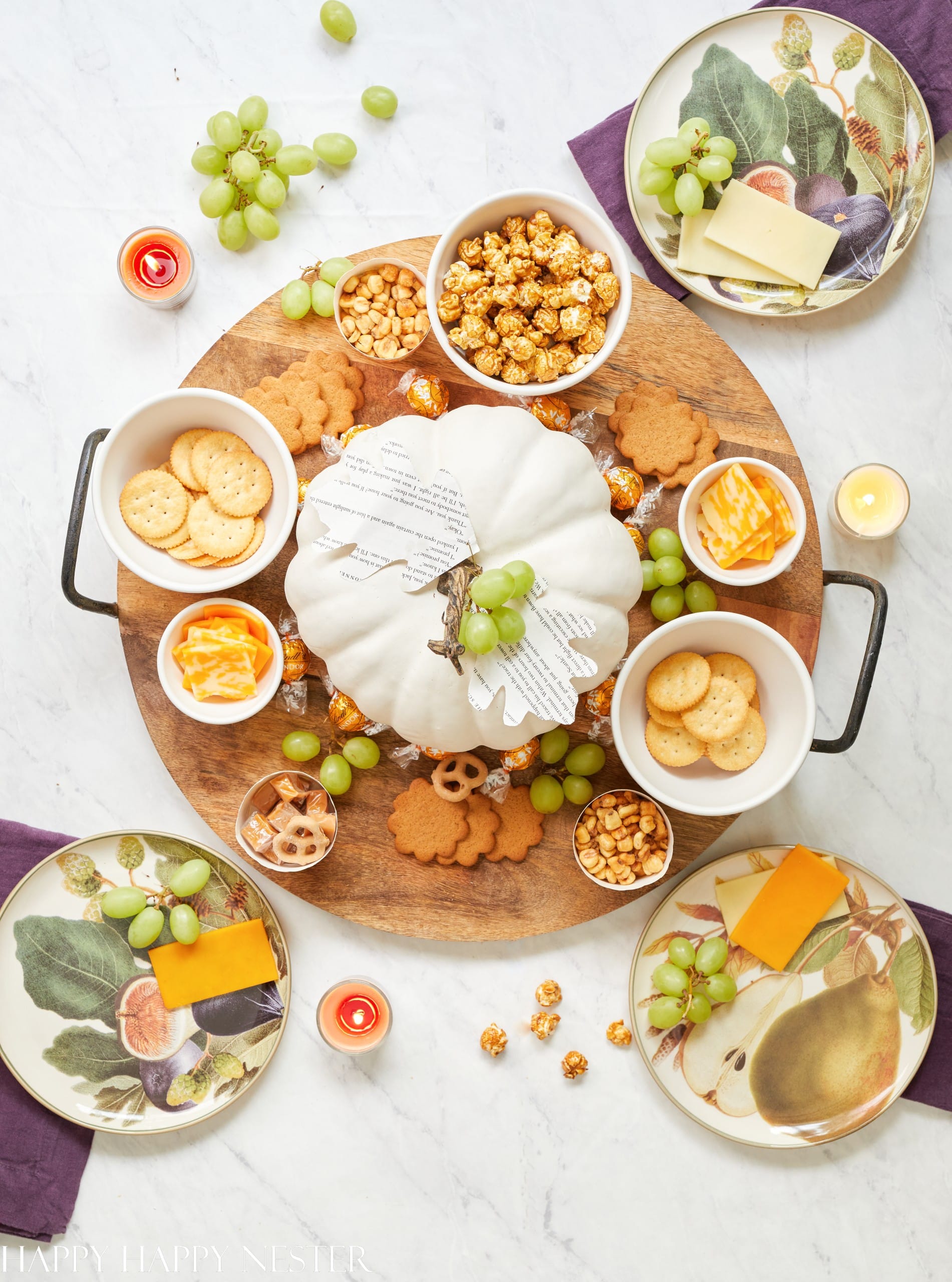 Step 7 – Add Gingersnap and Maple Leaf Cookies
Place the cookies in all the empty spots on the board.
Step 8 – Add Chocolates
I tuck the chocolates in any available place. My family loves these chocolate-covered almonds, so I always scatter them so everyone can have a little personal stash.
Add plates and enjoy the fall charcuterie board.
Additional Options
Cold Cuts
Olives
Pears
Veggies
Pita Chips
Chips
Variety of Nuts
Dried Fruit
My assistant just posted a Boutique of the Week collection of boards. She included round-shaped boards as well as rectangular and more. If you need a Charcuterie Board this fall, we have you covered.
Invite your friends for a little fall get-together and create this fun charcuterie board.
Happy Fall and snacking on a fun group of yummy treats!
Cheers,