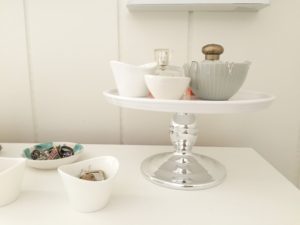 Cute Storage Ideas
Can we talk about cute storage ideas? But, first I must tell you that today was a very bittersweet day for me as I helped packed my niece's belonging into a moving truck. The reason why I'm so sad is that she is moving back to Seattle. She spent the last year in the Bay Area completing her doctorate. Her next adventure is taking her north where she will settle down and begin her new life. While she was living here, she rented an adorable one bedroom studio in a very cute old clapboard home. As many of you know, I helped her decorate and organize her small studio. So, today I want to show you some of the efficient storage solutions we came up with for her tiny place.
A Note About the Nester
I love containers so much that my husband has accused me of having containers for containers.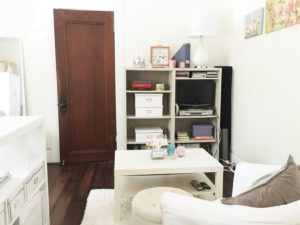 When we began planning her home, our primary priority was storage. In addition to limited space, she was also on a tight budget. We immediately searched Craigslist for some cheap furniture. We hit the jackpot on bookshelves that were either free or pretty inexpensive. I feel that bookshelves are a nice way to store things and also a convenient way to create spaces in her one room studio. They can stand as walls and define an area.
Shop the post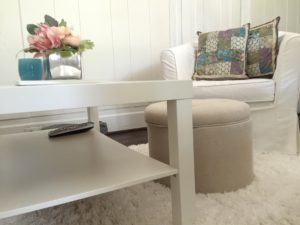 She found a beautiful linen stool that had two other containers inside of it. It was such a great find and I loved how it held so much storage, she ended up placing some of her shoes in one of them.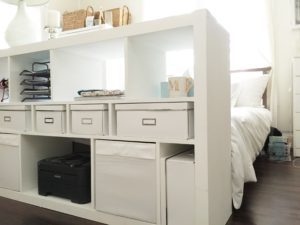 I taught her to organize her belongings in cute containers that all match. So instead of having piles of paper and knick-knacks, she now has them in white boxes that keep her things looking tidy and organized. This little trick quickly cleans a space, and it allows you to deal with your piles when you have the time.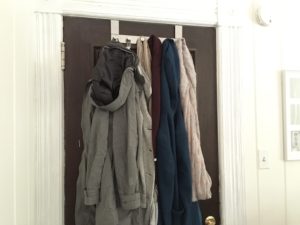 As most apartments, she had one tiny closet. So, we came up the idea of placing a hanger on the back of her door. It stored her bulky coats and  had them readily available right at the door. Don't you think it looks cute?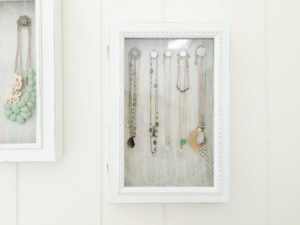 My niece saw Pottery Barn's jewelry containers, but since they were super expensive, we came up with our solution. These boxes are so cute and easy to make, so I'll publish these cute storage containers in another post.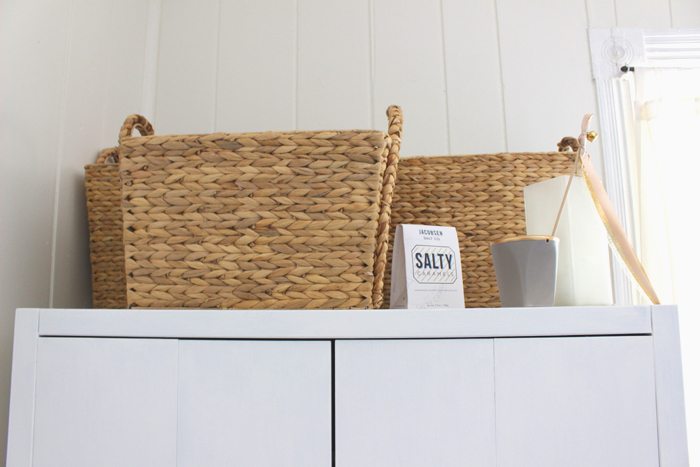 I love these hyacinth baskets. Here is the link to another blog post I published. Small Studio Update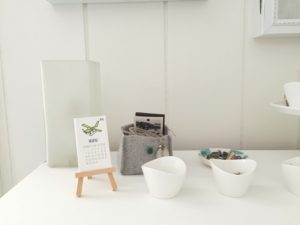 I have more posts about her cute studio, so make sure to hop on back to get a peek of her kitchen. I'm so happy that she trusted me with her studio and I love how we transformed her apartment and made use of such cute storage containers.
Cheers,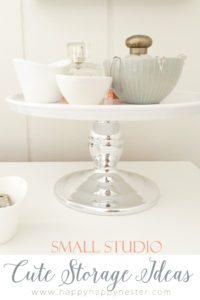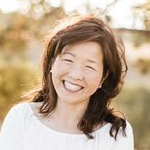 Latest posts by Janine Waite
(see all)