I'm constantly looking for fresh ideas to jazz up prayer candles. This fun DIY Glass Candle Holder Decoration is easy to create and perfect for celebrating the 4th of July. This budget-friendly design requires only a few supplies and ten minutes to make!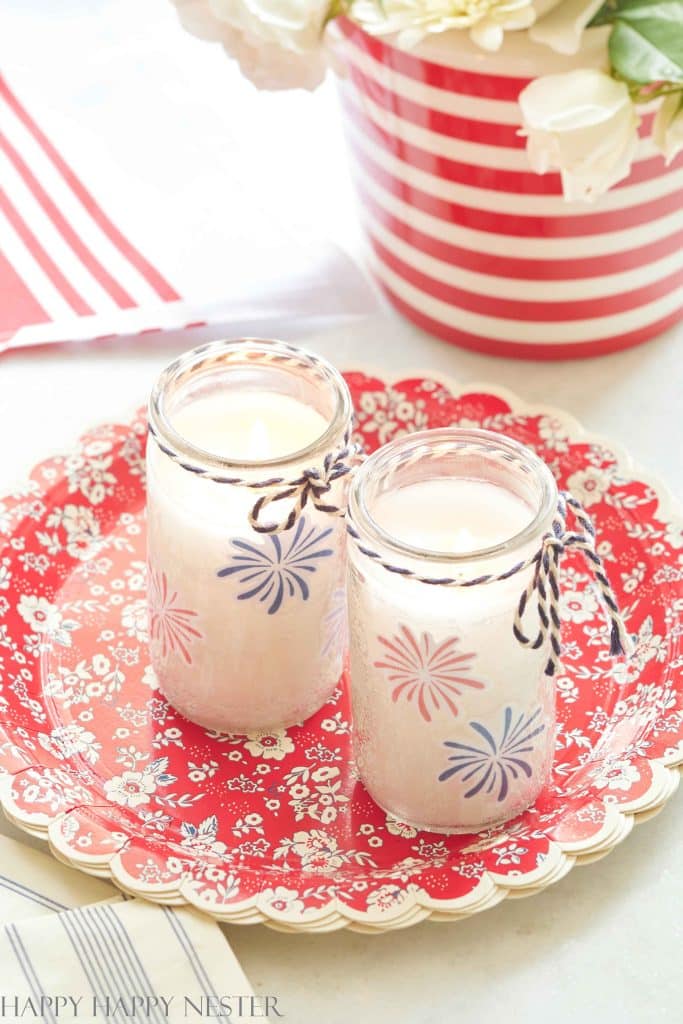 If you've got some packaging tape, scissors, a printer, and a candle, you're all set for a super fun candle project! With these simple supplies, you can create a fun and personalized candle. So gather your supplies, get crafty, and let's get creative!
Can you believe the 4th of July sneaked up on us so fast?
With the weather being unusually chilly, it doesn't even feel like summer. Regardless of our unusually cold weather, I'm thrilled to dive into this exciting 4th of July project. And guess what? This craft isn't limited to Independence Day—it's perfect for any time of the year! Pick your favorite image, attach it to a glass candle holder, and enjoy your newly styled candle.
But before we dive into the project, I must mention that a few of my blogging friends are joining me. They are sharing their 4th of July crafts as well.
Check Out These 4th of July Crafts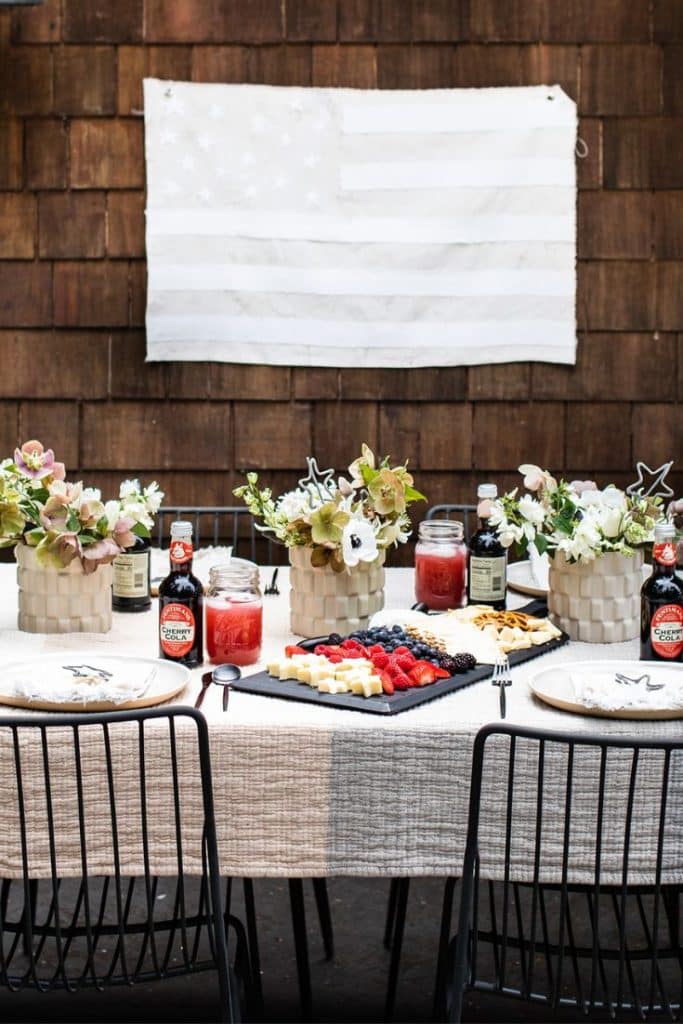 DIY Dropcloth Neutral Flag | My Sweet Savannah
If you like to decorate for the holidays with neutrals, this new sew DIY project is for you! Made with a dropcloth and fabric scraps, this flag can be made in under an hour and add years of charm to your Fourth Of July decor.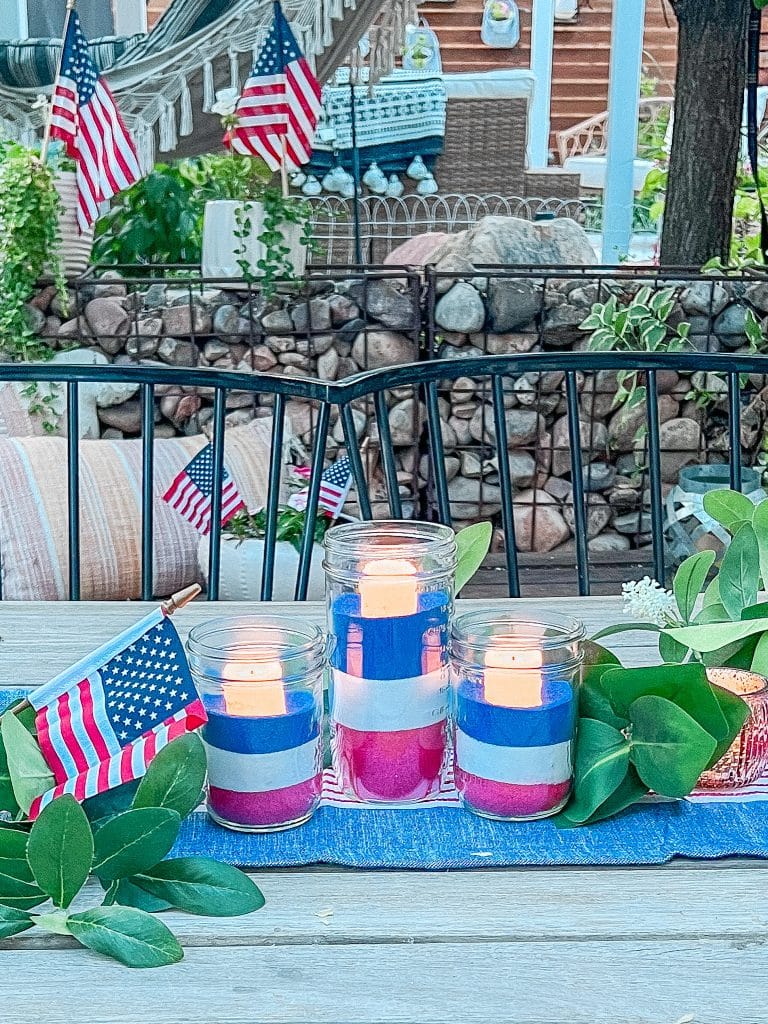 Easy Patriotic Candle Centerpiece | Tatertots and Jello
We love celebrating the Fourth of July with a family dinner. This year I created a really easy candle centerpiece. It only takes 5 minutes to create and you will love the way the candles glow as you celebrate!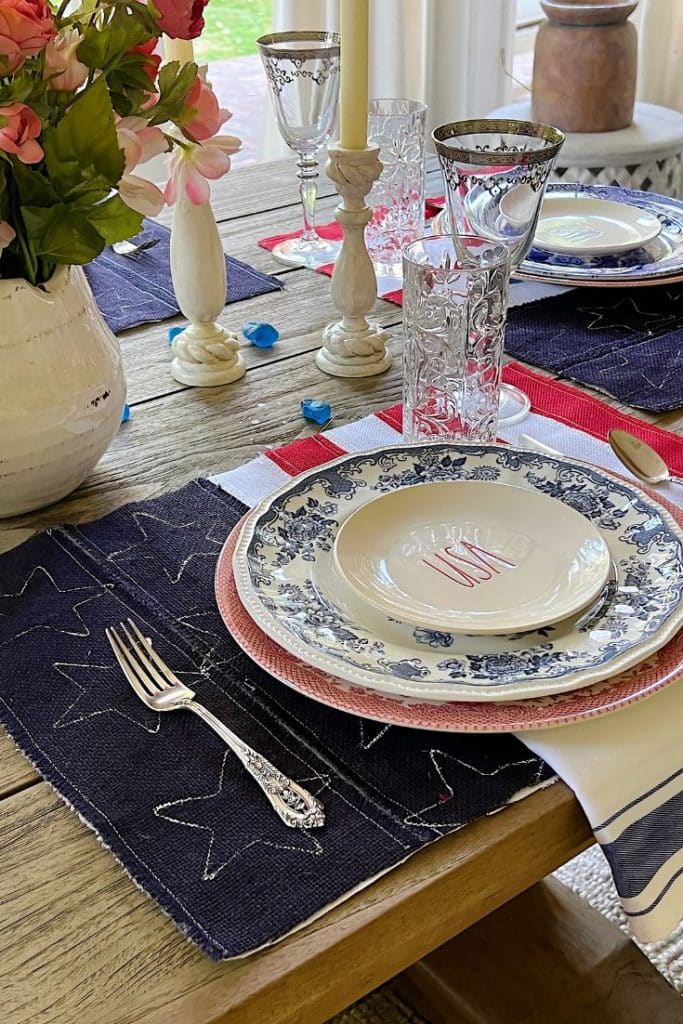 4th of July Decorations DIY for Your Table | My 100 Year Old Home
I couldn't resist. I saw some cute placemats at Pottery Barn and since they were expensive I decided to make my own 4th of July decorations. These placemats were fun and easy to make and I think they turned out amazing. I loved making them.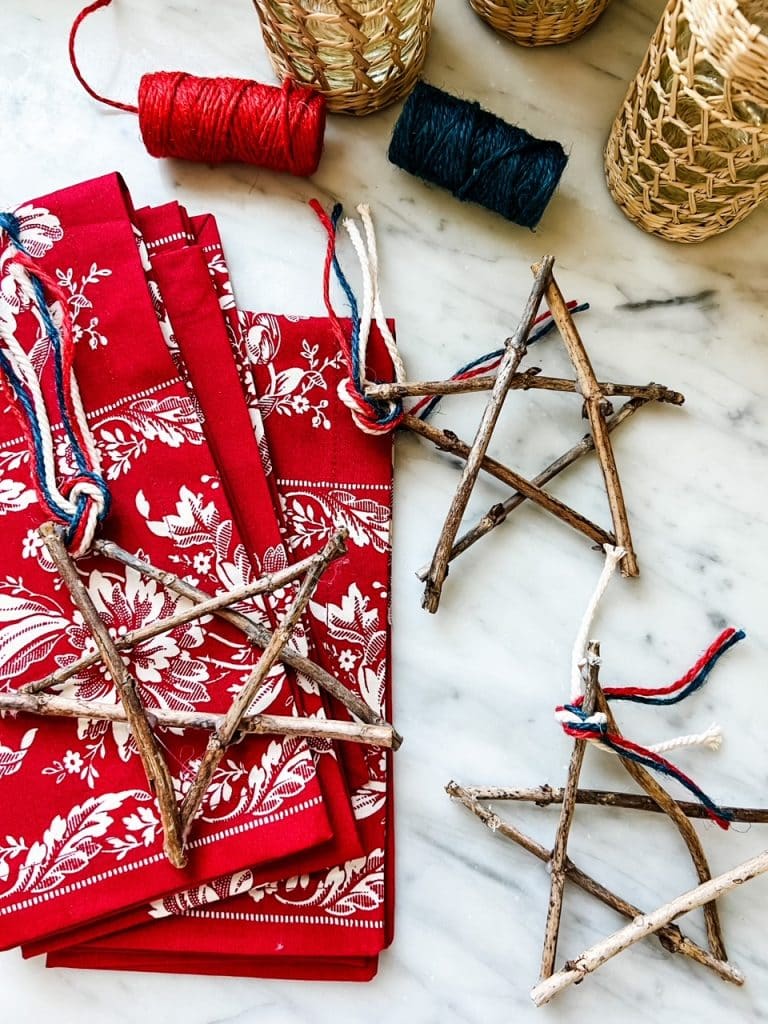 Hydrangea Twig Stars | Most Lovely Things
Simple and rustic twig star decorations using hydrangea branches and red, white & blue twine. Use on the table, and as a garland for a casual vibe.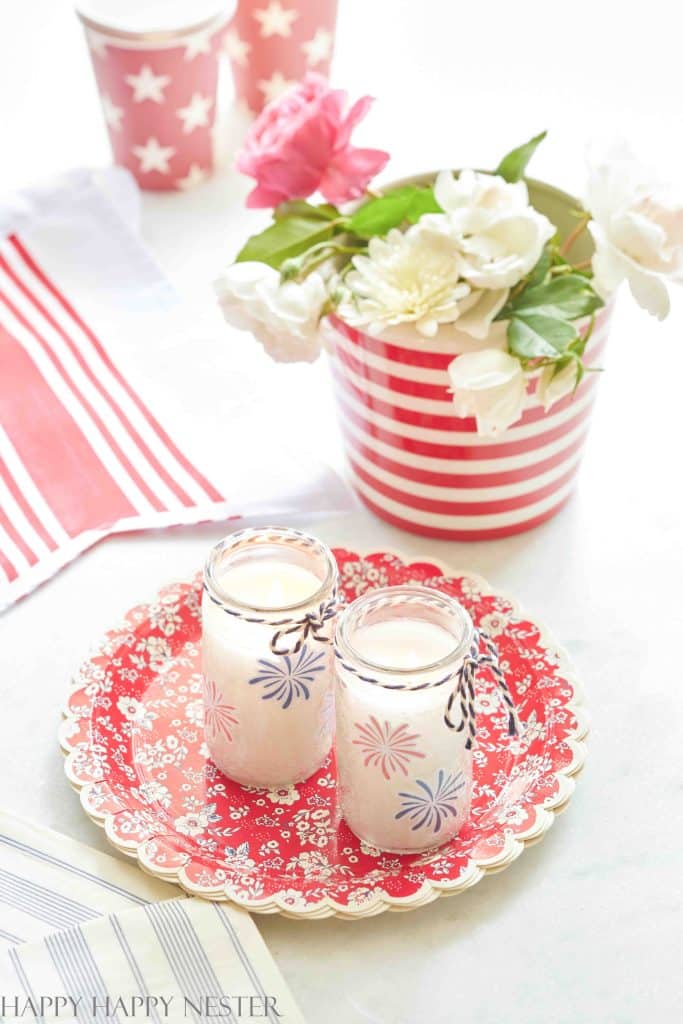 ---
---
---
---
---
Let's get this fun candle project started!
How to Make This DIY Glass Candle Holder!
Supplies You'll Need
Candle Instructions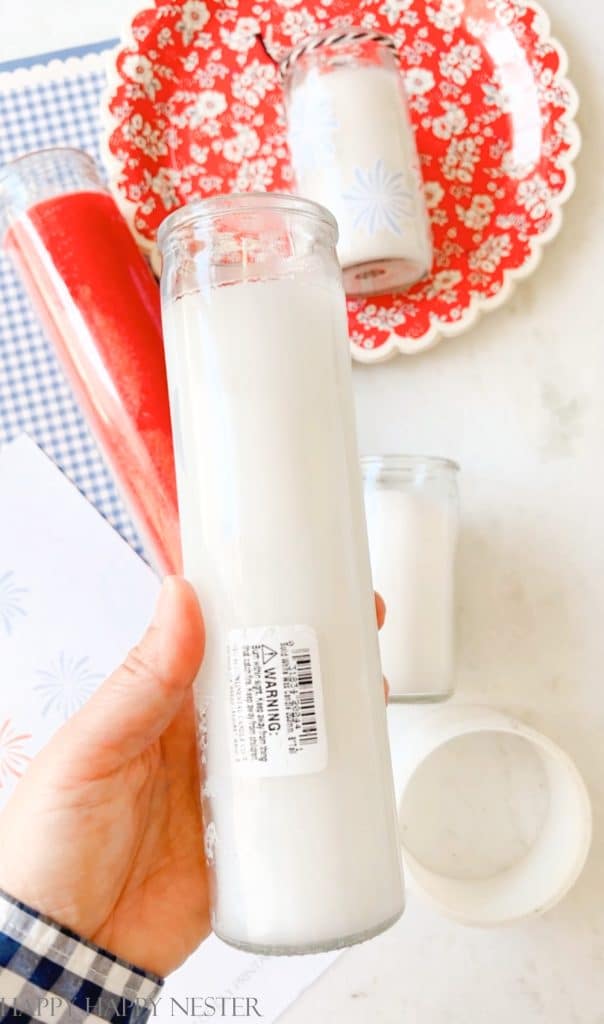 Step 1 – Print Out the Image and Prep the Candle
Buy the printable here. Then print out a small Fireworks image.
Prep your candle by removing the sales sticker. If you need to remove the sticky part, I used the Goo Gone product.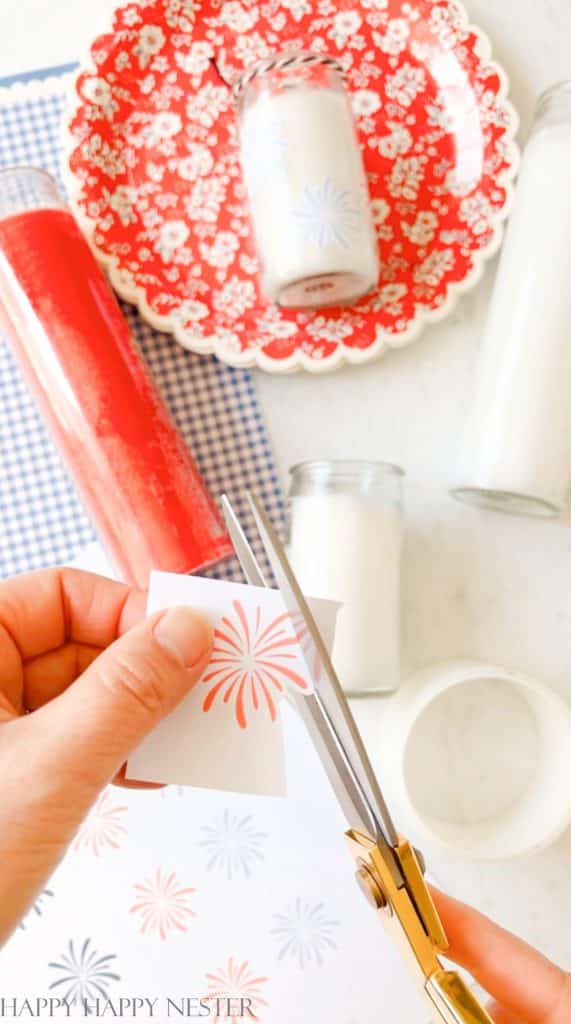 Step 2 – Cut Out Image
I cut out my fireworks image and left a white space surrounding the image. I tried to cut roughly the shape of the image.
Step 3 – Place Tape On the Image
Place the tape on the image, and the sticky side will be face down. Trim the tape around your image, leaving enough of the tape so it will stick to the glass candle container.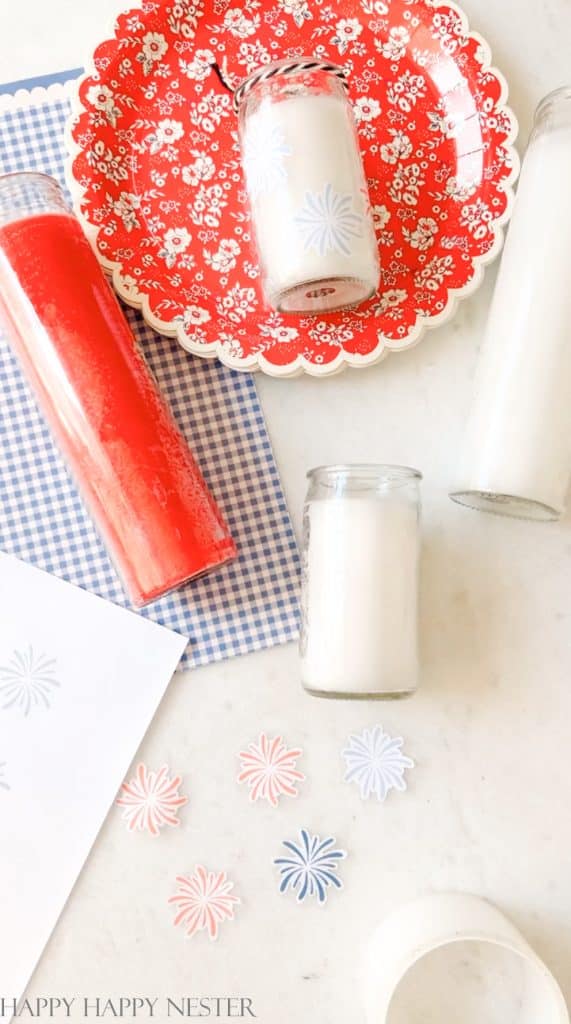 Step 4 – Place the Image on the Candle
Now place your little labels on your glass candle. And finally, add baker's twine ribbon to the candle if you like.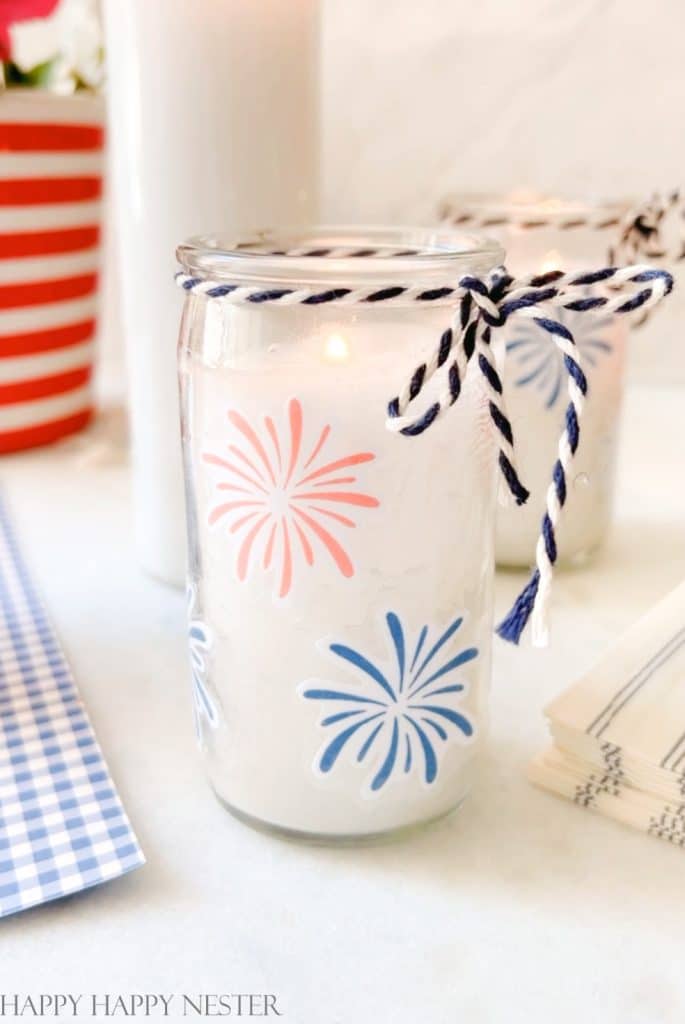 Decorating a Candle Holder Tips
Decorating a candle is pretty simple. There are only a few things that you should know before embarking on this little DIY project.
Where to Buy Your Candles
Here are a few places you can find the candles!
---
I'm totally into decorating and crafting candles. In fact, I've whipped up a few candle projects myself. If you're curious and want to dive in, check out these awesome posts: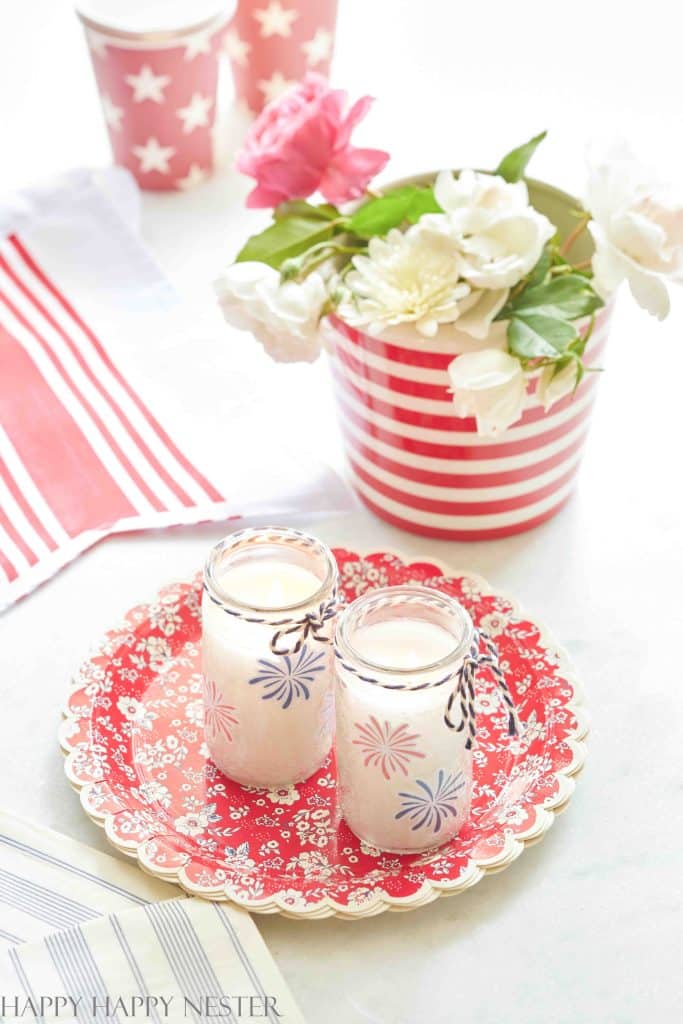 I hope you have an excellent 4th of July this year! We plan to hang around at home and enjoy the holiday in our backyard. I'll make sure to decorate my table with these festive candles!
Happy 4th of July to you all!
Cheers,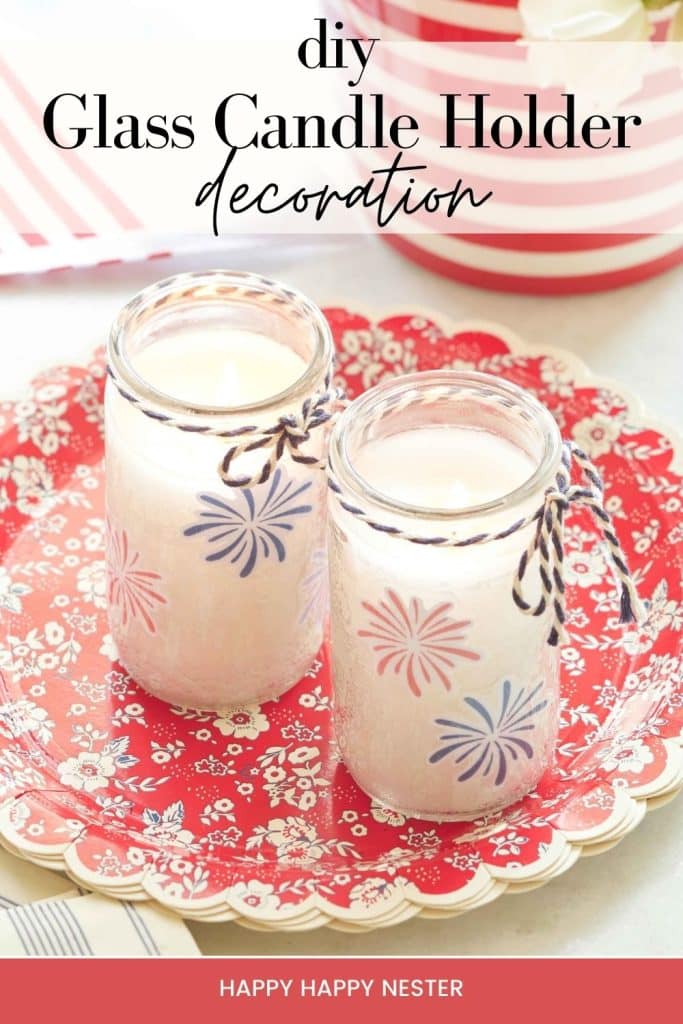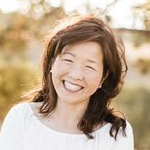 Latest posts by Janine Waite
(see all)