My family loves granola, and so I came up with this Easy Homemade Granola Recipe with chocolate. There aren't many chocolate granolas in the grocery stores, so I knew that I had to come up with my recipe.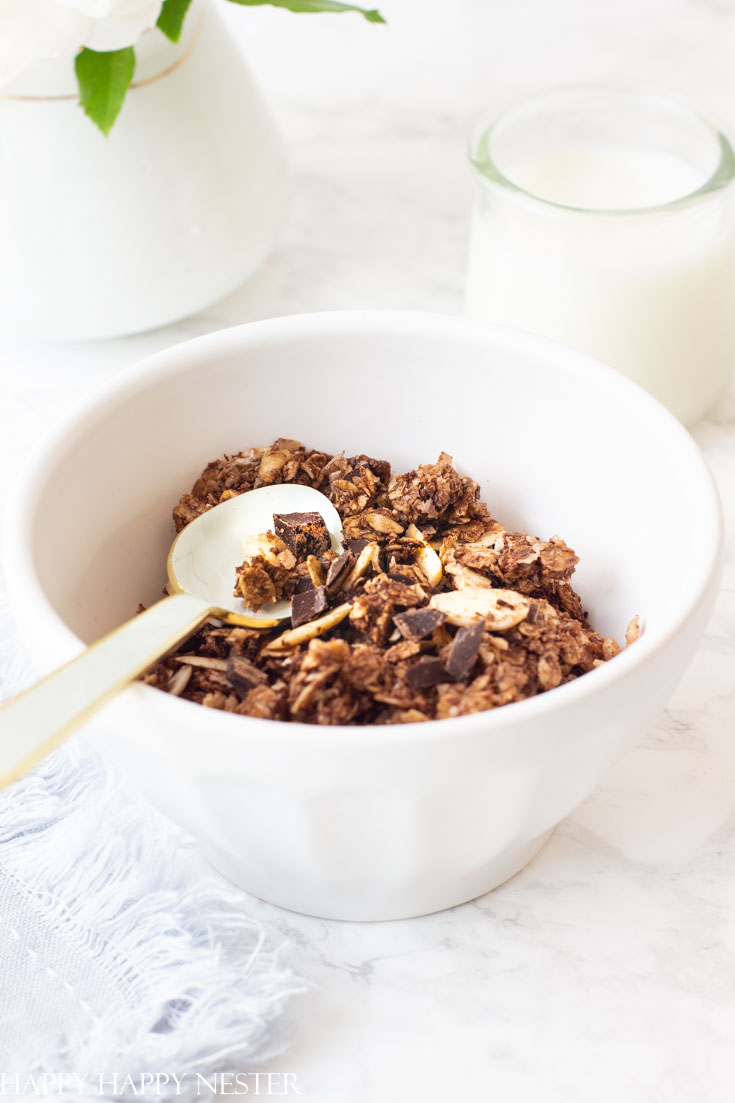 The key is to use dark chocolate so that it doesn't overwhelm the flavor and isn't too sweet. For the base, this recipe calls for unsweetened cocoa powder and the chocolate shavings are a dark Belgium chocolate from Trader Joe's.
*This post contains affiliate links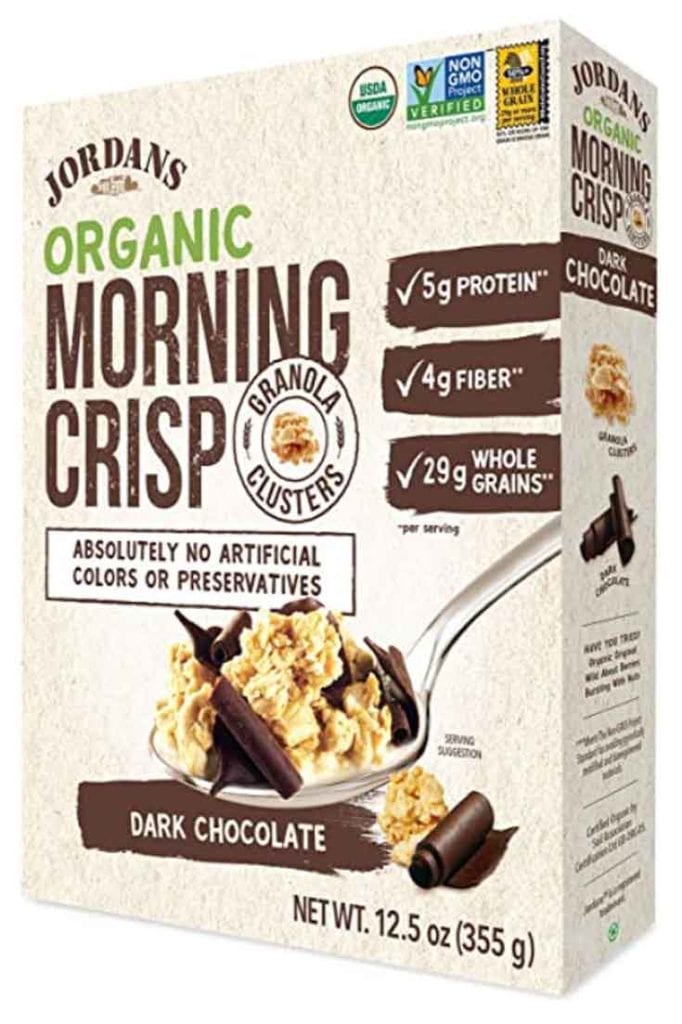 The Back Story to this Recipe
On a trip to France, we happened to buy a box of Jordan's chocolate granola.
Up until this trip, I had never tasted granola with dark chocolate chunks. Well, it was life-changing, and my son and I immediately fell in love with this granola.
So, after our trip, I began hunting for a similar granola and couldn't find one until just a couple of years ago. Of course, they only sell little bags (Nature's Path) of this gourmet granola, and then it's pretty pricey.
Fast forward to today, and I'm baking a lot since we are in Shelter in Place. Yes, we are now pretty domestic around here, and we are making all our meals. And granola is one thing, I decided to make since our son went through one box of granola in one sitting.
I made my basic granola and then decided to try adding some Chocolate powder to the base. The combination of chunks of chocolate and chocolate oats was perfect and yummy.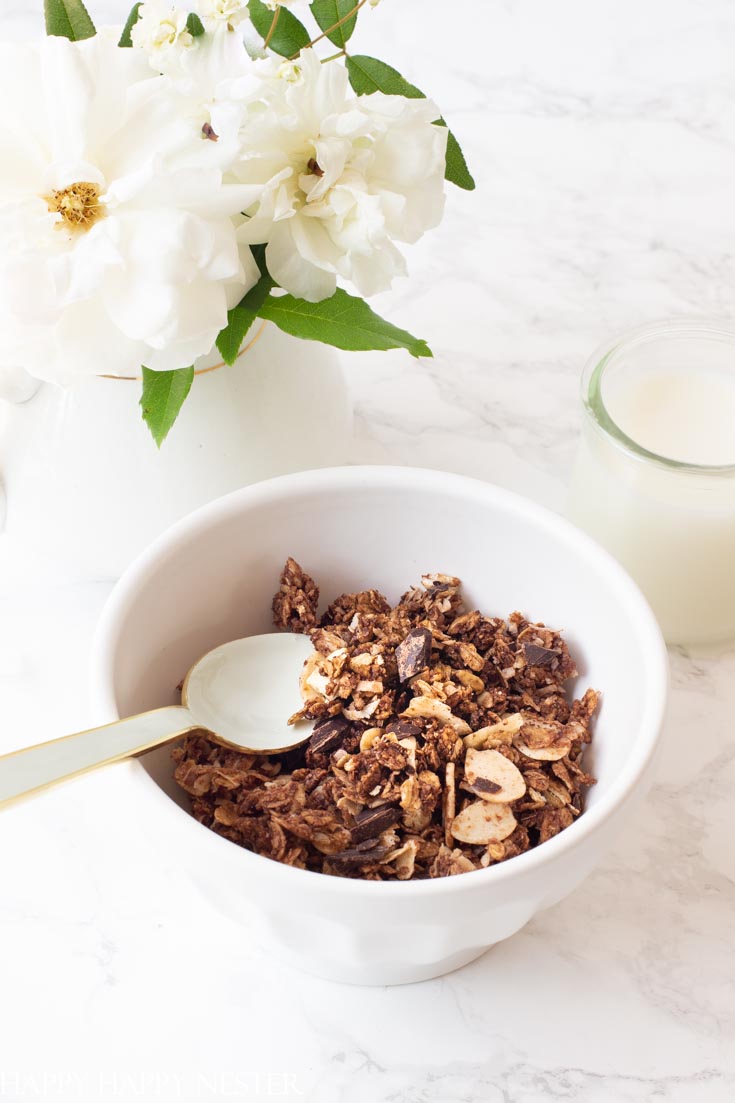 Well, my easy homemade granola recipe with chocolate was an instant hit with the family. I made one batch, and within minutes it was devoured. So, I finally tripled the recipe, and that remained on our shelf for a wee bit longer. So, if you have a family with teenagers, then you might want to double or triple this recipe.
Here is a little history about the origins of Granola from Wikipedia:
Granula was invented in Dansville, New York by Dr. James Caleb Jackson at the Jackson Sanitarium in 1863. The Jackson Sanitarium was a prominent health spa that operated into the early 20th century on the hillside overlooking Dansville. It was also known as Our Home on the Hillside; thus the company formed to sell Jackson's cereal was known as the Our Home Granula Company. Granula was composed of Graham flour and was similar to an oversized form of Grape-Nuts. A similar cereal was developed by John Harvey Kellogg. It too was initially known as Granula, but the name was changed to Granola to avoid legal problems with Jackson.
Homemade Granola Ingredients
Here is what you'll need for this easy homemade granola recipe.
Old Fashioned Oats: Otherwise known as Rolled Oats. If you need gluten-free oats, I would check the label and review it for the certified GF. If you need to use the quick oats, I would suggest, half rolled and half quick, and the granola still is lovely.
Brown Sugar: I used what I had on hand, and it was a light brown sugar. I think either kind will do. Just make sure to pack the brown sugar in the measuring spoon.
Maple Syrup: Yes, I use the real maple syrup, but I'm not picky about the quality grade.
Dark Chocolate: I bought the 1 pound bar of Belgian Trader Joe's Chocolate. It is 72% Cocoa Dark Chocolate. I freeze it for future uses since you'll have enough for a couple of batches.
Wheat Germ: Wheat germ is used in place of flour and is a good source of vegetable protein.
Coconut Flakes: I use both the unsweetened flakes and sweetened. When I'm not able to buy the unsweetened flakes, I will use the other.
Cooking Oil: You can use your preferred oil.
Vanilla Extract: The amount you use depends on how much you like the vanilla flavor.
Easy Homemade Granola Recipe with Chocolate
Ingredients
2

cups

Old Fashion Whole Grain Rolled Oats

½

cup

Wheat Germ

2

tbsp

Brown Sugar

¼

tsp

Salt

1

tbsp

Cocoa powder

Unsweetened

1

cup

Coconut flakes

1

cup

Sliced Almonds

¼

cup

Maple syrup

3

tbsp

Cooking oil

1

tbsp

Water

1½

tsp

Vanilla Extract

1

cup

Dark Chocolate Chunks
Instructions
Mix together in a bowl, oats, wheat germ, brown sugar, salt, unsweetened cocoa powder, coconut flakes, and sliced almonds.

In a small saucepan, mix maple syrup, oil, water, and vanilla extract. Bring to a slight boil, and add to the grain mixture.

Mix everything together and place on a greased baking pan.

Bake for 40 minutes in the oven.

Remove from oven and let pan cool on a baking rack.

Once cool add chunks of chocolate to the mix.
Nutrition
Serving:
6
servings
|
Calories:
244
kcal
|
Carbohydrates:
21
g
|
Protein:
3
g
|
Fat:
17
g
|
Saturated Fat:
9
g
|
Sodium:
106
mg
|
Potassium:
193
mg
|
Fiber:
4
g
|
Sugar:
13
g
|
Vitamin C:
1
mg
|
Calcium:
25
mg
|
Iron:
1
mg
Here is some of the equipment you may need: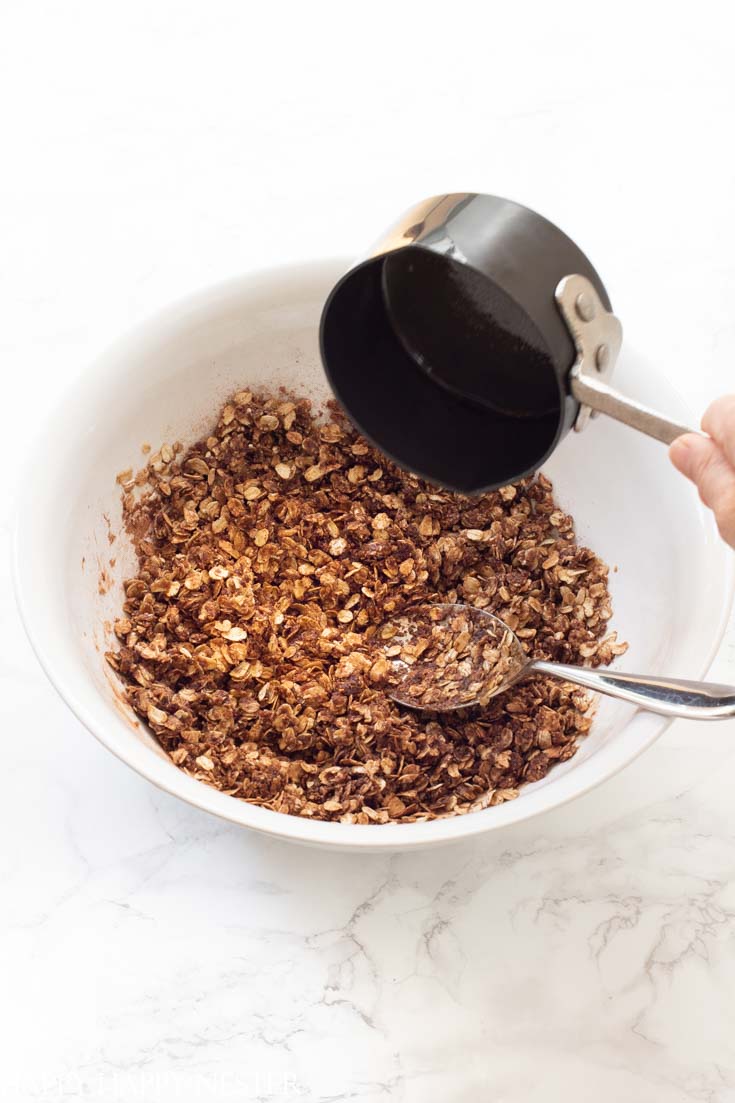 I love that this easy homemade granola recipe makes such a great tasting cereal. Now, I like to have a stash of this granola on hand all the time. I don't even buy the store-bought boxes anymore.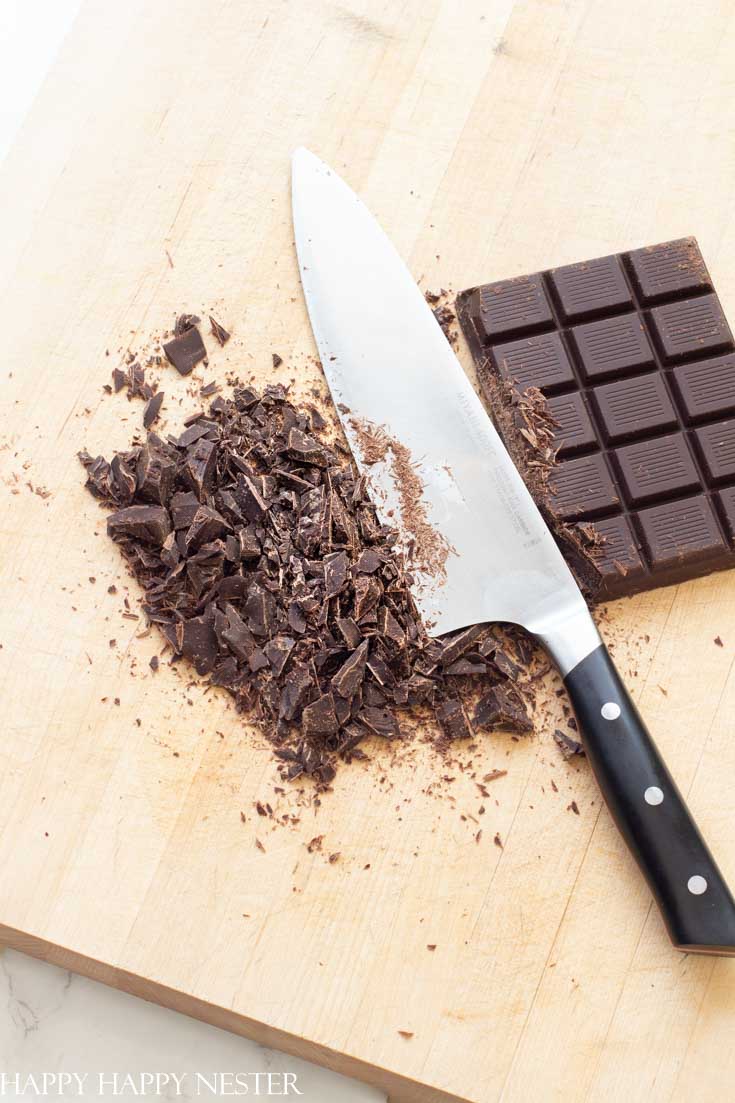 This giant chocolate bar from Trader Joe's is the best. I store mine in the freezer, so I have it for future batches of granola. Add as much chocolate to your granola as you like to this easy homemade granola recipe.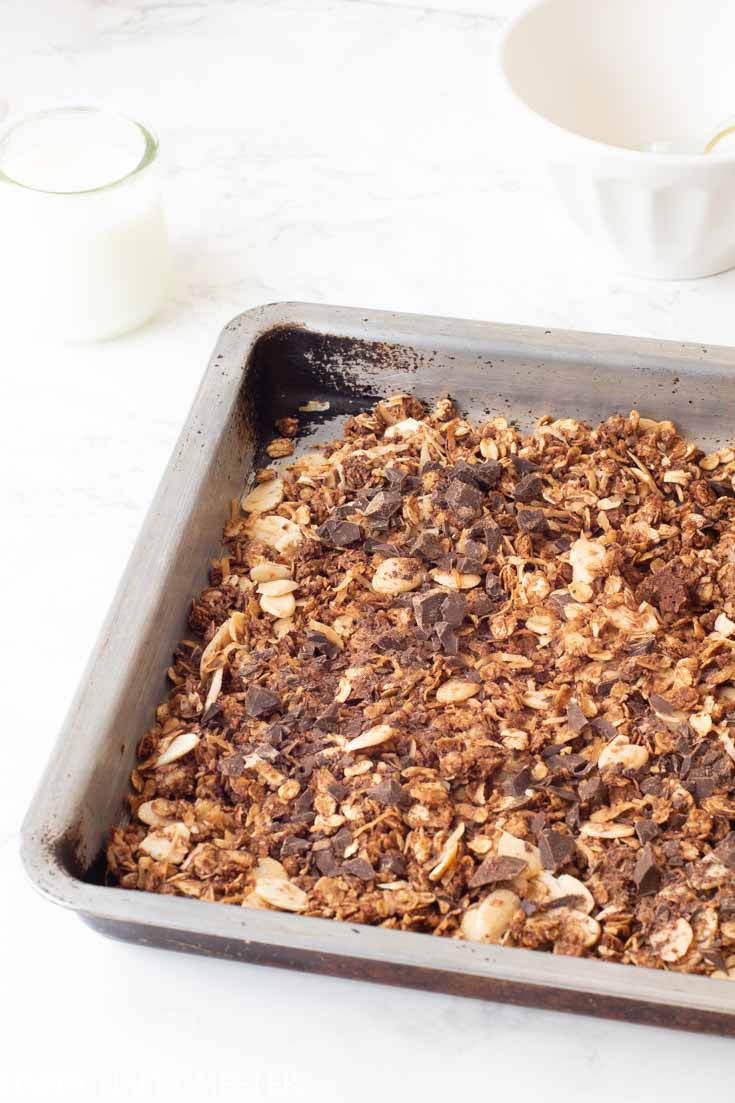 My niece gave me my first granola recipe. Then, of course, I launched off that basic recipe. And now my mind has turned to make a granola bar.
Here are more Breakfast Recipes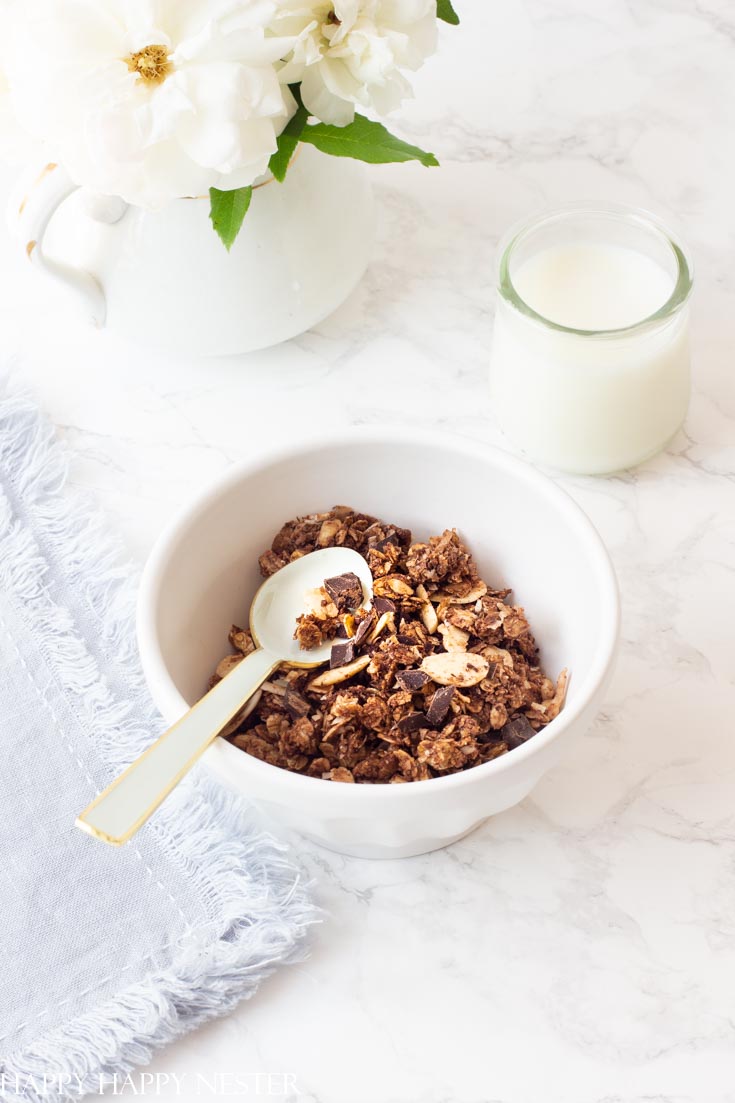 Thanks for stopping by for my easy homemade granola recipe. It is one of my favorite cereals, and I hope you like it too. I will be making some pickled radishes next week, so come back for a visit.
Cheers,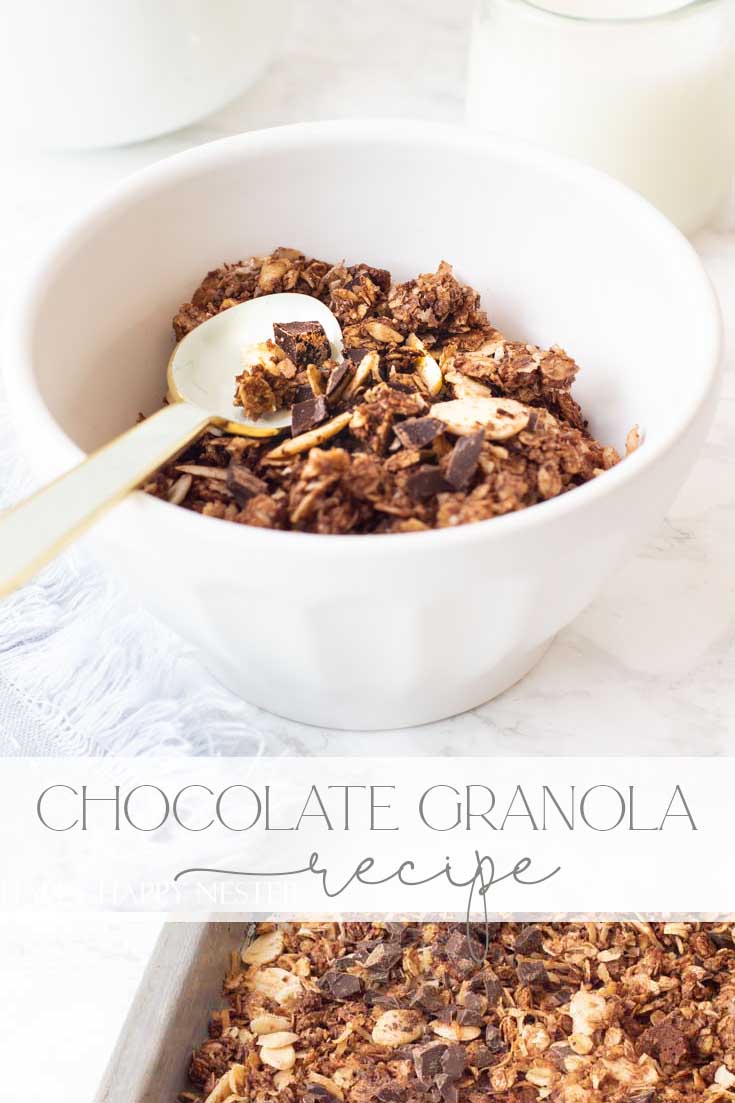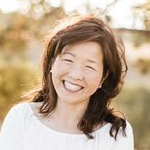 Latest posts by Janine Waite
(see all)