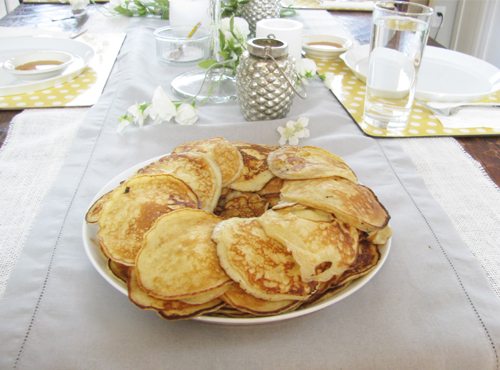 Saturday mornings are all about
making Pancakes From Scratch
Do you make pancakes from scratch on the weekend? I must admit that I'm not the pancake chef in our family. My husband has the passion and ability to make awesome pancakes. The great thing is that we finally found a recipe that even I can't mess up. This recipe is very forgiving, and the pancakes come out perfect every time despite my handicap.
~ A Note About the Nester ~
On the weekends, we are pretty lazy, and we all lounge around in our pajamas for a good part of the morning. I usually win our little family pajama contest. The winner is the one who stays in their pj's the longest.
The following post contains Amazon affiliate links.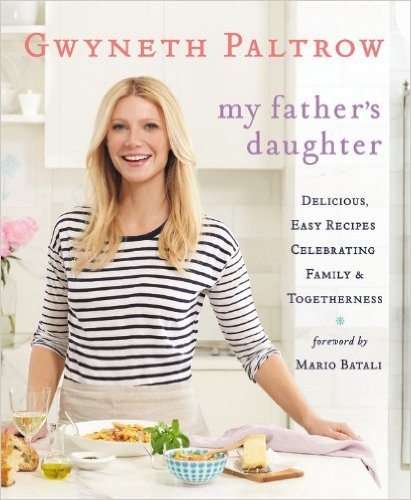 This recipe comes from Gwyneth Paltrow's late father, Bruce. He loved making pancakes from scratch, and he perfected this recipe over his lifetime. I own this Gwyneth Paltrow cookbook , and we have tried quite a few of her excellent recipes. Our book is worn and stained on the pancake pages, and seriously I should make a copy and just laminate it. Anyway, my husband makes these pancakes from scratch, and he has coached me on his little tricks so I can pass them along to you.
Bruce Paltrow's Buttermilk Pancake Recipe
3 cups unbleached all -purpose flour
1/4 cup plus 2 tablespoons granulated sugar
1 tablespoon plus 1/2 teaspoon baking powder
2 teaspoons fine salt
3 cups buttermilk
6 tablespoons unsalted butter, melted and cooled, plus more butter for cooking
6 large organic eggs
Up to 1 cup milk, as needed to thin batter
*Hubs Secret: He likes to add a little bit of milk which gives the pancakes a more crepe consistency. If you add more milk to the batter, it will be a tiny bit thinner.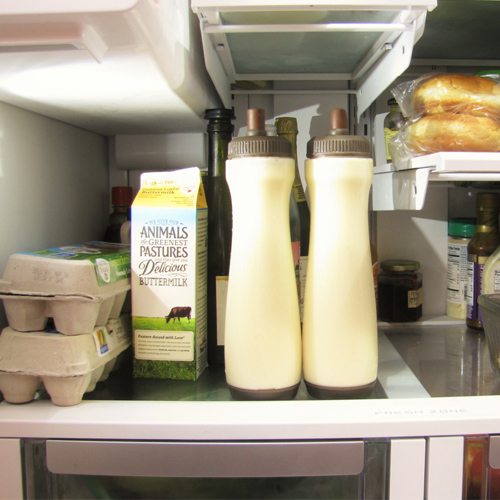 *Hubs Secret: He has tried this recipe both ways, making it the night before and the day of. He really couldn't tell the difference between the two modes. The one advantage of making the batter the night before is that it is ready for you in the morning and saves time. In this photo, the batter is in our favorite dispensers  if you want to know more about them here is the post: Dispenser Review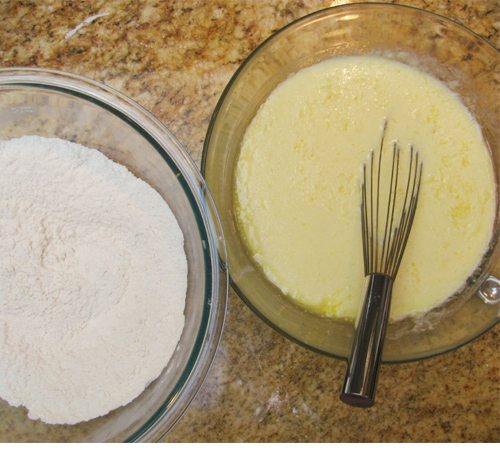 Mix your dry ingredients together in a large bowl.
Melt the butter and let cool. Whisk eggs in another bowl and add the butter to them. Although, my husband says that whether he uses cool or warm butter it still clots in the egg mixture. He has discovered that this step doesn't seem to affect the outcome of the pancakes.
The interesting thing about this recipe is that mixing the batter doesn't appear to have negative consequences on the pancakes. Did I already say that I love this recipe! Now, combine the dry and egg mixtures together and place in pancake dispensers.
At this point, you can either refrigerate the batter overnight or choose to make your pancakes immediately.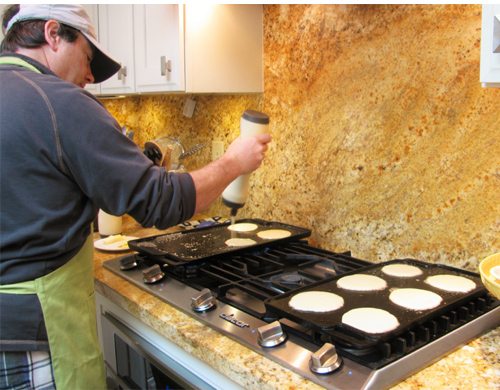 *Hubs Secret: Heat your pan and test readiness by sprinkling water on the surface and if the water sizzles the skillet is ready. By the way, the cast iron pans pictured here are amazing. Here is the Amazon Link: Cast Iron Skillet  These pans are pre-seasoned, and you can use them immediately.
Also, he has a plate of pre-cut pats of butter ready to coat his skillet in between batches. He is all about efficiency and once he begins making his pancakes on our two skillets we have hot yummy pancakes on the table in minutes.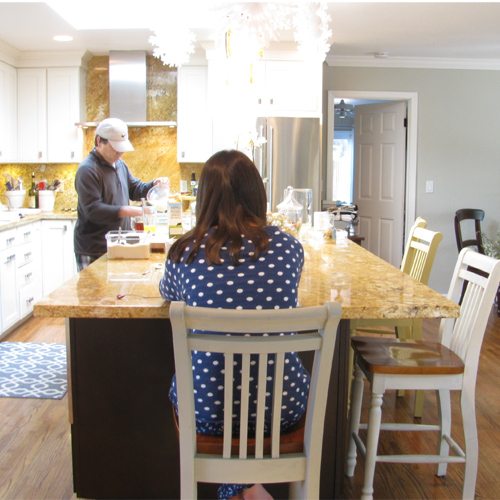 While my husband is working hard in the kitchen, my daughter keeps him company. These two are inseparable during weekend mornings, while my son and I sleep in. I must admit I'm a little bit of a slug on Saturdays.
This is the best recipe we have found for making pancakes from scratch. I highly recommend you buy the book for yourself and enjoy her other recipes. I just bought Gwyneth's second book, and I can't wait to dive into it and report back to you! Do you have a favorite breakfast recipe?
Cheers,

You might find the following posts interesting.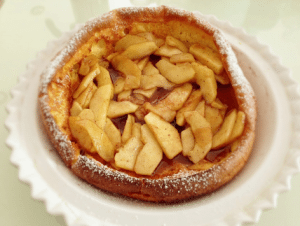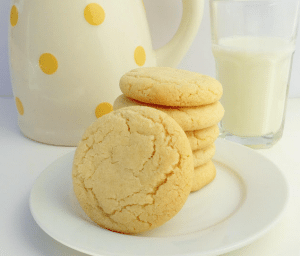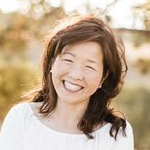 Latest posts by Janine Waite
(see all)