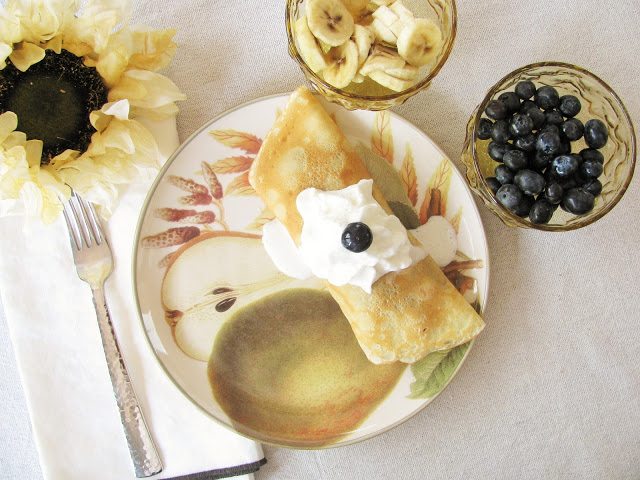 Oh my goodness, this is the most amazing recipe that Marci is sharing with us! She and I did a live Periscope crepe making broadcast this week. We had a ton of fun and let's just say there was a lot of laughing involved in the 25 minutes that the camera was rolling. For some of you who aren't familiar with Periscope, it is an app that Twitter owns, and it allows anyone to stream live broadcasts from all over the world. The taped sessions will stay up on your account for 24 hours. Marci was excellent in demonstrating to our viewers how to make crepes. Also the most important thing I took away from the demo is that crepes aren't that difficult to make at all. In fact, I feel it is easier than pancakes… yes, I did make one last night, and it was a beautiful thing. And, I really can't make a pancake to save my life. You have to try this recipe and, in fact, my husband who moonlights as a food critic (not really) gives this recipe a big thumbs up!
* A little side note about our broadcast is that we played music while making these lovely crepes. If you have the Pandora app on your cell phone you must play and listen to the "French Cafe" station, it is the best for ambiance for any weekend morning.
~ A Note About the Nester ~
When we were in France and my husband wanted to speak in French,
he struggled to come up for the word for "bill."
So, unbeknownst to him he used the wrong word
when asking our waiter for a "poster!"
The waiter replied in clear and disgusted English, "WHAT!"
Let's just say, that my husband didn't break out his French for the rest of our trip.
A little extra fun information about the crepe:
According to Wikipedia, Crepe has a French origin, deriving from the Latin crispa, meaning "curled". While crepes are often associated with Brittany, a region in the northwest of France, their consumption is widespread throughout the world. France has a national crepe day on February 2nd.
In the United States, we have the 49'er Flapjack which a sourdough crepe that gets in name from the pancake that was popular during the gold rush.
1 1/2 cups all-purpose flour
In a large bowl, mix together the milk, egg yolks, and vanilla.  Stir in the flour, sugar, salt and melted butter until well blended.
Heat a crepe pan over medium heat until hot.  Coat with vegetable oil or cooking spray.  Pour about 1/3 cup of batter into the pan and tip or swirl the pan to spread the batter to the edges.  When bubbles form on the topand the edges are dry, flip over and cook until lightly browned on the other side and edges are goldn.  Repeat with remaining batter.
Fill crepes with your favorite fruit, cream, Nutella, cookie butter, cream cheese or anything else you would love.
I've tried many crepe recipes and this is our family favorite.  I got it on allrecipes.com, (recipe by: lelainem10)
I've also substituted the all-purpose flour with buckwheat flour, coconut flour or almond flour.  I've substituted the milk with water too.  It ALWAYS turns out great!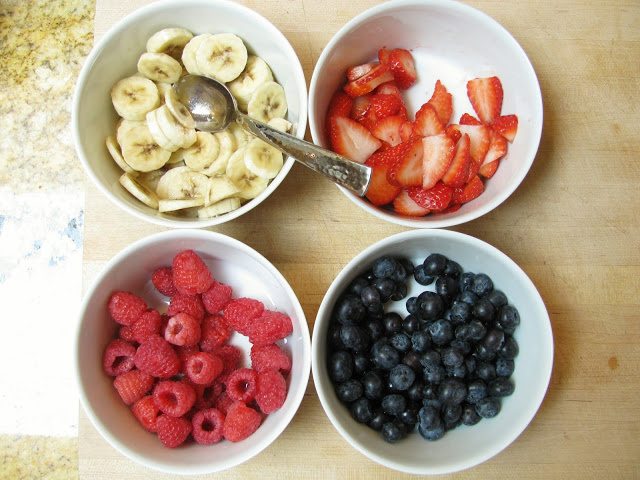 Fresh fruit is the best. The bananas add a nice smoothness to the berries. Of course, you'll want to add fresh cream or maybe even Double Devon Cream! I guess I shouldn't blend the English with the French?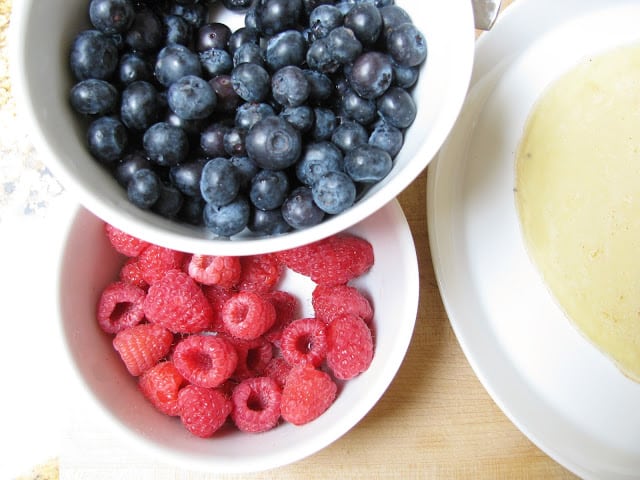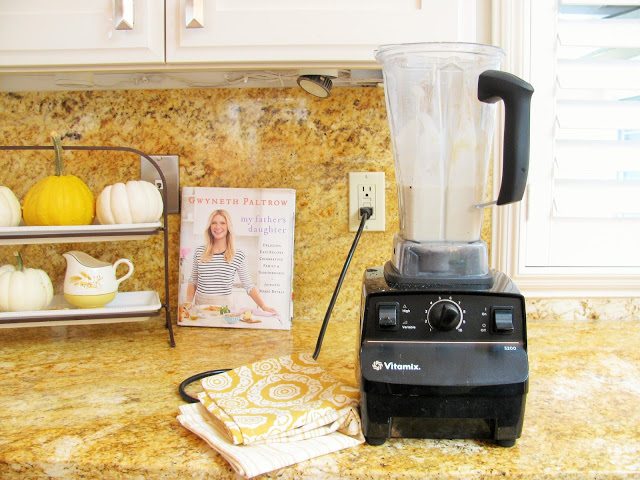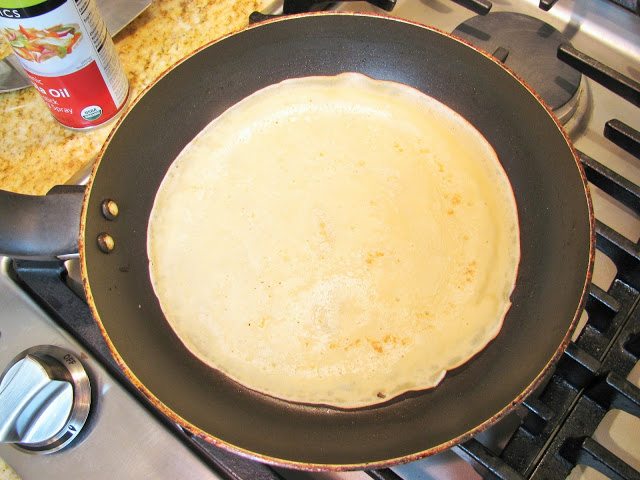 Marci cooked with her old trusty Teflon pan and I used my Caphalon pan that did a beautiful job too. To my surprise, the crepe didn't stick to the pan and slipped right off onto the plate.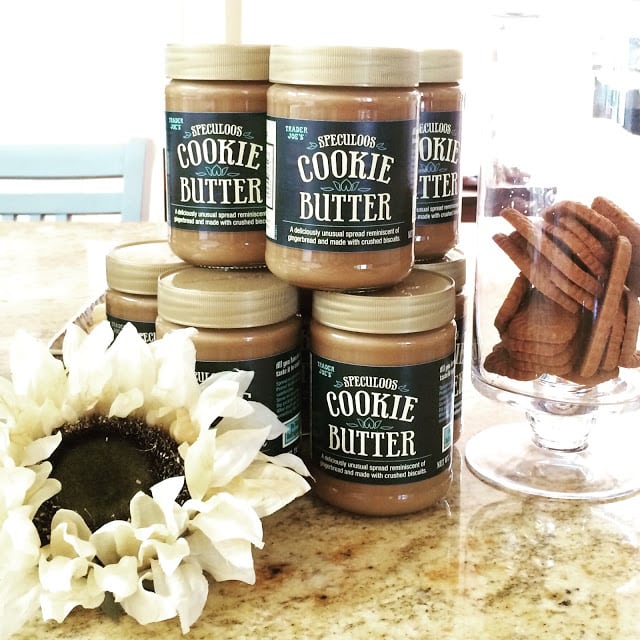 When starting to fill the insides of the crepe, you seriously need this amazing
Cookie Butter
. You can buy it on Amazon and just click on the link above to get your own jar of it. You definitely need to have this as a staple in your kitchen. Marci of course, spread the
Cookie Butter
and Nutella on the crepe and then layered the fresh fruit. Add a little whip cream and roll the yummy goodness up like a burrito!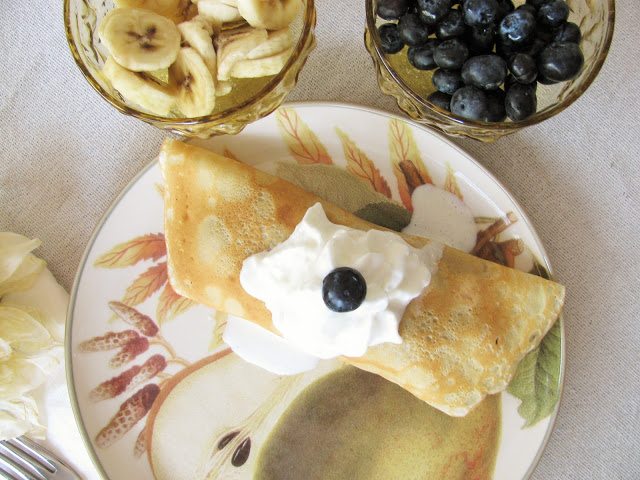 It would be great to take a trip to France, but really these crepes are just as good as the real thing. Add a little cookie butter and Nutella and tada, you have a mouthful of heaven! I hope you enjoyed this post and if you have any fun things you add to your crepes let us know by leaving a comment. We would love to hear from you.
Au revior,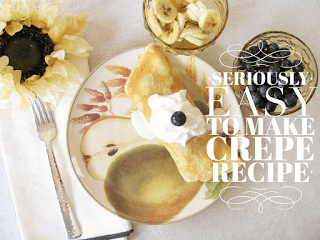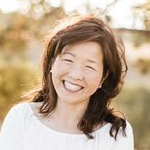 Latest posts by Janine Waite
(see all)