Grab these awesome, totally Free Printable Halloween Gift Tags and attach them to your treats this year. They're perfect for handing out as teacher gifts, surprising your students with Halloween magic, or making the night memorable for all the neighborhood kids who drop by for trick-or-treating fun! So, let's get into the spirit and share the Halloween joy with these fantastic tags!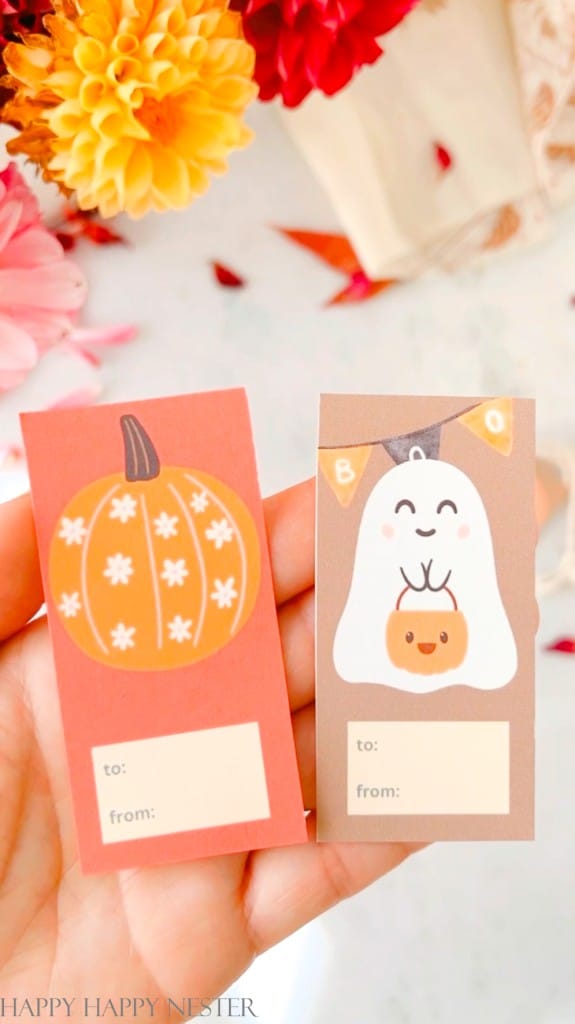 Making these tags is simple – download the file and print them at home. Then, attach these free Halloween printable gift tags to candies, presents, or homemade baked goods to share with your friends.
Halloween is an absolute favorite of mine, and I can't get enough of the fall season. As someone who loves to bake, having these charming gift tags adds an extra layer of fun to my homemade treats.
However, if you happen to have a little one with classroom parties in the mix, you'll adore including these in your Halloween treats.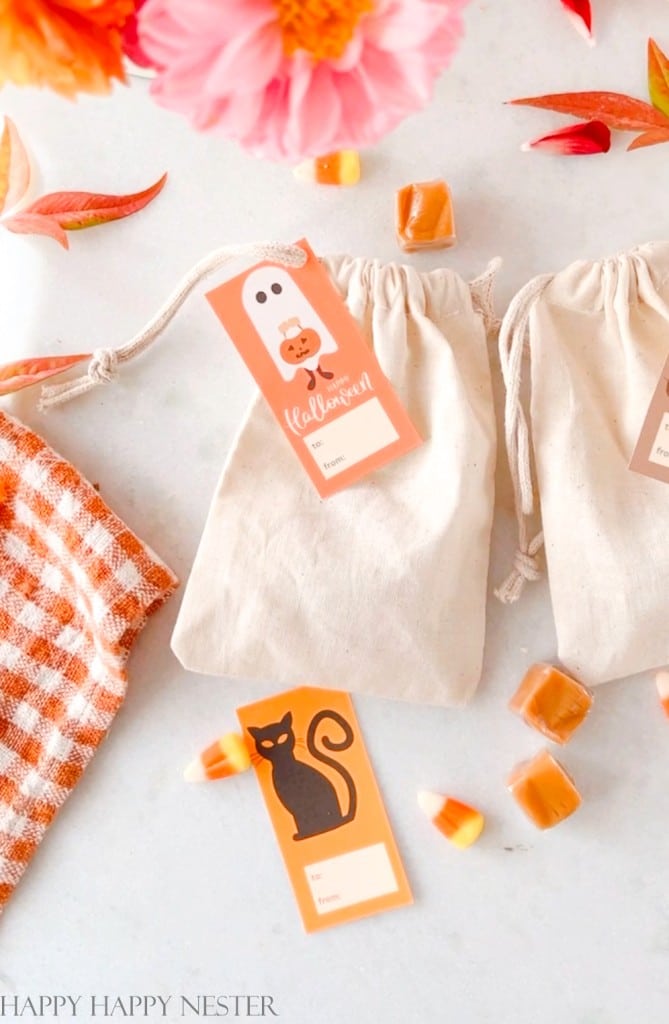 HOW TO MAKE YOUR FREE HALLOWEEN PRINTABLE GIFT TAGS
SUPPLIES YOU'LL NEED:
Free Download of Halloween Tags
Printer
Scissors
TAG INSTRUCTIONS:
Step 1 – Download Free Print File
Fill out the form below to receive your free Halloween gift tags printable. This will sign you up for my fun newsletter. You won't receive double newsletters if you're already a member since it only signs you up for one membership.
Step 2 – Print Out Gift Favors Tags
Print out your tags on white cardstock paper. Review my tips on the best way to print out your labels.
Step 3 – Trim Tags
Trim the tags along the border of each gift tag. If you have a paper cutter, you can also use that instead.
Step 4 – Punch a Hole in the Tags
Place a hole in the top left or right corner of the tags using your hole punch.
Step 5 – Add Baker's Twine
Thread Baker's twine through the hole and attach the tag to the treat bags or a gift.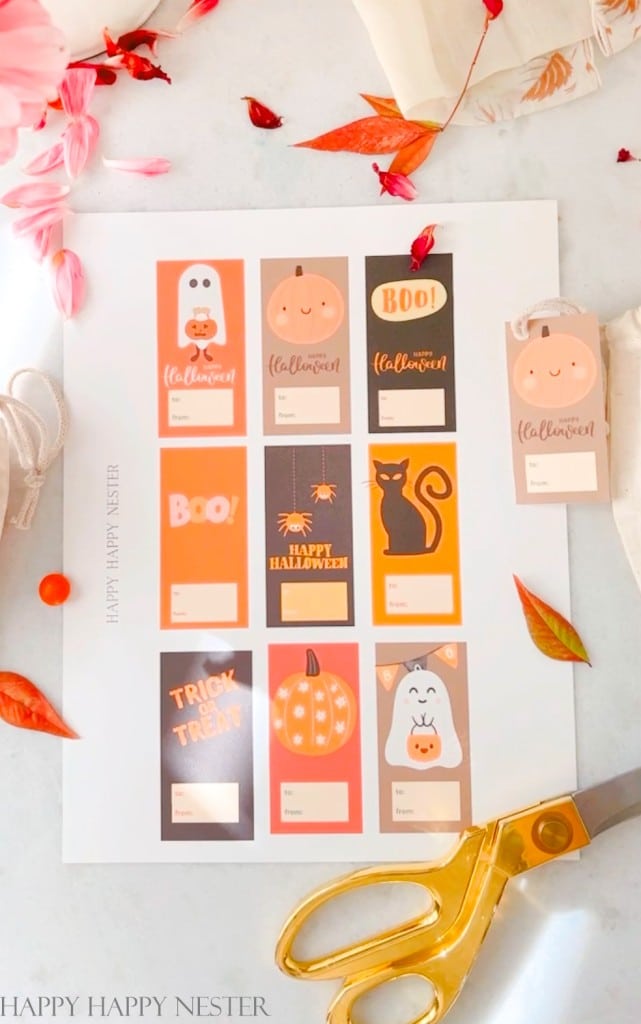 A FEW PRINTING TIPS
By following these printing tips, your Halloween gift tags will look fantastic and be ready to add a touch of spooky fun to your treats!
Quality Paper: Choose a good quality, heavyweight paper or cardstock for printing. This will give your tags a professional and sturdy feel.
High Resolution: Ensure that your printer settings are configured for high resolution. This helps capture all the intricate details and vibrant colors of the tags. In the printer settings menu, click on the "Advanced" options to ensure you're optimizing your printing quality for the best results.
Correct Size: Double-check that the tags are set to print at the correct size. Some printers may automatically resize documents to fit the page, so make sure the scaling option is set to "None" or "Actual Size."
Printer Calibration: Before printing a large batch, print a single test page to check colors and alignment. If necessary, calibrate your printer to get the best color accuracy.
If you're all about Halloween, then be sure to explore these additional posts!
MORE HALLOWEEN PRINTABLES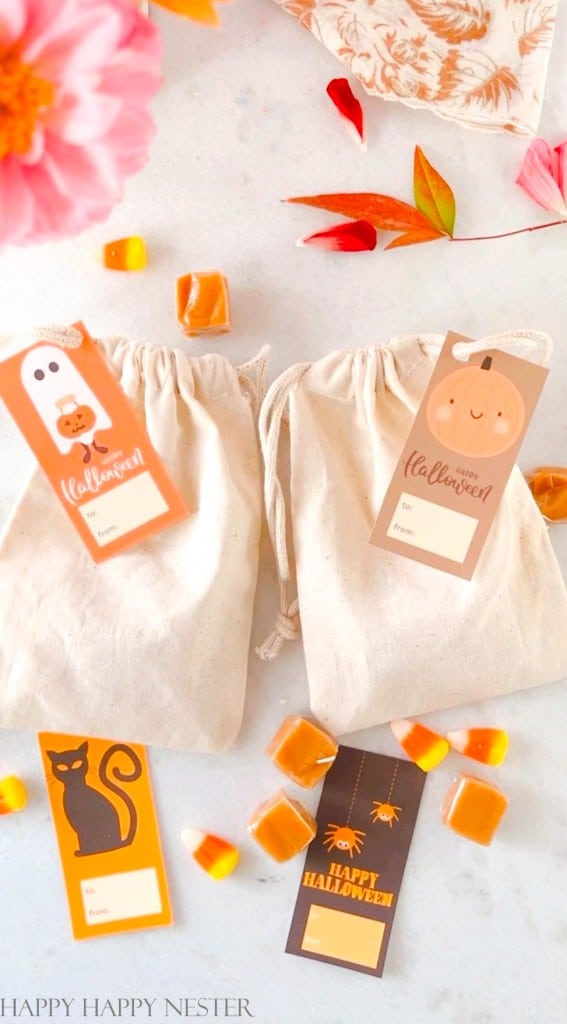 WHY YOU'LL LOVE THIS FREE HALLOWEEN TEMPLATE
Inexpensive: They're a budget-friendly way to add a personal touch to your Halloween treats and gifts, making it easy to spread the holiday spirit without breaking the bank.
Adorable Designs: The tags feature adorable and charming Halloween-themed designs that will instantly bring a smile to anyone's face. From cute ghosts to spooky pumpkins, they're sure to delight.
Easy to Print: Printing these tags at home is a breeze. With a few clicks, you can have a stack of them ready to go, making it a convenient option for busy Halloween preparations.
Versatile: These tags can be used for a wide range of Halloween goodies – from candies and baked treats to small gifts and party favors. Their versatility makes them a must-have for Halloween enthusiasts.
Fun Art Activity: These gift tags can also serve as a fun activity, especially for kids. Let them join in on the Halloween crafting fun by helping cut out and attach these tags to treats and gifts, adding an extra layer of enjoyment to the holiday preparations.
---
Thanks again for your visit! I hope you have a wonderful Halloween this year and you enjoy these free Halloween printable gift tags.
Cheers,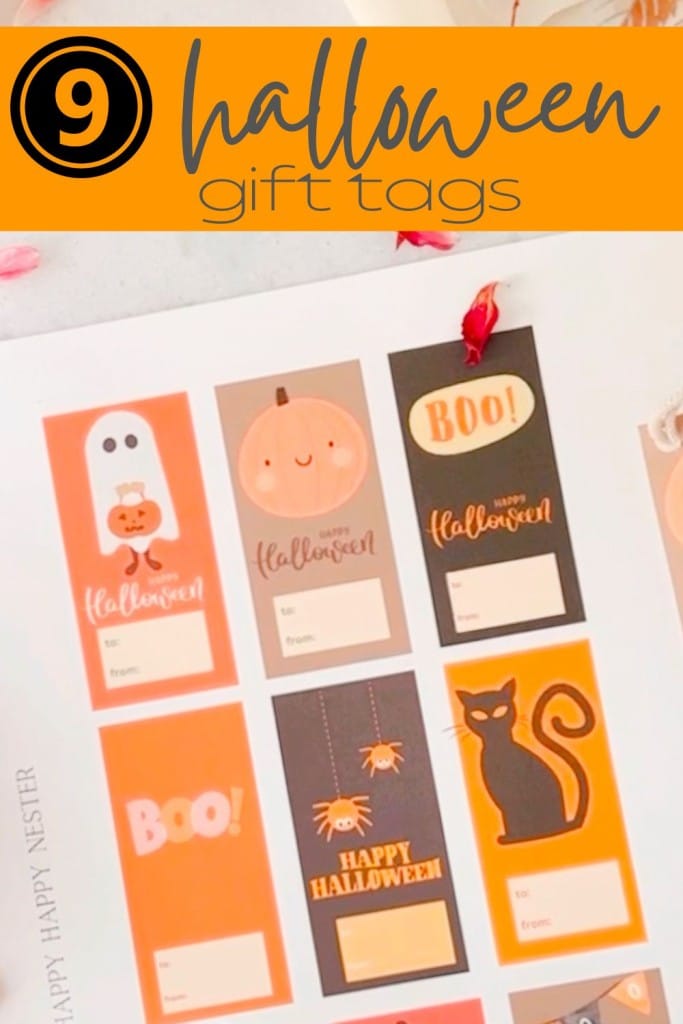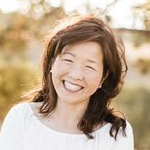 Latest posts by Janine Waite
(see all)