You are in for a pretty fabulous treat since I'm sharing my latest Gift Basket Ideas project. I'm so happy that HomeGoods reached out to me to collaborate with them on a Mother's Day post.
*This post is sponsored by HomeGoods, but all the opinions are all my own.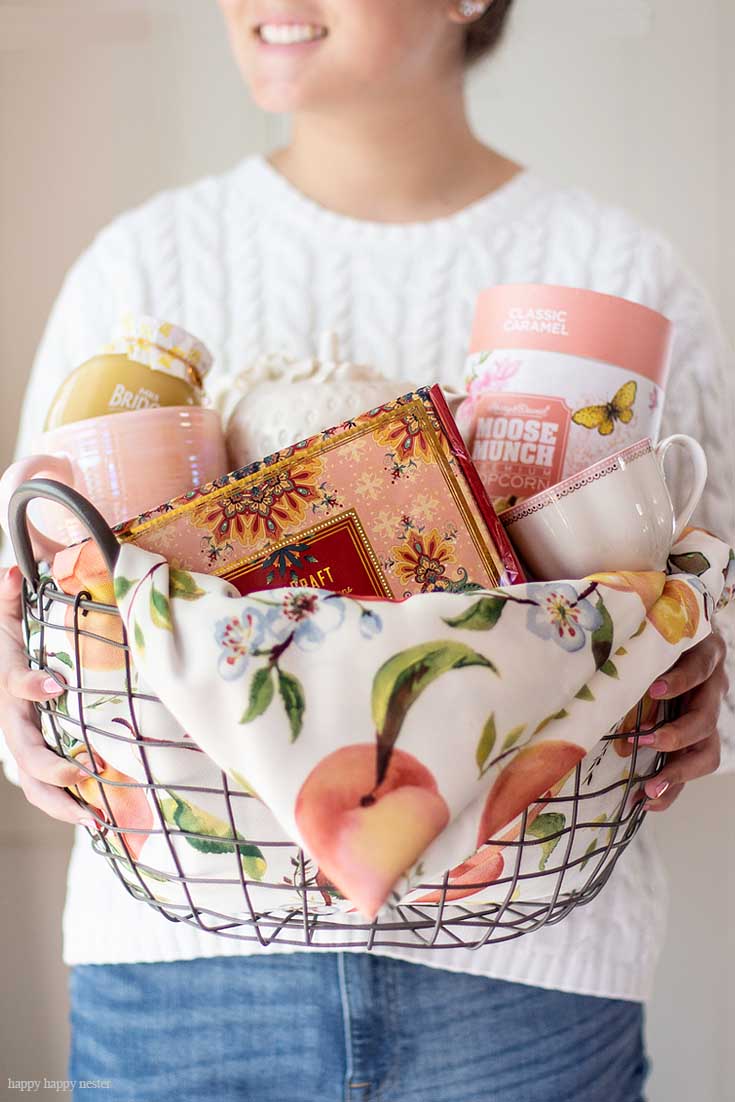 It seems so fitting to create a Mother's Day tea basket since I am crazy about tea. As you know, HomeGoods has a great selection of yummy food, and so it was easy to fill this basket up with fun things. And if my basket isn't enough inspiration, I have joined three of my friends with their fabulous Mother's Day ideas.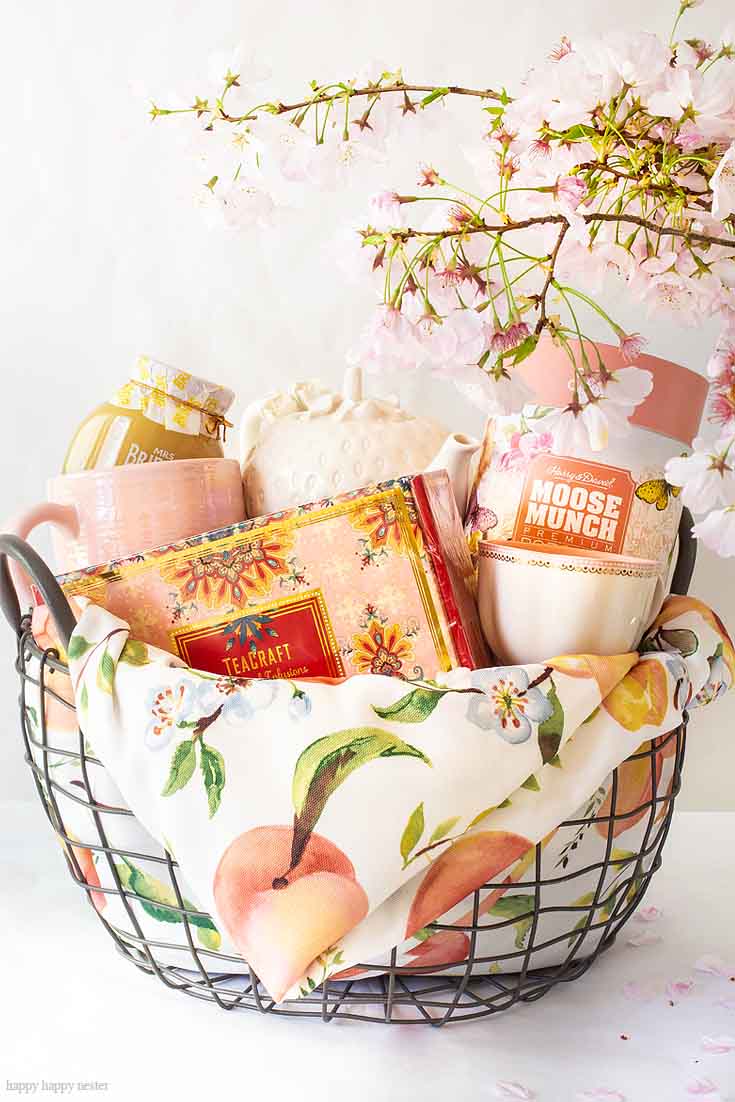 If you need some help on how to put a basket together, let me assist you! Here are a few things that I consider when creating my basket.
How to Create a Gift Basket
1. Choose a Theme
I knew that I wanted a tea basket and a tea table. Whatever you want to create for your basket will work.
2. Find a Container
I instantly loved this wire basket, but seriously anything will work. I even saw that someone on Pinterest recovered an old suitcase and placed her pretty items in it. A big planter would work or a box as well.
3. Choose a Cloth, Blanket, or Tablecloth
Once I found the tablecloth the cute design established the whole look. The flowers and the colors all came from this linen. It is easy once you have the plan figured out.
4. Pick Out Items That Incorporate The Theme
Whether it is tea, gardening, cooking or travel you'll want to choose out items that will be used and enjoyed. I love all the tea, candles, food items I found at HomeGoods.
5. Use Some Filler to Prop Up Items
Once you have all the items, place them into your basket so that it is visually pleasing. I will add a bit of filler in the form of shredded paper or cloth napkins.
Just a side note: You can add a coordinating ribbon as a beautiful accent or some cellophane always creates a nice sparkly touch
Now for my lovely tea for two!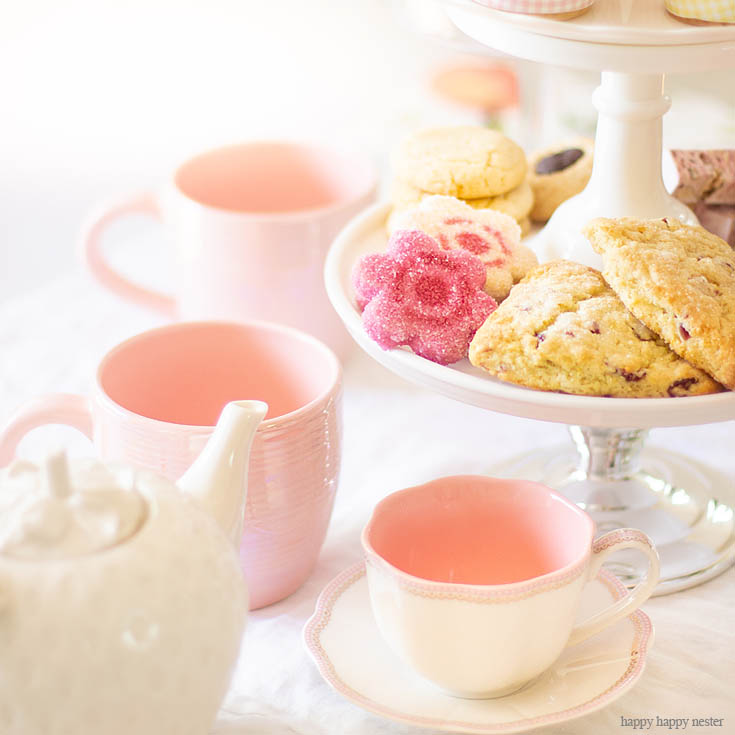 I always love a yummy scone with my tea, and the Magnolia Table Cookbook inspires these scones. And you're in luck if you want to bake them since I recently posted this delicious fresh orange scone recipe on the blog.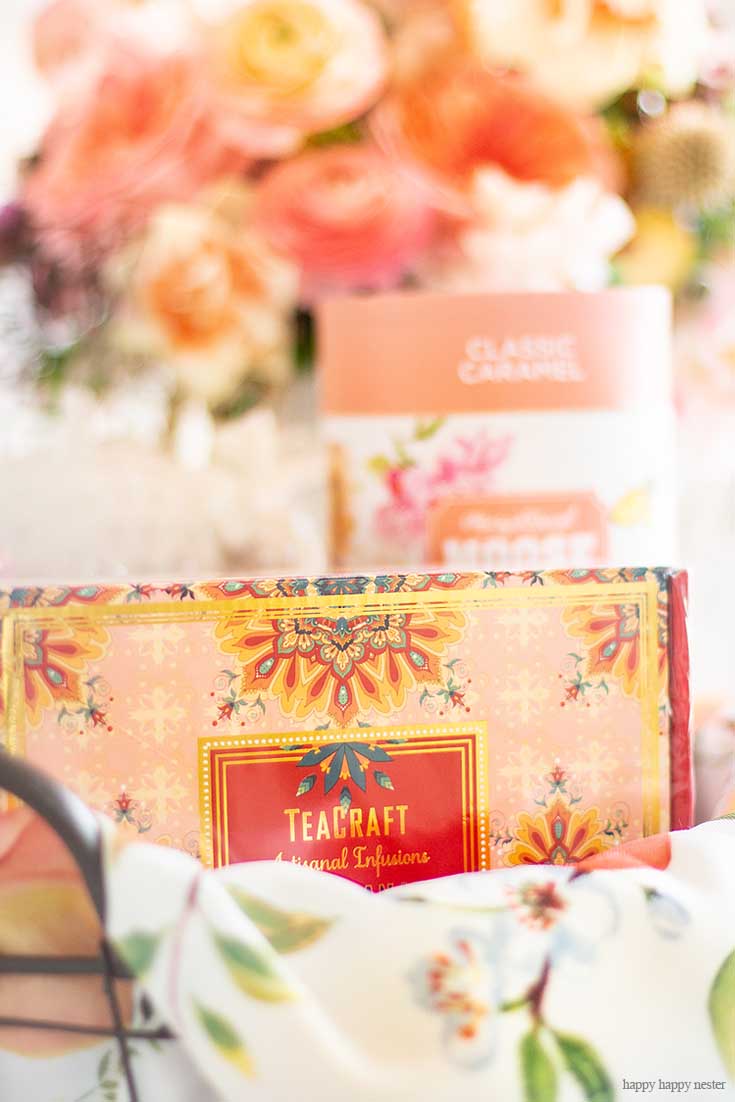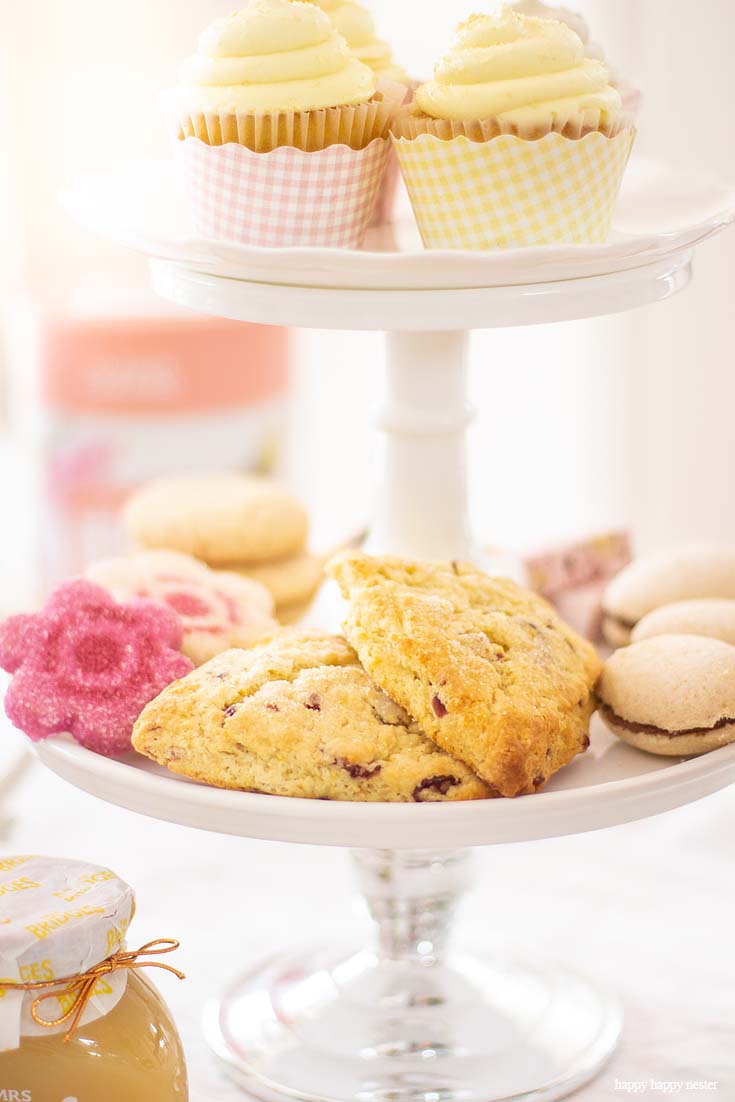 So, I have to mention that these cute, easy cupcake paper wrappers quickly jazz up a simple average cupcake. You'll want to make these paper liners the next time you have guests over. All you have to do is print them out, cut and tape and your cupcakes are adorable! It is that simple.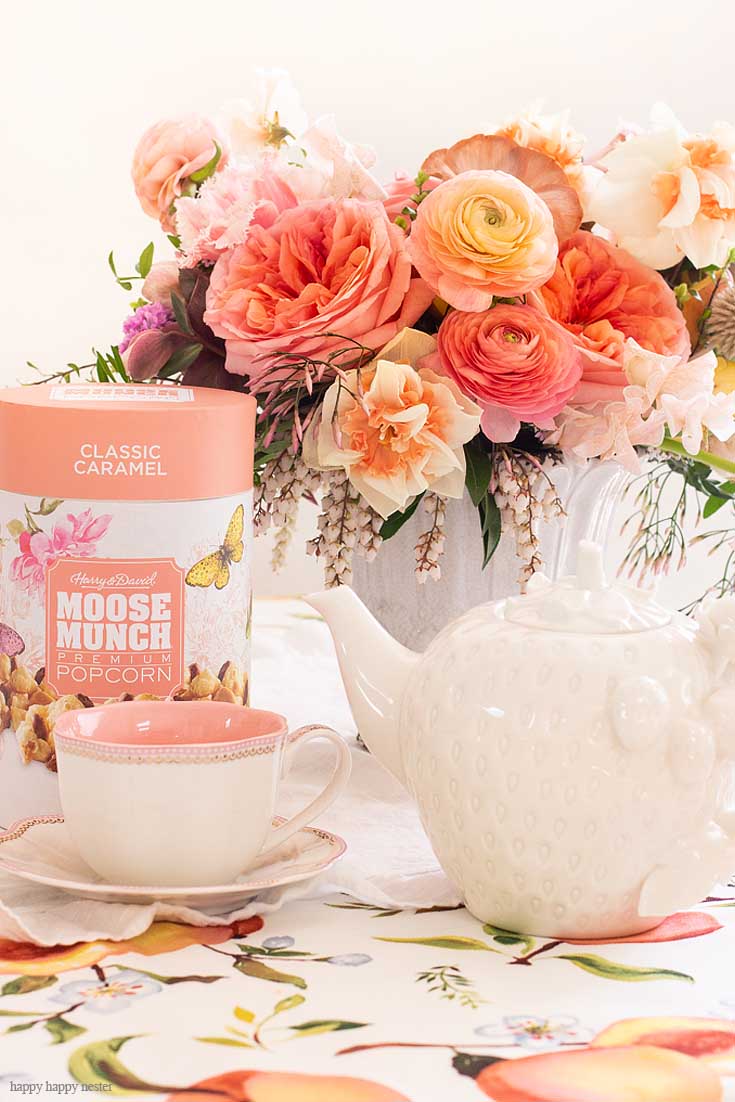 Harry and David's Moose Munch is so addicting and delicious. I always have room for caramel popcorn. And don't you just love the container it comes in?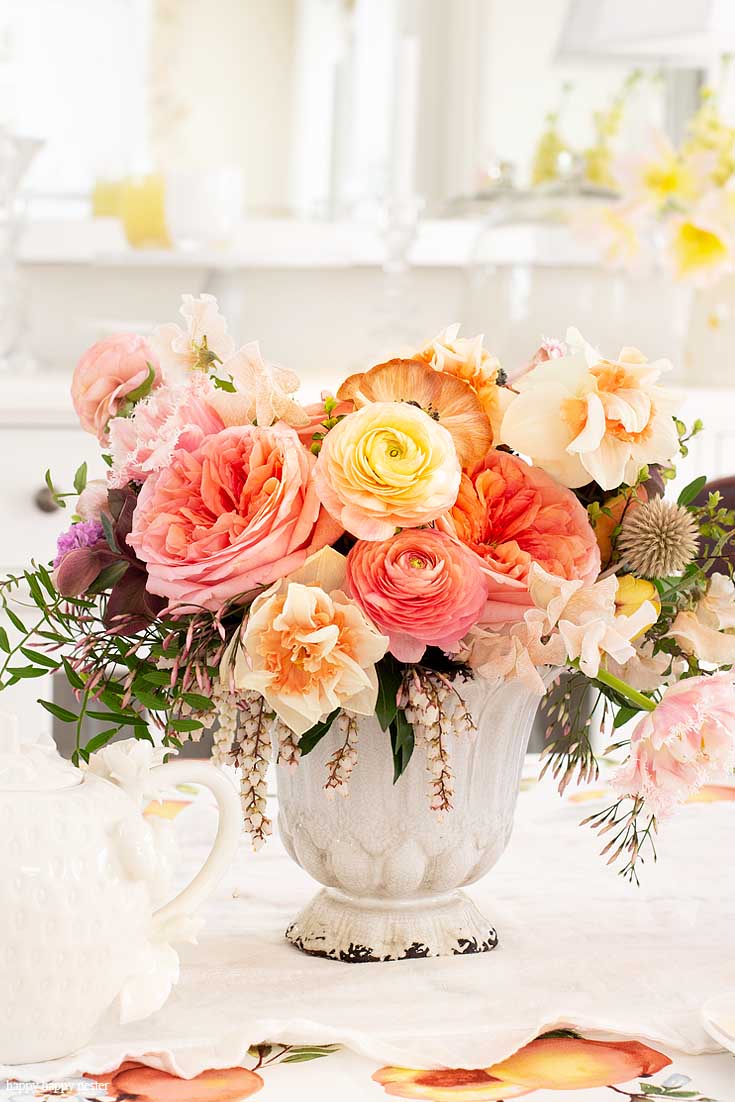 My dear friend, Kathy from The Flower Theory is so so talented, so I asked her to design a floral arrangement for this post. She saw my tablecloth and went quickly to work rounding up these pink and orange blossoms. She said she had a blast designing this perfect arrangement. Can you spy the slices of peaches in the bouquet?
"One of her customers mentioned that Kathy always creates florals with a mesmerizing fragrance."
So, she placed flowers with a beautiful scent in this arrangement, and the dainty sweetpeas took my breath away!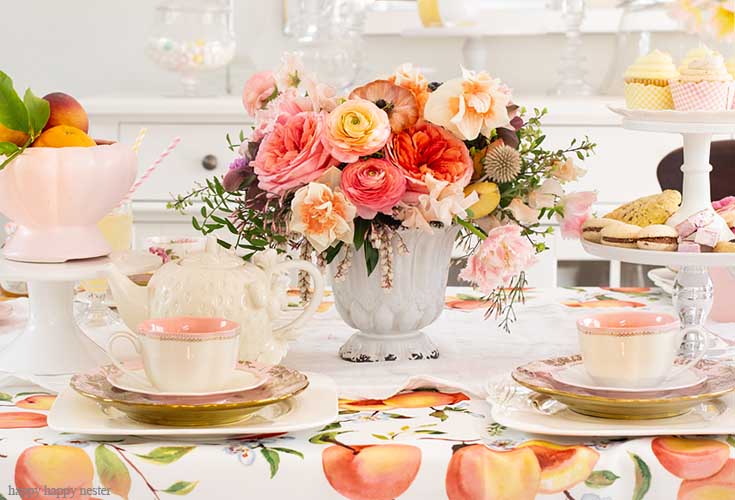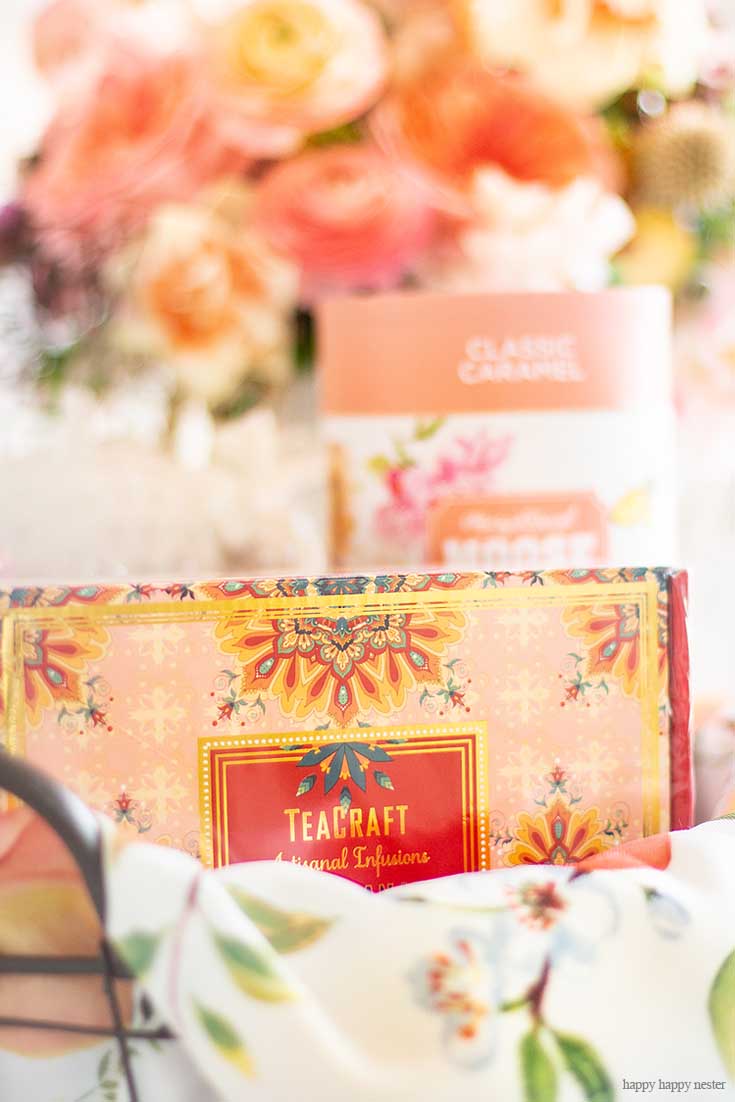 Ok, here are some of my friend's gift baskets!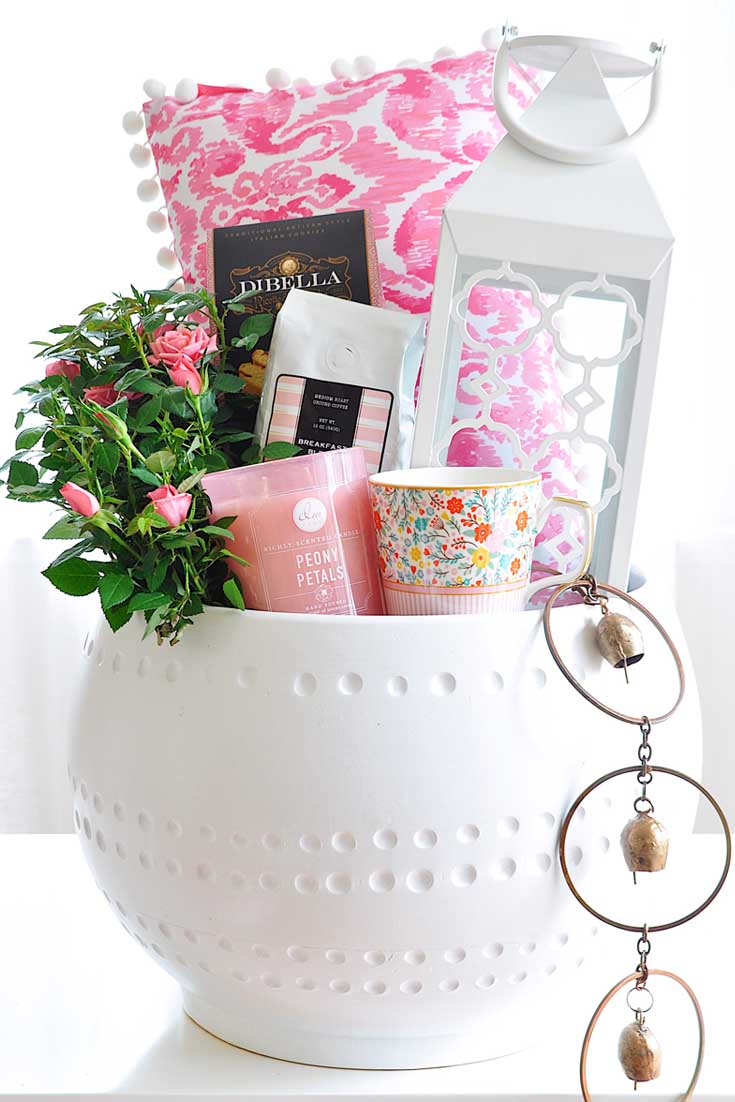 Joan | 2 Ladies and a Chair
Joan made this gorgeous garden gift basket that I love! She had fun decorating her mom's garden with all the treasures she found at HomeGoods. And you know, right now in the stores they are bursting with outdoor garden decor.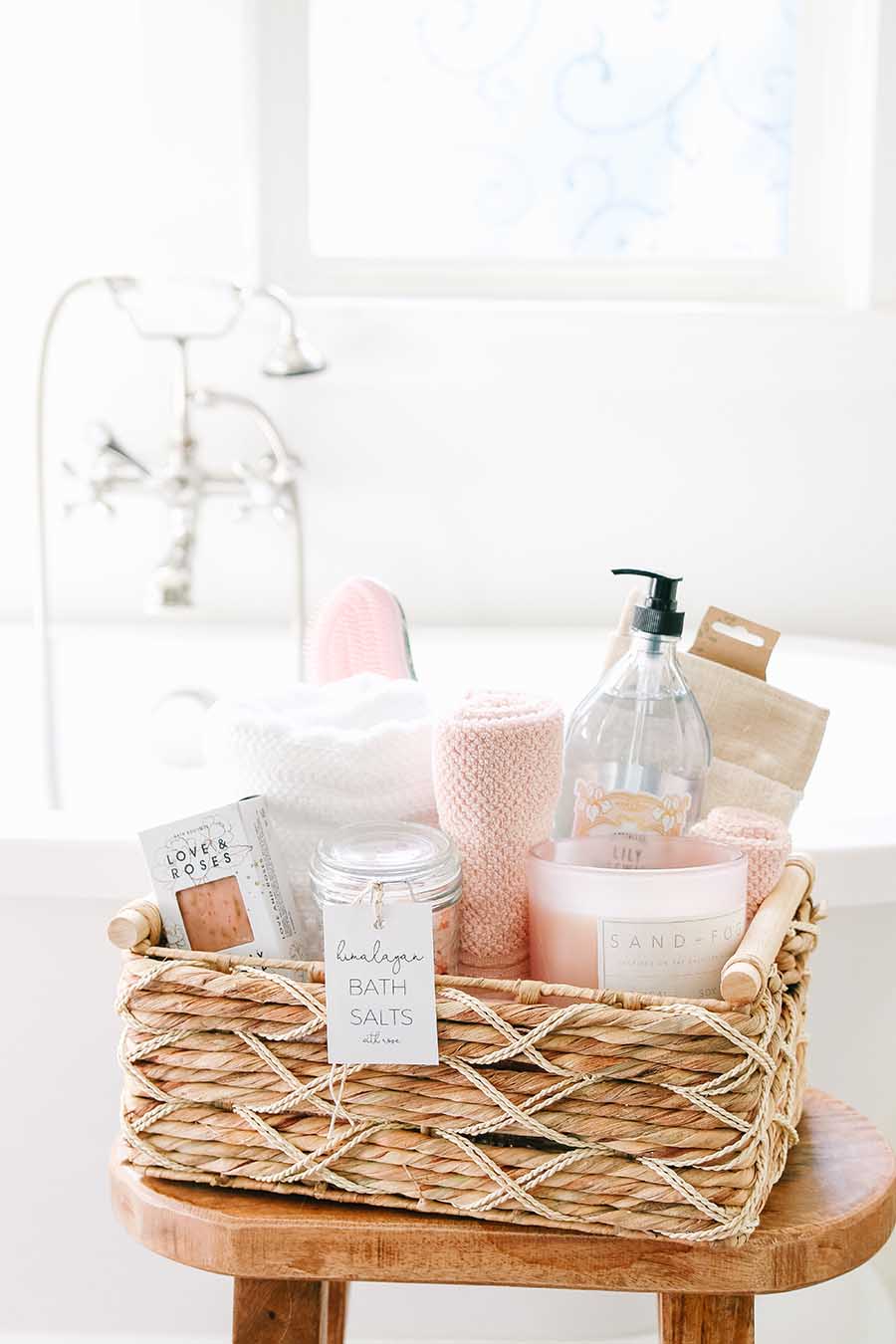 Ashley | Modern Glam
Ashley's Spa Gift Basket is so stunning. It looks so soothing and perfect for a spa day at home. I could use a bit of pampering one of these days! Maybe Mother's Day I will take some time out for myself and relax. Wouldn't any mom love this gift basket?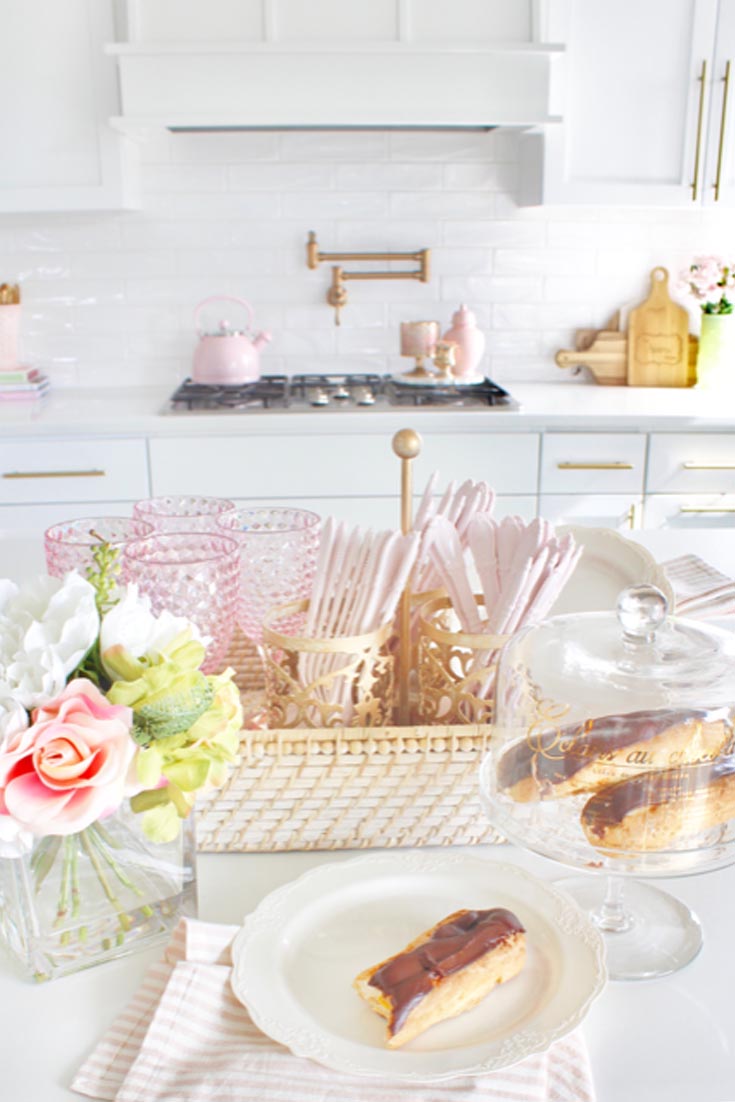 Summer | Summer Adams
Summer created this beautiful Mother's Day Patisserie Basket. Isn't her pretty pink spread perfect for a delicious Mother's Day treat? I'm totally going to stop in on her this May!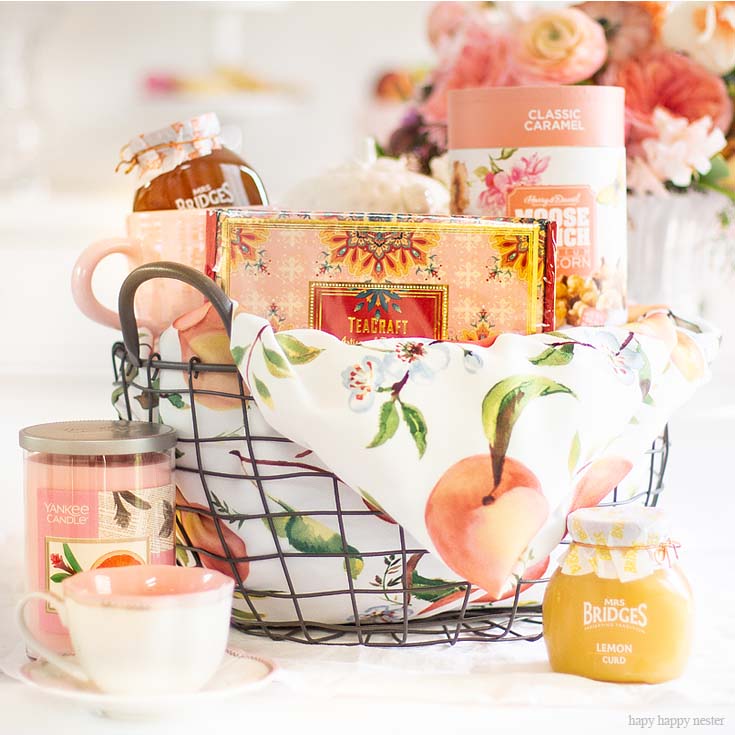 Enjoy a little trip to your local HomeGoods and enjoy creating a Mother's Day Gift Basket this May. They have the best items to give as presents, from tablecloths, baskets to food. You should be able to get everything all in one store. Well, I hope you found my gift basket ideas pretty in pink helpful!
Cheers,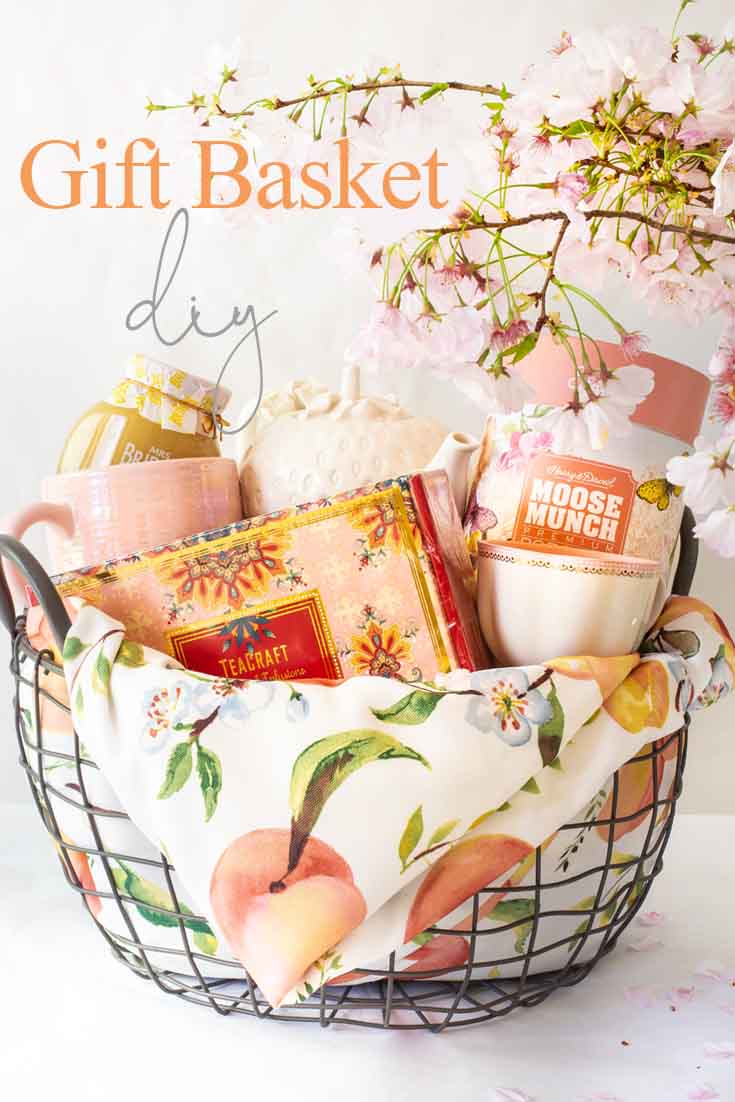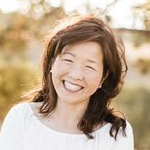 Latest posts by Janine Waite
(see all)