If you need some ideas for the Best Mother's Day Gift Baskets, then you'll find this gift guide pretty helpful. Learn how to make your gift basket and customize your basket if you like. This collection includes a garden, tea, and spa baskets.
It's that time of year that we shower our mothers with their favorite things. If you have a tough time coming up with gift ideas, let me help you with this task.
I do have a few Mother's Day posts if you're interested.
I love Mother's Day, and this year is special. We have a trip to Vermont to visit my husband's family. So, for the first time in many years, we will celebrate Mother's Day with my mother-in-law.
It's so fun to shop for friends and family when they have certain hobbies and interests. My husband mentioned that she is excited about our visit. We plan to help her with her garden and any other gardening tasks. So, I'm creating a garden gift basket for her.
And I hope I inspire you to design a basket for your mother or friend!
Mother's Day Gift Baskets
*The following post contains affiliate links
Gift baskets are an appealing way to personalize and present gifts. Gather all the items around a theme and then artfully build your baskets.
I'm sharing three different themes, but here is a list of ideas for your gift baskets.
Gift Basket Ideas
Coffee Basket
Bread Making Basket
Wine Basket
Nuts and Dried Fruit Basket
Chocolate Basket
Cookie Basket
Gardening Flower Basket
Baking Basket
Tennis/Golf Basket
Pool Basket
Beach Basket
Travel Basket
Cheese and Crackers Basket
I rounded up my favorite tea, spa, and garden items. I'm sharing things that I love and hand-picked for you.
Enjoy this collection, and Happy Mother's Day to you all.
Tea Baskets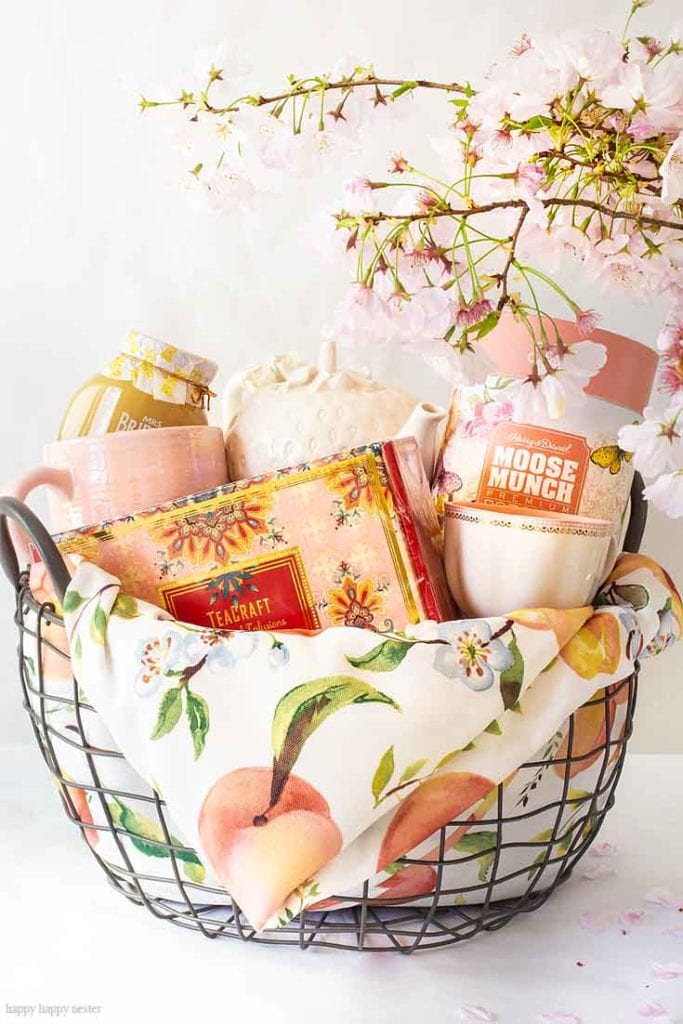 Pretty Tea Basket
I created this basket for a blog post, and it's a popular post this time of year. Designing a tea basket is easy for me since I drink tea almost every day.
The strawberry-shaped teapot is so unique and adorable!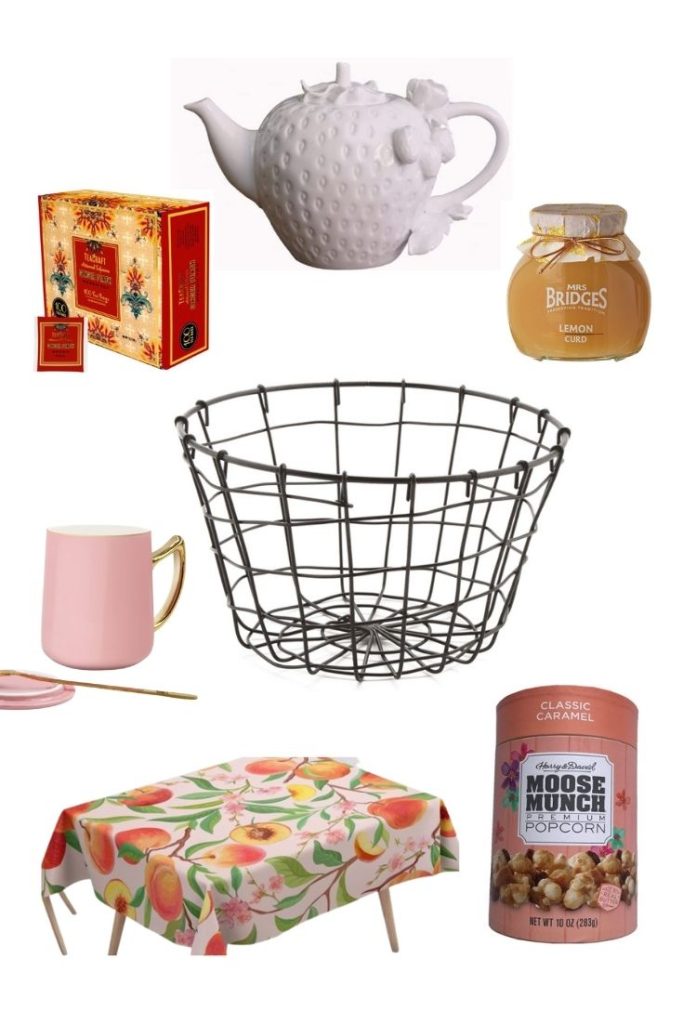 Ginger Peach Green Tea | Adorable Strawberry Teapot | Lemon Curd | Pretty Pink Tea Cup | Wire Basket Peach Print Table Cloth | Moose Much Caramel Popcorn
Baking, tea, coffee, and cookies go hand in hand in our home. So this gift basket with a beautiful cookbook and teapot is the perfect combination of gifts. Add a pretty tea towel, white honey, and delicious stroopwafels to the mix.
Anyone tea or coffee lover will love this homemade gift basket for Mother's Day!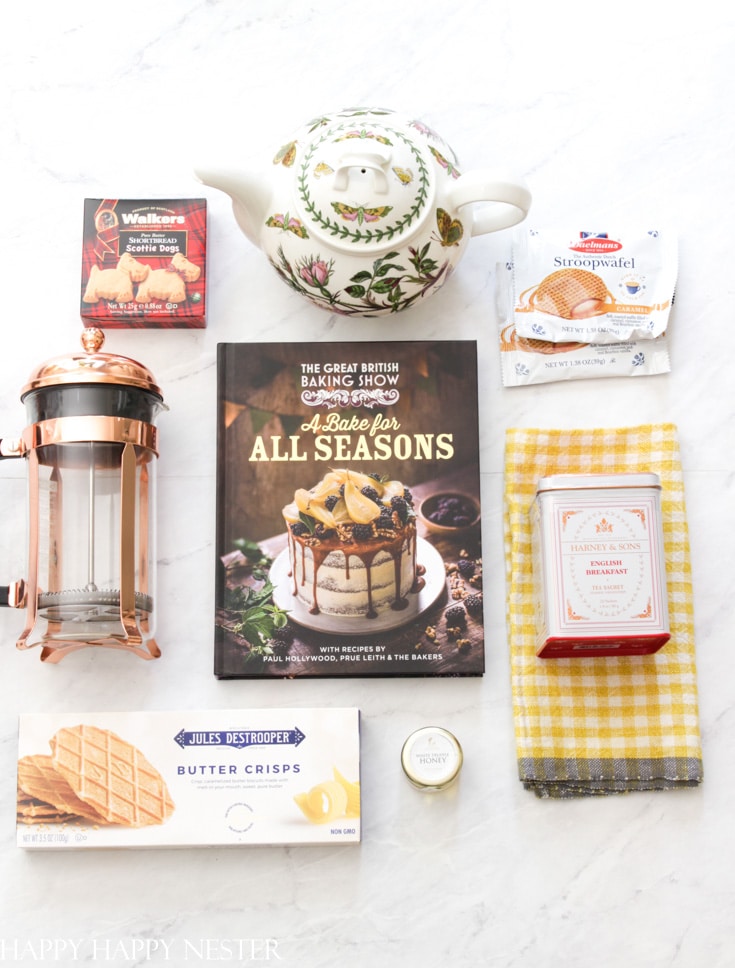 Shortbread Cookies | Portmeirion Teapot | Stroopwafel Cookie | Bodum French Press Coffee Maker
The Great British Baking Show Cookbook | Yellow Gingham Towel | Harney's English Breakfast Tea
Butter Crisp Cookies | White Truffle Honey
Spa Basket
This basket contains all my favorite skincare products. I love lotions that hydrate my face and body. And the olive oil body soap is gentle on my skin.
Also, if you wear makeup, check out the plush cloth makeup remover towel. I LOVE these! You'll be happy to know that the towels hold up nicely to washing and come out perfectly clean. The first couple of uses are a little fuzzy, but over time and washes, it calms down and is the perfect towel for removing makeup.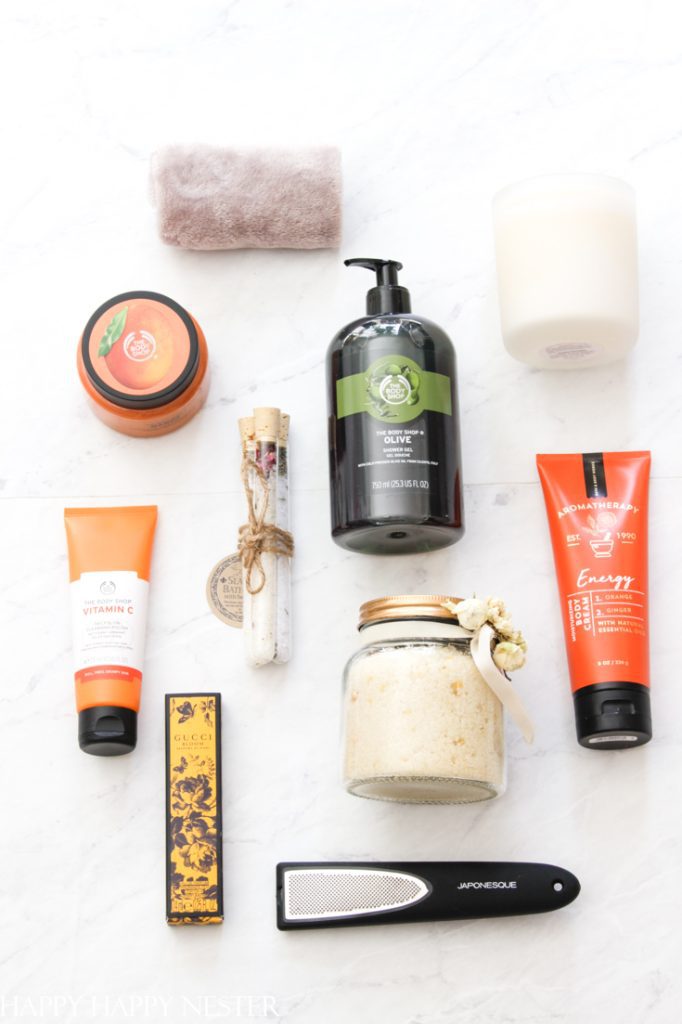 The Best Makeup Remover Towel | Peach Body Scrub | Sea Salt Bath Soak | Olive Oil Body Soap
Voluspa Candle | Orange Ginger Body Lotion | Vitamin C Facial Lotion
Gucci Bloom Perfume | Japonesque Foot Scrubber
Homemade Sugar Scrub Jar (post will publish this week)
Garden Gift Basket
I love gardening, and here are a few of my favorite items. A good pair of gardening gloves is essential, and these partial leather gloves hold up to lots of uses. Any gardener would be pleased to receive these gardening gloves.
A good water nozzle is essential when it comes to watering plants. I have one (Melinor) that our construction crew left behind, and I LOVE it. I had the fancy metal sprayers only to have them break from dropping them on our concrete outdoor flooring. So, this summer, I found this metal Melinor nozzle covered in rubber.
And a knee pad for sitting the kneeling is an essential tool for a gardener. I own quite a few of these gardening pads.
Finally, the little handheld hoe is great for weeding and is such a helpful tool.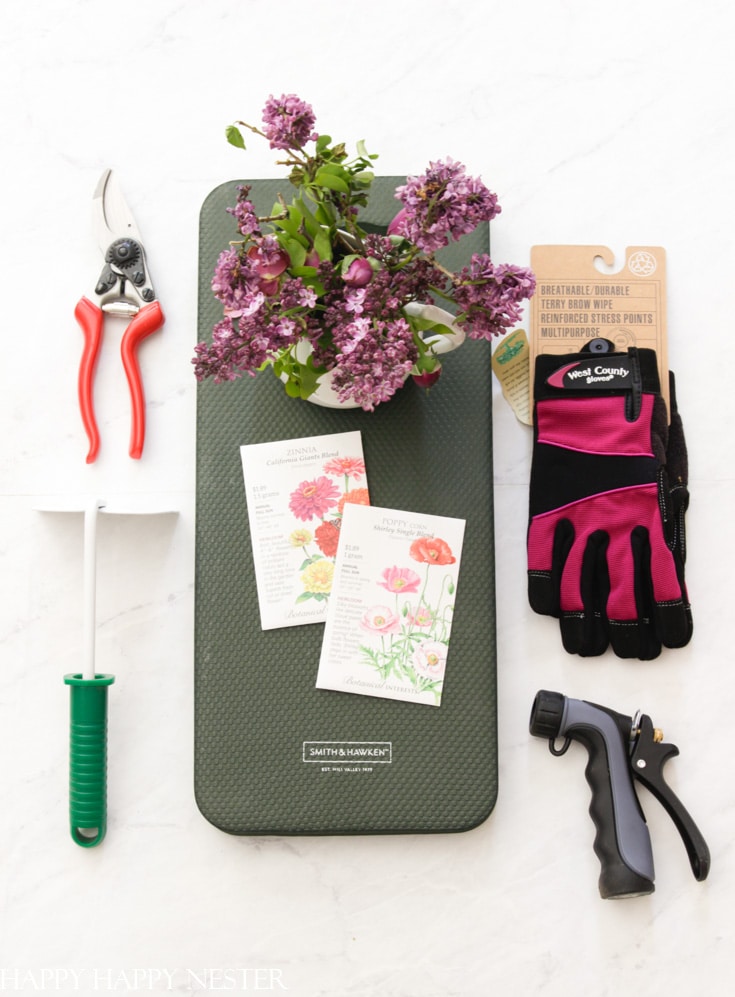 Garden Pruning Shears | Smith & Hawkin Foam Garden Kneeler | My Favorite Garden Gloves
Small Weeding Trowel | Flower Seeds | Heavy Duty Nozzle
Building the Basket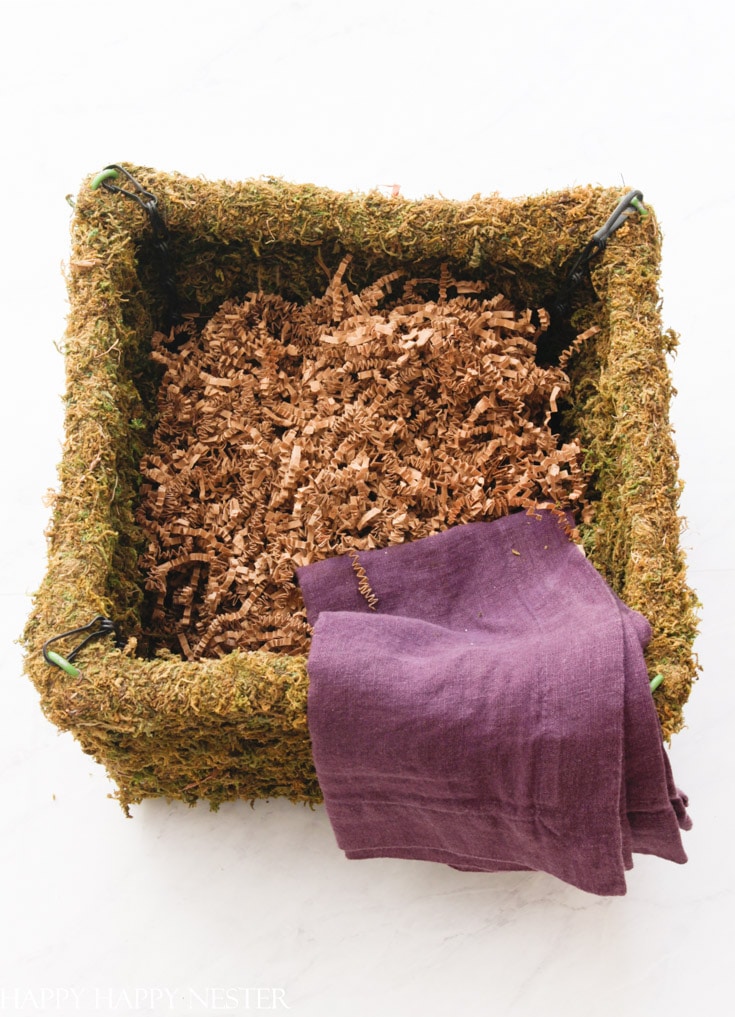 Step 1 – Insert Filler
I like to use crinkle paper to fill my baskets. They come in all kinds of colors to match your project. You can also use newsprint paper or tissue paper to fill the basket.
Step 2 – Fill the Basket
Place your most oversized item in the basket, and then place the other items around. If you need more filler, don't hesitate to add more. I like how it props up things and keeps things in place.
Step 3 – Final Touches
Add a ribbon and bow as accents. You can wrap the whole basket in cellophane and tie a bow at the top if you like.
Have fun creating your Mother's Day Gift Baskets this year! Enjoy this week celebrating Mother's Day over here on the blog.
Cheers,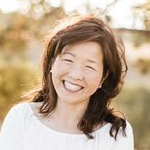 Latest posts by Janine Waite
(see all)