Since my husband's mom lives in Vermont, we are always looking for Gifts to Send for Mother's Day. There are many gift options online. So, I made an excellent collection that includes food baskets, jewelry, and spa gift sets.
Since moms are special and unique, I am sharing a wide variety of gifts for this Mother's Day post.
My mom was amazing. She loved to sew, cook, bake, garden and golf.
She took up golfing late in life, but that didn't slow her down. She always hit a straight ball right down the fairway. I'm sure that irked my dad, who golfed his whole life.
Everything my mom did, she did with utter perfection.
She passed away a couple of years ago, and Mother's Day doesn't feel complete without her. I'm sure some of you can relate.
I'm lucky enough to have my husband's mom, and we will send her some presents since she lives in Vermont. Shipping something is so convenient, and it saves me the hassle and time.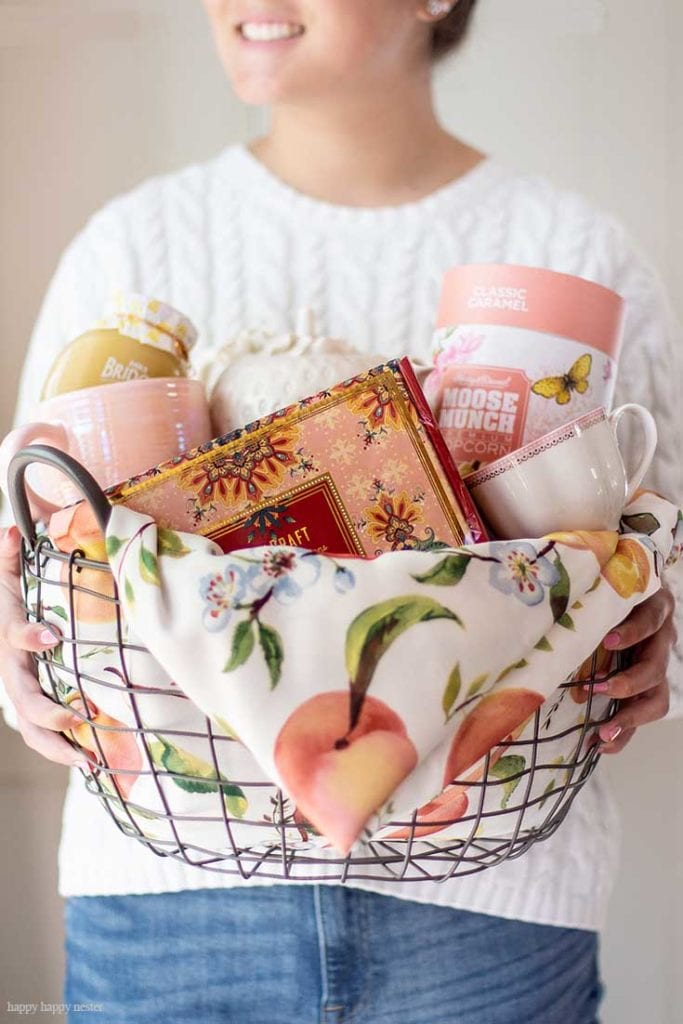 I thought I'd share this homemade gift basket that I made for Mother's Day. Check it out if you want to make your own Mother's Day Gift.
Today's Boutique of the Week is all about Mother's Day gifts. So let's take a look at ones you can buy and send.
Gifts to Send for Mother's Day
*The following post contains affiliate links
Flowers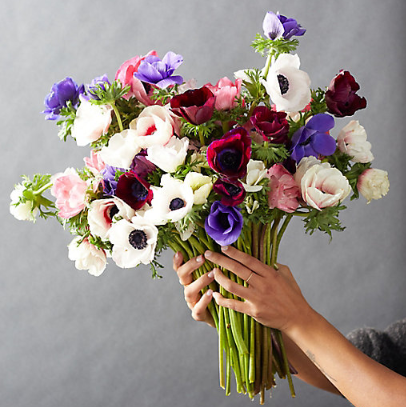 One of the season's earliest and most colorful blooms, they're hand-selected and incredibly fresh anemones just in time for spring gifting. Each abundant bunch of eighty flowers arrives direct from the grower, brightly arrayed in a spectrum of pinks, whites, and purples.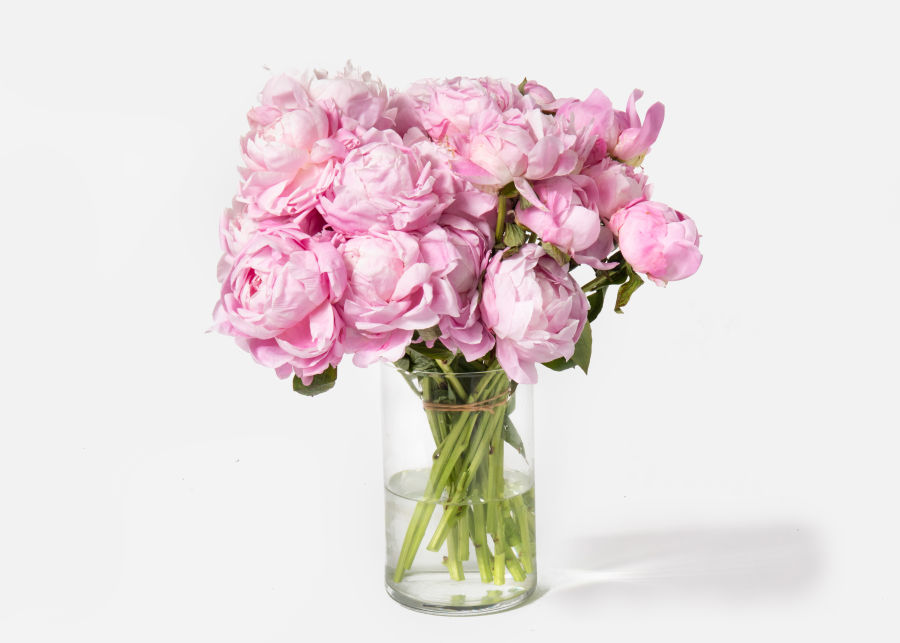 Lush and full of life, it's not every day that you'll come across these pillowy stems. This striking blush-toned bouquet is a welcome addition to any room. Peonies have become symbolic with prosperity, making this a fitting gift for anything from congratulations to housewarmings. This peony arrangement may arrive in bud form, but will unfurl into the pillowy stem we all love. Choose from two bouquet sizes of lush peonies, a 10-stem Single, or a 20-stem Double.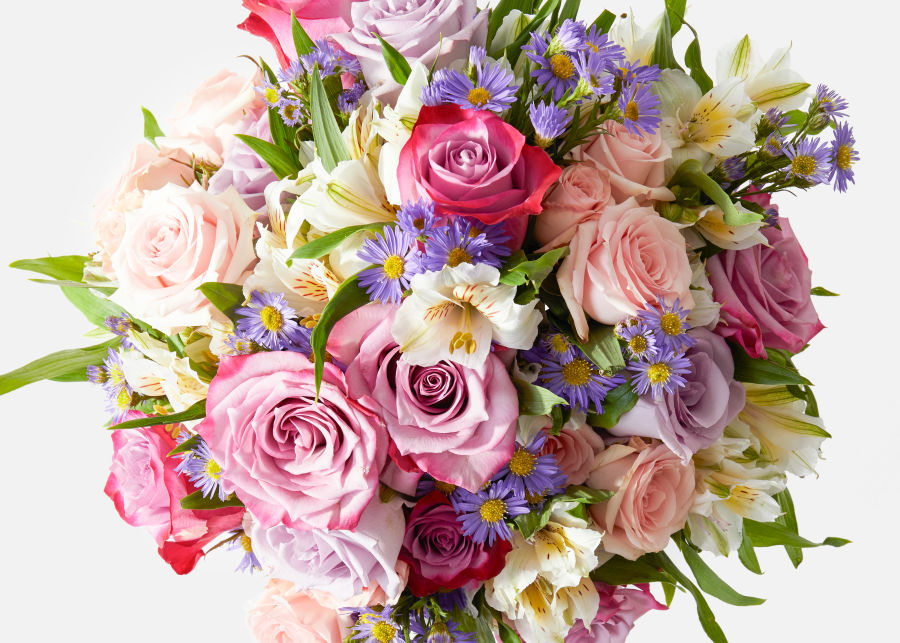 A vibrant mix of purple, lilac and pink blossoms. The feminine color palette is pretty without being overtly sweet, much like the rare and magical creature it is named after. Add a touch of purple this season with a mix of lavender-hued roses and sprigs of aster.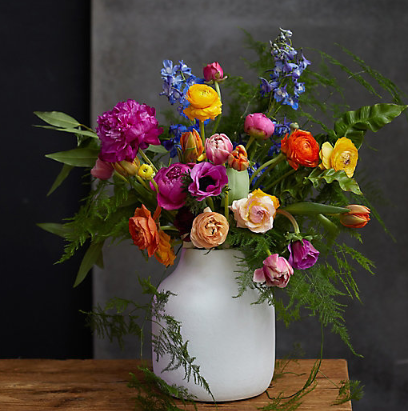 Forest Jeweled Mother's Day Bouquet
Conceptualized and designed by Terrain's very own green goods team, this stunning bouquet is brought to life by its rich colors and natural textures. Inspired by the exuberance of a still life painting by one of the Dutch Masters, the Forest Jewels is overflowing with fragrant peony, sweet tulips, delicate ranunculus, and more peak spring blooms in a range of rich, bold colors. Each bouquet comes with a branded fresh cut care card, to help the recipient prolong the life of their gift.
Food & Baskets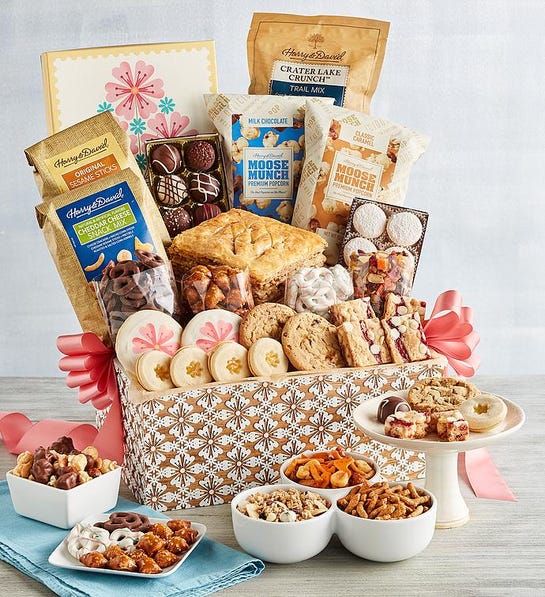 Classic Mother's Day Gift Crate
This gift has a wide array of sweet and savory goodies, all arriving in a beautiful crate featuring an intricate floral design. This gift crate includes selected milk chocolate-covered apricots, exquisite chocolate truffles, and crispy yogurt-covered pretzels, scrumptious shortbread cookies. Also, in this basket are Zinfandel pepper & onion relish, Gouda and white cheddar cheese, water crackers, paradise dried fruit mix, roasted almonds, and mixed nuts. Succulent pears and premium apples round out these delicious offerings that Mom's sure to rave about on her big day.
Mother's Day Gift Basket with Wine
Surprise Mom with a charming wooden gift crate packed with delectable treats and a bottle of exquisite Harry & David wine. Royal Verano Pears and premium apples are just the beginning; they're accompanied by sweets like truffles from our candy kitchen, dried fruit, yogurt-covered pretzels, chocolate-covered apricots, and two types of shortbread cookies. And there's more: this basket is filled to the brim with savory snacks including white cheddar and Gouda cheeses, mixed nuts, crackers, and pepper and onion relish with zinfandel. These treats and our Pinot Gris make this a delightful Mother's Day gift.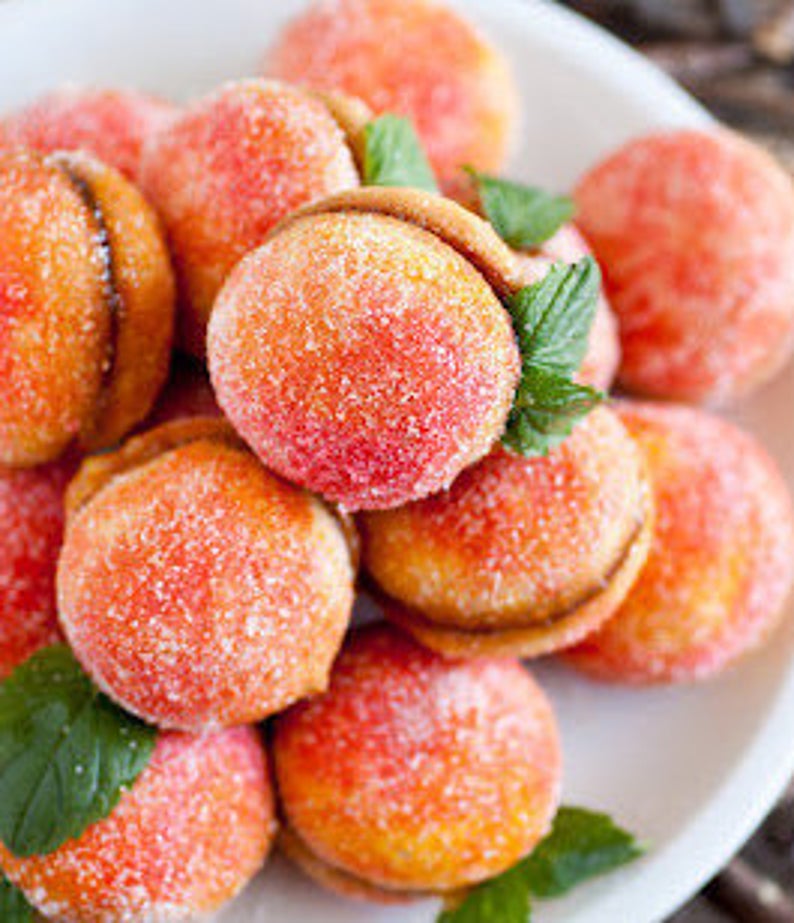 Beautiful cookies that taste just as good as they look! Everyone will instantly fall in love with them with a wonderful peach flavor will receive 17 cookies the filling will contain a mixture of jam with chopped nuts.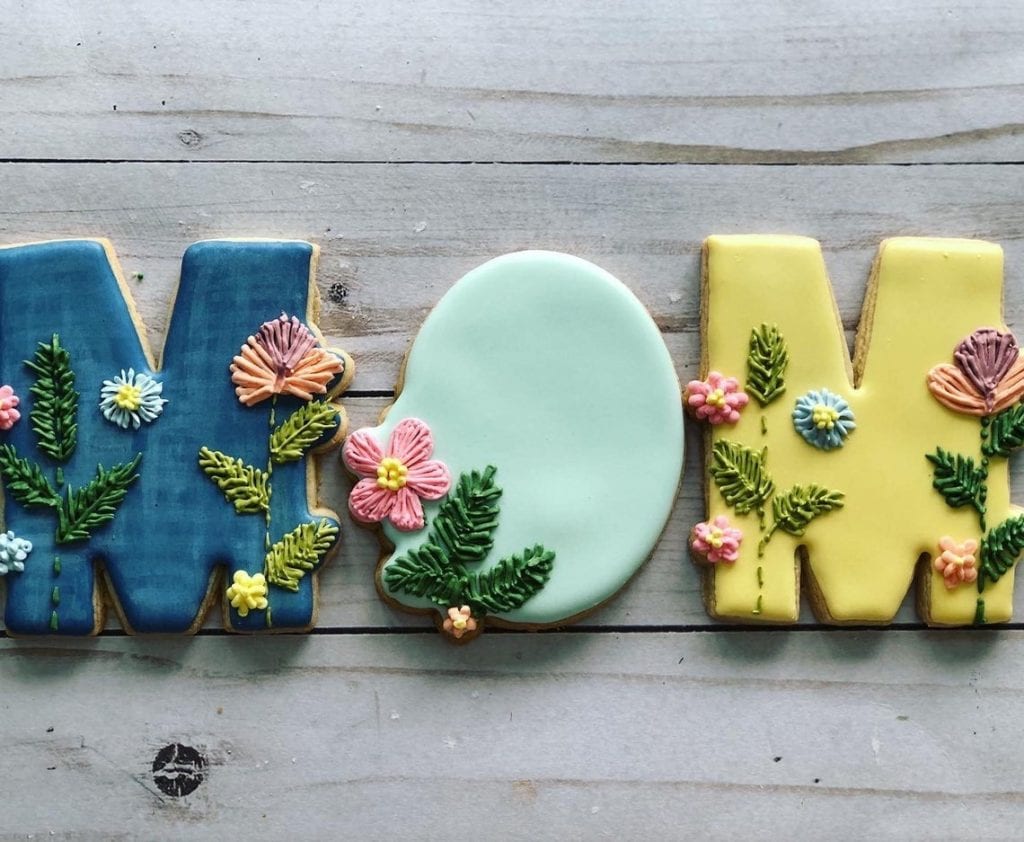 These cookies are from an Etsy shop called Sweet Shoppe Designs. You can custom order the designs you like for your cookies. They make such special gifts for the special mom in your life. I love the unique decorations on these cookies.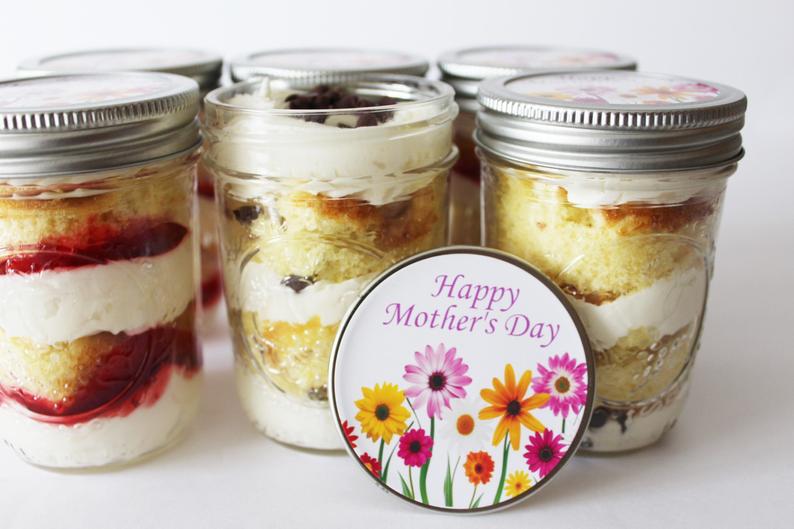 Sweet Sisters Cupcake Jars are baked fresh to order and are shipped the very same day. A Cupcake Jar is a ready-to-eat, delightful treat filled with layers of cake, icing and delicious fillings.
Perfect for Mother's Day Gatherings, Gifts for Moms and Grandmothers, and so much more! Show them your love and appreciation this year with a delightful, sweet, and beautiful cupcake jar!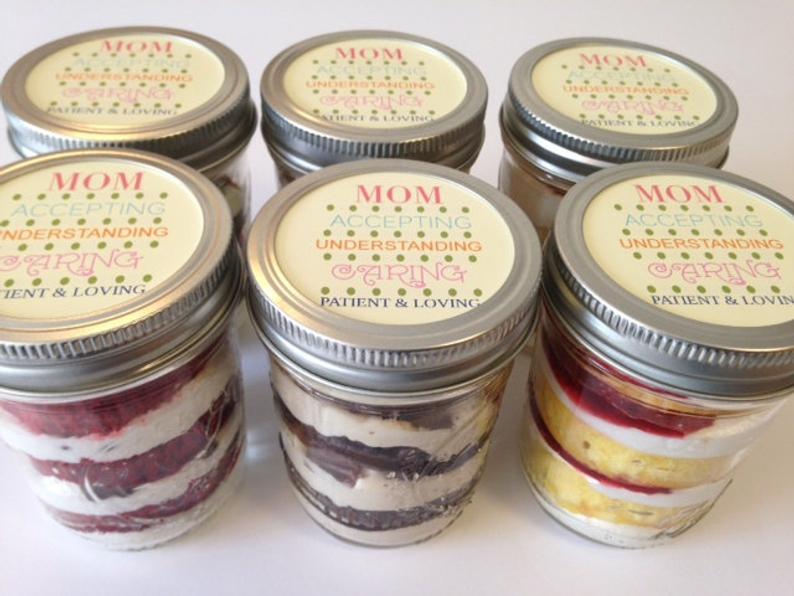 Mother's Day Cupcakes in a Jar
This gift comes with a cute Mother's Day label that says, Mom, Accepting, Understanding, Caring, Patient & Loving. Choose from twelve flavors and a grouping of 4, 6, or 12 jars for your order. This dessert has rave reviews over on Etsy. Maybe they are tasty since they are baked fresh and mail out on that day!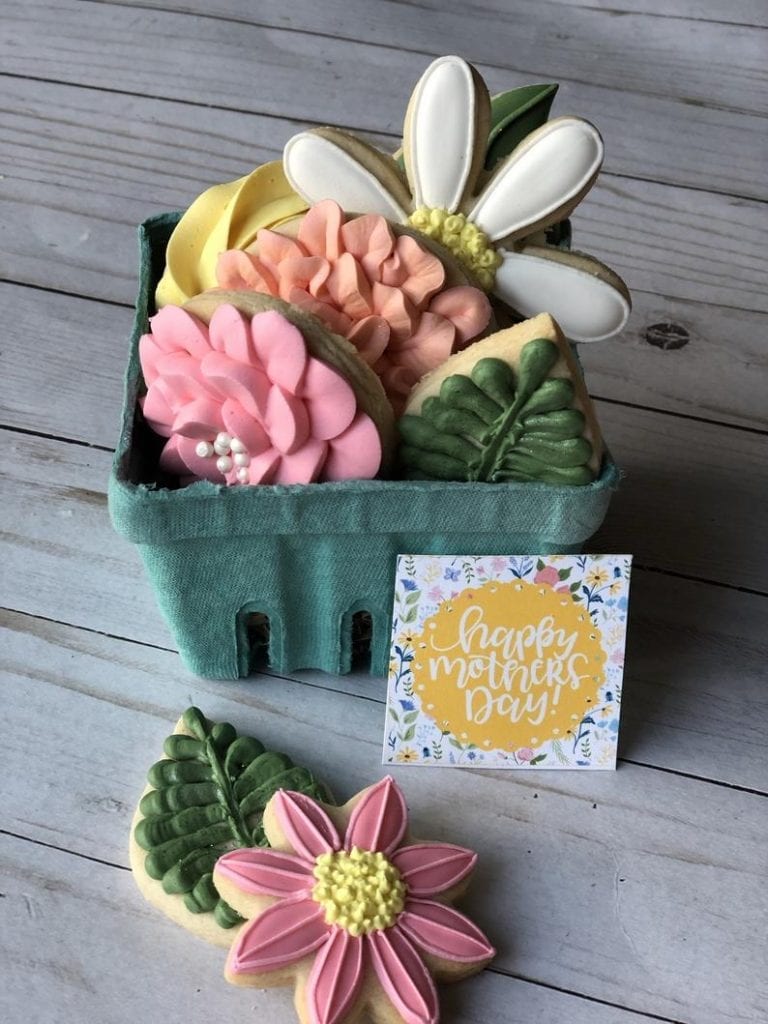 These are such adorable homemade sugar cookies. These cookies are hand-rolled, hand-cut, and hand-decorated sugar cookies. You will love these delicious sugar cookies decorated with royal icing and edible images. You can customize these cookies to your even. Please specify during checkout or contact the shop owner to create your own custom order.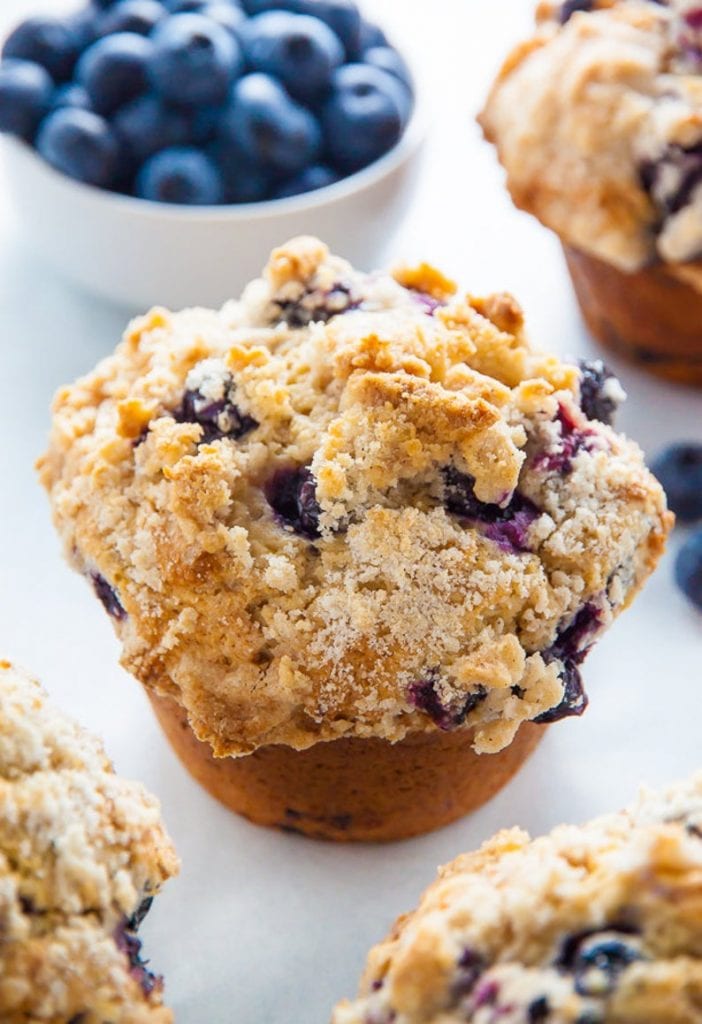 Jumbo Bakery Style Blueberry Muffins
Homemade with fresh blueberries and crumble with cinnamon jumbo bakery-style will receive 6 muffins. These muffins look amazing. I do have a pumpkin muffin recipe that looks similar to these.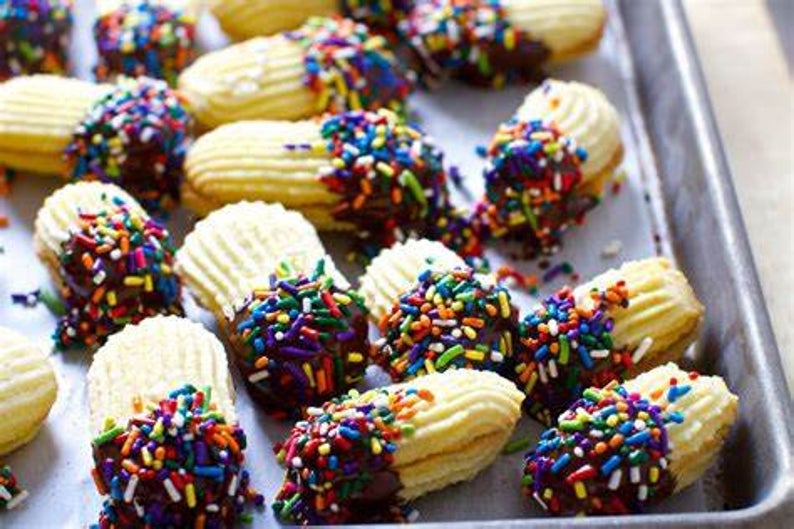 A soft buttery Italian butter cookies filled with raspberry jam or apricot dipped in semi sweet chocolate with or without sprinkles. This bakery shop has rave reviews which is encouraging.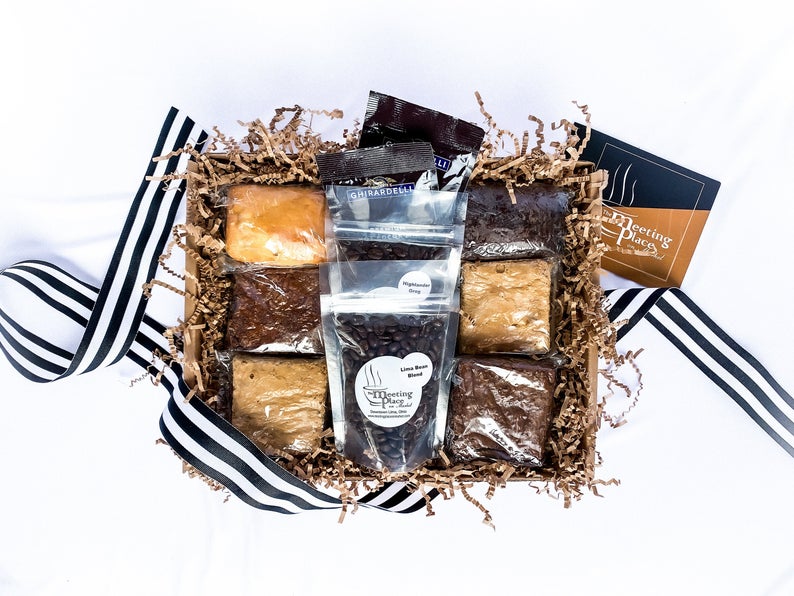 Gourmet Mother's Day Gift Basket
Spoil your mom with this Grand Gourmet Mother's Day Sweet Treats Gift Basket!
It contains baked goods made fresh in our downtown Lima, Ohio bakery from whole ingredients, two delicious Blondie Bars, two rich Mocha Brownies, and two mini-breads. (Banana Bread and Pumpkin Bread) Also included is a 1/8lb bag of Chocolate Covered Espresso Beans [during cooler months] or two Ghirardelli Premium Hot Cocoa Mixes, single serving. Made with high-quality dutch cocoa and real milk powder. [during warmer months, because no one wants melted chocolates in their gift boxes!]

Included in this gift basket are two coffee samplers, each containing a one-eighth pound of coffee, perfect for brewing up a pot. Also included is a flavored coffee, like Vanilla Raspberry or Cookie Doodle (like a snickerdoodle cookie).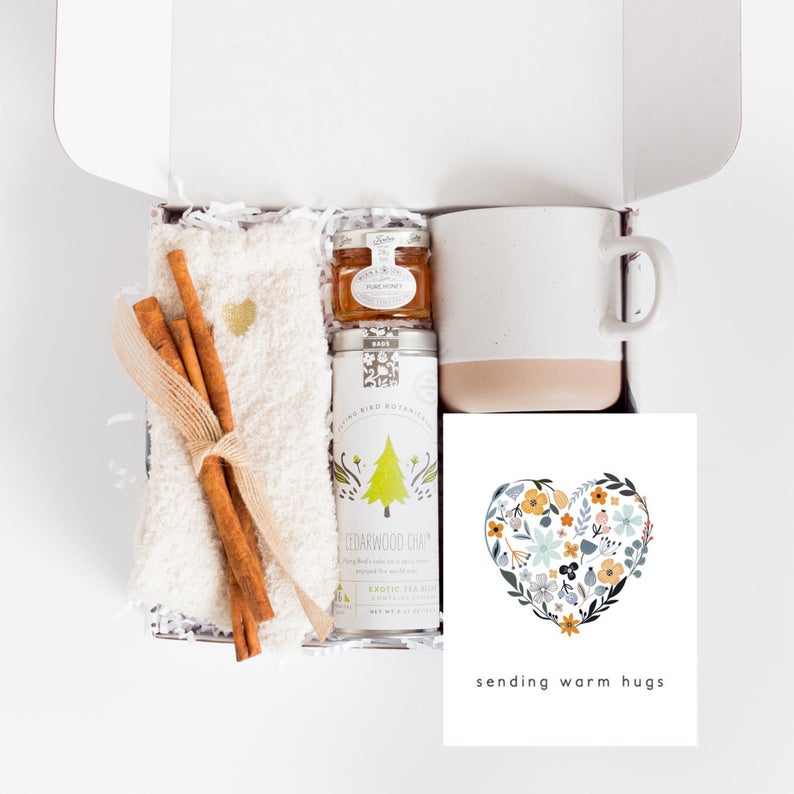 Send a hug in a box! Each box is carefully curated and hand-packed with love. This cute box contains a customized printed note, cedarwood chai tea, fuzzy socks, speckled mug, and honey jar and cinnamon sticks.
SPA GIFT SETS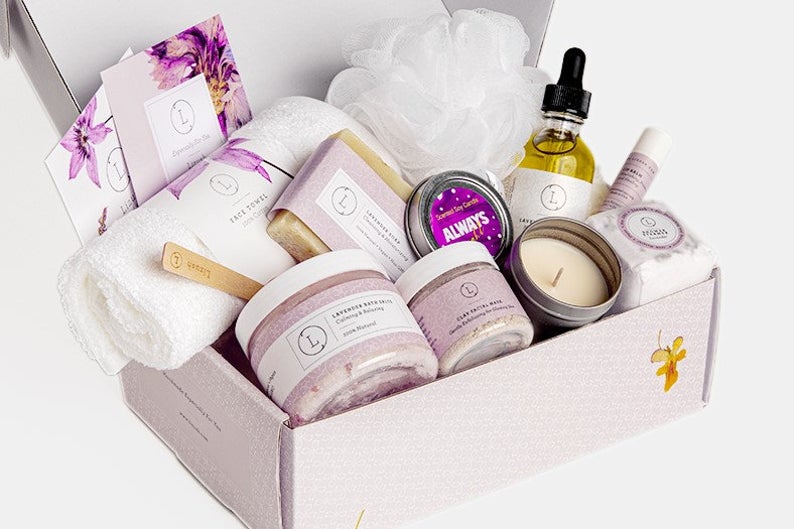 All Natural and Non GMO ingredients. Only pure ingredients from nature!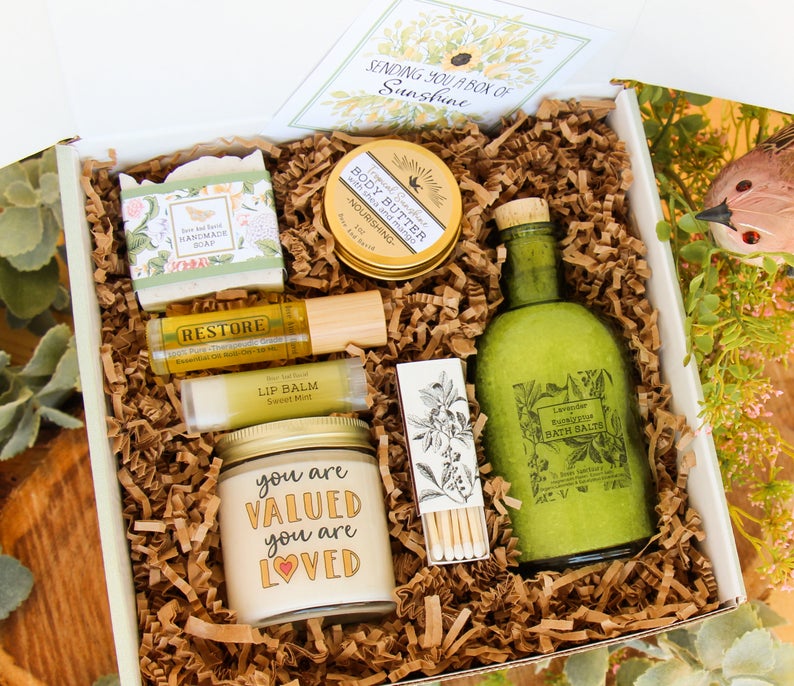 Does someone need to know they are Valued & Loved? Send them this box full of Sunshine! With restorative scented roll on essential oils for grounding and calmness.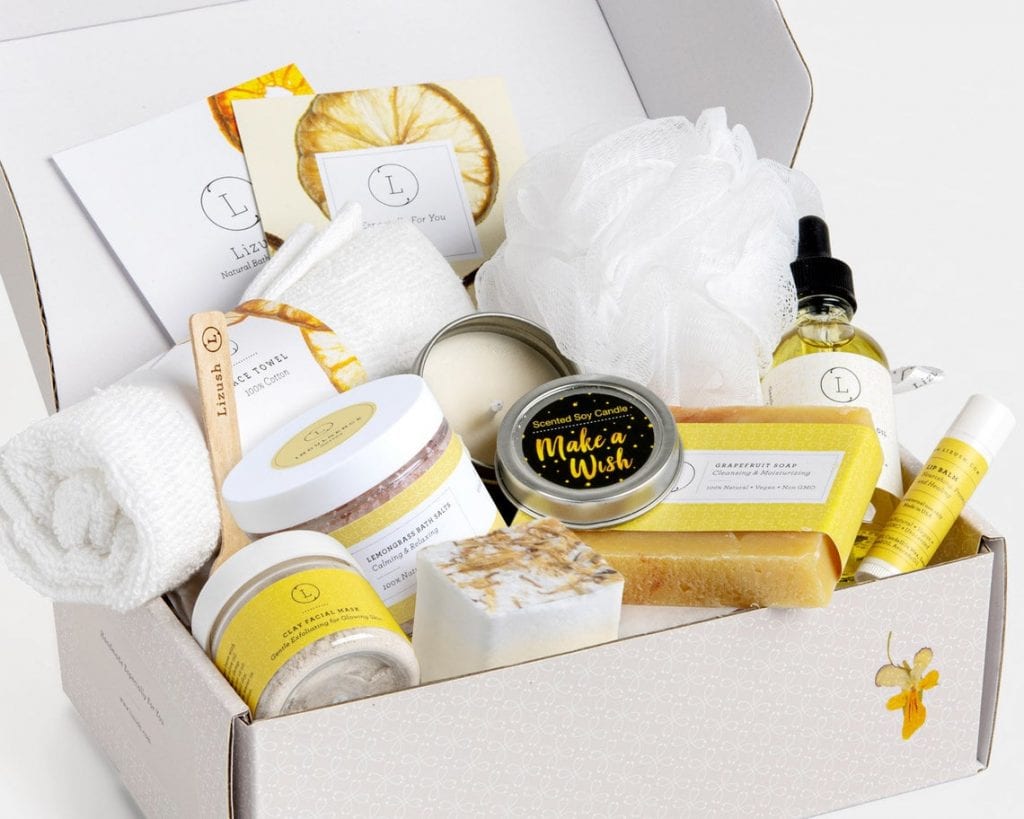 Whether it's the enjoyment of a long bath at the end of the day, relaxing with a good book or just treating your friends and loved ones, our SPA gift basket is the perfect choice.
Jewelry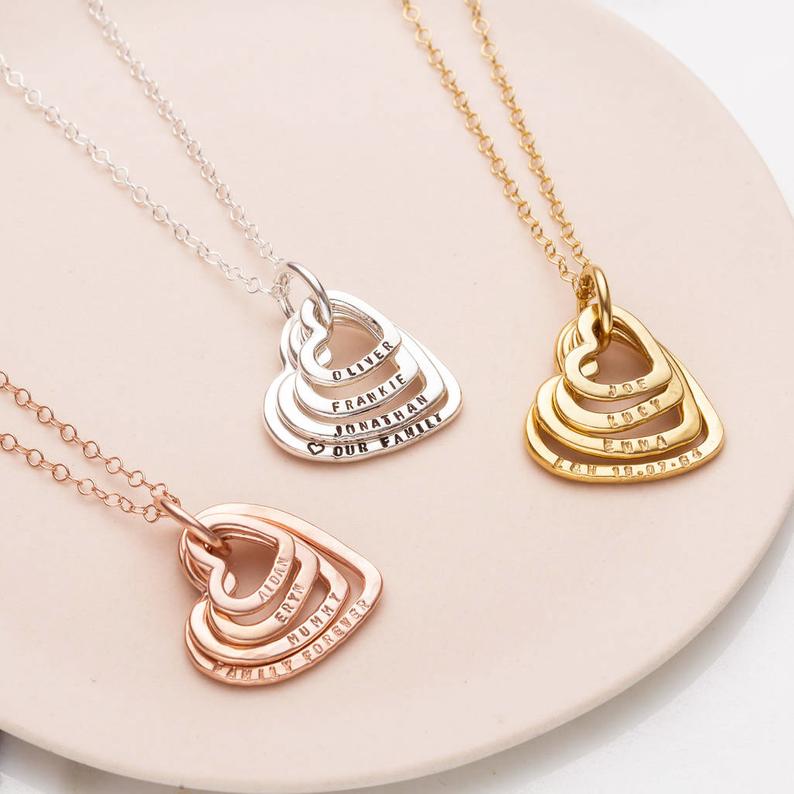 Personalized Family Names Necklace
Best Gift for Mom – This custom necklace is perfect idea for personalized gifts for moms. It can also be a mother's day necklace. It can become a family necklace adding to the heirloom.
925 Sterling silver necklace with four circles,
you can engrave any message you want to tell your loved one but not exceed too many characters, a perfect gift to you and your loved one. you can wear it on a particular day for you
Treasures are made just for you, which is more than a jewelry line and embraces the stories, happy moments, milestones and experiences… that celebrate, connect and inspire customers. Each piece tells a story of individuality, self-expression, love, and friendship.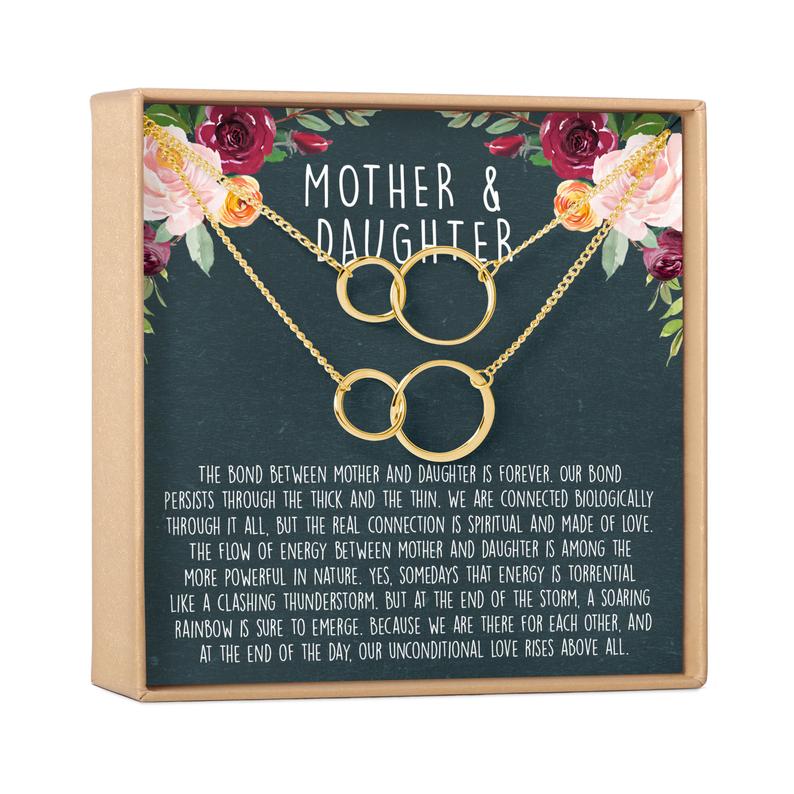 To add a matching necklace, select 2 necklaces in the drop down.
The love between a Mother and Daughter is forever. Show your love for Mom with this beautiful asymmetrical circle design symbolizing the connection between Mother & Daughter. This elegant piece is designed to shine and make Mom feel like the queen she really is.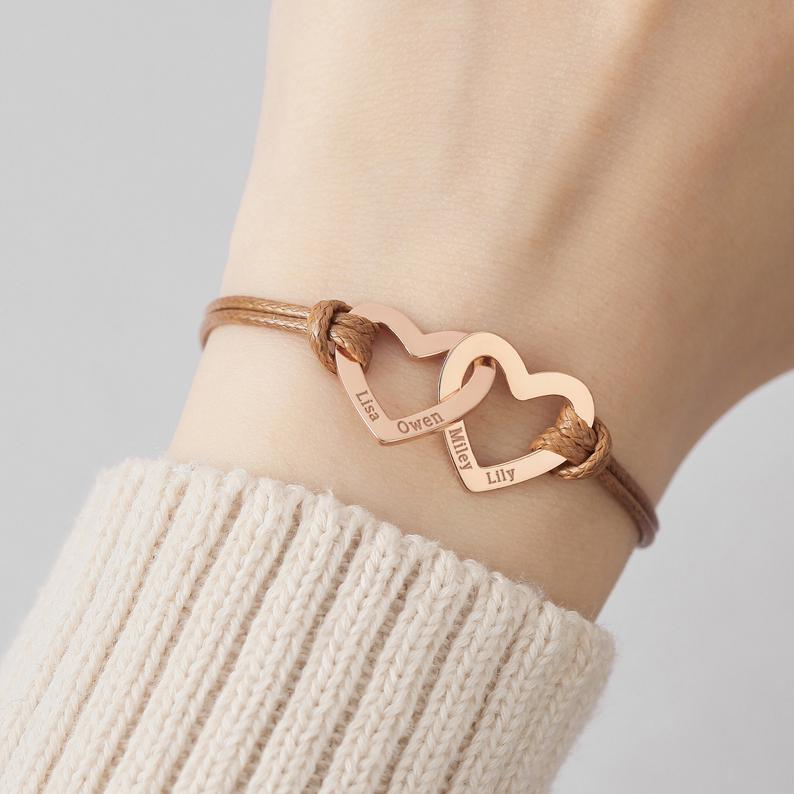 A symbol of everlasting love, this heart interlocking mother bracelet is engraved with kids' names.
---
Hopefully your mom lives nearby and is doing fine and you spend this year with her!
This Mother's Day, I'll send my husband's mom a card and gift and we plan to visit her in June.
In the meantime, I hope you enjoyed this post on gifts to send for Mother's Day.
Just in case you missed old posts, here are some of past Boutique of the Weeks:
Take care and have a great day!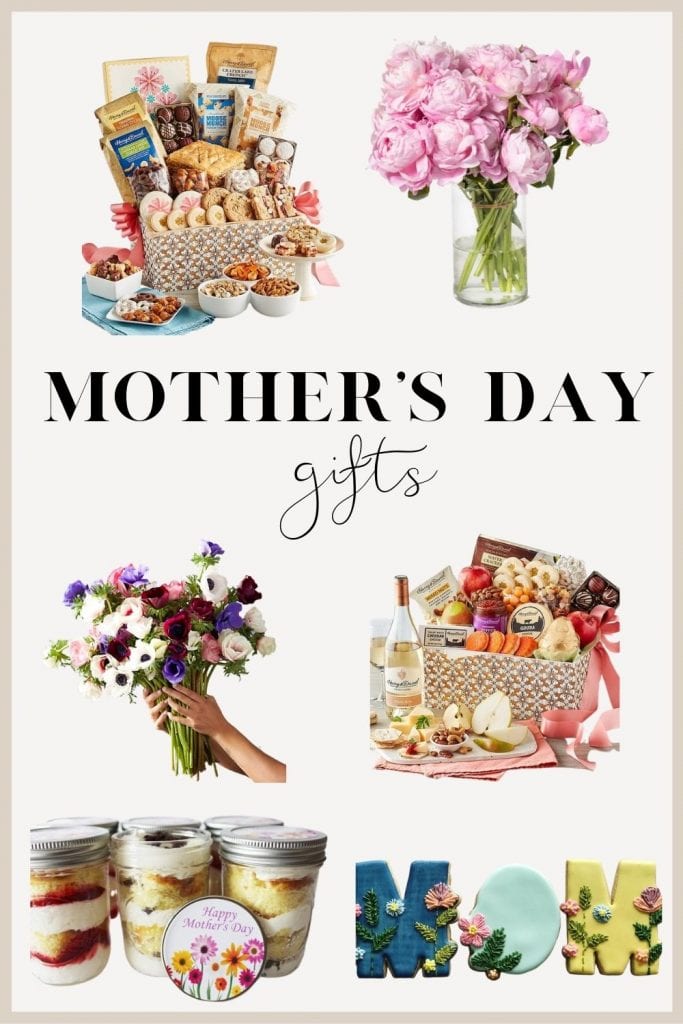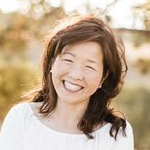 Latest posts by Janine Waite
(see all)