How to Dry Flowers is a simple project. No need to use silica gel since roses dry quickly. I recently preserved a bouquet of store-bought roses, and a week later, I made this beautiful wreath.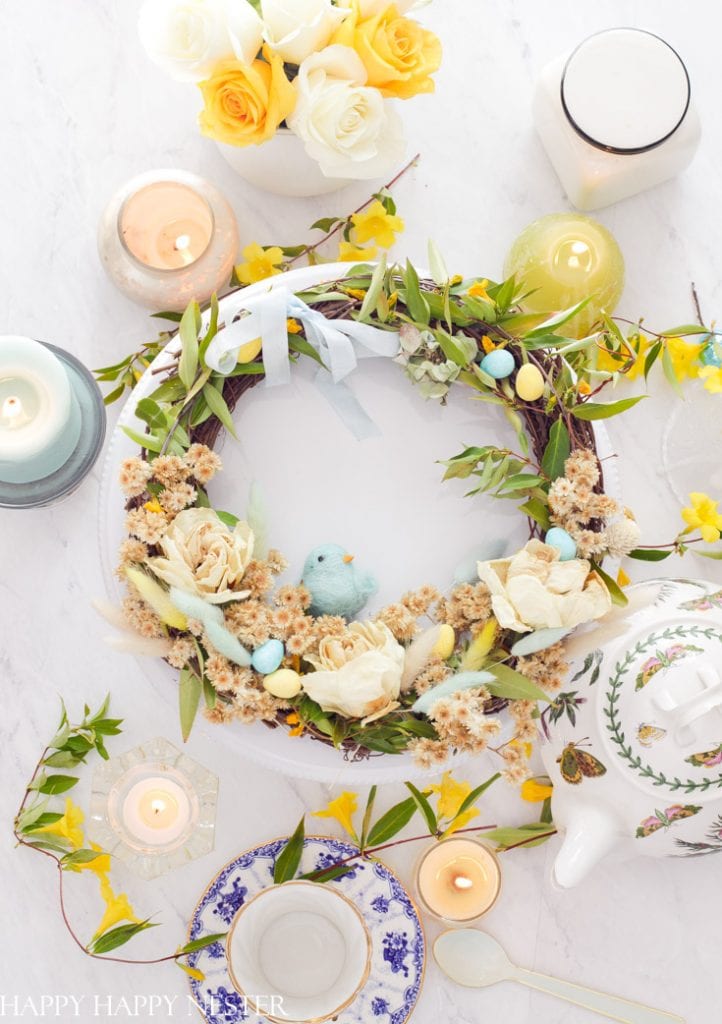 Preserving flowers is a fantastic way to get the most of your flowers. Not only do you have them while they are fresh, but you extend their enjoyment many months later by drying them.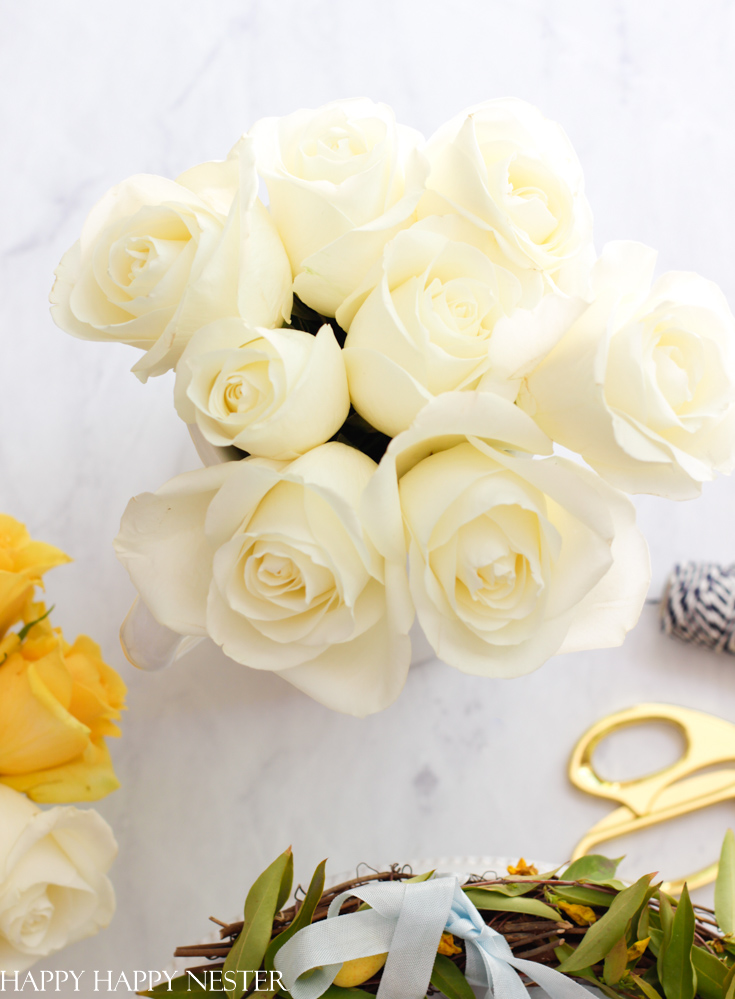 Since last March, I'm buying my flowers via various grocery deliveries. Gone are the days of perusing the San Francisco Flower Market or even our local grocery stores.
So, when I finally get my hands on some flowers, I love to dry them and get the most out of their beauty. Currently, I have a vase full of dried roses that were pink with a bit of dark pink on their edges. I pull them out to decorate since they are such gorgeous dried flowers. I love them more dried than when they were fresh.
It is nice that we can enjoy dried flowers for many months later.
Not only are store-bought flowers great for drying, but I have always loved wildflowers. Pearly Everlasting is my all-time favorite. I'm happy that here in Northern California. I always pick a bunch when I see them.
Well, let's talk about the drying process.
How Do You Dry Flowers?
Supplies:
Flowers
A Clothes Hanger
Twine
Scissors
Instructions to Dry Roses: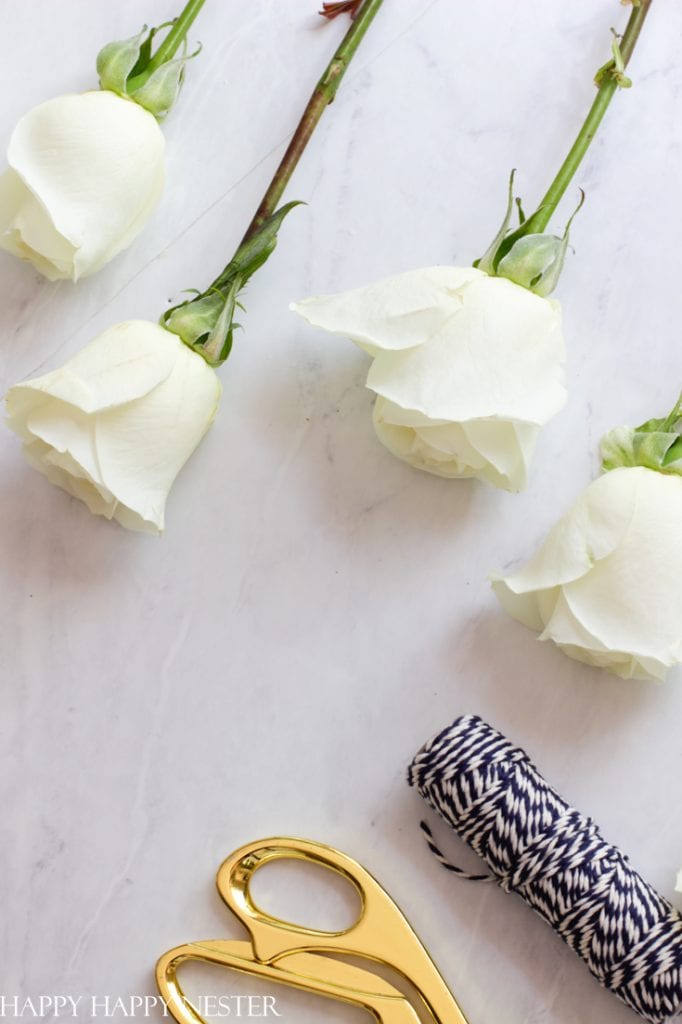 Step 1 – Trim Leaves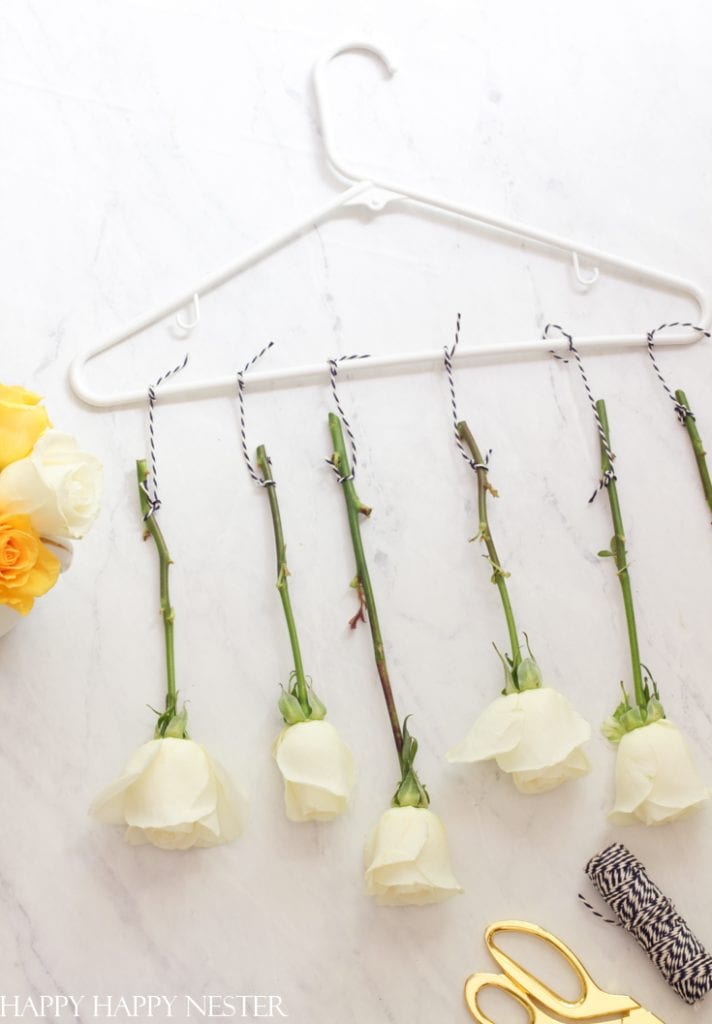 Step 2 – Attach Strings to Roses
Step 3 – Hang Roses
Hang flowers upside down from a branch or a clothes hanger.
Step 4 – Leave to dry
Dry in a dark room for 2 – 3 weeks.
What is the Best Way For Flowers to Maintain Their Colors?
I guess the best way to keep the flowers' color is to dry them in a dark room. Supposedly the light bleaches the color. But, I found different color flowers are better at keeping their colors. From experience, red, yellow, pink, and purple roses have strong colors when dried. I do love the antique white rose which I used in this wreath project.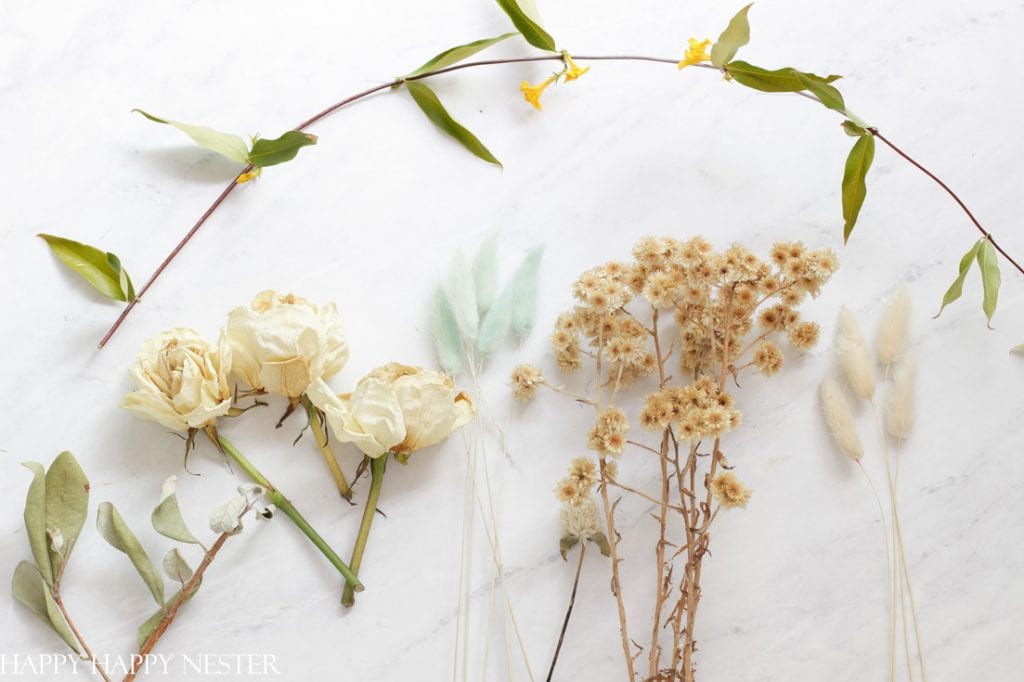 A List of Flowers that Dry Well
Roses
Clover
Strawflowers
Pearly Everlasting – a wildflower
Lavender
Hydrangeas
Billy Button Craspedia
Baby's Breath
How to Make a Dried Flower Wreath
*The following post contains affiliate links
Supplies for Wreath
Grapevine Wreath (My wreath is like 12 inches, but make it whatever size you like)
Vines from the Garden – I used our Yellow Jasmine vine
Dried Flowers – Pearly Everlasting, Bunny Tails, Dried Roses
Glue Gun
Wreath Instructions: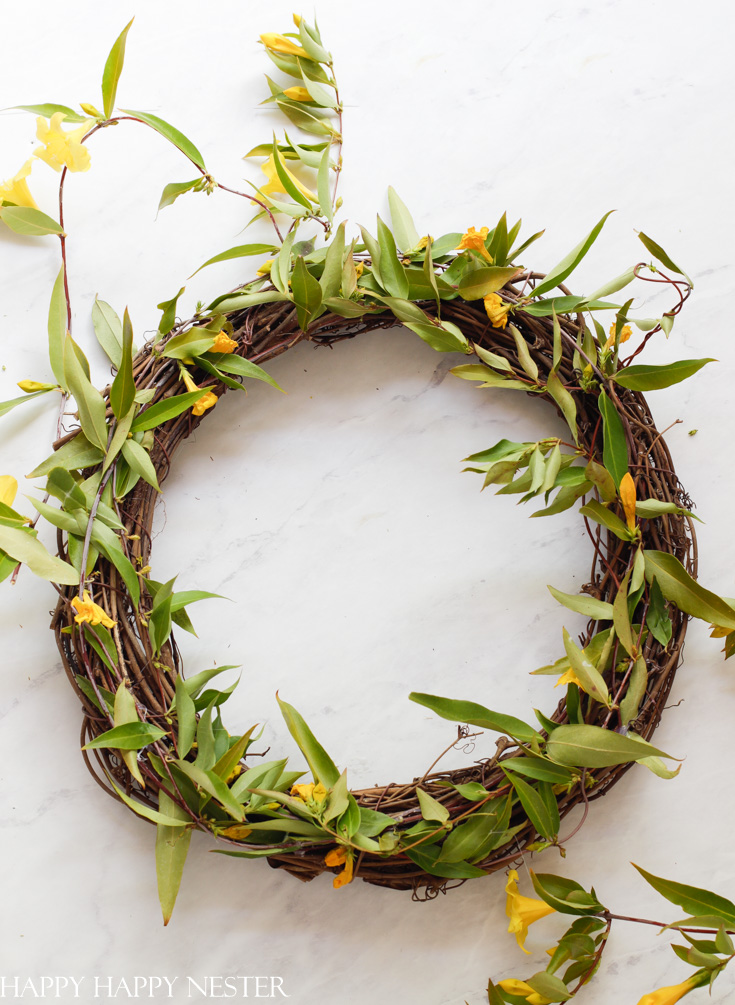 Step 1 – Attach Vines
Intertwine the vines and glue them to the grapevine wreath. I also placed an extra leaf to cover up the glue.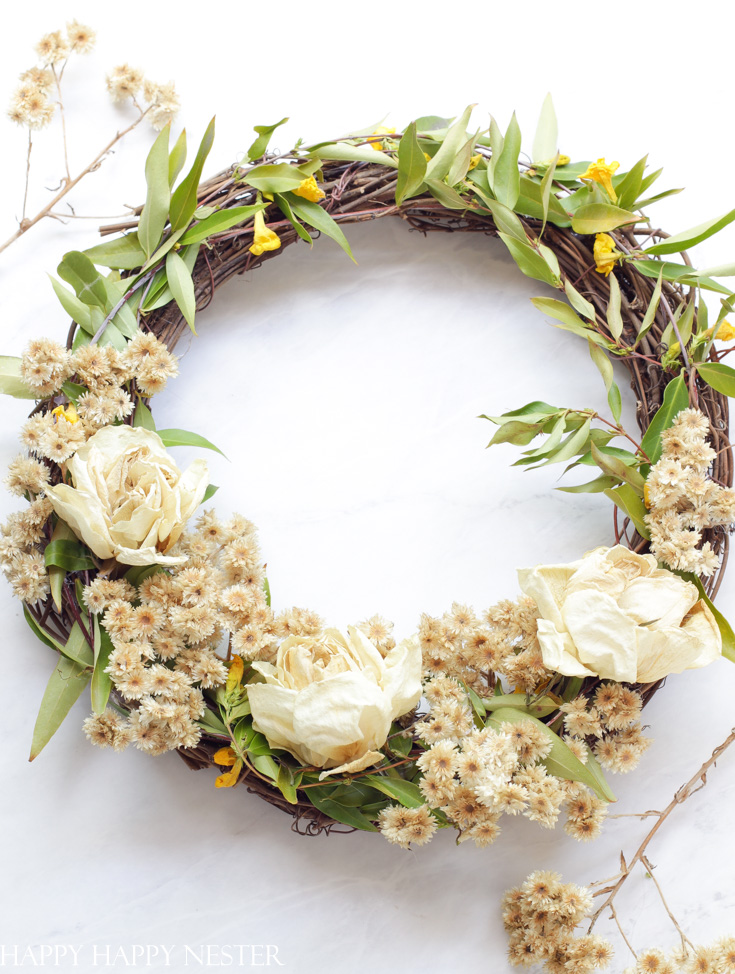 Step 2 – Attach Dried Flowers
I love the Pearly Everlasting flowers!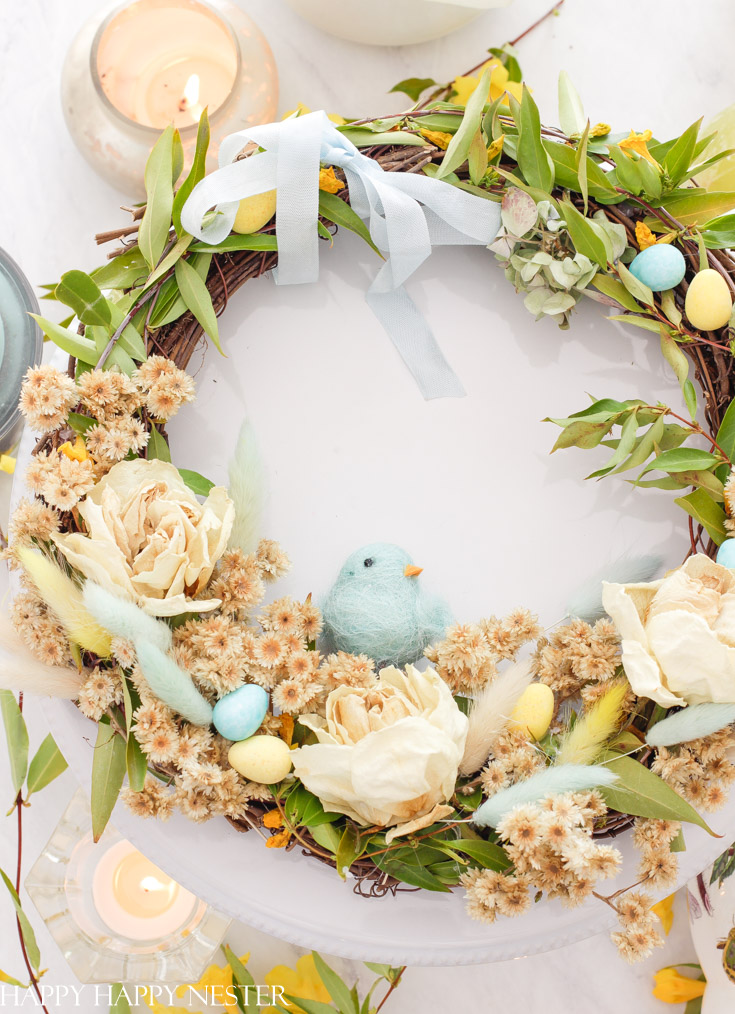 Step 3 – Attach Bunny Tails
Dried Bunny Tails are so cute!
Step 4 – Glue Candy Eggs
 Yes, I dyed the candy a Robin's egg blue! I'm a bit crazy.
Step 5 – Attach Ribbon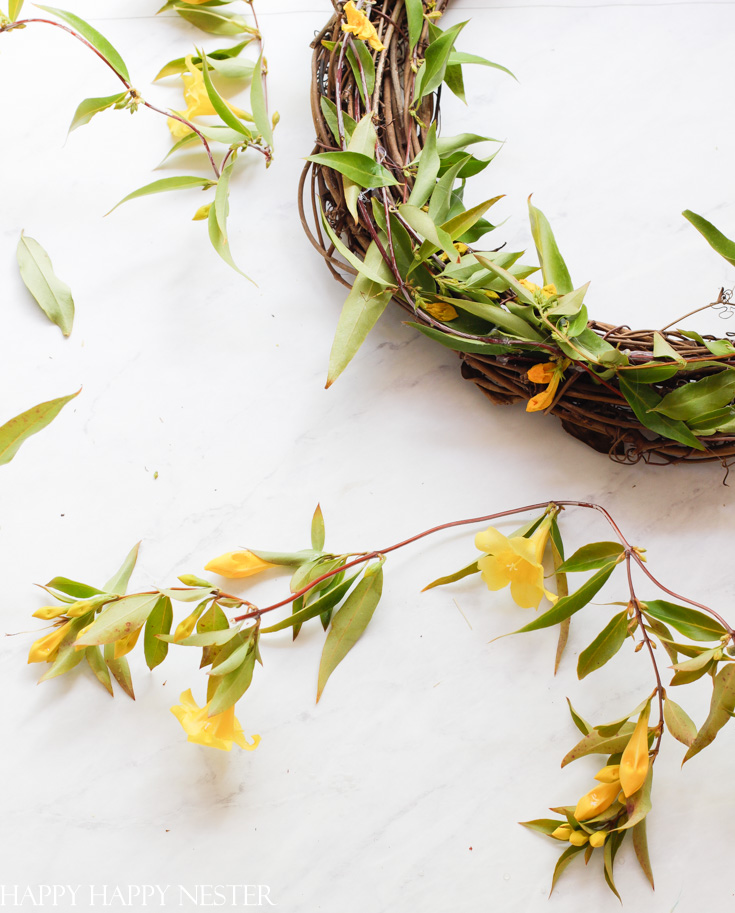 I love wreaths and here are just a few more if you're interested!
---
MORE SPRING CRAFTS
Today, is our monthly blog hop with my friends. They are also sharing their fun Spring projects!
How to Make a Textured Vase with DIY Plaster Paint
Have an old vase or jar that you want to turn into a beautiful, textured piece? Let me show you how to make DIY plaster paint to make the perfect vintage-look vase to hold your Spring blooms!
Make a Macrame Farmer's Market Bag for Spring
How to make an easy macrame market bag for beginners. One of the best parts of spring and summer is fresh produce at the farmer's market. Make an easy macrame market bag with this easy DIY!
How to easily decorate Easter eggs in five different ways with paper napkins, bubble wrap, netting, glue, and a paintbrush.
Spring has sprung over here when it comes to crafting! I'm having a ton of fun creating these fresh projects. Thanks for joining us today for this easy post on how to dry flowers.
This year, I plan to dry my yellow roses from my garden since they bloom so quickly. Maybe another dried flower wreath will be popping up over here!
Cheers,

PS: If you don't have the time to create your own wreath, here is a link to a few ones you can buy! Dried Flowers wreath link.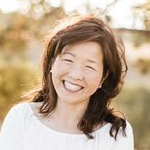 Latest posts by Janine Waite
(see all)