I've always wanted to make a White Tulip Wreath, so the other day I got busy and quickly made one. I was pleasantly surprised how easy it was to make.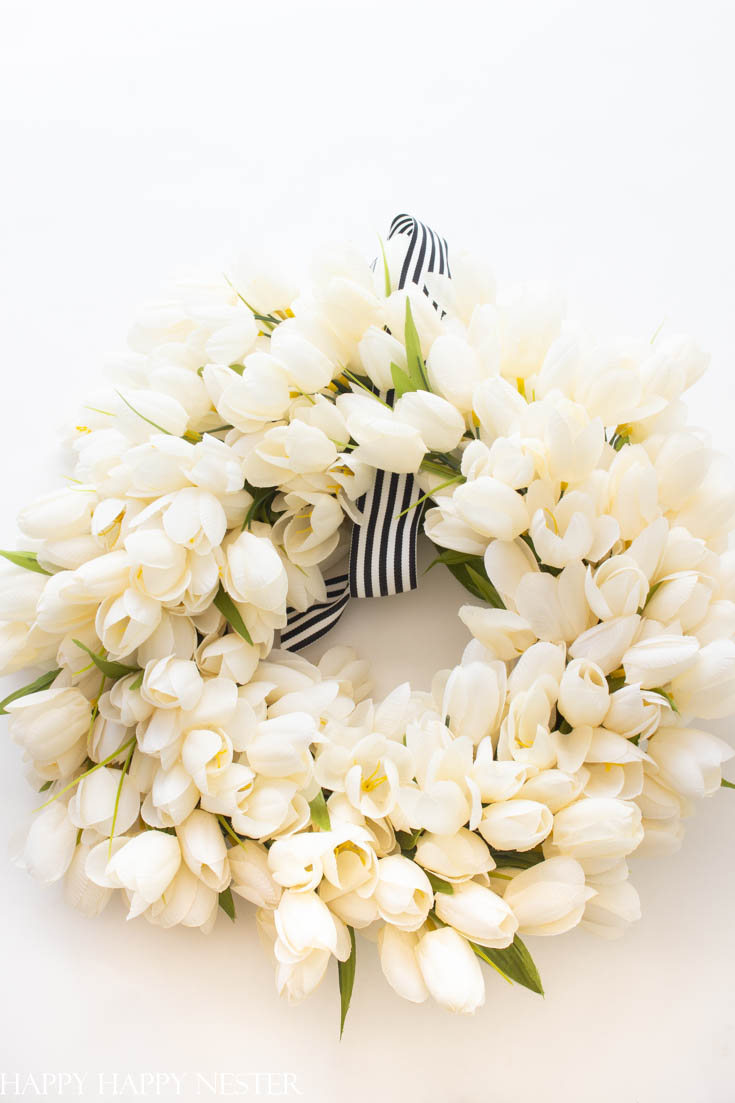 As you know, I have a ton of wreaths, a felt rosette, paper cherry blossoms, and arm knitted wreaths, to name a few. And I must admit that I tend to make some pretty elaborate wreaths. But, this time, I decided to go the easier route and make a quick and uncomplicated wreath.
Don't get me wrong, even though it didn't take long to make this wreath, it looks elaborate and complicated. And achieving the look without the time commitment is a good thing, in my opinion.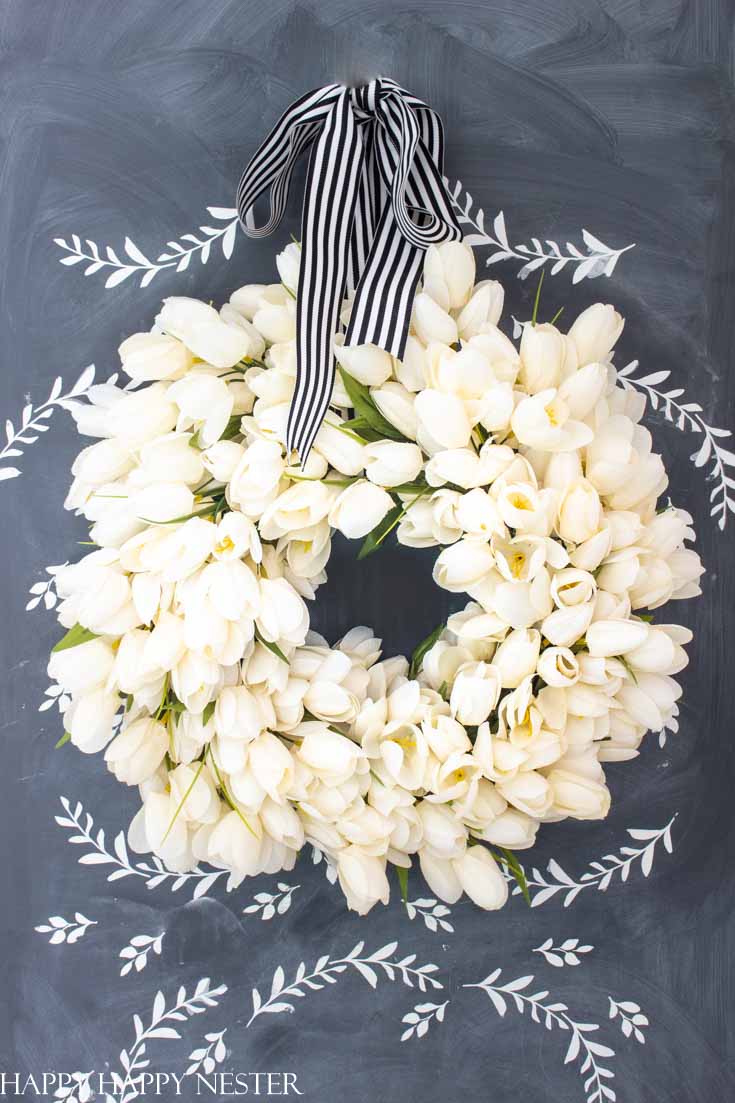 Things to consider when making my white tulip wreath
It turns out that I learned a lot when I made this wreath a couple of times. You are in luck since I took notes. And so the following information includes a few of my tips that I feel you might find helpful.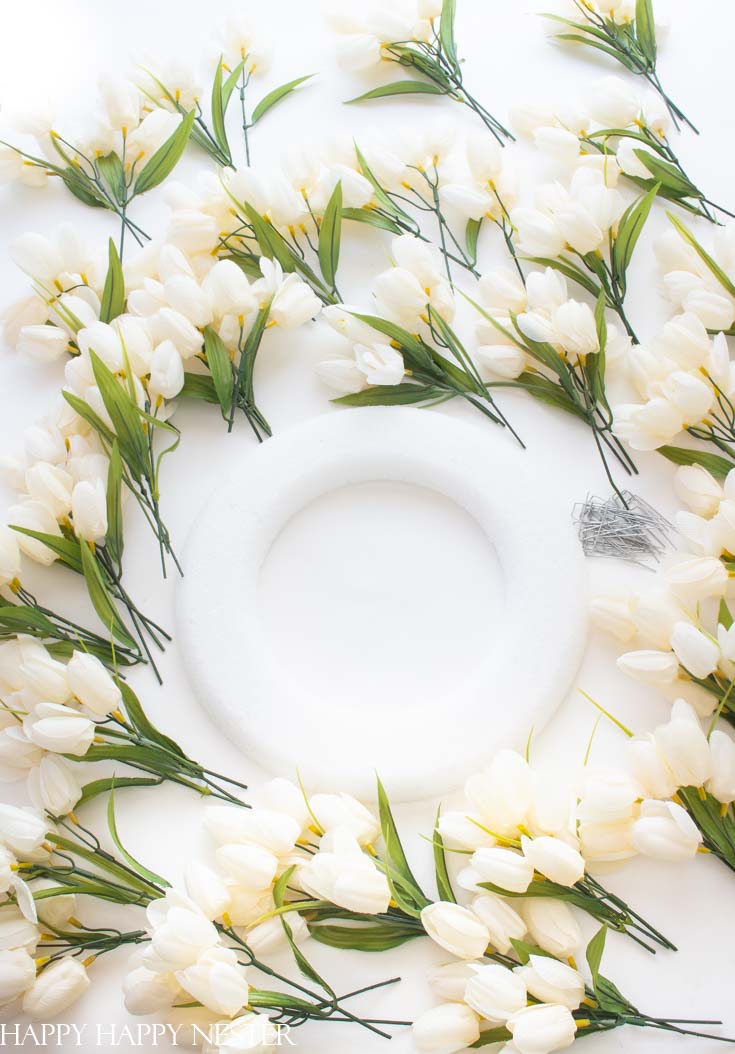 Faux Tulips
If you can, try and buy your tulips only when they are on sale. You'll need about 12 bunches, and that can get a bit expensive if you pay full price for the tulips. I know that I bought mine from Michael's and I think they were something like $2.99 a bunch. Also, I ordered them online and had them delivered to my home. If my memory serves me right, it only took a week to get the package.
Styrofoam Wreath
I wanted a thicker wreath, but alas, I could only find this thin one. And because of Covid-19, I couldn't visit the craft stores to find the right styrofoam wreath, so this thinner one had to work. You need it thick since the floral pins can go right through to the other side if you aren't careful. To avoid this, I placed my pins at an angle so that they wouldn't go through to the other side of the wreath.
Does the Wreath Need to be Covered with Ribbon?
So since I made a white tulip wreath and the styrofoam is white, I didn't need to cover the foam with a ribbon. If your tulips are any color other than white, you might want to cover the styrofoam with a matching ribbon. This way, the white foam won't show through if you miss covering some spots with your tulips. Well, since I didn't cover my wreath, I hope this makes sense.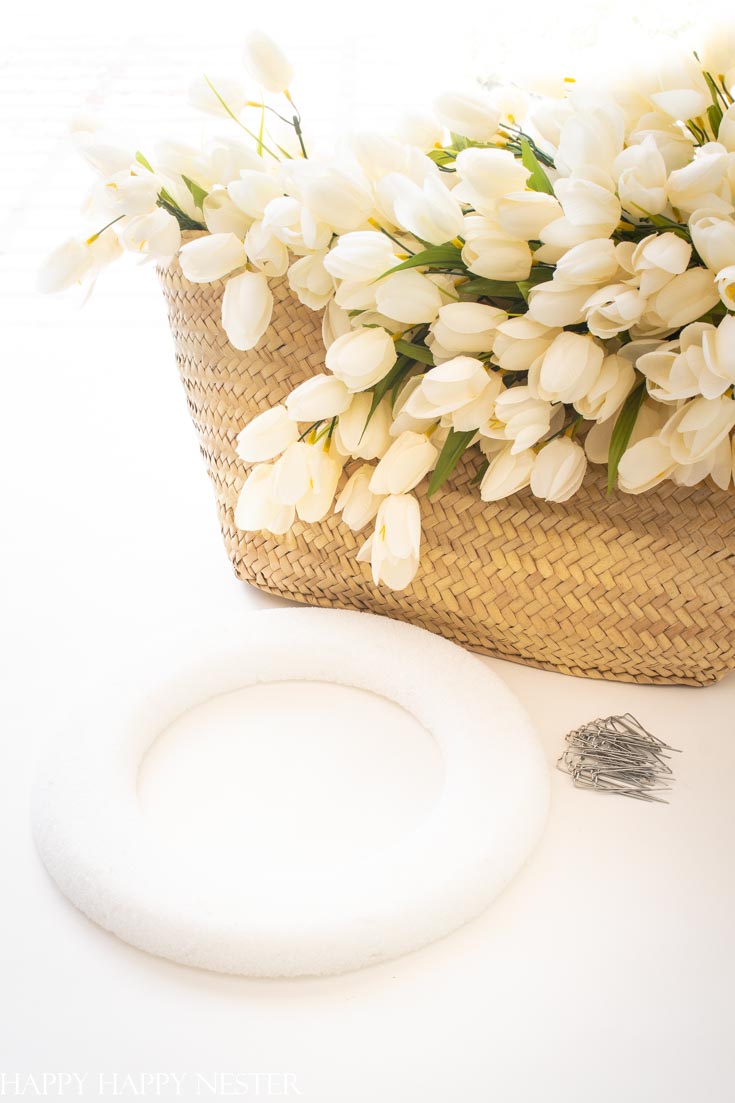 Are Floral Pins Necessary?
You could hot glue the tulips down, but if you need to adjust them, you'll have a bit of trouble. The floral pins are removable if you make a mistake with the placement of your flowers. The pins give you a lot of flexibility, and they are great at securing the flowers in place.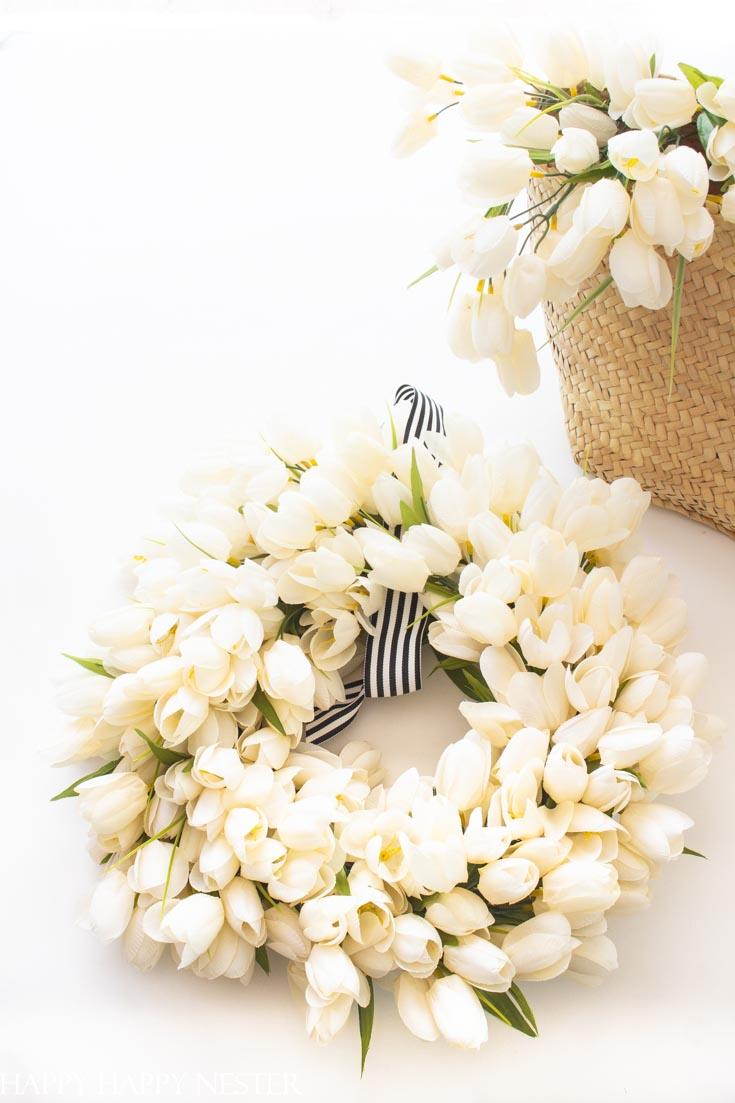 White Tulip Wreath Tutorial
Supplies for Flower Wreath
Directions for Making My White Tulip Wreath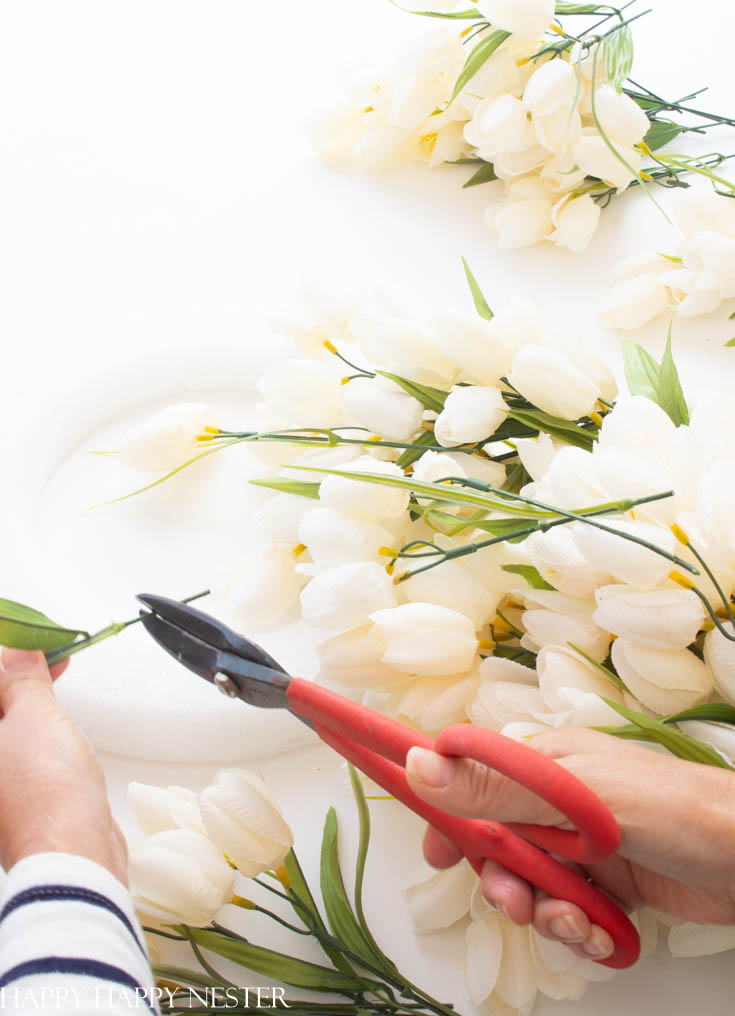 1. If you are making a wreath with another color of tulips, then before you start adding tulips, you might want to wrap your styrofoam form with ribbon. I used white tulips, and the styrofoam was white, so I didn't need to hide the structure.
2. Trim tulips to about 6 inches in length.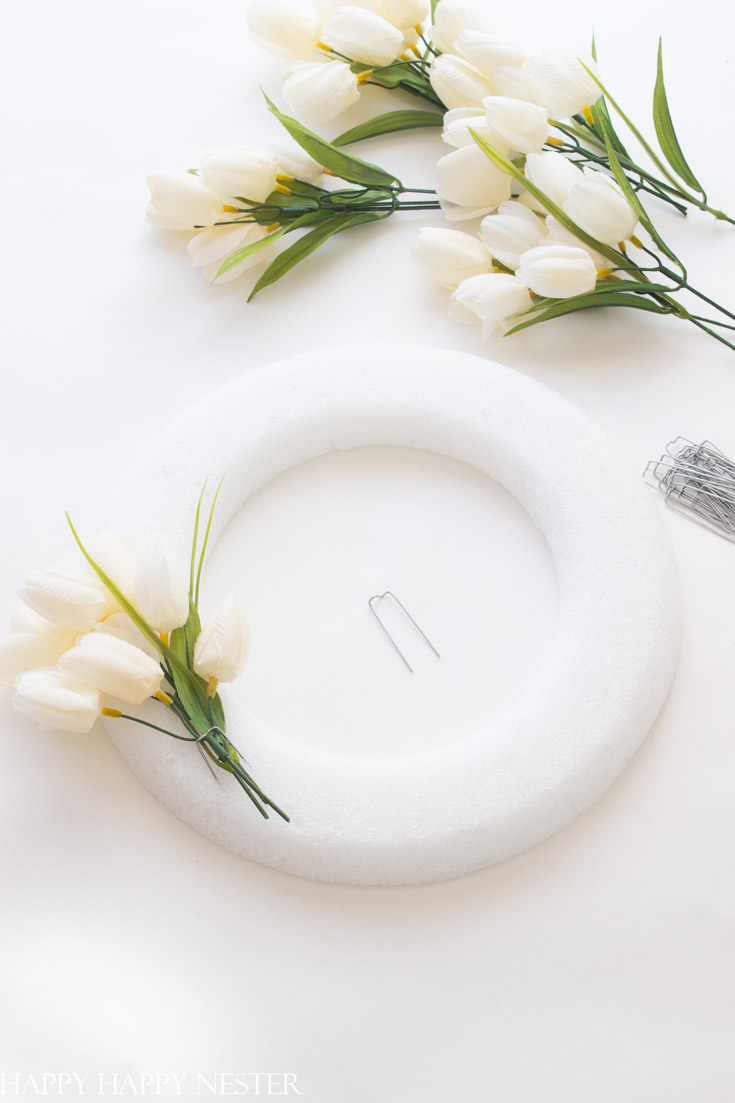 3. I placed the trimmed tulips in bunches of four stems before I began. Also, make sure to arrange your bouquet so that there is one stem that is a bit taller than the other three. This evenly distributes the tulips, so there are just clumps of flowers on your white tulip wreath.
4. Place your first bouquet on the top surface of the wreath and secure it with a floral pin.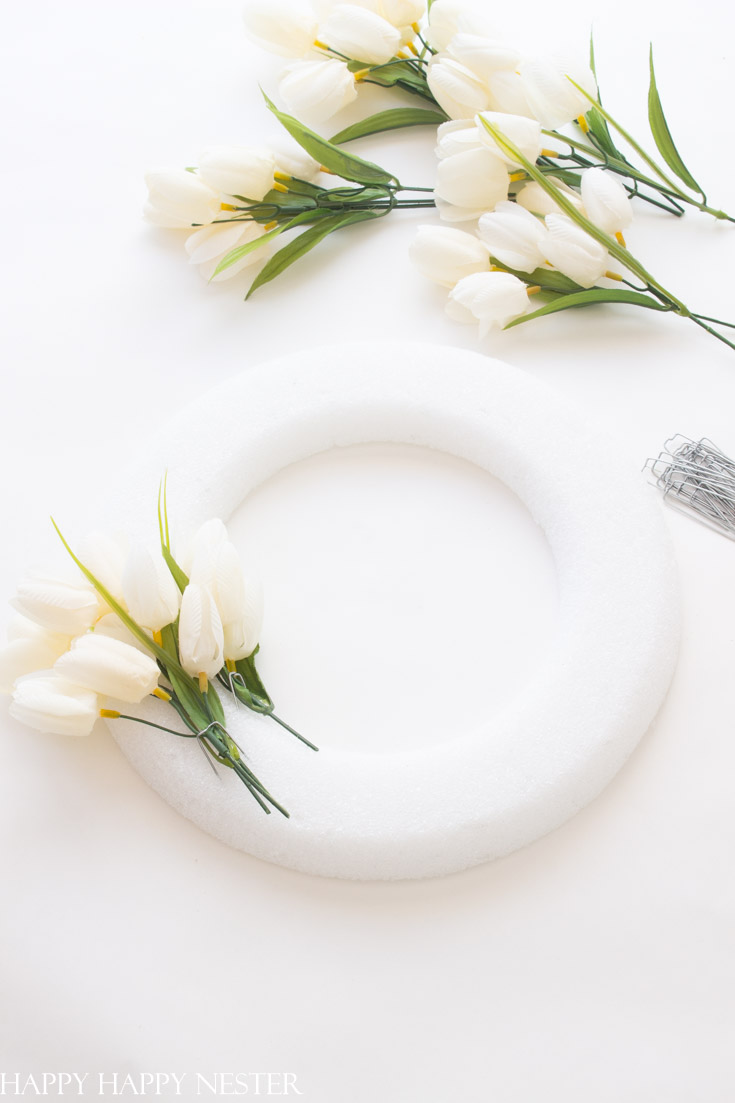 5. Secure one tulip stem on the inner circle right next to the top bouquet. Note that you only use one tulip stem for the inner circle. Placing only one or two tulips in the center prevents filling the middle of the wreath.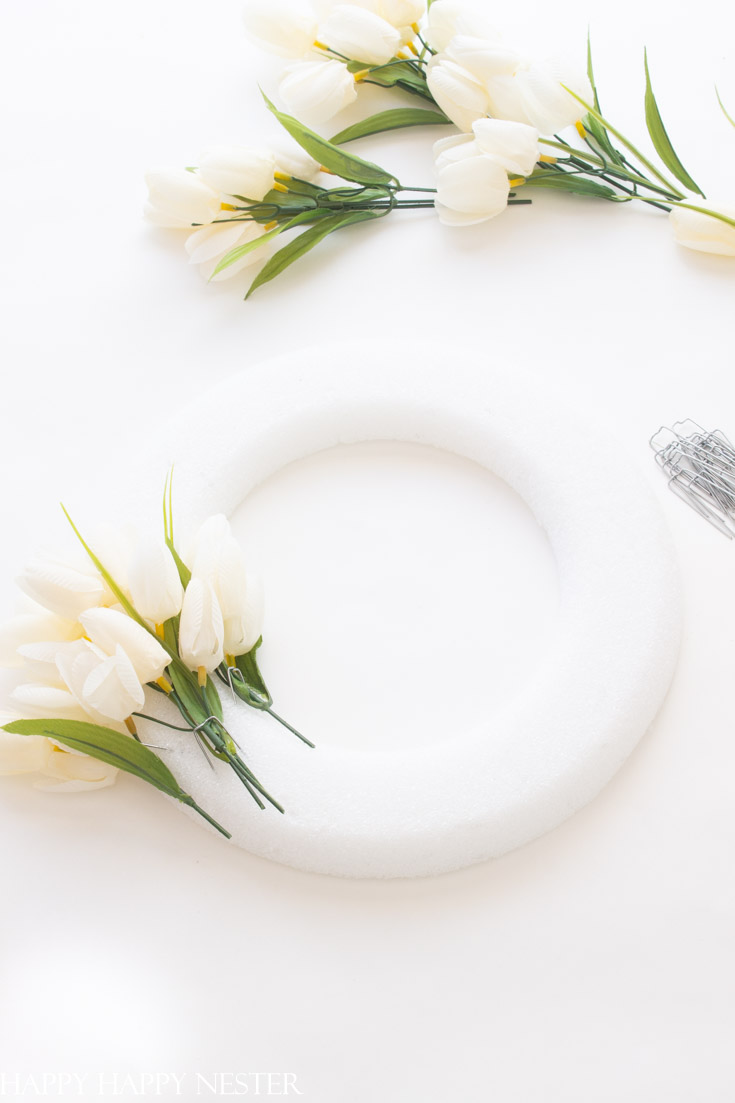 6. Secure a two stem bouquet on the outside rim that is in alignment with the other tulips.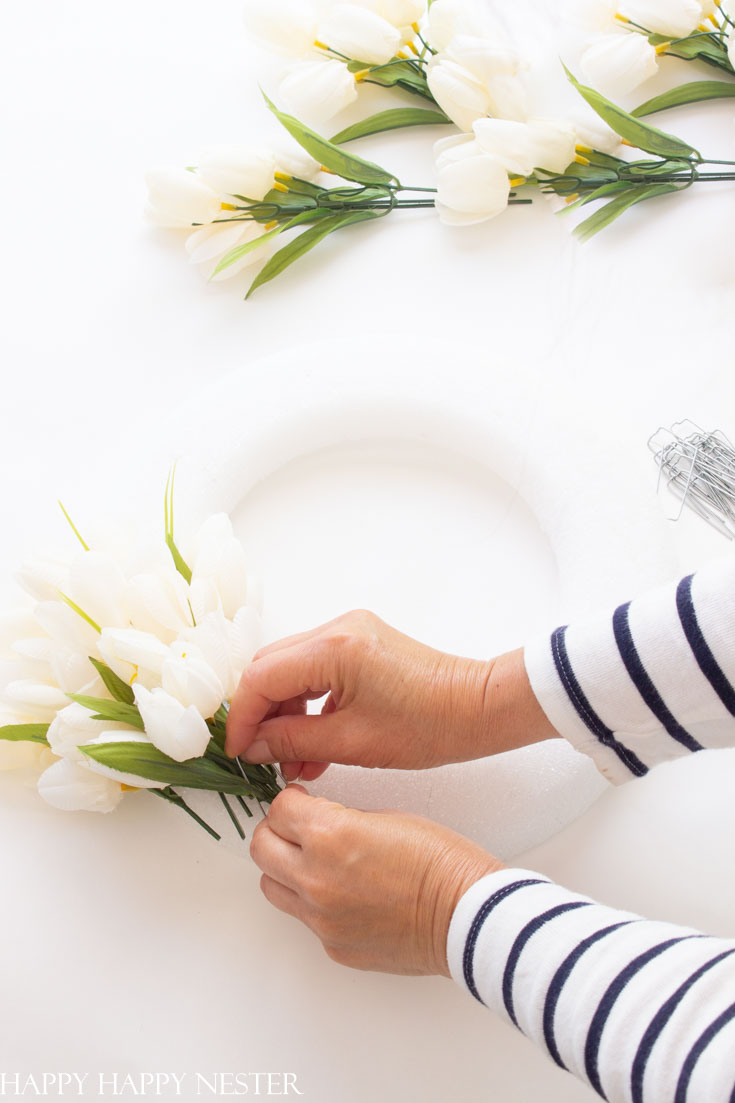 7. Then repeat these steps by layering your next bouquet halfway on top of the previous tulips. Make sure that the tulip blossoms face the same direction as all the rest of the flowers. Keep securing your tulips in this pattern. Work your way around the white tulip wreath by placing each bouquet partly on top of the last layer.
8. When you have filled in the whole wreath with tulips, add or take away any flowers. Fiddling with the tulips is a balancing act that can take a bit of time.
9. Next, if you want to add a bow, wrap the ribbon around the top of the wreath and tie a small knot. Then add another bow and attach it to the top of the loop. Congrats, your wreath is done. Now, make sure to hang it on a door or wall.
Thanks for stopping by to this white tulip wreath tutorial. I hope you have a moment to check out my friend's summer wreaths as well.
Cheers,

PS: In our Nester's Circle, we often will work on projects like this beautiful white tulip wreath. So, if you like this project, we would love to have your join our community of crafting women. Check out this informative page about the Circle of crafters.
"204" height="67″>
Check out These Beautiful Summer Wreaths!

How to Make a Felt Succulent Wreath – My 100 Year Old Home
Wreath Alternative-Flowers In A Basket – Sanctuary Home Decor
Floral Explosion Summer Dollar Store Wreath – The Happy Housie

How to Make a Tulip Wreath – Happy Happy Nester
Summer Poppy Wreath – Finding Lovely
Hydrangea Wreath – Craftberry Bush

Easy DIY Patriotic Wreath – Dreaming of Homemaking
Gorgeous Summer Wreath Ideas – Twelve on Main
Patriotic Door Basket – A Blue Nest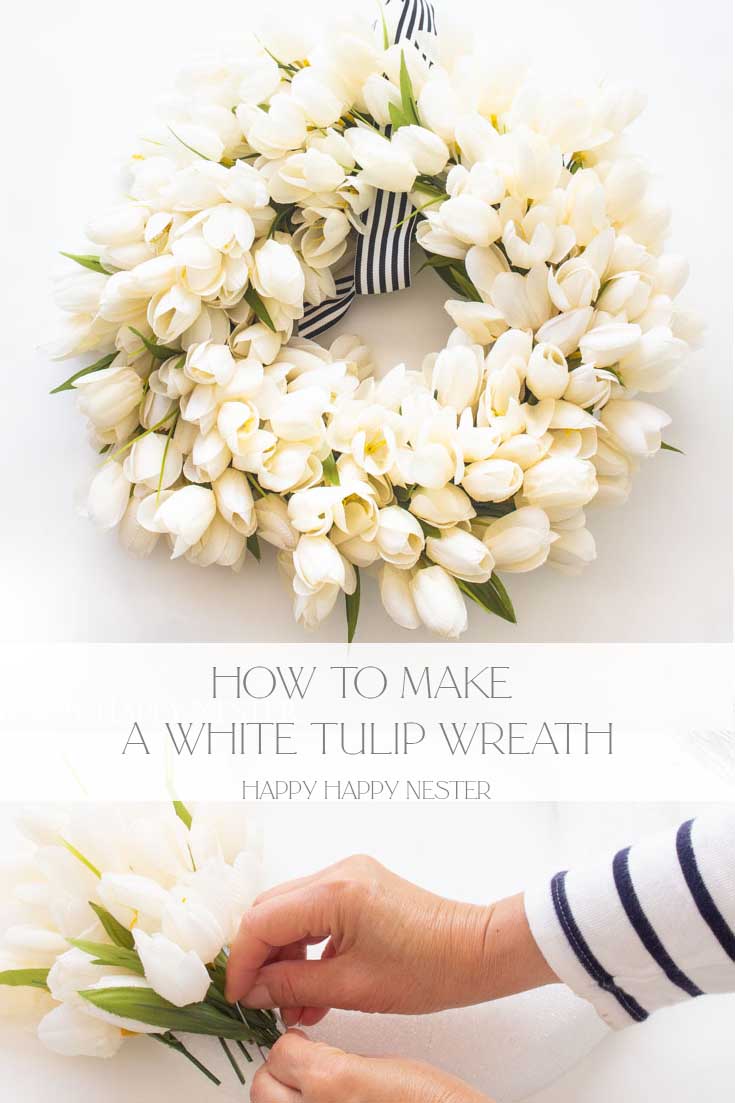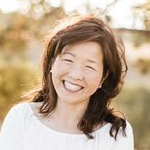 Latest posts by Janine Waite
(see all)