Make Your Own Wrapping Paper this year. This pretty glittery paper is such a quick project and takes a few minutes to make. And even your kids can make this beautiful sparkly paper. It's that easy.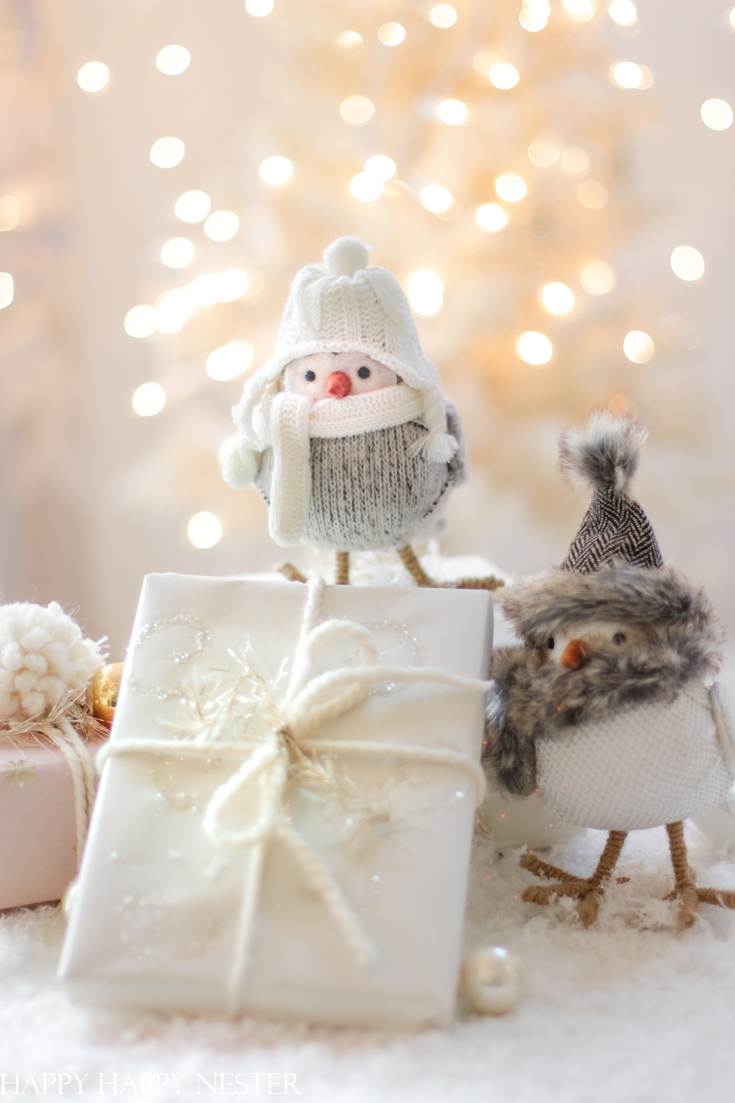 The pandemic has added a new twist to my projects this year. I'm not relying that much on the shopping supply chain and instead, I'm using the supplies I already own. I love that with my latest holiday gift tags project, all you need are some paper, scissors, and a printer. Well, this wrapping papercraft is one of these quick and simple projects.
Lately, I'm creating crafts that are easy, quick, and fairly inexpensive. And today, my friends are committed to a monthly project that can be made in under 30 minutes. Although I didn't time my project, I'm sure it is well under the 30-minute mark. Maybe it takes all of 15 minutes. Let's take a look at my friend's projects!
30 Minute DIY Crafts
Make your own wrapping paper this year. This pretty glittery paper is such a quick project and only takes a couple of minutes to make. And even your kids can make this fun gift wrapping paper. It's that easy. And by the way, there are a few important tips about glue and glitter that are key to creating a successful paper. Trust me. I did a bit of testing. Personalize your paper and have fun with this crafty project.
Tatertots and Jello | Baking Soda Clay Gift Wrap Embellishment DIY
Creative gift wrap ideas using simple baking soda clay and natural elements. Using only two pantry ingredients and foraged items from your yard, you can create gorgeous gifts that will look stunning under your tree.
My 100 Year Old Home | Creative Pet Gift Wrapping Ideas
Sport and I had some fun shopping for gifts this year. We picked out items for everyone in the family, which are thoughtful and hilarious. We even made our own gift wrap paper and can't wait to share our creative pet gift wrapping ideas.
Make your own personalized ribbon in minutes. A simple step-by-step tutorial on how to create beautiful ribbons and bows for your packages.
From elegant fabric wrap to how to make the perfect bow, these beautiful gift wrapping ideas will help make your gifts look extra special this year. The best part? These ideas are inexpensive and easy to recreate!
LET'S DIG INTO THIS FUN WRAPPING PAPER PROJECT!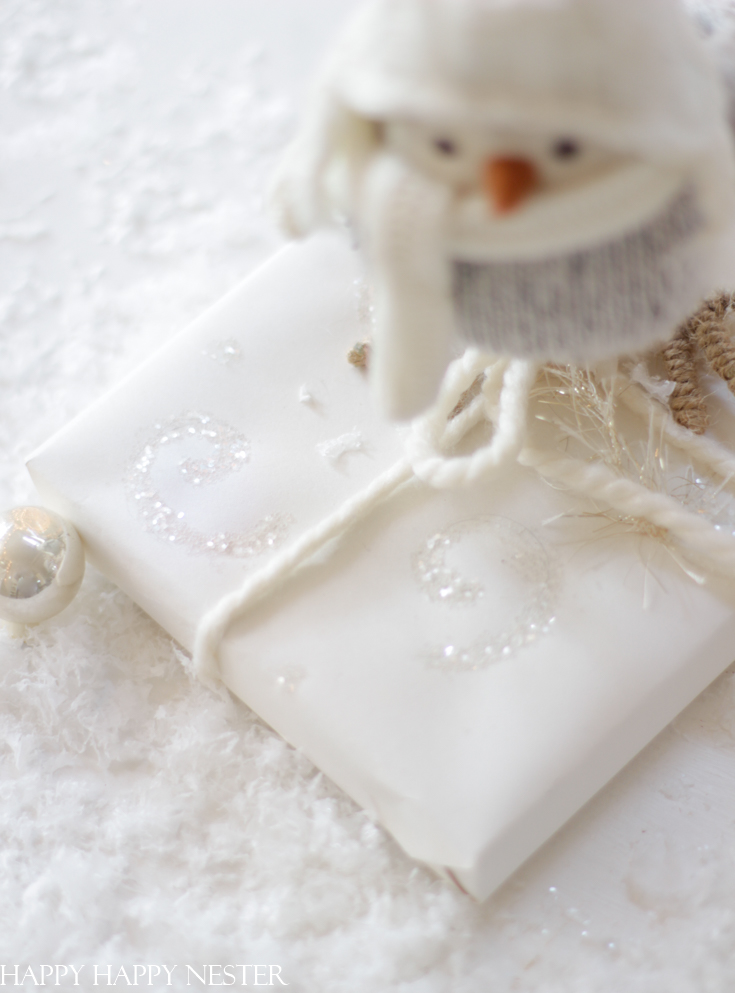 When I started on this project, I had no idea of some of the issues I would encounter. As it turns out, I did a bit of testing on some of the supplies. This research proved to be important. Yup, not all glues, and glitters are equal. Let's dive into these issues that I tackled.
GLUE
Glue Sticks
I originally planned to use the colored glue sticks when making my own wrapping paper. I love that the purple glue is visible, which means you can see your design. Unfortunately, this glue doesn't hold the glitter. I found that when I touched or swiped my hand over the glitter, it quickly fell right off with little effort. Bummer.
Elmer's Glue
Next, I turned to my trusty bottle of Elmer's Glue. I thought surely Elmer's would hold the glitter. Nope! Who knew that it wouldn't hold the sparkly stuff.
TACKY GLUE
I was getting discouraged with the glues. I was afraid that I would have to scrub this cute project. But, Tacky glue came to save the day. Yup, it holds the glitter the best. And read below about the drying element that seriously sealed the deal.
GLITTER
Coarse Glitter
You all know that I love Hobby Lobby's white glitter. It sparkles and doesn't have any iridescent qualities, which means it's not throwing off other colors. Gosh, despite its visual qualities, it turns out that the grains are a bit large, and for some reason, the glue doesn't like to hold onto it as much.
Fine Glitter
So, I pulled out a glitter that is a bit finer in size and tada, it held! The ultra-fine glitter held even better, but don't get too excited, since it doesn't sparkle as much.
DRYING METHODS
Tacky glue takes a while to dry, so I used a blow dryer to speed up the process. Well, I found out a couple of interesting things. Blow drying created a hard texture that did a great job attaching the glitter to the glue and paper. Also, it dried the glue in just a minute or so, which is a great time saver. At first, I used a warm setting, then switched to the cold air at the end of my drying time. As I said, it only takes about a minute or two to dry the glue.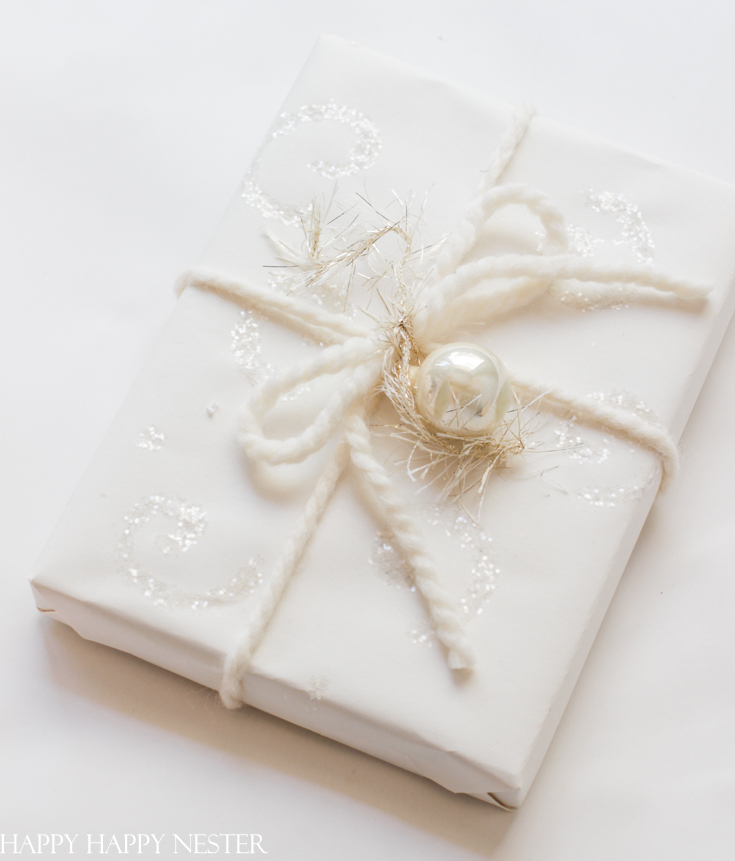 Make Your Own Wrapping Paper DIY
Supplies:
Paper ( I used the Ikea art paper that comes in a roll)
Tacky Glue – this glue comes with another applicator, so if you want fine lines, this will work great.
Pencil (optional)
Watercolor Brush
Blow Dryer
Instructions: You can watch the video for the Tutorial
1. Wrap your gifts with white gift wrapping paper. I found white is the best color for the glitter to show up on. And I used a kid's art paper roll that I bought at IKEA, which was super inexpensive.
2. Once you decide on a pattern, lightly pencil in your design on the paper. I then lightly erased the pencil marks so I could barely see the design.
3. Next, place your wrapped gift on a big sheet of paper that will catch the excess glitter. Then, place the glue in a small dish and brush on a layer over your pencil design. The glue tends to dry a bit, so I worked on one area at a time and glittered each area as I went.
4. Sprinkle glitter over each design that is glued. Once you are all done, remove glitter from the paper and place the excess glitter back into the bottle.
5. Blow-dry the glue that you placed on the wrapping paper. After a couple of seconds, I used the warm setting, switched to the cold setting. Touch your glue to see if it's dry. It only takes a minute or so to dry completely.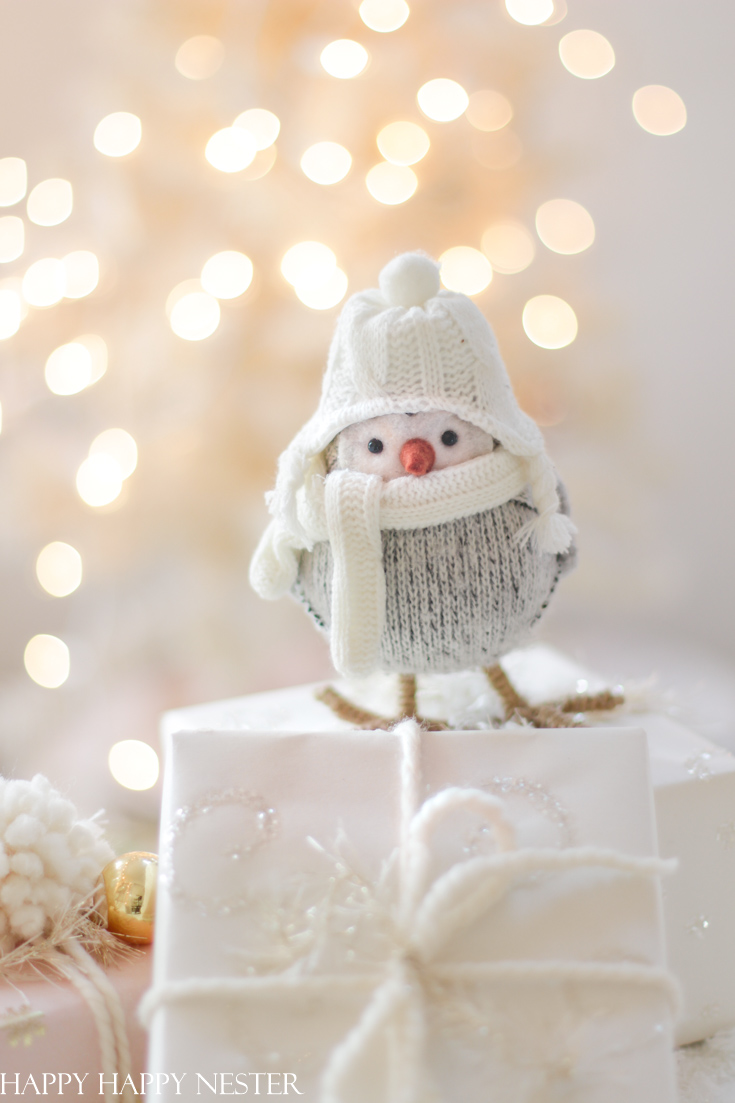 Don't be afraid to personalize your wrapping paper and have fun with this crafty project. I made swirls, and I tried snowflakes. I found the swirls were a lot easier to create and still very pretty. You can choose to write a message on your gift or add the recipient's name to the package. Or maybe you want an effortless project, make polka dots. The possibilities are endless.
Here are some other fun projects:
Have a great weekend and Happy Holidays!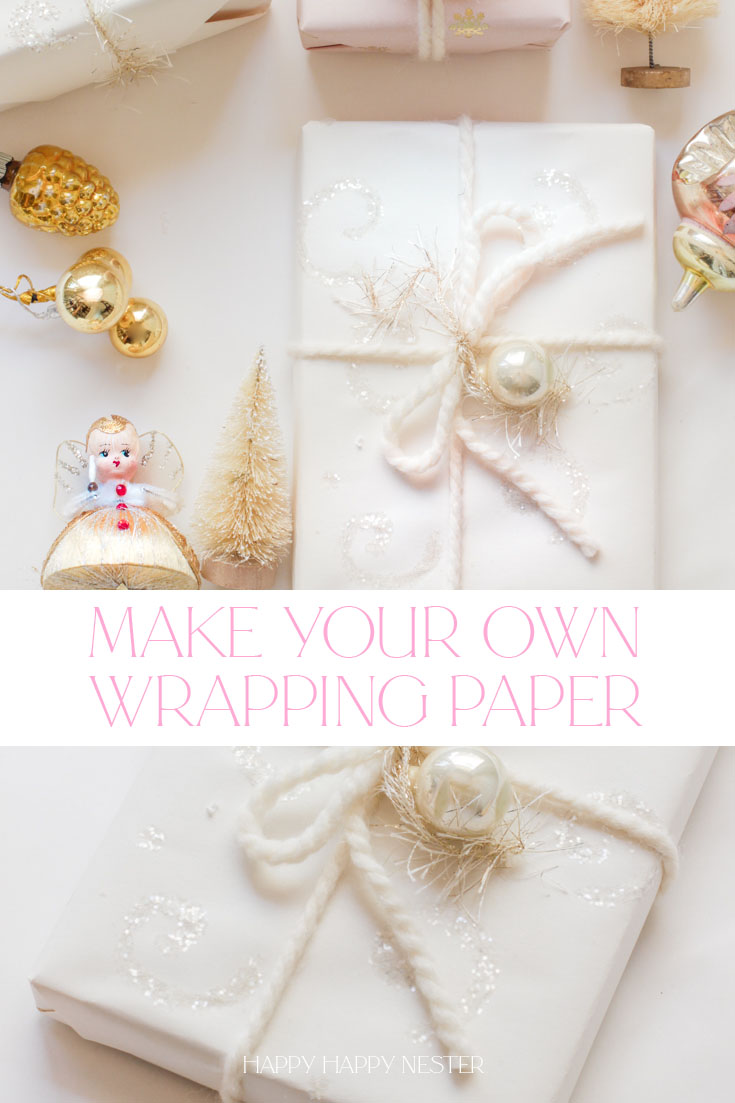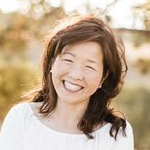 Latest posts by Janine Waite
(see all)