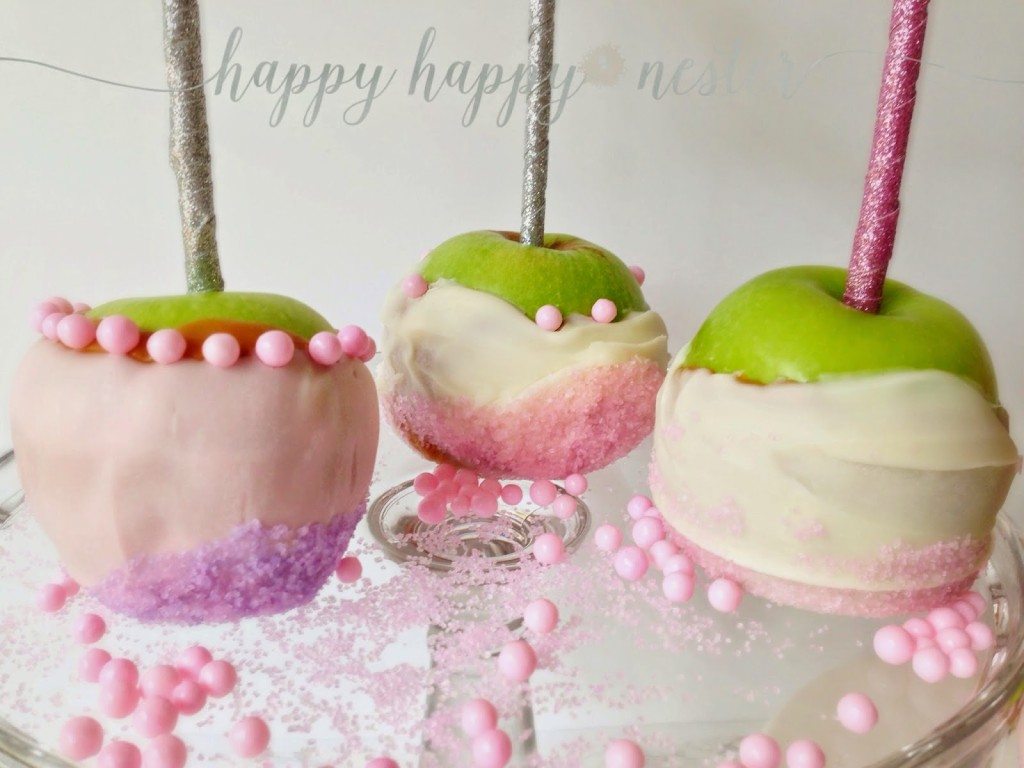 Caramel Apples
i recently was a guest on A Blissful Nest and i made some wonderful caramel apples for a valentine's day subject. last fall, i wrote a post about about candied apples (not to be confused with the softer caramel apples) for halloween, here is the link: 
Apple Post
  i had wanted to make caramel apples, but had a difficult time coming up with a recipe and a method. so, i sought out, a little help from some of my talented baking friends, and i finally came up with a caramel apple technique and recipe. i love homemade caramel apples since, they provide a little delicious candy layer over a pretty healthy snack. i know we probably shouldn't make an apple sweeter by layering on some sugar, but every now and then, it is nice to have a tiny treat. and what a perfect thing to make for valentine's day. i had quite a bit of fun, decorating them. and if you attempt to make these delectable desserts, have fun and choose some festive colors for the white chocolate. i'm pretty certain, your whole family will love these yummy apples. and if you happen to host a girl's valentine's day party, these would make a nice treat, as well as adding such a cute look to your dessert table!
here is some interesting history
on the caramel apple:
it all began in the 1950's, with
a guy named, dan walker. he worked as an employee for the kraft foods company. the story goes, that walker said that he discovered the recipe, when he was
experimenting with the excess caramels from Halloween sales. He melted down the
caramels and covered the apples with the sweet layer of candy. the rest is
history! his wonderful creation has become quite popular, and a standard for
the halloween holiday!
Valentine's Day Caramel
Apples
Ingredients:
granny smith apples
1 bag of caramel candies
white vinegar
sticks (wooden)
1 container of white chocolate melts (i used wilton's)
parchment paper
cooking spray
food coloring
decorating candies
washi tape
valentine's day stickers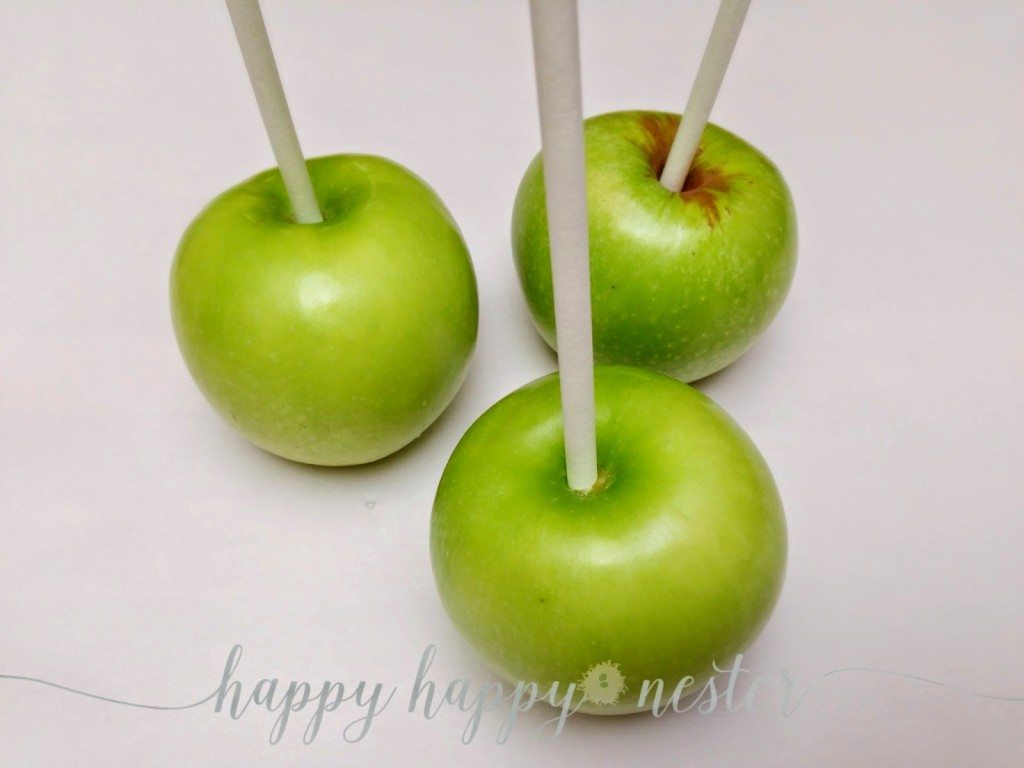 i used organic Granny Smith apples since, i have found red
apples tend to get mushy after they have been covered with hot caramel. additionally, if you don't get organic apples, make sure to scrub them well
before using, since they'll have a waxy surface that will make it difficult for
the caramel to adhere to. also, when washing all the apples, you might want to
rinse them with vinegar, which naturally kills all bacteria and germs on the
apples surface. make sure to rinse well after using this solution, so that
there isn't a vinegar taste remaining on the apples. also, in the above photo, i used the white lollipop sticks, you might want to use the wooden ones, since
they are sturdier.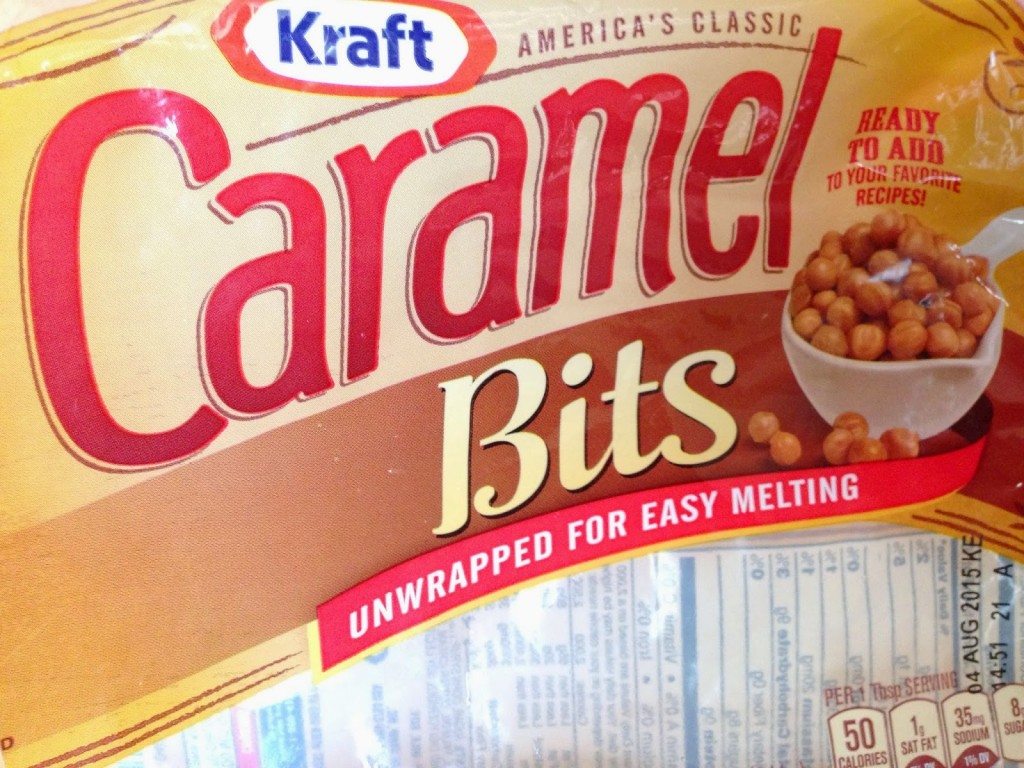 i went the easy route and used a bag of these caramel bits.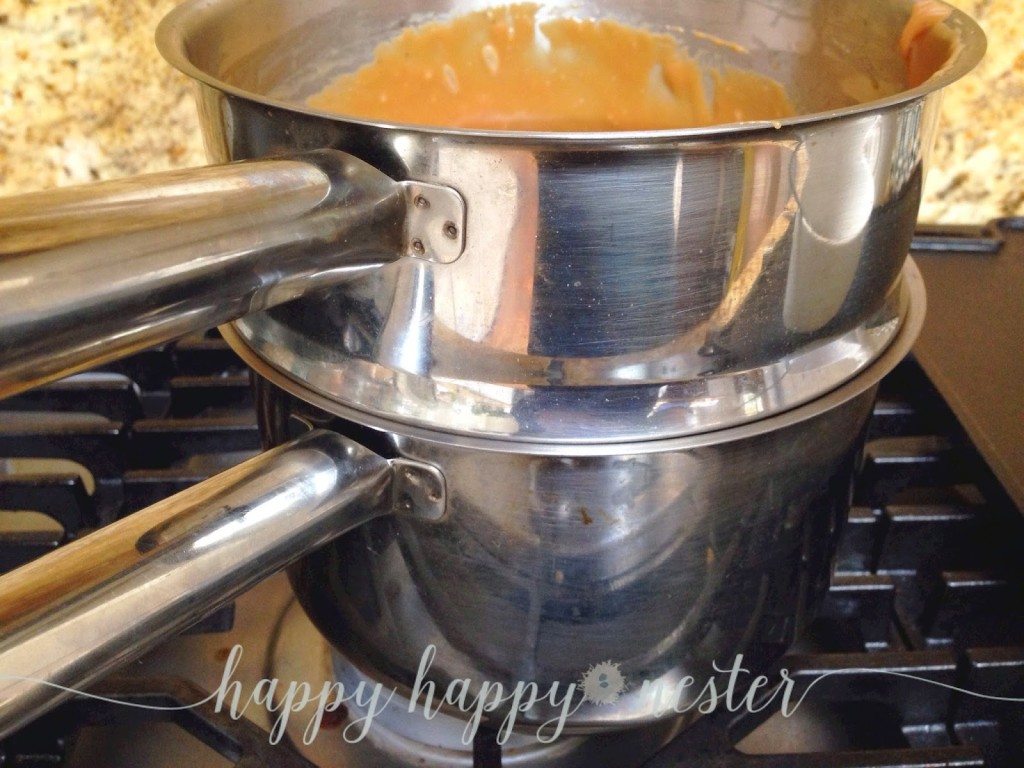 you'll want to place the caramels on the top pot of a
double broiler. fill water on the bottom pot and bring to a boil. keep stirring
the caramels and once they are all melted and smooth, you can coat your apples
in the candy. i found that you definitely should use a double broiler, since
placing the candies in a pot directly on the flame, scorches the caramel and
you have a huge burnt mess! next, when coating the apples, tilt the pot to one
side and twist the apple in the reservoir of candy.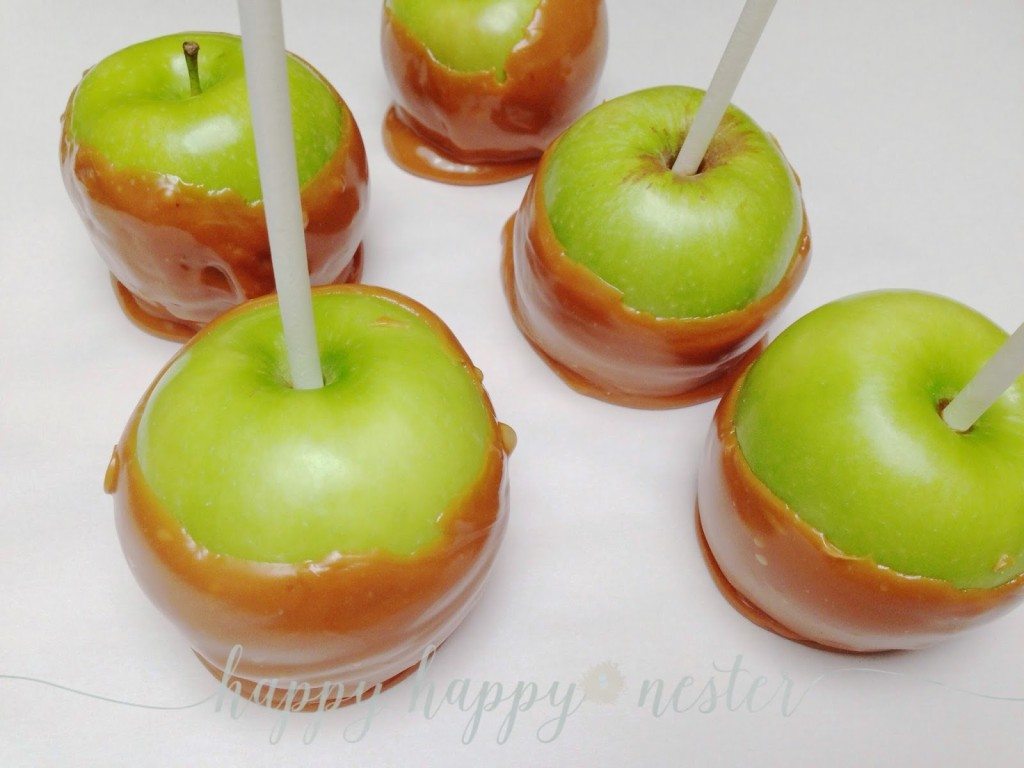 next you'll want to place them on a cookie sheet that has a
layer of parchment paper. this allows the apples to dry without sticking to the
surface. i also, would add a little bit of cooking spray to the parchment, this
just guarantees that they won't stick to the paper.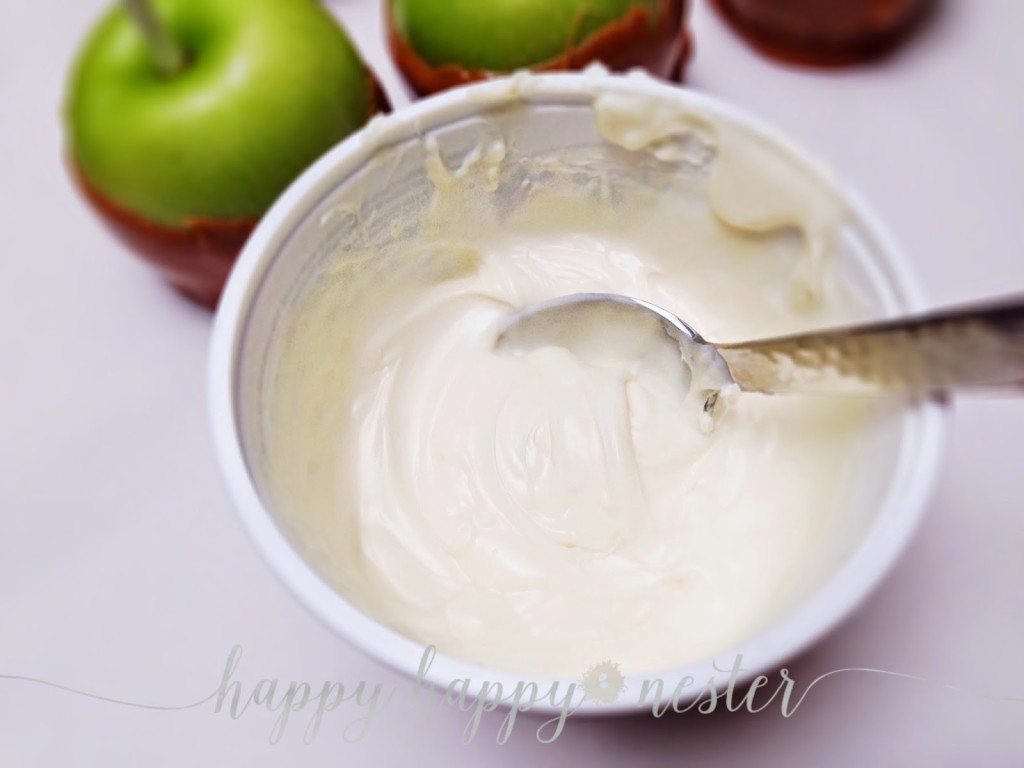 after the apples have cooled, you'll want to start melting
your white chocolate right in the container it comes in. i found the microwave
method for melting the chocolate is the easiest. the trick is to make sure you
stir the chocolate every 10-15 seconds! if you don't stir, you'll burn the
chocolate quickly! i always learn the hard way! so, once it has melted, add
your desired food coloring to the mixture. a little drop, goes a long way! if
you want a pale color, make sure to add just a smidge of food coloring. again, i learned the hard way!  :o)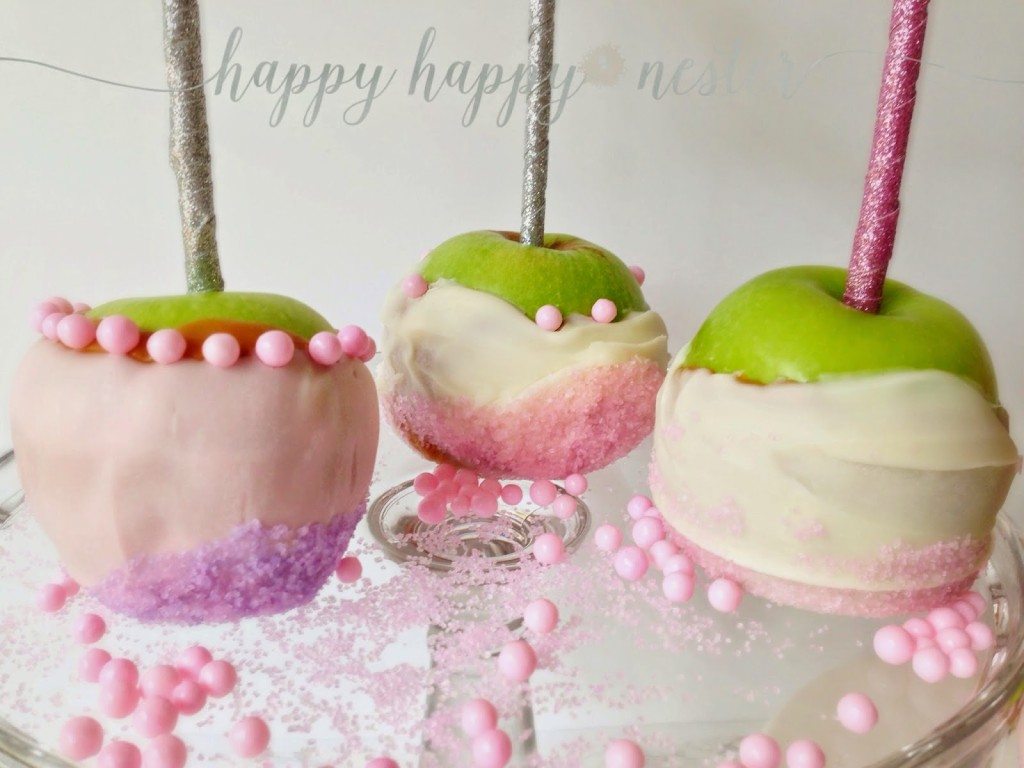 after twirling the apples in the hot melted chocolate,
immediately add sugar sprinkles to the chocolate layer while it is warm.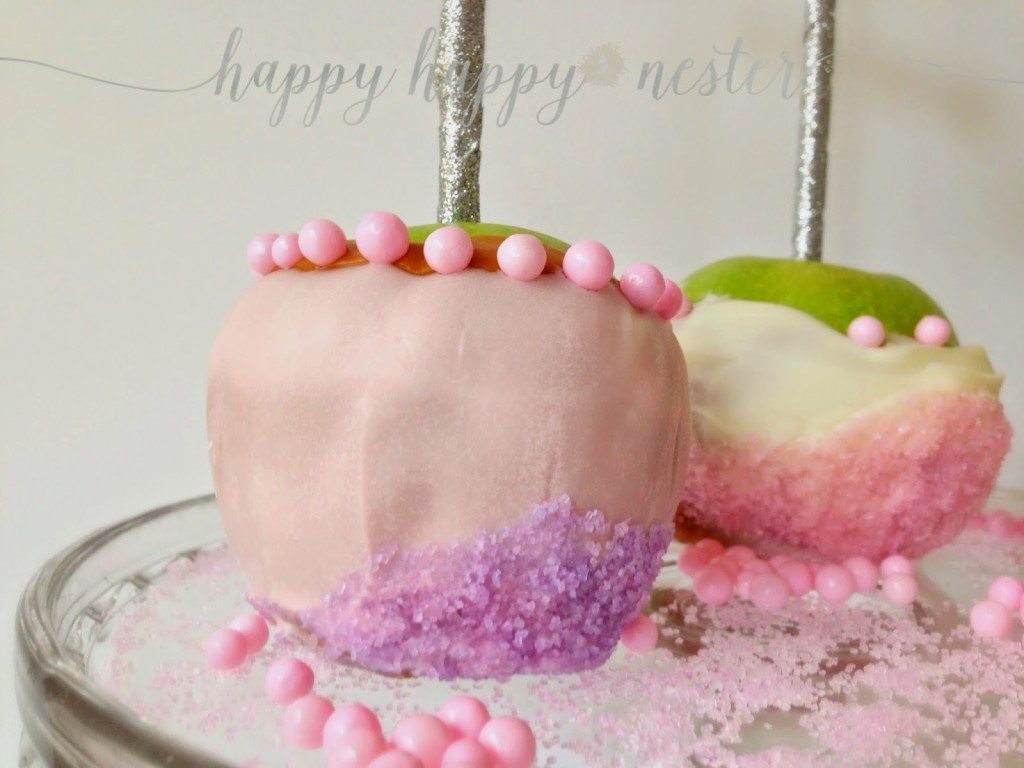 after finishing all the apples, you can now have fun
decorating the sticks with sticky tape. you'll want to take the sticks out of
the apples when covering them. when wrapping with tape, it is easiest to wrap
the first layer with spaces between them. on the second layer you'll wrap and
cover those bare spaces.
attach, scrapbooking stickers to decorated sticks. i did
have a little problem getting the stickers to stick, so i placed a little dab
of hot glue to the surface and it worked beautifully! tada, you're all done and
now you have a cute and delicious valentine's day caramel apple!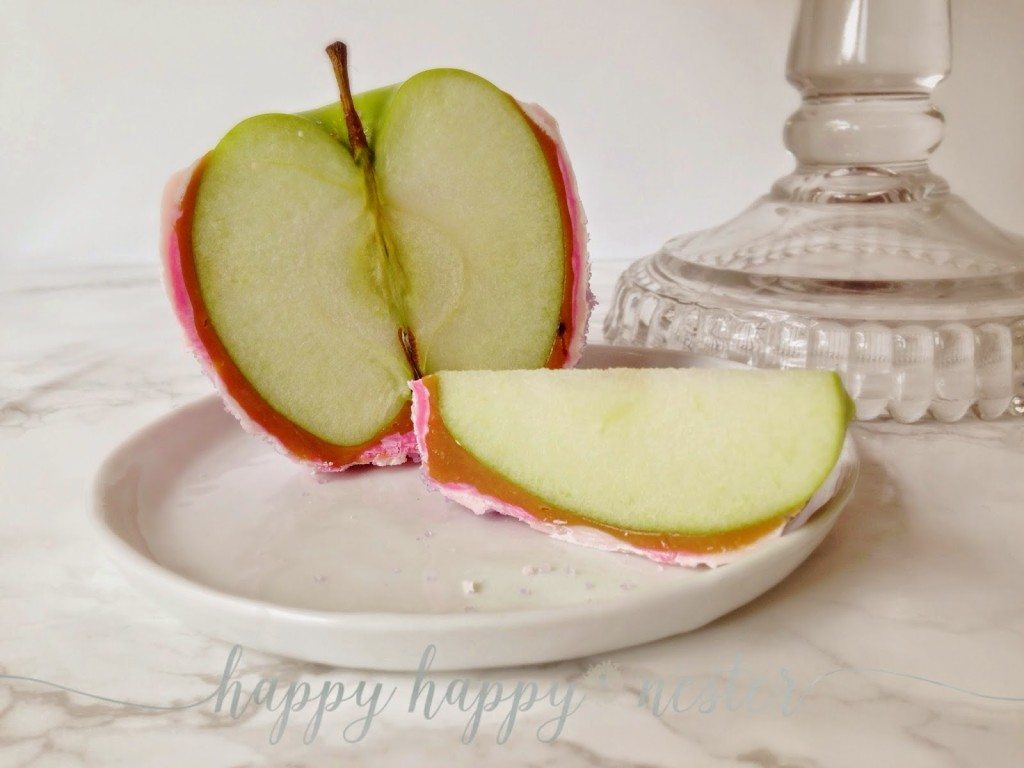 i found slicing the caramel apples are the best way to
enjoy this treat! these apples should last a day or two, but are best if they
are eaten on the day that they are made.
thanks so much, dropping by! i hope you have a wonderful valentine's day with your love of your life!
cheers,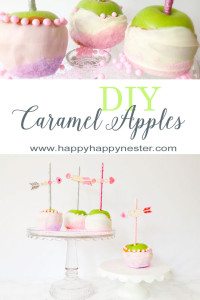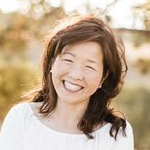 Latest posts by Janine Waite
(see all)