Let's put together a cute Small Charcuterie Board Wreath. I'll guide you through creating a charming charcuterie board that resembles a beautiful wreath packed with savory and sweet goodies. I will also reveal all the delicious treats I included on the board.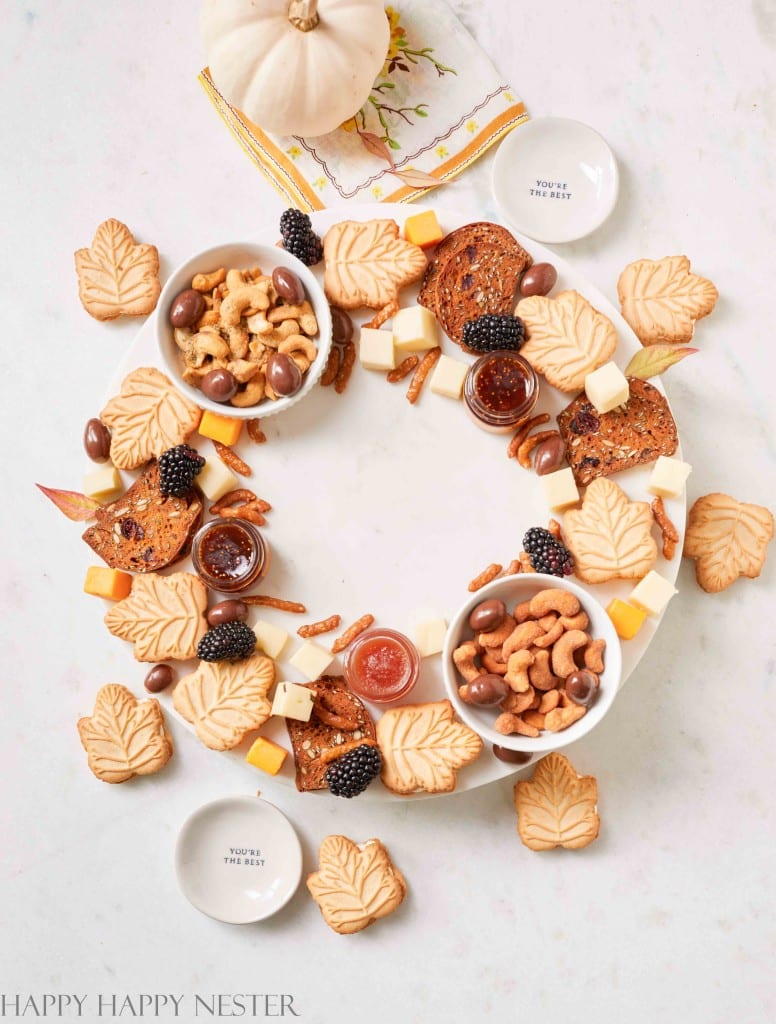 Putting together a charcuterie board as an appetizer can seem like a lot at times. Get your idea locked down first—that's the main challenge. After that, look at this wreath charcuterie board, which is simple to duplicate.
The holidays are almost here, and I can't wait for the kids to come home. I'm prepping a bunch of tasty nibbles for us to share — a mix of sweet and savory treats to enjoy as we catch up and spend some time together.
You know, there's something special about greeting my family with a charcuterie board that's all decked out like a festive wreath. I love getting creative with the layout — it's like having a canvas to spread out all the goodies. Plus, it zeroes in on the holiday spirit and always impresses everyone.
I've got a whole collection of charcuterie board ideas over here, so feel free to browse through them when you've got a moment.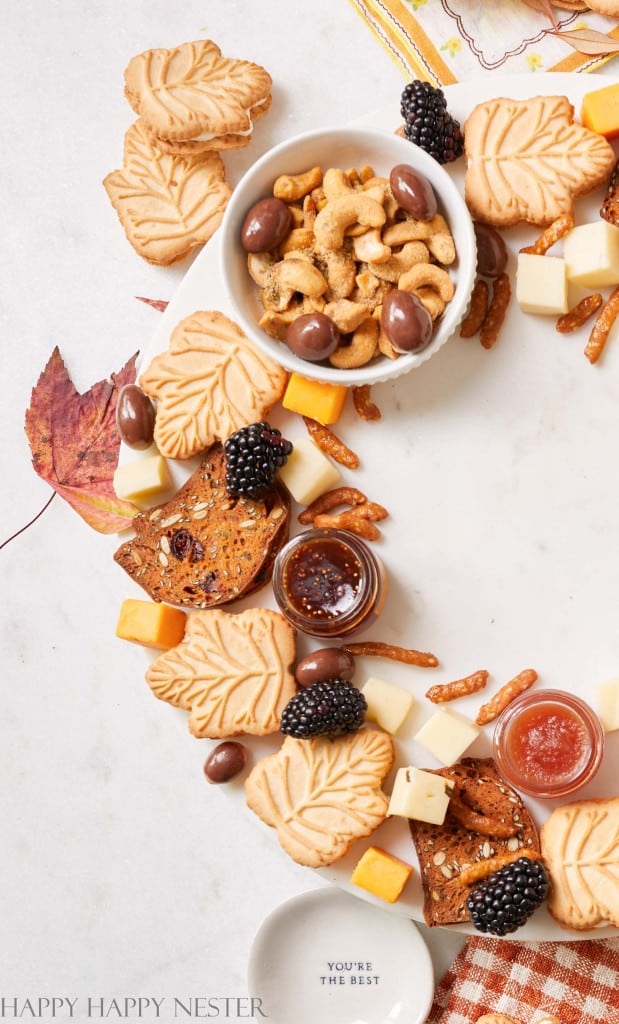 Crafting a Festive Wreath-Shaped Small Charcuterie Board
The Charm of a Mini Charcuterie Wreath for Holiday Gatherings
Bring the spirit of the holidays to your table with a mini charcuterie wreath, a delightful twist on traditional appetizers that will impress your guests. This festive edible arrangement combines the savory goodness of a classic charcuterie with the joyous aesthetics of seasonal decor.
Selecting the Base for Your Wreath-Inspired Cheese Board
A suitable base is crucial for creating a sturdy and stunning wreath-shaped charcuterie board. Opt for a round wooden platter or a custom-cut board that can support the weight of your chosen ingredients while adding a rustic charm to your festive spread.
Mine is a marble round lazy susan perfect for sharing the treats!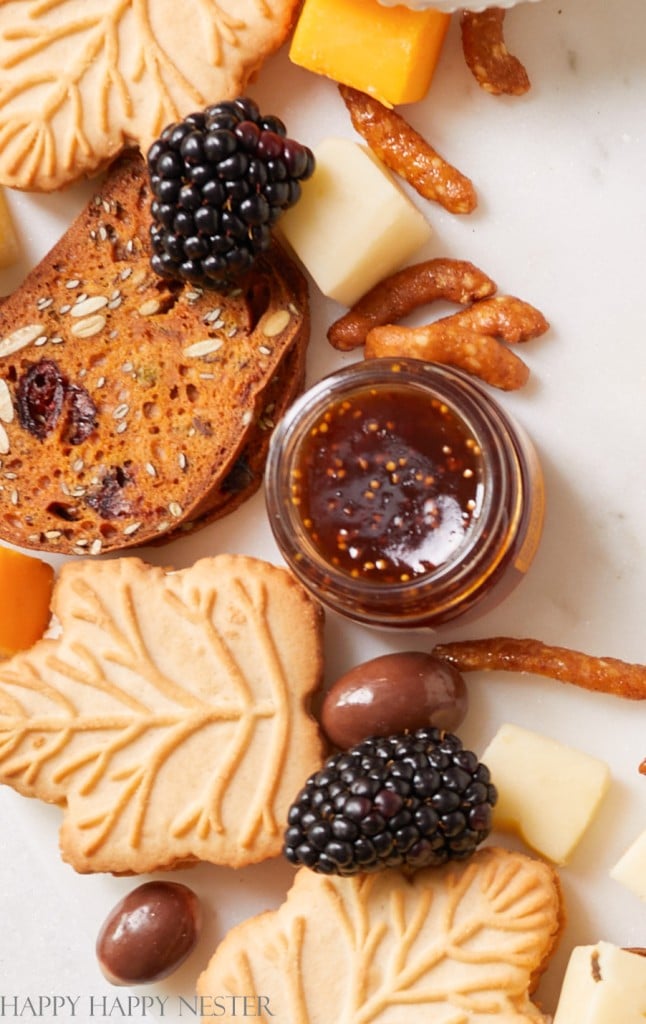 Choosing Festive Ingredients for Your Personal-Sized Charcuterie Wreath
Meats
Cookies
Gourmet Nuts
Cheeses
Chocolate Covered Almonds
Berries
Gourmet Crackers
Gourmet Jams for Spreading on Crackers
Pairing Cured Meats with Seasonal Flavors
I don't eat meat, but I do have suggestions for those who do!
Curate a selection of cured meats that marry well with the rich flavors of the season, like spiced salami that complements the sweetness of winter fruits. Think beyond the traditional charcuterie; consider including smoked sausages or venison for a hearty touch to your holiday wreath.
Best Meats and Cheese for a Holiday-Themed Spread
For a true holiday feast, go for cheeses that offer a creamy contrast to the spiced and smoky meats—like a rich brie or a tangy goat cheese adorned with cranberries. Select meats like prosciutto and capocollo, easily arranged into rosettes for a wreath-like appearance.
Gourmet Nuts and Cheeses: A Yuletide Twist
Incorporate gourmet nuts like roasted almonds or candied pecans for a delightful crunch that pairs exquisitely with aged cheeses. Choose a nutty Gruyère or a sharp cheddar to play up the festive feel with their robust flavors.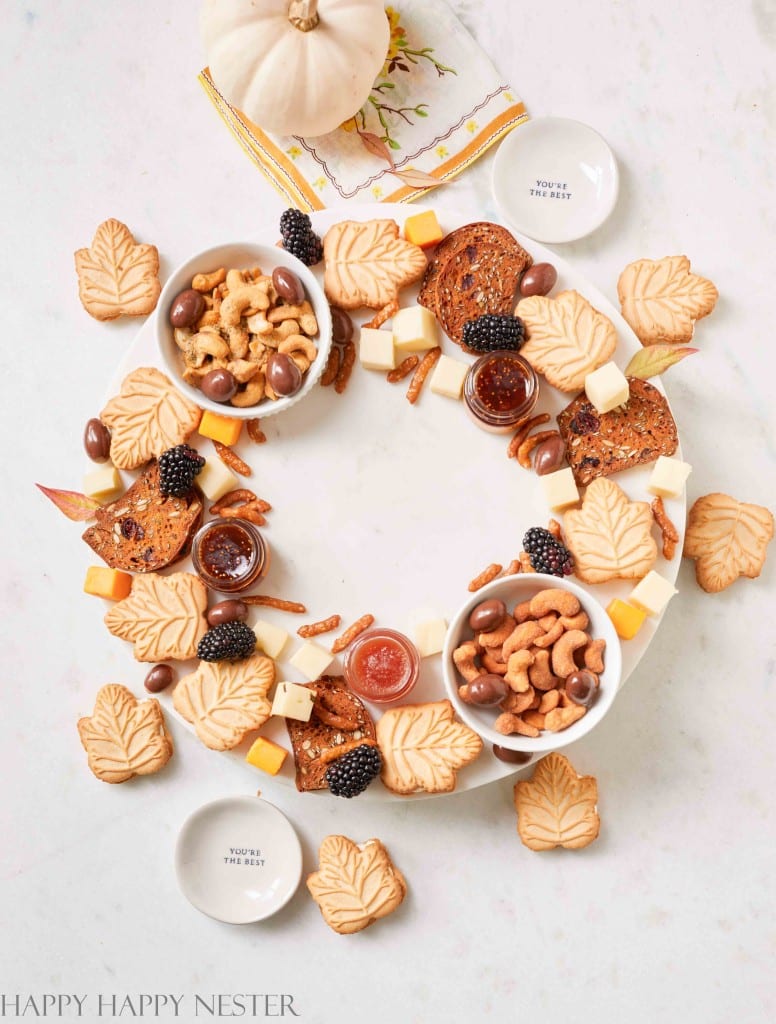 Sweet Additions: Cookies and Chocolates on Your Charcuterie Wreath
Balance the savory with the sweet by artfully placing gourmet cookies and dark chocolate pieces among the meats and cheeses. Not only do they add a touch of indulgence to your board, but they also double as a decorative element that's perfect for a holiday palette. I love these delicious and cute maple leaf-shaped cookies!
Creative Ways to Incorporate Cookies into Your Charcuterie Display
Use cookies with festive shapes and designs to enhance the visual appeal of your charcuterie wreath; star-shaped ginger snaps and snowflake sugar cookies can double as edible ornaments. Strategically place these sweet treats between cheese slices and meat folds to add an unexpected surprise for the palate.
Selecting Chocolates for an Elegant Charcuterie Wreath
Choose fine chocolates with bold flavors, like peppermint bark or orange-infused dark chocolate, that can stand up against the savory elements of your board. Place them in clusters like baubles, or sprinkle them around to mimic the look of holiday lights on a wreath.
Chocolate-covered almonds are a family favorite around here, and I just adore sprinkling them across the board for a sweet surprise.
Step-by-Step Assembly of Your Wreath-Shaped Charcuterie Board
Arranging Your Ingredients in a Festive Wreath Pattern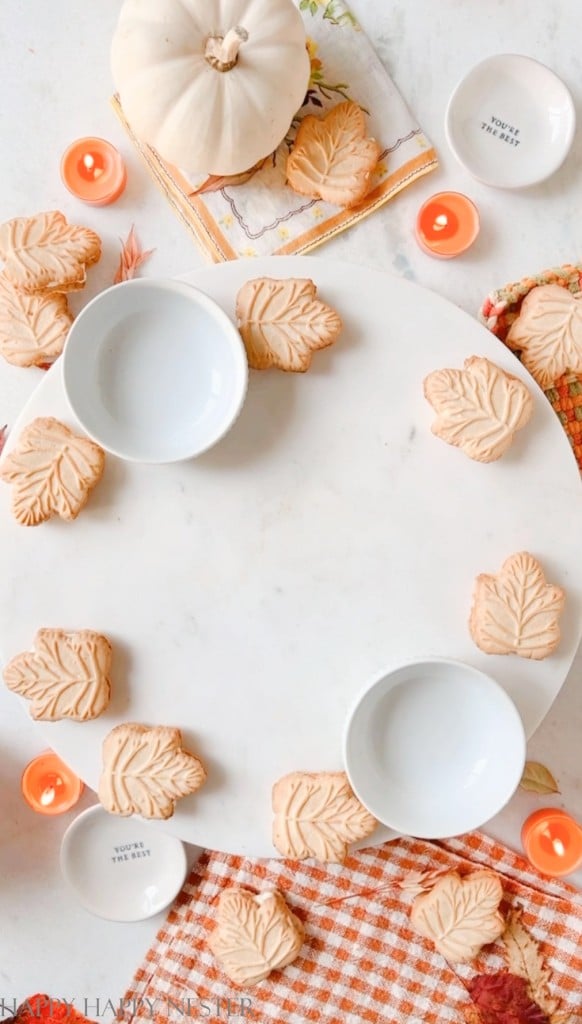 Step 1 – Begin to Shape Your Wreath
Establish the wreath outline and place the cookies and bowls filled with cashews on the tray.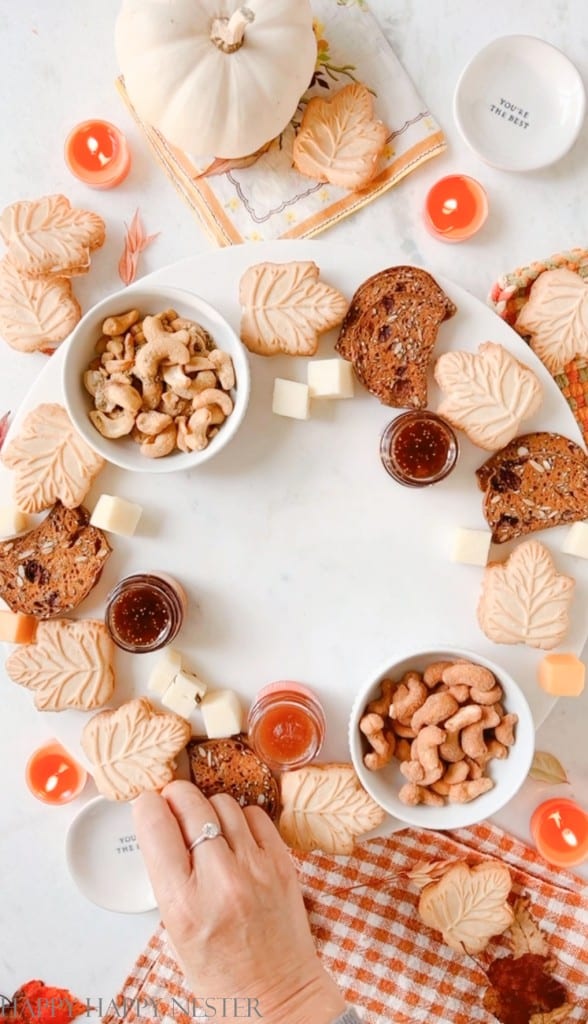 Step 2 – Keep Filling the Wreath in With Food
You'll build your charcuterie with each item. So, next place the cheese, mini-jam jars, sesame sticks, chocolate, and black berries.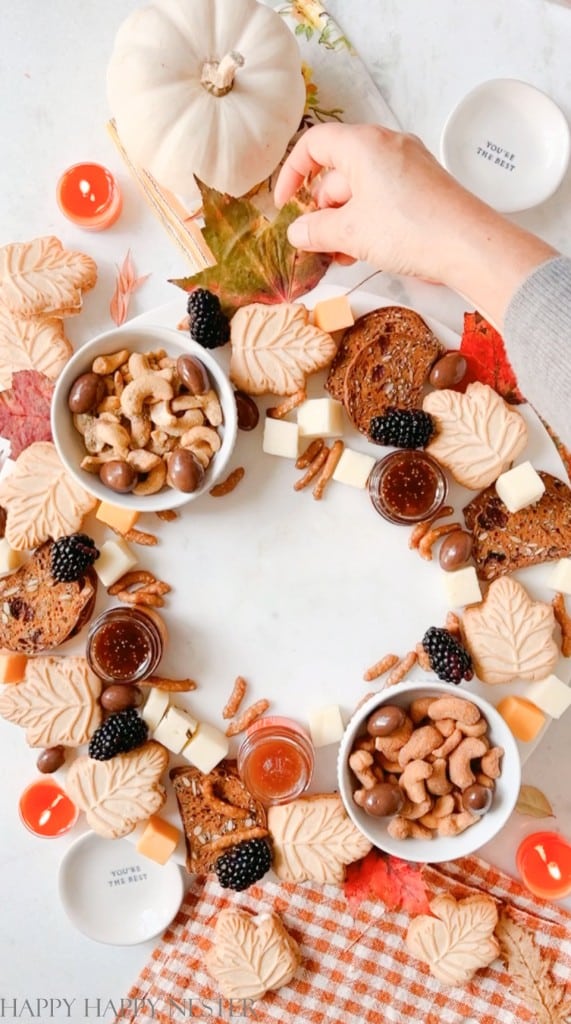 Step 3 – Place Leaves
To give it an autumnal feel, you can accent it with some autumn leaves arranged around the edges to give it a wreath-like appearance.
Decorative Elements to Enhance Your Charcuterie Wreath
Edible Decor: How to Use Nuts and Berries for Decoration
Nuts can be grouped to create the illusion of pine cones, while fresh berries are an excellent addition of fruit, offering both beauty and a tart contrast to the rich flavors. Scatter these edible decorations throughout your wreath for a natural and inviting look.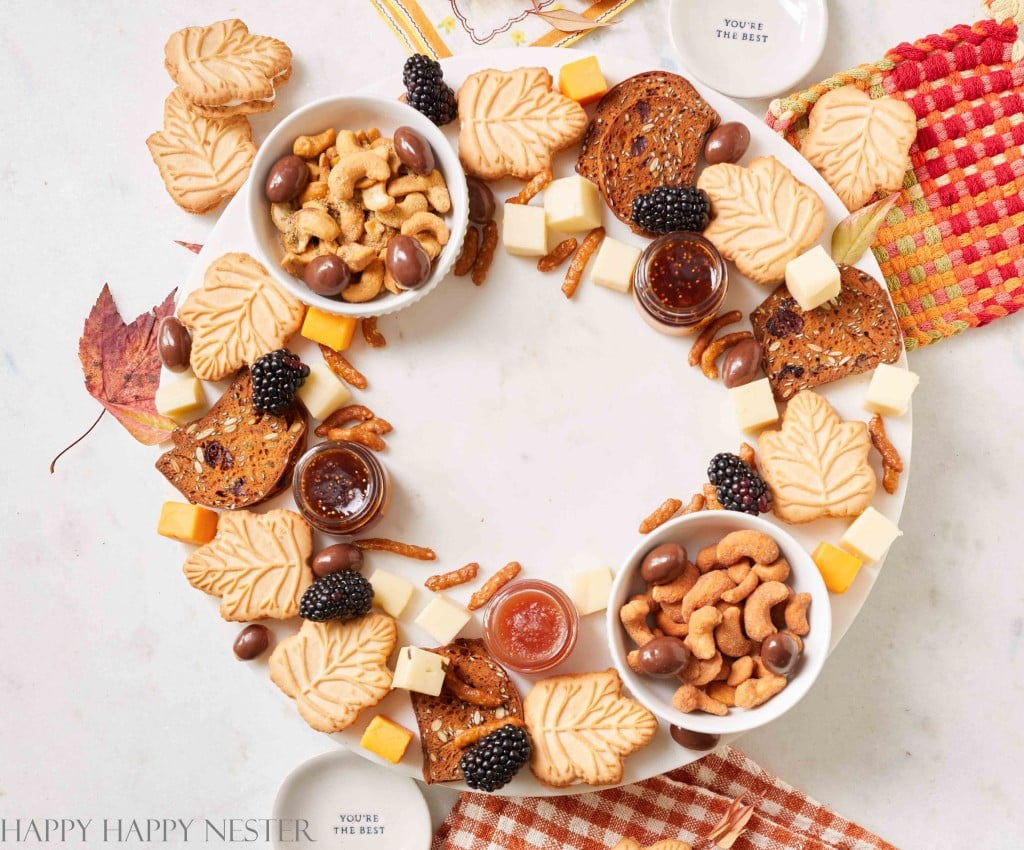 Customizing Your Wreath Charcuterie Board for Special Occasions
Crafting a Couples' Charcuterie Wreath for a Cozy Night In
Design a wreath charcuterie board perfect for two, focusing on shared favorites that create a sense of intimacy and celebration. Include pairings of each person's preferred meats and cheeses, ensuring that every bite is a personalized treat for the evening.
Single-Serve Charcuterie Wreath Ideas for a Sweet Treat
Create adorable single-serve charcuterie wreaths that can be the perfect personal indulgence or a unique gift for a friend this holiday season. Make these mini versions with the same care, packing them with specialty items like honeycomb, spiced nuts, and artisanal chocolates for a truly special touch.
Party Favor Mini Delights for Guests
Send your guests home with a smile by giving them a mini jar of jam and gourmet crackers. These memorable gifts are so lovely to give to friends, and they are such delicious parting gifts.
Advanced Tips for a Gourmet Charcuterie Wreath Experience
Infusing Gourmet Twists into Your Festive Charcuterie Design
Elevate your wreath by incorporating unexpected gourmet elements like truffle salami or a wedge of blue cheese encrusted with edible gold leaf. These luxurious touches will not only impress your guests but also turn your charcuterie board into the centerpiece of your holiday spread.
Exploring Unique Flavors: From Spiced Nuts to Artisanal Chocolates
Expand your palate and surprise your guests with unique flavors, such as spiced nuts seasoned with cinnamon and cayenne or chocolates infused with lavender or chili. These bold choices add a sense of adventure to each bite and keep the conversation lively around your holiday table.
Mastering the Art of a Wreath Charcuterie for Beginners
Even if you're new to the charcuterie board scene, creating a wreath charcuterie is an enjoyable and simple when you follow these straightforward steps. Start with confidence, using this guide to select your ingredients, and watch as your festive creation comes to life with ease.
From Simple to Sophisticated: Elevating Your Charcuterie Skills
As you gain more experience, take your charcuterie wreath from simple to sophisticated by experimenting with various textures and flavors. Learn the finesse of pairing creamy with crunchy, sweet with savory, and how to arrange your board for maximum visual and taste appeal.
Presentation and Serving Suggestions for Your Charcuterie Wreath
Perfect Plating: Showcasing Your Wreath on the Table
When it's time to serve, choose a stunning platter that complements your charcuterie wreath, and consider the backdrop—linen, wood, or slate—to make those colors and shapes truly stand out. The presentation is as important as the taste, so ensure your wreath is at the heart of your holiday feast for all to admire.
Keeping Your Charcuterie Fresh and Inviting
To ensure your charcuterie wreath stays fresh and delicious throughout the event, keep it cool and covered until guests arrive. If you're using delicate items like cheeses and chocolates, ensure they sit out only briefly and preferably not in the hot sun to prevent melting.
---
Homemade Wreath-Shaped Charcuterie Board
Putting together this gourmet little charcuterie board is super quick. Seriously in just a few minutes it's ready.
I just wanted to let you know that you don't need to worry. There's no picking a theme or what to include; I've covered you. Just copy what I've put together, throw in some treats you can't resist, and the best part is—dig in and enjoy!
Cheers,

Photo Credits: MyPhotography.com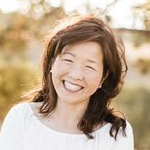 Latest posts by Janine Waite
(see all)